« Western Media Ignore Anti-Semitic Imagery in Egypt | Main | Zionists Barred from "Never Again" Rutgers Event »
February 08, 2011
Dry Bones Cartoon on Egypt Worth 1000 Words
From Yaakov Kirschen at the Dry Bones Blog: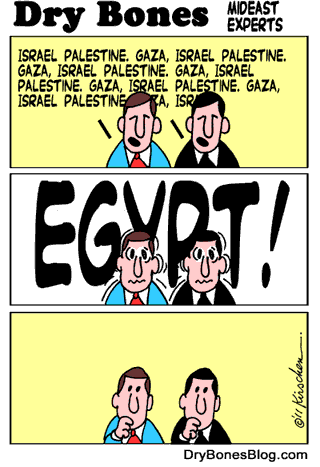 Nuff said.
Posted by TS at February 8, 2011 04:50 AM
Comments
Egypt, oi veh:
Israel..."with all its fears, with all the hopes of future years, is hanging breathless on they fate!"
And help us also free Gilad Shalit!
günter hiller, a Holocaust survivor.
Posted by: günter hiller at February 10, 2011 06:43 PM
Guidelines for posting
This is a moderated blog. We will not post comments that include racism, bigotry, threats, or factually inaccurate material.
Post a comment