« Ha'aretz Fabricates Tear Gas Study Findings? | Main | Christian Shot Dead on Train in Egypt »
January 11, 2011
Time Rampage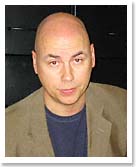 Karl Vick, Time Magazine, Jerusalem Bureau Chief
Apparently, Time Magazine has decided the way to save a waning magazine is to bash the Jewish state full tilt. A September 2010 cover emblazoned with a Star of David was memorably titled: "Why Israel Doesn't Care About Peace." A December 2010 article by the same author, Karl Vick, "Palestinians Contained," offered more of the writer's jaundiced and factually-challenged view of Israel, this time blaming Jews for Palestinian hostility.
Now comes a piece, laden again with bias, this one largely focused on Israel's growing response to distorted attacks by NGO's. Israel's Knesset voted to establish a parliamentary committee to examine international sources of funding for Israeli organizations that "aid the de-legitimization of Israel through harming IDF soldiers."

As Ronen Shoval, head of the Im Tirtzu organization that has exposed linkages between extremist NGO's and the notorious Goldstone Report, writes in Ha'aretz:
During the past year, the vast majority of the public became convinced that the organizations that call themselves human rights groups actually belong to the extreme left and seek to force their radical values on others through foreign funding.
Much of the far left which supports the extreme NGO's has risen in fury at the prospect of parliamentary inquiries into funding. Karl Vick's story parrots the indignation of those who have previously dispensed biased, false attacks against Israel with impunity.

Among the more irresponsible statements was that of Oslo architect Ron Pundak:
Ron Pundak, a historian who runs the Peres Center for Peace, sees the current atmosphere of Israeli politics as the ugliest in the nation's history. "It's totally abnormal," he says. "From my point of view, this is reminiscent of the dark ages of different places in the world in the 1930s. Maybe not Germany, but Italy, maybe Argentina later. I fear we are reaching a slippery slope, if we are not already there."
His nasty rhetoric aside, Mr. Pundak is evidently aghast that many others think it's a move toward getting off the "slippery slope" and onto solid ground to take a close look at the substance, sources and impact of certain NGO's.

The real slippery slope is Time's in abandoning any pretense of decent journalism.



Posted by AL at January 11, 2011 12:24 PM
Comments
Guidelines for posting
This is a moderated blog. We will not post comments that include racism, bigotry, threats, or factually inaccurate material.
Post a comment