« Assailant Checked Victims for Crosses Before Shooting | Main | BBC Needs to Get a Twitter Account - Missing Story »
January 11, 2011
Media Ignore Attacks on Bethlehem Church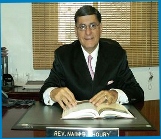 Pastor Khoury at desk and shown at Bethlehem's First Baptist Church with congregants and Christian American supporter
The compelling story of the First Baptist Church of Bethlehem and its pastor, Naim Khoury, unreported by the American media, has been told by Israeli media and an American Christian TV program. Pastor Khoury is a rarity among Palestinian Arabs as a churchman who not only voices no hostility toward Jews and Israel but also defends Zionism as based on the Bible.
In a 2010 interview from Bethlehem aired on Christian TV (Daystar Television Network) on December 31, 2010, Pastor Khoury described numerous bombing and gunshot attacks on his church. Five minutes into the video clip, Khoury explained that his church is strongly opposed by Palestinian Christian adherents to "Palestinian liberation theology" — a religious-political ideology that supports and encourages violence against Israel and denies religious roots of Jewish nationalism.
Previously, in Jerusalem Post articles, Hamas and other jihadists were cited as responsible for the attacks on Pastor Khoury and his church:
After telling the conference how his church was firebombed repeatedly by jihadists, Khoury noted that Israel is the only country in the Middle East where Christians are not persecuted for their religious beliefs. Khoury demanded to know why the EU [European Union] has refused to defend Christians in the PA [Palestinian Authority], Lebanon and the Middle East." (Jerusalem Post, January 9, 2007, by Caroline B. Glick).
Born in Jerusalem's Old City and still holding a Jordanian passport, Khoury is a bishop representing the Baptist church to Arab people in the Holy Land. He is also that rarest of figures here — a Palestinian Evangelical who believes in God's land covenant with Israel through Abraham. For this, and his evangelising of traditional Christians and Muslims, the Baptist minister has been shot and left for dead, while his church has been fire-bombed and vandalized more than 16 times. (Jerusalem Post Website, February 19, 2009).
The Israeli newspaper Haaretz had reported:
Because their beliefs are antithetical to both Islam and Palestinian nationalism, Naim Khoury and his followers live under constant physical threat. The pastor's church has been bombed 14 times by what he calls "extreme Hamas fundamentalists," and he has been shot. Khoury defends his Zionism as not his ideas, but those of the Bible, which he reads literally. "There is no Palestinian theology," Khoury says, "There is one Bible."
This is not a difficult story to cover. It certainly is newsworthy in the United States for its novelty, continued relevance regarding threats from Islamic extremism, and likely general audience interest. That makes American mainstream media avoidance of such a compelling story inexplicable, especially given the attention they pay to numerous other Israeli-Palestinian matters — minor as well as major.
Posted by MK at January 11, 2011 01:31 PM
Comments
Your kidding right? Less than 1% of Palestinian Christians are Baptists. No one follows such an ideology as this "pastor" and his 30 member congregation.
Posted by: mary at January 12, 2011 01:32 AM
Ergo? It is okay to shoot firebomb so long as the targets are a small minority?
Posted by: to mary at January 12, 2011 11:35 AM
"It is okay to shoot firebomb so long as the targets are a small minority?"
Um, well, yeah. That's why some people seem to find attacks on Israel so ... unremarkable.
Posted by: A reader at January 13, 2011 04:13 PM
Blind hatred can only breed more hate. Last Saturday a Jewish Congresswoman was the target of a hate filled individual. She is recovering, but several others were killed by that mad man. My heart is broken, please say the appropriate psalms for Gabby's recovery and for the comfort for those who lost their loved ones. Guess who was blamed for the Coptic Christians. The IDF.
Posted by: bkurtin at January 14, 2011 02:42 AM
Guidelines for posting
This is a moderated blog. We will not post comments that include racism, bigotry, threats, or factually inaccurate material.
Post a comment