« December 2010 | Main | February 2011 »
January 28, 2011
False Guardian Headline in Context (of False Guardian Headlines)
As we point out in our recent article about the leaked Palestinian Authority documents, the Guardian — one of the two media organizations that publicized the documents — falsely claims that the documents "reveal" Palestinian acceptance of Israel as a Jewish state. A Guardian headline reads: "Palestinian negotiators accept Jewish state, papers reveal."
But the article itself says no such thing. Rather, it quotes a Palestinian negotiator telling his Israeli counterpart, "If you want to call your state the Jewish state of Israel you can call it what you want."
Far from being a revelation, this echoes a formula that has been publicly and repeatedly invoked by Palestinian leader Mahmoud Abbas. (For example, Abbas has said: "You can call yourselves as you like, but I don't accept it and I say so publicly.") And the very document cited by the Guardian actually shows the Palestinians repeatedly refusing to acknowledge Israel as a Jewish state, rejecting "two states for two peoples," and even seeming to reject the very idea of a Jewish people. Lest there be any doubt, in the following meeting between the negotiators the argument about recognition of Israel as the Jewish state continued, with the Palestinians continuing to adamantly insist they will not offer such recognition.
Plus ça change.... The newspaper, in fact, has a history of falsifying Palestinian positions regarding Israel.
On June 21, 2006, the Guardian headline "Hamas performs about-turn on Israeli state" was followed by the subhead "Document recognises Israel's right to exist." A version of the article published the next day was even more egregiously wrong: "Climbdown as Hamas agrees to Israeli state: Negotiator says group recognises right to exist"
And a few days later, the same author, Chris McGreal, penned a piece entitled "Hamas takes step to recognise Israel."
Hamas, of course, never accepted any document that recognized Israel's right to exist, and it's vocal rejection of Israel's right to exist has continued unabated.
It was no surprise to those who follow the organization, then, when a Hamas leader, in language typical of the organization, described Israel in October 2006 as a "cancer that must be pulled out by its roots." But what a surprise it must have been to Guardian readers when the newspaper acknowledged in a December 2006 headline, "Hamas: we will never recognise Israel."
Posted by GI at 03:19 PM | Comments (0)
January 27, 2011
UN Human Rights Council's Richard Falk Discredited as Truther
Richard Falk

In 2008, Richard Falk began a six-year term as the UN Human Rights Council's permanent investigator on "Israel's violations of the principles of international law"-- a position that itself is a manifestation of clear bias, as it is meant to investigate only Israeli actions and not Palestinian ones. Now the person who holds this position is exposed as a conspiracy theorist, or "truther" who believes he knows the "truth" about 9/11, namely that the U.S. government, and not Al Qaeda, was responsible for the attacks on the World Trade Center. It is not surprising that these lunatic fringe views are suported by one who has expressed similar fringe views about Israel, for example, comparing Israeli actions to those of the Nazis. And it is not surprising that the UN Human Rights Council, specifically selected someone with such objectionable views as their resident condemner of Israel.

Falk's exposure as a conspiracy theorist comes as a result of UN Watch's 3-year campaign "to expose and combat Falk's denial and justification of Hamas and Al Qaeda terrorism, and his material support for 9/11 conspiracy theorists." Read about it here.

Posted by RH at 03:13 PM | Comments (2)
Israeli Police Arrest 4 Palestinians for Murder of American Tourist
Murder victim Kristine Luken

Israeli poice arrested four members of a 13-member cell of Palestinians suspected of shootings, rape and murder. They were caught on the basis of DNA from the crime scene and admitted to murdering Kristine Luken, an American member of an evangelical church in Israel and attempting to murder her friend. Jerusalem Police Commander Shimon Nahum explained how the group started out as a criminal gang but evolved into a terrorist cell motivated by "nationalistic" reasons. Amos Harel of Ha'aretz discusses the thin line between the criminal and the nationalist. More details about the the 13-member terror cell can be found here.

Kay Wilson, the other hiker and a survivor of the attack that killed her American friend, is hailed as a hero by the Shin Bet. She talks about the continuing terror and pain she experiences and the unimaginable barbarism of the Palestinian terrorists.

Posted by RH at 06:54 AM | Comments (1)
IHH's Ties to Turkey's AKP Government
In the New York Times' feature this week on Turkey's Foreign Minister ("Turkey's Role in Middle East is Bolstered by Vision of Foreign Minister"), Ahmet Davutoglu insists that he did all he could to convince the IHH to cancel the departure of the Mavi Marmara, and reporter James Traub doesn't contradict him:
In the spring of 2010, a Turkish charitable organization, I.H.H., chartered the flotilla designed to break Israel's blockade of Gaza. Davutoglu says that he tried to persuade the group not to sail and then asked the organizer of the flotilla to turn aside if Israel stopped the ships, as it was certain to do, and to offload the cargo at a port outside Gaza if necessary.
Taub describes Ankara's apparent orchestration of the Mavi Marmara's confrontation with Israeli forces as merely an Israeli "view." A report released today by the Intelligence and Terrorism Information Center (ITIC) details the close ties between IHH (described by Traub only as a Turkish charitable organization) and "the upper echelons of the Turkish regime," including the government's "logistical support" and "political-propaganda protection."
Posted by TS at 04:59 AM | Comments (0)
Al Jazeera's Motives Behind Palestinegate
The JCPA has published an interesting analysis by Pinhas Inbari examining the motives for Al Jazeera's release of the so-called Palestine Papers. He writes:
To sum up, al-Jazeera is serving Qatari policy to deepen unrest in the Arab world and link the current local upheavals to the Palestinian problem. In its presentation of the Palestine Papers, al-Jazeera distorted the contents in order to delegitimize the PLO and present Israel as a hard-line non-partner. There is also reason to suspect forgery in the documents referring to refugees since the person suspected of the leaks is the same person who wrote them.
Posted by TS at 04:43 AM | Comments (1)
January 26, 2011
More Israeli Concessions Detailed by Palestinian Leaks
Palestinians may not have described this Israeli move as "earth shattering," but the Palestinian leaked documents show what is still an Israeli concession: A promised construction freeze in the highly strategic E-1 region between Jerusalem and Ma'aleh Adumim.
News organizations parroting the al Jazeera/Guardian narrative on the leaks, which hold that the leaks show major Palestinian concessions ignored by Israel, missed the wider story.
Posted by GI at 10:06 PM | Comments (1)
Palestinian Legal Advisor: Netanyanu's Acceptance of Palestinian State "Earth Shattering"
In one of the documents publicized by the al Jazeera and the Guardian, a Palestinian official describes Binyamin Netanyahu's acceptance of two states as "earth shattering."
Predictably, this was ignored in the many articles by the two media organizations that released the documents, as they appear intent on casting the documents as evidence of Palestinian capitulation to Israel, and of Israeli intransigence. But it was also overlooked by the news organizations that reported on the papers more responsibly.
According to one of the documents, Bader Rock, a legal adviser for the Palestinian Negotiations Support Unit, said in response to a question about how Israelis were reacting to a major Netanyahu speech that
It's too early to tell, but it's welcoming. Likud accepting two states is earth shattering. Sharon left Likud because he wouldn't have survived there.
Prompted by Palestinian negotiator Saeb Erekat, Rock went on to say that Netanyahu's acceptance was rhetorical. Nonetheless, use of the term "earth shattering" in an internal Palestinian discussion would certainly suggest that the Palestinians, at least, recognize Israeli steps as truly being "far reaching."
You can see the exchange on page 7 here.
Posted by GI at 04:14 PM | Comments (0)
January 25, 2011
Time Magazine, Ha'aretz, and Israeli Democracy
Benjamin Kerstein picks apart Time Magazine's latest anti-Israel thesis ("Israel's Lurch to the Right Scares Some Conservatives") which suggests that democracy in Israel is in danger, a view shared by many at Ha'aretz. He observes:
It is no exaggeration to say that the accusation of actual or incipient fascism has become an involuntary reflex on the Haaretz Left. To the historian Daniel Blatman, for example, any survivor of Hitler who saw Israel today "would certainly recall those hard days in his [German] homeland." To Niva Lanir, one of Haaretz's regular opinion writers, the Nazi analogy is no mere analogy. "There are those," she writes in a nod to her fellows, "who have long claimed that . . . it is fair to compare Germany on the eve of Hitler's rise to power and our situation here and now. But," she goes on, "why should we compare? After all, there's room for everyone here and for variations as well." Her colleague, Merav Michaeli, delves into the past to go farther still. Not only, she informs us, does Israel today boast a "white and racist prime minister," but "in its early days, when Israel's character was taking shape," the country's founders had already "determined that the white race was superior." Yossi Sarid, a longtime icon of the Israeli left, has put it even more bluntly: "Israeli democracy is mainly for decoration, like a tree grown for its beauty, not to bear fruit." To Sarid, it appears "as if fascism has already arrived here and is waiting just behind the wall." . . .
Have Jewish hands indeed wreaked the destruction of Israeli democracy? The real problem with polemics like these is not that they are critical of Israeli society, but that their basic descriptions of that society bear no relation to reality. For the truth is that Israel today is more democratic, and substantively so, than it has ever been before. Until 1977, Israel was essentially a one-party state, dominated by a secular and socialist Ashkenazi elite. Today, it is one of the most politically, ethnically, and religiously diverse societies in the world. Sephardi Jews, religious Jews, Arabs, Russian immigrants, and many others have a voice and a degree of political influence they could never have enjoyed in the past that is so nostalgically remembered by the Israeli Left.

Many Israelis today may not like what these groups have to say, or what they want to do. But that is not a threat to democracy. It is democracy. And here, in its apparent powerlessness to change the face of this democracy, lies the Left's insoluble dilemma.
Posted by TS at 07:47 AM | Comments (0)
January 20, 2011
Denial *IS* a River in Egypt!
And it flows straight through Al Azhar University in Cairo.
Details here.
Posted by dvz at 09:05 AM | Comments (0)
January 19, 2011
Israel Prime Minister's Office on Time
In terms of the quality and objectivity of its Israel coverage, Time keeps on slipping.
On its Sept. 13, 2010 cover, a Jewish star made of daisies was meant to signify the superficial thesis, laid out in the cover story, that Israelis don't care about peace because they're too wrapped up in their economic success. Shortly thereafter, it published another attack on the Jewish state that not only adopted the language of anti-Israel activists (the security fence is described throughout as a "wall"), but also introduces language that's even more inflammatory and deceptive (the fence, to Time, is an "iron curtain"). Most recently, the same author, apparently having abandoned all attempts to disguise his hostile editorializing, announced that "self-righteous indignation is a staple position for an Israeli public...."
This last article prompted the Office of Israel's Prime Minister to send a response, which was published on Time's website:
Dear Mr. Stengel,

I wanted to bring to your attention a recent article in Time entitled "Israel's Rightward Lurch Scares Some Conservatives." I hope that you will agree that the article's obvious bias and numerous distortions are not worthy of the standards of your prestigious magazine.

Israel is depicted in the article as essentially sliding towards fascism. Your correspondent refers to Israel's Shin Bet (the equivalent of the FBI) as a "secret police," claims that the Israeli government "increasingly equates dissent with disloyalty," and accuses the Prime Minister of "taking a page from neighboring authoritarian states."
Read the whole thing here.
Posted by GI at 10:24 AM | Comments (1)
January 18, 2011
This Just In -- The Washington Post, Upside Down
On January 7, the Palestinian Authority — committed by agreements with Israel to eliminating terrorist infrastructures — released five Hamas members it had detained for two years. Several hours later, Israeli forces recaptured the quintet.
During the round-up, the Israelis shot and killed a Palestinian Arab, mistaking him for one of the wanted terrorists — organizer of a fatal bombing — who lived in the same building.
Washington Post coverage ("Palestinian mistakenly slain by Israeli troops; Unit searching for Hamas suspect shoots neighbor in building," January 8, by special correspondent Joel Greenberg) turned the news upside down. Instead of highlighting major elements — the PA's dubious and perhaps duplicitous freeing of the Hamas men in the first place and Israel's quick, successful apprehension of them — the newspaper emphasized the tragic killing of a civilian. It did so by:
* Featuring a three and a-half column color photograph headlined "Mourning a Palestinian slain in a case of mistaken identity" at the top center of the front page. The cutline read: "Palestinians pray over the body of Omar Qawasmeh, 66, who was killed in the West Bank city of Hebron when Israeli troops, seeking a Hamas militant in a pre-dawn raid, mistook him for the wanted man. The two lived in the same building. Story, A-5";
* Relying heavily on the dead man's wife and relatives, and relatives of "the wanted militant" (typically for The Post, no reference to Hamas' designation by the United States, Israel, Canada and other countries as a terrorist organization) for its account of the shooting; and
* Highlighting in the center of the text as a "pull quote" (the story topped page A-5) an allegation by the dead man's wife: "They didn't ask a thing -- what his name was or whose house it was -- and immediately started shooting."
It's virtually impossible to imagine The Post covering the killing of Afghan, Pakistani or Iraqi civilians in the course of operations by U.S. and allied forces against Taliban or al-Qaeda members in the same inverted

manner. But for Arab-Israeli reporting, the paper's Palestinian-centric template remains in place.
Posted by ER at 02:20 PM | Comments (1)
January 17, 2011
Was Alexandria A Tipping Point?
Writing in YNET today, Manfred Gerstenfeld from the Jerusalem Center for Public Affairs asks whether or not the recent attacks against Christians in Egypt have created a tipping point for the West's understanding of the Middle East. He writes:
On New Year's Eve there was a murderous attack on a Coptic Church in Alexandria, Egypt in which 23 Christians were killed and many dozens were wounded. Last week a Christian was shot on an Egyptian train and five others were wounded. The murders in Alexandria drew far more international interest than many other attacks on Copts in recent years. They also gained far more attention than other recent lethal attacks on Christians in countries such as Iraq, Pakistan or Nigeria.

One wonders whether this event might be a tipping point for the Western world. Are Western governments and Christians finally starting to interest themselves a bit more seriously regarding the fate of Christians in the Muslim world? If so, this took quite a long time. Back in 1994, Israeli Middle East expert Mordechai Abir had already summed up the Copts' situation in one sentence: "Egypt has been unable to combat the hate of fundamentalist Muslims toward the Copts who are true remnants of the original Egyptian population."
Gerstenfeld also takes note of Al Qaeda's threats against Coptic Christians outside the Middle East:
The attacks [against Copts in Egypt] were followed by threats on an al-Qaeda connected website which indicated that Coptic churches in Europe would also be targeted. As a result, Coptic New Year services in various European countries had to be guarded. For decades, the only European religious services with a security system in place were at synagogues. Once again, Jews were the first targets while others followed later.
Posted by dvz at 04:09 PM | Comments (2)
UPDATE: Ha'aretz Corrects Silwan Error
After communication with CAMERA's Israel staff, Ha'aretz today corrects yesterday's falsehood about Palestinians in Silwan (noted also yesterday in Snapshots) . CAMERA applauds Ha'aretz for this nearly unprecedented display of journalistic accountability!
Posted by TS at 01:16 PM | Comments (1)
Foreign Policy Confronts the Problem Squarely
Foreign Policy has published an article, "The roots of Egypt's Muslim-Christian tensions,"
that addresses the escalation of violence against Coptic Christians in Egypt.
It is worth a read.
Writer Michael Wahid Hanna summarizes the rise of Islamism in the Egypt and its impact on the safety and well-being of Coptic Christians in Egypt. One important theme in Hanna's piece is that superficial appeals to Egyptian unity are an insufficient response to the violence against Coptic Christians by Islamists. Egypt must start a conversation about the rights of Coptic Christians in particular and the rights of all Egyptians to address the problems it faces.
Hanna mentions many of the important data points that activists must confront if they are truly interested in promoting human rights in Egypt -- the inability of Christians to build churches, the apparent extraction of the jizyah tax in some parts of Egypt and the tendency of the Egyptian government to downplay or deny the sectarian component of acts of violence against Christians. Hanna also points out the government's tendency to blame outside forces for attacks against Coptic Christians.
Posted by dvz at 11:53 AM | Comments (0)
January 16, 2011
Ha'aretz's Lie in Translation
The phrase "lost in translation" does not begin to do justice to what transpired today in Zvi Bar'el's opinion column in Ha'aretz. Referring to a proposal by Jerusalem Mayor Nir Barkat linking the eviction of Jews residing illegally in a Silwan building to the eviction of Palestinians living illegally in the same neighborhood, the Hebrew version of the column states:
בית שבו גרים יהודים באופן בלתי חוקי יוחלף בבית שבו מתגוררים פלסטינים באופן בלתי חוקי
Which means: "A house in which Jews live illegally will be exchanged for a house in which Palestinians live illegally." (Emphasis added.)
And yet, the English version of this article, states:
A house in which Jews live illegally will be exchanged for a house in which Palestinians live entirely legally. (Emphasis added.)
Is this either an entirely innocent slip of the pen or perhaps subconscious editorializing on the translator's part? It's impossible to know, but the introduction of the word "entirely," which does not appear in the Hebrew original, suggests something perhaps more deliberate at play here.
Either way, in case you were wondering which version is actually correct, check back at this earlier story in Ha'aretz, which identified the Abu Na'eb home as belonging to the Ateret Cohanim organization.
Check back for an update about a correction.
Posted by TS at 08:04 AM | Comments (1)
Nonsensical News of the Day, Courtesy of AFP
In an article on reported U.S.-American sabotage efforts directed against Iran's nuclear weapons program, the AFP today identifies Israel's reported nuclear weapons program as the Middle East's "sole" nuclear weapons program. Come again? That's right, the article begins:
US and Israeli intelligence services collaborated to develop a destructive computer worm to sabotage Iran's efforts to make a nuclear bomb, The New York Times reported Saturday.
So far, so good. The third paragraph, though, leaves us scratching our heads in puzzlement:
The testing took place at the heavily guarded Dimona complex in the Negev desert housing the Middle East's sole, albeit undeclared nuclear weapons program.
Posted by TS at 07:18 AM | Comments (0)
January 14, 2011
Train Shooting 2.0
When software engineers issue a new version of code, they typically communicate the change to their customers by labeling adding a number such as "2.0" to the original title of the software.
A similar process is at work regarding the coverage of the train shooting that killed one Coptic Christian and left five others wounded on Tuesday Jan. 11, 2011. On the day of the attack, Al Masry Al Youm reported that security officials said gunmen looked for crosses tatooed on the wrists of his victims before shooting them. Other reports stated that the gunman chanted "God is Great" during the attack.
The story however, has changed. Al Masry Al Youm has interviewed Mahmoud Abdul Bassit Hamid who took the gun from the assailant's hand. The paper reports the following in its Jan. 14 online edition:
Hamid said newspapers (sic) reports that the suspect repeated phrases such as "Allah is great" [Allahu Akbar] were untrue. According to him, the suspect was silent and fired haphazardly during the shooting, which Hamid said lasted less than three minutes.
This story is contradicted by an article by Mary Abdelmassih from the Assyrian International News Agency (AINA), and published in The Pakistan Christian Post on the same day as the Al Masry Al Youm piece.
The piece reports the official line from the Egyptian government (the attacker was "mentally unstable" and that there was no sectarian motive to the attacks) and then provides valuable context about the credibilty of such assertions to its readers.
The Coptic Diocese of Minya said that the perpetrator went up and down the train compartment before shooting at the Copts while chanting Islamic chants.

Dr.Naguib Ghabrial, head of the Egyptian Union of Human Rights Organizations, described the incident as a premeditated "sectarian" attack, aimed at the Copts, since they sat together and sang Christian hymns, and the assailant shouted Allahu Akbar three times before shooting.

Ghabrial criticized the Interior Ministry for downplaying the shooting as usual. "The gunman did not shoot at random, otherwise Muslims would have been wounded as well," Ghabrial told BBC Arabic TV. "This is one in the series of attacks aimed at Copts, before this there was the Alexandria Massacre."

"I am sorry that the Ministry hastily issued a statement that the assailant was mentally unstable." Said Ghabrial. " Would someone who is mentally unstable be issued with a weapon and ammunition, would he be able to differentiate between Copts and Muslims?" he said. "I am telling the Interior Minister do not under-estimate Coptic intelligence and do not undervalue Coptic blood, for Coptic blood is not cheap." He called once again for the minister to resign after all these Coptic Massacres.
In its coverage of the attack, the Los Angeles Times, reports the following:
But earlier on Wednesday, AFP quoted a Samalut priest as saying that he was told by victims that the assailant targeted Copts, picking out people near a group of women not wearing headscarves: "The victims told me that after he was certain, he raised his gun and yelled 'Allahu akbar' or 'God is great,'" a priest identified as Morkos said, according to AFP.

One victim told Al Youm Al Sabee, an Egyptian independent news website, that "the offender yelled 'la ilah illa Allah,' or "there is no god but Allah'" rather than "Allahu akbar."
What explains the changing narrative? It's difficult to say. Maybe initial reports were incorrect. It's entirely possible given the chaos that probably attended the shooting itself.
Or maybe the Egyptian government is working to mold the story to downplay the sectarian nature of the attack.
In any event, Coptic leaders are convinced the attack was motivated by anti-Christian hostility and that the assailant specifically targeted Christians.
In other words, they won't be buying the upgrade.
Posted by dvz at 01:42 PM | Comments (0)
Tablet on Missing Media BS-detector
On the Tablet Magazine website, journalist Lee Smith provides his take on questionable allegations that Jawaher Abu Rahma died due to the inhalation of tear gas at a recent violent protest in the West Bank town of Bilin.
It's not clear why both the [New York] Times reporter, Isabel Kershner, and her editors at the foreign desk failed to treat the story with more circumspection: If the chances of dying from inhaling tear gas in an open space were not infinitesimal, wrongful-death suits would prevent police forces from using it as it they do throughout the United States and Europe to disperse riotous crowds.

If journalists won't run narratives like the death-by-tear-gas tale through the most rudimentary BS-detector, it makes it harder not to conclude that they are willing to believe the worst about Israel. At the least, this is evidence of a lazy press corps that ought to take its work a little more seriously; at worst, it means that the Western media knowingly participates in a campaign to slander and libel a U.N. member state.

Outside of the Palestinian fable, floated in the late 1990s, about the Zionist chewing gum that made Palestinian women both sexually intemperate and sterile, it's hard to think of a whopper that the Western media has not swallowed whole. Among other exaggerations and outright fabrications was the so-called "massacre" at the Jenin refugee camp in April 2002. The Western press dutifully followed the lead of the Palestinian news agency, Wafa, and reported that thousands, or hundreds, of Palestinian civilians were killed. Even as subsequent reports, including a U.N. investigation, revealed the truth of the matter—56 Palestinians were killed, the majority of them armed combatants—the narrative describing Israeli soldiers as war criminals and wanton murderers stuck.
You can read his entire piece here. And for a brief history of Palestinian mythmaking, see Presspectiva's column in Israel's Yisrael Hayom, translated to English here.
Posted by GI at 12:50 PM | Comments (0)
January 13, 2011
Washington Post: Evading News of Lebanese Crisis
"Political crisis shakes Lebanon; Government falls as Hezbollah withdraws over U.N. investigation" ran on page one in the January 13 edition of The Washington Post. It looked like a major news article, but errors of omission rendered it a pulp bagel — as much hole as bread.
Post foreign service correspondent Leila Fadel in Cairo and special correspondent Moe Ali Nayel in Beirut wrote the dispatch. Staff writers Joby Warrick in Qatar and Scott Wilson (former Jerusalem bureau chief, now White House reporter) in Washington contributed. It said:
1) "In 2006, Israel waged a devastating war in Lebanon, leveling much of the southern part of the country and the southern suburbs of Beirut." The Post provided no context. In reality, Israel attacked after the Iranian- and Syrian-backed Shi'ite "Party of God" conducted lethal border infiltrations, the last killing three soldiers, capturing two and killing five more sent to rescue them, under cover of rocket bombardment of northern Israel. Beirut's southern suburbs included Hezbollah headquarters.
2) "Lebanon has lived through a series of crises since [former prime minister Rafik] Hariri's killing, including car bombings that targeted political leaders ...." This fogged-filled word choice hides that fact that the public figures — including Pierre Gemayel, Gibran Tueni, Maj. Wissam Eido and Antoine Ghanem — assassinated following the 2005 car bomb murder of Hariri and 22 others were critics of Syria or investigators of Hezbollah.
3) "Hezbollah, an armed Shiite Muslim movement that also has a stake in the government, has turned to its arsenal before at delicate political times." One "delicate political time" was the "sectarian fights in the streets in 2008, when Hezbollah showed its military might by taking over central Beirut briefly before standing down." More evasive language. Hezbollah shot its way to a larger role in government in fighting that killed about 100 people in non-Shi'ite neighborhoods. No mention that two U.N. Security Council resolutions call for the disarmament of all Lebanese militia and only Hezbollah refuses to comply.
4) The article refers to Hezbollah by name a dozen times, describing it as "a Shiite group" and "an armed Shiite Muslim movement." It never informs readers that Hezbollah has been designated a terrorist organization by the U.S., Israeli, Canadian, British and Australian governments, among others.
What isn't reported speaks nevertheless. It suggests Post inability or reluctance to cover the Lebanese crisis fully, though doing so would explain Israeli actions and expose, not just partially record, those of Hezbollah and its backers.
Posted by ER at 06:09 PM | Comments (1)
Washington Post: Arabs Say Make Mine Israel
Washington Post Deputy Editorial Page Editor Jackson Diehl notes a new poll of east Jerusalem Arabs indicating that "more of those people actually would prefer to be citizens of Israel than of a Palestinian state."
In an online commentary ("Why Palestinians want to be Israeli citizens," January 12), Diehl observes that a Pechter Middle East/Council on Foreign Relations survey conducted in November "may be something of an embarrassment to Palestinian political leaders .... The awkward fact is that the 270,000 Arabs who live in East Jerusalem may not be very enthusiastic about joining Palestine." Among respondents, "only 30 percent said they would prefer to be citizens of Palestinian in a two-state solution, while 35 percent said they would choose Israeli citizenship. (The rest said they didn't know or refused to answer.)"
The poll suggested that Arab residents of eastern Jerusalem "don't much love Israel — they say they suffer from discrimination. But they seem to like what it has to offer." This includes jobs, schools, health care and welfare benefits, says Diehl. The reality of a Jewish state in which Arabs live better than they do in most Arab countries, regardless of condemnations of Israel as "racist" and "apartheid," outweighs nationalist attraction to a "Palestine" likely ruled by Fatah or Hamas.
This is not the first time Arabs indicated they might choose Israel over "Palestine." A 2008 study by the Jerusalem Center for Public Affairs, "Jerusalem: The Dangers of Division,"

noted in its final two paragraphs:
"Eastern Jerusalem Arabs have a sense of national affinity with the PA [Palestinian Authority] and their brethren in the West Bank. Yet many will find it difficult to surrender their freedom of movement and expression, employment options, and the wide range of material benefits to which they are currently entitled by virtue of their resident status. They have expressed those feelings in many rounds of unofficial talks .... [A] survey showed the majority of eastern Jerusalem residents do not wish to leave Israeli rule.
"Zohir Hamdan, mukhtar (elected head) of Tzur Bachar village in eastern Jerusalem, requested a referendum among Arab residents as far back as 2000 on the subject of transfer from Israeli to Palestinian sovereignty [so they would have the chance to reject the possibility]. A public opinion survey conducted by the Palestinian delegation to the Geneva Initiative in 2003 found that 48 percent of Palestinians expressed a desire for Jerusalem to be an entirely open city, while 41 percent said they would make do with partial Palestinian sovereignty, and 35 percent were opposed to any form of division."
It was right that The Post's Web site took note of the poll. It would have been more pertinent if the newspaper's foreign desk had covered it in print as a news story.
Posted by ER at 04:17 PM | Comments (0)
Washington Post Columnist Takes a Swipe at Time
Washington Post columnist Jennifer Rubin takes a swipe at Time Magazine's latest anti-Israel hit piece. Among other points first raised on Snapshots, Rubin notes:
The Time piece also takes issue with Israel's Shin Bet security agency. Daniel Gordis, a senior vice president at the Shalem Center in Jerusalem counters: "Time calls the Shin Bet a 'shadowy' organization, as if the work of the CIA or NSA is carried out in broad daylight. Why on earth would a security organization not be shadowy, and why is that a crime? It's a source of suspicion, for Time, only if the country in question is Israel."
Posted by TS at 02:42 AM | Comments (0)
January 11, 2011
BBC Needs to Get a Twitter Account - Missing Story
To its credit, the BBC is covering the recent attack on a train in Egypt that left at least one Coptic Christian dead. The BBC's local correspondent seems to be missing an important part of the story. The BBC states: "The BBC's Jon Leyne reports from Cairo that it is difficult to see how the gunmen would have known he could target Christians by boarding the train."
If the BBC had been following the #copts hashtag on Twitter, the organization would have obtained a link to this article in Al Masry Al Youm, which answers Jon Leyne's question as to how a gunman could identify and separate Christian victims out of a crowded train:
Security sources said the assailant had checked passengers for the green cross traditionally tatooed on the wrists of Coptic Christians in Egypt. After identifying several Copts, the culprit killed one of them and injured five others.
Ask and ye shall receive.
Posted by dvz at 02:11 PM | Comments (1)
Media Ignore Attacks on Bethlehem Church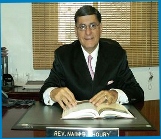 Pastor Khoury at desk and shown at Bethlehem's First Baptist Church with congregants and Christian American supporter
The compelling story of the First Baptist Church of Bethlehem and its pastor, Naim Khoury, unreported by the American media, has been told by Israeli media and an American Christian TV program. Pastor Khoury is a rarity among Palestinian Arabs as a churchman who not only voices no hostility toward Jews and Israel but also defends Zionism as based on the Bible.
In a 2010 interview from Bethlehem aired on Christian TV (Daystar Television Network) on December 31, 2010, Pastor Khoury described numerous bombing and gunshot attacks on his church. Five minutes into the video clip, Khoury explained that his church is strongly opposed by Palestinian Christian adherents to "Palestinian liberation theology" — a religious-political ideology that supports and encourages violence against Israel and denies religious roots of Jewish nationalism.
Previously, in Jerusalem Post articles, Hamas and other jihadists were cited as responsible for the attacks on Pastor Khoury and his church:
After telling the conference how his church was firebombed repeatedly by jihadists, Khoury noted that Israel is the only country in the Middle East where Christians are not persecuted for their religious beliefs. Khoury demanded to know why the EU [European Union] has refused to defend Christians in the PA [Palestinian Authority], Lebanon and the Middle East." (Jerusalem Post, January 9, 2007, by Caroline B. Glick).
Born in Jerusalem's Old City and still holding a Jordanian passport, Khoury is a bishop representing the Baptist church to Arab people in the Holy Land. He is also that rarest of figures here — a Palestinian Evangelical who believes in God's land covenant with Israel through Abraham. For this, and his evangelising of traditional Christians and Muslims, the Baptist minister has been shot and left for dead, while his church has been fire-bombed and vandalized more than 16 times. (Jerusalem Post Website, February 19, 2009).
The Israeli newspaper Haaretz had reported:
Because their beliefs are antithetical to both Islam and Palestinian nationalism, Naim Khoury and his followers live under constant physical threat. The pastor's church has been bombed 14 times by what he calls "extreme Hamas fundamentalists," and he has been shot. Khoury defends his Zionism as not his ideas, but those of the Bible, which he reads literally. "There is no Palestinian theology," Khoury says, "There is one Bible."
This is not a difficult story to cover. It certainly is newsworthy in the United States for its novelty, continued relevance regarding threats from Islamic extremism, and likely general audience interest. That makes American mainstream media avoidance of such a compelling story inexplicable, especially given the attention they pay to numerous other Israeli-Palestinian matters — minor as well as major.
Posted by MK at 01:31 PM | Comments (4)
Assailant Checked Victims for Crosses Before Shooting
Al Masry Al Youm, an Egyptian newspaper that has provided detailed coverage of life of the Coptic Christian community in Egypt, offers a horrifying detail about the recent attack that has left one Coptic Christian in Egypt dead and several others wounded. According to the report, the assailant, allegedly ensured that his victims were in fact Christian by looking for green crosses tattooed on their wrists. Al Masry Al Youm reports:
Security sources said the assailant had checked passengers for the green cross traditionally tatooed on the wrists of Coptic Christians in Egypt. After identifying several Copts, the culprit killed one of them and injured five others.
A five-year-old entry at a blog titled "Deep Thoughts" provides some detail about the cross tatoos the assailant allegedly used to target his victims.
It is a sign of pride and defiance given by the Coptic Orthodox Church and worn by its members in a predominantly Islamic county. Apparently, getting caught with this tattoo guarantees the bearer harsher treatment by the government. Coptic Christians have been getting this tattoo for generations ...
Posted by dvz at 01:12 PM | Comments (0)
Christian Shot Dead on Train in Egypt
AP is reporting that a gunman has shot six people, killing on Christian and injuring five others. The gunman has been apprehended.
Posted by dvz at 12:42 PM | Comments (0)
Time Rampage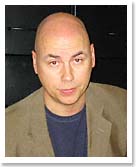 Karl Vick, Time Magazine, Jerusalem Bureau Chief
Apparently, Time Magazine has decided the way to save a waning magazine is to bash the Jewish state full tilt. A September 2010 cover emblazoned with a Star of David was memorably titled: "Why Israel Doesn't Care About Peace." A December 2010 article by the same author, Karl Vick, "Palestinians Contained," offered more of the writer's jaundiced and factually-challenged view of Israel, this time blaming Jews for Palestinian hostility.
Now comes a piece, laden again with bias, this one largely focused on Israel's growing response to distorted attacks by NGO's. Israel's Knesset voted to establish a parliamentary committee to examine international sources of funding for Israeli organizations that "aid the de-legitimization of Israel through harming IDF soldiers."

As Ronen Shoval, head of the Im Tirtzu organization that has exposed linkages between extremist NGO's and the notorious Goldstone Report, writes in Ha'aretz:
During the past year, the vast majority of the public became convinced that the organizations that call themselves human rights groups actually belong to the extreme left and seek to force their radical values on others through foreign funding.
Much of the far left which supports the extreme NGO's has risen in fury at the prospect of parliamentary inquiries into funding. Karl Vick's story parrots the indignation of those who have previously dispensed biased, false attacks against Israel with impunity.

Among the more irresponsible statements was that of Oslo architect Ron Pundak:
Ron Pundak, a historian who runs the Peres Center for Peace, sees the current atmosphere of Israeli politics as the ugliest in the nation's history. "It's totally abnormal," he says. "From my point of view, this is reminiscent of the dark ages of different places in the world in the 1930s. Maybe not Germany, but Italy, maybe Argentina later. I fear we are reaching a slippery slope, if we are not already there."
His nasty rhetoric aside, Mr. Pundak is evidently aghast that many others think it's a move toward getting off the "slippery slope" and onto solid ground to take a close look at the substance, sources and impact of certain NGO's.

The real slippery slope is Time's in abandoning any pretense of decent journalism.



Posted by AL at 12:24 PM | Comments (0)
January 09, 2011
Ha'aretz Fabricates Tear Gas Study Findings?
Since our publication last week about the contradictions and questions in the reports about the death of Jawaher Abu Rahma, more reports and yet more discrepancies are piling up, including from the New York Times (see here), Ha'aretz (here and here), and Ynet.
While Ha'aretz's Gideon Levy is convinced today of the "definitive facts," as he calls them, his colleagues Amos Harel and Avi Issacharoff are less sure:
Among the soul-searching discussions taking place in the media over the circumstances of how Bil'in resident Jawaher Abu Rahmah died, one element is notably missing: proven and established facts.
Indeed, an indication just how difficult it is to determine the facts in this case, including those "facts" printed in Ha'aretz, come by way of blogger Elder of Ziyon today. Elder notes that a study about CS tear gas, the kind used in Bilin, in the Archives of Toxicology journal does not say what an article in Ha'aretz Friday says it says.
This wouldn't be the first time that Ha'aretz fabricated or manipulated the findings of a primary source to suit is editorial bent.
Posted by TS at 06:18 AM | Comments (4)
The Economist Up to Its Old Tricks
Elliot Jager of Jewish Ideas Daily reports on the Economist's latest anti-Israel cover story. The Economist, which last spring accused Israel of afflicting its Arab population with racist traffic lights (!), employs David "Rape Israel" Landau, the former editor of Ha'aretz, as its Israel correspondent.
Posted by TS at 01:43 AM | Comments (0)
January 07, 2011
Muslims in Egypt Serve as Human Shields to Protect Copts
One hopeful counterpoint to the New Year's Day attack against the Two Saints Church in Alexandria was offered by Muslims who served as human shields outside Coptic Churches throughout Egypt during yesterday's Christmas masses. Ahramonline reports:
From the well-known to the unknown, Muslims had offered their bodies as "human shields" for last night's mass, making a pledge to collectively fight the threat of Islamic militants and towards an Egypt free from sectarian strife.

"We either live together, or we die together," was the sloganeering genius of Mohamed El-Sawy, a Muslim arts tycoon whose cultural centre distributed flyers at churches in Cairo Thursday night, and who has been credited with first floating the "human shield" idea.

Among those shields were movie stars Adel Imam and Yousra, popular preacher Amr Khaled, the two sons of President Hosni Mubarak, and thousands of citizens who have said they consider the attack one on Egypt as a whole.

"This is not about us and them," said Dalia Mustafa, a student who attended mass at Virgin Mary Church on Maraashly. "We are one. This was an attack on Egypt as a whole, and I am standing with the Copts because the only way things will change in this country is if we come together."

In the days following the brutal attack on Saints Church in Alexandria, which left 21 dead on New Year' eve, solidarity between Muslims and Copts has seen an unprecedented peak. Millions of Egyptians changed their Facebook profile pictures to the image of a cross within a crescent – the symbol of an "Egypt for All". Around the city, banners went up calling for unity, and depicting mosques and churches, crosses and crescents, together as one.
Posted by dvz at 05:20 PM | Comments (4)
You're kidding, right?
The comments sections underneath articles on the Internet are often fever-swamps of insanity.
Nowhere is this more evident in the postings beneath a Jan. 4, 2011 article about the interfaith response to the attack on a Coptic Church in Alexandria on New Year's Day 2011 which cost 23 people their lives.
Underneath the article, there are a few comments which attempt to equate the suffering of Palestinian Christians in the "Israeli Occupied Territories" to the suffering of the Coptic Christians in Egypt.
No joke.
One poster states: "My persecution as a Christian in the Israeli Occupied Territories is strikingly similar to the mistreatment of Christians in Iraq, Egypt and other parts of the Middle East."
Another commenter states, "The Christians of the Middle East face enormous obstacles. I know because I grew up in the Israeli Occupied Territories, and learned first hand. Even today, Christians in the birthplace of Christ live as second-class human beings under Israeli occupation."
No, Snapshots is not making this up. Palestinian Christians are attempting to equate their plight with the murder of Coptic Christians in Egypt.
Click on the article and you'll see similar statements for yourself.
Posted by dvz at 02:41 PM | Comments (3)
January 06, 2011
Palestinian Filter Makes News Brief Major Story
The Washington Post's "The World" page featured "Israeli troops kill Palestinian laborer at West Bank checkpoint" as its second article January 3. By Post special correspondent Joel Greenberg, the report devoted the first 10 of its 14 paragraphs to the shooting of a Palestinian Arab. Soldiers opened fire after the man, who was carrying a bottle, ignored an order to halt.
The article's last four paragraphs told of an Israeli air strike responding to a rocket attack from the Gaza Strip and of Prime Minister Binyamin Netanyahu's offer of talks on "core issues" with Palestinian Authority President Mahmoud Abbas.
The New York Times gave the shooting the opening three of 11 paragraphs in a same-day report headlined "Israeli Troops Kill Palestinian Man in West Bank". Most of the article dealt with official Israeli and Palestinian statements on possible negotiations. Among other U.S. dailies, The Baltimore Sun covered the shooting in a three-paragraph brief. USA Today and The Washington Times didn't mention it.
The Post referred to the victim as "an unarmed Palestinian man." It reported that "the army said he had been holding a bottle and was shot according to the military's rules of engagement." The Sun item noted that "a Israeli military spokeswoman said she did not know the contents of the glass bottle. 'The soldiers apparently felt threatened,' she said."
The shooting was news, though not a leading foreign news story of the day. Post judgment on this score seems quixotic, especially given the paper's shrunken space for international news. The top January 3 "World" page article, "As drug life pervades culture, masked men keep it out of the ring,"dealt with professional wrestling in Mexico. For the print edition, the page one articles "Barren Iraqi park attests to U.S. program's flaws" and "Pakistani government at risk after shifting in ruling coalition" plus a column of briefs, Mexican wrestling, and the account of the West Bank shooting comprised all the international news.
What might have been another West Bank shooting was reported under the headline "Palestinian family sends mentally ill son to settlement in hope IDF shoots him; Boy caught near central West Bank settlement of Beit El, said family forced him at gun point to go to settlement in hopes he would be killed." This news brief was published on December 31. Not in The Washington Post, but in the English-language version of Israel's Ha'aretz newspaper. This man-bites-dog story didn't pass The Post's Palestinian-centric filter.
Posted by ER at 02:36 PM | Comments (0)
The Guardian's 2010 Disproportionate Coverage
The Jewish Chronicle reports:
Israel was the sixth most written about country by the Guardian website in 2010, coming in front of Pakistan, Iran and Zimbabwe.

The Jewish state featured in 1008 stories during the year; more than double the combined total of mentions for its Middle Eastern neighbours Jordan, Syria, Lebanon and Egypt.

Jordan appeared 39 and Syria 85 times, while there were 126 reports about Lebanon and 219 about Egypt.

Israel was mentioned almost 100 times more than the next popular choice, France, while the only countries with more stories on them were the UK, USA, Iraq, China and Afghanistan.
For analysis of the Guardian's disproportionate coverage of Israel, visit CAMERA and our friends at CiFWatch.
Posted by TS at 01:41 AM | Comments (0)
January 05, 2011
Newsflash: Vulture Arrested in Saudi Arabia
Now that talk of the Mossad sharks seems to have died down, the Zionist vulture is all the rage. According to Arutz Sheva:
[Israeli daily] Maariv said that the R65 [vulture] was caught near the home of a sheikh in the community of Hayel in Saudi Arabia. The words "Tel Aviv University" etched in English on a ring clasped to its leg, and especially the transmitter, caused the finders to suspect espionage and alert the security forces.
Any thought that the ring and transmitter were identifiers for a scientific experiment? Apparently, not. Because there was more: A report in a Saudi Arabian newspaper, al-Weeam, said that the vulture had a "foul odor coming out its mouth – proof of a Zionist plot."
According to UPI, a "spate of anti-Israeli comments in the Arab media" followed the Saudi Arabian media report.
Herein lies the problem. As utterly ridiculous as the espionage claim is, it is being used as the basis of anti-Israel incitement in the Arabic speaking world. Coverage in the English- language media -- and especially the Western media -- is sparse and generally light-hearted, since the story is so . . . funny. Except it's really not funny. By not taking the vultures and sharks and killer rats seriously, the media fails to inform the Western public about an important aspect of the conflict and its implications. The stories are important because they both breed incitement and demonstrate the mindset of those who wish to destroy the Jewish state. An increasingly radicalized Arab population can point to crazy theories, which are actually believed and used as justification for all kinds of dangerous activities.
And for the record, Israeli scientists connected the GPS and ring to the bird as part of a long-term research project on vultures' location and altitude. We are unable, however, to account for the bad breath.
To read more about the media's failure to adequately cover incitement against Israel, click here.
Posted by at 01:34 PM | Comments (5)
January 04, 2011
Copts Under Siege
The New Year's Day attack on a church in Alexandria that claimed the lives of 23 Coptic Christians was preceded by threats against churches and individual believers in Europe and North America, raising the possibility that Coptic Christmas celebrations slated to take place on Jan. 7, 2011 will be marred by acts of violence, not only in Egypt but elsewhere throughout the world. Fortunately, these threats have been getting a fair amount of attention from the mainstream press.
On Dec. 21, 2010 – more than a week before the attack in Alexandria – the Toronto Sun reported that Muslim extremists have posted the names, phone numbers and photos of Coptic believers in Canada on the Internet with the apparent desire to target them for death. "The fact [that] photos and phone numbers accompany the names of those targeted is believed to mean someone inside Canada is providing the information [to extremists outside the country]," the Toronto Sun reported.
Three days after the attack, the Washington Post reported that governments throughout Europe have provided stepped up protection to Coptic Christians in their countries in response to online threats against this community.
While such security arrangements have long been part of Jewish life in Europe, the need for officials in Europe to provide security for local Christian worship services is a new phenomenon.
Will media outlets cover the anti-Coptic incitement in the Middle East? They should. It's not that hard a story to cover. Websites fomenting hostility toward Coptic Christians are relatively easy to find on the Internet. For example, this anti-Evangelization website displays an image of the decapitated head of Coptic Pope Shenouda III surrounded by flames. The image is displayed below the jump. (Warning: Not for the faint of heart.)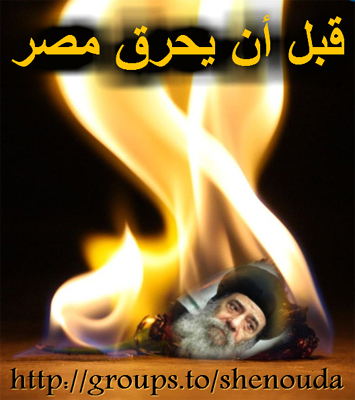 Anti-Coptic Imagery
Posted by dvz at 04:05 PM | Comments (3)
January 02, 2011
Two Years Later, Ha'aretz Too Distorted on Cast Lead
Two years after Israel's launch of Operation Cast Lead, Ha'aretz Magazine purports to take a fresh and comprehensive look at what it describes as the "opening act" of the operation, Israel's Dec. 27, 2008 attack on a Gaza City police station ("Shock and Awe," by Shay Fogelman). Yet, the article brings little in the way of new information, and instead rehashes misinformation seen earlier in media outlets like CNN.
Namely, under the heading "Who broke the tahadiyeh?" the article states:
To understand the escalation that led Israel to launch its attack on the Gaza Strip and indirectly, the character of its opening strikes, we must go back to November 4, 2008, a month and a half before the start of Cast Lead. That day, IDF troops entered Gaza to destroy a tunnel in the central district; they were acting on seemingly solid intelligence about plans to kidnap an IDF soldier. The destruction of the tunnel left one Hamas man dead and several others wounded. This was the first violation of the tahadiyeh (a temporary lull ) after four and a half months of relative quiet in the south. (Emphasis added.)
In the period of "relative quiet," from the time the ceasefire was declared on June 19 until the Nov. 4 tunnel incident:
• 18 mortars were fired at Israel in this period, beginning on the night of June 23.
• 20 rockets were fired, beginning on June 24, when 3 rockets hit the Israeli town of Sderot.
• On July 6 farmers working in the fields of Nahal Oz were attacked by light arms fire from Gaza.
• On the night of August 15 Palestinians fired across the border at Israeli soldiers near the Karni crossing.
• On Oct. 31 an IDF patrol spotted Palestinians planting an explosive device near the security fence in the area of the Sufa crossing. As the patrol approached the fence the Palestinians fired two anti-tank missiles.
There were two Palestinian attempts to infiltrate from Gaza into Israel apparently to abduct Israelis. Both were major violations of the ceasefire.
• On Sept. 28, when Israeli personnel arrested Jamal Atallah Sabah Abu Duabe. The 21-year-old Rafah resident had used a tunnel to enter Egypt and from there planned to slip across the border into Israel. Investigation revealed that Abu Duabe was a member of Hamas's Izz al-Din al-Qassam Brigades, and that he planned to lure Israeli soldiers near the border by pretending to be a drug smuggler, capture them, and then sedate them with sleeping pills in order to abduct them directly into Gaza through a preexisting tunnel.
And, in two years of research, Ha'aretz was not able to recall any details about any of these incidents, every single one of them a violation of the tahadiyeh?
Posted by TS at 05:05 AM | Comments (1)