« Gradstein to Chair in Jewish Studies | Main | Washington Post misses barrier move, Sara Netanyahu's plea »
August 17, 2010
With Elevator Proposal, New Temple Mount Lie On the Rise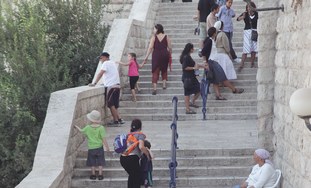 Photo by Marc Israel Sellem
Every visitor to the Western Wall is familiar with the long staircase, situated next to the Aish HaTorah Yeshiva, down to the Kotel plaza from the Jewish Quarter. It's certainly memorable for those pushing a stroller or nursing an injury, and impassable for the wheelchair bound.
There's good news then for the very young, the very old, and the mobility-impaired. The Jerusalem Post reports that a proposal for an elevator is being considered:
The elevator, proposed by the Company for the Reconstruction and Development of the Jewish Quarter, would start at Misgav Ledach Street and descend 21 meters to a new pedestrian tunnel. It would greatly improve access for visitors in wheelchairs or those with other disabilities, who now have to contend with several flights of stairs. The pedestrian tunnel would be 60-70 meters in length and pass underneath the stairs near the Aish HaTorah Yeshiva.

At present, the only way for visitors in wheelchairs to reach the Kotel is through the road leading to Dung Gate, which is very steep and has no sidewalks.
As with numerous earlier cases involving harmless projects in the Jewish Quarter and the surrounding areas, certain radical Muslim elements are clamoring about false threats to the Temple Mount and the Al Aqsa Mosque itself. Palestinian Maan News Agency reports:
The Al-Aqsa Foundation says the plans are a threat to the Al-Aqsa Mosque, which is adjacent to the Western Wall. . . .

In a statement, the foundation said the project intended to divide the mosque and prevent worshipers from reaching it, citing the plan as an attempt by Israeli forces to increase the presence of Jews in the area.

The statement warned that the square in front of the wall could be used as a base to attack the compound.
Posted by TS at August 17, 2010 08:00 AM
Comments
Better than a picture, a map showing how far away the stairway is would be more helpful, no?
Posted by: Yisrael Medad at August 17, 2010 07:44 PM
Guidelines for posting
This is a moderated blog. We will not post comments that include racism, bigotry, threats, or factually inaccurate material.
Post a comment