« July 2010 | Main | September 2010 »
August 31, 2010
Palestinians and Incitement in the Times
Yesterday's editorial in the New York Times praised the Palestinian Authority for clamping down on incitement:
Palestinian authorities have clamped down on incitement, including removing imams and teachers who encourage attacks against Israelis. More can still be done.
Times readers would be forgiven for not knowing what "more can be done." The newspaper, after all, completely ignored the glorification earlier this month of a Palestinian terrorist involved in the massacre of Israeli athletes at the 1972 Munich Olympics. Palestinian Authority leaders Mahmoud Abbas and Salam Fayyad participated in that event.
Nor does the Times tend to take note of official indoctrination such as Palestinian Authority television's repeated references, during programing aimed at children, to Israeli cities actually being occupied Palestinian cities.
Posted by GI at 01:01 PM | Comments (1)
August 27, 2010
A Small Price to Pay
Fareed Zakaria concludes a recent essay in Newsweek with the admonition : "Admitting an error is a small price to pay to regain a reputation."
Good point. Although he was talking about a Jewish organization, he might apply that same advice to himself.
Posted by GI at 04:28 PM | Comments (0)
August 26, 2010
Mondoweiss Gets it Wrong On CAMERA
Mondoweiss is not the place most people go for accurate information about the Arab-Israeli conflict.
Nevertheless CAMERA is forced to address an erroneous report posted on that site by Jeff Klein.
In a post dated Aug. 23, 2010, Klein reports that CAMERA was involved in the controversy related to a mosque in Boston. Klein reported that court documents revealed that a campaign about the mosque in Roxbury "was organized by activists with the far-right pro-Israel David Project and CAMERA spearheaded by founder Charles Jacobs, who now heads […] "Americans for Peace and Tolerance."
CAMERA had no involvement with any mosque-related protests. Like many other organizations and individuals, CAMERA was served with a subpoena from the mosque's lawyers who demanded all communications it had concerning the mosque. Emails were collected and they amounted to CAMERA receiving blast emails, which were sent to hundreds, if not thousands, of people.
The mosque's lawyers had expressed a desire to depose CAMERA officials, but the case was settled before the depositions could took place.
In sum, there was no involvement on CAMERA's part whatsoever regarding the Roxbury Mosque and in particular regarding the protests that Klein condemns.
Moreover, Charles Jacobs is not, as Klein indicates, a founder of CAMERA. As CAMERA's website clearly states, the organization was founded in Washington, DC in 1982 by Winifred Meiselman, a teacher and social worker.
Jacobs was deputy director of the Boston Chapter of CAMERA, not CAMERA itself, for approximately two years in the late 1980s – but has had no affiliation with the organization since then.
Posted by dvz at 02:36 PM | Comments (0)
Amnesty Again Sullied
The Finnish head of Amnesty International called Israel a "scum state," the Jewish Chronicle reports. The Chronicle adds:
In April Amnesty International came under criticism for holding a meeting about Israel's policy in east Jerusalem under the title of "Capital Murder" and featuring the author of a book on Israeli "apartheid".

The organisation also had to issue an apology in January for alleging that the co-chairs of the Northern Ireland Friends of Israel had committed "war crimes" by defending Israel.
Posted by TS at 07:16 AM | Comments (0)
August 23, 2010
Fact-Checking, Then and Now
New Yorker fact-checker Virginia Heffernan reflects on the state of fact-checking, both in the old days, as well as in the present day era of Google. She concludes:
In short, fact-checking has assumed radically new forms in the past 15 years. Only fact-checkers from legacy media probably miss the quaint old procedures. But if the Web has changed what qualifies as fact-checking, has it also changed what qualifies as a fact? I suspect that facts on the Web are now more rhetorical devices than identifiable objects. But I can't verify that.
CAMERA has long speculated on the impact of the new media's looser guidelines on the old media's more rigorous fact-checking process. Could this blending of old and new account for the New Yorker's failure to issue corrections on this 2009 story?
Posted by TS at 06:55 AM | Comments (0)
NY Times News Analysis, For Whatever It's Worth
One wonders if Robert F. Worth of the New York Times even read his own newspaper before he wrote this analysis, which appears today in the International Herald Tribune. He writes:
Earlier this month, Israeli soldiers were pruning a tree on their country's northern border when a firefight broke out with Lebanese soldiers across the fence, leaving one Israeli and four Lebanese dead.

The skirmish seems to have been accidental.
1) The "firefight broke out"? That is a pretty lame and euphemistic way of describing Lebanese firing on Israeli troops trimming a tree on their side of the border in a pre-coordinated move with the United Nations. In a news analysis in the supposed paper of record, you would hope for a tad more precision.
2) The skirmish seems to have been accidental? Really? Based on what? Not the United Nations, which "largely vindicat[ed] Israel's account of how the fighting started," in the words of the New York Times.
In another worrisome indication about Worth's analytical skills, he writes that for some Lebanese, having the Lebanese army back on the border with Israel "was a possible first step toward disarming Hezbollah."
A step toward disarming Hezbollah? In fact, the opposite has happened. But don't hold your breath for our worthy analyst to share the facts with you. Nevermind that since UN Resolution 1701 was passed after the 2006 Lebanon war, placing the Lebanese army in the south of the country, Hezbollah's missile supply has skyrocketed to 40,000, far beyond the quantity it had in 2006.
A day in the life of New York Times news analyses. For whatever it's worth.
Posted by TS at 06:10 AM | Comments (0)
August 20, 2010
UPDATED: Reuters Double Standard on Negotiating Stance
Can you find the two separate standards in this passage from Reuters?
Israel insists it is ready for direct talks provided there are no preconditions. The Palestinians are ready provided there is a clear agenda.
If you said the news service uses language to casts doubt on Israel's sincerity ("Israel insists..."), while accepting as fact the Palestinian assertion that they are ready to meet ("Palestinians are ready..."), then you're right.
Speaking of "Israel says," here's the next line from Reuters: "Israel says an agenda means preconditions." In truth, it is hardly only Israel that recognizes Palestinian preconditions as preconditions.
This skewed language comes not long after an earlier Reuters report told readers that the attack by pro-Palestinian activists on Israeli troops boarding the Gaza-bound Mavi Marmara was nothing more than an Israeli claim, in effect suggesting, despite clear video evidence, that Israeli soldiers might not have been attacked.
Aug. 23 update: Reuters has acknowledged in communications with CAMERA that their language about negotiations was not appropriate.
Posted by GI at 12:49 PM | Comments (0)
Hardline Hillary?
In her statement announcing a resumption of direct talks between the Israelis and Palestinians, Hillary Clinton asserted, "These negotiations should take place without preconditions and be characterised by good faith and a commitment to their success, which will bring a better future to all of the people of the region."
So will the Associated Press call the Secretary of State's stance "hard line," as it did when describing Israel's call for negotiations without preconditions?
Posted by GI at 12:09 PM | Comments (0)
August 17, 2010
Washington Post misses barrier move, Sara Netanyahu's plea
News reports about Israel by the Associated Press and Reuters on August 16 indirectly highlighted The Washington Post's chronic failure to cover the Jewish state as something other than the accused party in Palestinian narratives.
An AP dispatch (headlined "Israel lifts barrier to West Bank; Neighborhood more secure from gunfire" in The Washington Times) reported that Israel began removing a 600-yard long concrete wall erected in 2001. The barrier had protected residents of the southern Jerusalem neighborhood of Gilo from Arab gunfire from Beit Jala, an adjacent West Bank town, during the second intifada. AP reported that the Israeli military said "the barrier is being taken down ... because of a reduced security threat and improved coordination between Israeli and West Bank security forces."
Though AP erroneously described the Palestinian terror war as "against Israeli occupation" when it in fact followed Palestinian rejection of a two-state solution in exchange for peace offered at Camp David in 2000, the article correctly termed Gilo a "neighborhood in southern Jerusalem," not a West Bank settlement as some news media have done.
The Washington Post's August 16 print edition did not mention commencement of the barrier removal.
A Reuter's dispatch (headlined "Israeli premier's wife makes plea for children" in The Baltimore Sun) told readers that "a soul-searching debate in Israel over government plans to deport 400 children of migrant workers took an emotional turn Sunday after Prime Minister Benjamin Netanyahu's wife pleaded they be allowed to stay."
Sara Netanyahu wrote Interior Minister Eli Yishai that "as a psychologist ... and the mother of two children, I beg you to use your authority to allow most of the 400 children to stay in Israel," Reuters reported. Yishai said he could not alter the Cabinet decision and supporters said "Israel had no choice but to stem the flow of migrants, thousands of whom sneak into Israel through the border with Egypt."
The Post's August 16 edition did not cover this Israeli-related story either. The number of world news pages in the paper has declined, but what Arab-Israeli coverage remains still tends to fit the Palestinian-centric mold.
Posted by ER at 02:58 PM | Comments (0)
With Elevator Proposal, New Temple Mount Lie On the Rise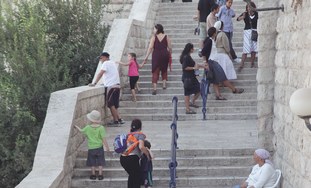 Photo by Marc Israel Sellem
Every visitor to the Western Wall is familiar with the long staircase, situated next to the Aish HaTorah Yeshiva, down to the Kotel plaza from the Jewish Quarter. It's certainly memorable for those pushing a stroller or nursing an injury, and impassable for the wheelchair bound.
There's good news then for the very young, the very old, and the mobility-impaired. The Jerusalem Post reports that a proposal for an elevator is being considered:
The elevator, proposed by the Company for the Reconstruction and Development of the Jewish Quarter, would start at Misgav Ledach Street and descend 21 meters to a new pedestrian tunnel. It would greatly improve access for visitors in wheelchairs or those with other disabilities, who now have to contend with several flights of stairs. The pedestrian tunnel would be 60-70 meters in length and pass underneath the stairs near the Aish HaTorah Yeshiva.

At present, the only way for visitors in wheelchairs to reach the Kotel is through the road leading to Dung Gate, which is very steep and has no sidewalks.
As with numerous earlier cases involving harmless projects in the Jewish Quarter and the surrounding areas, certain radical Muslim elements are clamoring about false threats to the Temple Mount and the Al Aqsa Mosque itself. Palestinian Maan News Agency reports:
The Al-Aqsa Foundation says the plans are a threat to the Al-Aqsa Mosque, which is adjacent to the Western Wall. . . .

In a statement, the foundation said the project intended to divide the mosque and prevent worshipers from reaching it, citing the plan as an attempt by Israeli forces to increase the presence of Jews in the area.

The statement warned that the square in front of the wall could be used as a base to attack the compound.
Posted by TS at 08:00 AM | Comments (1)
Gradstein to Chair in Jewish Studies
College of Charleston has announced that former National Public Radio correspondent Linda Gradstein has been named he first Norman and Gerry Sue Arnold Distinguished Visiting Chair in Jewish Studies. In this capacity, the journalist will be teaching two courses in the fall semester -- "Covering Conflict in the Middle East" and "Women in Israel and Palestine."
Students interested in Gradstein's tenure covering Israel and the Palestinians would do well to read up here -- an index of her misquotes, errors, and otherwise slanted reports.
Posted by TS at 07:15 AM | Comments (0)
August 16, 2010
Harvard Not Divesting from Israel
No, Harvard is not divesting from Israel.
Harvard may be the home of some pretty ardent anti-Israel commentators such as Sabeel activist Hilary Rantisi (who also works as director of the Middle East Study Initiative at Harvard's Kennedy School of Government) and Paul Beran, Outreach Director at the Outreach Center for Harvard's Center for Middle Eastern Studies (CMES). And then there is the inimitable Sara Roy who has drawn parallels between the behavior of Israeli soldiers and Nazis during the Third Reich, a senior research scholar at CMES. And of course, we can't forget Stephen Walt!
Despite all this, Harvard – contrary to this report – has not, we repeat, has not divested from Israel. The overheated comments are indicative of just how unhinged things can get when newspapers put out inaccurate information.
In response to the report, the Harvard Management Company issued a statement declaring that the recent sale of holdings of companies doing business in Israel is related to a rebalancing of its assets. Here is what The Man From Harvard(TM) said:

The Management Company's most recent SEC filing details changes in holdings, as is routine, but no change in policy. The University has not divested from Israel. Israel was moved from the MSCI, our benchmark in emerging markets, to the EAFE index in May due to its successful growth.

Our emerging markets holdings were rebalanced accordingly. We have holdings in developed markets, including Israel, through outside managers in commingled accounts and indexes, which are not reported in the filing in question.

(Read more: http://www.businessinsider.com/harvard-explains-israel-sales-israel-is-no-longer-an-emerging-market-2010-8#ixzz0wn1wQDVK)
So what will Harvard's intrepid critics of Israel do?
Some of them, especially those that support divestment face a real moral quandary.
Rantisi, for example, is a former employee of Sabeel (she co-authored a book with Sabeel's founder Naim Ateek). Sabeel has called for churches and Christians to divest from companies that do business in Israel.
And Paul Beran has written in support of divestment from Israel in a Presbyterian venue, calling it a "Curiously Strong Moral Activity."
And yet the very institution for which these activists work – Harvard – derives some of its income from … ISRAEL!
Can these activists continue to draw a salary from Harvard in good conscience. Harvard after all, invests in ... ISRAEL ... even as they call upon others to divest?
(Yes, we know the screeching violins are getting old, but so is the hypocrisy of the BDS brigade.)
Posted by dvz at 12:47 PM | Comments (0)
Postmortem of a (Faulty) Cemeteries Comparison
Ha'aretz's Nir Hasson labors hard to draw a tortured comparison between two cemeteries -- the Jewish cemetery of Mount of Olives in eastern Jerusalem and the Muslim cemetery in Mamilla, western Jerusalem. The false comparison that really gets under our skin is:
Until the Six-Day War, both cemeteries were neglected, the Jewish cemetery by Jordan and the Arab cemetery by Israel.
The Jordanians neglected the Mount of Olives cemetery? Neglect, as in failing to make repairs, pick up trash, and generally maintaining the site? In fact, the fate of the Mount of Olives cemetery under Jordanian control from 1948-1967 is well known, and the desecration way surpasses anything akin to passive disrepair or the accumulation of trash. In fact, Jordanians ransacked the Jewish burial site, in use for more than 2,500 years, desecrating the graves, smashing thousands of tombstones and using them as building material, paving stones or for latrines in Arab Legion army camps. The Intercontinental Hotel was built on top of the cemetery and graves were demolished to make way for a highway to the hotel.
As for neglecting the 300-400 year-old Muslim cemetery at Mamilla, Muslims were the first to do so. In 1946, two years before Israel's founding, no less than the Grand Mufti of Jerusalem proposed the building of a Muslim university on the site. The Supreme Muslim Council, for its part, had plans back in 1945 for a large commercial center to be built over the Muslim burial site.
Posted by TS at 06:02 AM | Comments (0)
August 15, 2010
Media Hypocrisy on Arrest of Palestinian Profs
Seven Palestinian professors were arrested last week in the West Bank. You didn't read about it? That's because the arrests were carried out by the Palestinian Authority, and not by Israel, thereby rendering the event a non-story in the eyes of the myopic Western media. Read the whole story here, in a piece by Khaled Abu Toameh.
Posted by TS at 03:15 AM | Comments (0)
August 14, 2010
Hezbollah Using Mentally Handicapped Children as Human Shields?
From AP:
In an interview with The Associated Press on Mount Adir, a hill overlooking the border, an officer from the military's Northern Command pointed through the summer haze at the village of Aita al-Shaab.

One of its southernmost buildings, a white structure housing mentally handicapped children, is a Hezbollah lookout post, the officer said. Several guerrilla command posts are in civilian buildings in the center of Aita al-Shaab, she said, with several dozen fighters able to move among houses through underground tunnels.
The article points out that UNIFIL denies seeing proof of "new military infrastructure" in the area, but that wording hardly amounts to a denial that Hezbollah is using old civilian infrastructure for military purposes, as it has done before.
Indeed, the story notes that the international peacekeeping force has acknowledged such use of civilian infrastructure. "When a building at Khirbet Silim exploded on July 15, 2009, peacekeepers identified it as an actively maintained Hezbollah arms warehouse," AP explained.
Posted by GI at 03:19 PM | Comments (1)
August 12, 2010
Palestinians Continue to Flout Obama's Demand to Stop Inciting
PA Chairman Mahmoud Abbas
President Obama demanded on July 6, 2010 that the Palestinian Authority cease inciting the populace against Israel and Jews:
I think it's very important that the Palestinians not look for excuses for incitement; that they are not engaging in provocative language; that at the international level, they are maintaining a constructive talk, as opposed to looking for opportunities to embarrass Israel. (From the President's July 6, 2010 press conference held jointly with Israeli Prime Minister Netanyahu).
But Palestinian incitement continues unabated, with Palestinian Authority media, mosques and government officials all getting in on the act to preach hatred against Israel and Jews. For example:
• Palestinian Authority newspaper, Al-Hayat Al-Jadida, announces that a summer camp for young leaders has been named after terrorist Dalal Mughrabi who led a 1978 bus hijacking in which 37 Israeli civilians, 12 of them children, were killed. The newspaper reports that the camp "aims at training young leaders" in the Bethlehem area. The camp's name is "Shahida (Martyr) Dalal Mughrabi summer camp" (reported by Palestinian Media Watch).
• On Al Manar TV, PA cabinet minister Muhammad Ishtayeh, minister for public works and housing, praises mastermind of Munich Olympics terror Attack and promises violence against Israel (reported by Middle East Media Research Institute).
• Child on PA TV: "[W]e will be combatants … against the Israelis" (reported by Palestinian Media Watch).
• PA TV children's program, Chicks, shows a map that includes all of Israel but the entire area of Israel is labeled only as Palestine (reported by Palestinian Media Watch).
Why has this not been reported by the mainstream media?
Posted by MK at 06:06 PM | Comments (0)
Norwegian Anti-Semitism Prompts Senator's Concern
Mads Gilbert, a Marxist and member of the Red (Rodt) Party, who endorses the "moral right" of the 9/11 terrorists to kill Americans is among the prominent anti-Israel extremists in Norway
An August 3, 2010 letter from Senator Sam Brownback of Kansas to the Norwegian Ambassador to Washington, Wegger Chr. Strommen, expresses concern about the rising incidence of anti-Semitism in the Scandanavian nation. He notes:
These reports are concerning, particularly as they have sometimes involved prominent members of Norwegian society.
Attached to the Brownback letter is a list by the Simon Wiesenthal Center of ten examples of biased attacks on Israelis and Jews by Norwegians. Among the perpetrators is Dr. Mads Gilbert, whose anti-Israel propaganda antics in Gaza during Operation Cast Lead CAMERA had followed.
In addition to various Norwegian ministers named as involved in blatant anti-Israel activity, the SWC list underscores the menacing environment for the tiny Jewish community in Norway -- a mere 1300 people. Children are subjected to bigotry in schools, cemeteries have been repeatedly desecrated, a cantor was beaten, a community building shot at and in January 2009, according to Norwegian author Erik Eiglad, the largest ever anti-Jewish demonstration in history occurred -- larger than during the Nazi era.
Americans, including the U.S. media, may want to know more about what's happening in Norway!
Posted by AL at 01:53 PM | Comments (0)
August 03, 2010
The New York Times Stumbles Onto the Facts..in the Op-Ed Pages
Yasir Arafat and allies in Amman, Jordan in 1970 Black September crisis
The story line in the news pages of the Times is practically immutable -- that resolution of the Arab-Israeli conflict is the key to regional, if not global, peace and harmony. Central to this argument is the view that Muslims and Arabs are overwhelmingly concerned about the plight of the Palestinians and devoted to defending their rights and well-being.
History tells another story and the Op-Ed pages of the Times were host to a valuable column reminding readers of key facts rarely seen on the news side. Rather than being protected by fellow Arabs, Palestinians have often been treated badly. As Efraim Karsh, a professor of Middle East and Mediterranean studies at King's College London, recounts in an August 1, 2010 column,
For example, it was common knowledge that the May 1948 pan-Arab invasion of the nascent state of Israel was more a scramble for Palestinian territory than a fight for Palestinian national rights. As the first secretary-general of the Arab League, Abdel Rahman Azzam, once admitted to a British reporter, the goal of King Abdullah of Transjordan "was to swallow up the central hill regions of Palestine, with access to the Mediterranean at Gaza. The Egyptians would get the Negev. Galilee would go to Syria, except that the coastal part as far as Acre would be added to the Lebanon."
Nor did disregard for Palestinian interests end with the birth of modern Israel, but continued in the 1970's with King Hussein's killing and expulsion of thousands of Palestinians, and in the 1980's with the Syrian and Christian Lebanese killings of 3,500 refugees in Lebanese camps. In the 1990's, hundreds of thousands of Palestinians were kicked out of Kuwait and thousands killed as punishment for their support for Saddam Hussein's invasion of that nation.
Karsh notes that:
Their retribution was so severe that Arafat was forced to acknowledge that "what Kuwait did to the Palestinian people is worse than what has been done by Israel to Palestinians in the occupied territories."
Palestinians -- and the reporters and editors who tell their story in the Times and elsewhere -- would all benefit by considering the facts of the past and their relevance to realities today.

Posted by AL at 12:53 PM | Comments (2)
August 01, 2010
Palestinian-Jordanian Academic: Media Demonization of Israel Harms Palestinians
Mudar Zahran, a Jordanian of Palestinian heritage and a researcher at the University of Bedfordshire, begins his recent Op-Ed by pointing out that "since the establishment of the State of Israel, the international media have been unhesitant in criticizing the Jewish state on almost everything," and concludes that "the demonization of Israel by the global media has greatly harmed the Palestinians' interests for decades and covered up Arab atrocities against them."
Zahran has much to say in between those two statements. Be sure to read his piece here.
Posted by GI at 01:06 PM | Comments (1)