« CBC Comes Up Short on Gaza Infant Mortality Rate | Main | Hilarion Capucci on Face Book! »
June 08, 2010
"The View� Panelists Sympathize with Helen Thomas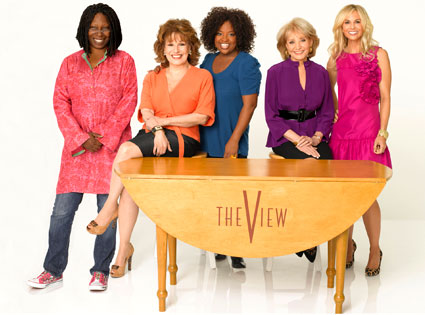 Not everyone found Helen Thomas' remark that Israelis "should get the hell out of Palestine� and "go home� — which she then identified as "Poland, Germany, America and everywhere else� — ignorant or anti-Semitic.
Sympathy for the 89-year-old Thomas, not to mention celebrity ignorance of Jewish history and anti-Semitic themes turned up on the June 7 broadcast of ABC-TV's weekday morning gabfest, "The View.� Thomas, the long-time "dean� of White House correspondents, already had apologized and then, as criticism grew, resigned as Hearst Newspapers' Washington-based opinion columnist. Her anti-Zionist verbal grenade, videotaped by Rabbi David Nesenoff (RabbiLive.com), led Nine Speakers, Inc., to drop her from its speakers bureau and literary agency.
"The View� regular Joy Behar said Thomas' "incredible lack of understanding of history is just appalling to me. That she would tell Jews to go back to Germany and Poland, Auschwitz, and Dachau. It's unbelievable she would say something like that.�
Whoopi Goldberg, another show regular said:

Let me ask you this. Because for many, many, many years, there were not Jews in Israel. Okay?
Statement or question, Goldberg's premise was wrong. Jews, and only Jews, have maintained an unbroken presence in Eretz Yisrael (the land of Israel), for more than three millennia. And despite repeated conquests and expulsions, Jews also returned from foreign exile in small numbers beginning more than 500 years ago, then in larger groups starting around 1880.
After Behar replies only with "yeah,� Goldberg ventures some mistaken, generalized diplomatic history, empathy for poor Helen Thomas kicks in.
"It's with the way she put it. I think if she had put it maybe a diplomatic way ....� Behar suggests.
"The View's� other panelists don't ask what a more diplomatic way to declare "Jews back to the Third Reich� might be. "Peace activists� onboard the "Free Gaza flotilla� gave it try, reportedly taunting Israeli commandos with "back to Auschwitz.� In any case, "The View� team, including Goldberg, end by discussing Thomas' resignation as an example of suppressed free speech.
Nearly half a century ago Federal Communications Commission Director Newton Minow, declared television a "vast wasteland.� Some things, new technologies notwithstanding, never change.
— Traci Siegel, Eric Rozenman
Posted by at June 8, 2010 10:17 AM
Comments
The View's conversants remind me of the pro-Palestinian demonstrators who confronted the lone high schooler Daniel Berger last week. Their grasp of history was about on par with Whoopi Goldberg's, it seems. But all of this, perhaps, is a demonstration of a larger and deeper issue: the need for more intensive history education in our high schools across America. Instead of the nicey-nice Social studies approach, we should be embracing a more hard core history education approach--one with a clear agenda: to highlight the differences between American culture and values and the cultures and values of other societies (past and present).
Posted by: lyonefein
at June 8, 2010 01:38 PM
Why everyone should voice its opinion about the Jews and the Jewish home anyway? I think people who do not know yet, through learning, about the more than 3000 years of Jewish existence and heritage in the Middle East i.e. Jerusalem, 2500 years in Morocco...I think they must just sit and learn. I do not think the world needs more distorted information. Media coverage for the most complicated region in the world i.e. The Middle East with its multiple races, ethnicities and religions and Arab dictatorships-- are feeding audience enough of lies and fabricated stories. Do those people who "sympathize" with Helen Thomas know that some of Jews who were tortured and killed by Nazis were Arabic native Jews born and raised in the Arabic Middle East? In 2006, the world was shaken by Mohammed Al-Durra's drastic killing story. Do those know that that story --that the entire world accused Israel of committing it -- was fabricated by an Arab reporter (broadcast first by France 2 through its office in Israel held by Charles Enderlin)? Did they follow Mohammed Al-Durra's case from inside the French court that confirmed, after 7 years, that that story was a fraud?
Peoples' mind is being passive to the flow of information that comes from every corner of the world without challenging its sources...without seeking to know the truth about it.
Peoples' mind is being passive to the flow of information that comes from every corner of the world without challenging its sources...without seeking to know the truth about it.

Posted by: Norma Fares at June 8, 2010 08:20 PM
I agree with lyonefein that History needs to be taught in depth, with teachers who are knowledgeable, emphasizing our Judao/Christian values/morals, and to compare them with the values/morals of different societies, cultures, religions so that our citizens understand how precious are our democratic morals and values.
Marilyn
Posted by: Marilyn Cooperman at June 8, 2010 10:44 PM
When I was doing my student teaching for an American History I was told it was more important to focus on knowledge of delivery method rather than competency of the subject of history.
Posted by: kellyp at June 10, 2010 02:55 PM
I commented on The View's Message Board, responding to Ms. Goldberg's ignorance with a summary of the history of the Jewish People in Israel. While I was pleased to see that I was not alone in seeking to "educate" those who are ignorant of the facts, I was shocked by the vitriolic responses that others and I received in response to our comments. One respondent, in particular, attempted to discredit my comments by stating that I was a "Rupert Parrot". Another time, he chastised me for not accepting as factual, the opinion (as a quote) of a former General of the Israeli Army regarding the 1967 War that I was only able to find on Jihadist websites. I recommend that you go to The View website, click on Message Board, and scroll through the various board that include phrases relating to Jews, Helen Thomas, etc. You can read the messages without registering. However, to comment, you will need to register. My comments are under the name: pragmaticperson. Whether or not you decide to participate in the Message Board, be prepared to be sickened by the hatred that some people have toward us in their messages.
Posted by: pragmaticperson at June 10, 2010 11:03 PM
I'm astonished by Siegel and Rosenman's comments. I listened to the segment of the View with dismay, BUT I did not hear the sentence "Let me ask you this. Because for many, many, many years, there were not Jews in Israel. Okay?" I went back and listened to the segment a second time and no, it wasn't there.
Not for the first time, Goldberg eliminated the anti-Semitic content of a deplorable episode, and in this instance concentrated on the damper on free speech. But specifically, she was concerned that people who made unacceptable statements would suffer financially, and she said that was wrong. She mentioned Don Imus's experience.

Well, thanks to the Internet, I was able to go back and look for her comments on Imus's racist remarks. While I couldn't find well known journalistic sources, several distinct web sites quoted Goldberg as favoring the firing of Imus. Hmmm, sounds like for Goldberg, it depends on whose ox is gored. I will make a comment on the View's Board, if possible. Two of the sources:
http://www.oapedia.com/index.php/Whoopi_Goldberg http://www.ilanamercer.com/phprunner/public_article_list_view.php?editid1=93

Posted by: ejh at June 13, 2010 12:37 PM
Guidelines for posting
This is a moderated blog. We will not post comments that include racism, bigotry, threats, or factually inaccurate material.
Post a comment