« Gelb on Legality of Stopping the Ships | Main | Washington Times Takes a Swipe At AP »
June 02, 2010
All Aboard -- Muslim Brotherhood, Salafists, Hezbollah Journalist
MEMRI has published a must-read who's who list of participants in this week's flotilla hailing from Egypt, Yemen, Lebanon, Jordan, Syria, and beyond -- senior members of the Muslim Brotherhood, a former employee of Hezbollah's Al Manar network (deemed a terror entity by the United States and banned in several European countries), Kuwaiti Salafists who support "armed resistance" in Iraq, and more.
It also identified the "cutting edge humanitarian activist", pictured below, as Sheikh Muhammad Al-Hazmi, a Yemeni MP from the Al-Islah party, which is close to the Muslim Brotherhood.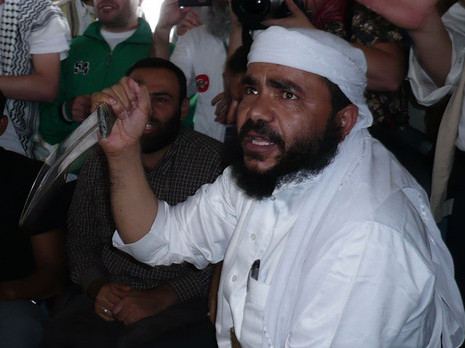 Many of these flotilla participants prepared wills ahead of their departure, with full expectations of violent confrontation and anticipation of martyrdom.
The truth behind the ship's manifest is a far cry from the claims of pacifism voiced by an IHH official yesterday in the New York Times and today in the International Herald Tribune that:
"Our volunteers were not trained military personnel," said Yavuv Dede, deputy director of the organization. "They were civilians trying to get aid to Gaza. There were artists, intellectuals and journalists among them. Such an offensive cannot be explained by any terms."
Journalists including Jordanian Muhammad Abu Ghanima, "a former head of the Muslim Brotherhood in Jordan's information bureau and a member of the movement's political bureau," and Lebanese Abbas Nasser, who worked for Hezbollah's Al-Manar TV from 1997 through 2003.
Instead of selectively mentioning the participation of Nobel Peace Prize laureate Mairead Corrigan-Maguire, will the mainstream media now call out the not-so-peaceful participants, including Dr. Hani Suleiman, the pro bono attorney for Japanese terrorist Kozo Okamoto, responsible for the massacre of 25 people in Israel's international airport?
Posted by TS at June 2, 2010 03:51 AM
Comments
This picture inaccurate portrayal of Muhammad Al-Hazmi, the displayed knife is a ceremonial dagger, traditional in Yeminite culture. It is not used for any agressive action and as you can see from the picture, quite clearly blunt.
It would be shameful of you to censor this comment if you are truly for accuracy in reporting.

Posted by: Mark Cohen at June 16, 2010 08:11 AM
Mark:
By now the evidence is overwhelming. The IHH fighters on board the Mavi Marmara were looking for a fight. They were equipped with weapons that cannot honestly be described as "ceremonial."
The fact that you are attempting to cling to the narrative of "peaceful" activists on board the Mavi Marmara two weeks after the episode demonstrates just how impenetrable and obtuse some people can be. For that reason, yes, indeed, it would have been shameful not to post your comment, because clearly, Snapshots' readers need to see for themselves the inability of people to come to grips with reality.
There is audio and video footage of two activists on board other boats describing how the IHH members would respond once the Israelis landed on board the Mavi Marmara. One activist told another that there would be an attempt to kidnap Israelis or barring that, throw them over the rails of the vessel and into the Mediterranean.
In reference to the dagger of peace held by the man in the photo above, it needs to be viewed in context. The man was on board a vessel intent on breaking a blockade of the Gaza Strip controlled by Hamas, an organization that murders its political opponents, calls for the destruction of Jews and attacks civilians while hiding behind civilians.
He was on board a vessel where "activists" equipped themselves with knives and clubs to beat people up.
It is not the knife that is dull.
Posted by: dvz at June 16, 2010 10:06 AM
You are right "dvz", it's not the knife that is dull! Any dagger of that size and shape, whether ceremonial or not, can be used as a weapon. Mark is a terrorist sympathizer, no doubt about that.
Posted by: Daniro at July 6, 2010 12:43 PM
Guidelines for posting
This is a moderated blog. We will not post comments that include racism, bigotry, threats, or factually inaccurate material.
Post a comment