« May 2010 | Main | July 2010 »
June 30, 2010
The Enigma of Liberal Intolerance
Sharon Cobb posts a retort to those who suggest she lost her "liberal" credentials by choosing to support Israel.
I have found, through the years, a consistent intolerance from liberals about me being pro Israel and ignoring all of my liberal credentials.

...It's like there is a litany test to pass before one can call herself a liberal, and if she is pro Israel, then all of her "liberal work" is negated....

...the question isn't how can I be a liberal and pro Israel, but how can you call yourself a liberal and be pro Gaza?
Read her excellent post here.
Posted by RH at 03:56 PM | Comments (3)
June 29, 2010
A "Flaming Liberal" Explains Why She Supports Israel
On her blog, Sharon Cobb, former contributor to NBC Nightly News, explains why she, a "flaming liberal", is pro-Israel and why she gets "more grief" about it from her liberal friends than from anyone else.
Yes, the Palestinians live in terrible conditions in Gaza. But why do you blame Israel?...

...I've posed this question before: If your next door neighbor repeatedly told you he is going to kill you, would you say "Okay," or would you defend yourself and even take offensive measures to keep your family safe?..

... but it's because of Hamas they live in poverty, not because of Israel or America. Hamas is too busy using the money we send for humanitarian aid for weapons to destroy Israel.
Read the whole thing.
She might want to add that it doesn't help to have Hamas extremists going around vandalizing UN summer camps that compete with their militant message of Jew-hate. (See "Palestinian Extremists Accuse UN Camps of Corrupting Gazan Youth With 'Human Rights' Lessons". )
Posted by RH at 02:04 PM | Comments (0)
Palestinian Extremists Accuse UN Camps of Corrupting Gazan Youth With "Human Rights" Lessons
Yediot Aharonot reports that Muslim extremists -- believed to be from Hamas-- have repeatedly vandalized a UN summer camp in Gaza because they believe the children are being "corrupted" with a summer program of "games, sports and human rights lessons."
Indeed, learning about human rights can certainly corrupt the minds of children carefully educated to trample on human and religious rights and despise their Jewish neighbors as sons of pigs and monkeys.

Read the Ynet article here.
Posted by RH at 01:56 PM | Comments (0)
June 28, 2010
The Irony of the Lebanese 'Aid' Ship
The anticipated Gaza "aid" ship from Lebanon, whose organizer's sentiments about Jews echo those of Helen Thomas, would do well keeping its delivery closer to home. In Beirut yesterday, thousands of Palestinian activists demonstrated demanding more rights for Palestinians in squalid refugee camps:
People carry Palestinian flags and banners as they march during a protest in Beirut June 27, 2010. Thousands of Palestinians and Lebanese civil activists converged on central Beirut on Sunday, demanding more rights for Palestinians, many of whom live in squalid refugee camps in Lebanon. REUTERS/ Khalil Hassan
Posted by TS at 06:25 AM | Comments (1)
June 24, 2010
NPR's 'Fresh Air' not always Wright
An interview with Lawrence Wright, staff writer for The New Yorker and author of The Looming Tower: al-Qaida and the Road to 9/11, on National Public Radio's "Fresh Air", conducted by Terry Gross (June 22) highlighted tunnel activity between Egypt and the Gaza Strip. While much of the interview is accurate and balanced, it misled listeners on several key points.
Wright claimed that rocket attacks into Israel by Palestinian Terrorists had "essentially stopped" during the de facto truce in 2008, before Israel's Operation Cast Lead. Actually, during the six-month "truce," 223 rockets and 139 mortars had been fired at Israel from Gaza. Even before Hamas declared it would not renew the "ceasefire," more strikes had been launched. In all of 2008, Israel was hit with nearly 3,000 rockets and mortars before it responded with Operation Cast Lead.
Wright refers to smuggling tunnels from the Egyptian Sinai Peninsula as the "the major part of the functioning economy" in Gaza and claims that, "the legitimate economy has been pretty much wiped out." Describing the situation thus could leave listeners with the mis-impression that, as anti-Israel sources have claimed, there is a "humanitarian crisis" in the Strip.
Rather, the amount of aid transferred by Israel into Gaza, plus consumer commodities smuggled in, has been quite large. In the first quarter of 2010 alone, Israel allowed 94,500 tons of supplies in 3,676 trucks into the Gaza Strip through Israeli crossings. Included in this were 48,000 tons of food items and 1,068 tons of medical supplies
Write accurately describes the situation in the Gaza Strip in the 1990s, when the "poverty rate was almost equivalent to that of the United States" and "100,000 Gazans were going to work in Israel every day." However, neither he nor Gross reminds listeners that the end of this prosperity was primarily due to eruption of the 2000-2004 Palestinian terror war against Israel known as the second Intifada.
These omissions marred an otherwise considered presentation by Wright that included pertinent Israeli perspectives. -- Traci Siegel, Washington research intern
Posted by ER at 05:13 PM | Comments (1)
Washington Post exhibits 'core issues' syndrome
Conventional wisdom insists that the "core issues" of the Arab-Israeli conflict are borders, settlements, Jerusalem, and Palestinian Arab refugees. The Washington Post offered a slight variation in "Netanyahu aide questions peace effort, Iran sanctions" in its June 23 edition. Janine Zacharia, Post Jerusalem bureau chief, referred to "core issues such as borders, the future of Jerusalem, security arrangements and the fate of Palestinian refugees."
Such formulations avoid recognition of the elephant in the room: If those are indeed the key matters to be resolved, why did Palestinian leadership reject Israeli-U.S. offers in 2000 and 2001 and an Israeli proposal in 2008 of peace in exchange for a West Bank and Gaza Strip state, with eastern Jerusalem as its capital? Why were the rejections complete, with no Palestinian counter-proposals on, say, resolution of refugee claims? Why were the 2000 and 2001 refusals supported by the terrorist war called the "al-Aqsa intifada"?
Perhaps, as CAMERA's public service advertisement in the June 10 edition of the Washington Jewish Week suggests, "borders, refugees, boundaries and Jerusalem [are] symptoms of the core issue — Arab denial of Jewish rights." The elephant in the room remains Palestinian Arab denial of Israel's legitimacy as a Jewish state, entwined with denial of the Jewish people's profound, 3,000-year-old connection to Jerusalem.
In "Netanyahu aide questions peace effort, Iran sanctions," The Post reports that Israeli national security adviser Uzi Arad "described the Palestinians as 'major actors in the delegitimizaiton of Israel.'" The paper cites him as asking, "have you failed to notice that the more we lend legitimacy to a Palestinian state, the more it comes at the expense of our own?" If the core issues were borders, Jerusalem, settlements and refugees — matters for negotiation according to U.N. Security Council Resolutions 242 and 338 — that would not be so. But if the core issue is rejection of Jewish sovereignty, it would.

Posted by ER at 03:07 PM | Comments (0)
Al-Aqsa TV Banned in Europe ... Or Not?

Will Hamas' Al-Aqsa TV go the way of Hezbollah's incendiary Al Manar TV -- and be taken off the air in Europe? According to a June 15 AP story by Ibrahim Barzak, Al-Aqsa TV is to cease broadcasting by June 26 because it spreads incitement. He writes:
The Hamas station - best known for its children's programs glorifying violence against Israel - is the centerpiece of a growing media operation of Gaza's Islamic militant Hamas rulers. Losing the satellite provider will hamper the group's attempts to spread its message and raise funds abroad.
As the Palestinian Maan News Agency's June 24 report notes, the instruction to shut down Al-Aqsa in Europe came from a ruling by France's Conseil Supérieur de l'Audiovisuel. Maan reported Al-Aqsa's claim:
"We do not incite hatred or anti-Semitism, and we have the right to defend the Palestinian struggle,"
MEMRI proves otherwise, with yet another example of bigoted ranting on the network, this time reiterating the long discredited, bogus claims regarding Benjamin Franklin and his alleged criticism of the Jews.
Posted by AL at 12:43 PM | Comments (0)
What A Decade of Peace and Justice Activism Has Wrought
A Jewish dance group was recently attacked -- with stones -- by audience members during a show in Hanover, Germany.
Here are some details:
A Jewish dance group was attacked with stones by a group of children and teenagers during a performance at a street festival in the Germany city of Hannover, police said Thursday. One dancer suffered a leg injury and the group then canceled their performance.

The teenagers also used a megaphone to shout anti-Semitic slurs during the Saturday afternoon attack, Hannover police spokesman Thorsten Schiewe said.

Police said the incident is under investigation and that they do not have an exact number of attackers yet. Schiewe said there were several Muslim immigrant youths among the attackers.
By portraying Israel, the target of genocidal hostility from its neighbors, as a genocidal apartheid nation inhabited by extremists and governed by monsters, so-called peace activists in the West helped render Jews, wherever they may be, as legitimate targets for acts such as this.
Posted by dvz at 09:29 AM | Comments (0)
June 21, 2010
Commonweal Drags Israel by the Ear
It's a pure coincidence, but the front cover of the June 18, 2010 issue of Commonweal is appropriate in light of the publication's editorial (subscription only) condemning Israel for its response to the flotilla that tried to break the blockade of the Gaza Strip on May 31. The editorial lays virtually all of the blame for the nine deaths on board the Mavi Marmara on Israel despite ample evidence that the Turkish fighters on board the vessel were looking for a fight and were intent on achieving martyrdom or death at the hands of the Israelis.
On the magazine's cover is an 1893 photo of Anne Sullivan lovingly touching the face of Helen Keller, who under Sullivan's tutelage, became an important writer despite the fact that she was deaf and blind. In the photo, Sullivan leans toward Keller, touching her lips and cheeks with her left hand while peering intently into Keller's eyes as she sits impassively, oblivious to everything but Sullivan's efforts to connect with her.
The photo is a compelling expression of kenosis or self-emptying and offers an inadvertent but powerful critique of the editorial inside in which Commonweal's editors portray themselves as trying to shake some sense into the head of the Israelis.
Instead they drag the Jewish state by the ear through a sculpture garden depicting events of recent history in an effort to finally get Israelis to understand what they are up against, as if somehow, the Israelis didn't know what was going on in the region they live. Commonweal's frustration at Israel's alleged inability to master its own history is matched by a fundamental ignorance of a few obvious facts.
First off, the editors state that "however violently the activists on the [Mavi Marmara] responded to the commandos, the outrage in the Middle East and Europe at Israel's use of lethal force is justified."
The people who fought with the Israeli commandos were not "political activists" as Commonweal describes them in the opening paragraph, but men intent on attacking the Israelis as they landed on board the vessel. "Thugs" might be a better word.
And these "activists" did not merely "respond" with violence to Israeli commandos landing on the Mavi Marmara, they spent days preparing for a violent confrontation. As the crew stood by watching nervously, the fighters on board the Mavi Marmara used saws to cut the railings off the vessel to create bars with which to attack Israelis as they landed.
They chanted anti-Semitic slogans in the days before the confrontation. Some of them expressed a desire to become martyrs for the cause. And when the Israelis did land on the vessel, they attacked them viciously with knives and metal bars. They threw one soldier from one deck to another and took two soldiers hostage.
Activists on other vessels knew full well that a confrontation was in the offing on board the Mavi Marmara and that it was going to be provoked by Turks on board the vessel. They knew this before it happened and yet Commonweal's editors cannot take these facts into account in an editorial dated June 8, 2010 – eight days after the event happened. None of this information should come as a surprise for the story of the Mavi Marmara being a boat filled with "humanitarian activists" started to fall apart within a couple of days of the May 31 confrontation. Instead of acknowledging that there was more to the story, Commonweal's editors blundered on with their editorial, unable to pass up a chance to demonstrate their moral and intellectual superiority.
To make matters worse, the editors at Commonweal offer not one word of condemnation of the fighters on board the Mavi Marmara. They offer not one word of criticism of how the IHH, a Turkish Islamist group, cynically used a so-called "humanitarian" flotilla as a cover for its pre-planned provocation, nor do the editors condemn the Free Gaza Movement for allowing their campaign to be infiltrated by thugs intent on starting a fight with the Israelis.
And for some reason, Commonweal, a lay Catholic publication, fails to acknowledge the presence of Syrian-born Archbishop Hilarion Capucci on board the Mavi Marmara. Capucci, a Melkite Catholic, was convicted of running guns from Lebanon into the West Bank in the 1970s. Some of the weapons he smuggled were reportedly used in the murder of a Jerusalem taxi driver in 1974. If this is true, one can make a pretty good argument that the Archbishop, a man of the cloth, has blood on his hands. And yet, he is lauded as a hero by his fans on Facebook.
How do the editors at Commonweal think that Israelis will respond to Archbishop Capucci's presence on board the Mavi Marmara? As evidence of the Free Gaza Movement's peaceful intentions?
Hardly.
These are no small omissions. Whether the editors at Commonweal can see it or not, the provocative behavior of the so-called activists in groups like the Free Gaza Movement and the International Solidarity Movement and the one-sided condemnations of Israel leveled by groups like Human Rights Watch and Amnesty International has contributed to a deep sense of suspicion and cynicism on the part of Israelis toward the international community in general.
A recent survey of Israeli public opinion indicates that 73 percent of Israelis believe that they will be the target of world-wide condemnation no matter what they do. Fifty-five percent of the members of Meretz, a left-wing party in the Knesset, feel this way. Under these conditions, credible criticism of Israeli policies has to be based on a comprehensive understanding of the circumstances faced by Israel, an understanding Commonweal is apparently unable to achieve.
To wit: The editors report that as a result of the confrontation on board the Mavi Marmara, Israel may lose "Turkey as a strategic military and diplomatic partner" in the Middle East. This is bad news, because Turkey was "once the Jewish state's staunchest Muslim ally in the region."
Newsflash: That train had already left the station in 2009 when Prime Minister RecepTayyip Erdogan screamed at Israeli President Shimon Peres during the World Economic Forum in Davos. He told one of the most vocal and persistent supporters of peace efforts in Israel that "When it comes to killing, you know very well how to kill."
After his outburst, Erdogan cancelled joint military exercises with Israel and engaged in joint exercises with Syria which was the source of Hezbollah's rockets that were launched into Israel during the Summer War of 2006. None of these actions are the behavior of a leader intent on maintaining good relations with Israel, and yet, Commonweal's editors place the onus for maintaining these good relations on Israel.
In fact, the confrontation itself is evidence that the alliance had already been abandoned by the Turkish government.
Predictably, Commonweal's editors go onto blame Israeli Prime Minister Benjamin Netanyahu for a lack of progress in negotiations with Palestinian leader Mahmoud Abbas and for President Obama's difficulties in the Middle East. They write:
Since it took office, the Obama administration has been trying to get Israel to the negotiating table to hammer out steps toward the elusive "two-state solution." Netanyahu has rebuffed the United States at every turn, not hesitating to use the considerable influence hard-line American supporters of Israel have with Congress to make things difficult for the President.
In November, the Israeli Prime Minister agreed to a 10-month settlement freeze in an effort to restart peace talks derailed by the controversy surrounding the approval of construction of housing units in a Jewish neighborhood in Jerusalem earlier that year. (Let's be clear, no one really seriously believes that the neighborhood in question will be handed over to the Palestinians in a peace deal.) Nevertheless, Mahmoud Abbas stated the freeze wasn't enough for him to return to the negotiating table.
None of this stopped Commonweal's editors from portraying Israel, and only Israel, as responsible for the stalemate in negotiations.
The editors also contradict themselves on an important point. On one hand, they acknowledge that Hamas "considers itself as war with Israel" a pretty condign (if not evasive) way of acknowledging that Hamas seeks Israel's destruction.
The editors then claim that the blockade against the Gaza Strip is "morally questionable." How exactly is it immoral to deprive Hamas of materials it can use to launch attacks against Israel? Exactly what should have Israel done instead? This is a question Commonweal should answer up front given their conclusion that Israel's political leaders "seem to have lost touch with both the moral foundations and the real security interests of the Jewish state."
There it is again, notion that somehow Christians understand the circumstances faced by the Jewish people and their institutions better than the Jews themselves. Commonweal's editorial is no advice to a valued friend, but a recasting of the Medieval confrontation between Church and Synagogue that for some reason, the Church always wins.
The question is quite simple: At what point will Commonweal forcefully condemn the behavior of Israel's adversaries and not merely mention these misdeeds in passing before condemning the Jewish state?
Commonweal's editorial was a disgraceful combination of misinformation, disdain and moral superiority that is all too often at the root of Christian commentary about the Arab-Israeli conflict.
Posted by dvz at 02:35 PM | Comments (1)
June 16, 2010
Christian Century Publishes Critique of Presby Document
Two scholars from Vanderbilt Divinity School, Ted A. Smith and Amy-Jill Levine have written an authoriative critique of "Breaking Down the Walls," a report that will be on the agenda of the upcoming General Assembly of the Presbyterian Church (USA). Smith, Assistant Professor of Ethics and Society, and Amy-Jill Levine, E. Rhodes and Leona B. Carpenter Professor of New Testament Studies at Vanderbilt, had their piece, ("Habits of anti-Judaism"), published by Christian Century, the house organ for mainline Protestant churches in the U.S.
The two authors offer their qualifications to their readers as follows:
We write as a Presbyterian and a Jew, as colleagues on a divinity school faculty and as teachers who continue to see the habits of false witness in the work of even our most talented and committed students. We know firsthand how deep-seated habits can be and how quicky they outrun our best intentions. We do not seek to single out the Presbyterian report, but to illumine patterns that many forms of Christian witness.
The piece, which is worthy of a full read, begins with a particularly tough opening paragraph:
Old habits die hard. Despite numerous attempts by mainline Protestant denominations to promote historically informed studies of Judaism, repudiate supersessionist theologies and engage in conversations with Jews, the old habit of bearing false witness against Jewish neighbors lives on. In recent years this practice has thrived especially in mainline Protestant statements on the Middle East.
Smith and Levine soften their critique a bit when assure Christian Century readers that "[s]upporters of problematic statements are rarely bigots; they are more likely people committed to justice who have also absorbed centuries-old patterns of Christian anti-Judaism. This false witness is more a matter of habit than of hate. It lives on through good intentions."
To some, this may be letting mainline anti-Zionists off a bit too easy, but Smith and Levine's critique of the PC(USA)'s Middle East Study Committee is pretty thoroughgoing and precise. For example, they state the MESC report "silences some Jews by naming them as difficult. It silences other Jews by presuming to speak for them without having spoken to them."
The authors also state "the report insinuates the illegitimacy of Israel thorugh connections to Nazi Germany. A committee member quotes and unnamed Israeli activist as saying that Israel 'acts as a Nazi state.' By quoting an Israeli, the report draws the unfortunate connection even while exculpating itself of having made it."
Is it possible that Christian Century has moved out from under the shadow left by its former editor, James M. Wall?
Posted by dvz at 01:40 PM | Comments (0)
June 15, 2010
"Maritime Martyrs"
CJHS (Children of Jewish Holocaust Survivors) have uploaded a video about the Gaza flotilla events, entitled "Maritime Martyrs".
Posted by RH at 12:22 PM | Comments (0)
June 14, 2010
Another Bit of Mordor: Synagogue Shuts Service Due to Threats
The process is pretty well understood.
Attacks on Israel cause Israel to respond, which then provokes outrage on the part of Europeans who manfully enough, direct their anger at the local Jewish population. It took place during Israel's war with Hezbollah during the summer of 2006, and apparently, it's happening again in the Netherlands. According to the blog, Bad News from the Netherlands, a synagogue in the conservative town of Weesp canceled its services because of threats. Bad News from Netherlands reports:
The synagogue in Weesp cancelled its service last Saturday after the police informed members about threats received. The threats are believed to be related to the Israeli attack on the Gaza flotilla. The chairman of the Jewish community in the town which is Masorti (i.e. Conservative) Nicky Cohen said that the synagogue has standard security but in this case it possibly would not have been sufficient. (Comment: This is probably the first time since World War II that a synagogue service had to be entirely cancelled in Western Europe. In 2006 in the Swedish town of Malmö once a service could not take place in the synagogue but it was then moved elsewhere.)
Speaking of Malmö, Jews are fleeing that city because they are targets of unrelenting hostility fanned largely by anti-Israel sentiment. What does the mayor do? He blames the Jews.
Posted by dvz at 04:06 PM | Comments (2)
June 13, 2010
NY Times Aid Omissions
Ethan Bronner's New York Times/International Herald Tribune page-one article Friday begins:
Three years after Israel and Egypt imposed an embargo on this tormented Palestinian strip, shutting down its economy, a consensus has emerged that the attempt to weaken the governing party, Hamas, and drive it from power has failed.

It the days since an Israeli naval takeover of a flotilla trying to break the siege turned deadly, that consensus has taken an added urgency, with world powers, anti-Hamas Palestinians in Gaza and some senior Israeli officials advocating a shift.
Bronner does not mention, however, the position of one major player in this story -- the Palestinian Authority -- which opposes the lifting the naval blockade.
Also of note is the following IHH boast:
"We only work through Hamas, although we don't limit our aid to its followers," [Mehmet Kaya, who runs the I.H.H. office in Gaza] said. "We consider Israel and the United Nations to be the terrorists, not Hamas."

The I.H.H. cargo is sitting at the border in Israel, which is trying to find a more appealing partner to distribute it.
Let's take apart the second paragraph. It's difficult to know which cargo is "I.H.H. cargo" and which came from other sources, given that various organizations contributed money used to purchase goods. In any event, the cargo is sitting in Tzrifin, a base in central Israel, not at the border with Gaza. The humanitarian aid -- food, clothes, and medical supplies -- have already been approved by Israel for entrance into the Gaza Strip, but Hamas has rejected them -- a fact widely reported elsewhere, but not in the New York Times. As for the construction material, including pre-fab houses, the IDF spokesmen's office tells us that these materials can be transferred without delay to any bona fide international aid organization -- such as UNRWA, OCHA, or the Palestinian Red Crescent -- which will take responsibility for them.
Posted by TS at 06:20 AM | Comments (1)
Turkish Denial About Official Ties to Flotilla Sinks
On CNN's "Fareed Zakaria GPS," Turkish Foreign Minister Ahmet Davutoglu insisted:
And, again, let me underline, this freedom flotilla was absolutely an NGO activity. As the Turkish government, we didn't encourage them, but it was a civilian activity. We are a democratic society. We cannot stop any protester, even in the streets of Istanbul.

So, it is absolutely an NGO activity. It was a civilian and international activity. Therefore, we cannot say anything against them.
Yet, as the Jerusalem Post reports:
"[The] IHH acquired the Mavi Marmara ship from the AKP-run municipality of Istanbul. It is not conceivable that the IHH's Gaza operation could have been carried out absent high-level government sanction," wrote Svante Cornell, a Swedish security expert who specializes in Eurasia, in an article published on Monday.

A journalist on-board the Mavi Marmara, described as having good links with the heads of the Turkish government and Bulent Yildirim, head of the IHH, had stated, "The flotilla was organized with the support of the Turkish government and Prime Minister Erdogan gave the instructions for it to set sail. That was despite the fact that everyone knew it would never reach its destination," according to the report.
For more on Turkish governmental links to the IHH, see here.

Posted by TS at 04:46 AM | Comments (2)
June 10, 2010
'The World' is strangely small on Public Radio
A partisan source and leading interview questions made for an unreliable June 3 segment on "The World," a one-hour weekday radio news magazine co-produced by the British Broadcasting Corp. and WGBH Boston for Public Radio International. Anchor Marco Werman interviewed Lara Lee, a U.S.-based Brazilian filmmaker who was on board the "Mavi Marmara" as it attempted to run Israel's blockade of the Gaza Strip, precipitating a fight in which nine Turkish men were killed.
"We didn't have weapons," Lee claimed. "Our ships were fully inspected before departure." This despite video footage of Israeli soldiers being attacked by passengers with iron bars and clubs and wire service photographs showing passengers holding knives and standing over wounded commandos.
"These Gazan people be completely, like, locked in where they cannot have access to food, medication and cement and all sorts of basic products and people are injured or have diseases and they can't have medication in the hospitals," Lee alleged. Werman didn't ask Lee about the hundreds of tons of aid, including food and medicine, Israel allows into Gaza weekly or the thousands of Gazans it treats annually in Israeli hospitals.
Instead, like a prosecuting attorney leading a willing witness, he asked questions including, "Israel has said its commandos fired in self defense after they were clubbed, stabbed and fired upon by activists who had snatched the commandos' pistols. At any time did you see any fighting between the activists and the commandos?" and "And did the Israelis confiscate your cameras?"
"The World's" overall coverage of the Gaza flotilla managed to avoid interviewing a single Israeli. In addition to Lee, Werman chatted with Jeffery Goldberg (June 2), a correspondent for Atlantic Monthly magazine, BBC's Jon Donnison (June 2) and Bethany Bell (June 3), and Magdi Abdelhadi, an Arab Affairs analyst at the BBC (June 4) regarding the flotilla. Journalists talking to other journalists about news generally is not news. And even with inclusion of Goldberg, "The World's" Lara Lee-BBC line-up was anything but balanced. – Traci Siegel, research intern.
Posted by ER at 05:42 PM | Comments (1)
Note to AP: Mavi Marmara Was Not Carrying Supplies
In a story about President Obama's remarks at a press conference with Mahmoud Abbas, the Associated Press reported as follows:
"The situation in Gaza is unsustainable," Obama said as he met with Palestinian President Mahmoud Abbas in the Oval Office. He said the attention of the world is on the problem because of the "tragedy" of the Israeli raid that killed nine people trying to bring in supplies.
Problem is, Obama did not say anything about "nine people trying to bring in supplies" — perhaps because he knew that those nine, Turkish passengers on the Mavi Marmara, were not trying to bring in supplies.
Israel's Ministry of Foreign Affairs explains that
Of the seven flotilla ships, only four were freight ships. The Challenger 1 (small yacht), the Sfendonh (small passenger boat) and the Mavi Marmara (passenger ship) did not carry any humanitarian aid, except for the passengers' personal belongings.
The AP, which has a code of ethics that states "when mistakes are made, they must be corrected -- fully, quickly and ungrudgingly," has been informed of the error. We'll update this post when they fulfill their promise and run a correction.
Posted by GI at 04:03 PM | Comments (0)
Sweet treat gets sticky for Washington Post
Halva, that sticky, sesame paste and honey concoction known from India to the Balkans, is a "Palestinian sweet" according to a Washington Post news brief, "Diver toll reaches 6; Gaza blockade eased," (June 9). The item, by Post Jerusalem bureau chief Janine Zacharia and primarily about Israel's shooting of scuba-diving terrorist suspects, referred to "the Palestinian sweet halva" as an product recently allowed into the Gaza Strip. While halva certainly is eaten by Palestinian Arabs, it is also common in general Arab, Jewish, Indian, African, and European cultures.
Halva's origin is somewhat murky. However, many agree that the term dates to seventh century Arabic. Al Halwa, meaning sweet confection, was used to describe a popular date paste. Once halva spread through the Near and Far East, semolina, which is made from wheat, became a main ingredient and sesame was introduced as well. This helped popularize the product internationally. Today halva has become a cultural-cuisine item for many Middle Eastern, African, Asian, and European countries and is eaten all over the world.
Though it is hard to pinpoint where the halva eaten today originated, it clearly existed hundreds of years before the 20th century emergence of Palestinian Arabs as a national group. The Post describing halva as a "Palestinian sweet," is a small but revealing instance of the newspaper's tendency to filter the Middle East, from candy to conflict, through the Palestinian perspective. -- Traci Siegel, research intern
Posted by ER at 02:24 PM | Comments (0)
Rabbi Faces Hate Barrage from Helen Thomas Fans

The public square may have seen the last of Helen Thomas after her "Get the hell out of Palestine" message to Israelis embarrassed her employer, the Hearst Corporation, and the White House Press Association -- which had allotted her a privileged position. But their quick action in distancing themselves from her has triggered furious reaction from a raft of Jew-haters. FoxNews reported on June 9:
The New York rabbi who videotaped veteran White House correspondent Helen Thomas telling Jews to "get the hell out of Palestine" says he has received numerous death threats and thousands of pieces of hate mail in the days since Thomas' abrupt retirement.

Rabbi David Nesenoff said he is facing an "overload" of threatening e-mails calling for a renewed Holocaust and targeting his family — a barrage of hate he said he planned to report to the police on Wednesday.
As Irish author Conor Cruise O'Brien memorably observed, anti-Semitism is a "light sleeper." Thomas seems to have goaded the monster to stir. FoxNews, for its part, laudably speaks out against the bigots.
Posted by AL at 01:27 PM | Comments (3)
June 09, 2010
Turkish FM, Meet Amin Abou Rashid
In denying that any of the Free Gaza flotilla passengers have links to terror groups, Turkish Foreign Minister Ahmet Davutoglu was all bravado on CNN:
If anybody wants, I think they should look at the list of passengers. And I am challenging -- there's a very good question here. If somebody argues that there is a terrorist in the ship, they can give names to Turkey and we can follow the case.
We already obliged with the names provided by MEMRI and the Israeli army. But here's a new name: Amin Abou Rashed, the leader of Hamas in the Netherlands. See the Dutch report from the Telegraaph, and the previous link for an English translation.)
Posted by TS at 06:01 AM | Comments (0)
June 08, 2010
Hilarion Capucci on Face Book!
Hilarion Capucci may be a convicted gun-runner, but that doesn't stop him from having his own page on Facebook.
Posted by dvz at 09:18 PM | Comments (0)
"The View" Panelists Sympathize with Helen Thomas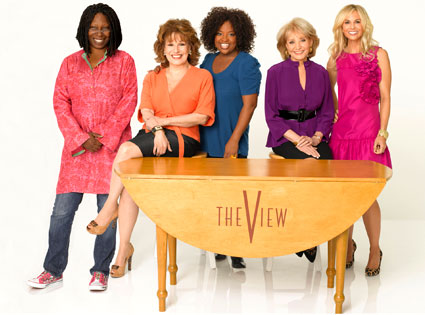 Not everyone found Helen Thomas' remark that Israelis "should get the hell out of Palestine" and "go home" — which she then identified as "Poland, Germany, America and everywhere else" — ignorant or anti-Semitic.
Sympathy for the 89-year-old Thomas, not to mention celebrity ignorance of Jewish history and anti-Semitic themes turned up on the June 7 broadcast of ABC-TV's weekday morning gabfest, "The View." Thomas, the long-time "dean" of White House correspondents, already had apologized and then, as criticism grew, resigned as Hearst Newspapers' Washington-based opinion columnist. Her anti-Zionist verbal grenade, videotaped by Rabbi David Nesenoff (RabbiLive.com), led Nine Speakers, Inc., to drop her from its speakers bureau and literary agency.
"The View" regular Joy Behar said Thomas' "incredible lack of understanding of history is just appalling to me. That she would tell Jews to go back to Germany and Poland, Auschwitz, and Dachau. It's unbelievable she would say something like that."
Whoopi Goldberg, another show regular said:

Let me ask you this. Because for many, many, many years, there were not Jews in Israel. Okay?
Statement or question, Goldberg's premise was wrong. Jews, and only Jews, have maintained an unbroken presence in Eretz Yisrael (the land of Israel), for more than three millennia. And despite repeated conquests and expulsions, Jews also returned from foreign exile in small numbers beginning more than 500 years ago, then in larger groups starting around 1880.
After Behar replies only with "yeah," Goldberg ventures some mistaken, generalized diplomatic history, empathy for poor Helen Thomas kicks in.
"It's with the way she put it. I think if she had put it maybe a diplomatic way ...." Behar suggests.
"The View's" other panelists don't ask what a more diplomatic way to declare "Jews back to the Third Reich" might be. "Peace activists" onboard the "Free Gaza flotilla" gave it try, reportedly taunting Israeli commandos with "back to Auschwitz." In any case, "The View" team, including Goldberg, end by discussing Thomas' resignation as an example of suppressed free speech.
Nearly half a century ago Federal Communications Commission Director Newton Minow, declared television a "vast wasteland." Some things, new technologies notwithstanding, never change.
— Traci Siegel, Eric Rozenman
Posted by at 10:17 AM | Comments (6)
June 07, 2010
CBC Comes Up Short on Gaza Infant Mortality Rate
Barry Rubin blogs:
On June 1, Canadian Broadcasting Corporation (CBC) anchorman Peter Mansbridge stated that the Gaza Strip "has one of the world's highest infant mortality rates" The obvious implication: it is Israel's fault because of its sanctions.

In fact, the Gaza Strip has a lower infant mortality rate than Turkey, which has been a modern republic with full independence for about 80 years, and Iran, which enjoys the "benefits" of the kind of Islamist government which Hamas and the current Turkish government applaud.

According to the CIA World Factbook, regarded as a definitive source, the Infant Mortality Rate in the Gaza Strip is 17.71 deaths per 1000 births, about the same as Mexico and below that of Brazil, Romania, and many other countries. In neighboring Egypt, the number is 26.2, in Turkey, 24.8, and Iran, 34.7.
Mansbridge's exaggeration sounds like a new version of an old falsehood -- that Gaza is the "most densely populated" or "one of the most densely populated" places on earth.
Posted by TS at 08:40 AM | Comments (2)
More Palestinians Homes Demolished
The Hamas government in the Gaza Strip has demolished 20 more Palestinian homes, reports the Maan Palestinian news agency. Quick, call the United Nations! Oh, they're too busy condemning Israel for enforcing its blockade. Tell ICAHD! Oh, yeah. As endorsers of Free Gaza, they've got their hands too full at the moment to worry about homeless families in Gaza.
As for Hamas promises "to build housing units on land allocated for public use," is "public" code for "Hamas supporters only"?
(Hat tip: IMRA)
Posted by TS at 08:01 AM | Comments (0)
At Reuters, One Knife Restored, Another Cropped
After CAMERA contacted a Reuters editor about the cropped photograph in which the knife in the hand of a Mavi Marmara passenger was cut out, Reuters posted the full, uncropped image (seen below) to its site Reuters Pictures, from which clients purchase images.
In the meanwhile, Charles Johnson of Little Green Footballs has uncovered a second Reuters image in which a knife and blood are cropped out.
The cropped Reuters image, released yesterday, is here: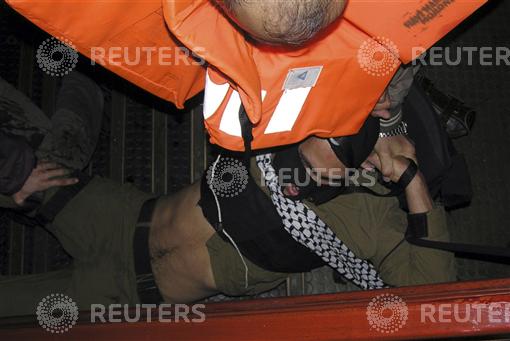 The full original image, with the knife and the pool of blood, can be seen at the IHH Web site: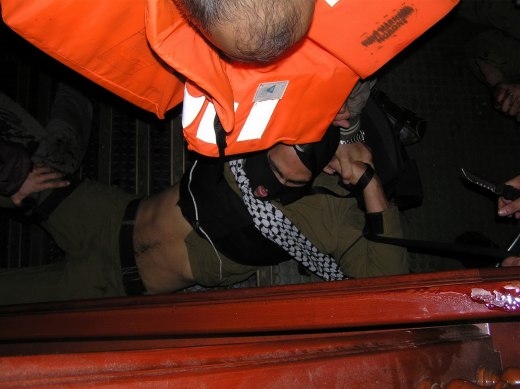 Additionally, after lightening and enlarging the original photo Johnson discovered that the portion that was cropped includes the body of second wounded Israeli soldier:
And there's more -- information from the Reuters Pictures Web site reveals that these images were IHH handouts, yet another indication that the following claim of an IHH official in the New York Times is a complete falsehood:

"Our volunteers were not trained military personnel," said Yavuv Dede, deputy director of the organization. "They were civilians trying to get aid to Gaza. There were artists, intellectuals and journalists among them. Such an offensive cannot be explained by any terms."
Posted by TS at 02:44 AM | Comments (2)
Helen Thomas in 2002: "Who do I hate today?"
The contempt that Helen Thomas manifested in her recent statement about Jews going back to Europe really shouldn't come as a surprise.
In 2002 she gave a speech at the Massachusetts Institute of Technology where according to the New York Post, she told the audience "I censored myself for 50 years. ... Now I wake up and ask myself, 'Who do I hate today?'" (Dec. 31, 2002.)
Well, she sure answered that question now, didn't she?
Posted by dvz at 12:11 AM | Comments (9)
June 06, 2010
Helen Thomas Dumped by Speakers Bureau -- There's Always Hamas
According to Politico, Nine Speakers, a speakers bureau, has dropped Helen Thomas from its list of clients.
She's big with Hamas, however.
Posted by dvz at 11:43 PM | Comments (0)
LGF Uncovers New Reuters Faux-Pas
Little Green Footballs, the blog that first uncovered the Reuters fauxtography scandal during the second Lebanon war, again raises the red flag, pointing out that Reuters cropped out a knife held in the hand of a Mavi Marmara passenger. The image in question was first published today in the Turkish paper Hurriyet. The original photograph is followed by Reuters' cropped version: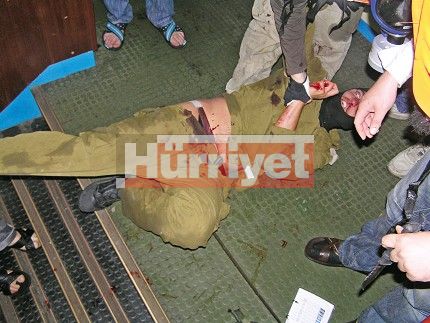 As LGF notes:
That's a very interesting way to crop the photo. Most people would consider that knife an important part of the context. There was a huge controversy over whether the activists were armed. Cropping out a knife, in a picture showing a soldier who's apparently been stabbed, seems like a very odd editorial decision.

Unless someone was trying to hide it.
Posted by TS at 02:08 PM | Comments (4)
Turkish Photos of Beaten, Captured Soldiers
The Turkish newspaper Hurriyet has published photographs of beaten and captured soldiers on the Mavi Marmara corroborating accounts that soldiers were taken a hostage. A couple of the images are reproduced here, but click on the above Hurriyet link to see all of them: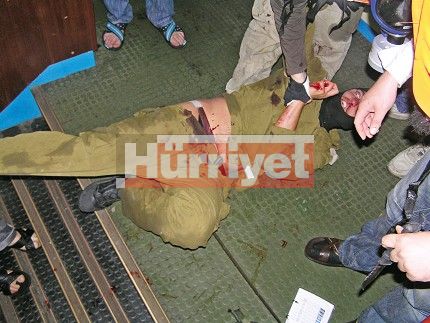 Posted by TS at 04:00 AM | Comments (3)
30,000 Arabs to Lose Citizenship
Thirty-thousand Arab citizens of Egypt face losing their citizenship for having married women from a state officially at peace with Egypt -- Israel. The AFP reports:
A Cairo court on Saturday upheld a ruling to strip Egyptian men married to Israeli women of their citizenship in a case that has highlighted national sentiment towards Israel.

Judge Mohammed al-Husseini sitting on the Supreme Administrative Court said the interior ministry must ask cabinet to take the necessary steps to strip Egyptian men married to Israeli women, and their children, of their citizenship.
Given the massive media attention to questionable claims that tens of thousands of West Bank Palestinians faced expulsion by Israeli authorities, will the media likewise highlight the plight of tens of thousands of Egyptians set to lose their citizenship?
Posted by TS at 02:10 AM | Comments (1)
June 04, 2010
Helen Thomas: Jews Back to Poland, Germany
White House Correspondent Helen Thomas makes herself perfectly clear. She thinks Israelis should "get the hell out of Palestine" and go back to Poland, Germany, America "and everywhere else."
H/t: Solomonia
UPDATE 2:38, June 4, 2010: Helen Thomas is a regular contributor to Liberal Opinion Week. According to the publication's website, she shares a masthead with a number of prominent journalists in the United States. These journalists include Maureen Dowd, Paul Krugman, Nicholas Kristof and Derrick Jackson. CAMERA has sent emails to these writers asking if it is appropriate for them to share a masthead with a journalist who makes such hostile comments. CAMERA has also left a message with the publication itself.
CAMERA will provide updates on any responses recieved.
Second Update 5:23 p.m., June 4, 2010: CAMERA has submitted a query to the White House Correspondents' Association about Helen Thomas' comments. The text of this query can be seen after the jump.
Third Update, 10:20 p.m., June 4, 2010: According to FoxNews, Helen Thomas has apologized for her comments.
Below is the text of CAMERA's email to WHCA.
To: Julia Whiston, Executive Director

From: Dexter Van Zile, Media Analyst, CAMERA

RE: A Query About Helen Thomas

As you may or may not know, Helen Thomas of the White House press corps has recently made some ra,er egregious remarks about Jews going back to Europe. She made them on camera and the video is available here:

http://blog.camera.org/archives/2010/06/helen_thomas_yid_get_out_of_pa.html

Will the WHCA be issuing a statement in response to these comments?

Will the WHCA initiate proceedings to suspend her membership in the WHCA or to expel her from the organization?
To Snapshot readers: The White House Correspondents' Association's by-laws state include the following article:
Suspension of Members

The Executive Board shall have power to suspend or expel any member of this Association for due cause, as may be determined in the judgment of the Executive Board, provided that written notice of the consideration of such action, together with a statement of alleged causes, shall be given the member concerned thirty (30) days prior to the meeting of the Executive Board and further provided that a hearing shall be granted such member, if the member shall so desire; and further provided that the temporary suspension of a member may be ordered by a majority vote of all members of the Executive Board, but that expulsion shall not be ordered except upon the approval of two-thirds of the full Executive Board; and provided further that any member so expelled by the Executive Board shall have the right to appeal to the full body of membership at the next succeeding Annual Meeting of the Association, in which case a majority vote of regular members present and voting shall be recognized as the final decision of the Association.
Posted by dvz at 01:23 PM | Comments (30)
June 03, 2010
Soldiers' Accounts of Mayhem on the Marmara
Firsthand Israeli accounts of the violence on the Mavi Marmara are being published in the Israeli press.
In the Jerusalem Post, we hear of one commando's experience upon landing on the ship:
Looking to his side, he saw three of his commanders lying wounded – one with a gunshot wound to the stomach and another with a gunshot wound to the knee. A third was lying unconscious; his skull was fractured by a devastating blow with a metal bar.
In Ha'aretz:
As seen on a video documenting the takeover, the first four commandos to rappel onto the deck were attacked by activists with bars, axes and knives. The fourth commando, K., saw his team leader on the deck, with a Turkish activist holding the pistol he had grabbed from him and pointing it to his head. K. jumped from the rope and managed to shoot the activist holding the gun.
What about the international press, which never hesitates to quote from Ha'aretz when it publishes material critical of Israel? Will they be relaying these accounts? And what of the New York Times blog The Lede, whose main blogger Robert Mackey seems fond of unquestioningly publishing accounts by pro-Palestinian activists (whom he describes as just "activists") and Al Jazeera journalists, challenging footage released Israel as "less than helpful," implying it that footage isn't credible because there's still "missing" footage, comparing members of the radical ISM and IHH to Holocaust survivors, and slurring as "anti-Palestinian" a pro-Israel group guilty of highlighting footage of passengers' brutal violence and antisemitic chants. Will it be relaying the soldiers' account with the same credulity it relayed that of the activists? (Will Mackey, for that matter, ever call ISM and IHH "anti-Israel" in the same way he labels the incomparably more tame Fuel for Truth as "anti-Palestinian"?)
Posted by GI at 11:20 PM | Comments (1)
A Stabbing on the Mavi Marmara
Israel's Channel 2 television has aired the following footage of what appears to be a Mavi Marmara "activist" stabbing an Israeli soldier with a knife.
Are foreign correspondents too busy complaining that they may have filmed some of the footage being shared by Israel to bother reporting on this key development, which amounts to further corroboration of Israel's account?
Posted by GI at 06:31 PM | Comments (0)
June 02, 2010
Non-Violence Training from the Free Gaza Movement
When Greta Berlin, a leader of the Free Gaza Movement appeared on CNN yesterday (June 1, 2010) she stated that the activists involved in the "humanitarian" flotilla were trained in how to respond non-violently to an Israeli boarding of their vessels.
Is this what she meant by non-violent training?
The so-called "peace" activists on board the Mavi Marmara forgot to shut off the security camera on board the vessel which is the source of this footage.
Posted by dvz at 03:07 PM | Comments (2)
Reports: Hamas Refuses Cargo, Accepts Its Propaganda Value
Further evidence that the cargo on the pro-Palestinian activists' ships is not really meant as a humanitarian shipment, but rather a public relations maneuver:
The Jerusalem Post and CNN report that Hamas is refusing to accept the cargo.
"We refuse to receive the humanitarian aid until all those who were detained aboard the ships are released," Minister for Social Welfare in the Hamas government said, as reported by the Jerusalem Post. "We also insist that the equipment be delivered in its entirety."
Looks like Hamas isn't all that desperate to get the cargo into the territory.
It's been clear for some time, though, that this isn't about supplying humanitarian and other good, 15,000 tons of which Israel allows into Gaza on a weekly basis. Straight from the horse's mouth: "This mission is not about delivering humanitarian supplies," explained pro-Palestinian radical Greta Berlin, but rather about ending Israel's blockade to allow unfettered shipments to Hamas and others in Gaza.
Posted by GI at 12:58 PM | Comments (3)
Standing Up For Truth
A high schooler displays gumption and courage as he stands up for truth amidst a raging mob of anti-Israel protesters outside the Israeli consulate in Los Angeles.
He is surrounded by kaffiyeh-wearing men as some in the crowd call out, "Allahu Akbar." But the lone young man marches on undaunted by the shouts and curses.
"Are you associated with any group?" he is later asked by a reporter.
"Only Judaism and Israel," he answers.
Posted by RH at 10:30 AM | Comments (6)
Danish Report: No Food Crisis in Gaza
Elder of Ziyon provides a translation of a first-hand account by Danish reporter Steffen Jensen of the non-existent humanitarian crisis in Gaza which has international activists risking their lives illegally running a blockade:
Judging from the media, the situation in Gaza is desperate, everything is about to collapse, and the community is on the brink or at the level of a third world country.

The Palestinian community's immediate downfall has been prophesied numerous times in the media. People have nothing to eat, we sometimes know. The UN must from time to time to stop food distribution, either because their stocks are running low, or because they can not get diesel for their trucks, and therefore can not carry food in. And so on.

Yesterday I drove into the Gaza Strip. I don't do this as often as before [because it takes much longer to get through the checkpoints now.]

This time, I had expected to see real suffering, because with all the fuss in recent days about bringing tons of humanitarian relief in - so much that people actually sacrificed their lives for it - there certainly had to really be a deep, desperate situation in the Gaza Strip. No food. Long queues in front of UN food stocks. Hungry children with food bowls.

But this was not the picture that greeted me.

When I yesterday morning drove through Gaza City, I was immediately surprised that there are almost as many traffic jams as there always has been. Is there not a shortage of fuel? Apparently not. Gasoline is not even rationed.

Many shops were closed yesterday, Hamas has declared a general strike in protest against Israel's brutal and deadly attack on the Turkish flotilla with pro-Palestinian activists on board. So it was difficult to estimate how many products were on the shelves. Therefore I went over to the Shati refugee camp, also known as Beach Camp. Here is one of Gaza's many vegetable markets that sell much more than just fruits and vegetables.

I will not say whether, in better times has been a larger product range than there was yesterday. But there was certainly no shortage of vegetables, fruits or any other ordinary, basic foods. Tomatoes, cucumbers, corn, watermelons, potatoes - mountains of these items in the many stalls.

I must admit I was a little surprised. Because when I call down here to my Palestinian friends, they tell me about all the problems and deficiencies, so I expected that the crisis was a little more clear.

And the first woman we interviewed in the market confirms this strange, contradictory, negative mindset:

"We have nothing," she said. We need everything! Food, drinks ... everything! "

It disturbed her not at least that she stood between the mountains of vegetables, fruit, eggs, poultry and fish, while she spun this doomsday scenario.

Yousuf al-Assad Yazgy owns a fruit and vegetable outlet here in the market. All his fruit is imported from Israel.
"Not all fruit and all vegetables come from Israel. Ours does. They come from Israel. But in the Gaza Strip there is not very much fruit cultivated. Mostly tomatoes, potatoes and vegetables. So here with me are the vegetables and watermelon were from Gaza. All the fruit comes across the border from Israel," he explains, but also says that there can be long periods when the border is closed, and which therefore fruit does not come in.

On the way out of the Shati camp we stop at a small grocery store. Not any fancy, expensive business. Just a small, humble local store. The proprietor Sun Mohammed Abu Nada says they would not be able to do business if it were not for contraband goods from Egypt.

He takes us on a brief tour of the shelves and shows everything that comes from Egypt. It turns out to be much more than half of the goods. 75-80 per cent. I would estimate. Several other products - including long-life UHT milk - comes from Israel, but is also smuggled through tunnels from Egypt.

The products are more expensive, he says. Many people cannot afford to buy them, or only to buy certain things sometimes. But all the while that even such a small, poor-looking grocery store on the outskirts of a refugee camp still has so many relatively expensive smuggled goods on the shelves shows nevertheless that many of the customers at least be able to afford to buy them. Otherwise, the merchant of course could not even afford to invest in unsold inventory.

This story I have written to postulate that there are problems in the Gaza Strip, because that would be untrue. There are problems. Many problems indeed. But it is not lack of food, which primarily concern people down here. The biggest problem is the lack of jobs and a sustainable domestic economy.



Posted by TS at 07:41 AM | Comments (5)
Washington Times Takes a Swipe At AP
The Washington Times' Wesley Pruden takes a swipe at the Associated Press, writing:
The Associated Press, which once took pride in its reporting but is awash now only in activists and pundits, set out the story line: "Dozens of activists and six Israeli soldiers were wounded in the bloody predawn confrontation in international waters. The violent takeover dealt yet another blow to Israel's international image, already tarnished by war crimes accusations in Gaza and its three-year-old blockade of the impoverished Palestinian territory."

The account of the Israeli commandos tells a different story. The Mava Marmara, the lead ship in the armada, was told to change course and not land in Gaza. When it ignored the warning, Israeli marines and commandos boarded the ship, some by rope ladders from helicopters. A fierce fight erupted on deck, and only after taking casualties and fearing for their lives did the commandos fire back, trying to aim first at the feet of the "peace activists."
Exaggerating the flotilla's alleged humanitarian aim, AP falsely reported yesterday:


The pro-Palestinian flotilla had been headed to Gaza with tens of thousands of tons of aid that Israel bans from Gaza.
Yet, not even the Free Gaza folks claim to have brought "tens of thousands of tons of aid." Their claim, which has been widely repeated and accepted by the mainstream media, is that the ships were carrying 10,000 tons, a figure which Elder of Ziyon has pilloried. Furthermore, much of the aid brought by the Free Gaza ships is material that Israel already permits to enter the Gaza Strip -- medical equipment, imperishable foods, and toys. According to Free Gaza, they were carrying just 500 tons of cement, which the Israelis are not permitting to cross into Gaza.
No matter how you slice it, the AP claim that the activists were carrying "tens of thousands of tons of aid that Israel bans" is false.
Posted by TS at 06:57 AM | Comments (0)
All Aboard -- Muslim Brotherhood, Salafists, Hezbollah Journalist
MEMRI has published a must-read who's who list of participants in this week's flotilla hailing from Egypt, Yemen, Lebanon, Jordan, Syria, and beyond -- senior members of the Muslim Brotherhood, a former employee of Hezbollah's Al Manar network (deemed a terror entity by the United States and banned in several European countries), Kuwaiti Salafists who support "armed resistance" in Iraq, and more.
It also identified the "cutting edge humanitarian activist", pictured below, as Sheikh Muhammad Al-Hazmi, a Yemeni MP from the Al-Islah party, which is close to the Muslim Brotherhood.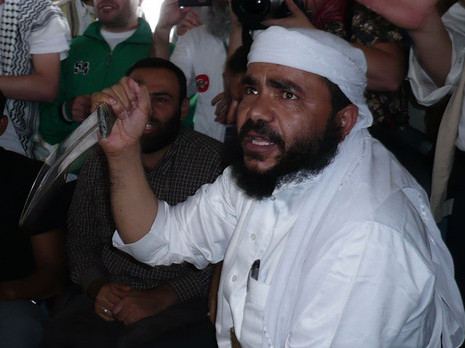 Many of these flotilla participants prepared wills ahead of their departure, with full expectations of violent confrontation and anticipation of martyrdom.
The truth behind the ship's manifest is a far cry from the claims of pacifism voiced by an IHH official yesterday in the New York Times and today in the International Herald Tribune that:
"Our volunteers were not trained military personnel," said Yavuv Dede, deputy director of the organization. "They were civilians trying to get aid to Gaza. There were artists, intellectuals and journalists among them. Such an offensive cannot be explained by any terms."
Journalists including Jordanian Muhammad Abu Ghanima, "a former head of the Muslim Brotherhood in Jordan's information bureau and a member of the movement's political bureau," and Lebanese Abbas Nasser, who worked for Hezbollah's Al-Manar TV from 1997 through 2003.
Instead of selectively mentioning the participation of Nobel Peace Prize laureate Mairead Corrigan-Maguire, will the mainstream media now call out the not-so-peaceful participants, including Dr. Hani Suleiman, the pro bono attorney for Japanese terrorist Kozo Okamoto, responsible for the massacre of 25 people in Israel's international airport?
Posted by TS at 03:51 AM | Comments (3)
June 01, 2010
Gelb on Legality of Stopping the Ships
Writing in the Daily Beast, Leslie Gelb reiterates what we've noted about the legality of Israel's decision to blockade and interdict shipping to Gaza.
Israel had every right under international law to stop and board ships bound for the Gaza war zone late Sunday. ...

Regarding international law, blockades are quite legal. The United States and Britain were at war with Germany and Japan and blockaded them. I can't remember international lawyers saying those blockades were illegal—even though they took place on the high seas in international waters.

... Gazan leaders proclaim their goal is to destroy Israel, have tried for years to do so by missile attacks and terrorism, and that Israel has every right to protect itself under international law, including by blockades in international waters.
The rest of the piece is also worth a read.
Posted by GI at 07:56 PM | Comments (0)
CNN Coverage Among the Worst?
As footage plays in the background of Israeli soldiers being violently attacked by gangs of passengers, CNN outrageously suggests there is no clear evidence Israelis were attacked. Read about it, and see the video here.
(An online contact form for CNN can be found here.)
Posted by GI at 10:50 AM | Comments (0)
B'Tselem Blinded by Testimony Double Standard
B'Tselem's press release concerning the Gaza Flotilla clash states:
The IDF Spokesperson claims that extreme violence was used against the soldiers by activists on the boat. This information is based solely on statements of soldiers. However, before reaching conclusions, the investigation must consider the testimonies of all eyewitnesses to the events, including persons who participated in the flotilla who are currently in custody in Israel.
But you don't have to take the soldiers' word for it. You can view the many video clips clearly showing the passengers beating soldiers and even throwing one off a deck.
In addition, how often has B'Tselem cast doubt on testimony by making clear that "this information is based solely on statements of Palestinians"? When has the organization cautioned that conclusions cannot be drawn until Israeli sources are consulted as well?
Posted by TS at 03:29 AM | Comments (0)