« Lousy Headline of the Day | Main | Pollster: Ha'aretz Misrepresented Obama Poll »
March 22, 2010
Revelation for Gideon Levy
In his column yesterday, Gideon Levy misleads:
And we must not forget that this huge building project in Jerusalem [Ramat Shlomo] is for Jews only; not one Palestinian neighborhood has been built in 43 years of occupation. Should that not be called apartheid?
Who need new neighborhoods when Palestinian building -- the expansion of pre-existing neighborhoods -- continues at an impressive pace? Consider this map from the Jerusalem Institute for Israel Studies ("Jerusalem: Facts and Trends 2005-2006," page 60):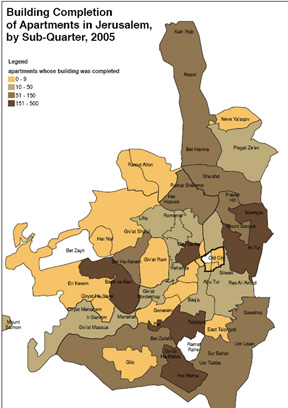 Should it not be called apartheid to prohibit Jews from building in certain neighborhoods, as Levy would like?

Posted by TS at March 22, 2010 04:47 AM
Comments
This "committee" is nothing close to "accurate reporting," and to claim such nonsense on your part is simple ludicrous. Gideon Levy is by no means far from the right, but regardless, this statement is preposterous! I am an Arab from East Jerusalem, if you look at the growth rate of Jewish housing versus that of Arab housing and compare them to population growth in the city you will see explicit inequalities. And the creation of "one type" only neighborhoods such as these Jewish only neighborhoods exemplifies the opposite of what liberal democracy stands for. There is no equality in restricting residency requirements to the ethnic background of the family. If that is not apartheid, than most certainly that is segregation, both of which must end before either people can truly declare their societies as free.
Posted by: Nurah at March 22, 2010 07:20 PM
Hi Nurah,
According to Israel Kimhi, the former municipal planner for Jerusalem from 1963-1986: "During the period 1971-1994 permits for 1.1 million square meters of residential construction were issued to the Arab population. By way of comparison, in this period the ultra-Orthodox Jewish population, which is roughly the same size, received permits for only 954,000 square meters of residential construction."
Some Jews live and are moving into what many consider Arab-only neighborhoods in Jerusalem, and some Arabs are moving into what many call Jewish-only neighborhoods in Jerusalem. The only difference is the former garners international condemnation and the latter does not. It is the international community which is calling for residency based on ethnicity, and that would-be restriction applies to Jews only.
Posted by: TS at March 23, 2010 03:16 AM
Guidelines for posting
This is a moderated blog. We will not post comments that include racism, bigotry, threats, or factually inaccurate material.
Post a comment