« AFP Whitewashes Ahmadinejad's Holocaust Denial | Main | Updated: Catholic Bishop Says He Was Misquoted - Paper Stands by Its Quote »
January 26, 2010
Media's "Hard-Line" on Israel's Prime Minister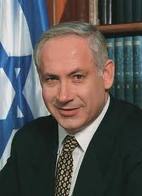 Characterized as "hard-line" .....Not characterized as "hard-line"
Israel's prime minister, Benjamin Netanyahu, who has called for immediate negotiations without preconditions and expressed acceptance of a Palestinian state that would not threaten Israel's security, is nevertheless often pejoratively called "hard-line" (as is the government coalition he leads) by the mainstream American media, especially the Associated Press. Conversely, the term "hard-line" or "intransigent," is rarely, if ever, applied to the Palestinian president, Mahmoud Abbas, who repeatedly refuses to enter peace talks with Israel despite compromises offered by Mr. Netanyahu.
For example, a January 21 Associated Press report, by Mohammed Daraghmeh, said: "The hard-line prime minister who leads a coalition largely opposed to territorial compromise had long hesitated to accept the concept of Palestinian statehood, capitulating only in June under heavy US pressure."
Conversely, a January 22 AP report, by Dalia Nammari, while describing what amounts to an intransigent Mahmoud Abbas, failed to pejoratively characterize him as "hard-line" or "intransigent" or anything like that. The report said: "President Barack Obama's Mideast envoy failed Friday to lure Palestinian President Mahmoud Abbas back to peace talks with Israel, as Abbas stuck to his insistence that an Israeli settlement freeze come first."
The phenomenon of the use of "judgement terms" in Middle East reporting, such as the habitual characterization of Mr. Abbas and his Fatah party as "moderate," is the subject of a CAMERA Op-Ed in the Christian Science Monitor.
Posted by MK at January 26, 2010 10:24 AM
Comments
Israel's most dangerous enemy is not Hamas or Hezballah, but rather, Western, Left-leaning media. Their continuous and blatant fabrications, distorted and factually incorrect reporting, and slanted characterizations of the parties involved in this never-ending conflict all contribute to increasingly negative opinions of the Jewish state.
The media is the messenger. Although their biased reporting is both unethical and dishonest, it will never change, and will likely become worse when the next Arab-Israeli conflict erupts. The only hope is Internet-based news sources such as Camera.
I often wonder why the Left (and its media) hate Israel with such virulence. Why do they defend and sympathize with Islamists who are antithetical to everything the Left believes? Fascinating and sad.
Posted by: Soflauthor at January 26, 2010 04:54 PM
Guidelines for posting
This is a moderated blog. We will not post comments that include racism, bigotry, threats, or factually inaccurate material.
Post a comment