« "All of Them, They Are Civilians Now" | Main | European Media Runs With Latest Unsubstantiated Claims »
January 05, 2010
AP Photographer Discusses Lebanon Shots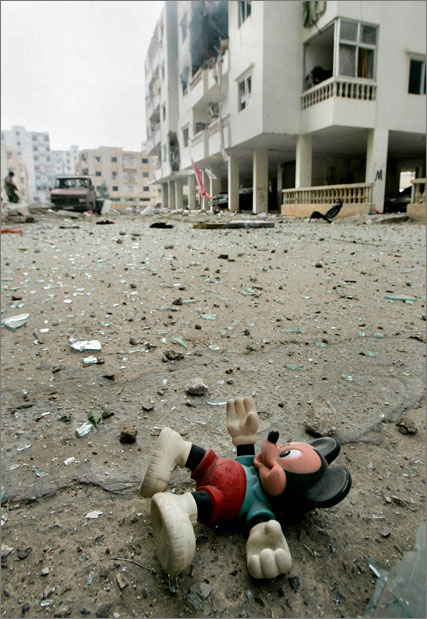 This AP photo by Ben Curtis was one of many featuring toys, including multiple Mickey Mouse dolls, appearing in the rubble during the 2006 Lebanon war
AP photographer Ben Curtis is interviewed by New York Times blogger Errol Morris (parts 1 and 2), discussing the ubiquitous images of toys and other personal effects among the rubble photographed during the 2006 war between Israel and Hezbollah.
Curtis denies that he in any way staged or moved a Mickey Mouse doll he photographed, but he does not address the possibility that perhaps Hezbollah members were indeed responsible for the placement of the toys and personal photographs in the rubble.
On a separate matter, Curtis discusses the lack of images of Hezbollah fighters from that war:
You might see people who you thought were Hezbollah, but do you know they're Hezbollah? If you go up and ask them, they'll probably say no. Now, I may be pretty sure that they are Hezbollah — perhaps the way they're dressed, perhaps the location or the way they're moving or the way they're behaving. But do I know that well enough to write that in a caption? Not really. And that was one of the frustrating things — the lack of direct coverage of Hezbollah activities compared to what everybody was receiving from the Israeli side. You had many photographers embedded with the Israeli forces, providing a daily stream of images of right up close military activity, firing missiles, traveling around in tanks — the whole lot. Obviously, a lot of their secret operations, they didn't allow the media access to, but there was a daily stream of many, many, many images from very up close to what the Israeli military was doing. Now, on the Hezbollah side, there was virtually none of that. Now, why is that? Because it was impossible. Hezbollah wouldn't allow the media to be in areas where Hezbollah military activities were taking place. At least they wouldn't allow them to be close enough to photograph them or video them. So, there was a certain frustration. At one point, I remember, we called them up, and said, "Look, we want to cover your activities," and it was always, "Absolutely not."
Posted by TS at January 5, 2010 05:09 AM
Comments
From http://opinionator.blogs.nytimes.com/2010/01/03/it-was-all-started-by-a-mouse-part-1/
Ben Curtis
"…The buildings that hadn't been flattened, but were directly opposite, half the contents of the apartments had been strewn into the street. There were sofas; there were children's toys; there were books — all sorts of the usual things that you have in an apartment were scattered everywhere…"
The problem with this explanation is that non of that material is evident in the photo he took. Indeed the Mickey dole is sitting completely isolated from any of the other rubble.

Posted by: Joe at January 7, 2010 02:36 AM
Guidelines for posting
This is a moderated blog. We will not post comments that include racism, bigotry, threats, or factually inaccurate material.
Post a comment