« December 2009 | Main | February 2010 »
January 31, 2010
Goldstone Ignores His Own Evidence about Flour Mill
An image from UNITAR of the Al Badr flour mill contradicting Goldstone's report that Israel targeted the facility with an air strike
In an open letter, CAMERA challenged Judge Richard Goldstone on his findings that Israel deliberately targeted the Al Bader flour mill in a Jan. 9, 2009 air strike in order to deprive the civilian population of a food source. Goldstone declined to address the contradictions of his conclusion, and Elder of Ziyon blogger now observes that the judge even ignored contradictory evidence that he himself commissioned. Elder writes:
It turns out that Goldstone had photographic proof that the flour mill was not hit by airstrikes as well - and purposefully ignored it.

The Goldstone commission asked UNITAR, the United Nations Institute for Training and Research, to examine and analyze publicly available satellite images of various locations in Gaza to determine the dates and extent of damage. One of the sites was the infamous flour mill. . . .

UNITAR, based on a time sequence of satellite images, finds that all the damage seems to have occurred a full week after Goldstone's "credible witnesses" said it was strafed by multiple air attacks - while the IDF was on the ground, fighting. And damage on the upper floors done by Apache helicopters would presumably be visible on satellite images.
Furthermore, the IDF has released its follow up report on Operation Cast Lead, which likewise concludes that the flour mill was hit by IDF tank fire during the course of combat in the area.
Posted by TS at 04:31 AM | Comments (2)
January 27, 2010
What the AP Doesn't Say about the Palestinians and the Holocaust
In her article about the controversy among Jews and Arabs surrounding an Israeli Arab MK's trip to Auschwitz today, AP's Diaa Hadid reports:
The conflict over the Holocaust dates back to the founding of Israel in 1948.
At this point, readers knowledgeable about Mideast history and the Holocaust may have expected mention of the Palestinian Arabs' close collaboration with the Nazis. Grand Mufti Haj-Amin El-Husseini, with his warm relationship with Nazi leaders, was instrumental in recruiting several SS divisions worth of Bosnian Muslims. It's not for nothing that he's been called Hitler's "Muslim Pope."
But Hadad does not mention the Palestinian Arabs' role in the Holocaust here or anywhere else in the article. Instead she goes on to state:
But in the war surrounding Israel's creation, about 700,000 Palestinians were fled or were driven from their homes, leading to a widespread feeling that they were forced to pay the price of the Nazis' persecution of the Jews in Europe.
And Mahommed Barakeh, the Israeli Arab MK, is quoted:
"The Jews, who are the victims of the Nazis, are now practicing oppression against the Palestinians. . . I want to tell them: You must learn the real lesson, you must fight oppression and repression in all places and times."
Haj-Amin El-Husseini's role in the genocide of the Jews undercuts the claims by Barakeh and others of Palestinian "suffering at Israel's hands." Barakeh's views are certainly worthy of reporting. But fair reporting requires that historical events directly relevant to the subject at hand -- either Palestinian Arab collaboration with the Nazis or the Arab rejection of a Jewish state and the subsequent war launched by neighboring Arab states as well as the Palestinians themselves on nascent Israel, leading to the refugee problem -- are also worthy of reporting, even if they contradict claims of Israeli responsibility for Palestinian suffering.
Posted by TS at 07:19 AM | Comments (6)
January 26, 2010
Updated: Catholic Bishop Says He Was Misquoted - Paper Stands by Its Quote
Talk about recipe for a scandal.
Two days before International Holocaust Remembrance Day, a Polish Bishop in the Roman Catholic Church gives an interview to a Catholic newspaper in Italy during which he allegedly accused the Jews of "expropriating" the Holocaust for their own propagandistic purposes. He goes onto condemn Israel's security barrier and accuses Israel of treating the Palestinians like animals.
The story makes the papers (including the JTA) and in response, the Bishop in question, Tadeusz Pieronek, says he was misquoted and that the interview was published without his authorization.
Is that the end of it?
Not in a million years.

The newspaper, Pontifex Roma, responds with a truculent editorial stating that it got the story right.
At least that's the overall message Snapshots is getting from the Google translation of the page, which indicates that the paper is quite willing to publish the full text of the interview. Yes, we know that the translation is not perfect, and for that reason we are calling on calling on an Army of Davids.
Readers of Snapshots who are fluent in Italian are invited to translate the page in the comments section below.
We're particularly interested in a translation of "Risponde con l'arroganza del vescovo beccato in fallo."
JAN. 27: UPDATE! WE HAVE A TRANSLATION! (COPIED AND PASTED FROM COMMENTS BELOW)
TRANSLATION, AS REQUESTED, OF THE ARTICLE IN PONTIFEX ROMA Re: BISHOP PIERONEK
--------------------------------------------------
Dear Monsignor Pieronek, give the good example
Tuesday January 26, 2010 00:00
If one doesn't have courage, he cannot just give it to himself.
This Monsignor Pieronek is nearly pitiful, Bishop and don Abbondio (a cowardly priest of a famous novel by XIX century Italian writer A. Manzoni) in the same person, caught between the anvil of his honest words and the hammer of a politically correct public opinion that probably forced him to backtrack. Prudent at home, unscrupulous outside. This time, though, Pontifex doesn't play ball and shouts that Pieronek, those things had said them and repeated in Italian. He talks about a missing authorization to the interview. What is he talking about? An interview is either denied or accepted. That's it. But it cannot be authorized and moreover, he didn't even ask as it would have been normal, to have a copy beforehand of his replies. So, what does he want today? He answers with the arrogance of the bishop caught red-handed. Climbing up walls. However, what surprises is that a certain press, incline to modernism and sensitive to the fascination of the lobbies, took the bishop's word for it (of course) and didn't report even a line of our version which was correctly reported by the Polish press agency Kai. We challenge Monsignor Pieronek to a public debate and let it be known to him that we are ready to display the complete text of his replies: we could then read plenty of nice things, like as he claims, the offended reply given some time ago to a Le Monde journalist (his own words and not reported only for elegance), or other sharp-tongued comments of his. Monsignor Pieronek, You are a correct Bishop, our esteem remains unscathed. However, try to respect your role as a bishop with a breath of dignity, if any is still left in you and be of good example. It seems to us that in Poland a controversial but serious Bishop had dignity: Wielgus.
Posted by dvz at 03:01 PM | Comments (1)
Media's "Hard-Line" on Israel's Prime Minister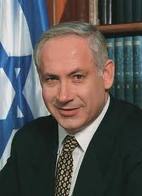 Characterized as "hard-line" .....Not characterized as "hard-line"
Israel's prime minister, Benjamin Netanyahu, who has called for immediate negotiations without preconditions and expressed acceptance of a Palestinian state that would not threaten Israel's security, is nevertheless often pejoratively called "hard-line" (as is the government coalition he leads) by the mainstream American media, especially the Associated Press. Conversely, the term "hard-line" or "intransigent," is rarely, if ever, applied to the Palestinian president, Mahmoud Abbas, who repeatedly refuses to enter peace talks with Israel despite compromises offered by Mr. Netanyahu.
For example, a January 21 Associated Press report, by Mohammed Daraghmeh, said: "The hard-line prime minister who leads a coalition largely opposed to territorial compromise had long hesitated to accept the concept of Palestinian statehood, capitulating only in June under heavy US pressure."
Conversely, a January 22 AP report, by Dalia Nammari, while describing what amounts to an intransigent Mahmoud Abbas, failed to pejoratively characterize him as "hard-line" or "intransigent" or anything like that. The report said: "President Barack Obama's Mideast envoy failed Friday to lure Palestinian President Mahmoud Abbas back to peace talks with Israel, as Abbas stuck to his insistence that an Israeli settlement freeze come first."
The phenomenon of the use of "judgement terms" in Middle East reporting, such as the habitual characterization of Mr. Abbas and his Fatah party as "moderate," is the subject of a CAMERA Op-Ed in the Christian Science Monitor.
Posted by MK at 10:24 AM | Comments (1)
AFP Whitewashes Ahmadinejad's Holocaust Denial
In an article today, Agence France Presse whitewashes Mahmoud Ahmadinejad's Holocaust denial, stating:
Ahmadinejad has earned the wrath of Israel and Western powers for repeatedly refusing to acknowledge the scale of the Holocaust . . . ("Iran hails Mauritania's decision to cut ties with Israel," emphasis added)
Ahmadinejad has not merely questioned the "scale" of the Holocaust. Rather, the Iranian president has repeatedly declared the World War II genocide of the Jews a "myth." Consider the following articles from AFP's very own archives:
Ahmedinejad [sic] used the Quds Day rally in Tehran, an annual display of solidarity with the Palestinians, to once again lay into arch-foe Israel.

"The very existence of this regime is an insult to the dignity of the people. They (Western powers) launched the myth of the Holocaust. They lied, they put on a shoe and then they support the Jews," he said. . . ("US slams Iran leader's 'hateful' remarks on Holocaust," Sept. 18, 2009)
Iranian President Mahmoud Ahmadinejad repeated his view on Saturday that the Holocaust of Jews under Nazi Germany was a "myth" and argued that Palestinians and Iraqis were suffering from "the real Holocaust."

"Questioning the myth of the Holocaust and the creation of the phoney regime of Zionism has haunted them," the president said in a speech marking the 27th anniversary of Iran's Islamic revolution.

"For more than 60 years, this myth has enabled the Zionists to blackmail the Western countries, justify the killing of women and children and make them refugees in occupied land," he said.

"The real Holocaust is happening today in Palestine and Iraq. If you are looking for the real Holocaust, look at the poor Iraqi people," he said. . . ("Ahmadinejad repeates Holocaust is a 'myth,'" Feb. 11, 2006)
Israel's firebrand President Mahmoud Admadinejad launched a fresh attack against Israel on Wednesday, dismissing the Holocaust as a "myth" and saying the Jewish state should be moved as far away as Alaska. . . .

"They have invented a myth that Jews were massacred and place this above God, religions and the prophets," the right-winger declared in a speech carried live on state television.

"If somebody in their country questions God, nobody says anything, but if somebody denies the myth of the massacre of Jews, the Zionist loudspeakers and the governments in the pay of Zionism will start to scream," he said. ("Iran's Ahmadinejad says Holocaust a 'myth,'" Dec. 14, 2005)
Posted by TS at 06:25 AM | Comments (0)
Praise for The Case For Israel
Yair Lapid, a popular and influential Israeli journalist, praises The Case For Israel, a documentary with Alan Dershowitz, (produced by DocEmet with support from CAMERA). In his weekend column in the Yediot Achronot magazine "Shiva Yamim," he wrote:
I finally saw this week the movie "The Case for Israel", about the famous American lawyer, Alan Dershowitz.

"I am pro-Israel," opens Dershowitz the movie, "I am also pro-Palestinian. I support the two state solution but..."

Dershowitz isn't a philosopher or a filmmaker; he's not even from the political right. We got used to the fact that defense statements on Zionism come only from the right, but Dershowitz supports us precisely because he's a left-wing law professor from Harvard, who deals with human rights.

How do they dare call Israel an apartheid state? he asks with genuine astonishment. In the Arab society there's apartheid of women, apartheid of homosexuals, apartheid of Christians, of Jews, of democracy. In Saudi Arabia, they hang gays; in Sudan, genocide is taking place; women all over the Arab world get murdered if they don't wear the hijab or if they fall in love with the wrong man. And still, eight out of the last eight UN resolutions that deal with human rights are about Israel – the only country in the region in which minorities have the right to vote, and in whose parliament Arabs served almost from day one.

Does the global left – and the Israeli left too – not care about the horror regime of the Taliban, of the terrible oppression of women in the Gulf States, of the mass hangings in Iran? Is it not clear to them that all the roadblocks in the West Bank – which are, no doubt, causing a lasting human tragedy – would be dismantled in 24 hours if the Palestinians would be so kind as to stop killing Jews?

And how did it happen that they constantly talk about the 750,000 Palestinian refugees, and forget the 800,000 Jewish refugees from Arab countries? Why does no one remember that the Palestinians already had four chances to create a state for themselves, and every time they preferred to go back to terrorism? Who dares calls the separation fence an "apartheid wall" while ignoring the fact that it was built – strictly with accordance of international law – only after more than 1000 Israelis were killed in less than three years?

I sat in front of Dershowitz's movie and instead of feeling happy I felt a bit stupid. Indeed, the facts were known to me before, as they are known to every Israeli, so why is it that we are constantly defending, constantly apologizing, constantly losing the battle on public opinion? Of course, millions of petro-dollars flow into anti-Israel propaganda (oops! I'm buying their version again, it's not anti-Israel, it's pure antisemitism), but how the hell did it come to a situation where truth – basic, factual, simple truth – is out of fashion? [Translation by CAMERA]
--- Post by YG
Posted by TS at 02:32 AM | Comments (0)
January 25, 2010
Now Available: BBC Watch Report on Bowen's Gaza Coverage
BBC Watch has completed a study evaluating Jeremy Bowen's coverage last year during Operation Cast Lead. The report can be requested by filling in the form found here. The executive summary states:
1. Of 58 reports by Mr. Bowen, 38 were unbalanced. Of those, a staggering 98% portrayed Israel in a negative light;

2. Of the civilian human interest interviews selected by Mr. Bowen, 82% portrayed Palestinians in a positive light -- a remarkable feat when, for most of the conflict, Mr. Bowen complained that he was not allowed into Gaza and so principally only had access to Israelis.

3. Of Mr. Bowen's 22 diary entries, all posted on the BBC website under the title of "The Bowen Diary," 20 were unbalanced. All of them portrayed Israel in a negative light.

4. The Bowen Dieary frequently included personal opinion of Mr. Bowen in clear breach of BBC guidelines; . . .
BBC Watch is submitting a formal complaint. In a significant ruling last spring, the BBC's highest bodysubstantially upheld CAMERA's complaint Jeremy Bowen violated the broadcaster's guidelines that require impartiality and accuracy. See here for a detailed account of that complaint and ruling.

Posted by TS at 08:43 AM | Comments (0)
Dry Bones On Haiti, Israel and the Media
Dry Bones weighs in on Haiti, Israel and the media:
See also this related article in the Marker today.
Posted by TS at 05:08 AM | Comments (1)
January 24, 2010
Reuters: Mitchell Put Ball in Palestinian Court
Reuters reports:
The United States told Palestinian leaders on Friday they must resume talks with Israel if they want U.S. help to achieve a peace treaty that ends Israeli occupation and creates a Palestinian state.

Putting the ball squarely in the Palestinian court, U.S. envoy George Mitchell told President Mahmoud Abbas that returning to the table was paramount, chief Palestinian negotiator Saeb Erekat said.
Mitchell's reported position that ongoing American involvement is conditioned on the Palestinians' resumption of negotiations was picked up by the Palestinian Maan News Agency and the (Lebanon) Daily Star, but not by Ha'aretz, the Los Angeles Times, nor the Washington Post. The New York Times did run the Reuters report as a news brief.
Posted by TS at 08:24 AM | Comments (1)
Pedatzur on Israel's Al-Dura Blunder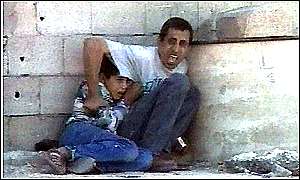 Reuven Pedatzur revisits the Mohammed Al Dura case today in Ha'aretz, and slams the Israeli Foreign Ministry for failing to challenge the widely reported version of events. He reminds readers of the holes in France 2's story:
The cameraman's testimony is full of contradictions. He says that "the soldiers shot the two in cold blood for 45 minutes." However, if the IDF soldiers wanted to hit Mohammed and his father in "cold blood" they could have killed them in less than a minute. Regarding the question of how many bullets were fired toward the two, Abu Rahma said "at least 400." The wall at the site of the incident clearly shows eight holes.

Karsenty managed to acquire the raw footage of Abu Rahma, including the 10 seconds of film after Enderlin declares that "Mohammed is dead," which shows the child raising his hand and peering toward the camera. Nowhere in the footage are bullets seen hitting the bodies of father and son, even though the father claims he was hit by 12 bullets and his son by three. No blood was found at the site of the incident.

Mohammed al-Dura was buried in a funeral attended by masses. However, the child who was buried was brought to Shifa Hospital in the Gaza Strip at 10 A.M., according to the testimony of a doctor who admitted him. The shots at the Netzarim junction began only at 2 P.M., and Mohammed was taken away from the site at 3 P.M. In the photographs shown by a Gaza pathologist, a child who had been hit by bullets is seen, but his injuries are not the sort that Jamal spoke of. While the father says that Mohammed was hit in his right leg, the boy at Shifa was hit in his left leg. A biometric identification expert compared the photograph of the child who was buried and the child at the Netzarim junction, and found that they are different.

The father, Jamal, claims that 12 bullets hit his body, and he proudly shows off the scars on his arms. However, Shapira found Dr. Yehuda David, who says that he operated on him six years before the incident and that the scars are the result of knife wounds.
Posted by TS at 07:45 AM | Comments (1)
January 22, 2010
A Small Sign of Hope
"Violence in God's name is not only an obvious corruption of Scripture, it demonstrates an appalling disregard for the loving and just God who commands us to live together in peace. What is especially painful is that this recent violence took place during a celebration of the birth of the one who Christians call the Prince of Peace and who Muslims call a holy prophet."
These sentences, included in a Jan. 15 letter sent by Michael Kinnamon, General Secretary of the National Council of Churches to officials of the Coptic Orthodox Church in the United States, can be easily dismissed as a naïve response to the recent murder of several Christians in Egypt.
The statement's gloss that "violence in God's name is … an obvious corruption of Scripture" seems, in light of what we have learned about jihadism in the past few years, like a bit of wishful thinking.
As Richard Rubenstein has argued in his most recent book Jihad and Genocide (2010, Rowman and Littlefield), moderate Muslim scholars who seek to relate to non-Muslims on the basis of equality "are at an enormous disadvantage" because "the behavior of contemporary Islamists resembles that of Muhammad and his conquering successors farm more than do the behavior of values advocated by … more moderate Saudi scholars."
Rubenstein continues: "The Islamists have fewer problems of literal interpretation of those verses in the Qur'an that refer to jihad and the global ambitions of Islam than do the [moderate] Saudi Scholars." (Page 41) In other words, for the people responsible for anti-Christian and anti-Jewish violence in the Middle East, attacks like this are not a corruption of Scripture, but its fulfillment. And a plain-text reading of Scripture seems to support their case.
Until organizations such as the NCC and the World Council of Churches come to grips with this reality, they will be unable to provide the intellectual and leadership necessary to confront the problem of jihadism in the Middle East and the rest of the world. (In sum, these institutions cannot help moderate or formulate a response to a problem they will not bring themselves to acknowledge.)
This is why the NCC's statement cannot be dismissed out of hand. The fact that the NCC has even acknowledged that the violence perpetrated against the Coptic Christians (and a Muslim security guard) was perpetrated in God's name is cause for hope. Given the NCC's historical silence about the mistreatment of Coptic Christians in the Middle East, the fact that NCC issued such a statement at all is simply put, just short of a miracle.
The NCC's prophetic voice has, like a lot of other church related organizations supported by mainline churches in the U.S., have had a frog stuck in its throat when confronted in Muslim and Arab misdeeds that call for admonition and correction. As reported previously, when Coptic Christians approached the National Council of Churches in 1977 in an effort to elicit a churchly word on their behalf, they were stymided by politics, according to Isaac Rottenberg, a former staffer at the organization.
Now the organization has at least taken a step in the right direction, just as it did when it condemned Mahmoud Ahmadinejad's hostile rhetoric in 2008.

Posted by dvz at 05:40 PM | Comments (1)
Are Anti-Jewish Commenters at the Huffington Post Being Given Preference?

Arianna Huffington - Founder of the Huffington Post
A disturbing investigative piece published on the internet site Front Page Magazine exposes how the Huffington Post is allowing rabid anti-Israel and anti-Jewish commenters to repeatedly post comments.
The piece provides evidence that such commenters are allowed to continue posting despite the the Post's own policy forbidding expressions of racial and religious hatred. Some of these commenters have posted thousands of times despite the Huffington Post's claim that it both pre-and post-moderates its comment boards. Read the whole thing.

The Huffington Post is not the only news site that is allowing and possibly encouraging such vitriol. Other news sites with a strong anti-Israel bent, like the Guardian are publishing similar comments. Meanwhile, there are disturbing reports that these same sites have blocked the comments from those attempting to correct the distortions of the Israel-haters.
Posted by SS at 04:38 PM | Comments (7)
January 21, 2010
ISM's Understanding of "Non-Violence" Includes Murder?
The International Solidarity Movement's repeated references to "nonviolent" resistance — on their About Us page alone the word is used eight times — has always been suspect.
After all, the extremist group's co-founders Huwaida Arraf and Adam Shapiro clearly support and encourage violence, having written that suicide bombings are "noble" and that Palestinians "must" engage in violence alongside nonviolence:
Nonviolent resistance is no less noble than carrying out a suicide operation. ... The Palestinian resistance must take on a variety of characteristics — both nonviolent and violent. But most importantly it must develop a strategy involving both aspects. No other successful nonviolent movement was able to achieve what it did without a concurrent violent movement ...
As if that weren't disturbing enough, it seems clear now that, to many in the group, the "nonviolent" part of that combination includes arson, beatings, stoning, and murder.
A statement today by ISM London, published as a comment on the Guardian website, asserts that "the Palestinians' own long tradition of non-violent resistance has a lot to teach us all, from the protests and strikes against the British occupation in the 1930s onwards."
The Palestinian "protests and strikes" in the 1930s, which were fueled by Palestinian leader and close Nazi-ally Haj Amin al Husseini, centered on the general strike in 1936 (which, it should be said, was more about demanding the British implement anti-Jewish discriminatory policies than about ending the British occupation). Here are but a few examples of what that year "teaches us" about nonviolence:
On April 15, the strike was kicked off by the killing of 2 Jews. Within a month of that first killing, 21 Jews were killed by Palestinian Arabs, including seven Jews on April 19 and five the next day in Jaffa, and two elderly Jews murdered in Jerusalem on May 13. Houses were burned in Beit Shean, and a Jewish bus was fired upon near Beit Dagan.
Three Jews were shot dead as they left a cinema on May 16. Arabs threw a bomb at a bus on June 5, injuring 5 Jewish passengers. A 16-year-old Jewish boy was killed on July 9, a 7-year-old was killed on Sept. 19, and nine children were injured in a bombing of a school on July 23. Many buses were ambushed, thousands of trees uprooted, cattle killed, wheat burned, and holy sites desecrated.
By the time the strike was called off in October, 80 Jews were killed.
These events have "a lot to teach us all," ISM says. The question is, do they teach us more about the group's willingness to misrepresent history, or about their view of "nonviolence"?
Posted by GI at 10:51 AM | Comments (2)
January 20, 2010
Times Searches for its Future
AP reports:
The New York Times plans to charge readers for full access to its Web site next year, reviving an idea that fizzled twice for the newspaper. This time it's betting that it will be able to wring more revenue from readers without crimping its Internet ad sales.

Under the plan outlined Wednesday, the Times will adopt a "metered" system that will allow readers to click on a certain number of stories for free each month before fees kick in. A metered system is designed to draw casual readers with free articles while getting fees from people who want to dig deeper on the site.
Posted by GI at 11:08 PM | Comments (1)
Kairos Gets Its Close-Up
The controversy in Canada provoked by a speech given by Jason Kenney, Canadian Minister of Citizenship, Immigration and Multiculturalism in December needs a bit of unpacking, particularly in light of recent Ynet article which stated that the Canadian government had recently decided not to fund Kairos, a welfare agency supported by Canadian churches, because of its support for efforts to promote divestment from Israel.
The YNET report states:
The Canadian government has recently decided to cut back or entirely withdraw the funding to organizations that encourage a boycott of Israel or Israeli products, including pro-Palestinian and Christian groups.

One such organization is the Kairos welfare agency, which lost $7 million – half of its annual budget. Kairos is a social apparatus serving 11 Catholic and Protestant groups and churches promoting the "liberation theology" within the Canadian legal and educational establishments.

Canadian Immigration Minister Jason Kenney said that the agency's budget was cut back in light of its anti-Semitic positions, adding the group preaches for recognition of such terror organizations as Hamas and Hezbollah while rejecting the Jewish people's right for a state.
In fact, the Canadian government did not cut the organization's annual budget, but denied a grant application filed by Kairos. Moroever, the government's decison was not related to the organization's anti-Israel stance but was largely due to funding priorities of the Canadian government.
Nevertheless, the controversy over Kenney's speech in Jerusalem did, thanks to the work of Canadian journalists, draw attention to the organization's discriminatory attitude toward Israel, which the organization's leaders have apparently tried to obscure.

What Kenney Said In Jerusalem.
Jason Kenney, Canadian Minister of Citizenship, Immigration and Multiculturalism, set off a firestorm of protest when he addressed the Global Forum for Combating Anti-Semitism in Jerusalem on Dec. 16, 2009. At the forum, organized by the Israeli Ministry of Foreign Affairs, Kenney announced the following:
We have articulated and implemented a zero tolerance approach to anti-Semitism. What does this mean? It means that we eliminated the government funding relationship with organizations like for example, the Canadian Arab Federation, whose leadership apologized for terrorism or extremism, or who promote hatred, in particular anti-Semitism.

We have ended government contact with like-minded organizations like the Canadian Islamic Congress, whose President notoriously said that all Israelis over the age of 18 are legitimate targets for assassination. We have defunded organizations, most recently like KAIROS, who are taking a leadership role in the boycott [of Israel].

[The full text of the speech is available in a number of locations on the Internet, including here.]

Please note that the sentence regarding Kairos' support for an anti-Israel boycott has been reported elsewhere as "We have de-funded organizations, most recently, like KAIROS who are taking a leadership role in the boycott, divestment and sanctions campaign." (Additional words in bold.)
Kairos Pushes Back
According to an editorial condemning Kenney (published in the Toronto Star on Dec. 30, 2009), the speech did not provoke much of a response until the text was posted on the Internet.
Kairos Executive Director Mary Corkery responded to Kenney's speech in a Dec. 18, 2009 article in the Toronto Star on Dec. 18, 2009:
Executive director Mary Corkery said Kenney's statement was based on incorrect information about her group's positions and raises serious questions about the politicization of the aid process by the Conservative government.

"If any group that criticizes an action by the government of Israel is called anti-Semitic by the government of Canada, that's very serious."

"You cannot label someone anti-Semitic because they criticize a government," she said.

"That's outrageous."

…

KAIROS was stunned by Kenney's remarks because International Cooperation Minister Bev Oda told the public and Parliament the group lost its funding because of shifting priorities at the Canadian International Development Agency.
On Dec. 21, 2009, officials from the Canadian Council for International Co-Operation issued an open letter to the Candian International Development Agency. The letter reported that "Kairos policy documents, available on their website, explicitly indicate that the organization does not support a boycott against Israel."
On this score, the CCIC is correct. Kairos did in fact, issue a document that recommended against boycotting Israel. But digging a little deeper (as some journalists have done – see below) reveals that Kairos has provided financial, logistical and public relations support for Sabeel, an organization that has been at the center of the BDS campaign targeting Israel for several years.
Kairos Defunded?
On Dec. 24, 2009, Brian Lilley, writing in the Canadian Politics Examiner, reported Kairos was not "defunded." Instead, Canadian officials "turned down […] a request for government funding of a four-year project. They did not lose core funding that has put them on the brink of bankruptcy or closing up shop as the NDP claimed, they simply were turned down on a project proposal …"
Lilley provided another bit of important detail about the project proposal:
The project that Kairos submitted, and the government rejected, was a four-year plan that would have cost $9 million dollars, of which, $7 million was to come from government. That is a remarkably high level of government money, more than 75% of total costs, going into projects that claim to have the support of Canada's largest churches.
Lilley's reporting reveals the group was not "defunded" as Kenney reported, but merely had a grant application turned down. "Kairos made a pitch and they were turned down," he wrote.
As to whether or not Kenney accused the Kairos of being anti-Semitic, Lilley concludes that he "did not explicitly call Kairos anti-Semitic but the flow of the speech definitely leads [readers] to that conclusion." He also concludes:
Over the years, Kairos has made the right noises about supporting the State of Israel's right to exist and defend itself while also supporting all the fashionable causes of the left that are at the fore of the new anti-Semitism. I think the group remains shy of taking the full step into anti-Israeli crackpottery, I also think that Kenney overplayed his hand a touch while trying to play to the crowd in Jerusalem.
In sum, the Canadian government's decision to turn down Kairos' grant application appears related to the group's ongoing conflict with Canadian politicians, not Israel.
What Kenney Wrote In Canada
In response to the Dec. 18, 2009 article in The Toronto Star, Kenney wrote a Dec. 24, 2009 letter to the editor which confirmed Kairos' assertion that "International Cooperation Minister Bev Oda told the public and Parliament the group lost its funding because of shifting priorities at the Canadian International Development Agency."
Kenney wrote that Kairos' stance toward Israel was not the reason the organization was denied funding. He also reported that "International Cooperation Minister Bev Oda – not me – is responsible for the Canada International Development Agency. And she has been clear that a cost-sharing program with KAIROS was not approved because it did not meet CIDA's current priorities, such as increased food aid."
Kenney also stated that he did not accuse Kairos of being anti-Semitic:
What I said was that KAIROS has taken "a leadership role in the boycott, divestment and sanctions campaign (against Israel)." In fact, Toronto Star columnist Rosie DiManno's own research led her to the same conclusion. She wrote that KAIROS has taken "a leading role in divestment, sanctions and targeted boycotts of Israel," and said those who deny that are "disingenuous and dissembling."
Kairos' Record
The Rosie DiManno article that Kenney referenced appeared in The Star on Dec. 21, 2009. Here is an excerpt of she wrote:
Corkery and other KAIROS officials outright deny that the agency favours a boycott of Israel or advocates divesting funds from Israeli corporations.

This is, at the very least, disingenuous and dissembling. While KAIROS has a more narrowly focused activist agenda, it has launched highly partisan attacks on the government in the past. The Tories, with their long memory and punitive trigger finger, are now pushing back.

…

KAIROS is intimately aligned with other groups, internationally, that have aggressively called for economic and academic boycotts against Israel. The most notable of these is the Sabeel Ecumenical Liberation Center of Jerusalem, a Palestinian Christian organization dismissed by its critics as a "fraudulent peace group" with a "racist road show."

Indeed, in 2005 KAIROS was among the co-sponsors that hosted a controversial Sabeel conference in Toronto on "Morally Responsible Investment" (MRI), which is another way of saying disinvestment, which is another way of saying targeted boycott.
On this score, DiManno is on target. Sabeel has been at the forefront of the BDS campaign against Israel. Sabeel's "Morally Responsible Divestment" document (which is displayed on Kairos' website) is a convoluted, but unmistakable call for churches to divest from Israel. Kairos has done more than post Sabeel documents on its website, but has also been a significant supporter for Sabeel's activism in Canada. For example, when Sabeel held a pro-divestment conference in Toronto in November 2005, Kairos was one of the co-sponsors of the event.
When challenged on its decision to co-sponsor the event, Kairos issued a statement declaring that the conference "did not issue any statement or formal consensus of participants with regard to policy issues."
Sabeel did, however, issue a "conference report" that stated attendees "recognize the beginnings of a global movement on Morally Responsible Investment and related economic strategies to bring a just peace in Israel-Palestine." It also states that Canadian Friends of Sabeel will work with CROs (church-related organizations) to promote "economic strategies to achieve this end (including shareholder initiatives, partial divestment and boycotts.)"
Kairos' assertions notwithstanding, the Sabeel event co-sponsored by Kairos was part of the campaign to isolate Israel with a BDS campaign.
In defending its affiliation with Sabeel, Kairos mischaracterized Sabeel's attitude toward the state of Israel, stating that if Sabeel had "any agenda to disparage the Jewish/Israeli people or to deny them a state within the pre-June 4, 1967 borders, [Kairos] would not be in a partnership with them."
In fact, Sabeel and its founder, Rev. Dr. Naim Ateek, have persistently disparaged the Jewish state and the organization itself supports a one-state solution to the Arab-Israeli conflict.
Disparagement of Israel
One of the most egregious examples of Sabeel's disparagement of the Jewish state appeared in Rev. Dr. Naim Ateek's Easter Message of 2001. At the height of the Second Intifada, Sabeel's founding leader Rev. Dr. Ateek stated "The Israeli government crucifixion system is operating daily. Palestine has become the place of the skull."
As stated on CAMERA's main website, "[l]anguage like this is not the stuff of peacemaking, but demonization that fits the working definition of anti-Semitism issued by the European Monitoring Centre on Racism and Xenophobia (EUMC) in 2004 which mentions the use of "symbols and images associated with classic anti-Semitism (e.g., claims of Jews killing Jesus or blood libel) to characterize Israel or Israelis."
In 2005, the organization issued a liturgy titled "Contemporary Way of the Cross – A Liturgical Journey along the Palestinian Via Dolorosa" which portrays Palestinians as innocent, Christ-like victims of a crucifixion perpetrated by Israel, the Jewish State.
Clearly, this rhetoric is part of a campaign to disparage the Jewish state, contrary to Kairos' assertions.
Denial of Jewish State
Kairos' assertion that Sabeel does not support efforts to deny the Jewish people a state is also false. In 2004 Sabeel issued its Jerusalem Document that calls for the creation of '[o]ne state for two nations and three religions." This phrase, by the way, appears in another Sabeel document about Christian Zionism posted on Kairos' website.
Sabeel's one-state formula is recapitulated in Mark Braverman's recent book, Fatal Embrace(Synergy Books, 2010). In this text, Braverman, a member of Sabeel's steering committee, paraphrases testimony from Sabeel activist Nora Carmi as follows:
[Carmi] said that … Sabeel supports the ideal of one state in which Jews and Palestinians could live together as equals, even though she is not optimistic about this coming to pass.
At best, Sabeel's support for Israel's existence is provisional and temporary, a fact detected by Chicago Tribune reporter Manya Brachear in 2005. Covering the group's October conference at The Lutheran School of Theology in Chicago in October. Writing for the Chicago Tribune, Brachear reported: "Ateek said that for the time being Sabeel promotes a two-state solution—a Palestinian state alongside Israel." (Oct. 9, 2005)
Kairos' Website
As noted by Lilley, Blogger Ezra Levant has, albeit in a rather polemical fashion, documented a number of instances in which Kairos has apparently attempted to downplay its role in anti-Israel activism in light of the scrutiny caused by the funding controversy.
According to Levant, Kairos has deleted a Facebook page which reveals troubling anti-Israel attitudes. (Unfortunately, the Googlecache is no longer available). Kairos has reportedly also deleted a page of Midlde East related resources from its own website and has added a disclaimier to another page stating that the material listed below was not written by Kairos. All these changes, Levant reports, apparently took place after the controversy surrounding Kenney's speech in Jerusalem became evident.
Levant also provides links to a number of newspaper articles that reveal the organization's anti-Israel bias.
Here's KAIROS condemning Israel's attack on the leader of a terrorist group -- telling a newspaper it was "incredibly stupid". Here's KAIROS sucking up to the terrorist Yasser Arafat. Here they are blaming Saddam Hussein's militarism on -- you guessed it -- Israel. Here is their opposition to Canada cutting off aid to Hamas. Here is a great one: KAIROS demanding that Canada no longer be neutral between democratic Israel and its terrorist and dictatorship enemies, and demanding that Canada take sides against Israel. There are more, but I'll stop because I'm sure you're quite bored with all the Judenhass by now.
Levant's use of the word "Judenhass" is excessive. Kairos does not exhibit "hate" toward Jews, but merely manifests indifference toward Muslim and Arab hostility toward Jews and Israel -- a problem exhibited by a number of progressive CROs in Europe and North America.
But even with Levant's polemics he has a point. Kairos' anti-Israel bias is clearly evident in the articles to which he links. In sum, the organization regards Israel – not hostility toward it – as the problem peacemakers must address in the Middle East.
Conclusion
In light of the evidence it's reasonable to conclude that Jason Kenney overstated the role Kairos' hostility toward Israel played in the Canadian government's decision to deny the organization's grant request.
Fortunately, some outspoken Canadian journalists delved past the controversy surrounding Kenney's contradictory statements and provided their readers wtih information about Kairos which its leaders attempted to obscure: It has been an active supporter of anti-Israel divestment activism and has demonstrated a persistently discriminatory attitude toward Israel in its public statements regarding the Arab-Israeli conflict.
Posted by dvz at 11:59 AM | Comments (0)
January 18, 2010
Israel's Medical Team Leads Way in Haiti
Watch the CNN video Infections 'Out of Control' about Israel's amazing medical rescue efforts in Haiti.
CNN's Elizabeth Cohen interviews Dr. Jennifer Furin of the Harvard Medical School who states:
No one except the Israeli hospital has taken any of our patients.
Cohen goes on to say the following about the Israeli field hospital:
I am just amazed....I am just amazed at what's here. This is....this is....like another world compared to the other hospital. Imaging department, I mean imaging....my god....they have machines here. They have actual operating rooms and....it's just amazing.
Posted by at 03:07 PM | Comments (0)
Israel's Humanitarian Efforts in Haiti
A heartwarming story of Israel's humanitarian efforts in Haiti. Israeli doctors delivered a baby boy at an emergency field hospital Israel set up in Port-au-Prince, and the appreciative Haitian mother promptly named the child "Israel" in recognition of the Jewish state's efforts on behalf of her child.
Read complete story here.
Posted by at 10:21 AM | Comments (0)
January 17, 2010
AP's Erasing of the Erasing of Iraq's Jewish History
"Iraq reclaims a Jewish history it once shunned," proclaims the headline of Rebecca Santana's AP article today. Good news, right? The lengthy article ostensibly examines the intentions of the Iraqi authorities seeking the return of Iraqi Jewish archives taken and restored by Americans during the Iraq war, and includes the claims by Iraqi authorities that they genuinely seek to preserve "our cultural heritage."
Meanwhile, completely unmentioned by the AP, Iraq's Antiquities and Heritage Authority is reportedly erasing all signs of Judaism at the holy site of Ezekiel's tomb. Just two days ago the Jerusalem Post reported:
For centuries Jews, Christians and Muslims came to Al-Kifl, a small town south of Baghdad, to visit the tomb of the Prophet Ezekiel and pray.

The distinctive Jewish character of the Al-Kifl shrine, namely the Hebrew inscriptions and the Torah Ark, never bothered the gentile worshipers. In the 14th century a minaret was built next to the shrine, but the interior design remained Jewish. The vast majority of Iraq's Jewish community left some 60 years ago, but Shi'ites took good care of the holy site.

Until now.

Recently "Ur," a local Iraqi news agency, reported that a huge mosque will be built on top of the grave by Iraq's Antiquities and Heritage Authority, while Hebrew inscriptions and ornaments are being removed from the site, all as part of renovations.

Prof. Shmuel Moreh of the Hebrew University of Jerusalem, winner of the 1999 Israel Prize in Middle Eastern studies and chairman of the Association of Jewish Academics from Iraq, speaking to The Jerusalem Post on Wednesday, confirmed the report.

"I first heard the news of tomb desecration from a friend of mine who is a German scholar. After visiting the site he called me and said that some Hebrew inscriptions on the grave were covered by plaster and that a mosque is planned to be built on top of the tomb. He told me that he found the changes at the tomb disturbing and warned me that I'd better act quickly, before any irreversible damage will be inflicted," Moreh said.

"I had contacted Mr. Shelomo Alfassa, US director of Justice for Jews from Arab Countries, and told him about this situation. Then I saw the report from the Ur news agency, mentioning the decision of the Antiquities and Heritage Authority to build a mosque and to erase the Hebrew inscriptions and ornaments," Moreh said.

He asked friends to check out the developments at the site. The most recent to visit the shrine said that some of the inscriptions are now hidden by a layer of plaster.

Iraqi press reports claim that the building must be destroyed because of its poor condition. However, Alfassa believes that Iraq's Antiquities and Heritage Authority "has been pressured by Islamists to historically cleanse all evidence of a Jewish connection to Iraq - a land where Jews had lived for over a thousand years before the advent of Islam."
Iraq "reclaims" Jewish history indeed. Reclaims and destroys. Send feedback to info@ap.org.
Posted by TS at 07:15 AM | Comments (1)
January 15, 2010
C-SPAN Responds! Well, Not Exactly
C-SPAN Executives Susan Swain and Brian Lamb
As Jeffrey Goldberg has discovered, communicating with C-SPAN executives about their network having become a platform for anti-Semites to spew hatred isn't easy. Unlike virtually every other media outlet, C-SPAN refuses to return phone calls, letters and emails from dissatisfied viewers. This is the case even though C-SPAN considers itself a public service, devoted to promoting a smooth-functioning and interactive democracy.
Goldberg has persisted, though, and on January 14 reported he'd elicited a written statement from Terry Murphy, the network's VP for Programming, who wrote:
The call-in program has been a fixture of the C-SPAN networks for nearly all of our three decades. Our mission statement commits us to providing the audience with "direct access" to our guests on an "open basis". The live, town-hall format of the program can occasionally give rise to distasteful statements by callers making it to air, and the January 4 call is an example. We air approximately 400 calls per week and this kind of language is not typical of the vast majority. Program hosts, whose role is to facilitate the dialogue between callers and guests, are certainly permitted to step in when a caller makes ad hominem attacks or uses obscenity or obviously racist language. Given that this involves quick judgment during a live television production, it's an imperfect process that didn't work as well as it should have that day.
First, the "live, town-hall format" does not "occasionally give rise to distasteful statements" but often -- sometimes many times a week, even multiple times in a single segment -- gives rise to raw, unadulterated, anti-Jewish ravings. The outpouring of bigoted attacks on Jews by callers to the network should long ago have caused CEO's Brian Lamb and Susan Swain, as well as other senior executives, to take action.
Indeed, if program hosts are "certainly permitted to step in" when callers make bigoted statements, why don't they? What are they waiting for? Do they think the crude, conspiracy-mongering callers who blame all the world's ills on Israel and its supporters have a valid point?
Do members of the C-SPAN Board of Directors condone this?
And if not, what are they waiting for?
Posted by AL at 06:19 PM | Comments (1)
Blaming Jews (and Only Jews) for the Arab-Israeli Conflict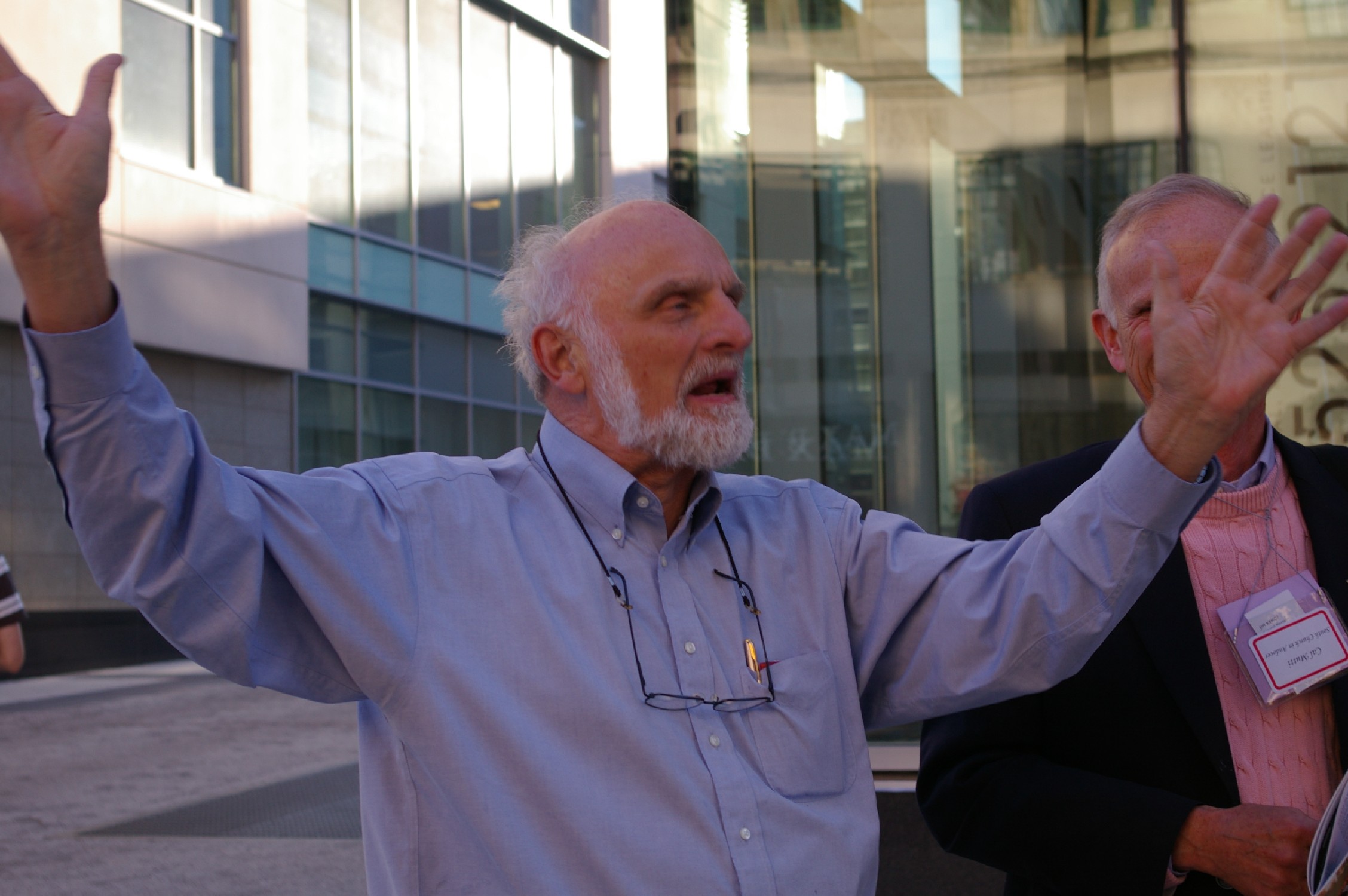 Walter Brueggemann
Walter Brueggemann, a giant in the world of Old Testament theology and interpretation, has affirmed the notion that the Arab-Israeli conflict is solely the fault of the Jews.
Such an assertion will be met with disbelief from admirers his work which includes David's Truth, his commentaries on Genesis, First and Second Samuel and Message of the Psalms.
Still the fact remains that in Brueggemann's view, Jewish self-understanding can reasonably be regarded as the root cause of the fighting between Israel and its adversaries in the Middle East.

Brueggeman, an influential Protestant theologian, makes this perfectly clear in his forward to Mark Braverman's newly released book Fatal Embrace: Christians, Jews, and the Search for Peace in the Holy Land (Synergy Books, 2010). After attesting to Braverman's bona fides as a "passionate Jew with a long and deep love for Israel," Brueggemann, writes:
At the bottom of [Braverman's] argument is the thesis, so well considered here, that it is Israel's elemental conviction about being God's one chosen people—and the ensuing social-political exceptionalism—that is the root cause of the conflict. It is that most elemental conviction on the part of Jews that he holds up to scrutiny and about which he insists upon a radical revision. The claim for exceptionalism—held commonly by Israel's most one-dimensional advocates and by Israel's most urbane critics—makes serious, realistic political thinking impossible and gives warrant for brutalizing policies carried out by the Israeli government that are destructive, self-destructive, and finally irresponsible. (Pages xv, xvi.)
By rooting the Arab-Israeli conflict solely in Jewish theology, Braverman, and by affirmation, Brueggemann, conveniently ignores the role Arab ideology and Muslim theology has played in fomenting violence against Israel and Jews in the Middle East. It's comforting to believe that the Arab-Israeli conflict can be brought to an end with Jewish and Western self-reform. As comforting as this belief is, it requires reader to ignore one of the most troubling and enduring political realities of the Middle East: Israeli peace offers and withdrawals have been preludes to increased Arab violence. This is the reality that the Israelis have contended with for well over a decade and it surely plays a role in their response to Palestinian violence, and yet Brueggeman insist on rooting Israeli behavior solely in theology.
The notion that Jewish theology has made "serious, realistic thinking impossible" ignores the repeated Israeli efforts to exchange land for peace in the past few years, and the violent response it has received. Again, as has been rehearsed here numerous times, Israel withdrew from Lebanon in 2000 only to be attacked by Hezbollah six years later. It withdrew from the Gaza Strip in 2005 only to see an increase in rocket attacks and to be attacked the following year by Hamas.
And the Second Intifada began after Israeli Prime Minister Ehud Barak made an offer to Arafat at Camp David. Arafat said no and refused to make a counter offer. A few months later, Arafat said no to the Clinton Parameters (which Barak accepted) and the violence continued. These facts, which clearly undermine Brueggeman's theological interpretation of Israeli behavior are ignored.
At first glance, Brueggemann appears to be merely expressing his objection to Jewish theology and its impact on Israeli policies, but he does a lot more than that.
In sum, Brueggeman has affirmed a Judeo-centric view of history that denies the region's Arab and Muslim people and leaders of any moral agency. For commentators like Brueggemann (and they are legion), the Palestinians are incapable of any independent thought or action of their own, but are helpless supporting actors whose suffering speaks only to the failings of the Jewish people and their state – not to their own moral and strategic failings. In this worldview Jews are the only people in the Middle East whose beliefs and behavior have any consequence, and are therefore the only people worthy of judgment.
The schema Brueggeman affirms works like this: Everything the Palestinians do is the result of Israeli actions, which in turn are an expression of Jewish feelings of entitlement, which in turn is rooted in Jewish theology regarding their choseness.
That's Judeo-centrism all right.
That Brueggemann subscribes to this worldview should not come as a surprise. These tendencies were evident in the second edition of The Land published by Fortress Press in 2002. In this book, Brueggemann juxtaposes the impulse to grasp for control and safety with the faith that allows people to wait in confidence for the gift of land (and the well-being that comes with it). In the chapter titled "Blessed Are the Meek," offers this assessment of Israeli policies:
While the two symbols of Western Wall and Masada offer the contemporary state of Israel deep options for waiting in confidence or seizing in military assertion, it is clear that the contemporary state of Israel has opted for the latter, to the complete disregard of the former. As I write this, Israel, under the leadership of Ariel Sharon, is currently undertaking an aggressive brutalizing assault on the neighboring Palestinian population. That option for brutality against others in the name of God of Israel is a powerful evidence of the way in which land traditions from the ancient texts are open to a variety of readings and responses, some of which make for war and not for peaceable habitation.
Given the book's release date of July 31, 2002, it's reasonable to assume that when writing about Sharon's "aggressive brutalizing assault on the neighboring Palestinian population Brueggeman is referring to Operation Defensive Shield initiated in April 2002 after a singularly horrific suicide attack that killed 30 Israelis and injured more than 140 others attending a Passover Seder in March 2002. As a result, Sharon sent troops back into cities and towns that had previously been handed over to the Palestinian Authority which had agreed, under the Oslo Accords, to stop terror attacks but instead had let these municipalities become part of a terrorist infrastructure.
If Brueggemann wants to assert in the context of the Arab-Israeli conflict that "Meekness leads to turf" (a message he offers in The Land on page 166), he needs to contend with historical realities like this. He also has to deal with physical and concrete realities that prompted Israel's creation. European Jews did not move to Palestine in the 1930s and 40s because they thought of themselves as the chosen people but because they had nowhere else to go. No one wanted them.
Israel's creation in 1948 answered a question that the international community could no longer ignore: Where are the Jews to live? Sixty-plus years later, Arab and Muslim extremists in the Middle East are still trying to re-open debate on this question by proffering the same answer they did in 1948: Anywhere but here.
This opposition is rooted in part in Islamic theology regarding Jews and the prohibition of allowing non-Muslims to rule over territory previously governed by Muslim rulers. Neither Brueggeman nor his followers, most notably Gary Burge and now, Mark Braverman, have, up until now, been willing to address this. (Gary Burge has a new book coming out – which Brueggemann has endorsed – and could address the issue in this text. Miracles do happen.)
It seems reasonable to ask when and if Brueggemann will direct his scholarly eye toward the Islamist theologies that have motivated so much violence in the Middle East. It is not as if he lacks for a hermeneutic to analyze and assess these beliefs. He has fashioned this hermeneutic in the course of relentlessly interrogating Jewish scripture, theology, and self understanding and using it to explain Israeli policies.
If Brueggemann can, in good conscience (and with a straight face) tell Israeli Jews that "Meekness leads to turf," despite what they've experienced in the past decade, integrity demands that he offer this same kerygma to Israel's adversaries, unless of course, he regards Palestinian violence as a manifestation of "grasping in confidence."

Posted by dvz at 01:09 PM | Comments (4)
Will CMEP Rise to Object? (Are You Serious?)
CMEP Executive Director Warren Clark
In 2007, when the Israeli government initiated badly needed repairs the ramp leading up to the Temple Mount near the Dung Gate, a so-called peacemaking group, Churches for Middle East Peace (CMEP) sent a letter to the U.S. State Department calling on the agency to protest Israeli actions for fear of inciting Muslim violence. (Snapshots covered this statement here.)
Instead of holding Palestinian and Arab leaders to account for using the excavation as a pre-text for violence, CMEP rewarded these actions by irresponsibly affirming the notion that the construction "violate[d] the sanctity" of the "Temple Mount/Harem al-Sharif." In fact, the Israeli excavation and construction took place hundreds of feet away from Muslim holy sites on the mount. Nevertheless, the damage was done. As noted by Snapshots, this letter was subsequently invoked by a Turkish journalist to incite hostility toward Jews and Israel.
Now the CMEP, led by former State Department service officer Warren Clark, has an opportunity to set things right by condemning the destruction (and not the maintenance) of a holy site. This time it is a Jewish holy site, not in Israel, but in Iraq. And this time the site is being destroyed, not maintained.

According to a report in the Jerusalem Post, Ezekiel's grave, located in a town South of Bagdad is under threat. The article, dated Jan. 15, 2010 reads in part:
Recently "Ur," a local Iraqi news agency, reported that a huge mosque will be built on top of [Ezekiel's] grave by Iraq's Antiquities and Heritage Authority, while Hebrew inscriptions and ornaments are being removed from the site, all as part of renovations.

Prof. Shmuel Moreh of the Hebrew University of Jerusalem, winner of the 1999 Israel Prize in Middle Eastern studies and chairman of the Association of Jewish Academics from Iraq, speaking to The Jerusalem Post on Wednesday, confirmed the report.

"I first heard the news of tomb desecration from a friend of mine who is a German scholar. After visiting the site he called me and said that some Hebrew inscriptions on the grave were covered by plaster and that a mosque is planned to be built on top of the tomb. He told me that he found the changes at the tomb disturbing and warned me that I'd better act quickly, before any irreversible damage will be inflicted," Moreh said.
If CMEP is truly interested in living up to its mission statement, which includes promoting recognition of "the religious importance of the [Middle East] to Jews, Christians, and Muslims and protect the religious freedom of all" this is an issue it cannot ignore. The destruction of a holy site is a clear violation of religious freedom.
The destruction of Ezekiel's tomb is only one many outrages are worthy of CMEP's attention. Writing for The American Thinker, Joel Spraregan has compiled a list of acts of violence against Christians in Muslim majority countries, three of which are located in the Middle East:
On December 23, a bomb was detonated near the Syrian Orthodox church of St. Thomas in Mosul, Iraq. On the same day, a bomb exploded in the same city outside the Chaldean church of St. George, killing three people.

…

In Nag Hamadi, Egypt, near Luxor, gunfire from a speeding car directed at worshipers leaving midnight mass on Coptic Christian Christmas (January 7) killed seven. The assailants escaped; Copts claimed that police sided with the Muslims who attacked them. A Coptic priest called it "a terrorist attack at a sensitive time." The head of the interfaith committee at al-Azhar University, Egypt's foremost Islamic institution (where President Obama spoke last June), said the attack "wasn't motivated by religious differences," but out of the region's strong "concept of revenge" over an alleged sexual crime by a Copt last year.
Snapshot drew attention to this last act of murder (and the persistent failure of groups such as the National Council of Churches to draw attention to the plight of Coptic Christians in Egypt) in a previous post. The suggestion that the killings were not motivated by religion is one often trotted out, sometimes by Muslims and other times by Christians in the U.S. who are intent on downplaying the role Islamist ideology plays in fomenting violence against religious minorities in the region, including Jews.
CMEP was quick to raise the alarm about excavations near the Dung Gate in 2007. How long will it take for the CMEP to address the outrages listed above?
Again, don't hold your breath. The CMEP can be counted on to condemn Israel when Muslim extremists riot, or threaten to riot.
But when there are clear and obvious misdeeds by Muslims and Arabs in the Middle East, CMEP remains silent.
Don't believe it? Go the organization's website yourself and tabulate the number of demands and criticisms leveled at Israel and its adversaries in its materials. The difference is obvious.

Posted by dvz at 12:08 PM | Comments (0)
January 13, 2010
Media, Hurrying to Canonize Mahmoud Abbas, Overlook Inconvenient Facts
Palestinian Media Watch in a Dec. 29, 2009 article by Itamar Marcus and Barbara Crook, reported that the Palestinian murderers of Rabbi Meir Avshalom Chai (a 45-year old Israeli father of seven children) were declared to be "Holy Martyrs" by Mahmoud Abbas and his Palestinian Authority. But the American media was AWOL on this story possibly because the story tarnishes the Palestinian president's benign image in the media as a trustworthy peacemaker.
Similarly, only the Associated Press reported on the recent decision to name a Ramallah square in honor of the female mastermind of a 1978 bus hijacking in Israel that killed 37 people. A Nexis on-line search found only one major American newspaper containing the AP report.
The AP report quoted Israel's Prime Minister, Benjamin Netanyahu, condemning the honor bestowed upon the terrorist mastermind: "This is not the way to make peace. Peace is made by educating reconciliation, by encouraging good neighborly relations and by fostering respect."
The media's selectivity toward Israel and Abbas is typified by the so-called national "paper of record," the New York Times, which, although it failed to inform readers about the honors bestowed upon the Palestinian murderers of Rabbi Chai or the mastermind of the 1978 bus hijacking, did provide space for at least one relatively inconsequential event: The Israeli man who at age 50 was granted his 11th divorce (January 10, 2010 Sunday, Week in Review, Pg. 4).
Posted by MK at 01:38 PM | Comments (1)
Bogus Livni Quote, More Egg in HRW's Face
NGO Monitor's blog observes that Human Rights Watch rings in the new year with more egg in its face -- this time the use of a distorted quote by Tzipi Livni to paint Israelis as war criminals.
Attributing vile bogus quotesto Zionist leaders is a common strategy employed by Israel's detractors.
Posted by TS at 04:35 AM | Comments (0)
Boston Globe Corrects Geographical Error
CAMERA staff prompted the following correction in the Boston Globe today:
Error (Boston Globe, AP, 1/12/10): The [planned fence on the Israeli-Egyptian border] would come in addition to a massive fence that surrounds the Hamas-controlled Gaza frontier with the West Bank, biting into chunks of the territory as it runs.

Correction (1/13/10): Because of an editing error, the Globe version of an Associated Press story on yesterday's World pages about Israel's plan to build two fences along its southern border with Egypt mischaracterized the project. The story should have stated the structure would be in addition to a massive fence surrounding the Hamas-controlled Gaza Strip, as well as a separation barrier that snakes along parts of Israel's more than 400-mile frontier with the West Bank.
To see all of the CAMERA-prompted Globe corrections, including last week's concerning "Jewish-only roads," click here.
Posted by TS at 03:49 AM | Comments (0)
Benn Blind to Palestinian Workers
"Sharon's real legacy - keeping the Arabs out of sight" is the online headline for Aluf Benn's Op-Ed in Ha'aretz today, but it is Benn who is blind to the Palestinians working in Israel. (The print edition's headline is "Palestine? Where's That?") He writes:
In the past Israel's economy relied on Palestinian workers, but only older Israelis remember them at restuarants, construction sites and gas stations.
I am a 33-year-old residing in the Israeli city of Modiin and I regularly see Palestinian construction workers at building sites in this rapidly growing city. And that's no surprise, since the Labour Force Survey (July-September 2009) published by the Palestinian Central Bureau of Statistics found that 14.3 percent of employed Palestinians from the West Bank work in Israel and in Israeli settlements. Thus, according to the PCBS, of the 694,800 West Bank Palestinians over the age of 15 who are in the work force, 97,272 are employed in Israel and Israeli settlements. (Of those, 51.5 percent work in construction.)
Posted by TS at 03:13 AM | Comments (0)
January 12, 2010
Veteran Guardian Commenter Calls for "Slaughter" of Jewish Settlers
The Guardian asserts on its Community Standards page that
Participants who seriously, persistently or wilfully ignore the community standards, participation guidelines or terms and conditions will have their posting privileges for all guardian.co.uk community areas withdrawn.
And among the community standards whose serious violation is said to result in a total ban is comments "others might find extremely offensive or threatening."
How's this for a threat: Any Jewish settlers who refuse to leave their homes at gunpoint "must be slaughtered, any last man, woman and child." So wrote William Bapthorpe, a veteran poster on the Guardian's comment sections.
According to the CIF Watch blog, though, Bapthorpe has not been banned. Click here for CIF Watch's suggestion on how to respond to Bapthorpe's incitement to violence.
See also here for CAMERA's look at hateful comments on the Huffington Post.
Posted by GI at 04:41 PM | Comments (1)
Paul Merkley Weighs in on Canadian Church Scene
Scholar Paul Merkley
Paul Merkley, professor emeritus in history at Carleton University in Ottawa, and the author of numerous texts including American Presidents, Religion and Israel (Praeger, 2004) has authored a detailed assessment of anti-Zionism in Christian churches in Canada. The piece, "Anti-Zionism and the Churches: The Canadian Scene," was published by the Jerusalem Center for Public Affairs earlier this month.
In this piece, Professor Merkley also provides an institution-by-institution breakdown of the anti-Zionism in Canadian religious bodies. For example, Kairos, a Canadian organization that has been in news lately has been criticized for "its support of Israel Apartheid Week events at Canadian Universities, for its policy statements and publications that adopt uncritically the Palestinian narrative … and for its description of Zionism as an 'ideology of empire, colonialism, and militarism.'"
Merkley also recounts the events of the past summer at the summer church conventions held by the Evangelical Lutheran Church in Canada (ELCIC) and the United Church of Canada (UCC).

ELCIC officials, Merkley reports, prepared the way for the passage of anti-Zionist resolutions with articles in the denominational magazine Canadian Lutheran. Their efforts were apparently successful despite vocal opposition to anti-Israel resolutions that reiterated the message offered in the church's magazine. Merkley writes that "several amendments intended to moderate anti-Israel bias were defeated."
The United Church of Canada, on the other hand, were not able to achieve the passage of anti-Israel resolutions, largely because of the over-the-top anti-Israel rhetoric in documents prepared for the denomination's annual convention. In these documents, "Canadian Jews in general, and certain unnamed Jewish members of Canada's parliament in particular, were denounced for disloyalty to Canada on account of their loyalty to Israel." This over-the-top rhetoric, Merkely reports, caught the attention of the Canadian news media, and the resulting coverage "brought a degree of heat upon the UCC leaders that ELCIC leaders were spared. Indeed, the ELCIC convention appears to have been entirely ignored by the national media."
Merkley concludes:
he case of the ELCIC demonstrates that where there is no extra-ecclesial scrutiny of discussion within a denomination - the normal state of affairs, given the media's indifference to church matters - the biases of clerical leadership will prevail against the attitudes of the laity in internal debate. The case of the WCC demonstrates that where a denomination's deliberations come under media scrutiny, the anti-Israel bias of the leadership gets exposed, the leadership becomes uncomfortable and defensive, and an alerted laity will defeat their resolutions.
The entire piece, which can be found here, is well worth reading.
Posted by dvz at 02:21 PM | Comments (0)
Israel's Response to Goldstone Out in 2 Weeks
The Israeli daily Ma'ariv reports today that the Israeli army will publish its investigation concerning the Goldstone Report allegations of Israeli war crimes during last winter's Operation Cast Lead. The article states (CAMERA's translation):
An IDF report, including investigations of incidents described in the Goldstone Report concerning war crimes carried out during Operation Cast Lead, is unequivocal: The majority of the incidents that the report covered were based on distorted facts.

Many of the complaints that appeared in the Goldstone Report were already known to the IDF -- they were checked at length and found to be incorrect.

For instance, the Israeli report proves, with the help of aerial photographs, that the flour mill which was claimed to have been intentionally destroyed by the IDF, was destroyed in the course of combat. The report, which is for the moment a preliminary report, was distributed for now among government and army senior officials, and it will apparently be published in the coming two weeks. . .
CAMERA's analysis of the claims concerning the flour mill can be read here, an index of all our Goldstone related analyses is here, and a broader collection of critical analysis by various researchers can be found here.
Posted by TS at 07:51 AM | Comments (7)
Hamas Confirms: Member Killed in 'Work Accident'
The Palestinian Maan News Agency reports that Hamas admits that one of its members was killed in a so-called "work accident" yesterday (ie, while preparing a bomb), and not in an Israeli air strike, as the group had earlier claimed:
A Hamas fighter was killed and three others injured in an internal explosion in Izbat Abed Rabbo in Beit Hanoun in the northern Gaza Strip, Hamas said on Tuesday.

The announcement confirmed what an Israeli security source told Ma'an late last night, that "as far as we can tell, it was an internal blast."
CNN has yet to catch up to speed, even though AFP reported Hamas' "work accident" acknowledgment last night at 10:40 GMT.
(For more on the presence of Hamas in the area of Izbet Abed Rabbo, see here and here.)
Posted by TS at 07:29 AM | Comments (0)
January 11, 2010
Jews Who Spit Are News, Egyptians Who Kill Are Not
Let's get this straight.
Several Coptic Christians are murdered in Egypt on Jan. 7, 2010. As of 5 p.m. Jan. 11, 2010, the story is left unmentioned on National Catholic Reporter's website.
NCRonline, does however, cover a Jewish statement condemning orthodox Jews for spitting on Christians in Jerusalem. The statement was issued on Dec. 30, 2009 and six days later, it's covered by the NCR.
Yes, spitting on people is DISGUSTING. Yech! And yes, it is worthy of coverage.
But how long will it take for NCR to acknowledge that Coptic Christians were murdered, gunned down in a drive by shooting as they come out of a Christmas midnight mass?
And just look at the comments section of the "spitting" story. It's a veritable cesspool of anti-Israel, and in some instances, anti-Jewish rhetoric.
To his credit, Pope Benedict did call on political and religious authorities to protect the lives of Christians. He did not say anything specific as to why such a statement was necessary, but Reuters connected the dots for its readers, reporting that it was an "apparent reference to recent attacks on Coptic Christians in Egypt."
Posted by dvz at 05:03 PM | Comments (0)
AP's Damage Control on Palestinian Incitement
Leila Ghannam, the acting governor of Ramallah, is in damage control mode on the issue of Palestinian incitement, and the AP has served as a willing accomplice. Amy Teibel's AP article yesterday ("Israel: Palestinians to blame for impasse in talks"), notes Israeli objections to the naming of a square in Ramallah after bus hijacker Dalal Mugghrabi, who was responsible for the murder of 37 civilians in 1978. Teibel writes:
Leila Ghannam, the acting governor of Ramallah, confirmed the plan to name the square after Dalal Mughrabi, but said the national Palestinian leadership had nothing to do with the decision. (Emphasis added.)
Yet, according to a Dec. 31 report by Palestinian Media Watch:
The text on the giant banner carrying Mughrabi's portrait at the birthday ceremony read: "Under the auspices of President Mahmoud Abbas The Political and National Education Authority Ceremony on the anniversary of the birth of the bride of the cosmos The Shahida (Martyr) Dalal Mughrabi."

Two PA TV news broadcasts focused on the celebration:
"Under the auspices of President Mahmoud Abbas, the Political and National Education Authority held a ceremony marking the 50th anniversary of the Shahida (Martyr) Dalal Mughrabi, commander of the Coastal Operation (i.e. hijacking of bus and killing of 37 civilians)." [PA TV (Fatah), Dec. 29, 2009]
The AP has ignored a request to make clear that the publicity material surrounding the event overtly stated that the naming and celebration of Mughrabi were held "under the auspices" of President Abbas, Ghannam's denial notwithstanding.
Posted by TS at 06:10 AM | Comments (0)
PS on NY Times And "Footnotes in Gaza"
While the New York Times ran a puff piece by Patrick Cockburn on cartoonist Joe Sacco's "Footnotes in Gaza," the International Herald Tribune (owned by the Times) ran a commendable critical review today. The AP piece, by Marcus Brogden, details:
The American-Maltese artist's latest book, "Footnotes in Gaza," chronicles two episodes in 1956 in which a U.N. report filed Dec. 15, 1956 says a total of 386 civilians were shot dead by Israeli soldiers — events Sacco said have been "virtually airbrushed from history because they have been ignored by the mainstream media."

Israeli historians dispute these figures.

"It's a big exaggeration," said Meir Pail, a leading Israeli military historian and leftist politician. "There was never a killing of such a degree. Nobody was murdered. I was there. I don't know of any massacre."

Sacco's passion for the Palestinian cause has opened him up to accusations of bias.

Jose Alaniz, from the University of Washington's Department of Comparative Literature, said Sacco uses "all sorts of subtle ways" to manipulate the reader.

"Very often he will pick angles in his art work that favor the perspective of the victim: He'll draw Israeli soldiers or settlers from a low perspective to make them more menacing and towering."

Alaniz also said Sacco draws children "in such a way to make them seem more victimized."
Sacco himself admits he takes sides.

"I don't believe in objectivity as it's practiced in American journalism. I'm not anti-Israeli ... It's just I very much believe in getting across the Palestinian point of view," he said.
The critical Brogden piece which appears today in the print edition of the International Herald Tribune is not on the shared IHT/NYT Web site. Patrick Cockburn's fawning coverage is.
Posted by TS at 05:10 AM | Comments (0)
Portuguese news site kills off Sharon
Ha'aretz reports today:
An erroneous report in a popular news site from Portugal this week started a false rumor that former prime minister Ariel Sharon was dead. Though comatose for the fourth year straight, Sharon is indeed still alive. The error appeared in IOL Portugal Diario for more than 24 hours, prompting reporters from all over the world - and especially Brazil - to try to corroborate the report. The article, which has since been taken offline, did not say how Sharon died, reviewing instead highlights from his political and military career. (Cnaan Liphshiz)
Posted by TS at 03:43 AM | Comments (0)
January 10, 2010
Too busy in a "knife fight" for PR?
Writing in Newsweek, Michael Hersh discusses "Israel's PR Problem" and what to do about it:
To survive in the long run, Israel must get better at fighting for itself on the "new battlefield" of world opinion, as a just-released study calls it. The only way to do so is to develop a long-term strategy and to go on the offensive. Israel is fiercely effective at taking the offensive militarily as well as technologically—as Dan Senor and Saul Singer point out in their new book, Start-Up Nation—but somehow it remains chronically inept at promoting its interests aggressively. The Israeli government continues to see this issue as a secondary matter of little substance. Its attitude seems to be: Why bother? The world isn't with us anyway. Never will be.

Hence, during the 2006 Lebanon war, then-P.M. Ehud Olmert never bothered to hold a news conference explaining himself in English. And in the middle of the 2005 disengagement from Gaza, when Israeli soldiers had to uproot whole towns of anguished Israeli citizens, the government failed to develop a PR campaign to win global sympathy. "When I asked them about their 'press strategy,' they just sort of looked at me. They didn't have one," says Senor, who served as communications strategist for the U.S. occupation authority in Iraq. "Whether it's tactics or strategy, they're terrible at it. Their attitude is, they're busy in a knife fight and don't have the time."
Update: Ami Isseroff replies that it's not all Israel's fault:
But all the PR expertise in the world, and all the budget in the world will not solve the problem of Israeli public relations. According to Hirsh for example, it is Israel's fault that Mahmoud Ahmadinejad, the Iranian dictator, upstaged Benjamin Netanyahu when they were both in New York. Israel was at fault because the press found it better infotainment to give fawning interviews to Ahmadinejad, where only the right questions would be asked - the ones he wanted them to ask. Israel was presumably also at fault when Columbia university, having coincidentally gotten a $100,000 bribe from the Alavi foundation, a front for the government of Iran, invited the Iranian dictator to express his views about the Jewish problem, gay rights and democracy.

Carol Saivetz and Marvin Kalb documented how the media distorted the Second Lebanon war to help turn "nasty" Nasrallah into a hero and the Israelis into villains. Hirsh just might have been familiar with that study, though strangely, he didn't mention it. The staged ambulance chases, the fake smoke in the photos, the same "victims" showing up in different locations, products of Hizbollywood, were eagerly delivered by the media to an audience anxious for "real dirt" on Israel. Media coverage of the Gaza war was a barely disguised remake of the Second Lebanon war.

We are to believe that bad Israeli "PR" and not unprofessional and unethical journalism is what caused Newsweek, Time and the New York Times to print fabricated stories of Israeli atrocities following the Gaza War, often without asking for Israeli comment, without questioning how the same person could have died three different times in three different ways for example. Bad Israeli PR skills were also responsible for the cartoon of Ariel Sharon eating babies and for the magazine covers that showed Jewish stars in the American flag. Bad Israeli PR skills are responsible, according to Hirsh, for all the straight news stories where Israeli officials and the Israeli government are singled out with the epithets "ultranationlist" and "right wing." These are not used, for example, in describing the progressive and democratic government of Saudi Arabia, and certainly never used to describe that liberal democrat, Mahmoud Ahmadinejad, or that paragon of tolerance, Hassan Nasrallah, General Secretary of the Hezbullah. They are not right leaning nor are they ultranationalist.
Posted by TS at 04:52 AM | Comments (0)
January 07, 2010
Coptic Christians Murdered in Egypt, Peacemakers Silent (So Far)
Several Coptic Christians were murdered in Egypt today (Jan. 7, 2010) after attending a midnight mass for Christmas.
The Middle East Council of Churches, which allegedly represents and looks out for the interests of Christians in the region has, as of this writing, not posted anything in English about this attack on its website.
The news service of the National Council of Churches has also, as of this writing, provided no information about these attacks.
People hoping for an outcry from mainline Christian peacemakers in the U.S. about this killing shouldn't hold their breaths.
Readers of this blog already know that when it comes to pointing out the alleged sins of the Jewish state, the prophetic voice of progressive Christian peacemakers in the U.S. has a hair-trigger. But when it comes time to talk about the suffering in Middle East that cannot be blamed on Israel, these very same institutions seem to have a frog stuck in their throat.
It has been like this for a looong time.
Isaac Rottenberg, who served as the first chairman of the Office on Christian-Jewish Relations at the National Council of Churches in the 1970s, describes an encounter with Coptic Christians in his book, The Turbulent Triangle: Christians Jews and Israel published in 1989.

Here is what he wrote:
My first contact with Coptic Christians occurred in October of 1977 when a delegation came to visit me in my office at the Interchurch Center. For years they had sought to plead the cause of their brothers and sisters in Egypt who were constantly subjected to harsh and discriminatory measures. But they never succeeded in getting past the middle-level church executives who occupy the various denominational Middle East offices. Their repeated efforts always had met with the same result: they were sent on their way with a sympathetic headshake plus handshake, but never had the issues been dealt with by the National Council of Churches leadership. Not once did the National Council of Churches speak a churchly world on their behalf, not to speak of a "prophetic" pronouncement on the issue.

Why, they wanted to know, was the cause of the Palestinians such a central concern to the National Council of Churches and why was their voice not being heard? I had to explain to them that there were various reasons for their plight. First of all, they had never found out how the system works and how to find out when and where the meetings were being held. But more important than that, in the political scheme of things, to allow them to voice their grievances publicly would pose an embarrassment to the church establishment. Oppression of the Coptic Christians simply did not fit into the priorities of the Council's social agenda.

Gabriel Habib, General Secretary of the Middle East Council of Churches, said as much in a speech he delivered in the Interchurch Center of August 15, 1977. In that talk, which was later distributed among an inner circle in printed form, he gave the following advice: "When dealing with those other areas of tension [i.e. other than the Palestinian-Israel issue], one should carefully take into account the effects of Christian communities in the Middle East. For example, we have to be extremely careful in dealing with, or mentioning the right of Copts in Egypt, because of the negative effects this might have on the life of the Christian community in that country. Emphasizing the problems of religious minorities in the Middle East is a double-edged sword." In sum, it is safe to attack Israel, but risky to even mention oppression of fellow Christians in Arab countries. Therefore, silence becomes the better part of political-ecclesiastical wisdom.

At any rate, a few weeks later […] in the ballroom of the Roosevelt Hotel [the scene of NCC meetings], Coptic Christians staged one of the quietest and most polite interventions that an National Council of Churches Governing Board had experienced for some years. At the end of a plenary session they approached a somewhat astonished National Council of Churches president to present their concerns and distributed some literature as the delegates were leaving the hall. Denominational staff members with Middle East Portfolios hastened to assure the powers that be that they had not provided those people with information about the place and schedule of the meeting. (The Turbulent Triangle, pages 61-62)
Like we said, it has been like this for a looong time.

Posted by dvz at 03:53 PM | Comments (0)
January 06, 2010
Ha'aretz's "Jews Only" Road Rage
Ha'aretz once again misleads readers, promoting the false canard about West Bank roads for "Jews only."
An article today by Yair Ettinger mentions a petition filed by residents of Beit Hanina against a decision to build a new road linking the Jerusalem neighborhood of Pisgat Zeev to Route 443. The article states: "Peace Now described [the road] as being a 'road for Jews only.'"
Really? A quick check of the Peace Now Web site finds that the organization did not say this. Rather, the group's statement about the planned road reads: "Route 20 is planned as a road for Israelis only, to connect Jerusalem and 443."
(See related link – "'Jewish Only Road' Falsehood Corrected" – here.)
– Post by YG
Posted by TS at 08:37 AM | Comments (0)
Norwegian FM Backtracks on Praise for Gilbert Book
Ha'aretz reports today:
Norway's foreign minister has distanced himself from claims that Israel perpetrated a "merciless massacre" in Gaza, after Israeli and Norwegian politicians criticized his praise for a book accusing Israel of willfully murdering civilians en masse.

"All Foreign Minister Jonas Gahr Store has done is to express recognition of the medical and humanitarian work that the book's authors carried out in Gaza," Bjorn Svenungsen of the Norwegian foreign ministry told the Norwegian daily Dagsavisen.

The spokesman said in reference to the book by doctors Mads Gilbert and Erik Fosse that "the minister has not commented on and verified the credibility of the contents of the book, but said that the book is the two doctors' version of what happened."

The statement came after Deputy Minister Ayalon told Haaretz that the book, entitled "Eyes in Gaza," was "outrageous and borders on incitement made up of fabrication and lies."

Ayalon also said that Store's back-cover praise for the book was "problematic."
For more on Gilbert, who has spoken out in support of the 9/11 terror attacks, and Fosse, and their visit to the Gaza Strip a year ago, see here and here.
Posted by TS at 07:08 AM | Comments (0)
Israeli AG Backs Soldiers Against Bakri
Ha'aretz reports today:
In an unusual move, Attorney General Menachem Mazuz said yesterday he supports the five IDF soldiers who have sued actor and filmmaker Mohammad Bakri for his film "Jenin, Jenin." Some of the Palestinians interviewed in the film accused IDF soldiers of perpetrating war crimes in the city's refugee camp during Operation Defensive Shield in 2002.
Bakri, the director of "Jenin, Jenin" has openly acknowledged to Ha'aretz that he lies to serve his cause.
Posted by TS at 06:31 AM | Comments (0)
January 05, 2010
Palestinian Terrorists Honored by President Abbas
The December 24, 2009 murderers of Rabbi Meir Avshalom Hai, a 45-year old Israeli father of seven children, have been declared to be "Holy Martyrs" by Mahmoud Abbas and his Palestinian Authority.
This information comes via Palestinian Media Watch in a Dec. 29 report authored by Itamar Marcus and Barbara Crook.
Posted by MK at 10:27 AM | Comments (2)
European Media Runs With Latest Unsubstantiated Claims
In the aftermath of the debunked Aftonbladet blood libel and the Guardian blue baby affair, the European media is again publishing apparently unsubstantiated allegations concerning Israeli conduct. Ha'aretz reports:
The Italian New Weapons Committee accuses Israel of contaminating Gaza land through bombing, and the president of the European Jewish Congress termed the claims "unfounded blood libels reminiscent of tales of Jews poisoning wells."

The Italy-based group of researchers studied Israel's use of ammunition and said the population of the Gaza Strip is "in danger." It based the claim on soil analysis of four bomb craters. "It is essential to intervene at once to limit the effects of the contamination on people, animals and cultivation," the researchers stated. Their findings grabbed headlines in Italian, European and Middle Eastern publications, including Terra, Ambito, the Turkish Weekly and Tehran Times. . . .

Professor Gerald Steinberg, founder of the Jerusalem-based, non-governmental Monitor organization, said the study did not present enough evidence to support its claim. A lecturer at Bar-Ilan University, he said the committee's "accusations are designed to stigmatize Israel and erase the context of mass terror." He said he considers the accusations "a modern form of blood libel," which quotes "many NGO reports that are a mix of false or unverifiable claims." In September, the New Weapons Committee accused Israel of experimenting with new non-conventional weapons on the civilian population in Gaza. Fabio De Ponte from the committee's press office said the group's work "is strictly scientific and its seriousness should be self-evident from the publication itself."
Posted by TS at 05:46 AM | Comments (2)
AP Photographer Discusses Lebanon Shots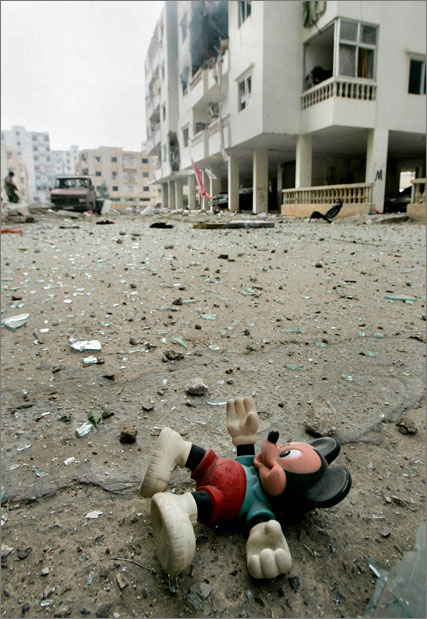 This AP photo by Ben Curtis was one of many featuring toys, including multiple Mickey Mouse dolls, appearing in the rubble during the 2006 Lebanon war
AP photographer Ben Curtis is interviewed by New York Times blogger Errol Morris (parts 1 and 2), discussing the ubiquitous images of toys and other personal effects among the rubble photographed during the 2006 war between Israel and Hezbollah.
Curtis denies that he in any way staged or moved a Mickey Mouse doll he photographed, but he does not address the possibility that perhaps Hezbollah members were indeed responsible for the placement of the toys and personal photographs in the rubble.
On a separate matter, Curtis discusses the lack of images of Hezbollah fighters from that war:
You might see people who you thought were Hezbollah, but do you know they're Hezbollah? If you go up and ask them, they'll probably say no. Now, I may be pretty sure that they are Hezbollah — perhaps the way they're dressed, perhaps the location or the way they're moving or the way they're behaving. But do I know that well enough to write that in a caption? Not really. And that was one of the frustrating things — the lack of direct coverage of Hezbollah activities compared to what everybody was receiving from the Israeli side. You had many photographers embedded with the Israeli forces, providing a daily stream of images of right up close military activity, firing missiles, traveling around in tanks — the whole lot. Obviously, a lot of their secret operations, they didn't allow the media access to, but there was a daily stream of many, many, many images from very up close to what the Israeli military was doing. Now, on the Hezbollah side, there was virtually none of that. Now, why is that? Because it was impossible. Hezbollah wouldn't allow the media to be in areas where Hezbollah military activities were taking place. At least they wouldn't allow them to be close enough to photograph them or video them. So, there was a certain frustration. At one point, I remember, we called them up, and said, "Look, we want to cover your activities," and it was always, "Absolutely not."
Posted by TS at 05:09 AM | Comments (1)
"All of Them, They Are Civilians Now"
A year ago, Jan. 2, 2009, during Operation Cast Lead, CNN's Gaza producer Talal Abu Rahma said about Hamas:
Hamas, they are under cover, all of them they are civilians now, you don't see any militants around you, even the cars I don't know if the car in front of me or in the back of me, if it's a target or not.
Watch it here:
Hat tip: Augean Stables
Posted by TS at 02:18 AM | Comments (0)
Koch to Carter On Forgiveness
Ed Koch (Getty Images)
Like CAMERA, former New York Mayor Ed Koch sent a letter to Jimmy Carter asking the former president to follow up on his request for forgiveness from the Jewish people with concrete actions. Koch, a keynote speaker at CAMERA's 2004 annual dinner, wrote:
When Jimmy Carter asks the Jewish community for forgiveness, I believe it is incumbent upon him to list what he believes he has done that requires forgiveness. I also think we should know, if after leaving the presidency he received any gifts, lecture fees or loans from Arab nations. He should make available any correspondence he has had during that period with Arab governments and list all the compensation he has received from them. I also would suggest that he hold a press conference at which journalists could ask him questions on the entire subject. Then and only then would the Jewish community be in a position to decide whether or not to grant him forgiveness. He should also know there is no one person who can grant him forgiveness in the Jewish community.
Posted by TS at 01:41 AM | Comments (0)
January 04, 2010
Pianist Denounces BBC Anti-Israel Bias
Britain's Jewish Chronicle reports:
The Russian-born pianist Evgeny Kissin, who became a British citizen in 2002, has accused the BBC of "slander and bias" against Israel, broadcasting material he describes as "painfully reminiscent of the old Soviet anti-Zionist propaganda".

Mr Kissin, 38, who until now has not generally been known as politically engaged, has written to the director-general of the BBC, Mark Thompson. According to a close friend of the pianist, he has decided to become "actively involved in exposing and countering the evil propaganda of certain British media and especially the BBC."
Posted by GI at 03:06 PM | Comments (1)