« LA Times Whitewashes Opposition to Gaza Wall | Main | How Carter Can Get Forgiveness »
December 21, 2009
National Geographic's Distorted View of Israel Persists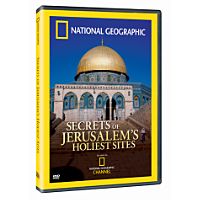 Islam's Dome of the Rock is the signature imagery of this National Geographic TV one-hour documentary originally aired in 2007
The film's serious flaws remain unchanged in the December 15, 2009 prime-time re-broadcast just as in the previous 2009 re-broadcasts in April. The basic problem is that this film favors key Muslim and Arab viewpoints regarding Israel that are either inaccurate or distorted.
"We stand by our film and do not intend to make any changes."
With these words (in an August 16, 2007 letter), National Geographic Television's President, Michael Rosenfeld, dismissed CAMERA's recommendations for changes to the network's "Secrets of Jerusalem's Holiest Sites." The recommendations were related to inaccuracies and distortions pointed out in a July 2007 CAMERA letter to Mr. Rosenfeld. The letter was discussed in an October 3, 2007 CAMERA article.
However, revisions of this flawed film are not likely as long as NGT, like its parent, the enormously prosperous "non-profit" National Geographic Society, continues to view itself as impervious to criticism. Such changes would also require overcoming National Geographic's traditional anti-Israel bias.
Almost half way into the broadcast, the narrator inaccurately explains the cause of the 1948 war: "Arabs reject the deal [U.N. partition plan] outright. 1948 – fighting breaks out between Israel and its neighbors." Why is this explanation lacking in truth? Because the war didn't just "break out." Arab aggression caused the war when, within hours of Israel's declaration of independence (in accord with the U.N. plan), the armies of five Arab nations (Egypt, Syria, Transjordan, Lebanon, and Iraq) attacked Israel in order to destroy the new nation.
The very first spoken statement in the film sets its tone and shows an acceptance of Islam's view of the location known to Judaism and Christianity as the "Temple Mount": "[T]he world's most sacred sites – Judaism's Western Wall, the Islamic Noble Sanctuary, and the Christian Church of the Holy Sepulcher." (The sense of this characterization is repeated throughout the film).
But the ancient Israelites – the Jews – established the Temple Mount (today called by Muslims, the "Noble Sanctuary" or "Harim al-Sharif") twenty centuries before the origin of Islam and it's the Temple Mount not the Western Wall that's the most sacred site for Judaism. Furthermore, the film, only four minutes into the broadcast, misleadingly says "Jews call the Noble Sanctuary the Temple Mount" but the more chronologically accurate language would be "Muslims call the Temple Mount the Noble Sanctuary."
How can the distorted, unfair phraseology of this film be honestly defended? An organization that fails to take accuracy and fairness seriously does not deserve to be regarded as a serious or reliable organization.
Posted by MK at December 21, 2009 10:36 AM
Comments
Guidelines for posting
This is a moderated blog. We will not post comments that include racism, bigotry, threats, or factually inaccurate material.
Post a comment