« November 2009 | Main | January 2010 »
December 30, 2009
UNRWA's John Ging Exaggerates Gaza Destruction
First it was Jimmy Carter and then came Gideon Levy. Now UNRWA's John Ging jumps on the bandwagon, wildly exaggerating the number of Gaza homes destroyed and damaged during Israel's Operation Cast Lead. A Dec. 29, 2009 UN News Centre report states:
"The Israeli blockade has meant that almost no reconstruction materials have been allowed to move into Gaza even though 60,000 homes were either damaged or completely destroyed. So we in UNRWA have been saying 'let's lift this senseless blockage,'" UNRWA spokesman Chris Gunness told UN Radio.
It seems that Mr. Ging has not been doing the requisite U.N. reading homework. Paragraph 1238 of the U.N.'s Goldstone report reads:
Figures about the overall damage to residential housing vary according to the source and time of the measurement as well as the methodology. The human rights NGO Al Mezan reports that a total of 11,135 homes were partially or fully destroyed. According to the human rights NGO Al-Dameer-Gaza, 2,011 civilian and cultural premises were destroyed, of which 1,404 were houses that were completely demolished and 453 partially destroyed or damaged. A UNDP survey immediately after the end of military operations reported 3,354 houses completely destroyed and 11,112 partially damaged.
Table 23, found on page 25 of Al Mezan's report entitled "Cast Lead Offensive in Numbers," details:

Likewise, a recently published report by the Palestinian Center for Human Rights (an organization which has exaggerated civilian casualty figures on the Palestinian side, hardly a friend of Israel), stated:
PCHR figures indicate that 2,114 houses (comprising 2,864 housing units) were completely destroyed, affecting 3,314 families (19,592 individuals). 3,242 houses (5,014 housing units) were partially destroyed – rendered uninhabitable – affecting 5,470 families (32,250 individuals). A further 16,000 houses suffered moderate damage.
Thus, PCHR weighs in with the highest figure for destroyed and damaged houses with some 24,000, a little more than a third of the number that Ging cites.
Posted by TS at 02:40 PM | Comments (2)
Rundown on the Silencing of Darwish at Princeton
A few weeks after Nonie Darwish, Egyptian, former Muslim and founder of Arabs for Israel, was prevented from speaking at Princeton University, Princeton's Conservative paper, The Princeton Tory, published a piece detailing what caused the last minute cancellation of Darwish's lecture.
Imam Sohaib Sultan, Muslim Life Coordinator and Chaplain at Princeton University, took offense at quotes he attributed to Nonie Darwish and felt she attacked all of Islam in her presentations. Comparing Darwish to a "neo-Nazi," Sultan called on the sponsors to reexamine the invitation, and they did.
Writing in the Tory, Aaron Smargon '11 observed:
Sadly, if only [those opposed to Darwish's appearance at Princeton] had listened to even twenty seconds of Nonie Darwish's prepared speech, they may have learned something: "I want to stress that I am not here to offend the good and peace-loving Muslims; but I am speaking out and trying to expose horrific human rights violations in Muslim countries, allowed under Sharia law. How can we ignore suppression of freedoms of speech and religion, and the demonizing of whole groups of people such as Jews and Christians in the Middle East?"
A Nov. 23, 2009 letter to the Daily Princetonian, co-authored by CAMERA's Aviva Slomich, defended Nonie Darwish's right to speak on campus:
Regarding "Egyptian activist's invitation withdrawn" (Thursday, Nov. 19, 2009):

Princeton University, with its tradition of "free inquiry" and "free expression" (from University handbook "Rights, Rules, Responsibilities" 2008) is the last place we would have expected a guest speaker to be muzzled because of what she might say. The University's own handbook cites the benefit of exposing students to diverse viewpoints and allowing them to learn from a broad range of human experiences. Students are encouraged to question, critique, challenge and grow in the pursuit of truth.

The Committee for Accuracy in Middle East Reporting in America, like Princeton, believes students, along with all Americans, deserve access to the full facts about such crucial issues as those related to the Middle East. For this reason we sponsored Nonie Darwish's speech which includes facts about the serious problem of anti-Israel, anti-Jewish and anti-Christian hate indoctrination in Arab schools and mosques­— a phenomenon she describes from first-hand experience as a Muslim raised in Egypt and educated in its religious schools. She provides a unique perspective on this very troubling topic, one that is not often presented in the Western media.

In the speech Ms. Darwish was to have delivered at Princeton, she explicitly avoided criticism of all Muslims as a group and individual Muslims' "relationship with God." She dealt with political Islam as it relates to human rights — and women's rights especially. Had she been allowed to speak, those who disagreed with her might have had the opportunity to question, challenge or debate her. Unfortunately, students were denied that opportunity when the student organization, Tigers for Israel, decided at the very last minute to withdraw their sponsorship, forcing the event's cancellation.

Ms. Darwish has spoken freely at scores, if not hundreds, of university campuses about her experience with hate indoctrination in the Arab world and its damaging effects on the minds and beliefs of people. While there have been students at some meetings who challenged her, they did not deny her the right to present her point of view. But, in one case, at Brown University when support for her appearance was withdrawn, the university itself then invited her back, lest there be any doubt where the institution stood with regard to defending free speech. Brown should be a model for Princeton and Nonie Darwish should be invited by the University to affirm that principle.
Legacy Heritage CAMERA Fellow Rafael Grinberg will again try to bring Nonie Darwish to Princeton University in late February.
-- By AS

Posted by TS at 07:45 AM | Comments (0)
AP Photo Caption Errs on Roads "For Jews"
Rehashing an old canard (see here and here) that there are "Jews only" West Bank roads, an AP photo caption from yesterday reads:
FILE - In this Friday, Jan. 4, 2008 file photo, Palestinian, Israeli and foreign protesters run from tear gas fired by Israeli troops, bottom, during a demonstration on Highway 443 near the West Bank village of Beit Horon outside Jerusalem. Israel's Supreme Court ordered the military on Tuesday Dec. 29, 2009 to allow Palestinians to travel on the part of Highway 443 that runs through the West Bank, handing Palestinians their biggest victory yet against Israel's practice of reserving some roads for Jews. (AP Photo/Sebastian Scheiner)
As documented earlier by CAMERA, while there are some West Bank roads prohibited to Palestinian traffic, there are no roads either in Israel or the West Bank reserved only for Jews, as this caption claims. The difference is significant -- while most Palestinians may not travel on Highway 443 (this will change in the next five months) and certain other West Bank roads, Israeli Arabs -- Christians and Muslims -- most certainly may.
AP's Amy Teibel accurately described the restriction in her article yesterday, saying that "Israel has created a system of roads in the West Bank restricted to Israeli use." Moreover, AP corrected this very same error last year.
See here and here for other recent AP photo miscaptions.
Posted by TS at 07:08 AM | Comments (9)
Guardian Corrects -- Modi'in Not a Settlement
Earlier we noted that an article by Rachel Shabi in the Guardian incorrectly referred to Modi'in, a city in central Israel close to the Green Line, as a "settlement." In response to reader feedback, including from many Modi'in residents who were surprised to learn about the new status of their city, the Guardian has since run an online correction:
This article was amended on Tuesday 29 December 2009 to correct an error introduced in the editing process: Modi'in is not a settlement. Also, an editing change removed the information that the shooting of an Israeli in his car near Shavei Shomron was fatal. This has been corrected.
This correction marks the second Guardian correction concerning Israel in as many weeks.
Posted by TS at 05:08 AM | Comments (0)
Goldstone Again Plays "Attacking the Messenger" Card
Once again, Judge Richard Goldstone attempts to evade substantive criticism of his Gaza report by playing the "they're attacking the messenger" card. In an interview with the New Statesman today, Goldstone states:
There has definitely been a consistent effort to attack the messenger rather than read the report. Clearly, personal attacks have been unpleasant for me, and unpleasant for my family.
Yet, critics have consistently dealt with falsehoods and distortions in the content of his report. When CAMERA's Ricki Hollander sent him a detailed open letter which questioned the report's findings about the Al Bader flour mill, the al-Maqadmah mosque and the military use of mosques, as well as the question of Palestinians engaging in combat while wearing civilian clothes, among other issues, Goldstone refused to respond, writing:
Dear Ms. Hollander,

I confirm receipt of your letter. I have no intention of responding to your open letter.
Sincerely,
Richard Goldstone
Goldstone has apparently likewise declined to respond to other serious critics who addressed the content of his report in detail. How long will he continue to hold up the false ad hominen deflector?
Posted by TS at 04:41 AM | Comments (3)
December 28, 2009
Gideon Levy, Year of Shame
Ha'aretz's Gideon Levy marks the one year anniversary of Operation Cast Lead in the best way he knows how -- condemning Israel with wild exaggerations. One year ago he exaggerated the number of Palestinian civilians killed, and now he wildly inflates the number of Palestinians whose homes were destroyed ("The year of shame"), referring to the "325,000 people whose homes were destroyed."
Where does Levy get this number? According to the Al Mazen Center for Human Rights, an anti-Israel Palestinian NGO, the real number is less than a third of what Levy claims. Consider Table 23, found on page 25 of Al Mezan's report entitled "Cast Lead Offensive in Numbers," reproduced below.

Thus, according to the Palestinian organization, 2,632 homes housing 22,053 Gazans were totally destroyed, while 8,522 homes belonging to 86,836 individuals were partially destroyed, ie damaged. (Page 20 of the Al Mezan report explains that "partially destroyed" refers to "housing units that moderate to heavy damages but can be repaired.") Thus, even if you accept the broadest possible definition for destroyed, the highest number of residents whose homes were "destroyed" is 108,889 -- less than a third of the figure that Levy claims.
"On the anniversary of the attack on Gaza, few people are doing any real soul-searching," Levy wags a finger at the Israeli public. But it is Levy who is guilty of committing old transgessions -- wild exaggerations and fabrications in the name of vilifying Israel.

Posted by TS at 03:23 AM | Comments (1)
December 27, 2009
Palestinian Kairos Document -- "The Tail Wagging the Dog"
As reported previously, a group of Palestinian Christians recently issued a document calling on churches in the United States to support the ongoing effort to isolate Israel from the community of nations by assisting in the boycott, divestment and sanctions campaign. Some church leaders in the U.S. have endorsed the so-called "Kairos Document." One of CAMERA's correspondents in the Middle East -- a particularly close observer of the Palestinian Christian community -- warns Christians in the U.S. not to be hoodwinked by the statement, which sullys "the reputation of local Christianity."
Here is the full text of what our correspondent (who has requested anonymity) had to say:
On December 11, 2009 began the distribution of the so-called Palestinian Kairos Document, entitled "A word of faith, hope and love from the heart of Palestinian suffering." This document has falsely been promoted in several countries as a statement by "leaders of the region's Catholic, Greek Orthodox, Lutheran, Anglican and Baptist traditions." This is a deliberate misrepresentation, albeit one that has hoodwinked many unsuspecting Christian readers worldwide.

The only current church leader to sign the document was Munib Younan, bishop of a minuscule Protestant church. That other church leaders did not sign it, not even the current Latin Patriarch or the Anglican Bishop in Jerusalem, who are themselves Palestinian Arabs, speaks for itself. This initiative was cooked up without the participation of almost all local church leaders.

The following were the signatories to the document:

· Patriarch Michel Sabbah
· Bishop Dr. Munib Younan
· Archbischop Theodosios Atallah Hanna
· Pastor Dr. Jamal Khader
· Pastor Dr. Rafiq Khoury
· Pastor Dr. Mitri Raheb
· Pastor Dr. Naim Ateek
· Pastor Dr. Yohana Katanacho
· Fr. Fadi Diab
· Dr. Jiries Khoury
· Mrs. Sider Daibes
· Mrs. Nora Kort
· Mrs. Lucy Thaljieh
· Mr. Nidal Abu Zulof
· Mr. Yusef Daher
· Mr. Rifat Kassis - Coordinator of the Initiative

This is an unimpressive list of marginal figures, mostly parish pastors and lay people. Michel Sabbah is no longer Latin Patriarch; he retired in March 2008 and his successor did not sign the document. He speaks merely for himself. Attallah Hanna does not represent the Greek Patriarchate. On the contrary, he is well known for his opposition to the current Greek Patriarch. In 2007, his salary was suspended for several months after he called for withdrawal of recognition of the Patriarch.

So the only "Christian leader" to have signed it is Munib Younan, the head of the grandly styled "Evangelical Lutheran Church of Jordan and the Holy Land." Unlike the Orthodox and Catholic churches that have existed in the Holy Land for nearly two millennia, this church was created only in 1959 as an outgrowth of the work of German Lutherans in the nineteenth century. It has a few hundred members, out of around four hundred thousand Christians in Jordan and the Holy Land. So Younan speaks for almost nobody in terms of the Christianity in the region. He would be a figure of little importance were it not that his church is massively funded by Lutheran churches elsewhere, which naturally need to promote him as a deserving recipient of so much money.

Currently, Younan's sponsors are seeking to have him elected President of the Lutheran World Federation (LWF). That is, nearly seventy million Lutherans worldwide should be led by a bishop whose entire church is smaller than the average Lutheran parish elsewhere. Maybe the eager distribution of the Kairos Document is also aimed to boost that election campaign.

By contrast, there are over seventeen million Lutherans in Africa. In 2008 numbers there grew by 158,047, more than a hundred times the whole size of Younan's church, according to the LWF's own website . But the idea of a black President of the LWF has not found a welcome among Lutheran leaders elsewhere. They rate Palestinian political ambitions above the church's mission in Africa.

Younan and the local representative of the World Council of Churches, Yusef Daher, are to be seen as the chief initiators of this document. They are entitled to express their own opinions, of course, such as their ludicrous pretense, dressed up in flowery theological rhetoric, that Israel is solely responsible for the problems of the region. But to suggest that their way of doings things is representative of the Christian leadership of the region is to sully the reputation of local Christianity.

Rather, this was an attempt of a little tail to wag the dog. Ten days after the document was received with fanfares in Protestant churches around the world, the real heads of the churches in Jerusalem reacted with a brief statement asserting that they had "heard the cry of their children" and asking others to listen as well. It can be seen as a damage-control exercise, which makes a general call for "peace, justice and reconciliation," but abstains from the extreme language of the earlier document.
Posted by dvz at 09:15 PM | Comments (3)
Guardian Remaps Israel -- Modi'in Is a Settlement
As if to prove our point about the Guardian, which so "frequently distorts the conflict," Rachel Shabi's article today ("Gaza ceasefire in jeopardy as six Palestinians are shot") refers to the "huge Israeli settlement at Modiin."
With some 70,000 people, Modiin can be considered huge, but it is not a settlement. It is fully situated within Israel's pre-1967 boundaries, or the Green Line.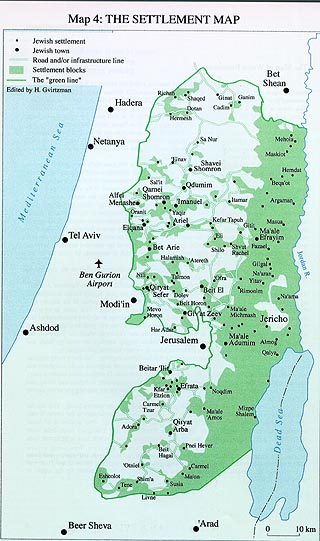 Map source:
BESA
Posted by TS at 08:19 AM | Comments (1)
When Organ Harvesting Is Under the Radar
CAMERA notes Aftonbladet's uninterest in the organ harvesting of impoverished Palestinians in Jordan and Maurice Ostroff remarks on international ennui concerning organ harvesting in China, India, Britain and Africa. Ostroff asks:
How does one explain the glaring difference between the mild media reactions to the above well documented reports and the immediate frenzied response to the unsubstantiated inference that the IDF harvested body parts of Palestinians, in the article by Donald Bostrom in the Swedish Aftonbladet? And how does one explain the instant fame acquired by the author whose name suddenly achieved over 400,000 Google results.
Posted by TS at 04:37 AM | Comments (1)
December 23, 2009
Other False Headlines Remain After Guardian Correction
As noted below, the reliably anti-Israel Guardian has, to its credit, corrected a misleading headline about Israel, which it blamed on a "serious editing error."
While this is slightly encouraging news, it hardly suggests that the British newspaper is committed to keeping the record clear of outlandishly false headlines. Still unchanged, for example, is the following series of Guardian headlines about the Palestinian "Prisoners' Document":
• "Hamas performs about-turn on Israeli state; Document recognises Israel's right to exist" (6/21/06)
• "Climbdown as Hamas agrees to Israeli state" (6/22/06)
• "Hamas takes step to recognize Israel" (6/28/06)
These headlines are not only broadly false — ever since the Guardian trumpeted Hamas's "climbdown," the terror group has continued to repeatedly and explicitly make clear it does not accept a two-state solution nor Israel's right to exist — but they are also patently untrue in their more specific context. The "Prisoners Document" discussed in these articles does not "recognize Israel's right to exist," and when Hamas had signed onto the Document, it did not "agree to an Israeli state." This was apparent based on the text of the document itself, and also based on contemporaneous descriptions of the document by Hamas leaders.
It's unfortunately safe to expect that, with respect to the Arab-Israeli conflict, we won't be seeing too much of the Guardian that corrected a distorted headline, and will continue to encounter the Guardian that so frequently distorts the conflict (and the Guardian whose culture allows an editor to unblinkingly announce that "In Israel they murder each other a great deal" only because "they don't like their political style and what they've got to say.")
Posted by GI at 11:35 AM | Comments (0)
The J Street-Saudi Connection
Lenny Ben-David's latest investigative report about the (sometimes) self-proclaimed pro-Israel J Street organization examines the Saudi-Arab-American Institute-J Street nexus and raises more questions than answers.
Posted by TS at 07:18 AM | Comments (0)
Guardian Corrects Headline
Yesterday the Guardian published the following correction:
We should not have put the headline "Israel admits harvesting Palestinian organs" on a story about an admission, by the former head of the Abu Kabir forensic institute near Tel Aviv, that during the 1990s specialists at the institute harvested organs from the bodies of Israeli soldiers, Israeli citizens, Palestinians and foreign workers without getting permission from the families of the deceased (21 December, page 15). That headline did not match the article, which made clear that the organs were not taken only from Palestinians. This was a serious editing error and the headline has been changed online to reflect the text of the story written by the reporter.
Mere Rhetoric has more on this story.
Posted by TS at 03:34 AM | Comments (2)
December 22, 2009
How Carter Can Get Forgiveness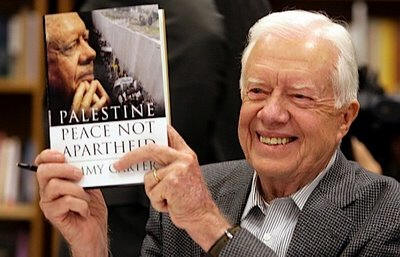 Ha'aretz reports that Former President Jimmy Carter has asked American Jews for forgiveness for "stigmatizing Israel":
Former U.S. president Jimmy Carter has apologized to the American Jewish community for 'stigmatizing Israel' and asked for forgiveness for his actions, the JTA reported on Monday.

"We must recognize Israel's achievements under difficult circumstances, even as we strive in a positive way to help Israel continue to improve its relations with its Arab populations, but we must not permit criticisms for improvement to stigmatize Israel," Carter wrote in a letter to the JTA.

"As I would have noted at Rosh Hashanah and Yom Kippur, but which is appropriate at any time of the year, I offer an Al Het for any words or deeds of mine that may have done so," Carter wrote, referring to the prayer said on Yom Kippur in which Jews ask God for forgiveness for any sins.
According to the Jewish concept of repentance, words are not enough. A change in behavior is also essential in order to receive forgiveness. And he has not done this. When CAMERA provided detailed documentation from United Nations and Arab sources disproving President Carter's claims in the International Herald Tribune last month about destroyed homes and homeless in the Gaza Strip, among other falsehoods, the former president refused to back down. The paper, without providing any documentation to substantiate Carter's erroneous claims, refused to correct.
One small step in the direction of repentance would be acknowledging to IHT editors that he had wronged and he would like to correct the record.
Posted by TS at 03:34 AM | Comments (2)
December 21, 2009
National Geographic's Distorted View of Israel Persists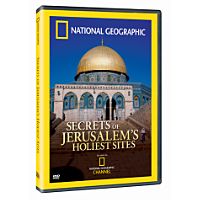 Islam's Dome of the Rock is the signature imagery of this National Geographic TV one-hour documentary originally aired in 2007
The film's serious flaws remain unchanged in the December 15, 2009 prime-time re-broadcast just as in the previous 2009 re-broadcasts in April. The basic problem is that this film favors key Muslim and Arab viewpoints regarding Israel that are either inaccurate or distorted.
"We stand by our film and do not intend to make any changes."
With these words (in an August 16, 2007 letter), National Geographic Television's President, Michael Rosenfeld, dismissed CAMERA's recommendations for changes to the network's "Secrets of Jerusalem's Holiest Sites." The recommendations were related to inaccuracies and distortions pointed out in a July 2007 CAMERA letter to Mr. Rosenfeld. The letter was discussed in an October 3, 2007 CAMERA article.
However, revisions of this flawed film are not likely as long as NGT, like its parent, the enormously prosperous "non-profit" National Geographic Society, continues to view itself as impervious to criticism. Such changes would also require overcoming National Geographic's traditional anti-Israel bias.
Almost half way into the broadcast, the narrator inaccurately explains the cause of the 1948 war: "Arabs reject the deal [U.N. partition plan] outright. 1948 – fighting breaks out between Israel and its neighbors." Why is this explanation lacking in truth? Because the war didn't just "break out." Arab aggression caused the war when, within hours of Israel's declaration of independence (in accord with the U.N. plan), the armies of five Arab nations (Egypt, Syria, Transjordan, Lebanon, and Iraq) attacked Israel in order to destroy the new nation.
The very first spoken statement in the film sets its tone and shows an acceptance of Islam's view of the location known to Judaism and Christianity as the "Temple Mount": "[T]he world's most sacred sites – Judaism's Western Wall, the Islamic Noble Sanctuary, and the Christian Church of the Holy Sepulcher." (The sense of this characterization is repeated throughout the film).
But the ancient Israelites – the Jews – established the Temple Mount (today called by Muslims, the "Noble Sanctuary" or "Harim al-Sharif") twenty centuries before the origin of Islam and it's the Temple Mount not the Western Wall that's the most sacred site for Judaism. Furthermore, the film, only four minutes into the broadcast, misleadingly says "Jews call the Noble Sanctuary the Temple Mount" but the more chronologically accurate language would be "Muslims call the Temple Mount the Noble Sanctuary."
How can the distorted, unfair phraseology of this film be honestly defended? An organization that fails to take accuracy and fairness seriously does not deserve to be regarded as a serious or reliable organization.
Posted by MK at 10:36 AM | Comments (0)
LA Times Whitewashes Opposition to Gaza Wall
Construction of the underground wall between Egypt and Gaza (AP photo by Eyad Baba)
A new underground wall is going up along one of Gaza's borders, and Jimmy Carter's confusion notwithstanding, it's not the border with Israel. In fact, it is Egypt that is building a 10-kilometer long underground steel wall to prevent tunneling, and Gazans are none too happy, as the Los Angeles Times' blog reports:
"Whether it is a wall, sensors or tapping devices ... what matters is that Egyptian territory must be protected. Whoever says Egypt is imposing its control on the border, we tell them this is Egypt's full right," Foreign Minister Ahmed Aboul Gheit was quoted as saying by Al Ahram Al Arabi weekly magazine.

The foreign minister's statements prompted Arab nationalist politicians and writers to accuse the government of President Hosni Mubarak of serving Israel's and the United States' interests at the expense of fellow Arab Palestinians. The matter highlights Egypt's close geographical and emotional ties to the Palestinians but also the complex political dilemma it faces in attempting to undercut Hamas.
LA Times writers Amro Hassan and Jeffrey Fleishman go on to detail statements by Arab officials and observers opposed to the wall and disputing Egypt's stated security concerns. But Arab opposition to the Gaza-Egypt wall is not limited to mere words -- so far, there have been four incidents of Gazans shooting on Egyptian construction workers -- violent acts ignored by Hassan and Fleishman.
Posted by TS at 05:31 AM | Comments (0)
December 15, 2009
License and only License: Words of Evasion and Dishonesty from Palestinian Christian Leaders
If anyone had any doubt whatsoever about the intellectual, spiritual and theological bankruptcy of Palestinian Christian leaders such as Naim Ateek, Michel Sabbah, Mitri Raheb, and now sadly enough, Munib Younan, they need only look at the most recent "peacemaking" statement issued by these (and other) leaders.
The document ("A moment of truth: A word of faith, hope and love from the heart of Palestinian suffering"), issued in Bethlehem on December 11, 2009, includes all the shop-worn tropes offered by these leaders for the past decade: The conflict is all Israel's fault, the Palestinians are innocent. Israelis sin, Palestinians make mistakes. Palestinian violence is justified, Israeli violence is not. And yes, the fighting will miraculously come to an end once Israel ends the occupation. (Lutheran Bishop Munib Younan used to steer clear from such craziness, but apparently, not anymore.)
In sum, the document is a tour de force of dishonesty, self-pity and blame that has been the hall mark of Palestinian Christian commentary about the Arab-Israeli conflict for the past decade.
This should come as no surprise. The enablers of these pastors in the United States – mainline denominational leaders and activists in these churches – have given these pastors no reason to change their tune, but have instead publicized and defended statements like this as part of their "peacemaking" efforts in the Middle East.
One of the most obvious aspects of the document is the refusal of its authors to attribute any consequence to Palestinian behavior.
For example, the pastors condemn the security barrier built to stop suicide attacks from the West Bank. They also lament the Israel's attack against Hamas in the Gaza Strip during last winter, making no mention of the years' worth of rocket attacks into Israel from this territory. They also bemoan the checkpoints that make it harder for Palestinians to participate in Israel's economy.
Is this suffering real? Yes. Of course it is. But at what point will leaders of the Palestinian Christian community start to address the role Palestinian violence played in bringing about the construction of the security barrier, the attack on Hamas in the Gaza Strip and the checkpoints?
Apparently, not any time soon. The document obliquely acknowledges Palestinian violence in the following passage:
Some political parties followed the way of armed resistance. Israel used this as a pretext to accuse the Palestinians of being terrorists and was able to distort the real nature of the conflict, presenting it as an Israeli war against terror, rather than an Israeli occupation faced by Palestinian legal resistance aiming at ending it.
Since when does blowing up kids waiting in line at a discotheque, qualify as "legal resistance"? Moreover, the violence directed at Israel by Hamas is not intended to "end the occupation" but is instead motivated by a refusal to tolerate the notion of Jewish statehood on land previously governed by Muslim rulers.
Instead of addressing this reality in a meaningful manner, these churchmen assert that the "roots of 'terrorism'" are in "in the evil of the occupation." They also "call on the Israelis to end the occupation. Then they will see a new world in which there is no fear, no threat but rather security, justice and peace."
This is a virtual restatement of the divestment resolution passed by the Presbyterian Church (USA) in 2004 which stated the occupation had "proven to be at the root of evil acts committed against innocent people on both sides of the conflict." In response to this resolution, Rabbis for Human Rights wrote that the PC(USA) "ignore[d] the homicidal ideologies that have so sadly taken hold among some of our Palestinian neighbors."
The same thing could be said to these Palestinian Christian leaders five years later. They have learned nothing.
From the standpoint of the authors, the biggest problem with the notion that Israeli withdrawals will lead to peace is that Israelis and the American people are insufficiently stupid to believe it. They know better.
A few facts of history: Israel made an offer at Camp David in 2000, Arafat said no and refused to make a counter-offer, and then lauded the Second Intifada as it began a few weeks later. Then, a few months later, Israel accepted the Clinton Parameters and again Arafat said no, the Second Intifada continued.
Moreover, Israel has been attacked from nearly every bit of territory from which it has withdrawn since the 1990s (Lebanon, the West Bank, and the Gaza Strip).
The Christian leaders who signed this document insult the intelligence of Israelis who have lived through the history they ignore. These pastors who signed this document abuse the goodwill of Christians in the U.S. who have lionized them as prophets and peacemakers for the past decade.
The upshot is this: The pastors who have dominated Palestinian Christian discourse for the past two decades are not up to the task of encouraging the Palestinian people to accept responsibility for their actions.
Yes, they have mastered the lingo that will elicit expressions of support and sympathy from mainline Protestant leaders in the U.S. who for the past 40 years had presided over an unrelenting decline of their own churches, but they have failed to address their own countrymen in a meaningful manner about the strategic and moral decisions they face and the mistakes they have made.

Posted by dvz at 12:05 PM | Comments (1)
December 13, 2009
Christian Abuse in the Muslim World
The Jerusalem Post reports on One Free World International (OFW) , a Canadian-based human rights group that is holding a conference in Israel starting today. The conference will provide new statistics on the persecution of minorities in Muslim countries.
Every three minutes a Christian is being tortured in the Muslim world, and in 2009 more than 165,000 Christians will have been killed because of their faith, most of them in Muslim countries, according to a human rights organization that is visiting Israel starting Sunday.

"Hamas digs up the bodies of Christians from Christian burial sites in the Gaza Strip claiming that they pollute the earth," said Reverend Majed El Shafie, President of One Free World International (OFWI), who will head a delegation of human rights activists, members of parliament from Canada and religious personalities.

...

El Shafie said that between 200-300 million Christians are being persecuted in the world, 80 percent of whom lived in Muslim countries and the rest in communist and other countries.
Posted by RH at 04:45 PM | Comments (0)
Kramer Catches Extra Zero in Goldstone Report
The Goldstone Report falsehoods keep on rolling in. Martin Kramer asks, "Between Goldstone and Gaza, What's One More Zero"?
I've been reading through the part of the Goldstone Report treating the economic impact of Operation Cast Lead—a part that hasn't gotten much attention. It's largely a crib of a March 2009 report compiled by the Palestinian Federation of Industries, whose deputy general-secretary, Amr Hamad, was interviewed three separate times by the mission. The mission deemed both the report and Hamad's testimony to be "reliable and credible."

The most important sentence in this section of the Goldstone Report is this one: "Mr. Amr Hamad indicated that 324 factories had been destroyed during the Israeli military operations at a cost of 40,000 jobs" (paragraph 1009). I did a double-take when I read that: 40,000 would be astonishing in an economy like Gaza's. This is what Hamad said in his testimony (June 28, Goldstone in the chair):

The industrial sector that was destroyed, for example, the 324 factories that were destroyed, that we[re] destroyed used to employ four-hundred thous-, uh, 40,000 workers. And these have lost their uh, jobs, uh, forever.

So that's the source of the number. But if you return to the report of the Palestinian Federation of Industries, it puts the job losses at these 324 factories not at 40,000, but at 4,000. That's an order-of-magnitude misrepresentation by Hamad of his own organization's findings
Posted by TS at 03:39 AM | Comments (0)
December 10, 2009
C-SPAN President's CAMERA Shy Reaction
Susan Swain, C-SPAN's president and co-chief executive officer, hosting a November 5 broadcast of Washington Journal, shied away from a CAMERA-related question at the end of a rare call aired (at 9:58 AM) containing historically valid points about the Israeli/Arab conflict. The caller, Craig of New York City, might have been motivated as a result of the plethora of unchallenged misinformation supplied on Journal broadcasts by anti-Israel, anti-Jewish callers. Craig said:
Hi, how are you doing? I just wanted to say –- to get to the root of the Arab-Israeli conflict, one has to look at the history, and you really have to go back to before 1948, you have to go back to the 1900s, when Jews were purchasing land from the wealthiest Arab families, such as the Nashashibis, the Husaynis and other wealthy families and you also have to look at the fact that [anti-Jewish] terrorism preceded [Israeli] occupation [of the West Bank and Gaza Strip]. There was no occupation in the 1950s, there was no occupation prior to that. Also, I was wondering if you had any comment to the recent reports on CAMERA.org ...
Ms. Swain's reaction to Craig's comments and request is an implicit reminder of C-SPAN's tendency to stonewall public complaints regarding its tolerance of bigoted callers who defame Israel and the Jewish people. Ms. Swain, seemingly tongue-tied, said:
Craig, uh...tu...tu...uh... We have about thirty seconds left and I will take a phone call from Indianapolis to wrap up the program.
Nov. 5 call at 9:58 AM (64 secs.):
(Hat tip: Jack Wolman)

Posted by MK at 03:20 PM | Comments (0)
December 09, 2009
Palestinian Group Blasts Hamas; Washington Post Misses News
The Palestinian Centre for Human Rights (PCHR) condemned "external travel restrictions imposed on the population" by the Gaza Strip's Hamas rulers. It said Palestinian police on December 7 "prevented 37 patients and their companions from heading towards the [Erez] crossing to travel to hospitals" in the West Bank and Israel.
PCHR called on the Hamas-controlled Gaza Strip government to cancel Interior Ministry provisions announced on November 25. Lengthy forms, multiple identification, photocopies of Israeli permits and a requirement that individuals obtain permission to travel abroad three days in advance "have obstructed their travel to hospital, raising concerns regarding their health," the organization charged.
The Washington Post did not cover the story. In a letter to Executive Editor Marcus W. Brauchli, retired McClatchy Newspapers Washington bureau chief and CAMERA member Leo Rennert noted that the newspaper "has devoted extensive space to Palestinians discomforted by Israeli travel restrictions .... while ignoring or paying at best minimal attention to Palestinian abuses of Palestinian human rights."
It should be noted that PCHR, funded by the European Union, Norway, Denmark, the Ford Foundation, and George Soros' Open Society Fund, among others, routinely refers to Jerusalem a part of the West Bank, the Israel Defense Forces as the Israel Occupation Forces, and falsely claims that "a very limited number of [Palestinian Arab] patients" have been permitted to cross at Erez for treatment in Israel when thousand do annually. That would seem to make its criticism of Hamas' regulations as "illegal measures violat[ing] international human rights standards" and medical threats especially newsworthy.
Posted by ER at 05:15 PM | Comments (0)
Judge Rules Against "Fact" TV Show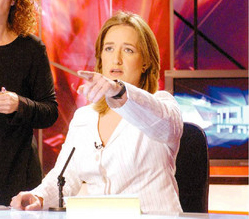 Ilana Dayan, of "Uvdah" ("Fact"), likely to appeal
Ha'aretz reports an important development in the story of Captian R, an Israeli soldier accused (and later cleared) of having "confirmed the kill" of a Palestinian girl in 2004:
Captain R., now Major R., won a legal victory yesterday. Not just a victory - a knockout. It was the culmination of an affair that began in the fall of 2004, when R., then a company commander in the Givati Brigade, became embroiled in the death of Palestinian teenage girl, Ayman al-Hams, in Rafah - an incident that became known as the "confirmed kill affair."

Just over a year later, R. was completely exonerated by a military tribunal, after his lawyers dismantled the military prosecution's case, highlighting serious shortcomings in the way the prosecution, and particularly the military police investigators, had conducted themselves.

Yesterday marked another milestone in the affair, after R. won his libel suit against investigative journalist Ilana Dayan for her presentation of the incident on her Channel 2 show "Fact."

Jerusalem District Court Judge Noam Sohlberg also awarded R. NIS 300,000 in damages.

Sohlberg's 131-page ruling will become a landmark decision in the history of journalism in Israel, due to the case's extensive publicity and Dayan's prominence.
Posted by TS at 02:23 AM | Comments (1)
December 08, 2009
More Detail on Olmert's Offer
First there was Mahmoud Abbas's acknowledgment that Ehud Olmert offered him a state (and more). Then came Olmert's more-detailed description of the offer. And still, as with Ehud Barak's earlier peace offer, Olmert's rebuffed attempt to make peace with the Palestinians is all-to-often ignored by those casting Israel as being responsible for the conflict because the Palestinians don't have a state.
Now, a Channel 2 (Israel) report cited in the Jerusalem Post purports to give the most detailed description yet of Olmert's offer, making it harder than ever to ignore the responsibility of Palestinian leaders for the continued statelessness of their people:
During Olmert's tenure, then-foreign minister Tzipi Livni offered to establish a Palestinian state on 92.7 percent of the territories conquered in the Six Day War. The map presented to Palestinian negotiators did not include the Jordan Valley as part of the State of Israel. The settlement of Ariel would remain part of Israel, but the stretch of land ensuring its contiguity with the rest of the country would be very narrow, Channel 10 reported.

In return for 7.3% that Israel would annex, it would offer the Palestinians 3% in land swaps.

According to a Channel 10 analyst, there were already decisions on what land would be swapped in return to retaining settlement blocs. Israel would cede 100 square kilometers near the Gaza Strip, 13 in the Tirat Zvi area, 10 near Nataf, half a square kilometer near Mevo Beitar, 7.4 near Lachish, 3.2 near Sumeria, 42 near Yatir and 151 in the Judean Desert.

The Palestinians, according to the report, have for the first time ever presented the Israeli team with their own maps. The Palestinians were willing forego only 1.9% of the Judea and Samaria territories, but they were willing to accept that Gush Etziyon, Modi'in and several other settlement remain in Israeli hands.

In Jerusalem, the Palestinians were willing to accept the neighborhoods of Ramot, Ramot Alon, Ramat Shlomo, Pisgat Ze'ev, Neve Ya'akov, Ma'alot Dafna, French Hill and Gilo, the southern neighborhood which has recently become a sticking point not with the Palestinians but with the United States after Prime Minister Binyamin Netanyahu announced that Israel would build several hundred new housing units there.

However, according to the report, the Palestinians themselves have agreed to forego areas where they now demand Israel implement a complete halt to construction.

Olmert reportedly offered the PA an even more generous offer than Livni, offering that Israel annex only 6.5% and swap 5.8% of lands, so the Palestinian state would constitute 99.3$ of the 1967 territories.

He additionally offered that five Arab states would be involved in governing Jerusalem, which would be divided based on its demographics.

The Palestinians rejected the offer.
Posted by GI at 04:51 PM | Comments (2)
Sterilized Coverage of Gaza's Swine Flu
Palestinian Ma'an News Agency reports that the Palestinian Authority and Palestinian rights groups have accused Hamas of barring swine flu patients from crossing into Israel to be treated in Israeli or West Bank hospitals.
Oddly, AP's article today ("Israel treating Gazans infected with swine flu") left out that bit.
Also noted by Ma'an but ignored by AP is the fact that the Israeli Ministry of Defense's Coordination of Government Activities in the Territories department (COGAT) today released a statement saying that "approximately 10,000 vaccinations against swine flu have been transferred to the Gaza Strip via Israel, which remains ready to receive further requests."
In addition, the COGAT statement notes that 8,000 patients and their relatives have crossed from Gaza into Israel in 2009, belying the AP's claim that Israel's treatment of five swine flu patients from Gaza "is a rare loosening of the tight blockade Israel imposed on Gaza after Hamas militants seized the coastal area in June 2007."
Posted by TS at 08:06 AM | Comments (0)
December 07, 2009
Judge Goldstone Responds to CAMERA's Letter
Justice Goldstone has consistently tried to defend his eponymous report from criticism by claiming that "no one has been able to show any error of substance in the report nor any of its findings" (see, for example, South Africa's Sunday Times, Nov. 15). But when faced directly with specific discrepancies, contradictions and misstatements that undermined the report's conclusions, how did he respond?
In answer to a follow-up call by CAMERA on Dec. 7th about whether he had received our letter, Justice Goldstone responded:

Dear Ms. Hollander,
I confirm receipt of your letter. I have no intention of responding to your open letter.
Sincerely,
Richard Goldstone

In the same type of double standard that typifies the report, Justice Goldstone refuses himself to answer questions or provide clarification about the substance of his mission's findings, yet slams Israel for having refused to cooperate with or answer the questions of his investigating team.

The real question now is how long can Justice Goldstone continue to hide behind the deceptive argument that no one has addressed the substance or findings of the report?
Read letter and response here.
Posted by RH at 05:58 PM | Comments (0)
Anti-Israel Boycott Proposal Costs NTNU Funded Professorship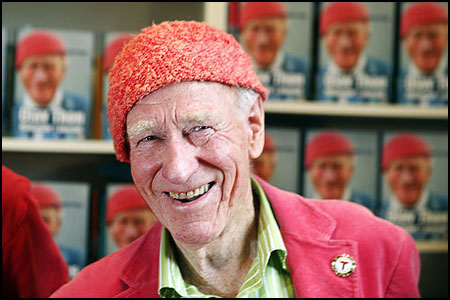 Former NTNU Donor Olav Thon
Anti-Israel activists at the Norwegian University of Science and Technology (NTNU) in Trondheim, Norway, have cost the university the support of one of its most prominent donors, real estate and hotel magnate Olav Thon, who according to Forbes.com is worth $2 billion. Thon has given the university 300,000 Kroner ($52,500) annually for the past few years to support an adjunct professorship.
Not any more.

Two days before the university rejected a proposal to divest from Israel, Thon sent a letter to NTNU stating that while he expected the school to vote the proposal down, he was cutting off future donations to the university.
According to this report (based on a google translation of a Norwegian newspaper article), Thon was not interested in supporting an institution where politics takes precedence over good research.
The $52,000 Thon gave to the school annually may seem like a small amount, but according to this report, he is setting up a charitable foundation to disburse his fortune after his death. The question for the fundraisers at NTNU is whether Thon will relent and allow this foundation to donate to the school after his death, or will his judgement be final?
The lesson for anti-Israel activists? Next time, go play with your own money and future, not somebody else's!

Posted by dvz at 03:41 PM | Comments (0)
December 06, 2009
PCHR's "Civilians" -- The Movie
CAMERA and the Institute for Counter-Terrorism have published detailed analyses showing how the Palestinian Center for Human Rights wrongly labeled numerous Palestinian Cast Lead casualties as "civilian."
Now Elder of Ziyon blogger brings us the video.
Posted by TS at 04:56 AM | Comments (0)
CiF Watch Exposes the Tooth Fairy of the Naqab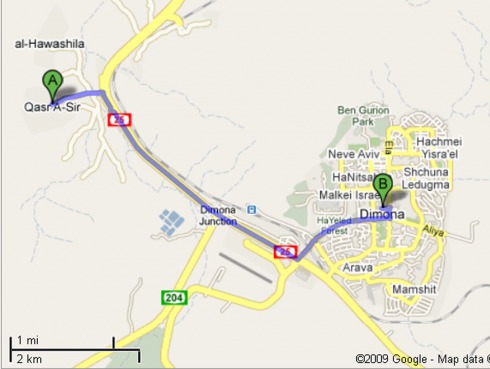 Google map showing 15 minute drive from Qasr al-Sir to Dimona, courtesy of CiF Watch
CiF Watch blog (which monitors the Comment Is Free section of the Guardian) has ripped apart Ben White's Dec. 3 article about Israel's allegedly racist, discriminatory policy of shuttering mother-baby clinics in unrecognized Bedouin villages.
In addition to pointing out that White ignores his own source (Ynet) which show that closures have also hit Jewish communities in the south, CiF Watch's blogger concludes:
Imagine my surprise (I joke) when I found that once again, trading on the ignorance of the average CiF reader, and their laziness when it comes to actually researching the facts instead of uncritically accepting the fairy-stories the stable of Israel-hating regulars (and this tooth-fairy in particular) feed them, it turns out that the "unrecognized village" is, as I demonstrated above, but a 15 minute trip on a paved highway (#25) to the center of Dimona. . . .

Ok – so it looks like despite the tooth fairy's article, the mother in the "Arab Bedouin unrecognized village of Qasr el-Ser in the Naqab (Negev)" could quite easily get the same medical care as the non-Bedouin
(You must read the CiF Watch post for an explanation of the Tooth Fairy reference.)
Posted by TS at 02:09 AM | Comments (0)
December 03, 2009
Fake Boycott Divestment Sanctions Movement Gains Momentum
It seems that while the Boycott, Divestment and Sanctions (BDS) Movement by opponents of Israel has been flagging, a closely related movement has been doing quite well. Efforts by what could be described as Fake Boycott, Divestment and Sanctions (FBDS?) movement against Israel have yielded a string of successes, including fake divestment by colleges, tech companies and investment funds.
In the words of Jon Haber, a blogger who wrote about the phenomenon in the Jerusalem Post, there has been "a pattern within the BDS movement to rely on hoaxes in order to create the appearance of political momentum."
One example: The announcement by a pro-Palestinian group at Hampshire College that the school had divested from Israel, and the follow up statement from the school's president that the group was "deliberately misrepresenting" what happened, and that "Hampshire has refused to divest from Israel."
Haber's feature article, which can be found here, is certainly worth a read. (So is his blog, Divest This!.)
Also be sure to check out Dexter Van Zile's in depth discussion of mainline church efforts to divest from Israel, which can be found here.
Posted by GI at 11:21 AM | Comments (0)
December 02, 2009
Egyptian Doctors' Projection About Organ Thefts
Aftonbladet reporter Donald Bostrom has reportedly "rethought" his unfounded accusations of Israeli thefts of Palestinian organs, but Egyptian doctors are now repeating the libel.
The Palestinian Authority newspaper Al-Ayyam spoke with the head of the Egyptian Medical Syndicate, Dr. Hamdi Al-Sayed, who explained why Egypt temporarily barred two Israeli doctors from attending an international medical conference in Eygpt:
In response to the Israeli doctors' protest over Egyptian authorities not issuing them permits to enter Egypt for a medical conference, he said: 'We have no regard or respect for the Israeli doctors because the medical community has condemned them due to their participation in the torture of Palestinian prisoners.' He added: 'The Israeli Medical Association has acknowledged having participated in torture, noting that it had done so with the aim of protecting Israeli citizens.' He stated that the Israeli doctors are also guilty of stealing the organs of Palestinian prisoners, and that 'such people will not be permitted to take part in our medical activities." (Al-Ayyam, Nov. 27, 2009, translated by Palestinian Media Watch)
It appears that the Egyptian doctors are suffering from a psychological phenomenon known as projection. While accusations of Israeli transplant thefts have proven to be unfounded, the Kuwaiti Arab Times recently reported on Egyptian involvement in organ trafficking.
Posted by TS at 03:46 AM | Comments (0)
December 01, 2009
Omissions, Damned Omissions and Hate Crimes Report
Washington Post coverage of the FBI's release of its annual report on hate crimes recalled the phrase attributed, perhaps incorrectly, to Benjamin Disraeli: There are "lies, damned lies and statistics."
The Post reported the FBI figures in a brief, "Crime: More reports of hate offenses against gays, religious groups" in the newspaper's November 24 national Digest. "Reports of hate crimes against gays and religious groups increased sharply in 2008 ...." the item said. But The Post provided only percentages, not the actual number of incidents. Readers could not determine how significant the increases were, or what religious groups were most affected.
USA Today's article "FBI report shows more hate-motivated crime" was more specific and informative. Crimes against blacks and members of religious groups "accounted for 56 percent of the 7,783 hate crimes reported in 2008," the paper noted. Like The Post, USA Today reported that this was a two percent increase over 2007's total.
"The number of attacks on blacks increased eight percent to 2,876, accounting for seven of every 10 race-motivated crimes," USA Today said. "Hate crimes based on religion rose nine percent to 1,519. Most, 67 percent, were against Jews."
The Washington Times covered the FBI report as a seven-paragraph item in its "Hot Button/CULTURE etc." column. Like USA Today, it used more specific percentages, noting for example that "16.7 percent [of 2008's reported hate crimes] were motivated on the basis of an anti-homosexual or anti-bisexual bias" and "11.5 percent by an ethnic bias, mostly directed against Hispanics ...."
The Forward, a nationally-circulated Jewish weekly, put the religious bias crimes in perspective in a full-length November 25 article, "What's Behind the FBI's Hate Crime Report?" By far the largest number, 1,013 of the 1,519 total, were committed against Jews. There were 105 reported anti-Muslim hate crimes.
These statistics suggest that:
1) If the FBI statistics are newsworthy enough to warrant mention, maybe they deserve a full story, and
2) News media ought to scrutinize allegations of an "Islamophobic backlash" made repeatedly after the Sept. 11, 2001 World Trade Center and Pentagon attacks by the Council on American Islamic Relations and other "Wahhabi lobby" groups.
Posted by ER at 05:44 PM | Comments (2)
Olmert's Offer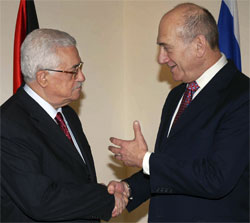 Many recall Ehud Barak's peace talks with Yasir Arafat, during which the late Palestinian leader rejected unprecedented offers that would have created a Palestinian state.
But a later peace offer by Ehud Olmert, which was rejected by current Palestinian leader Mahmoud Abbas, seems less embedded in the public consciousness. One possible reason for this lack of awareness is that, relative to the earlier Barak-Arafat negotiations, which were conducted under the media spotlight and detailed in books such as Dennis Ross's The Missing Peace, the specifics of the Olmert-Abbas negotiations have not been very well publicized.
Thanks to journalist Greg Sheridan's interview with the former Israeli prime minister, published Saturday in The Australian, more people know about the specifics of those peace talks.
Olmert explained:
"On the 16th of September, 2008, I presented him (Abbas) with a comprehensive plan. It was based on the following principles.

One, there would be a territorial solution to the conflict on the basis of the 1967 borders with minor modifications on both sides. Israel will claim part of the West Bank where there have been demographic changes over the last 40 years." [...]

In total, Olmert says, this would have involved Israel claiming about 6.4 per cent of Palestinian territory in the West Bank: "It might be a fraction more, it might be a fraction less, but in total it would be about 6.4 per cent. Israel would claim all the Jewish areas of Jerusalem. All the lands that before 1967 were buffer zones between the two populations would have been split in half. In return there would be a swap of land (to the Palestinians) from Israel as it existed before 1967.
"I showed Abu Mazen how this would work to maintain the contiguity of the Palestinian state. I also proposed a safe passage between the West Bank and Gaza. It would have been a tunnel fully controlled by the Palestinians but not under Palestinian sovereignty, otherwise it would have cut the state of Israel in two.

"No 2 was the issue of Jerusalem. This was a very sensitive, very painful, soul-searching process. While I firmly believed that historically, and emotionally, Jerusalem was always the capital of the Jewish people, I was ready that the city should be shared. Jewish neighbourhoods would be under Jewish sovereignty, Arab neighbourhoods would be under Palestinian sovereignty, so it could be the capital of a Palestinian state.

"Then there was the question of the holy basin within Jerusalem, the sites that are holy to Jews and Muslims, but not only to them, to Christians as well. I would never agree to an exclusive Muslim sovereignty over areas that are religiously important to Jews and Christians. So there would be an area of no sovereignty, which would be jointly administered by five nations, Saudi Arabia, Jordan, the Palestinian state, Israel and the United States.

"Third was the issue of Palestinian refugees." This issue has often been a seeming deal-breaker. The Palestinians insist that all Palestinians who left Israel - at or near the time of its founding - and all their spouses and descendants, should be able to return to live in Israel proper. This could be more than a million people. Olmert, like other Israeli prime ministers, could never agree to this: "I think Abu Mazen understood there was no chance Israel would become the homeland of the Palestinian people. The Palestinian state was to be the homeland of the Palestinian people. So the question was how the claimed attachment of the Palestinian refugees to their original places could be recognised without bringing them in. I told him I would never agree to a right of return. Instead, we would agree on a humanitarian basis to accept a certain number every year for five years, on the basis that this would be the end of conflict and the end of claims. I said to him 1000 per year. I think the Americans were entirely with me.

"In addition, we talked about creating an international fund that would compensate Palestinians for their suffering. I was the first Israeli prime minister to speak of Palestinian suffering and to say that we are not indifferent to that suffering.

"And four, there were security issues." Olmert says he showed Abbas a map, which embodied all these plans. Abbas wanted to take the map away. Olmert agreed, so long as they both signed the map. It was, from Olmert's point of view, a final offer, not a basis for future negotiation. But Abbas could not commit. Instead, he said he would come with experts the next day.

"He (Abbas) promised me the next day his adviser would come. But the next day Saeb Erekat rang my adviser and said we forgot we are going to Amman today, let's make it next week. I never saw him again."
(See also Mahmoud Abbas's interview with Washington Post Deputy Editorial Editor Jackson Diehl, which broadly corroborates Olmert's account of the offer.)
Posted by GI at 11:11 AM | Comments (0)