« Israelis Provide the Palestinians With Something the Anti-Israel Boycotts Will Not | Main | A Third Intifada, of What Nature? »
November 18, 2009
Update on AP's Caption Challenged Photographer
Earlier we blogged about an AP caption which falsely states that an ultra-Orthodox Jewish man is standing in front of the Al-Aqsa Mosque (an area under the day-to-day control of the Islamic Waqf), while he is in reality in the Jewish Quarter, pausing by the steps leading down to the Western Wall. The large Western Wall plaza separates him from the Temple Mount, upon which the mosque stands.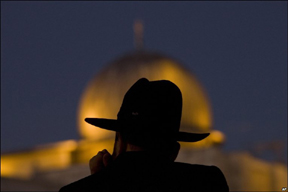 An ultra Orthodox Jewish man pauses in front [sic] the Al-Aqsa Mosque, Islam's third-holiest site and known by Jews as Temple Mount, in Jerusalem's Old City, Wednesday, Nov. 11, 2009
While the AP has thus far refused to issue a correction, the BBC Web site, which also used the photo and incorrect caption, was responsive to a complaint issued by blogger Yisrael Medad. (To see the image at BBC, click here and then select the second image.) BBC's caption now more accurately states:
An ultra-Orthodox Jewish man pauses near the al-Aqsa mosque in Jerusalem, an area which Jews revere as the Temple Mount.
Will AP follow BBC's example and correct the record?
Posted by TS at November 18, 2009 07:45 AM
Comments
the dome looks like the golden dome of the rock, not the black lead al Aqsa
Posted by: barnea Levi Selavan at November 23, 2009 11:56 AM
Guidelines for posting
This is a moderated blog. We will not post comments that include racism, bigotry, threats, or factually inaccurate material.
Post a comment