« October 2009 | Main | December 2009 »
November 25, 2009
Ha'aretz Finds Another Jericho Pool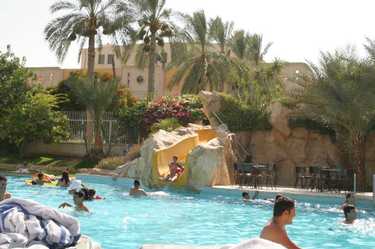 The swimming pool of the Intercontinental Hotel in Jericho (Photo from Checkpoint Jerusalem blog by Dion Nissenbaum)
Once again, the professional news writers of Ha'aretz contradict their less-than-professional colleagues. Today, Avi Issacharoff reports on the International Conference on Palestinian Prisoners in Jericho held at the "plush InterContinental Hotel," writing:
Several women sat in the courtyard, next to the swimming pool -- the mothers and sisters of Israeli Arabs and East Jerusalemite prisoners. (Emphasis added)
But, wait -- according to Gideon Levy, there's only one swimming pool for Palestinians in the entire West Bank, and that's Banana Land water park (also in Jericho).
Also, on the Ha'aretz front, today CAMERA staff photographed Palestinian private cars, buses, taxis, trucks and pedestrians on Route 505 in the West Bank, which Ha'aretz has dubbed "an exemplary apartheid road -- for Jews only."
Posted by TS at 08:41 AM | Comments (0)
November 23, 2009
NY Post: Iranian Regime Front Group Funds Columbia, Rutgers
More than two years ago, my colleague Dexter Van Zile blogged here:
If Ahmadinejad is an intellectually dishonest and cruel tyrant who oppresses his people, denies the Holocaust, intimidates scholars and intellectuals and is intent on destroying Israel, as [Columbia University President] Lee Bollinger says he is, then why give the man a podium at Columbia University?
The $100,000 question. Literally. Today the answer presents itself via the New York Post , which reports:
Anti-Israel, pro-Iran university professors are being funded by a shadowy multimillion-dollar Islamic charity based in Manhattan that the feds charge is an illegal front for the repressive Iranian regime. . . .

Federal law-enforcement authorities are in the midst of seizing up to $650 million in assets from the Alavi Foundation, which they charge funnels money to Iran-supported Islamic schools in the United States and to a syndicate of Iranian spies based in Europe.

In one of the biggest handouts, the controversial charity donated $100,000 to Columbia University after the Ivy League school agreed to host Iranian leader and Holocaust denier Mahmoud Ahmadinejad, according to the foundation's 2007 tax filings obtained by The Post.

Rutgers professor Hooshang Amirahmadi, former head of the school's Center for Middle Eastern Studies and president of the American-Iranian Council, a nonprofit advocacy group, unabashedly has touted Hezbollah and Hamas as legitimate organizations and not terrorists.

Between 2005 and 2007, the Alavi Foundation donated $351,600 to the Rutgers Persian language program, a spokesman for the school acknowledged. The university would not comment further.
Besides funding Ahmadinejad's appearance at Columbia, the Justic Department accuses the Alavi Foundation of funneling money to Iran's nuclear program, the Christian Science Monitor reported.
Posted by TS at 05:12 AM | Comments (1)
Walt and Mearsheimer, Brit Style
Peter Oborne: Denies he is spreading conspiracy theories
British author and scholar Robin Sheperd has taken on Peter Oborne's Channel 4 documentary "Inside Britain's Israel Lobby." (He too then is obviously part of the all powerful Zionist conspiracy.) Sheperd writes in the Wall Street Journal:
Here is a small selection of events that have taken place in Britain since the end of Israel's Operation Cast Lead in Gaza earlier this year.

The government has imposed a partial arms embargo on Israel and failed to vote against the Goldstone report in the U.N . The charities War on Want and Amnesty International U.K. have both promoted a book by the anti-Israeli firebrand Ben White, tellingly called "Israeli Apartheid: A Beginner's Guide." The Trades Union Congress at its annual conference has called for boycotts of Israeli products as well as a total arms embargo.

In the media, the Guardian newspaper has stepped up its already obsessive campaign against the Jewish state to the extent that the paper's flagship Comment is Free Web site frequently features two anti-Israeli polemics on one and the same day. The BBC continues to use its enormous influence over British public opinion to whitewash anti-Semitism and Holocaust denial in the Middle East. Its Web site, for example, features a profile of Hamas that makes no mention of the group's virulent hatred of Jews or its adherence to a "Protocols of Zion"-style belief in world-wide Jewish conspiracies.

Readers may be surprised to learn, therefore, that the British media and political establishment is apparently cowering under the sway of a secretive cabal of Zionist lobbyists who have all but extinguished critical opinions of Israel from the public domain.
Sheperd notes:
Messrs. Oborne and Jones produced an extensive pamphlet accompanying the documentary, which openly claimed inspiration from none other than John Mearsheimer and Stephen Walt, authors of "The Israel Lobby and U.S. Foreign Policy"—another conspiracy theory alleging malign Zionist influence in the United States.
For more on Mrssrs. Mearsheimer and Walt, the American inspirations for this less-polished British knock-off, see here.
Posted by TS at 04:04 AM | Comments (2)
More Amnesty Water Falsehoods
Omar Barghouti, advocates for boycott of Israel using Amnesty claims about water
Martin Sherman picks up on the immense task of debunking the many falsehoods in Amnesty's water report. Sherman also spells out the similarities between Amnesty's campaign and the contemporaneous U.S. tour by activist Omar Barghouti in which he calls for boycott of Israel while voicing allegations concerning water using oddly reminiscent language. Sherman writes in the Jerusalem Post:
The facts, however, paint a very different - indeed antithetical - picture to that painted by the A/B (Amnesty/Barghouti) duo. For by every conceivable measure of consumption of fresh water, the lot of the Palestinians has improved dramatically - indeed beyond all recognition - since 1967 under Israeli administration, whether it be overall consumption, per capita consumption, consumption relative to Israel/Israelis, conveyance of running water to households, area under agricultural cultivation or size of the agricultural product.

In the period 1967-2006 the overall annual consumption of the Palestinians in the West Bank grew by 300 percent - from 60 million cubic meters to 180 million cu.m. The annual per capita consumption in the same period rose by almost 15% - from 86 cu.m. to 100 cu.m. By contrast the overall consumption by Israel dropped by 15% (from 1411 million cu.m. to 1211 million cu.m.), while the per capita consumption plummeted an amazing 300% from 508 cu.m. to 170 cu.m. - a decrease made possible not only by more efficient usage but also massive replacement of fresh water by recycled sewage for agricultural irrigation and of naturally occurring water by artificially produced (desalinated) water for domestic use. The Palestinians, by contrast, have steadfastly refused to undertake agreed upon sewage purification plants, allowing untreated effluents to endanger "downstream" Israeli supplies.

Moreover, from 1967 to the years preceding Oslo, the Palestinian household consumption of water rose dramatically under Israeli rule - by almost 600%, significantly higher than in Israel where domestic consumption in the same period rose by approximately 230%. But not only did consumption by households improve, so did conveyance to households. In 1967 only 50 West Bank villages were connected to a running water system whereas by the early 1990s the number rose to 260.
Posted by TS at 03:14 AM | Comments (1)
November 22, 2009
Christians Attacked In Egypt
By now, it has become axiomatic that acknowledging, and condemning, Muslim violence against Jews or Christians in the Middle East is just not in the intellectual repetoire of mainline Protestant peacemakers in the United States. If suffering cannot be laid at the feet of Israel, it's almost not worth mentioning.
Here is another episode of violence that Christian peacemakers in the U.S. will either have to ignore, or somehow blame on Israel. The Associated Press reports that "Hundreds of of Muslim protesters on Saturday burnt Christian-owned shops in southern Egypt and attacked a police station where they believed a Christian accused of raping a Muslim girl was being held, a police official said."
The prophetic voice of Christian peacemakers has a hair trigger when it comes to pointing out the mistreatment of Palestinians in the West Bank by Israelis. But the proverbial frog seems to have built a well-furnished home in the throat of these same peacemakers when it comes to discussing the mistreatment of religious and ethnic minorities elsewhere in the Middle East.
Posted by dvz at 03:35 PM | Comments (1)
A Third Intifada, of What Nature?
Reading Jack Khoury in Ha'aretz today, one would think that Mahmoud Abbas and senior Fatah officials have launched a campaign to advocate for a third, nonviolent intifada. Indeed, the headline and sub-headline, on page 2, read:
Abbas promotes 'popular resistance' to occupation, such as Bil'in protests

Palestinian president agrees to new intifada as long as it is not violent
The article notes that in a BBC interview [BBC Arabic, on Thursday, Nov. 19], Abbas said:
There is the armed struggle and I am against that because it will only bring destruction and devastation to the Palestinian people, which the last war in Gaza proved
Likewise, further along the article states:
Abbas' statements are in the context of recent statements by senior Fatah officials in the West Bank on the possibility of a third intifada as a response to the failure of the peace process and what they call Israel's rejectionism. In an interview with the Nazareth-based newspaper Hadith al-Nas, senior Fatah officials said Fatah wants to implement resolutions made at the Fatah convention in Bethlehem last summer. One senior official said "We want thousands of Palestinians to demonstrate daily near the settlements of the occupation, carrying out a human siege and calling for the end of the occupation," one senior official said.

However unlike the previous intifada, the movement will not endorse an armed struggle or the use of firearms, the official added.
And what is one supposed to make of the context of eight recent Arabic statements in favor of armed conflict uttered by various Fatah officials, including Abbas himself, and distributed in English Friday by MEMRI ("Palestinian Officials Threaten to Renew Armed Struggle, Launch Third Intifada")?
From MEMRI we learn that a week before his BBC interview, Abbas stated at a rally marking the five-year anniversary of Arafat's death:
"We will continue [Arafat's] long and exhausting struggle [that was] fraught with blood, sweat, and tears. The road [we are traveling] today is anchored in a noble heritage of struggle that we built with brave hands, an enlightened mind, and a national thinking [rooted in] long experience. We combined armed struggle with political activity. Our guns were not the guns of highway robbers. They were political guns [promoting] a noble goal." [Al Ayyam, Nov. 12, 2009]
Other statements in support of armed violence are voiced by Nabil Sha'ath, Amin Maqboul, Marwan Al-Barghouti, Hafez Al-Barghouti, among others.
Beyond cherry-picking quotes and ignoring contrary statements, Ha'aretz is also at fault for promoting the falsehood that Bil'in protests are nonviolent and for not clarifying that resolutions passed at the Fatah convention last summer do call for violence.
Posted by TS at 06:50 AM | Comments (0)
November 18, 2009
Update on AP's Caption Challenged Photographer
Earlier we blogged about an AP caption which falsely states that an ultra-Orthodox Jewish man is standing in front of the Al-Aqsa Mosque (an area under the day-to-day control of the Islamic Waqf), while he is in reality in the Jewish Quarter, pausing by the steps leading down to the Western Wall. The large Western Wall plaza separates him from the Temple Mount, upon which the mosque stands.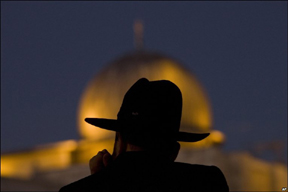 An ultra Orthodox Jewish man pauses in front [sic] the Al-Aqsa Mosque, Islam's third-holiest site and known by Jews as Temple Mount, in Jerusalem's Old City, Wednesday, Nov. 11, 2009
While the AP has thus far refused to issue a correction, the BBC Web site, which also used the photo and incorrect caption, was responsive to a complaint issued by blogger Yisrael Medad. (To see the image at BBC, click here and then select the second image.) BBC's caption now more accurately states:
An ultra-Orthodox Jewish man pauses near the al-Aqsa mosque in Jerusalem, an area which Jews revere as the Temple Mount.
Will AP follow BBC's example and correct the record?
Posted by TS at 07:45 AM | Comments (1)
November 17, 2009
Israelis Provide the Palestinians With Something the Anti-Israel Boycotts Will Not
The Palestine Central Bureau of Statistics stands out among Palestinian institutions in that for the most part it dispenses with the reflexive habit of blaming everything on Israel and simply serves as a professional purveyor of statistical information on the West Bank and Gaza. It recently released figures on the Palestinian Balance of Payments for 2008. Among the interesting data points was the following:
The surplus in Income Balance (compensations of employees and investments income) increased by 22.1% compared with the year 2007. This surplus amounted to US$ 913.2 million. This surplus was caused mainly by the surplus in Compensations of Employees working in Israel which was announced as US$ 649.1 million, an increase [sp] of 31.7% in year 2008 when compared with the year 2007, inspite of the decrease in the compensations of Gaza Strip employees, meanwhile investments income was amounted to US$ 174.1 million. an increase [sp] of 3.6% in year 2008 when compared with the year 2007.
Despite the endless words of support for the Palestinians emanating out of all corners of the Arab world and from "progressive" elements of the West, empty gestures of sympathy don't feed a family or provide an opportunity for dignified work. Tangible benefits result from mutually beneficial work opportunities afforded by their closest neighbor, Israel. It is a lesson that unfortunately is likely to be missed as British and Canadian trade unions, European academic unions and various professional groups continue to advocate boycotts of those same Israelis who unlike the boycotters actually provide a dignified wage to Palestinian men.

Posted by SS at 02:47 PM | Comments (0)
CiFWatch Exposes Anti-Semitism in the Guardian's Influential Blog
CiFWatch was created 4 months ago to expose the anti-Semitism in the Guardian newspaper's popular and influential blog, "Comment is Free." Using the the European Union Monitoring Centre on Racism and Xenophobia (EUMC)'s working definition of anti-Semitism, CiFWatch describes the Guardian's blog as having become a venue "where anti-Semitism thrives."
Contributors to 'Comment is Free' regularly engage in one-sided anti-Israel diatribes that fuel what inevitably devolves into an anti-Jewish hate-fest on the comment thread, through the invocation of antisemitic memes and tropes. Coupled with this is a post-moderation policy, relying by and large on users to flag abusive comments, that consistently fails to delete large numbers of antisemitic comments (see CiF Commenters) despite in many cases the report of abuse. To add insult to injury, in some instances the moderators delete the comments of users who attempt to refute antisemitic comments without deleting the antisemitic comment itself.
Recent CiFWatch posts have revealed not only the obvious bias of a newly appointed moderator at the Guardian's blog , but the fact that she is none other than the daughter of the Guardian's editor, Alan Rusbridger.
The latest post -- a guest post by Jonathan Hoffman -- reviews Channel 4's recent Dispatches programme, "Inside Britain's Israel Lobby"---which essentially dismissed, among others, CAMERA's critiques of a Guardian series labelling Israel an "apartheid" state (see critique 1 and critique 2) and a complaint to the BBC Trust which resulted in a ruling against Middle East editor Jeremy Bowen.
Visit CiFWatch at http://cifwatch.com!
Posted by RH at 12:33 PM | Comments (0)
November 16, 2009
Ha'aretz's Mualem Waters Down Mofaz Plan
A page three large font headline in Ha'aretz yesterday informs readers:
Mofaz supporters: Haaretz poll shows Israelis are willing to talk with Hamas
The article, by Mazal Mualem, begins:
A Haaretz poll showing 57 percent support for Kadima MK Shaul Mofaz's peace plan "proves the Israeli public is almost always a step ahead of its leadership," sources close to Mofaz said yesterday.

Mofaz's plan includes negotiations with Hamas and an interim Palestinian state on 60 percent of the West Bank in a year.

"The survey results speak for themselves, and here's proof for all to see the Israeli public isn't shocked or appalled by the idea of negotiating with Hamas," one Mofaz associate said.
Not once does the 11 paragraph article by Mualem note that Mofaz's proposal endorses dialogue with Hamas only if the group relinquishes terrorism and recognizes Israel, a fact pointed out in the second paragraph of Friday's front-page article by Yossi Verter, also in Ha'aretz.
Moreover, this would not be the first time a Dialog poll was cited to claim that a majority of Israelis support negotiations with Hamas. And it would not be the first time that poll results from Tami Steinmetz Center of Tel Aviv University contradict the Dialog results. The September 2009 Tami Steinmetz War and Peace Index states:
As to the question of whether Hamas can or cannot be a side to negotiations on a peace agreement with the Palestinians, a clear majority of the Jewish public (71%) says no, while a 53% majority of the Arab public says yes.
Posted by TS at 02:59 AM | Comments (0)
November 15, 2009
AP's Caption Challenged Photographer
Remember Bernat Armangue, the AP photographer whose erroneous photo caption wrongly stated that a Palestinian protestor passed out, even though he was holding his hand up in the air? (CAMERA staff prompted a correction.)
Once again, Bernat Armangue is caption challenged. Consider the following photo and caption: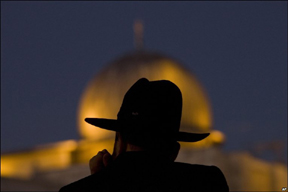 An ultra Orthodox Jewish man pauses in front [sic] the Al-Aqsa Mosque, Islam's third-holiest site and known by Jews as Temple Mount, in Jerusalem's Old City, Wednesday, Nov. 11, 2009
Here are the problems with this caption, starting with the fundamental falsehood followed by two secondary points:
1) This caption gives the misimpression that the man is actually standing in front of the mosque, on the Temple Mount. Given the tensions surrounding the Temple Mount in recent weeks, the presence of an ultra-Orthodox Jewish man standing in front of the mosque could be enough to set off additional Arab rioting, both on the mount and in nearby eastern Jerusalem neighborhoods.

In reality, he is apparently standing at the top of the steps that lead down to the Western Wall. He is resting his left arm on something, most likely the wall at the overlook at the top of those steps. From where he stands, he is separated from the Temple Mount by the Western Wall plaza. Especially in light of the sensitivity of the site, there is a huge difference between an ultra-Orthodox man standing on the entrance steps to the Western Wall, an area next to the Temple Mount and completely under Israeli control, versus an ultra-Orthodox man standing in front of the Al-Aqsa Mosque, on the Temple Mount itself, which is under the day-to-day control of the Islamic Waqf.
This would not be the first time that an AP photo caption has incorrectly placed a scene on the Temple Mount.
2) Why refer to the Temple Mount as the third holiest site in Islam and not point out that it is the holiest in Judaism?
3) The Al-Aqsa Mosque is not known by Jews to be the Temple Mount, it is known to Jews to be on the Temple Mount.
AP corrected photo captions in September 2000 and May 2009. We await a November 2009 correction as well.
(Hat tip to Yisrael Medad, who noticed this photo on BBC's Web site).

Posted by TS at 02:07 PM | Comments (4)
November 12, 2009
Aftonbladet Reporter Said to "Rethink" Organ Charges
The Aftonbladet saga continues. According to Israel Army Radio, reporter Donald Bostrom has backed away from his crude, unsubstantiated charges that Israeli soldiers harvest the organs of Palestinians for trafficking. After speaking on a media panel in Dimona, and apparently deciding not to attend an anti-Israel event in Lebanon he is quoted saying:
"The visit to Israel and the fact that I was part of a fair dialogue made me rethink the whole issue,"
OK. Let's assume Donald Bostrom really has had a change of heart after defaming Israel with horrific charges and inciting anti-Semitic cartoons and campaigns in the Arab world.
The question is will he try to make right the wrong he's done? Will the reporter and his editors set the record straight in a full and forthright retraction, laying out for readers the truth and acknowledging the paper's role in spreading lies and hatred?
That would signify a true change of heart -- and a commitment to ethical journalism.

Posted by AL at 05:24 PM | Comments (1)
CNN's Rick Sanchez: Unreliable News Anchor
The bizarre claim by Jose Manuel Zelaya (former president of Honduras) that Israelis were attempting to kill him, was reported straight-faced on CNN by anchor Rick Sanchez. But an on-line search of U.S. national and local television news broadcasts turned up only the Sanchez report covering the Zelaya claim. Mr. Sanchez, apparently alone among TV network and cable anchors, considered the story credible enough to cover.
In a Sept. 29 ten-minute segment of CNN Newsroom (at 3:12 PM), Mr. Sanchez began his voiceover to video footage from the Brazilian Embassy in Honduras:
In Latin America, Honduras' deposed president wearing a mask because Israelis are trying to poison him with gas. So he says.
CNN/Sanchez 9/29 clip 1 (41 secs.):
Later in the segment, Mr. Sanchez's voiceover:
The elected president in Honduras was thrown out and the Supreme Court has given a congressman the presidency. All right, this is the man the people of Honduras elected to the presidency. That's Jose Manuel Zelaya. I told you about this yesterday. You see why he's wearing that? He's bunkered down in another country's embassy … He's going to be locked up if he sticks his head outside. And he's wearing that mask because he says that commandos from Israel are secretly trying to poison him with mysterious gas.
CNN/Sanchez 9/29 clip 2 (70 secs.):
At the end of the segment, Mr. Sanchez said:
By the way, you wonder why he's wearing that on his face? He says that Israeli agents are trying to sneak poisoned gas into the embassy where he is and kill him. No real verification on that. We'll be all over that.
CNN/Sanchez 9/29 clip 3 (61 secs.):
Was there any newspaper coverage of the story? Yes – a search of Nexis' English language news compilation turned up basically three items. In addition to a Boston Herald column ridiculing Mr. Zelaya's story, a New York Times report ridiculed Zelaya claims that "Israeli commandos have been hired to kill him." But an Arab newspaper, Morning Star (Beirut) on Sept. 26, not surprisingly described the circus atmosphere in a serious vein: "Ousted Honduran President Manuel Zelaya has accused the coup regime of hiring Israeli mercenaries to flush him out of the Brazilian embassy with ultrasonic weapons. Mr Zelaya said on Thursday he feared they may enter the building and assassinate him."
CNN/Sanchez unreliability has been documented by CAMERA including Who Broke the Ceasefire? CNN's "Fact Check" Falls Short :
CNN conveyed uncritically - multiple times - Mustafa Barghouti's charge that Israel violated the cease fire by not opening the crossings. Unfortunately this charge, like his charge that it was Israel that violated the ceasefire, is entirely bogus.Too bad CNN anchors Rick Sanchez and Jim Clancy, along with the network's fact checkers, didn't bother to really fact check anything. Too bad CNN didn't bother to actually interview an Israeli official or expert who could debunk Barghouti's charges with the facts. Judging by Rick Sanchez and Jim Clancy, viewers who want accurate, factual news from the Middle East should avoid CNN like the plague.
Even Mr. Sanchez, himself, recently (Oct. 16) had to own up to an erroneous reporting incident:
On a related note, earlier this week, we provided quotes attributed to Limbaugh to illustrate why some people and players felt that he was too divisive to be an NFL owner. That was one of the stories we did earlier this week. One of these quotes which was in a column in the "St. Louis Post Dispatch" and taken from a book largely about conservatives was refuted by Limbaugh. I mentioned that to you Tuesday. We have been unable to independently confirm that quote. We should not have reported it, not have reported it, without independent confirmation. And for that, I apologize.
(Hat tip: P. Lerner)
Posted by MK at 05:02 PM | Comments (1)
November 11, 2009
Ha'aretz Prints Rare Retraction of Substantive Error
Today Ha'aretz has printed a rare retraction of a substantive factual error. The retraction, on the bottom of page two, reads:
On May 19, 2009, Haaretz published an article headlined "Against IDF rules, Moskowitz group directly funds units." Due to translation and editing errors, the article erroneously reported that the Irving I. Moskowitz Foundation "gives money directly to Israel Defense Forces units, flouting IDF regulations." The article describes Yashar Lachayal as "an organization belonging to the Moskowitz Foundation [that] raises funds for . . . financial support for soldiers." this is inaccurate, and we apologize for any damage and inconvenience caused to the Foundation and Dr. Moskowitz as a result of the factual errors in the article.
The online version of the article by Anshel Pfeffer appears here. The Internet version has yet to be corrected or updated. If the correction does not appear online, where it is archived for posterity, the retraction will literally end up in the dustbin of history.
Given Ha'aretz's utter refusal to retract countless straight-forward factual errors, we wonder what hoops Mr. Moskowitz was forced to jump achieve this step, however limited.
Now how about a Ha'aretz correction on its U.N. Resolution 242 error?
Posted by TS at 08:21 AM | Comments (0)
November 10, 2009
Ha'aretz Errs on U.N. Resolution 242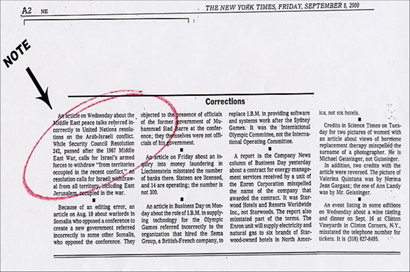 The New York Times commendably corrected. Will Ha'aretz?
Ha'aretz, considered by some the New York Times of Israel, claimed in its editorial Friday:
. . . Israel must seek peace with Syria in the context of Security Council Resolution 242 of November 1967: full and secure peace in return for complete withdrawal.
The New York Times corrected this falsehood three times back in 2000, making clear that in fact the resolution does not specify how much and from which territory Israel should withdraw. The Sept. 8, 2000 correction, for example, read:
An article on Wednesday about the Middle East peace talks referred incorrectly to United Nations resolutions on the Arab-Israeli conflict. While Security Council Resolution 242, passed after the 1967 Middle East War, calls for Israel's armed forces to withdraw "from territories occupied in the recent conflict," no resolution calls for Israeli withdrawal from all territory, including East Jerusalem, occupied in the war.
Other media outlets which likewise corrected the false claim that U.N. Resolution 242 requires a complete Israeli withdrawal from territories captured in 1967 include the Associated Press, the International Herald Tribune (published in Israel alongside Ha'aretz), the Boston Globe, the Wall Street Journal and Reuters. Will Ha'aretz join them and set the record straight?

Posted by TS at 06:30 AM | Comments (0)
November 09, 2009
Ha'aretz Errs on Area C Building
Akiva Eldar's Op-Ed in the English edition of Ha'aretz today reads:
Sixty percent of the West Bank is described as Area C, and no Palestinian building is allowed there.
Even according to a Peace Now study covered by Ha'aretz, Eldar's statement is false:
Israel denied 94 percent of the building permit requests submitted by Palestinians living in Area C of the West Bank over the past seven years, the Peace Now group reported Thursday.

70,000 Palestinians live in Area C, which according to the Oslo Accord gives Israel full civilian and military control of the area.

In all, 91 of 1,624 requested permits were approved, Peace Now said.
Given Peace Now's errors on other statistics (see here and here), CAMERA is currently fact-checking this number. Regardless, Eldar's claim that no Palestinian building in Area C is permitted is false.
Moreover, the Hebrew version of the very same article doesn't make that claim, but instead is more careful, stating:
ולא מותרת שם כמעט בנייה פלסטינית
Which means that almost no building is permitted.
Ha'aretz has repeatedly made similar false claims about building permits for Arabs in eastern Jerusalem.
Posted by TS at 03:52 AM | Comments (3)
November 08, 2009
Lost At Sea on Seized Ship Coverage
Among the weaponry found on the Francop were 122mm Katyusha rockets, packaged in crates labeled "parts of bulldozer" and "equipment for construction (photo by IDF Spokesperson)
The International Herald Tribune, published by the New York Times, dedicates exactly one paragraph to Israel's seizure of the Francop ship reportedly bound for Hezbollah and laden with hundreds of tons of weapons, in violation of U.N. Resolution 1701:
Israel seized a ship near Cyprus on Wednesday that military officials said was carrying more than 60 tons of missiles, rockets and anti-tank weapons bound for guerillas of Hezbollah, the Lebanon-base [sic] group with political, social and military functions. Israel offered no evidence to support its claim that the weapons came from Iran and were intended for Hezbollah. (AP) (Emphasis added.)
But Ha'aretz reported the very same day that there were clear signs that the cargo had originated in Iran:
The containers on the ship Francop, which the Israel Navy raided yesterday, were marked with the acronym IRISL. That stands for Islamic Republic of Iran Shipping Lines.

IRISL is a state-controlled company with a fleet of 95 commercial ships, including 18 container ships. It plies routes to the Far East, the Gulf, Egypt and Europe. And it is one of the companies the UN Security Council listed in its sanctions resolutions against Iran, due to its role in transporting equipment for Tehran's nuclear and missile programs.

The company's directors are fully aware of this problem, as are the commanders of the Quds Force - the branch of the Iranian Revolutionary Guards that is responsible for shipping arms to Syria, Hamas and Hezbollah. They all know that ships with Iranian flags, or that have been leased by IRISL, are likely to draw the attention of western intelligence services and their navies.

Therefore, in an effort to divert attention, they loaded hundreds of containers onto a single Iranian ship that sailed to the Egyptian port of Dumyat. The cargo manifest described the shipment as a civilian cargo of polyethylene, a common plastic. At the Egyptian port, the containers were loaded onto Francop, a German ship that flies the flag of Antigua. Its destination was Latakia, a port in Syria, from which the arms would be smuggled overland to Lebanon.
Posted by TS at 03:41 AM | Comments (2)
New Yorker Falls Short on Gaza
An Israeli worker sets the electrified monitoring system on the boundary fence Israel is building November 23, 2005 along its border with the northern Gaza Strip (Photo by David Silverman/Getty)
Noah Pollak of Contentions blog takes Lawrence Wright to task for his account of the Gaza Strip conflict in the New Yorker. Pollak points to Wright's false description of the fate of the greenhouses left behind by Jewish settlers as a red flag about the report.
We also notice that Wright claims:
The wall that defines the Gaza Strip along the Israeli border simply turns the corner upon reaching Egypt.
In fact, a fence delineates most of the Gaza-Israel border, while a wall separates Gaza from Egypt.
Posted by TS at 03:11 AM | Comments (0)
November 04, 2009
Washington Post: Still Wearing Palestinian Goggles
The headline read "U.S. hope dims for high-level Israeli-Palestinian talks over state." Missing from the November 4 Washington Post article was a subhead cautioning readers: "So do hopes for accurate Post Arab-Israeli coverage."
One error of commission, two of omission, and a misleading, unclarified quotation from Secretary of State Hillary Clinton undercut the 18-paragraph dispatch. It was filed by Post staff writer Karen DeYoung in Cairo and Jerusalem Bureau Chief Howard Schneider in Amman.
The Post:
1) Writes of Palestinian rejection of Israel's proposal to limit "construction on Arab land [emphasis added] ...." Most construction of Jewish communities in the West Bank has taken place on property that was state land under Ottoman, British, Jordanian and Israeli rule. Under the 1922 League of Nations Palestine Mandate (Article 6), the 1945 United Nations Charter (Article 80), and 1967 U.N. Security Council Resolution 242, Jews have the right to settle in the West Bank, and Israel is not required to withdraw from all of it. The Post, which dogmatically avoids acknowledging the above international law, erroneously declares the West Bank and eastern Jerusalem to be Arab land.
2) Says "Abbas and Arab leaders quickly made a settlement freeze — agreed to by Israel in the 2003 'road map' negotiating framework initiated by the West but never fully implemented — a condition for talks ...." The Post omits that implementation of the "road map" was to be reciprocal and phased. Israeli commitments hinged on Palestinian measures, barely attempted, to end anti-Israeli terrorism and anti-Israel, anti-Jewish incitement.
3) Notes Arab skepticism about Clinton's positive view of Israel's offer to exercise "'restraint' in the rest of the West Bank" while allowing unlimited construction in East Jerusalem and the completion of up to 3,000 [authorized] housing units ...." The newspaper does not tell readers that from 2008 to the present there has been virtually no new construction, no settlement expansion and no new settlement authorization. Except for building in Israel's capital and limited construction inside existing settlements, what The Post doubts is "restraint" essentially amounts to an Israeli freeze.
4) Quotes Clinton as saying that Israelis and Palestinians "'came very close' to agreement" just before her husband, President Bill Clinton, left office in 2001. Diplomats usually tailor remarks to their audiences. But in July, 2000 the Palestinian leadership rejected an Israeli-U.S. offer of a West Bank and Gaza Strip country, with eastern Jerusalem as its capital, in exchange for peace with Israel. Instead, Yasser Arafat launched the terror war called the second intifada. In January, 2001 Arafat's Palestinian Authority rejected another Israeli-U.S. proposal for a West Bank-Gaza Strip state. The intifada continued. The two sides had not come "very close"; rather, the Palestinian side violently rejected sweeping Israeli-American proposals.
Recall the goggles theaters distributed to audiences for the early, fuzzy 3-D films? The Washington Post still wears the Arab version when covering Israeli-Palestinian news.
Posted by ER at 05:19 PM | Comments (1)
Congressmen Call Out Goldstone
This interesting read — a "Dear Colleague" letter by Congressmen Howard Berman and Gary Ackerman responding to a letter by Richard Goldstone — shows that some of Goldstone's attempts to defend his report are as dubious as many of the statements in the Report itself. Click on the image above to read the letter.
Posted by GI at 11:02 AM | Comments (0)
November 03, 2009
Amnesty Water Report Falsehood #5
Page 12 of Amnesty's "Troubled Water" report alleges that Israel has almost entirely frozen development of water infrastructure in the Palestinian areas. The report states:
Under the new Israeli military regime imposed in the OPT, Palestinians could no longer drill new wells or rehabilitate or even just repair existing ones, or carry out other any water-related projects (from pipes, networks, and reservoirs to wells and springs and even rainwater cisterns), without first obtaining a permit from the Israeli army. In theory such permits for drilling or rehabilitating wells could be obtained after a lengthy and complicated bureaucratic process; in practice, most applications for such permits were rejected. Only 13 permits were granted in the 29 years from 1967 to 1996 (when the PWA was established), but all of these were for projects for domestic use only and they were not sufficient to make up even for the replacement of wells that had dried up or fallen into disrepair since 1967. . . .

The regime put in place by the Israeli army not only prevented the development of new Palestinian wells and infrastructure, but also limited the use and upkeep of existing ones. It prevented the rehabilitation of old wells. . . (Emphasis added)
First, Amnesty ignores significant development in infrastructure since 1995. As the World Bank states:
The water and wastewater sector [in the West Bank and Gaza] has come a long way since 1995:

* A capable national institution, the Palestinian Water Authority (PWA), has been built.

* The foundations for policy and operational coordination with Israel have been established;

* Several existing municipal distribution networks have been rehabilitated, new networks developed, and supplies improved; and several new wells have been drilled and many rehabilitated.

* Backbone primary network of bulk-water carriers are under construction in the West Bank and ready to be launched in Gaza;

* In Gaza not only have municipal networks and systems have been significantly upgraded, under an internationally recruited management contractor, effective managerial and operational systems have been established. . .
To be sure, the World Bank goes on to list more work that still needs to be done.
Second, what about Amnesty's claim that only 13 new wells were drilled from 1967 to 1995? As reported earlier by CAMERA here, during this period Israel drilled or permitted the drilling of over 50 new wells for the Palestinian population, laid hundreds of kilometers of new water mains and connected hundreds of Palestinian villages and towns to the newly built water system (Background: Water, Israel and the Middle East, Israel Foreign Ministry 1991; Marcia Drezon-Tepler, "Contested Waters and the Prospects for Arab-Israeli Peace," Middle Eastern Studies, Vol 30, No. 2, April 1994)
See Amnesty Water Report Falsehoods 1, 2, 3-4.
Posted by TS at 07:17 AM | Comments (0)
Aftonbladet Reporter Visits Israel
Donald Bostrom, the protagonist of the Aftonbladet affair, spoke at a media conference in Dimona yesterday. Ha'aretz reports:
Speaking at a media conference, where he was frequently interrupted by hecklers, Donald Bostrom admitted that he had no proof beyond the allegations of the families of Palestinians killed by the Israeli army. . .

" . . . The fact is that the families said what they said. That's a normal article," Bostrom said.
But as the Jerusalem Post reported Aug. 24, 2009 ("Family: We didn't say organs taken"):
The family and relatives of Bilal Ahmed Ghanem, the Palestinian at the center of the organ-theft story in the Swedish tabloid Aftonbladet, said on Monday that they didn't know if the accusations were true or not. . . .

The mother denied that she had told any foreign journalist that her son's organs had been stolen. . . .

Ibrahim Ghanem, a relative of Bilal, said that the family never told the Swedish photographer that Israel had stolen organs from the dead man's body.

"Maybe the journalist reached that conclusion on the basis of the stitches he saw on the body," he said. "But as far as the family is concerned, we don't know if organs were removed from the body because we never performed our own autopsy. All we know is that Bilal's teeth were missing."
Posted by TS at 03:30 AM | Comments (0)
November 02, 2009
Hamas Statements Belie Goldstone Claims About "Gaza Authorities"
Lower inscription: "Hamad: We hold routine meetings with the faction commanders to remove obstacles" (From the Safa News Agency Web site, Oct. 28, 2009, translated by Intelligence and Terrorism Information Center)
We earlier noted how, contrary to media reports, the Goldstone Report does not condemn Hamas for war crimes, and in fact seeks to draw a false distinction between the so-called "Gaza authorities," or the Hamas political body, versus the military wing of Hamas.
A new release from the Intelligence and Terrorism Information Center unmasks the Goldstone Report's very thin veil, revealing the close ties and support given by the "Gaza authorities" to the Hamas fighters:
1. On October 28 Fathi Hamad, interior minister of the de facto Hamas administration, gave a speech at a conference in Gaza City sponsored by the Association of Factions and [Trade] Unions. In his speech he described the close ties between Hamas' interior ministry and the terrorist organizations operating in the Gaza Strip ("the resistance factions"), and the support it gave to the various organizations. The conference was attended by commanders of Hamas' internal security forces operating in the Gaza Strip.

2. The following were the main points quoted by the Hamas-affiliated Safa News Agency, October 28, 2009:1

i) The [Hamas] interior ministry "coordinates with all the factions of the resistance in [the] Gaza [Strip]" [i.e., the terrorist organizations].

ii) The ministry makes every effort "to protect them and make it easier for them to carry out every aspect of their jihadist missions."

iii) There is routine coordination between the interior ministry and the various organizations: "We routinely meet with the commanders of the factions [i.e., the terrorist organizations] to remove obstacles between us. We have ended the security coordination with the occupation [i.e., the Palestinian Authority's security coordination with Israel] and have replaced it with jihadist coordination" [i.e., operational coordination to carry out terrorist attacks against Israel].
Regarding the Goldstone Report, the center observes:
The Goldstone Report quotes the claims made by the de facto Hamas administration in the Gaza Strip that there are no direct or indirect connections between it and the Izz al-Din al-Qassam Brigades, and that it has no idea of what tactics are used by the "armed groups" ("The Mission also addressed questions regarding the tactics used by Palestinian armed groups to the Gaza authorities. They responded that they had nothing to do, directly or indirectly, with al-Qassam Brigades or other armed groups and had no knowledge of their tactics," Page 134, Paragraph 439; and "...the Gaza authorities stated that they had 'nothing to do, directly or indirectly, with al-Qassam or other resistance factions...'" Page 459, Paragraph 1668). Therefore, while it says that "[t]he Mission emphasizes the obligation of the Gaza authorities to respect international law..., and is of the view that this requires the prevention and prosecution of violations of international law occurring within its area of de facto governmental authority" (Page 471, Paragraph 1715), it also relieves the de facto Hamas administration in the Gaza Strip of responsibility by making it the task of the "Palestinian armed groups" which have "have failed in their duty to protect and respect civilians" (Page 473, Paragraph 1721). While the Report does condemn the indiscriminate rocket fire of the "armed groups" attacking the civilians in the south of Israel, and calls it a "war crime" which may be considered a "crime against humanity," it does not place responsibility on the Hamas movement and the de facto Hamas administration in the Gaza Strip, but rather on the "Palestinian armed groups" (Pages 473-4, Paragraph 1724).
Posted by TS at 02:46 AM | Comments (0)
November 01, 2009
Amnesty Water Report Falsehoods #3, 4
"Palestinian consumption in the OPT is about 70 litres a day per person," Amnesty's "Troubled Waters" report claims on page 3.
Again on page 10 Amnesty discusses Palestinians' per capita use of water, stating:
Palestinians have access to an average of no more than 60-70 liters per capita per day, and some survive on much less even than this, as little as 10-20 liters per person per day.
Neither statement about Palestinian water consumption includes a source or footnote, an oddity in this heavily sourced document. But it's clear why Amnesty chose not to cite a March 22, 2009 press release from the Palestinian Central Bureau of Statistics marking World Water Day. The PCBS completely contradicts Amnesty's claim about per capita daily water use, stating:
Data [from the Water Statistics Report 2007] shows that the quantity of water supplied for domestic use in the Palestinian Territory was 175.6 MCM in 2007, and that the daily allocation per capital of the supplied water for domestic use in the Palestinian Territory was 135.8 (liter/capita/day). It reached only 46.6 (liter/capita/day) in Tubas Governorate. (Emphasis added.)
In other words, the official Palestinian figure for water consumption is double the figure that Amnesty cites!
In another disparity between Amnesty and official Palestinian figures, Amnesty claims (page 10):
The total amount of water available to Palestinians from these various supplies [Jordan River, various aquifers, and water purchased from Israel] in recent years has been a maximum of some 170-180 MCM/Y, which reportedly fell to a mere 135 MCM in 2008, for a population of 2.3 million.
In contrast, the aforementioned Water Day PCBS press release states:
According to the Water Statistics Report 2007 the annual available water quantity in the Palestinian Territory was 335.4 MCM in 2007.
If Amnesty's figures aren't coming from official Palestinian sources, where do they originate? We will be happy to examine any theories.
See Amnesty Water Report Falsehoods 1 and 2.
Posted by TS at 03:05 PM | Comments (5)
Israeli Critic Cuts Gideon Levy Down to Size
The Los Angeles Times has elevated Gideon Levy's views to being as newsworthy as Tzipi Livni's or Benjamin Netanyahu's.
Meanwhile, back at home, most Israelis have no trouble identifying Levy for what he is -- a radical fringe ideologue. Thus, addressing yesterday's television panel on "Remembering Yitzhak Rabin," Israeli journalist and media critic Avner Hopstien writes in Yediot Achronot
...don't worry, the anxious Levy quickly returned to his "children killers" mantra. He claimed that Obama is "a rag that ingratiates to Israel." America "pours vetoes for Israel, which is a disgrace." Alan Dershowitz is "an extreme right wing propagandist." Can someone explain to me what this man wants?

Not too long ago Levy complained in a TV report that sometimes he feels that his life's work isn't penetrating anyone's skin. Nu, what's the surprise? When the Israeli viewer hears a journalist who cares only for the children of Gaza and practically supports imprisonment of IDF officers, it's hard for him to be attentive. Levy has the full right, within the framework of democracy, to recommend to the children of Sderot to happily hug the Kassam missiles and restrain themselves. We have the right not to listen. (Translation by CAMERA)
Posted by TS at 01:33 PM | Comments (0)
Amnesty Water Report Falsehood #2
My colleague Alex Safian has published an in-depth backgrounder refuting Amnesty International's broader claims of discriminatory Israeli water policies.
Meanwhile, Snapshots will continue to refute more detailed specific claims in the Amnesty Report ("Troubled Waters -- Palestinians Denied Fair Access to Water").
Falsehood #1 is here.
We find Falsehood #2 on page 4 of the Amnesty report:
The 450,000 Israeli settlers, who live in the West Bank in violation of international law, use as much or more water than the Palestinian population of some 2.3 million.
This statement is wrong for multiple reasons.
1) There are some 280,000 Israelis -- not 450,000 as Amnesty states -- living in the West Bank, also called by its biblical terms Judea and Samaria. (Here, we are citing numbers from the anti-settlement group Peace Now, which if anything would exaggerate, not understate, the number of settlers.)
As Amnesty itself states on page 7 of the very same report: "Currently more than 450,000 Israeli settlers live in the OPT, about half of them in East Jerusalem." In other words, Amnesty cannot be relied upon to even accurately state the number of Jews residing in the West Bank, let alone complex data concerning water usages among the populations.
2) Is it true that 280,000 Israelis living in the West Bank consume more water than the 2.3 million Palestinians residing there? According to page 3 of the Amnesty report,
Palestinian consumption in the OPT is about 70 liters a day per person -- well below the 100 litres per capita daily recommended by the World Health Organization (WHO) -- whereas Israeli daily per consumption, about 300 liters, is about four times as much.
For argument's sake, let's accept Amnesty's numbers for Israeli and Palestinian consumption. On the Palestinian side, 2.3 million people multiplied by 70 liters is 161 million liters a day. On the Israeli side, 280,000 people multiplied by 300 liters totals totals 84 million liters a day. So, which is larger? You got it, even according to Amnesty's own numbers, Israelis in the West Bank use half the amount of water that the Palestinian population uses -- not more.
3) There is evidence that Amnesty knowingly manipulated its statistics. The footnote on the page 4 falsehood, regarding the 450,000 Israeli settlers and 2.3 million Palestinians allegedly living in the West Bank, states:
This figure excludes the more than 200,000 Palestinian residents of East Jerusalem; though part of the OPT, East Jerusalem has been annexed by Israel.
Thus, while Amnesty was careful to make a distinction between Jerusalem and West Bank Palestinians, it lumped together Jerusalem and West Bank Israelis and passed them all off as West Bank residents.
Posted by TS at 07:14 AM | Comments (0)
Just Journalism Confab on International Law
Just Journalism has published an event summary of a recent roundtable it held discussing how well the media covers the complex issue of international law.
Posted by TS at 03:45 AM | Comments (0)