« Jewish-Arab Fertility Gap Closes | Main | Newsflash: Goldstone Report Does NOT Condemn Hamas »
October 20, 2009
No FYI From AFP on HRC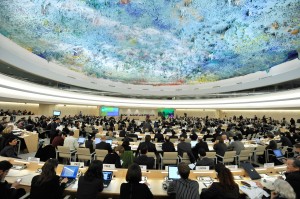 In an Agence France-Presse story about Israel's reaction to the Goldstone Report, the wire service reported on the position taken by Israel's allies. Sort of.
The Oct. 20 story states:
Israel was dealt a heavy diplomatic blow with the adoption by the UN Human Rights Council of the report that accused both Israel and the Hamas rulers of the Gaza Strip of war crimes.

Israel's closest allies, the United States, Britain and France urged it to investigate war crime allegations raised by the fact-finding missions headed by Richard Goldstone, a former international war crimes prosecutor.
But glaringly absent from this description is some obviously relevant facts, which would help readers understand the position of "Israel's closest allies."
The United States, a member of the Human Rights Council, actually voted against the resolution, as did Hungary, Italy, Netherlands, Slovakia, and Ukraine. And neither Britain nor France voted in favor of the resolution. (Among those voting in favor of the resolution were such paragons of human rights as China, Cuba, Egypt, Jordan, Pakistan, Russia and Saudi Arabia.)
Moreover, the US representative to the HRC, Douglas M. Griffiths, relayed to the council the American view that the Goldstone Report itself is "flawed," and strongly criticized the HRC's resolution.
Similar criticisms were raised by the UK, and France noted that it did not vote in favor of the resolution in part because its concerns weren't taken into account.
Important context is also missing from AFP's statement that Goldstone "has faced a storm of personal attacks inside Israel since the report's publication." Purported "personal attacks" notwithstanding, AFP failed to inform readers that there is no shortage of substantive criticism of Goldstone's report.
AFP readers deserve to know this, but the wire service's shaky coverage of the Middle East conflict continues to hamper understanding.
Posted by GI at October 20, 2009 02:53 PM
Comments
Guidelines for posting
This is a moderated blog. We will not post comments that include racism, bigotry, threats, or factually inaccurate material.
Post a comment