« B'Tselem Jumps on the Bandwagon | Main | Cobban on Garlasco Continued »
September 11, 2009
Human Rights Watch's Cobban Not Happy With Garlasco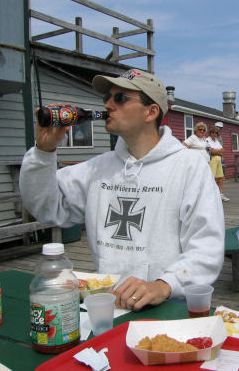 Ever since Omri Ceren exposed the Nazi memorabilia collecting hobby of Human Rights Watch (HRW) technical expert Marc Garlasco on Sept. 8, 2009, the organization has been in damage control mode. Helena Cobban, a member of HRW's board of directors felt compelled to comment.
Cobban, no friend of Israel, has apparently harbored misgivings about Garlasco even before the furor over his collecting hobby erupted. In a recent blog post at Just World News Cobban raises questions about Garlasco's competence. Her criticism of Garlasco did not arise out of his handling of Israel, rather it has to do with his mistaken analysis of cluster bombs in the recent conflict between Georgia and Russia. But the recent revelation of Garlasco's collection hobby has not helped matters.
Cobban expresses dismay that someone from HRW went so far as to justify Garlasco's hobby in a note to NGO-Monitor, a persistent critic of HRW. Some of those offering comments on Cobban's blog display how poisoned the atmosphere surrounding the human rights group has become. One commenter defended Garlasco's hobby, stating "collecting Nazi memorabilia IS an innocent hobby," apparently unable to recognize that when one's job is to publicly accuse the Jewish state of war crimes, collecting and boasting about Nazi memorabilia does not help establish credibility. Another commenter tries to suggest that Garlasco is really Jewish because he spells his first name with a "c."
Cobban does not extend her concerns to Garlasco's analysis blaming Israel for an explosion on a Gaza beach in June, 2006 or his accusations against Israel for its actions in Gaza earlier this year. Nevertheless, her post is telling in that it reveals that Human Rights Watch's management realized the limited credentials and dubious expertise Garlasco possesses and yet stuck with him and even defended him. As Ceren himself points out, the real issue is not Garlasco. The Garlasco fiasco is a symptom of what happens when an organization driven by political ideology discounts questions of technical competence in an "expert" as long as he willingly advances their agenda.
Posted by SS at September 11, 2009 11:14 AM
Comments
Guidelines for posting
This is a moderated blog. We will not post comments that include racism, bigotry, threats, or factually inaccurate material.
Post a comment