« August 2009 | Main | October 2009 »
September 30, 2009
B'Tselem Knocks Goldstone Report
Over the years, B'Tselem has hardly shown itself to be a beacon of accuracy and fair treatment of Israel (see here, here, here, and here). It is therefore notable that B'Tselem director Jessica Montell has come out critically against the Goldstone report. The Jerusalem Post reports:
The UN Human Rights Council and the Goldstone Report are either biased or mistaken in some of their fundamental accusations against Israel, according to B'Tselem human rights group director Jessica Montell.

She said the council was wrong in its gravest accusations against Israel. These include the claim that Israel intentionally targeted the civilian population rather than Hamas, and the "weak, hesitant way that the report mentions Hamas's strategy of using civilians [in combat]." . . .

"There's no question that the HRC, which mandated the Goldstone [fact-finding mission into the Gaza fighting], has an inappropriate, disproportionate fixation with Israel," she said.

She added that the council was "a political body made up of diplomats, not human rights experts, which means that the powerful states are never going to come under scrutiny the way the powerless will. So China, Russia and the US will never have commissions of inquiry, regardless of how their crimes rank relative to Israeli crimes."
But in her accusation that Israel has brought the report upon itself by failure to conduct internal investigations, Montell, like Goldstone and his team, ignores Israeli investigations that have been completed or are underway.
Posted by TS at 03:55 AM | Comments (2)
Pew: Public's Confidence in Press Hits Low
Image from Pew Center
The Pew Research Center for the People & the Press has found that the public's confidence in media accuracy has has its lowest point in two decades. Pew reports:
Just 29% of Americans say that news organizations generally get the facts straight, while 63% say that news stories are often inaccurate. In the initial survey in this series about the news media's performance in 1985, 55% said news stories were accurate while 34% said they were inaccurate. That percentage had fallen sharply by the late 1990s and has remained low over the last decade.

Similarly, only about a quarter (26%) now say that news organizations are careful that their reporting is not politically biased, compared with 60% who say news organizations are politically biased. And the percentages saying that news organizations are independent of powerful people and organizations (20%) or are willing to admit their mistakes (21%) now also match all-time lows.
Posted by TS at 03:47 AM | Comments (0)
September 29, 2009
CAMERA's Preliminary Response to Editorial in Jesuit Magazine
The editors of America, a Catholic newsweekly owned by the Society of Jesus (the Jesuits) recently published an editorial that invokes the Goldstone Report and the Mishneh Torah. This editorial, which amounts to an indictment of Israel, typifies the magazine's troubling double-standard when covering the Arab-Israeli conflict. In the pages of America, violence against Israel is unremarkable, while Israeli efforts to bring this violence to an end are subjected to intense, and unfair scrutiny. Documentation of this tendency can be found here.
CAMERA has submitted a brief, preliminary response to the magazine, but it is unclear whether it will be published on the magazine's website. The text of this preliminary response is displayed below:
America has seen fit to invoke both the Goldstone Report and the Mishneh in its indictment of Israel's behavior during the recent fighting.
This is pretty disconcerting given the magazine's tendency to invoke the language of the Just War doctrine in a discriminatory manner when it covered the fighting between Israel, Hamas and Hezbollah in 2006. During this fighting, the publication's writers and editors exhibited a troubling double standard in which violence against Israel was unremarkable and Israel's response to this violence was subjected to intense scrutiny.
The problems with the Goldstone Report are numerous and have been recounted elsewhere.
The document portrays Palestinians who are members of terror organizations and who have gone through Hamas infantry training as illegitimate targets of attack.
The document relies on witnesses who have told numerous different stories about alleged Israeli atrocities.
The document falsely suggests that Hamas has "implicitly" accepted Israel's right to exist by virtue of having signed the "Prisoner's Document" in 2006. In fact, Hamas leaders have continued to call for Israel's destruction.
The commission itself included one member who judged Israel guilty of war crimes even before the fighting came to an end.
America's reliance on such a document is troubling, but to be predicted.
What is innovative in the magazine's editorial is the use of the Mishneh [Torah] in its indictment of Israel. In particular, it invokes a passage stating that rulers must not blockade a city on all four sides, but should instead keep one side open to allow the inhabitants to flee for their lives.
Egypt controls the Rafah crossing and kept it closed during the recent fighting. There is nothing (aside from its own fear of Hamas) preventing Egypt from opening up this crossing to allow refugees into its country.
Israel warned the inhabitants of Gaza of impending attacks by dropping leaflets, sending text messages to cell phones and by making phone calls to peoples' homes. Hamas, on the other hand, attacked civilians while hiding among civilians and civilian institutions.
At what point will the editors search the Koran and the Hadith for words of mercy, tolerance and responsibility and use these passages to assess the behavior of Hamas? Clearly, Hamas is worthy of some form or admonition and correction.
Hamas shoots its opponents in the streets, and throws its adversaries off rooftops. It has hijacked UN trucks carrying international aid and diverts the goods to its supporters. It steals food and fuel and denies Palestinian hospitals of the equipment and supplies they need to operate. It stages blackouts in an effort to portray Israel as a heartless and cruel oppressor.
In short, Hamas is a mass movement that rules the Gaza Strip by force, murders its opponents and uses the civilian population as a pawn in its effort to demonize Israel and render Israeli civilians as legitimate targets of violence. Hamas' primary supporter is Iran, a country whose leaders have repeatedly expressed a desire to perpetrate mass murder of Jews in the Middle East and also oppresses its own citizens.
And yet, the editors at America magazine want Israel to be brought before the International Criminal Court.
Amazing.
Dexter Van Zile
Christian Media Analyst
The Committee for Accuracy in Middle East Reporting in America.
Update 1:42 p.m. Sept. 29, 2009: The original version of this piece erroneously referred to the Mishneh, not the Mishneh Torah. The emendation was inserted with brackets. Thanks to a careful and knowledgeable reader.

Posted by dvz at 10:14 AM | Comments (2)
Goldstone Endorses Palestinian Witness Who Claimed Israel Distributed Aphrodisiac Gum
Islam Shahwan, of aphrodisiac gum fame
While the Goldstone Report humiliated an Israeli doctor who was a victim of a Palestinian rocket attack, and relegated her testimony to passing mention, it dedicated an entire paragraph (414) to Gaza police spokesman Islam Shahwan. As Israel Matzav observes,
Does the name Islam Shahwan ring a bell with any of you? If not, please recall this article:

Is Israel targeting the Palestinian population in Gaza by distributing libido-increasing chewing gum in the Strip?

A Hamas police spokesman in the Gaza Strip Islam Shahwan claimed Monday that Israeli intelligence operatives are attempting to "destroy" the young generation by distributing such materials in the coastal enclave.

Shahwan said that the police got their hands on gum that increases sexual desire that, according to him, reaches merchants in the Strip by way of the border crossings. According to him, a Palestinian drug dealer admitted that he sold products that increase sex drive. The dealer said that he received the materials from Israeli sources by way of the Karni crossing.

A number of suspects have been arrested.

The affair was exposed when a Palestinian filed a complaint that his daughter chewed the aforementioned gum and experienced the dubious side effects.

Shahwan even claimed that Israeli intelligence operatives encourage dealers in Gaza to distribute the gum for free.

"The Israelis seek to destroy the Palestinians' social infrastructure with these products and to hurt the young generation by distributing drugs and sex stimulants," said Shahwan.

Yes, that's the very same Islam Shahwan. Does he sound like a reliable witness? To Richard Goldstone he did.

Are there any 'Palestinians' Richard Goldstone didn't believe?
To read about another Palestinian witness who gave more than a dozen versions of his story, but whom nevertheless was deemed reliable by the Goldstone Report, see here.
Posted by TS at 03:48 AM | Comments (0)
Goldstone Humiliates Israeli Victim
From the National Post today:
What follows is a statement delivered to the United Nations Human Rights Council this week by the NGO UN Watch, in response to the Goldstone Fact-Finding Mission on Gaza.

My name is Dr. Mirela Siderer. I am a gynecologist living in Ashkelon, Israel.

Judge Richard Goldstone, in July you invited me to testify. I told you my story. I am known by my patients -- including many women from Gaza. For me, every human being is equal.

On May 14, 2008, my life was changed forever. I was working in my clinic. Suddenly, the building was hit by a missile, fired from Gaza. I was terribly wounded. Blood was everywhere. My patient was also wounded, and more than 100 others. Next month will be my eighth operation.

Judge Goldstone, I told you all of this, in detail. I testified in good faith. You sent me this letter, saying, "Your testimony is an essential part of the Mission's fact-finding activities."

But now I see your report. I have to tell you: I am shocked.

Judge Goldstone, in a 500-page report, why did you completely ignore my story? My name appears only in passing, in brackets, in a technical context. I feel humiliated.

Why are there only two pages about Israeli victims like me, who suffered thousands of rockets over eight years? Why did you choose to focus on the period of my country's response, but not on that of the attacks that caused it? Why did you not tell me that this council judged Israel guilty in advance, in its meeting of last January? Why did you not tell me that members of your panel signed public letters judging Israel guilty in advance?
Posted by TS at 03:28 AM | Comments (2)
September 25, 2009
Hamas Fighters Identified in Mosque, School, al-Sammouni and Abd Rabbo Incidents
The Goldstone commission has been dealt another blow to its already tattered reputation.
Jonathan Halevi, who recently detailed how over 90 percent of the Gazan policemen killed in the initial Israeli strike were members of Palestinian terror groups, has now published a report that provides the names and personal details of Hamas operatives and affiliated terrorists killed in each of four highly publicized incidents in which the Goldstone report alleges Israel targeted Palestinian civilians. Halevi's report deals with the strike on the Ibrahim al-Maqadma mosque, the shelling of the al-Fakhura UN school, the attack on the al-Sammouni home and the killing of Khaled Abd Rabbo's daughters.
The al-Fakhura school shelling incident ignited widespread condemnation of Israel after UNRWA officials issued misleading reports that the school, filled with hundreds of civilians, was intentionally shelled. It was established soon after that the mortar shells struck outside the school on a nearby street. The Israelis claimed they hit a group of Hamas operatives, as well as several civilians nearby. The Goldstone report discounts the Israeli version that many of those killed were Hamas operatives, relying instead upon the witness testimony of Mohammed Fuoad Abu Askar, a senior Hamas official. Halevi reveals that three of Abu Askar's sons were members of Hamas's terrorist wing, the Izz al-Din al-Qassam Brigades. One of his sons had participated in no less than three separate attempted suicide bombing attacks. He also lists the names and personal details of six Hamas terrorists killed in the shelling outside the school.
Halevi also reveals the names and details of seven terrorists killed in the Israeli strike on the Ibrahim al-Maqadma mosque. This incident too was characterized as an indiscriminate attack against civilians by the Goldstone report. Again, the Goldstone mission relied heavily upon the witness testimony of known Hamas operatives.
Halevi discusses the much publicized incident involving the al-Sammouni family. Numerous members of the family were killed, allegedly by Israeli soldiers, who were accused of denying medical assistance to the wounded inside the house. The Goldstone report discounts the possibility that the Sammouni family had any links to terrorists as the family was not known to be affiliated with Hamas. Halevi, however, uncovers several members of the family in the house who were active in the terrorist group, Islamic Jihad.
The last incident discussed in the report is the testimony of Khaled Abd Rabbo, whose daughters were killed allegedly by Israeli soldiers despite testimony that there were no Hamas fighters in the area at the time. Halevi casts significant doubt on that testimony by citing Palestinian accounts that place four slain Hamas fighters in the same vicinity at the same time.
Halevi's research demolishes the credibility of the Goldstone investigation of these four incidents. Even more disturbing is the realization that one Israeli researcher, lacking the access to Gaza and cooperation of Hamas officials that the Goldstone commission had, was able to identify numerous Hamas and affiliated terrorists at the scenes of four highly publicized incidents in which the Goldstone commission could find none.
Posted by SS at 11:01 AM | Comments (0)
September 24, 2009
Ahmadinejad Dines Alone?
In 2007 and 2008, the Mennonite Central Committee helped organize interfaith dinnners with Iranian President Mahmoud Ahmadinejad, a Holocaust denier who has called for the elimination of Israel as a Jewish state. MCC officials had hoped these meetings would have a moderating influence on Ahmadinejad, but they did not. In addition continuing to deny the Holocaust and for the destruction of Israel, A-jad has apparently added stealing elections to his résumé.
It appears that in 2009, Ahmadinejad will dine without the company of the Mennonite Central Committee. CAMERA asked the MCC's spokesman Ed Nyce about its plans to dine with Ahmadinejad this year. Nyce's response: "MCC was not part of meetings this year that included the Iranian president."
A summary of the MCC's interactions can be found in an article published by the Jerusalem Center for Public Affairs ("Key Mennonite Institutions Against Israel"). This article details "MCC's campaign to portray Iranian president Mahmoud Ahmadinejad as a legitimate partner in dialogue and a victim of bad publicity."
The article reads in part:
In February 2007, the MCC played a leading role in bringing a group of Christians to dialogue with Ahmadinejad in Iran. During the trip J. Daryl Byler, then serving as director of the MCC's office in Washington, described Ahmadinejad to an Iranian newspaper as "seeming reasonable," as having "a measured tone," and "a witty personality." Four days after this meeting, Ahmadinejad told an audience in Sudan that "Zionists are the true manifestation of Satan."

In September 2007, MCC officials helped organize an interfaith dinner between Christians and Ahmadinejad during his visit to the United Nations in New York.[43] And in the following year, the MCC cosponsored yet another dinner with the Iranian president, after which executive director Arli Kassen and Byler, now serving as the organization's representative for Jordan, Iran, and Palestine, asserted that Ahmadinejad's "public comments have moderated somewhat over the past two years" and that his statements "about wiping Israel off the map" merely indicated his support for a "'one-state' solution...in which Israelis and Palestinians elect a single government to represent both peoples."

The fact that MCC leaders regard Israel's elimination as a reasonable way to bring an end to the Arab-Israeli conflict-despite overwhelming historical evidence that Jews in an Arab- and Muslim-majority state would be about as safe as Mennonites were in sixteenth-century Europe-speaks volumes about the organization's indifference toward Jewish wellbeing. Equally outrageous is their suggestion that Ahmadinejad has moderated his rhetoric. On 20 February 2008, Ahmadinejad condemned world powers for establishing Israel, "this filthy bacteria, the Zionist regime, which is lashing out at the nations in the region like a wild beast."

On 8 May 2008, Ahmadinejad stated that "Those who think they can revive the stinking corpse of the usurping and fake Israeli regime by throwing a birthday party are seriously mistaken." Israel, Ahmadinejad said, "is on its way to annihilation" and "has reached the end like a dead rat...." Although such language serves to incite and justify violence against Israel, the MCC has defended Ahmadinejad and helped rehabilitate his reputation.

Given the organization's efforts to rehabilitate Ahmadinejad's reputation, it should come as no surprise that it was unable to do anything more than ofer up an anemic "Call to Pray for Iran" in response to the violent clampdown on supporters of Mirhossein Mousavi who protested in the streets against an apparently stolen election on 13 June 2009. Instead of condemning the regime for killing its own citizens, the statement did little more than tell people that bad things are happening in that country and that people should pray for its inhabitants.

All this raises some obvious questions. How can Mennonites, who belong to a religious and ethnic community with a long history of being persecuted and murdered in the name of religion, work to mainstream a man who has incited genocidal religious hostility against Jews in the Middle East? By what right do Mennonites living in the comfort and safety of North America support institutions and activists who maintain that peace can be achieved when Israeli Jews abandon their sovereign homeland? Why should Jews be expected to risk and sacrifice their wellbeing to affirm Mennonite teachings about nonresistance and peacemaking?
Read it all.
Posted by dvz at 03:26 PM | Comments (0)
CAMERA Piece Published in Christian Science Monitor
When news reporters describe Fatah as "moderate" and Benjamin Netanyahu as "hardline," they allow "their personal views, rather than just the facts, to dramatically influence public understanding of a controversial topic," explains CAMERA Senior Research Analyst Gilead Ini. Writing in the Christian Science Monitor, Ini reminds readers that while Fatah may not be as hostile to Israel as the regime in Iran, portraying the organization (which refuses to acknowledge Israel as a Jewish state), as "moderate" renders the word meaningless, especially when Israeli leaders (who have agreed to negotiations and the ultimate creation of a Palestinian state) are described as "hardline" or "hawkish." Ini writes there "are ways around using this kind of language":
For example, rather than labeling Hamas "extreme," a reporter could simply explain that the group is responsible for suicide bombings against civilians and is designated by the international community as a terrorist organization. Readers will come to the appropriate conclusion.
Read it all here.
Posted by dvz at 12:10 PM | Comments (0)
September 23, 2009
Leading Her Quiz Column Readers To Dislike Israel
Judith Laitman, president and founder of Knowledge Unlimited
Judith Laitman is creator and distributor of an illustrated weekly column, typically appearing under the title "News Currents – Current Events Quiz," in several newspapers across the U.S. (including the Dallas Morning News and Patriot Ledger of Quincy, Mass.). It is also distributed to a number of schools. The column invariably presents Israel negatively, while, in contrast, Israel's Arab neighbors are rarely, if ever, presented negatively.
Ms. Laitman's fill-in-the-blanks and other types of "loaded bomb" questions – not requiring an interpretation of the facts - encourage a one-sided, inaccurate view by the reader. The "loaded bomb" type of question was in the news recently in Canada when the Canadian province of British Columbia, acknowledging faulty judgment in formulating a particular question encouraging anti-Zionism, removed the question, which was part of a practice history test, from its Web site.
Ms. Laitman is at it again after a relatively quiescent period following CAMERA's 2008 report exposing Ms. Laitman's problematic quiz columns from 2006 through 2008:
Sept. 7, 2009 #7: "The U.S. government is condemning Israel's reported plans to build new settlement homes in the Palestinian territory of (CHOOSE ONE: Gaza, the West Bank)."
Aug. 31, 2009 #9: "Ehud Olmert, former prime minister of (fill in the blank), was indicted Sunday on corruption charges that led to his resignation last year." While the column is quick to provide a question related to an Israeli leader charged with illegal activities, no such question can be found related to any Palestinian leader in any quiz column.
June 15, 2009 Worldscope section: "Pressured by the U.S. government, Israeli Prime Minister (fill in the blank) called for the establishment of a Palestinian state, but attached numerous conditions that angered Palestinians." There is not even the briefest mention by Ms. Laitman that the conditions could be related to legitimate issues including security ones.
April 27, 2009 Worldscope section: "Palestinian President (fill in the blank) said that he would not resume peace talks with Israel unless Israel freezes settlement-building on Palestinian land."
This section, whose answer is "Abbas," typically fails to characterize Mr. Abbas negatively which is in contrast with the quiz column's typical characterization of Israeli leaders. Ms. Laitman apparently believes it's unnecessary to provide quiz questions that point out Mr. Abbas' refusal to recognize Israel as a Jewish state, or that the recent Sixth Fatah General Congress, presided over by President Abbas, glorified terrorists and terrorism against Israel, such as warmly hailing the Fatah terrorists who perpetrated the 1978 Coastal Road Massacre which killed 38 civilians. Likewise, where has Ms. Laitman used a question related to Mr. Abbas's Ph.D. thesis (which he yet to repudiate) which promoted Holocaust denial? Likewise, where is there a quiz question pertaining to Mr. Abbas' fund raising activities, as an ally of Yasir Arafat, for terrorist activities such as the Munich massacre of Israeli Olympic athletes?
February 16, 2009 Worldscope section:
Israel announced its plan to take control of more land in the Palestinian area called (fill in the blank) paving the way for 2500 settlement homes.
This question about the Jewish town of Efrat could have been much more accurately worded as:
The Palestinian Authority has raised objections to Israeli citizens building up to 2500 homes on empty, Jewish-owned land in the city of (fill in the blank) located in an Israeli-administered area of the West Bank. This city is expected to be incorporated into Israel after a peace agreement is signed.
Judith Laitman's likely intention in the formulation of the quiz column's "loaded bomb" questions about Israel, virtually all of which cast the country in a negative light, is to lead readers to have negative views about Israel. This is a logical conclusion given Ms. Laitman's public record of condemnation of Israel (documented in CAMERA's 2008 report).
Posted by MK at 04:00 PM | Comments (0)
September 22, 2009
Calling Goldstone...
This is what the response to an unfolding humanitarian crisis looks like when blame cannot be pinned on Israel.
UN Rights Official Calls for Investigation into Yemen Civilian Deaths
The U.N.'s Human Rights Chief is calling for an investigation into Yemeni air strikes that killed dozens of civilians. U.N. aid agencies say the humanitarian situation of the civilian population caught in the conflict in northern Yemen continues to deteriorate... U.N. High Commissioner for Human Rights, Navi Pillay says she is deeply disturbed by eyewitness reports of an air attack Wednesday by Yemeni warplanes against a makeshift camp in northern Yemen... she is urging the government to launch an investigation and to refrain from launching similar attacks in the future.

They continue to call upon the Yemeni government and rebels to open a humanitarian corridor so they can safely deliver assistance to the civilians...the UNHCR is still trying to gain access to Saada province from neighboring Saudi Arabia...

The UNHCR and other U.N. agencies say they are strapped for cash. They say their appeals to the international community for money to run their humanitarian operations have fallen on deaf ears. They say, so far, they have received nothing. (VOA News, September 18, 2009)
Notice this Reuter's report uncritically reports the government line claiming the rebels are using human shields and have rejected calls for a truce. Contrast this with typical Reuter's reporting of the Israeli-Palestinian conflict, where Palestinian claims are given prominence and Israeli government claims are treated with less credulity.
Yemen's president on Sunday accused northern rebels of killing innocent civilians and using "human shields"... Last week dozens of civilians were reported killed in two army air raids, sparking condemnation from aid organizations and Yemeni rights groups... A military spokesman also accused the Houthis of using "human shields" in a statement responding to footage published by the rebels appearing to show children killed in last week's air raid. He said the images were a "fabrication."
The Reuter's piece ends with the caution, "Media have had difficulty accessing the conflict zone and verifying conflicting reports from each side."
While the UN Human Rights Council focuses on the 9 month old Israeli-Gaza conflict, the past five weeks of intensified conflict in Yemen has seen the fighting reach the border of Saudi Arabia. Rebels claim that Saudi planes have bombed rebel-held areas. The Saudis deny this. The war is seen by many as a proxy war pitting Shiite Iran against Sunni Saudi Arabia. There is concern that the conflict is gaining momentum and may spread.
Posted by SS at 12:39 PM | Comments (0)
MacArthur Grant Goes to Anti-Israel Film-Maker
MacArthur Genius Grants are among the world's most lucrative gifts awarded to intellectuals and artists. Each recipient receives a half million dollars to spend as they see fit. Among the 24 awardees this year is James Longley, producer of "Gaza Strip," a film enthusiastically promoted by the anti-Israel crowd. The film was given a highly favorable review by Hamas-sympathizing Electronic Intifada.
In the Electronic Intifada review of Longley's film, he is quoted as alleging that Israel used nerve gas against Palestinians. "It was strange to me," says Longley, "that this particular incident never made it out into the mainstream media, especially in the US." Over the years, there have been occasional claims that Israel has used various secret horrible weapons in Gaza. None of these claims has ever held up under scrutiny. But that doesn't stop the conspiracy theory fringe from promoting them. Longley appears to be of that fringe.
Jeffrey Goldberg in the Atlantic sums it up concisely in a piece discussing the film and the grant. Evaluating a statement about Gaza on Longley's website "Most people living in the Gaza Strip have never known a single day of real freedom." Goldberg writes,

This is partially true, though Gaza knew no freedom when it was occupied by the Egyptian military until 1967. And of course, "real freedom" is not a prevailing condition in most of the Arab Middle East. But Longley is not interested in the complications of life in the Arab world, or in Israel, and God knows, he could make honest films that still expose various Israeli sins. But he doesn't seem to be someone who closely adheres to the truth. He seems mainly interested, in the Middle East context, in libeling Israel. Which, of course, is good for business, as we see this week.
Posted by SS at 11:01 AM | Comments (0)
New Jersey Jewish News Describes CAMERA Lecture
CAMERA Christian Media Analyst Dexter Van Zile spoke before a crowded house in East Brunswick New Jersey about Mainline Christian attitudes toward Israel.
The speech is discussed in a Sept. 21 article in the New Jersey Jewish News, which begins,
A pro-Israel media monitor charged that condemnation of Israel by some mainstream Protestant denominations amounts to a "third Intifada."

Broadcast around the world by various human rights groups, agencies, and Muslim extremist groups, allegations by the Christians have contributed to what Dexter Van Zile called "a third Intifada" that "seeks to demonize Israel and the Jewish people throughout the world."
Read it all here.
Posted by GI at 10:44 AM | Comments (0)
September 21, 2009
Law & Order Rerun Aired During High Holy Days Defames Jews and Israel


Detective Mike Logan (Chris Noth) and Captain Danny Ross (Eric Bogosian)
A Law & Order: Criminal Intent episode, entitled "30," which defames Israel and Jews, was repeated twice by Bravo Network on Rosh Hashanah (Sept. 20). Originally aired by NBC in 2007, the episode depicts a New York police detective repeatedly hectoring his Jewish captain with the dual-loyalty canard accusation, depicts alleged brutal treatment of Palestinians by Israelis, and presents Israel as a villainous suspect in the fatal polonium poisoning of an American investigative journalist (a "ripped from the headlines" plot substituting Israelis for the actual Russian perpetrators).
Previous broadcasts of this episode were reported by CAMERA: July 2009, Nov. 2008, March 2007.
Posted by MK at 05:39 PM | Comments (0)
Cartoonist Targets Jimmy Carter's Hypocrisy
The New York Times reprinted Times-Picayune cartoonist Steve Kelley's September 18th spoof of Jimmy Carter's hypocrisy.
Posted by RH at 01:02 PM | Comments (0)
September 18, 2009
While UN Human Rights Council Blasts Israel, Council Member's Neighbor Yemen Blasts its Own Citizens
During the same week the UN Human Rights Council issued its report condemning Israel for using disproportionate force and attacking civilians, Yemen, backed by fellow Council member and co-sponsor of the Gaza report, Saudi Arabia, stepped up its bombing offensive against its own citizens in the countries rebellious northern region.
Reports of the violence describe an unfolding humanitarian crisis of major proportions with over a hundred thousand displaced people, mostly women and children, and thousands of civilian dead. Just yesterday, on Sept. 17, an air strike killed 87 people, mostly women and children, in a displaced persons camp.
Media coverage to the extent that western sources have covered the conflict at all, has been muted. For example, in contrast to the confrontational and accusatory tone that accompanies most BBC coverage of Israeli military action against Palestinians, a BBC interview with a Yemenite government minister discussing the air strike was non-confrontational.
Yemen's government has refused to negotiate with the rebel groups. The uptick in violence is part of a continuing conflict spanning many years that has killed tens of thousands and dwarfs the Israeli-Palestinian conflict in its human toll. The plight of Yemenite civilians is far more desperate according to World Health Organization data than that of the Palestinians in Gaza.
Human rights groups have also tread lightly, a marked difference in tone from their heavy-handed one-sided approach to the Israeli-Palestinian conflict. Human Rights Watch's Middle East specialist, Joe Stork, who routinely issues harsh condemnations of Israeli military operations against Palestinian armed groups, was restrained in his criticism of the Yemenite government and applied criticism equally between the government and the rebels, urging both sides to abide by international conventions. The group's recently published statement made a point of admonishing rebel leaders that they are bound by humanitarian law.
A rebel web site accuses Yemenite government forces of using White Phosphorus against civilians. Considering the scathing criticism levelled against Israel for using White Phosphorus by various organizations and in the Goldstone report, this charge against Yemen is ironic. Especially in light of mention given to Yemen as participating in the Gaza report.
The UN Human Rights Council, not surprisingly in light of its composition, has been ineffectual and mostly silent with regard to longstanding human rights catastrophe in Yemen. A recent UN flash appeal for funds to aid Yemenite civilians, the poorest and most deprived people in the Middle East, has met with no response, again sharply contrasting with the gushing response for aid to Palestinians in Gaza.
Some recent reports on the fierce conflict and the unfolding humanitarian disaster are included below:

Nearly 90 civilians were killed in an airstrike by government warplanes this week that hit a makeshift camp for people fleeing fighting in northern Yemen. Sheikh Mohammed Hassan, a tribal leader from the area who attended a mass funeral for the victims Thursday, put the death toll at 87, most of them women and children.

Every day, warplanes screech over the capital San'a heading for the front in the northern region of Saada, on the border with Saudi Arabia. Tens of thousands of Yemenis have fled the fighting, cramming into camps, schools and even barns, as aid groups struggle to get supplies to them.
Middle East On-line - Sept.1, 2009 "UN warns of 'humanitarian crisis' in north Yemen"

The United Nations warned Tuesday of a humanitarian crisis in northern Yemen's Saada city, where 35,000 have fled fierce fighting between the military and Shiite rebels in the past three weeks.
"A humanitarian crisis is unfolding in Saada city where the situation is deteriorating by the day," Andrej Mahecic, spokesman for the UN Refugees Agency said.
The UNHCR estimates that some 150,000 people have been displaced since 2004 by persistent instability in and around Saada city.
Some 100,000 of the displaced are "now on the move desperately seeking sanctuary in safer areas of Saada governorate or in neighbouring governorates," said World Food Programme spokeswoman Emilia Casella.
"The fighting is preventing humanitarian workers from having access to the wounded and civilians who need help in Saada city," added Elisabeth Byrs, spokeswoman from the UN Bureau for the Coordination of Humanitarian Affairs.

On Tuesday, Yemen's security chiefs refused a truce offer made by Zaidi rebels who are under attack by the military in a three-week-old "Scorched Earth" offensive in the north of the country, a report said.
A report by UNICEF speaks of 75,000 children in desperate need of assistance. 60 percent are malnourished. 55,000 children are displaced and more than half are suffering from acute respiratory infections.
Richard Meares, Civilians' plight worsens in north Yemen war zone, (Reuter's Sept. 9. 2009)

Whole villages are on the move in north Yemen, fleeing a widening conflict that is creating a shameful and worsening emergency, aid workers say.
People in the area's main town, Saada, may be worse off still, trapped by shelling and street fighting in homes with barely any water, power or communications and facing food prices spiralling out of reach -- if they can make it to market.
"The situation is getting worse and worse and worse. We're not confronted with a humanitarian crisis, it's becoming a humanitarian tragedy," Gian Carlo Cirri, country director for the U.N. World Food Programme, said by phone on Tuesday from the capital Sanaa.
A month ago a new wave of fighting -- the "sixth war" in an intermittent five-year-old conflict -- erupted in the mountainous north between rebel Shi'ite Muslims and government forces trying to impose central authority.
U.N. agencies estimate this has added another 50,000 people to 100,000 or so left homeless earlier by fighting in the poorest Arab nation. Most are women and children.
World News - Sept. 14, 2009

OCHA has already voiced alarm at the lack of donor response to the crisis, which has seen some 150,000 people driven from their homes by fighting between Government forces and rebels in Sa'ada and Amran governorates. As of today, the $23.7 million emergency 'flash appeal' the UN launched 12 days ago has not received a single cent.
Posted by SS at 11:09 AM | Comments (1)
September 16, 2009
NGO-Monitor: Goldstone Report Based on Politicized Pro-Palestinian NGO's
NGO-Monitor reports that much of the 575-page Goldstone report attacking Israel is cut and pasted from anti-Israel and pro-Palestinian sources.
The critique finds not only that the Goldstone report is almost entirely based on false and unsubstantiated NGO statements and submissions, but that even distortions and misrepresentations of international law are copied and pasted. Moreover, the report ignores Hamas use of "human shields."
The watchdog organization points out that

Goldstone's press conference in New York and the report's recommendations constitute another step in the Durban Strategy, crystallized at the 2001 NGO Forum, using the language of human rights and international law as weapons in the political war to isolate and demonize Israel, and restrict legitimate responses to terror.
Posted by RH at 11:51 AM | Comments (2)
NY Times Hypocrisy on Civilian Casualties
Stephen Farrell, pictured here in Iraq in 2007. Afghani civilians, including women and children, reportedly were killed during the course of the operation for his release (Photo by Getty)
Ha'aretz's Amir Oren observes today:
The New York Times, which vociferously opposes the murder of noncombatants, was indirectly involved in the deaths of women, children and other civilians just a week ago. It happened near Kunduz, Afghanistan, when British and Afghani commandos liberated kidnapped Times journalist Stephen Farrell: Civilians were caught in the cross-fire and killed, as was Farrell's Afghani interpreter.

Had the Times, a bastion of opposition to harming to civilians in war zones, known that civilians would be killed in the rescue, would it have preferred that the operation be called off, and that Farrell remain in the hands of his captors? What will it write if a similar operation is undertaken to release Gilad Shalit?

Unlike journalists, governments and field commanders deal with this dilemma every day. It is easy to decide when the target is a battalion of tanks in the desert. But it is more complex when the threat to a military unit comes from within a civilian environment - the very civilians the unit has been sent to protect. Ignoring the nature of military action is the height of hypocrisy.
Posted by TS at 04:54 AM | Comments (0)
Goldstone Report: Layer Upon Layer of Errors
For CAMERA's full analysis of errors in the Goldstone Report, click here.
The U.N. Human Rights Council's much anticipated report on Israeli actions in the Gaza Strip has been published, and as predicted, the hopelessly flawed mission condemns Israel for its "deliberately disproportionate attack designed to punish, humiliate and terrorize a civilian population. . . " It also condemns Hamas' rocket attacks on Israel.
Bloggers have already identified plenty of factual errors in the 575-page document -- that there is no evidence of Hamas use of human shields, that the failure of fighters to distinguish themselves from civilians by distintive signs is not a violation of international law, that since 1967 750,000 Palestinian have been detained by Israel, among others. But as the error-filled report garners prominent media coverage, there's another layer of distortions and falsehoods to watch out for -- the media's misreporting of the already problematic document.
For instance, Neil MacFarquhar reports in the International Herald Tribune today:
The report did not take a position on the hotly contested number of civilian casualties during the Gaza war. It noted that they range from the Israeli government figure of 1,166 to the Hamas figure of 1,444, with a couple of humanitarian organizations' estimates somewhere between. [Emphasis added]
Yet, the figures of 1,166 (according to Israel) and 1,444 (according to Hamas) refer to the total number of casualties -- combatant and civilians. As the Goldstone report states (paragraph 30):
Statistics about Palestinians who lost their life during the military operation vary. Based on extensive field research, non-governmental organization place the overall number of persons killed between 1,387 and 1,417. The Gaza authorities report 1,444 fatal casualties. The Government of Israel provides a figure of 1,166.
The New York Times version of the same article -- the Times owns the IHT and has a later press time -- does not mistake the figures of total number of Palestinian fatalities for civilians only. It states:
But the report did not take a position on the number of Palestinian casualties, noting that they ranged from the Israeli government figure of 1,166 to the Hamas number of 1,444, without saying how many were civilians.
Posted by TS at 02:09 AM | Comments (0)
September 15, 2009
B'tselem Figures Again Challenged
"[T]he raw data provided by B'Tselem were sufficient to indicate that many victims not classified as combatants by the human rights organization actually were." This was the conclusion reached by epidemiologist Elihu Richter and Dr. Yael Stein in a report prepared for the Center for Injury Prevention and Genocide Prevention Program at the Hebrew University-Hadassah School of Public Health and Community Medicine.
The findings, reported in the Jerusalem Post, appear to rest at least in part on the gender breakdown of Palestinian casualties.
CAMERA first raised questions about this breakdown in January 2009.
Assuming B'tselem misclassified civilians and combatants in this war, it would hardly be the first time. CAMERA documented numerous instances of misclassification, some of which can be read about here.
Posted by GI at 09:46 PM | Comments (0)
Osama Bin Readin! (Terrorist Endorses Texts by Carter, Walt and Mearsheimer)
Some writers get all the luck!
Really.
How unfair is this? Osama Bin Laden (or someone who pretends to be him) has endorsed Jimmy Carter's Palestine Peace Not Apartheid and The Israel Lobby and U.S. Foreign Policy by John J. Mearsheimer and Stephen M. Walt.
According to an entry in the New York Times' blog Bin Laden (or some fascimile thereof) recently issued a tape in which he exhorts his listeners to read the texts mentioned above along with a few other books, stating: "After you read the suggested books, you will know the truth, and you will be greatly shocked by the scale of concealment that has been exercised on you."
Speaking of concealment, where you been hidin', Mr. Bin Laden? Did you order these texts through Amazon Prime or through your Kindle? Does Amazon charge extra for shipping to an undisclosed location?
Fortunately, Bin Laden didn't restrict his praise to literary giants, but also encouraged his listeners to read a lesser-known text entitled "The Apology of a Hired Killer," which apparently is a reference to a text titled Confessions of an Economic Hitman by John Perkins.
Posted by dvz at 10:15 AM | Comments (0)
Holocaust Denial, Anti-Semitism and Facebook
Social media expert Andre Oboler writes about Facebook's defense of anti-Semitism and Holocaust denial in an article for The Jerusalem Center for Public Affairs' (JCPA) Institute for Global Jewish Affairs. He chronicles the evolution of Facebook's stand on hate speech, culminating in the rewriting of itsTerms of Service to remove prohibitions on defamatory or inflammatory content
No longer prohibited is content that is "derogatory," "demeaning," "offensive," "harmful," "defamatory," "abusive," "inflammatory," "vulgar," "obscene," "fraudulent," "invasive of privacy or publicity rights," or "racially, ethnically or otherwise objectionable." Also gone is the clause not to "violate any local, state, national or international law." Facebook is not above the law and removing this clause changes nothing.
By dropping the ban on a whole raft of antisocial behaviors, from the "vulgar" to the "obscene," Facebook retracted its position that "certain kinds of speech simply do not belong in a community like Facebook." The removal of the prohibition on defamation and on racism, prohibited since the start, is particularly worrying, specifically in light of Facebook's canned response that specifically talks about hate against individuals. Facebook has dropped its commitment to being a safe place on the internet. It has given up any pretense of being guided by morals rather than money.
The article demonstrates how Facebook "has given up any pretense of being guided by morals rather than money" and concludes that:

Facebook has demonstrated once again that it is media pressure and not its own Terms of Service or ethical deliberations that cause action to be taken against online hate. The company has watered down the provisions against various types of hateful content and dropped its promise to provide a "safe place on the internet." Most alarmingly, despite still prohibiting hateful content, Facebook has decided as policy to allow Holocaust denial on the platform. This demonstrates a lack of understanding regarding anti-Semitism and Holocaust denial in particularly, and a lack of engagement with the problem of anti-Semitism 2.0.
Posted by RH at 10:06 AM | Comments (3)
BBC Complainant: Complaints Process "Unsatisfactory, Unfair"
Out of hundreds of complaints to the BBC about Jeremy Bowen's error-filled and biased article on Israel and the Six-Day War, only two saw their way through what turned out to be a year-long complaints process: CAMERA's complaint, and a separate one prepared and pursued by London barrister Jonathan Turner. Key aspects of both complaints were upheld.
In a letter to British MP John Whittingdale, chairman of the Select Committee on Culture Media and Sport, Turner raised his concerns about the BBC's handling of complaints. That letter, which charges the BBC with having a lengthy, cumbersome and unfair complaints procedure, is published in its entirety below.
You can cross check Turner's charges by tracing the steps CAMERA was required to take to see its complaint through. Those steps are laid out in detail here.
Jonathan Turner's letter reads:
Arrangements for handling complaints about the BBC
I am writing to you to draw your attention to my concerns regarding the arrangements for handling complaints about the BBC. I invite you to circulate this letter to members of the Select Committee.
In summary, my concerns are as follows:
1. The procedure is extraordinarily lengthy and bureaucratic.
2. At each stage of the procedure, BBC personnel defending the coverage are given the last word and use it to raise new points which the complainant does not get an opportunity to address.
3. Numerous BBC personnel are permitted to make submissions defending the coverage, thereby casting a large burden on an individual complainant.
4. If a complaint is appealed to the BBC Trust, an anonymous "Editorial Adviser", selected by the BBC Trust staff, is highly influential. The Editorial Adviser may have close links with the journalist whose coverage is in issue.
5. If it appears that a complaint might succeed, BBC staff adjust the normal process to stack the odds even further against it.
6. When asked to provide information or take steps to ensure a fair procedure, BBC Trust staff respond with promises which deflect the requests, but the promises are not kept.
7. Even if a complaint succeeds, there is normally no effective remedial action.
I appreciate that it can be argued that there should be no state funding and no regulation of broadcasting, and that the provision of information should be left entirely to the free market. However, as long as we have a broadcaster funded out of taxation – and particularly one with such large public funding and therefore influence as the BBC – it is essential that complaints about that broadcaster are considered properly, fairly and independently. Viewers who are unhappy about the coverage cannot simply vote with their wallets.
Indeed this point is recognised in the BBC Charter which states:
"Complaints to the BBC have an important role to play. The BBC's complaints handling framework (including appeals to the Trust) is intended to provide appropriate, proportionate and cost effective methods of securing that the BBC complies with its obligations and that remedies are provided which are proportionate and related to any alleged non-compliance."
Unfortunately, the BBC's handling of complaints leaves a lot to be desired. Although two complaints which I had made were upheld in part by the BBC Trust earlier this year, their treatment was deeply unsatisfactory, unfair and not in accordance with modern standards of good practice.
The fundamental problem is the lack of any real independence in the system for considering complaints of inaccuracy and bias in the BBC's coverage. OFCOM does not have jurisdiction to consider such complaints in relation to the BBC (in contrast to other national broadcasters). The procedure for considering such complaints comprises a long series of stages within the BBC culminating (if the complainant is not exhausted and has not missed a deadline at any stage) in an appeal to the BBC Trust, which is not truly independent. It is as if anyone who wanted to read a newspaper had to take out a year's subscription to (say) "The Guardian", but any complaint about inaccuracy or bias on the part of the "The Guardian" could only be made to "The Guardian".
I am sending you, under separate cover, copies of the full correspondence relating to my complaints which were recently considered by the BBC Trust, running to five lever-arch files, to enable you to appreciate the full horror of the procedure. I would draw particular attention to the following points:
1. The procedure is extraordinarily lengthy and bureaucratic, and appears to be designed and operated to exhaust all but the most determined and well-organised of complainants.
A complaint has to be made initially to a department of the BBC called "BBC Information". This department is staffed with personnel who regard it as their job to deflect all complaints, at any rate in certain areas.
If the complainant is dissatisfied with the response, he is expected to write again to the person who sent the response. A further response is then made by the same people. If the complainant is dissatisfied with the further response, he is expected to write to another department called the "Editorial Complaints Unit" ("ECU"). This department is also staffed with personnel who regard it as their job to deflect complaints.
If the complainant is dissatisfied with the ECU's response, he is expected to appeal to the BBC Trust's Editorial Standards Committee ("ESC"). The BBC Trust Unit normally obtains a report from an Editorial Adviser on which the complainant, the BBC journalist, the BBC Editor and the ECU are invited to comment.
At each stage, strict time limits are imposed on the complainant, and a complaint is knocked out if the complainant fails to comply with the time limit. By contrast, excessive delays by the BBC in handling complaints are invariably ignored. For example, one of my complaints was rejected by the ESC earlier this year on the ground that I had been some 3½ weeks late in submitting my appeal - even though it had taken over a year for the BBC Trust to raise this objection and another of my complaints considered by the ESC at the same time had taken nearly two years for the procedure to run its course.
The impact of this procedure on the consideration of complaints is exemplified by one of my complaints which was partially upheld earlier this year. The BBC eventually admitted that it had received "hundreds and hundreds" of complaints about the item in question; that it had decided to send "quite a generic reply out to all" and that "many were angry that the replies weren't tailor made". The BBC's replies had wrongly rejected all of the complaints. Eventually, two years later, appeals by myself and one other complainant were partially upheld by the ESC, but only after I had spent hundreds of hours dealing with the matter.
2. At each stage of the procedure, the BBC parties defending the coverage are given the last word and use the opportunity to raise new points which the complainant does not get an opportunity to address. Thus a complaint is liable to be rejected by BBC Information on ground A; the complainant (if persistent) appeals to the ECU showing that ground A is erroneous, but the complaint is then rejected on ground B; the complainant (if exceptionally persistent) appeals to the ESC showing that ground B is also erroneous; the BBC parties then resort to argument C which persuades the influential Editorial Adviser to report adversely on the complaint.
I foresaw this danger in the recent appeals and submitted that the final round of comments should be limited to responses to new points raised by other parties on which that party had not previously had an opportunity to comment. This is a standard requirement of an efficient and fair dispute resolution process. The BBC Trust Unit purported to agree with me on this point and said that they would instruct all parties accordingly. I stuck to this it on my side. However, BBC News ignored the instruction and the BBC Trust Unit omitted to mention the requirement to the ECU.
As a result, just a few working days before the long-delayed meeting of the ESC to consider my appeals, BBC News and the ECU made submissions containing a raft of new points, which the BBC Trust promptly circulated to the members of the ESC without giving me an opportunity to object in advance. Fortunately, I had some time available that weekend and was able to prepare an objection and response identifying at least some of the inaccuracies, fallacies and mistranslations on which the new BBC submissions were based. However, the BBC Trust Unit then delayed circulating these comments until the evening before the meeting, and I doubt that the members of the ESC were able to absorb it.
3. Numerous BBC parties are allowed to make submissions answering the complaint, particularly at the BBC Trust stage. In the appeals mentioned above, I had to respond to submissions made by the Head of News, the Middle East Editor, the ECU, BBC Information and the Editor of the Middle East pages of the BBC website. As mentioned below, the BBC Trust staff extended the procedure so that they were five rounds of submissions (on top of the earlier stages before BBC Information and the ECU). In the result, I had to respond to some twenty odd submissions by different BBC parties.
4. The Editorial Adviser's report is presented to the ESC as the primary basis for consideration of the complaint and may well be the only document which is read with any care, or at all, by members of the ESC. Indeed, the BBC Trust recently decided that the Editorial Adviser's report would henceforth be the only paperwork provided automatically to members of the ESC for their consideration of appeals, although they can ask to see other correspondence. The Editorial Adviser also attends the meeting of the ESC (in contrast to the complainant, who is not permitted to attend).
Yet the identity of the Editorial Adviser is not normally disclosed to the complainant. By accident, the identity of the Editorial Adviser was revealed recently to another appellant: the adviser turned out to be a former BBC journalist (Kerry Blackburn) who had close links with the journalist whose reporting was the subject of the complaint (Jeremy Bowen). The BBC Trust staff are thus able to steer the process by their choice of Editorial Adviser.
I intend to make a Freedom of Information request to try to identify the Editorial Advisers used in relation to complaints in a particular area. However, on past form the BBC will fight this tooth and nail, and the information will not be disclosed for at least several years, if ever.
5. If it appears that a complaint might succeed, the BBC staff adjust the process to increase the odds stacked against it. In my case, the Editorial Adviser prepared a report on the whole supporting one of my complaints. The Editorial Adviser was asked to rewrite her report.
The submissions of the BBC parties did not rebut the points I made. The BBC Trust Unit invited round after round of further submissions, thereby giving the BBC parties further opportunities to try to rebut my points and delaying the determination for many months.
6. I asked for copies of certain documents to which the BBC Executive referred, in order to check whether they said what the BBC Executive said they did, and whether quotations had been taken out of context. The BBC Trust staff refused this request on the ground that the ESC would not rely on these documents. But, in the event, the ESC did rely on them, at least according to their draft decision. And when I queried this, the decision was revised to say otherwise, but that was patently untrue.
7. Even where a complaint succeeds, there is no effective remedial action. The finding is tucked away in a voluminous report which no normal viewer reads. There is no broadcasting of a correction with similar prominence to the original report.
Posted by GI at 10:00 AM | Comments (0)
HRW Suspends Garlasco
The New York Times reports today that after initially having defended the creepy hobby of Human Rights Watch investigator Marc Garlasco, the organization has now suspended him.
While NY Times reporter John Schwartz quotes Garlasco's defense, he ignores the evidence circulating in the blogosphere for the last couple of days which exposes Garlasco's argument as dishonest. Schwartz writes:
"I've never hidden my hobby, because there's nothing shameful in it, however weird it might seem to those who aren't fascinated by military history," he wrote. "Precisely because it's so obvious that the Nazis were evil, I never realized that other people, including friends and colleagues, might wonder why I care about these things."
Yet, as noted first by Israellycool on Sept. 12, three days before the Times' article:
Garlasco also blatantly lies in his response. His contentions that "I've never hidden my hobby, because there's nothing shameful in it" and "I never realized that other people, including friends and colleagues, might wonder why I care about these things" do not compare well with this comment to him by a fellow Nazi memorabilia aficionado on one of the forums (no longer accessible without a login):

I remember you asking about using a psydonym before your book was published. Using your real name it really was only a matter of time before something like this happened.
Unfortunately, the Times article does not touch on the issue of the credibility of Human Rights Watch reports concerning Israel. The organization's facts have been challenged multiple times in the past years, such as here, here, and here.

Posted by TS at 05:00 AM | Comments (0)
September 14, 2009
What's Missing from NY Times Article on J Street
James Traub's fawning "news analysis" (read promotional plug) on J Street in the New York Times Magazine notes that the organization is "named after the street missing from Washington's grid and thus evoking a voice missing from Washington's policy discussions." Traub's admiring article is itself guilty of missing critical information about the upstart lobby group.
Repeating without challenge J Street's assertion that polling data (polls, polls, always polls with J Street) indicates that Jewish Americans largely support its agenda, Traub writes:
J Street maintains that most American Jews share its views on the Middle East. . . . The question is how much of an exception they make for Israel. J Street sought to answer this question by commissioning an extensive poll of Jewish opinion on MIddle East issues. The survey, taken in July 2008 and repeated with almost identical findings in March, found that Americans Jews opposed further Israeli settlements (60 percent to 40 percent), that they overwhelmingly supported the proposition that the U.S. should be actively engaged in the peace process even if that entailed "publicly stating its disagreeements with both the Israelis and the Arabs" and that they strongly supported doing so even when the premise was revised to "publicly stating its disagreements with Israel."
One wonders if the New York Times Magazine writer bothered to actually look at the poll in question before he breathlessly recounted J Street's wishful thinking that the results indicate that the American Jewish public is behind them. Shmuel Rosner, a veteran reporter on American-Israeli affairs, wrote about that very same March poll:
1. J Street's press release reads the following: "Instead of holding the hawkish, hard-line positions often expressed by many established Jewish organizations and leaders, American Jews actually overwhelmingly support assertive peace efforts and an active U.S. role in helping Israelis and Arabs to resolve their conflict? American elected officials and politicians have for years fundamentally misread the American Jewish community," said Jeremy Ben-Ami, J Street's executive director in the press release.

But here's what the poll says: More people agree that "established" and "traditional" Jewish organizations represent their views than the number of people who say such organizations do not represent them. Even when AIPAC - supposedly the great Satan - is mentioned by name, more people (34 percent) believe it accurately represents their views than those (23 percent) who don't. The 40 percent who do not have an opinion also represent a group that can hardly be considered "fundamentally misread."

2. J Street opposes military action against Iran, "a terrible option for the U.S., regional stability, and for Israel." But American Jews will be more likely than not to vote for a Congressional candidate who believes that "America must do everything it can to protect Israel's security. This means militarily attacking Iran if they pursue a nuclear weapons program, supporting an Israeli pre-emptive strike against Iran, cutting off aid to the Palestinians if their schools allow textbooks that don't recognize Israel, and letting the Palestinians know where we stand on Jerusalem by moving the U.S. embassy from Tel Aviv to Jerusalem." . . .

3. My friends at the Orthodox Union (I have friends all around town) were quick to note, that J Street's PR for their poll conveniently omits mention of its findings on an issue we feel is of the utmost importance - the indivisibility of Jerusalem. Even among their respondents - who support 'assertive peace efforts and an active U.S. role' (i.e. pressure) and withdrawal from the West Bank - a majority do NOT believe Jerusalem should be re-divided with its eastern neighborhoods becoming part of a Palestinian state."
And here are our own observations about the gaps between J Street's poll results and the organization's positions:
-- J Street called for lifting the blockade of the Gaza Strip, while 75 percent of its poll respondents "support Israel's blockade of Gaza if the Palestinians block the agreement from being reached."
-- During Cast Lead, J Street maintained that "there is nothing 'right' in punishing a million and a half already-suffering Gazans for the actions of the extremists among them," but its poll found that 69 percent of respondents disagreed with the statement "With hundreds of Palestinian civilian deaths and a humanitarian crisis resulting from a month of no electricity and clean water throughout Gaza, Israel's response to Hamas' attacks was disproportionate." Hardly a ringing endorsement of J Street's views.
Thus, for all the mighty efforts of the pollster who carried out this poll, Jim Gerstein, a former J Street VP (can you say conflict of interest?), J Street was still able not to get the results it had wanted. But the lobby group was able to convince the New York Times otherwise.
Posted by TS at 05:01 AM | Comments (0)
Ha'aretz Misleads on TIAA-CREF Divestment
Ora Coren's report in Ha'aretz fails to make clear that the decision of U.S. pension fund giant TIAA-CREF to divest from Africa Israel Investments is due to financial considerations as opposed to the boycott Israel campaign. She writes:
The U.S. pension fund giant, TIAA-CREF, confirmed in statements to the media on Friday that it divested from Africa Israel Investments, owned by Israeli billionaire Lev Leviev, earlier this year.

The statements came in response to a letter initiated by a pro-Palestinian group, Adalah-NY, and signed by TIAA-CREF clients.

The fund's investment in Africa Israel amounted to only $257,000, so the financial effect of the divestment is minimal. The news of the divestment came as the Israeli firm was suffering a deep financial crisis, having recently announced that is unable to meet its liabilities to its bondholders.
Coren then mentions the Norwegian government's recent decision to divest from Elbit Systems for political reasons in the context of the TIAA-CREF case. What Coren fails to report is that the two cases are in no way parallel. The Adalah-NY letter calling on TIAA-CREF to divest was sent Sept. 11, 2009, while TIAA-CREF sold off that investment four months earlier on June 30, 2009. Thus, the pension fund's decision to divest had nothing to do with Adalah's anti-Israel campaign and everything to do with sound financial considerations.

Posted by TS at 04:12 AM | Comments (1)
Traffic Cops or Trained Terrorists?
Announcement of the death of Ayman Abu Sibleh, a policeman who also belonged to the Izz al-Din al-Qassam Brigades (From the Izz al-Din al-Qassam Brigades website, courtesy of the Intelligence and Terrorism Information Center)
In its new study about the Palestinian casualties from Cast Lead, B'Tselem does not count the 248 Palestinian police officers killed as among those (just 330) killed while taking part in the hostilities.
But a new report by JCPA's Jonathan D. Halevi finds that a:
decisive majority of the Palestinian "policemen" were members of the military wings of the Palestinian terror organizations and fighters who had undergone military training.

Among the 343 members of the Palestinian security forces who were killed, 286 have been identified as terror organization members (83 percent). Another 27 fighters belonging to units undergoing infantry training raises this total to 313 (91 percent).

Lumped under the rubric of the "Palestinian police" are all the security bodies that fulfilled combat and terror roles against Israel, the intelligence and preventive intelligence bodies, as well as those active in policing and maintaining order. Those serving in all of the Palestinian security apparatuses in 2007 and 2008 took part in terror activity and fighting against the IDF.

In the December 27, 2008, attack on an officer training course at Gaza police headquarters, 89 dead were counted. Of these, 60 (67 percent) belonged to Hamas and almost all were members of its military wing, the al-Qassam Brigades. The total number of terror activists and fighters among those killed at police headquarters was 81 (91 percent).
Additional evidence that these "policemen" were not your run-of-the-mill traffic cops comes by way of the MEMRI blog, the Intelligence and Terrorism Information Center, and the Institute for Counter-Terrorism.
Posted by TS at 03:27 AM | Comments (0)
Cobban on Garlasco Continued
German Combat Awards, along with Wehrmacht-awards, are the two Web sites that Garlasco lamely attempts to pass off as sites that "study Second World War artifacts (including American, British, German, Japanese and Russian items)"
Helena Cobban, an advisory committee member of HRW, continues to express her disgust with the Marc Garlasco Nazi paraphernalia affair.
It is complete garbage highly misleading for Garlasco to suggest that his obsessively pursuit of the "hobby" of collecting -- and lovingly displaying with almost pornographic attention to detail -- various swastika-adorned military memorabilia from the Nazi era in any way makes him a better investigator of current military events.

He claims that, "I've never hidden my hobby." But when I spoke with Iain Levine, who's the head of all HRW's programs and thus Garlasco's supervisor's supervisor, he said he had no inkling that Garlasco had such a hobby "until Tuesday morning."

Garlasco writes,

I deeply regret causing pain and offense with a handful of juvenile and tasteless postings I made on two websites that study Second World War artifacts (including American, British, German, Japanese and Russian items).

The websites in question are titled German Combat Awards and Wehrmacht-awards. From a quick scan through them they don't, actually, seem to cover many non-German items at all.

Also, one of those allegedly "juvenile" postings was presumably this one, made in 2005: "The leather SS jacket makes my blood go cold it is so COOL!" Garlasco was 34 or 35 years old at the time. He'd been working for HRW for two years by then. It was only four years ago.

Hard to make a claim of "youthful indiscretion", based on such facts.
Also, UN Watch uncovers additional Garlasco comments making clear that the collector's passion for his subject goes beyond a historian's academic interest. For instance: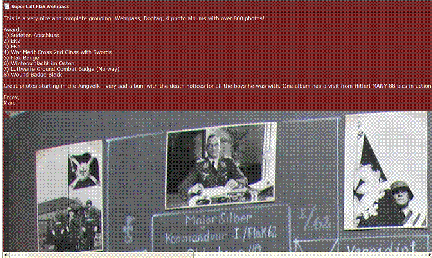 About this and other images, Garlasco, aka "Flak 88," enthused in August 2005:
Great photos starting in the Jungvolk - very sad album with the death notices for all the boys he was with. One album has a visit from Hitler! MANY 88 pics in action. Just a great grouping!
Posted by TS at 02:33 AM | Comments (0)
September 11, 2009
Human Rights Watch's Cobban Not Happy With Garlasco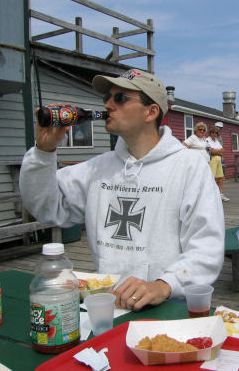 Ever since Omri Ceren exposed the Nazi memorabilia collecting hobby of Human Rights Watch (HRW) technical expert Marc Garlasco on Sept. 8, 2009, the organization has been in damage control mode. Helena Cobban, a member of HRW's board of directors felt compelled to comment.
Cobban, no friend of Israel, has apparently harbored misgivings about Garlasco even before the furor over his collecting hobby erupted. In a recent blog post at Just World News Cobban raises questions about Garlasco's competence. Her criticism of Garlasco did not arise out of his handling of Israel, rather it has to do with his mistaken analysis of cluster bombs in the recent conflict between Georgia and Russia. But the recent revelation of Garlasco's collection hobby has not helped matters.
Cobban expresses dismay that someone from HRW went so far as to justify Garlasco's hobby in a note to NGO-Monitor, a persistent critic of HRW. Some of those offering comments on Cobban's blog display how poisoned the atmosphere surrounding the human rights group has become. One commenter defended Garlasco's hobby, stating "collecting Nazi memorabilia IS an innocent hobby," apparently unable to recognize that when one's job is to publicly accuse the Jewish state of war crimes, collecting and boasting about Nazi memorabilia does not help establish credibility. Another commenter tries to suggest that Garlasco is really Jewish because he spells his first name with a "c."
Cobban does not extend her concerns to Garlasco's analysis blaming Israel for an explosion on a Gaza beach in June, 2006 or his accusations against Israel for its actions in Gaza earlier this year. Nevertheless, her post is telling in that it reveals that Human Rights Watch's management realized the limited credentials and dubious expertise Garlasco possesses and yet stuck with him and even defended him. As Ceren himself points out, the real issue is not Garlasco. The Garlasco fiasco is a symptom of what happens when an organization driven by political ideology discounts questions of technical competence in an "expert" as long as he willingly advances their agenda.
Posted by SS at 11:14 AM | Comments (0)
September 09, 2009
B'Tselem Jumps on the Bandwagon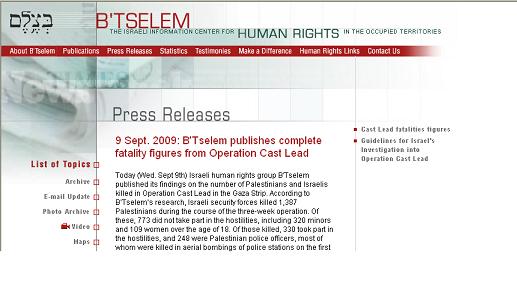 B'Tselem, an advocacy group known for its harsh but unreliable criticism of Israel, has jumped on the bandwagon with Amnesty International and Human Rights Watch, issuing its own critique of Israel's Operation Cast Lead in Gaza . B'Tselem -- not to be outdone by the other groups -- comes up with the same conclusion -- that most of those killed in Israel's military operation were Palestinian civilians. Unsurprising, given that all three groups rely on the same sources - Palestinian NGOs operating under the thumb of Hamas in Gaza.
Just how reliable is B'tselem? The organization's track record does not exactly inspire confidence in its methodology, rigor and accuracy. CAMERA has repeatedly found that B'tselem's casualty reporting is undermined by its strange definitions of combatants and civilians. For example, many of those characterized in B'tselem reports as civilians were killed while they attacked Israelis, like opening fire at a bat mitzah celebration in Hadera, setting off bombs, infiltrating Israeli communities and killing or wounding residents. (For more on this, see here and here).
The Israeli government has released its own casualty figures disputing the claim that most of the fatalities were civilians. Several private research organizations, like the International Institute for Counter Terrorism and CAMERA examined casualty figures provided by these same Palestinian NGOs and showed that the majority of Palestinian dead were males of ages typical for combatants and uncovered numerous examples where those identified by the NGOs as "civilians" were identified and commemorated by Hamas and other Palestinian terrorist groups as fighters.
All this leads one to wonder...why do Amnesty International, Human Rights Watch and now B'Tselem devote so much time and energy to producing report after report that repeats the same thing again and again?
Human Rights Watch's recent fundraising jaunt in Saudi Arabia might offer a clue as to the answer.
Posted by SS at 01:18 PM | Comments (0)
September 08, 2009
Is HRW Investigator Garlasco An Avid Collector of Nazi Paraphernalia?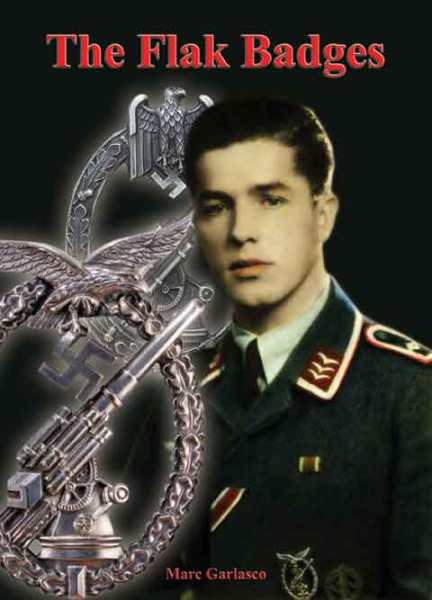 Marc Garlasco's 430-page book on Nazi paraphernalia
Human Rights Watch investigator Marc Garlasco accuses Rick Ayers of "Hiding in Plain Sight", but it is Garlasco who is apparently hiding in plain sight. While he has been treated with credibility by outfits like the New York Times, his apparent passion for Nazi paraphernalia has gone unnoticed and uncommented on -- despite the fact that it can be easily traced on the Internet. (The bottom right side of the Huffington Post url link above contains an example of Garlasco's hobby -- penning books on Third Reich memorabilia -- hiding in plain sight.)
Mere Rhetoric blog today lifts the veil on Garlasco's unusual extra-curricular activities:
There are two Marc Garlascos on the Internet. One is a top human rights investigator who, having joined Human Rights Watch after several years with the Pentagon, has become known for his shrill attacks on Israel. The other is a Marc Garlasco who's obsessed with the color and pageantry of Nazism, has published a detailed 430 page book on Nazi war paraphernalia, and participates in forums for Nazi souvenir collectors.

Both Marc Garlascos were born on September 4, 1970. Both have Ernst as their middle name. Both live in New York, NY. Both have a maternal grandfather who fought for the Nazis. I've put links and screenshots on all this after the jump, and you can click through for full-sized versions. It's hard to escape the conclusion that both Marc Garlascos are the same person.

Bloggers and activists concerned about Israel have been baffled and frustrated by the first Garlasco almost since he joined HRW. On his public photography site he posts gratuitous Palestinian and Lebanese death porn in between galleries of cute Western-looking kids playing soccer (no link - keeping his kids out of it). He provides a seemingly never-ending stream of interviews to all kinds of outlets, where he spins tales about ostensible Israeli atrocities. The only problem is that many of these tales - per Soccer Dad and IsraPundit and Elder of Ziyon and NGO Monitor and CAMERA and LGF - are biased and inaccurate. That doesn't stop Garlasco from putting them into the kind of HRW reports that make their way into international anti-Israel condemnations and academic anti-Israel dissertations.

Then there's the second Marc Garlasco, who I caught wind of from Elder of Ziyon. Elder had just finished tearing apart another one of HRW Garlasco's anti-Israel reports when he found the Amazon profile of collector Garlasco. This Garlasco's Amazon book reviews show a nearly obsessive knowledge of Nazi-era Luftwaffe Flak and Army Flak. A little more searching revealed that he's written a gigantic book on the subject that retails for over $100. He regularly participates in forums about Nazi medals under the handle Flak 88, where he posts galleries of his prizes and admires what others have managed to collect. On those forums he uses the email marc@garlasco.com, which points to a family genealogy site he set up in 2002.
The anti-Israel backgrounds of other Human Rights Watch employees including Joe Stork, Lucy Mair and Nadi Barhoum have been noted before, but this blows them all away.
Update: A timely report on HRW staffers ("Experts or Ideologues") just came in from NGO-Monitor.
Additional blog postings about Garlasco's affinity for Nazi material: Instapundit, NRO's The Corner, Commentary Magazine, The Volokh Conspiracy, Israel Matzav and Solomonia.
Posted by TS at 07:54 AM | Comments (7)
McClatchy on Aftonbladet's Blood Libel
Fridea Ghitis of the Miami Herald hits the nail on the head, identifying Donald Bostrom's unsubstantiated Aftonbladet article alleging that Israelis are stealing Palestinian organs as the latest in a long line of Arab blood libels:
Former Syrian Defense Minister Mustafa Tlass published the best-seller "The Matzah of Zion," repeating the bizarre Passover recipe and worse. The book still sells briskly among credulous Muslims. The Egyptian government paper Al-Ahram expounded in 2000 with an article, Jewish Matzah Made from Arab Blood.

Rumors about the gory acts of Israelis against Arabs and Muslims swirl in Arab towns. That is where the Swedish "journalist" scooped up his nonstory. Palestinian television frequently reports its own "exclusives." Recent stories have included accusations of giant killer rats released by Israelis to attack Palestinians, monstrous medical experiments, deliberate AIDS infections, Palestinians' eyes burned with red-hot stakes.
Posted by TS at 05:34 AM | Comments (0)
From Regret to Fury at London Times
White House press secretary Robert Gibbs "regrets," but where's the fury?
Misreporting the nuances between Israeli-U.S. relations is big lately. First, there was this JTA report about inaccurate reports by Ha'aretz's Barak Ravid. Now, Noah Pollak at Commentary slams Sheera Frenkel of the UK Times:
The report is entitled "US fury as Israel defies settlement freeze call," and in case the point wasn't made clear by the title, the piece goes on to declare that

Israeli plans to authorise the construction of hundreds of houses in the occupied West Bank sparked furious protests from American and Palestinian officials yesterday.

"Fury" and "furious protests" from the Obama administration? I hadn't seen them mentioned anywhere else. The dictionary says that furious means "full of or characterized by extreme anger; raging." What was the American reaction? Right there, a few paragraphs down in Frenkel's own story, we read that:

"We regret the reports of Israel's plans to approve additional settlement construction," Robert Gibbs, the White House spokesman, said. . . . Another US official said: "In the end America will be forced to do what is necessary to bring the Israelis and the Palestinians back to the negotiation table. But the Netanyahu Government has proven difficult to work with."

There is regret, and a belief that Netanyahu has been difficult to work with, a feeling about Obama that is surely reciprocated by the Israelis. But who could characterize this as "fury"?
Answer: Sheera Frankel of T.K. Bhat infamy.
Posted by TS at 05:16 AM | Comments (0)
IDF Investigates 'McGirk Affair'
The IDF military police have launched an investigation of the so-called "McGirk Affair" involving the alleged shooting of three of Khaled Abed Rabbo's daughters. The family's story was reported widely in the Western press, with serious inconsistencies among the accounts, but the general outline of the story was that an Israeli soldier shot to death two Abed Rabbo sisters in cold blood and seriously injured a third.
In its report on alleged killings of civilians waving white flags ("Precisely Wrong"), Human Rights Watch featured this family's stories and ignored the many inconsistencies among the media accounts.
One wonders which version of the story Khaled Abed Rabbo shared with investigators last week at Erez crossing.
Update: NGO-Monitor flagged yet another version of Khaled Abed Rabbo's story, this one told in Arabic to Al-Shark Alawsat.
Posted by TS at 04:14 AM | Comments (0)
September 07, 2009
AP Ignores IAEA Position on Syrian Uranium
In a story about today's meeting of the International Atomic Energy Agency concerning Iran and Syria, AP's Veronika Oleksyn reports from Vienna that Syria has declined
to provide satisfactory explanations for unusual finds of traces of uranium.

Damascus alleges that Israel used bombs or missiles containing depleted uranium which hardens metal and allows it to penetrate deeper in attacking the site. Israel has repeatedly told the IAEA it did not use such ordnance.
But its not just Israel which has denied the use of uranium weapons in the attack on the Syrian facility. The IAEA itself has in fact discounted the Syrian allegation that the uranium originated from Israeli weaponry. The June 5, 2009 IAEA report states:
As indicated in the Director General's last report (GOV/2009/9, para. 7), the Agency has assessed that there is a low probability that the uranium particles found at the Dair Alzour site were introduced by the use of the missiles used to destroy the building on that site. Since that report, no progress has been made in substantiating Syria's explanation. The Agency is continuing with its assessment of the origin of the uranium.
For related story, see here.
Posted by TS at 06:39 AM | Comments (0)
Bad Headline of the Day
The Bad Headline of the Day Award goes to the International Herald Tribune, for its page 4 headline:
Hamas feels religious pressure in Gaza
This headline, as well as the accompanying article, imply that Hamas is a victim of increased Islamization in the Gaza Strip, and is being bullied by more religious elements. The article begins:
An acute struggle is emerging within the Hamas movement

, which rules this coastal Palestinian strip, over the extent and nature of the Islamist identity. Guardians of religious morality, some self-appointed, have south to impose their views in recent months.

So far, top government officials have pushed them back, but it remains unclear for how long. (Emphasis added.)
Is it true that Hamas is the victim of religious pressure from competing Islamist groups and overly ambitious mid-level Hamas officials, as the article implies? Or does the Intelligence and Terrorism Information Center have it right, identifying Hamas itself as the source of the Islamization process? The center's report about the "Islamization Process Promoted by Hamas in the Gaza Strip" reads:
. . . Hamas's policy over the last two years has been characterized by enforcing a gradual process of Islamization on the Gaza Strip population. While the process is measured and calculated, it is carried out persistently, systematically, with tremendous determination (accompanied by a great deal of self confidence), and invasively (pertaining to all areas of life). Above all that, the final goal envisioned by Hamas is the establishment of an Islamic entity in Gaza, not immediately but rather in a gradual process, turing the Gaza Strip into a stronghold of radical Islam as viewed by Hamas (and not by Al-Qaeda).
The question boils down: Does Hamas "feel" the the religious pressure of the increasing Islamization of the Gaza Strip, or is Hamas the cause behind the Islamization process?
Posted by TS at 04:33 AM | Comments (0)
HRW Bias, Redux
Elder of Ziyon does an excellent job fisking the pattern of bias in "Precisely Wrong," a Human Rights Watch report castigating the IDF for the death of civilians in Cast Lead. The pattern, roughly, is this: accept "testimony" by Palestinian "witnesses" and ignore contradictory information from other sources, including the Palestinian Center for Human Rights and Hamas Web sites.
Sound familiar? It reminds us of 2006 HRW claims that no Hezbollah fighters had operated in Srifa, a southern Lebanese town attacked by Israel, despite evidence to the contrary in the New York Times.
Posted by TS at 04:05 AM | Comments (0)
Hamas Censors Brutal Killings of Jihadists
The censoring green hand of Hamas blocks the lens of a television camera; the inscription reads "Taking pictures is not allowed." Right: The mosque in Rafah where the fighting against the jihad networks took place, with a chunk taken out of the minaret (Al-Quds website, August 16, 2009) Courtesy of Intelligence and Terrorism Information Center.
The Intelligence and Terrorism Information Center released a report containing pictures and recordings of the August 2009 battles near the Ibn Taymiyyah mosque in Rafah which provide rare evidence of the brutality of Hamas' suppression of its jihadi-Salafist opponents. The Izz al-Din al-Qassam Brigades executed jihadists, wounded nearby civilians, fired RPGs at the Ibn Taymiyyah mosque and searched ambulances evacuating casualties.
The center notes:
Hamas' attempt at concealment: During the fighting an order was given to the local commander to "make sure that no one takes pictures, not with a cellular [phone] or with anything else." According to the Palestinian Centre for Human Rights report, the Hamas police closed off the area where the fighting was going on as well as the main hospital in the city [Rafah], and forbade access to journalists. As a result, the media in the Gaza Strip, including Western news agencies, had difficulties in sending pictures from the battlefield, especially pictures of Izz al-Din al-Qassam Brigades operatives eliminating their opponents.
Posted by TS at 02:49 AM | Comments (0)
September 06, 2009
Ashraf Khalil Can't Swallow Reality
Ashraf Khalil, who reported for the Los Angeles Times from the Gaza Strip during last winter's fighting, explores a worthwhile subject -- Egyptian-Israel relations -- in an Op-Ed in the Jerusalem Post. Yet, he cannot bring himself to acknowledge a basic reality -- that Jerusalem is the capital of Israel. He writes:
It's becoming harder for Cairo to hide the fact that its foreign policy interests are more in line with Tel Aviv than ever.
Although an important Ministry of Defense facility is located in Tel Aviv, Israel's seat of government is in Jerusalem --whether or not Ashraf Khalil likes it. Khalil must feel right at home at the Los Angeles Times, which in the past has stood by other writers who likewise referred to Tel Aviv as Israel's capital.
Posted by TS at 08:03 AM | Comments (0)
AP Wrong on Jewish Quarter
In a fascinating article about Arabs moving into Jewish neighborhoods in Jerusalem, AP's Ben Hubbard incorrectly writes that "the Old City's Jewish Quarter is closed to Arabs." In fact, Arabs can and do live in the Jewish Quarter. As noted earlier by CAMERA's Alex Safian:
According to the most recent figures available online (from the 1995 Census of Population and Housing) at least 480 Muslims lived in the Jewish Quarter, making up 22.5% of the quarter's population. In contrast, Jews made up just 1.68% of the Muslim Quarter's population. Even in absolute terms, the 480 Muslims living in the Jewish Quarter outnumbered the 380 Jews living in the much larger Muslim Quarter. (The Jerusalem Statistical Yearbook gives the total population of the quarters, along with their numerical designation – the Jewish Quarter is Sub-quarter 63 of Jerusalem, the Muslim Quarter Sub-quarter 64. The Census of Population and Housing then gives the religious breakdown of the population by sub-quarter and even by the more detailed measure of statistical area; the relevant figures are on and near line 1639 of this spreadsheet.)
Posted by TS at 06:27 AM | Comments (2)
JTA Questions Ha'aretz Reports on Israel-U.S. Relations
"Are inaccurate media reports hurting U.S.-Israel relationship?" is the headline of a JTA article by Eric Fingerhut questioning the accuracy of three articles by Ha'aretz's Barak Ravid.
President Obama told Jewish leaders in a July meeting that Israel needs to "engage in serious self-reflection." Israel's new U.S. ambassador was "summoned" to the State Department to be lectured about Israel's building settlements in Jerusalem. Israeli Prime Minister Benjamin Netanyahu called two top aides to Obama "self-hating Jews."

All of these reports appeared in the Israeli daily Ha'aretz.

And they've all been disputed or denied by the principals involved.

Nevertheless, the tales have become an important part of the day-to-day narrative on the U.S.-Israel relationship. Partisans and pundits on both sides of the political divide have seized on the anonymously sourced stories to herald their own preconceived notions of the Obama administration and Netanyahu government. . . .

With the Obama administration perceived in Israel as being more demanding than previous U.S. administrations, some conservative members of the Israeli government may be trying to manipulate the tension that has arisen over the settlement dispute by leaking stories to portray a more dire situation, observed Yoram Peri, director of the Gildenhorn Center for Israeli Studies at the University of Maryland and an expert in Israeli politics and media.

Peri cautioned that one must separate public rhetoric from real diplomatic process, which happens mostly behind closed doors.

He also attributed the problematic reporting to "the serious decline in the level of Israeli media." Today's Internet-driven news culture -- where "scoops" are more highly prized than ever -- and the financial difficulties facing newspapers have contributed to a tabloidization of the news in Israel, Peri said.

"The Ha'aretz of today is not the Ha'aretz of 10 years ago," Peri said.
For more on the Ha'aretz of today, see here.
Posted by TS at 04:17 AM | Comments (0)
September 03, 2009
Not Quite the Full "Range" of Palestinian Holocaust Attitudes
Holocaust denial and other anti-Semetic attitudes rampant in the Arab world are certainly issues that should be explored by the press. So the recent AP coverage of Holocaust denial by a Hamas leader is important and necessary.
But in such reports, as in all reports, precise language is necessary — especially when making blanket statements about entire groups. Which is why the following blanket assertion raised eyebrows:
Many Palestinians are reluctant to acknowledge Jewish suffering, fearing it might diminish their own. Attitudes toward the Holocaust range from outright denial to challenging its scope.
There's little doubt that too many Palestinians deny the Holocaust, as did this Hamas leader, or question its scope, as did Palestinian leader in the West Bank Mahmoud Abbas. Such attitudes appear to be widespread enough that, when an Israeli Arab opened a small museum acknowledging the Holocaust as a reality, the editor of Arab newspaper in Israel said his ideas are "strange and unacceptable to most Palestinians." (The editor went so far as to suggest that the museum founder suffers from "brain damage.")
And this anecdotal evidence is backed by the harder kind: According to a recent Haifa University poll, about 40 percent of Israeli Arabs believe the Holocaust never occurred. It's certainly within the realm of possibility that many or most of the remaining 60 percent challenge its scope.
Nonetheless, it's a stretch to suggest that, in the entire "range" of Palestinian attitudes, there is no segment, however small, that acknowledges the Holocaust occurred as documented by Western historiography.
One better alternative, if this is what the reporter found, would be to write: "Attitudes toward the Holocaust tend to range from outright denial to challenging its scope."
If inserting those two words seems like a small difference, well, that's another argument in favor of opting for the more precise language.
Posted by GI at 05:02 PM | Comments (0)
Addameer Caught Lying on Palestinian Prisoners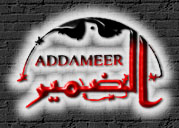 What do Jimmy Carter, Time Magazine, and John Dugard all have in common? Besides having been featured on CAMERA's Web site, they have also all cited figures on Palestinian prisoners from the Addameer Prisoner Support and Human Rights Association.
Elder of Ziyon just caught Addameer red-handed, exposing how the organization has exaggerated the number of Palestinian prisoners held since 1967.
Posted by TS at 05:29 AM | Comments (0)
First Aftonbladet, now El Mundo
Herb Keinon of the Jerusalem Post reports today:
First the Swedish newspaper Aftonbladet cited freedom of the press as its justification for accusing IDF soldiers of harvesting Palestinian organs. Now the Spanish daily El Mundo is using the same argument to defend including Holocaust denier David Irving among its list of experts to be interviewed this week to mark 70 years since the start of World War II.

An interview with Irving, who served time in an Austrian prison for his Holocaust denial, is scheduled to appear in the paper on Saturday, a day after an interview with Yad Vashem's chairman Avner Shalev. . . .

[Israeli Ambassador Raphael] Schutz wrote that one of the problems facing the post-modern age was an inability to recognize anything as true, saying instead that there were only "different narratives."

As such, Schutz wrote, there was no capacity to differentiate between truth and lies, between the important and the superfluous. And in this world void of truth, everything is at the same level - the murderer and the victim, the wise and the ignorant, Mozart's opera and the latest pop song.
Posted by TS at 04:41 AM | Comments (0)
September 01, 2009
Hamas Condemns U.N. for 'War Crime' of Teaching Holocaust
Hamas is condemning the United Nations for switching to a new textbook for Gaza eighth-graders that includes a chapter on the Holocaust.
According to an Aug. 31 report by JTA:
In an open letter sent Sunday to the head of the United Nations Relief and Works Agency, which runs schools for 200,000 Gazan children, Hamas called the systematic murder of Jews during the Holocaust 'a lie invented by the Zionists' and said it would 'refuse to let our children study' it.
Moreover, Hamas religious leader Younis al-Astal on Monday "called the teaching of the Holocaust to Palestinian children a 'war crime' and the 'marketing a lie and spreading it,' " according to the Associated Press.
An UNRWA spokesman told Reuters that the Holocaust was not part of the current curriculum, and would not comment on any possible changes.
The questions that arise are:
(1) Why didn't U.N. textbooks include information on the Holocaust BEFORE now? How many years has UNRWA been responsible for providing textbooks to Gaza schoolchildren?
(2) Why wasn't the Holocaust part of the curriculum before? And why won't the U.N. take a public position on whether it will be included in the students' curriculum in the future?
(3) Will any mainstream newspaper report this?
Posted by sas at 11:04 AM | Comments (1)