« July 2009 | Main | September 2009 »
August 31, 2009
Washington Post: The Pot's Still Calling the Kettles Black
One year after The Washington Post criticized Random House for doing what it did — refuse to publish a work that might incite some Muslims to violence — the newspaper's done the same to another publisher. The new target of Post editorial writers is Yale University Press.
The editorial "Self-Muzzled at Yale; A university publisher allows the possibility of Muslim reaction to alter an academic work" (August 23) properly admonishes Yale University Press for "self-censorship." According to Post editorial writers, the press has decided to strip all artistic images from Jytte Klausen's Cartoons that Shook the World. The book is said to be a scholarly inquiry into "the 12 cartoons of the prophet Muhammad whose 2006 appearance in a Danish paper ignited a worldwide controversy" including riots in which scores died. The offending cartoons and other illustrations of historic note will be deleted due to fear of more mayhem by enraged Muslims. (The Post's use of "the prophet Muhammad," rather than "Muhammad" or "Islam's prophet Muhammad," rings oddly, almost as if a religious acceptance or endorsement.)
"In effect, Yale University Press is allowing violent extremists to set the terms of free speech. As an academic press that embraces the university's motto of 'Lux et Veritas' ["light and truth"], it should be ashamed," The Post opines.
The paper similarly skewered another publisher in its Aug. 22, 2008 editorial: "Random Error: Fearing the risk of violence, a publisher capitulates." The Post excoriated Random House for cancelling publication of The Jewel of Medina, a romance novel about Mohammed and his wives. The venerable publisher surrendered not to threats from Iranian ayatollahs or al Qaeda video warnings but in reaction to a doomsday forecast from one Denise Spellberg, professor of Islamic history at the University of Texas.
To Yale University Press and Random House The Post talks the talk. But for its readers it won't walk the walk. As CAMERA noted a year ago, the paper itself — like virtually all major American news media — has refused to publish the Danish drawings: "Readers still expect The Post to publish those Danish cartoons, better late than never, and in the process of upholding the rights of free speech and a free press, show Random House the way." Not only Random House, but now Yale University Press also and, at last, itself.
The Post's amnesiac compulsion to berate others for failing to uphold freedom of the press over publication of the Mohammad cartoons suggests psychological projection — imputing to others failings one suspects in oneself. Publication would be a cure, and perhaps free The Post to report, with appropriate illustrations, the widespread use of images in anti-Jewish, anti-Israel incitement in the Middle East.
Posted by ER at 04:58 PM | Comments (0)
August 28, 2009
The Elders Visit Israel
The Elders are visiting Israel this week. No, not the Elders of Zion, the mythological Jewish cabal that inhabits the minds of Jew-haters everywhere. These Elders are a group of well-known political figures who for the most part share an aversion to Israel. The group is notable because of the high offices achieved by its members and because of their leadership of organizations involved with human rights. Several of the most visible Elders have also distinguished themselves as vehement critics of Israel who side with the Jewish state's enemies. This is not exactly the group one would look to for impartiality in dealing with the Israeli-Palestinian conflict.
Who are some of the more prominent Elders?
There is former President Jimmy Carter, a prolific critic of Israel, whose writings CAMERA has critiqued extensively. In recent years, Carter has lent his prestige to a campaign to condemn Israel and its supporters, while promoting engagement with the terrorist group Hamas. CAMERA published a monograph documenting the errors in his unbalanced book Peace not Apartheid written in 2006. CAMERA also reviewed his most recent book, again pointing out a new bevy of factual errors.
South African Archbishop Desmond Tutu has long used his moral stature to direct hostility towards Israel. He has lent his prestige to the campaign to tar Israel with the Apartheid smear.
Mary Robinson, who was recently awarded the Medal of Freedom and is a former President of Ireland and former United Nations High Commissioner on Human Rights, is also participating. Robinson's most notable foray into the politics of the conflict was her role in paving the way for the Durban conference against Racism in 2001, which was hijacked by anti-Israel and anti-Jewish racists.
It is not clear at this time what role the Elders will have. Will officials currently crafting a new peace plan seek their advice?
It is hard to envision how these highly partisan and celebrated denouncers of Israel can move the process of reconciliation forward.
Posted by SS at 04:26 PM | Comments (2)
August 23, 2009
Media AWOL in Coverage of Majority Leader in Israel
Steny Hoyer (D-Maryland), the second ranking member of the U.S. House of Representatives as Majority Leader, while on an August fact-finding tour of Israel, granted an important interview to the Jerusalem Post. However, America's mainstream news media was almost entirely silent about the matter. Was this silence due to the fact that Mr. Hoyer's statements sharply contradicted the mainstream media's dominant perspective on settlements (as an obstacle to peace) and the status of Jerusalem (promote Arab control of eastern Jerusalem)? Examples of this perspective: Time Magazine article on settlements, Los Angeles Times article on the status of Jerusalem, Boston Globe commentary on settlements and a New York Times editorial on settlements.
The Post quoted Mr. Hoyer on the settlements issue:
It was a mistake to dwell on the settlements and to make settlement construction the key issue, when it was not.
The Post asked Mr. Hoyer about the status of Jerusalem:
"I think there is a significant difference between what we are talking about in the West Bank and Jerusalem itself, which is an integrated city; which is a whole," he said. "My view is that it will remain whole, and therefore - I don't want to anticipate the endgame - but I don't think the partitioning of Jerusalem is a reasonable outcome. I don't think it will happen."
Posted by MK at 08:23 PM | Comments (0)
August 19, 2009
Arab Denial of Jewish History
Since 1967, there has been a growing attempt by Palestinians to marshal the religious fervor of the Arab and Muslim world in order to wrest Jerusalem from Israeli control. Their campaign involves denying the Jewish connection to Jerusalem, the Temple Mount, and the even the Western Wall while advancing Jerusalem and particularly the al-Aqsa compound's sacredness in contemporary Islam. Palestinian Media Watch reports on the latest attempt by a Palestinian Authority academic.
Shamekh Alawneh, a lecturer in modern history at Al-Quds Open University, says the Jews invented the connection to the Wall for political purposes, to convince European Jews and Zionists to come to "Palestine."

"It has no historical roots," he said on a television program called Jerusalem - History and Culture. "This is political terminology to win the hearts and the support of the Zionists in Europe, so they would emigrate and come to Palestine. Nothing more!"
The video, uploaded and translated by Palestinian Media Watch, can be viewed below.
Past negotiations have faltered on Palestinian denial of any Jewish religious or historical connection and rights to the Temple Mount. President Obama, who is planning to unveil a new peace initiative should take heed!
Read more about Arab attempts to deny and erase Jewish roots here.
Posted by RH at 12:50 PM | Comments (0)
The "Moderate" Hamas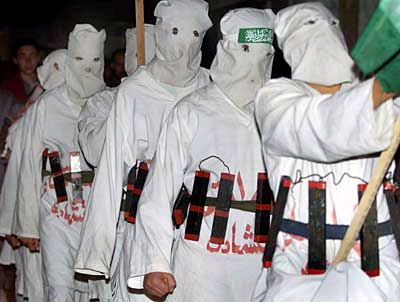 Hamas "moderates"?
It's bad enough to blindly trumpet Fatah as "moderate," especially after their recent convention gave ample reason for doubt about that characterization.
But Hamas? The terrorist organization responsible for murdering hundreds of Israeli civilians, throwing even Palestinian rivals from rooftops, and spewing anti-Semitic rhetoric?
According to China — or at least its state-run news agency Xinhua — Hamas is "moderate."
Xinhua reported last week:
Islamic Hamas movement and Palestinian President Mahmoud Abbas's Fatah party on Saturday traded accusations over deadly clashes that claimed the lives of 22 people in the Hamas-controlled Gaza Strip.

The clashes erupted Friday afternoon when an al-Qaida-inspired Imam announced the birth of an Islamic emirate in defiance of the moderate Islamic Hamas movement that has ruled the territory for the past two years.
The news organization, by contrast, routinely refers to Benjamin Netanyahu as "hawkish."
Posted by GI at 11:39 AM | Comments (0)
August 18, 2009
Leading Swedish Daily Newspaper Accuses IDF of Stealing Palestinian Organs
The Swedish daily Aftonbladet reported this week that IDF soldiers abduct Palestinians in the West Bank and Gaza Strip to steal their organs, reports Ha'aretz.
The double spread article, written by Donald Boström and featured in the paper's cultural section, centers around Palestinian claims that young men from the Territories have been seized by Israel, only to have their bodies returned with missing organs.
The article also attempts to link this phenomenon to the recently exposed crime syndicate in New Jersey, during which several American Rabbis were arrested on charges of conspiring to broker sale of human kidneys.
The article has already received criticism from within Sweden – the daily Sydsvenskan ran an opinion piece blasting Aftonbladet for anti-Semitism and for promoting a Jewish blood libel.
Israeli Foreign Ministry spokesman Yigal Palmor had this to say about the article:
this piece is a shocking example by a popular newspaper of appalling hysteria. Demonization of Israel has become a holy target for the editors, which justifies the most depraved means in their eyes. We expect any Swedish citizen who cares about democracy, to fully reject the libelous propaganda and encouragement of hate crimes included in this disgraceful article.

Posted by NB
Posted by CameraBlog at 03:53 PM | Comments (1)
Maariv's Ben-Dror Yemini Exposes Senior HRW Staffer Joe Stork, Based on CAMERA Research
Based on research by CAMERA's Alex Safian, Maariv's Ben-Dror Yemini highlights the continued support given by Joe Stork, deputy director of Human Rights Watch's Middle East and North Africa division, to Palestinian terrorism against Israel. Previously, Stork has called for the destruction of Israel and has explicitly supported Palestinian violence against Israel. For example, in a 1976 article he wrote that:
... spontaneous random outbreaks of violence [by Palestinians against Jews] ... make apparent the revolutionary potential of the Palestinian masses.
Stork also denounced the idea of a negotiated solution to the Arab/Israeli conflict, writing that:
One thing that is clear from this survey, but which has been conveniently shelved by the Arab regimes today, is that the struggle against Zionism can only be won by struggling against imperialism, not by striking deals with future Kissingers.
Here is Yemeni's full article:
(Article by Ben-Dror Yemini, Ma'ariv, 16.8.09, p. 13) Joe Stork, a senior official in Human Rights Watch, which accuses the IDF of killing Palestinians who waved white flags, is a fanatical supporter of the elimination of Israel. He was a friend of Saddam, ruled out negotiations and supported the Munich Massacre, which "provided an important boost in morale among Palestinians."

Last Thursday, many world media outlets covered the press conference in which a senior Human Rights Watch official, Joe Stork, presented the report accusing Israel of killing twelve Palestinians in the Gaza Strip who waved white flags during Operation Cast Lead. Stork, the person identified with the report, has a unique history of Israel-hating: He supported the murder of Israeli athletes in Munich, was an avid supporter of Saddam Hussein and more.

Several times in the past, Stork has called for the destruction of Israel and is a veteran supporter of Palestinian terrorism. Already as a student, Stork was amongst the founders of a new radical leftist group, which was formed based on the claim that other leftist groups were not sufficiently critical of Israel and of the United States' support of it. Already in 1976, Stork participated in a conference organized by Saddam Hussein which celebrated the first anniversary of the UN decision that equated Zionism with racism. Stork, needless to say, arrived at the conference as a prominent supporter of Palestinian terrorism and as an opponent to the existence of the State of Israel. He also labeled Palestinian violence against Israel as "revolutionary potential of the Palestinian masses" – language that was typical of fanatical Marxists.

In articles which he authored during the 1970's, Stork stated that he was against the very existence of Israel as an "imperialistic entity" and, to this end, provided counsel to Arab regimes on how to eliminate the Zionist regime. He also was opposed to any negotiations since this meant recognizing its existence: "Zionism may be defeated only by fighting imperialism," wrote Stork, "and not through deals with Kissingers."

On other occasions, Stork expressed his position that the global Left must subordinate itself to the PLO in order to strengthen elements that opposed any accord with Israel. It would seem that he has not changed his ways since then. He is still conceptually subordinate to those who have maintained their opposition to the existence of the State of Israel. Once the world's radical left supported the PLO. Today, part of the global Left supports Hamas.

Stork, of course, is not alone. The hate ships that arrive from time to time, or attempt to arrive, to the shores of Gaza, are full of radicals of his ilk. They do not identify with efforts towards compromise or peace. On the contrary, they identify with those who are continuing the old line that supports the elimination of Israel. And what would happen if the PLO should decide to enter the negotiations track? Stork already recommended years ago that the Palestinian left splinter in order to continue the resistance. Hamas obeyed. It is possible to guess where Stork's heart lays.

Where does Stork stand regarding matters of objectivity and neutrality? He criticized Professor Ibrahim Abu-Lughod, himself a PLO figure, because he edited an anthology which tried, at least seemingly, to produce a balanced presentation. "Academic neutrality is deceitful," wrote Stork. And what about factual accuracy? Stork claimed that Menachem Begin said that, 'The Palestinians are two-legged animals." In fact, Begin said that those who come to kill children are "two-legged animals." The difference is, of course, huge. Stork, time after time, justifies his high standing in the industry of hate and lies against Israel.

Stork reached his peak in a statement published by the Middle East Research and Information Project, which dealt with gathering information on the Middle East conflict, and in which Stork was a leading figure. This was a statement that included explicit support for the murder of the eleven Israeli athletes at the Munich Olympics: "Munich and similar actions cannot create or substitute for a mass revolutionary movement," the statement said, "But we should comprehend the achievement of the Munich action…It has provided an important boost in morale among Palestinians in the camps." Murder and terrorism, if so, are a matter of morale.

This is the man. A radical Marxist whose positions have not changed over the years. On the contrary. Objectivity, neutrality or sticking to the facts are not Stork's strong suit. He even proudly exclaims that there is no need for neutrality.

Is it possible to relate seriously to a report against Israel which this man stands behind? Both Camera and Professor Gerald Steinberg have revealed worrying data on the leaders of Human Rights Watch and on the two people who head its Middle East Department – Sarah Leah Whitson and Joe Stork – even before its latest report and unconnected to it. The organization, as part of its false presentation, issued polite condemnations of Hamas rocket fire. But it seems that such blatant anti-Israel bias leaves room for doubt. A Stork produced report on Israel is about as objective as a report by Baruch Marzel on Hebron.

Israel is called upon to provide explanations in the wake of Human Rights Watch reports. It is about time that Israel publicly exposed the ideological roots of several of this organization's leaders and demands the dismissal of these supporters of terrorism and haters of Israel. Until then, Israel, justifiably, cannot seriously comment on criticism from such a body.
Posted by at 02:27 PM | Comments (1)
August 17, 2009
Nearly Half of All Palestinian Authority Wages are for Members of Security Forces
A World Bank report updating the economic status of the West Bank and Gaza reveals some interesting information that does not seem to garner much attention.
Palestinian security forces - Ministry of Interior and National Security - account for 43 percent of all wages paid by the Palestinian Authority. 31 percent of the PA's total budget is spent on the Ministry of Interior and National Security. This large force exists despite the fact that the PA does not have regular armed forces to defend it from external aggression. In addition, there are numerous armed militias not on the Fatah-dominated PA payroll.
By way of comparison, Israel spends 3.8 percent of its total expenditure on public order (CBS Statistical Abstract of Israel, 2008 table 11.1). Another 20 percent goes to national defense.
An article in the Asia Times spells out some underlying concerns with this inordinate Palestinian expenditure and employment in security forces.
Posted by SS at 01:24 PM | Comments (0)
August 14, 2009
CJR Covers Bogus Quote Corrections
The Columbia Journalism Review today has a thorough article by Craig Silverman (of www.regrettheerror.com) about recent corrections at the New York Times, Chicago Tribune, Toronto Star, Boston Globe, Time Magazine, and others, concerning a bogus quote attributed to former Israeli chief of staff Moshe Ya'alon. The corrections, prompted by CAMERA staff, were first described by CAMERA's Gilead Ini in his article "Demise of a Hoax Quote: CAMERA Prompts Article in Toronto Star, Corrections on Ya'alon Statement."
Silverman writes:
The Committee for Accuracy in Middle East Reporting in America, or CAMERA, a media watchdog founded to combat what was perceived as anti-Israeli press coverage, managed to get each of the aforementioned publications to print corrections. The hope now is that anyone tempted to use the quote will encounter the corrections and be forewarned.

What's interesting is that each paper had a different process for issuing a correction, and the resulting corrections also varied in their content—reinforcing the reality that we have yet to establish an industry standard. This is a source of frustration to readers, viewers, and listeners demanding satisfaction for a factual error. . . .

Of note is the fact that two of the papers that seemed to do the best job handling the issue employ an ombudsman or a standards editor. This is important to keep in mind, given the ongoing disappearance of the newspaper ombudsman.

"To us, it seemed that the [Chicago] Tribune and Toronto Star corrections were the most thorough, and they also seemed to pursue it the most extensively and really tried to dig for the truth," Ini said. "I wondered if one of reasons was that both have an editor whose role is to do this kind of thing."

The Star even assigned a reporter to write a feature about the quote for this past Saturday's paper. Among other details, the story explained why the quote appeared in the paper back in 2004. (The Star investigated the issue after CAMERA recently got in touch.) This, coupled with its clear and informative correction, should leave no doubt in the minds of readers about the nature of the mistake and the correct information.
Read the Toronto Star story here.
CAMERA yesterday notified Los Angeles Times Readers Representative Jamie Gold that the bogus quote also appeared in a June 17, 2003 Op-Ed by Rashid Khalidi in that paper ("Can Hamas Cut a Deal for Peace?"). We await word on a correction.
Posted by TS at 02:16 PM | Comments (0)
World Bank Offers Sobering Bottom Line on West Bank and Gaza
There have been reports recently suggesting that the economic situation in the West Bank is improving. A World Bank report published on June 8, 2009, however, offers a sober assessment of the overall Palestinian economic situation, finding that "Large amounts of donor aid have produced insignificant growth and an increase in economic dependency." Some 30 percent of the Palestinian gross domestic product is now made up of foreign donations. The current policy of massive foreign aid seems to be just temporarily shoring up an ill economy. Some achievements are noted. The Palestinian Authority has instituted some fiscal reforms. But the private sector has seen little improvement and the need for foreign funds continues to grow.
The report itself exhibits a mindset locked into a narrow perspective on how to address the problem. It repeatedly lays responsibility for the difficulties of the Palestinian economy on Israeli measures, stating,

As a result of the Israeli security regime, the Palestinian economy has hollowed out.
When discussing the more serious situation in Gaza, it notes

Donors' intentions and efforts have been thwarted, to date, by the closure that continues to be imposed on Gaza and that does not allow the entry of such basic materials as cement, steel, glass, equipment and spare parts.
It concludes that
removing the closure policy on Gaza and the restrictions in the West Bank was deemed a precondition for recovery and reconstruction.
The problem with this assessment is that it does not acknowledge that Israeli measures are a response to the security threats it faces and can only be removed as the threat diminishes. Because the report does not address this issue (since it is political and not economic), it leaves the impression that all efforts should be put into convincing or pressuring Israel to abandon its security regimen.
There is also an inconsistency in the thinking about how to establish conditions conducive to peace between Israel and the Palestinians. The intent of the current policy of generous aid is to establish a degree of prosperity and build functioning institutions in the West Bank and Gaza so that Palestinians will be less inclined towards extremism and violence. The report calculates a decline of 34 % in Real per Capita GDP since 1999 and admits that none of the current models envision recovering that lost ground in the near future. Yet, it was under the more favorable economic conditions of 2000 that the second intifada exploded.
This suggests that without concurrent political progress, an improved economic environment may be irrelevant or even counterproductive. The recent election of hardliners and key instigators of the previous intifadas to the Fatah Central Commiittee suggests that lavishing aid on the Palestinians which creates dependency and lack of accountability for longterm societal malfeasance may be working at cross purposes with the international efforts to build a stable longterm environment for peace.
Posted by SS at 11:38 AM | Comments (0)
More Embarassing News for J Street
Jeremy Ben Ami
J Street Executive Director
Here's more evidence that J Street is hardly the "independent, legally unconnected" pro-Israel, pro-peace organization it says it is...
The Jerusalem Post reports on its funding:
The J Street political action committee has received tens of thousands of dollars in donations from dozens of Arab and Muslim Americans, as well as from several individuals connected to organizations doing Palestinian and Iranian issues advocacy, according to Federal Election Commission filings.
Posted by RH at 09:58 AM | Comments (0)
August 13, 2009
The Scoop on J Street's Pollster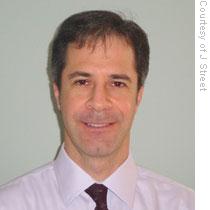 Former J Street VP Jim Gerstein
Earlier (see here and here) we examined J Street's problematic use of polls to suit its agenda. Now Noah Pollak at Commentary exposes the conflict of interest of Jim Gerstein, the head of the firm that carries out J Street's polls, as well as a former J Street vice president. The latter position is concealed in J Street's pr material.
Posted by TS at 08:14 AM | Comments (0)
August 12, 2009
Fatah In the Headlines: "Unreformed" and "Hard-Line" or ... "A New Generation"
Sultan Abu al Aynain
What a difference a headline makes. The Jerusalem Post titled its August 12 story about the conclusion of landmark Fatah meetings in Bethlehem : "New faces of an unreformed, hard-line Fatah" while the same day the New York Times, covering the same events, offered a cheery "Fatah Party Brings in a New Generation."
Like the headline, the Post story by correspondent Khaled abu Toameh presented a straightforward look at who is taking office in Fatah's Central Committee and what this signifies. He points out:


The assumption that Muhammad Dahlan, Jibril Rajoub, Marwan Barghoutii and Tawfik Tirawi are more moderate than old-timers like Ahmed Qurei, Nabil Sha'ath and Hani al-Hassan is completely mistaken. Fatah's strongman in Lebanon, Sultan Abu al Aynain (pictured above), who was also elected as member of the committee, is being described by some media outlets as one of Fatah's "fresh faces." But Fatah insiders say Abu al-Aynain is known as a "ruthless thug who does not hesitate to liquidate anyone who stands in his way."
No such straight talk in the Times. Like the headline, the story underneath tilted toward upbeat references to the new leaders being "pragmatic" and the "democratic process" boosting Fatah's "popularity." Various of the new leaders and participants were quoted with cheerful observations about an "honest competition" and an "energized" party. Though the reporter did note little significant change in Fatah policies was likely, the contrast to abu Toameh's candor about the important gathering presents one more case of the Times soft-pedalling the extent of Arab enmity directed against Israel.
Posted by AL at 12:31 PM | Comments (0)
August 07, 2009
Two States for Which People??
Today's editorial in Ha'aretz, about the Fatah convention that's taking place in the West Bank, leaves readers with a bit of a riddle.
In one sentence the editorial writer insists, "From Bethlehem, [Fatah] sent Jerusalem an unequivocal message: The Palestinian national movement's strategic choice is still two states for two peoples."
But a mere three sentences later, there's the following admission: "The convention rejected the demand to recognize Israel as the 'state of the Jewish people.'"
So there's the riddle. If Fatah supposedly accepts "two states for two people," but rejects the "state of the Jewish people," then who exactly are the two people that Fatah accepts having a state??

To their discredit, much of the media have glossed over the Abbas's open rejection of Israel as the Jewish state, even while, paradoxically, reporters continue to recite boilerplate language casting Abbas's "moderate" Fatah movement as accepting a two-state solution.
As made so clear in the self-contradictory Ha'aretz editorial, the question journalists need to start asking in light of Fatah's position is: Two states for whom?
Posted by GI at 02:44 PM | Comments (3)
August 06, 2009
AP Photo Labels Jews as Extremists, Muslims as Residents

An Associated Press photo [ID: 090805016913] on August 5, 2009 showing a scuffle that occurred in the context of the dispute over the eviction of Palestinian families living in Sheikh Jarrah carried the following caption:
Israeli border police officers listen to a Muslim man after scuffles broke out between Jewish extremists and Muslim residents next to the house where a Palestinian family was evicted from on Sunday, in the east Jerusalem neighborhood of Sheikh Jarrah, Wednesday, Aug. 5, 2009. The Unites States and European Union have criticized Israel for allowing two Palestinian families to be evicted by police in east Jerusalem and replaced by Jewish settlers. (AP Photo/Alex Kolomoisky) ** ISRAEL OUT **
The caption editorializes by assigning judgment-laden labels to the two sides. The Jews are described as extremists and the Muslims are simply identified as residents. On what basis does AP assign these labels?
On May 17, 2009, the Israeli Supreme Court ruled that an eviction order originally handed down in 1982 against the Arab families living on property owned by Sephardic Community Committee and Nahalat Shimon International in the Sheikh Jarrah neighborhood of East Jerusalem should be carried out. The Palestinian families were evicted for not paying rent to the legal owners. The eviction took place on Aug. 3.
The Jerusalem Post has covered the topic extensively, summarizing the current situation here. A more detailed version of the history of the property can be found here.

Posted by SS at 03:57 PM | Comments (1)
August 05, 2009
Bad News... (from the Netherlands)
We've added — much too belatedly — a no-so-new site to our blogroll.
It's called Bad News from the Netherlands. You can check out the blog by clicking on the previous link, or read about it by clicking through to our interview/article on the CAMERA Web site.
Why it hasn't been listed here since 2007 isn't clear. It must have just slipped our attention, because we've long known that the site fantastically captures, even if indirectly, so much of what can go wrong with Mideast media coverage.
Bad News from the Netherlands relays, well, bad news from the Netherlands. The articles posted on that blog are all genuine. Visit the site and imagine that the stories summarized there were published in the New York Times (or AP wire or Boston Globe or BBC or...) nearly on a daily basis. And imagine, moreover, that many of them were prominently featured on the front page. How would that impact the public's understanding of that little northern European country? How useful would such coverage be to ideological groups seeking to promote boycott and sanctions against the Netherlands? And now imagine a little bit harder — how much more material would there be for the Bad News blog if the Netherlands were faced with a Belgium and Denmark and France that were at war with it, and hosting and funding attacks against it?
Understand that and you understand much of why there's a disconnect between the reality of Israel and the version of the country all-too-often conveyed in the media and seized upon by anti-Israel advocacy groups (who in turn provide more fodder for selectively negative media coverage). The Netherlands is, after all, a normal country populated by normal people. But how ugly it can look when you hear "bad news" out of all context and proportion.
Posted by GI at 08:54 PM | Comments (0)