« Forces at West Bank Checkpoint Erase Al Jazeera Footage | Main | UPDATED: Palestians Kill Girl, Blame Israel? »
July 02, 2009
Media Silent About Illegal Arab Settlements on Jewish-Owned Land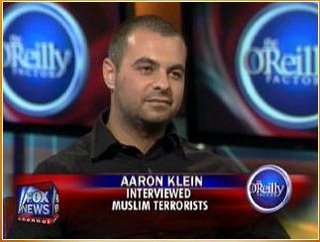 Aaron Klein, Jerusalem bureau chief for WorldNetDaily
While there is much media coverage condemning Israeli settlements, almost nothing is heard about Palestinian settlements in Jerusalem. But a new book by journalist Aaron Klein, entitled "The Late Great State of Israel: How Enemies Within and Without Threaten the Jewish Nation's Survival" documents the illegal occupation by Palestinian Arabs of Jewish-owned land in Jerusalem. Dr. Phyllis Chesler reviewed the book in the June 26 issue of Jewish Press. She wrote:
Over the years, Israelis have allowed more than "100,000 Palestinian Arabs to occupy tens of thousands of illegally constructed housing units in eastern and northern Jerusalem." Criminals, mercenaries, soldiers dressed as civilians, human bombs and their terrorist handlers, may all live among them. This illegal occupation or settlement activity began long after the 1967 Six-Day War. These Palestinian Arab immigrants were not living in these places before 1948 or 1967. Indeed, Klein documents that under Jordanian rule, one of these Jerusalem neighborhoods, Shoafat, was actually a forest.
These crowded Palestinian housing complexes, schools and villas are filled with weapons and fighters. Worse still: According to Klein, these Palestinian Arabs have built illegal settlements on land owned by the Jewish National Fund (JNF), which was entrusted to buy land for Jews in the Holy Land.
An earlier CAMERA monograph documented illegal Arab building in Jerusalem over 30 years since 1967 and human rights lawyer Justus Reid Weiner, a scholar-in-residence at the Jerusalem Center for Public Affairs, wrote a book in 2003 on illegal construction in Jerusalem (172 pp. including a fold-out map, charts, tables, documents, and aerial photographs). That study, Illegal Construction in Jerusalem, was reviewed by CAMERA Associate Director Alex Safian in Middle East Quarterly (Fall 2003). CAMERA has frequently tackled errors regarding illegal Arab construction.
Posted by MK at July 2, 2009 12:56 PM
Comments
Guidelines for posting
This is a moderated blog. We will not post comments that include racism, bigotry, threats, or factually inaccurate material.
Post a comment