« June 2009 | Main | August 2009 »
July 29, 2009
EWTN Fails to Respond to CAMERA's Letter
EWTN News Director, Raymond Arroyo
Caution to EWTN viewers: World Over can't be relied upon for the whole truth and nothing but the truth - at least when it comes to the Israeli/Arab conflict.
Eternal Word Television Network's News Director has failed to respond to CAMERA's letter containing constructive criticism of the May 15 broadcast of The World Over in which Br. Aloysius Florio (of Franciscan Monastery of the Holy Land in Wash., D.C.) provided unbalanced, inaccurate commentary pertaining to Israel during a review of the Pope's May 8-15 Holy Land trip. Likewise, follow-up voice-mail and e-mail messages to Mr. Arroyo have failed to elicit replies. Although EWTN is the pre-eminent Roman Catholic TV network, it doesn't speak for the hierarchy of the U.S. Roman Catholic Church since it is not under the authority of the U.S. Conference of Catholic Bishops.
The CAMERA letter pointed out that Br. Florio had reinforced the propagandistic claims made at the Pope's inter-religious dialogue by an unscheduled speaker, Sheik Tayseer Tamimi. Furthermore, neither Br. Florio nor Mr. Arroyo informed viewers that the Pope's spokesman had condemned Tamimi's diatribe. Likewise, Br. Florio provided a one-sided criticism of Israel's security barrier citing suffering by Palestinians. But neither Br. Florio nor Mr. Arroyo informed viewers that the security barrier, together with the use of security checkpoints, minimized the number of Palestinian terrorist incursions into Israel, thus saving many Israeli lives (authoritative statistics are cited in the letter) and, as well, eliminating Palestinian casualties which would have resulted from Israeli incursions responding to the attacks.
CAMERA urged EWTN, in the interest of fairness and accuracy, to issue a clarification (or correction) in a forthcoming broadcast of the World Over.
Read the July 14, 2009 CAMERA letter to EWTN.
Posted by MK at 12:58 PM | Comments (1)
July 28, 2009
Human Rights Watch Pleads Innocent. It's Not.
Sarah Leah Whitson, Human Rights Watch's senior official in the Middle East, suggests that critics of her organization offer no concrete criticism, but only baseless "griping and whining." In a discussion with the Jerusalem Post, she laid down the following challenge:
"Please, if there is something we got wrong, if one of the incidents or attacks we described is wrong, I would love to hear it. Because the Gerald Steinbergs of this world, and I guess now the Sharanskys of this world, love to give blanket denials, love to give blanket dismissals. But let's get down to the facts and let me know, did we get the fact wrong on any of these cases."
The truth is, organizations including CAMERA and NGO Monitor have frequently relayed specific examples of shoddy and misleading work by HRW, which are glibly dismissed or even ignored by the organization.
CAMERA told HRW, for example, that its claim to have "found no cases in which Hezbollah deliberately used civilians as shields to protect them from retaliatory IDF attack" during the 2006 Lebanon war ignores numerous documented instances of this very practice. We told HRW that, according to the Associated Press, "Hezbollah fighters in civilian clothes entered the village [of Marwaheen] and set up launchers to fire rockets south into Israel. The guerrillas moved the launchers around, putting one on top of a house that was subsequently destroyed." AP also cited a local witness who "saw a Hezbollah fighter set up a rocket launcher with a timer on a nearby hillside, then run to the other side of the village near her home, taking refuge between civilian houses." HRW's response to this information? Silence.
We also let HRW know that its report on the Lebanon war wrongly claimed there was "no evidence that there had been Hezbollah military activity around the areas targeted by the IDF" in Srifa and other towns, including no dead or wounded fighters. But a town official told the New York Times that "a majority" of those buried in the Srifa's rubble "were fighters belonging to Hezbollah and the allied Amal Party." Again, HRW declined to correct its misinformation.
Whitson claimed in this newspaper that HRW "would love to hear" any example of "something we got wrong." So now, again, it has. The question is will the organization correct the record and redress the harm done by its false charges. That would mean, at the very least, publicizing the corrections as widely as it did the falsehoods. It would also mean desisting from the biased approach that has guided the group's work with regard to Israel.
See more here.
Posted by GI at 10:56 AM | Comments (0)
July 27, 2009
JCPA Publishes Key Brief on Sheikh Jarrah
Nadav Shragai's JCPA backgrounder, The U.S.-Israeli Dispute over Building in Jerusalem: The Sheikh Jarrah-Shimon HaTzadik Neighborhood, fills in what the media leaves out.
Posted by TS at 04:08 AM | Comments (0)
July 23, 2009
Kuwaiti Raises Voice Against Breaking the Silence
Breaking the Silence, whose latest report -- nothing more than unsubstantiated rumors -- was embraced by the British press, has received a cool response from Kuwaiti Abdallah al–Hadlaq. Al-Hadlaq wrote in the Kuwaiti paper Al-Watan July 19:
"Allah testifies that they are lying"

A non-governmental Israeli organization claims that the IDF that attacked Gaza and the ostracized Hamas used local civilians as human shields and opened fire indiscriminately. The report by "Breaking the Silence" says the IDF destroyed buildings, mosques and private homes, and includes testimonies by 30 soldiers who participated in the attack on Gaza (2008/12/27–18/1/2009), but without revealing their names or unit affiliation.

However these allegations are to be rejected because the IDF has proved that its troops follow international law and obey orders despite the stress of battle. These testimonies lack sourcing or corroboration, thus preventing any conclusions from being drawn... Furthermore, it was the ostracized Hamas that caused much grief when it fired dozens of Qassam missiles at innocent civilians in the southern towns and villages of Israel. The IDF had no choice but to fight back causing the deaths of 1400 Palestinians, half of them civilians used as human shields by Hamas, in addition to the 5,000 wounded. Israel lost just 10 soldiers and 3 civilians.

The IDF defended innocent Israeli civilians against Hamas attacks and did all it could to prevent harming any civilians, targeting just the Hamas men, to disarm them by aerial bombing, shelling, and the use of heavy tractors, while maintaining the humane principles of the IDF that seeks to win with minimal human cost to either side.

The report by "Breaking the Silence" was unfair, unbalanced, and lacking in proof, so one wonders where it was when Hamas used schools and homes for weapons storage or for missile launchers. Israeli pilots reported many secondary explosions after they hit Hamas targets. Where was that organization when Hamas smuggled tons of illicit weapons through a network of tunnels from Egypt?
Posted by TS at 08:52 AM | Comments (0)
July 22, 2009
IDF Spox Slams Ha'aretz Headline
The IDF Spokesman's office has just issued the following press release:
Ha'aretz" Headline Regarding IDF Community Dismantlement HQ Baseless

Following this morning's headline in the "Ha'aretz" Israeli daily newspaper, the IDF Spokesperson wishes to emphasize that reports that the IDF has set up a special headquarters to dismantle communities in the Judea and Samaria region are baseless. This clarification has been verified with the CO of the Central Command, Maj. Gen. Gadi Shamni and the Commander of the Judea and Samaria Division, Brig. Gen. Noam Tibon.

It must be stressed that the IDF has not received a government order to dismantle the communities or to prepare for such deployment.

These facts were explained thoroughly to the "Ha'aretz" reporter and bureau chief following an incorrect headline published in yesterday's newspaper. The IDF regrets that the editorial board chose to ignore the facts presented to them.

With regards to the article's reference to the IDF Chief of the General Staff, it should be made clear that in accordance with Lt. Gen. Gabi Ashkenazi's unfaltering stance, the Israel Police and Border Police are to have the initial interaction with Israeli civilians in such situations, once decided, as had been done in previous occasions. This is due to their proficiency in such matters and the training that police forces undergo.

The presentation of the Chief of Staff's view as an attempt by the IDF to "dodge responsibility" in all that concerns dismantling communities is fundamentally incorrect, offensive and redundant.

This announcement is in accordance with the standpoint of the Ministry of Defense and the office of the Minister of Defense.
Today's Ha'aretz article "Police set up special unit ahead of mass outpost evacuation" is here, and yesterday's article ("IDF planning to evacuate all illegal West Bank outposts in one day") is here.
Posted by TS at 06:17 AM | Comments (0)
July 21, 2009
LA Times Ignores Kadima Opposition to US Pressure

Ignored by LA Times: Kadima MK Otniel Schneller
The Los Angeles Times falsely portrays "Conservative voices" in Israel as standing alone in opposing U.S. pressure on Jewish building projects in eastern Jerusalem. Yesterday's article by Jeffrey Fleishman and Batsheva Sobelman ignores the fact that a Kadima MK has spoken out against Israeli building restrictions in the eastern part of the city:
For the last two months, Israeli Defense Minister Ehud Barak and special U.S. envoy George J. Mitchell have met several times to try to resolve what has turned into the most publicly pointed disagreement in years between Israel and Washington.

The Israeli activist group Peace Now said construction in East Jerusalem -- home to holy sites for Christians, Jews and Muslims -- is not supported by all Israelis and "undermines the chances of the city becoming the joint capital of Israel and the future Palestinian state."

Conservative voices, however, fear that forgoing construction in East Jerusalem will only invite more outside pressure on Israel to curtail its development within the city. Ophir Akunis, a Likud Party member of the Knesset, Israel's parliament, said: "All countries in the world must understand that on the issue of Jerusalem, we will not receive dictates."
By apparently relying blindly on the unreliable Peace Now, Fleishman and Sobelman missed this Jerusalem Post article also from yesterday:
As if to prove the point that this was an issue that crossed party lines, Kadima MK Otniel Schneller said Monday he was calling for assistance from Jewish organizations worldwide to help stop what he described as Obama's policy that was "not very different from that of [Palestinian Authority President Mahmoud] Abbas."

Schneller sent a letter to new Jewish Agency chairman Natan Sharansky, asking him for assistance in enlisting Jewish communities abroad to defend Jewish sovereignty over the area known as the "holy basin," the neighborhoods immediately surrounding Jerusalem's Old City.

"As head of the Jewish Agency, you bear the obligation of declaiming the nation's distress before the American administration - and no less importantly, before advisers to the current administration who are members of our own people," wrote Schneller in the letter, which he sent Monday.

Schneller also drafted a second letter on Monday, this one directed at Jewish community leaders in the US, asking for their assistance in convincing the administration to back down from its opposition to the project in Sheikh Jarrah. In this letter, he drew parallels between Tisha Be'Av - a day of fast that falls next week commemorating the destruction of both the First and Second Temples - and Obama's demand.

"A foreign superpower - call it Rome, Greece, whoever - came and destroyed the walls of the Jewish people in Jerusalem and took away their symbol of Jewish authority in Jerusalem - the Holy Temple," he wrote. "Today in the 21st century, the world's most powerful state is trying to call into question the walls of our authority in Jerusalem. The thought makes me shudder, even though I know that the United States is our greatest friend, and I understand how much our physical existence is dependent on it."
Posted by TS at 04:31 AM | Comments (3)
July 20, 2009
NCHR — The 'H' Stands for Hypocrisy?
Okay, technically the 'H' does not stand for hypocrisy. NCHR is short for the National Centre for Human Rights, an organization founded, and funded, by the Kingdom of Jordan.
But it only takes a peek at the Jordanian constitution to realize that "hypocrisy" is the most apt word to describe NCHR's recent statement, reported in Ha'aretz, that "calling Israel a Jewish state 'runs counter to the international criteria of human rights as enshrined in the relevant international declarations which ban all forms of discrimination.'"
Article one of Jordan's constitution begins: "The Hashemite Kingdom of Jordan is an independent sovereign Arab State."
The second article adds that "Islam is the religion of the State."
Let's not even get into Article 3, section 2 of Jordan's Law No. 6 of 1954 on Nationality, which was last amended 1987. (But if you want to take a peak, click here. And while there, see if you can count the number of other clauses that discriminate in favor of Arabs.)
Although this is a particularly egregious of hypocrisy, the technique is common to the wider world of anti-Israel evangelism. After all, it's easy to demonize someone as violating standards when you impose a unique set of standards to them and them alone.
Posted by GI at 10:05 PM | Comments (0)
Richard Silverstein, What's Your Evidence?
Blogger Richard Silverstein, a vocal defender of Rev. Dr. Naim Ateek has again taken up the cudgel on behalf of the founder of Sabeel. In a recent post, Silverstein writes that an un-named representative from CAMERA told Rev. Dr. Naim Ateek that he was "worse than Hamas." Silverstein reports that Rev. Dr. Ateek
recounted a story of an encounter he had with a leader of CAMERA [who said]: "You're worse than Hamas." What he meant was something like the following: We know how to fight Hamas. They are violent. They are terrorists. The world understands what they are. But you are a wolf in sheep's clothing. People see you and hear your moderate words and believe that perhaps the Palestinians aren't so bad after all. Perhaps Israel should return the land and give Palestinians a state of their own.
A few questions are in order.
Who is the "leader of CAMERA" that Ateek is quoting? Who said this statement?
When did this conversation take place?
Where did this conversation take place?
And whom did you speak with at CAMERA to confirm the accuracy of Rev. Dr. Ateek's quote?
In short, Richard, what's your evidence?
Posted by dvz at 06:12 PM | Comments (3)
July 19, 2009
Maan: PA Shuts Down Al-Jazeera
Palestinian Ma'an News Agency reports:
The Palestinian Authority will go ahead with a suit against the Qatar-based Al-Jazeera television after they shut down their West Bank offices on charges of "incitement and false information."

Palestinian Prime Minister Salam Fayyad said Wednesday night that he commissioned Attorney General Ahmed Al-Mughni to take the legal procedures necessary to prosecute Al-Jazeera. Analysts say the Tuesday report with comments by senior Fatah member Farouq Qaddoumi, who accused President Abbas of involvement in an alleged plot to kill Yasser Arafat was the final impetus for the suit.
Posted by TS at 04:19 AM | Comments (0)
Dry Bones: Obama, the Jews, and CAMERA
Here's Dry Bones' take on President Obama's recent meeting with Jewish American leaders: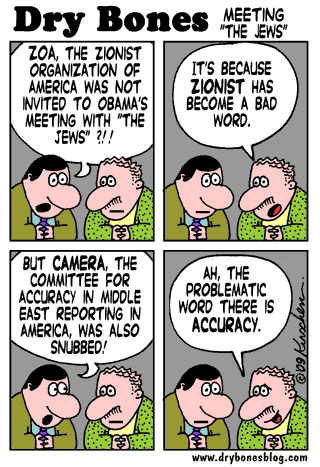 Posted by TS at 02:27 AM | Comments (0)
July 15, 2009
AFP Swallows Stale "Sex Gum" Allegation
They say sex sells. But should journalists be buying it so readily?
AFP seems to be taking a bit too seriously the latest Hamas allegation — that Israeli intelligence is trying to "corrupt the young" of Gaza by distributing aphrodisiac chewing gum and drops. AFP treated this accusation as 'news' that should be reported in a straightforward manner. Here's their sober report:
GAZA CITY (AFP) - Hamas suspects that Israeli intelligence services are supplying its Gaza Strip stronghold with chewing gum that boosts the sex drive in order to "corrupt the young," an official said on Tuesday.

"We have discovered two types of stimulants that were introduced into the Gaza Strip from Israeli border crossings," Hamas police spokesman Islam Shahwan told AFP.

"The first type is presented in the form of chewing gum and the second in the form of drops," he said.

The Islamist movement that has run the densely populated and impoverished Palestinian territory for the past two years said it has detained members of a gang that helped to bring in the products.

"They admitted during the investigation they were linked to the Zionist intelligence services," he said.

One suspect said he had received the products from an Israeli intelligence officer at a cut-rate price "with the officer saying they did not want money, but to distribute the products among the young people of Gaza," Shahwan said.

"The intelligence services are aiming to corrupt the young generation by distributing these products among students."

The story came to light after a Palestinian man filed a complaint that his daughter had experienced "dubious side effects" after chewing the offending gum, Israeli media reported.

The Israeli military declined to comment officially on the allegations, which one military source termed "absurd."
Hamas says such-and-such, a couple of quotes from a Hamas offical, a quick Israeli denial, and ship it out.
But it would seem that if this accusation is newsworthy, it's either a) because it's an example of the government-driven incitement the demonizes "the Zionists" as degenerate, immoral, and a threat to the purity of Gaza's daughters; or b) because it's just funny.
AFP, though, doesn't bother soliciting quotes form MEMRI, Palestinian Media Watch or other organizations that have documented or expressed concern with anti-Israel incitement; and they don't bother quoting anyone laughing their heads off.
Nor does the French wire service point out that this is just the latest appearance by a threadbare and disproved charge.
Back in July 1996, for example, it was Egypt that was excited after a parliamentarian referred to "15 cases in which women and girls had sexually assaulted men after chewing" suspicious gum.
The Washington Post reported on this with an appropriate degree of skepticism. Their story began:
This is a story about chewing gum, sex and the Middle East peace process.

No, really.

The story begins in mid-April, when police in this bustling city in the Nile delta 70 miles north of Cairo launched an investigation into the sale of chewing gum allegedly laced with a powerful aphrodisiac. A local member of parliament then weighed in, claiming that he knew of 15 cases in which women and girls had sexually assaulted men after chewing the stuff.

The tale proved irresistible for several of Egypt's feisty, and often wildly inaccurate, opposition newspapers, which wasted no time in identifying the distributor of the gum as -- you guessed it -- Israel. One went so far as to name the Russian emigre chemist who allegedly concocted the evil substance on behalf of Israel's intelligence service, the Mossad.

Never mind that the gum package is stamped "Made in Germany" and that police have substantiated neither an Israel connection nor the rape claims. When it comes to Israel, it seems, many Egyptians are willing to believe almost anything, so long as it is bad.

"Any corruption that comes to us comes from Israel," said Goma Ahmed Mohammed from behind the counter of his small fabric shop here. "They would do anything to bring down Islam."

Such paranoia might seem strange ...
Strange indeed. And strikingly similar to Hamas's story: "Another variety," the Post quoted the parliamentarian as saying, "comes in the form of medicine drops..." (Washington Post, 7/10/96, John Lancaster).
And just one year later (again in the steamy month of July) another Post correspondent noted with skepticism that the charge had spread to the West Bank and Gaza Strip:
The Israeli plot, as Yasser Arafat's Palestinian Authority exposed it recently, was triply diabolical.

To begin with, it aroused irresistible sexual appetites in women, undermining Islamic morals and self-restraint. Then it sterilized them to suppress Arab population growth. Worst of all, according to Palestinian Supply Minister Abdel Aziz Shaheen, it was capable of "completely destroying the genetic system of young boys."

All that with packets of bubble gum. Palestinian officials maintain, having subjected the gum to laboratory tests, that it is spiked with sex hormones and sold at suspiciously low prices near schoolhouses in the West Bank and Gaza Strip. Variations of the story, blending pseudo-science with inventive tales of conspiracy by Israel's secret services, have been making the rounds of the official Palestinian media for weeks.

Promoted at the highest levels of the Palestinian Authority, the story recalls a propaganda style that Palestinians largely abandoned after their first accord with Israel in 1993.
And just to be sure,
The Washington Post commissioned a test of allegedly contaminated chewing gum provided by Palestinian health officials.

Dan Gibson, professor of pharmaceutical chemistry at Hebrew University and a member of the left-wing lobby group Peace Now, said that, using a mass spectrometer capable of detecting as little as a microgram of progesterone, he found none in the gum. When used as a contraceptive pill, according to a standard physician's reference, the effective dose is about 300 times larger than a microgram.

In practice, the body rapidly inactivates progesterone taken by mouth. Birth control pills normally rely on synthetic compounds known as progestins or progestogens that are similar but not identical. These oral contraceptives, according to Stanley G. Korenman, the head of endocrinology at the Center for the Health Sciences of the University of California at Los Angeles, generally diminish female libido rather than increase it, although the effects in either direction are not dramatic.

In men, progestins are powerful inhibitors of sperm production. They also impair libido and the ability to maintain an erection. (Washington Post, 7/28/97, Barton Gellman)
The Israeli gum made it all the way to Saudi Arabia, or at least the story did: "Saudi Arabia has seized banned chewing gum and drops that claimed to improve male sexual performance, a Saudi newspaper reported. The stimulants ... were apparently smuggled from Israel, the daily al-Eqtisadiah said."
The Syrians, at least, don't seem to mind some good gum:
Sex sells in the souk, where Syrians flock to buy the latest lingerie, some of it edible, some sporting flashing lights and all of it kitsch personified. ...

His shop may be tiny, but he is not just selling "smalls". Piled on a table is aphrodisiac chewing gum called "Jaguar Power", sexy massage oils and even delay sprays imported from China and Thailand.
Apparently Jaguar brand isn't made in Israel.
Posted by GI at 11:08 AM | Comments (0)
Human Rights Watch Asks Saudi Arabia for Money to Continue its Campaign Against Israel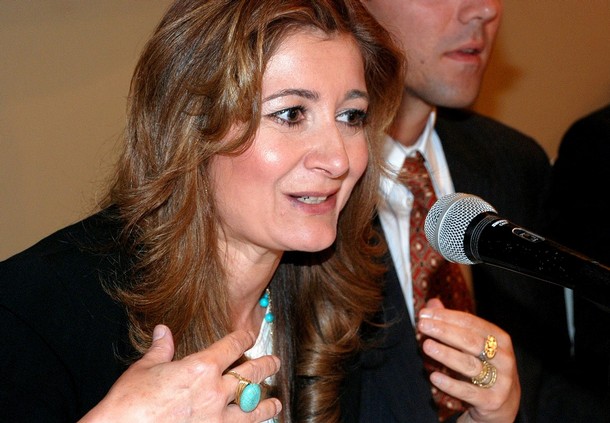 The on-line version of today's Wall Street Journal, July 15, 2009, publicizes the efforts of Human Rights Watch (HRW), a leading international human rights groups, to raise funds from wealthy Saudis to support its campaign against Israel. In Human Rights Watch Goes to Saudi Arabia, David Bernstein describes the fund raising escapade of HRW's Middle East Director, Sarah Leah Whitson, as evidence of the organization's "maniacally anti-Israel" sentiments.
For those who have kept track of the enormous volume of reports that are churned out by HRW, and by Amnesty International, another major human rights group, condemning Israel at every opportunity, this exposure of HRW's fund raising practices unfortunately comes as no surprise.
HRW long ago shed its moral credentials to take part in the effort to delegitimize the Jewish state by putting Israeli actions in its defense under a hyper-critical microscope, while offering only perfunctory criticism of the blatant criminality of terrorist groups like Hamas and Hezbollah. That HRW saw nothing wrong with raising funds from one of the world's most oppressive tyrannies in order to demonize a democracy reveals the corrupting role of money in driving the rights group's agenda.
Posted by SS at 10:44 AM | Comments (1)
July 14, 2009
Law & Order Defamation of Israel Repeated
In the polonium poisoning case of a former Russian spy murdered in London in 2006, British authorities ruled that the perpetrator was Russian special services. The fictionalized adaptation for the "30" episode of the "ripped from the headlines" TV drama, Law & Order (aired by NBC and its Bravo and USA cable TV affiliates) altered the true scenario and turned Israel into the villainous suspect in the fatal polonium poisoning of an American investigative journalist.
Underscoring the presentation of Israel as villain, the episode also depicted Israeli brutality towards Palestinians and a New York police detective repeatedly hectoring his Jewish captain with the dual-loyalty canard accusation, which included covering up for Israel.
CAMERA's article documenting this episode (which originally aired on February 27, 2007) was cited as the source of a March 11, 2007 Jerusalem Post article by Michael Freund . Mr. Freund wrote that NBC "declined to respond to questions concerning allegations of anti-Semitism in the show's dialogue and plot" when contacted by the Post.
The most recent airings of the episode were by Bravo Network on July 5, 2009 (twice on that day) with a previous repeat on USA Network on Oct. 24, 2008.
Posted by MK at 09:22 AM | Comments (0)
Greeks Raise $1.67 Million for Non-Existent Gaza Hospital Destroyed By Israelis
Jean Cohen of the JTA has uncovered a $1.67 million scam involving the Greek Foreign Ministry, a leading Greek television network and a major trade union. The three took part in a successful campaign in Greece to raise money to rebuild a Christian Palestinian hospital in Gaza allegedly destroyed by Israel, yet the hospital in question does not exist. JTA reports:
The hospital that was the focus of a campaign, which included the participation of Greece's president and foreign minister, never actually existed.

For nearly a week in February, Greece's official state television network inundated viewers with news about a telethon that would take place Feb. 9 to raise money to "rebuild the Christian hospital in Gaza that Israelis destroyed with their bombs" during the Israeli army's operation there in January.

In its announcements, the network made clear that it was referring to a specific Christian hospital destroyed by Israel.

The telethon included recorded video messages by Greek President Carolos Papoulias and Foreign Minister Dora Bakoyianni, along with a parade of Greek politicians, singers, public personalities and trade unionists. Many used the telethon to cast broadsides at Israel.

The campaign raised $1.67 million, according to telethon organizers, who said little Greek children had gone so far as to break their piggy banks to offer $14 to Palestinians in need.

A JTA investigation revealed, however, that no Christian hospital was on the list assembled by the United Nations and the Red Crescent Society of structures in Gaza damaged and destroyed as a consequence of the Israel-Hamas war in January.

JTA spoke to two Palestinians living in Gaza who are active in or former members of nongovernmental organizations there, both of whom looked into the issue independently. Both reported that the only Christian hospital in Gaza, Al Ahli, was used during the war and did not receive a scratch. Al Ahli is financed by the Church of England.
Now, we have heard of news agencies reporting on "destroyed" Gaza hospitals that were functioning perfectly fine, but this one reaches a new low.

Posted by TS at 08:26 AM | Comments (0)
July 10, 2009
"Censorship" Loses Its Meaning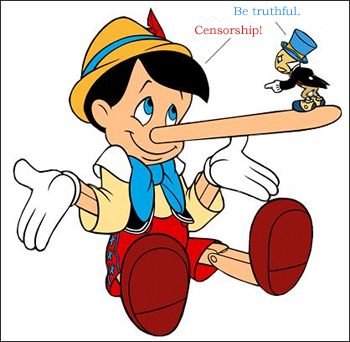 Some anti-Israel commentators, hoping to ward off criticism, charge those who scrutinize their claims as being guilty of censorship, intimidation, or otherwise stifling debate.
The thinly-veiled subtext is that criticizing someone is the same as censoring them. (See, e.g., CAMERA's Op-Ed "Asserting Mideast facts isn't the same as censorship.")
But why bother to thinly veil or to imply? One journalist recently did away with those formalities.
About the BBC Trust's ruling that Mideast editor Jeremy Bowen violated the BBC's ethical guidelines, a Guardian journalist wrote, simply:
"Criticising Bowen could affect his reporting of the region, which surely amounts to a form of censorship itself."
And that is how inane the "censorship" argument looks when stripped down to its essence and expressed in straightforward language.
Posted by GI at 10:31 AM | Comments (0)
July 09, 2009
Washington Times Scoops Post on Checkpoints
Israel made front-page news two days in a row at The Washington Times. "Israel silent with U.S. on Iran strike", July 7, an exclusive by Eli Lake, asserted that Israel would not ask the United States for tacit approval of an attack against Iran's nuclear program. "Israel loosens its grip in West Bank", July 8, by Joshua Mitnick featured the reduction by half of Israeli West Bank checkpoints. This is to allow greater freedom of movement for Arab inhabitants, a long-standing Palestinian demand and U.S. recommendation.

The substance of both articles was timely and newsworthy, yet neither case warranted even a news brief in The Washington Post. Of course, The Post and The Times will often differ in news judgment and enterprise. But the absence of these major items -- particularly when The Post has focused on both topics, including recent Israeli actions in the West Bank, such as settlement building -- seems noteworthy itself. Post readers, including CAMERA members, have raised these issues with the newspaper. Will the gap be filled, and if so, how?
-A.L.
Posted by ER at 05:04 PM | Comments (0)
July 05, 2009
Palestinian Forum: PA Must Stop Detaining Journalists
Here is more on the PA's detainment of journalists, a topic we blogged last week:
Gaza - Ma'an - The Palestinian Authority must stop the practice of detaining journalists for political reasons, a statement from the Palestinian Media Forum proclaimed Saturday.

The forum called on Palestinian President Mahmoud Abbas to pressure his security agencies into greater respect for press freedoms, saying they detain media workers "when the political situation is unfavorable" and said there were at least seven journalists in PA prisons.

Citing the example of Ramallah-based journalist Mustafa Sabri, who was arrested from his home for the tenth time on 21 April 2009 by Preventive Security forces, the forum condemned the use of arrest and torture against journalists. According to the forum, Sabri was taken to a hospital twice after his health deteriorated due to severe torture in PA custody.
Posted by TS at 03:30 AM | Comments (0)
July 02, 2009
UPDATED: Palestians Kill Girl, Blame Israel?

Hamas and microphones
UPDATE: After Israel further investigated the exchange of fire with Palestinian gunmen during which the girl was killed, it determined that the she was probably struck by an Israeli shell, though not a tank shell. Credit to those – whether army investigators or journalists – who pursued the facts behind this unfortunate incident.
While Fatah is confiscating material from reporters in the West Bank, Hamas seems to be feeding them lies.
Hamas announced today that an Israeli tank shell killed a 17-year-old girl in Gaza.
Considering Hamas's history of disregard for the facts, such claims should be treated with skepticism.
Fortunately, instead of taking Hamas's claims at face value, AP reporter Ibrahim Barzak did what all journalists should, but all too often don't, do: He dug a little bit deeper, and in doing so, found something interesting. Not only did Israel deny responding to the Palestinian gunfire with tank shells, but Palestinians in Gaza also suggested that Hamas was lying:
Other Palestinians raised doubts about the report that an Israel[i] tank shell was responsible for the blast, noting that reporters were uncharacteristically banned from the area and the family refused to talk to them.
Posted by GI at 04:22 PM | Comments (2)
Media Silent About Illegal Arab Settlements on Jewish-Owned Land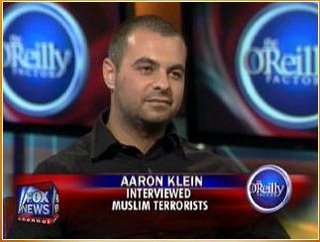 Aaron Klein, Jerusalem bureau chief for WorldNetDaily
While there is much media coverage condemning Israeli settlements, almost nothing is heard about Palestinian settlements in Jerusalem. But a new book by journalist Aaron Klein, entitled "The Late Great State of Israel: How Enemies Within and Without Threaten the Jewish Nation's Survival" documents the illegal occupation by Palestinian Arabs of Jewish-owned land in Jerusalem. Dr. Phyllis Chesler reviewed the book in the June 26 issue of Jewish Press. She wrote:
Over the years, Israelis have allowed more than "100,000 Palestinian Arabs to occupy tens of thousands of illegally constructed housing units in eastern and northern Jerusalem." Criminals, mercenaries, soldiers dressed as civilians, human bombs and their terrorist handlers, may all live among them. This illegal occupation or settlement activity began long after the 1967 Six-Day War. These Palestinian Arab immigrants were not living in these places before 1948 or 1967. Indeed, Klein documents that under Jordanian rule, one of these Jerusalem neighborhoods, Shoafat, was actually a forest.
These crowded Palestinian housing complexes, schools and villas are filled with weapons and fighters. Worse still: According to Klein, these Palestinian Arabs have built illegal settlements on land owned by the Jewish National Fund (JNF), which was entrusted to buy land for Jews in the Holy Land.
An earlier CAMERA monograph documented illegal Arab building in Jerusalem over 30 years since 1967 and human rights lawyer Justus Reid Weiner, a scholar-in-residence at the Jerusalem Center for Public Affairs, wrote a book in 2003 on illegal construction in Jerusalem (172 pp. including a fold-out map, charts, tables, documents, and aerial photographs). That study, Illegal Construction in Jerusalem, was reviewed by CAMERA Associate Director Alex Safian in Middle East Quarterly (Fall 2003). CAMERA has frequently tackled errors regarding illegal Arab construction.
Posted by MK at 12:56 PM | Comments (0)
Forces at West Bank Checkpoint Erase Al Jazeera Footage
Troops stopped an Al Jazeera camera crew at a West Bank checkpoint and erased footage about alleged torture of prisoners. Didn't hear about it? Read why from Khaled Abu Toameh:
Recently, a Palestinian TV crew was stopped at a checkpoint in the West Bank, where soldiers confiscated a tape and erased its content. This incident hardly received any coverage in the mainstream media in the US and Europe.

The reason? The perpetrators were not IDF soldiers, but Palestinian Authority security officers. And the checkpoint did not belong to the IDF; it was, in fact, a Palestinian checkpoint.

The story of the detention of the TV crew -- which, by the way, belonged to Al-Jazeera and the erasure of the footage did not make it to the mainstream media even after Reporters Without Borders, an organization that defends journalists worldwide, issued a statement strongly condemning the assault on the freedom of the media.

"Journalists must be able to work freely," Reporters Without Borders said. "The erasure of this video footage proves that the Palestinian security forces try to cover up their human rights violations. This incident should be the subject of an enquiry by the Palestinian Authority."

Walid Omari, the head of the Qatar-based satellite TV station's operations in the West Bank, told Reporters Without Borders that his crew was preparing a report on the death of a detainee at the Palestinian Authority detention center in Hebron that might have been the result of torture.

"We were the only ones to investigate this case and we did it despite strong pressure from the Palestinian Authority," Omari said. . .

One can only imagine the international media's reaction had the TV crew been detained by Israeli security forces. Anti-Israel groups and individuals would have cited the incident as further proof of the "occupation's brutal measures" against the freedom of the media.

Moreover, it is highly likely that Israeli human rights organizations like Betselem would have dispatched researchers to the field to investigate the incident had IDF soldiers been involved.

Yet foreign journalists and human rights activists working in Israel and the Palestinian territories either chose to ignore the story or never heard about it simply because it was lacking in an anti-Israel angle.

One can also imagine how the media and human rights organizations would have reacted had a Palestinian died in Israeli prison after allegedly being tortured.
Here is the report from Reporters Without Borders.
Posted by TS at 04:33 AM | Comments (0)