« Maariv Loses Libel Suit to Settlers | Main | A Message Behind the Image? »
June 29, 2009
HRW's Sarah Leah Whitson On Shaky Ground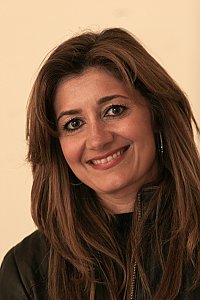 The Los Angeles Times carried two dueling Op-Eds yesterday about Israeli settlements. The Op-Ed attacking settlements and their legality is courtesy of Human Rights Watch's Sarah Leah Whitson, who recently raised funds in Saudi Arabia, that epicenter of human rights, where HRW's distorted focus on Israel is a big selling point. See details from NGO-Monitor.
The other Op-Ed, by Yisrael Medad of the Menahem Begin Heritage Center, did a good job rebutting the usual arguments that settlements are illegal according to international law. For more on this topic, see here.
Beyond the legality issue, Whitson is confused on other basic issues. She writes:
Too little attention is given to the pervasive system of government-sponsored discrimination against Palestinians in the West Bank and East Jerusalem, where Israel has constructed roads exclusively for settlers and established vastly unequal access to water, fuel, education, healthcare, transportation, infrastructure and virtually every other social service. Israeli authorities regularly grant settlers building permits that they deny to Palestinians, whose "illegal" homes they often demolish at short notice. The glaring discrepancy of Israel's treatment of two populations living on the same land has taken a significant moral toll on Israel, as well as a political one, with wide coverage and abuse at the hands of its security forces. ("Israel's settlements are on shaky ground")
Whitson seems unaware of the fact that over 95 percent of West Bank Palestinians live in Area A, in other words, under their own government. They are not ruled by Israelis in matters concerning fuel, education, healthcare, transportation, infrastructure, and social service.
As for the small minority of West Bank Palestinians living in Area C, (under Israeli control,) recent reports show that in comparison to Israelis living in these very same areas, they are treated favorably when it comes to the demoliton of illegal construction. According to this May 2, 2009 article in Ma'ariv:


Civil administration inspectors located 646 illegal structure in the Palestinian sector in the year 2008, of which 111 were destroyed that year. The same year, 293 illegal structure were located in the settler sector, and 105 of them were destroyed. In other words, while a third of the settlers' illegal structures were demolished by the administration, only a sixth of the Palestinians' illegal structures were demolished. This relates of course only to Palestinian building in Area C which is under Israeli control.

The report's author, the head of the inspection unit in the civil administration Marco Ben-Shevet, summed up: "The level of inspection in the Israeli sector is much stricter than in the Palestinian sector. And this is mainly because of the high sensitivity and the policies of enforcement." In the introduction Ben-Shevet notes a fact that will definitely surprise many groups on the left: "For the first time the number of demolitions in the Israeli sector is higher than in the Palestinian sector." (Translation by CAMERA)
Posted by TS at June 29, 2009 06:43 AM
Comments
Guidelines for posting
This is a moderated blog. We will not post comments that include racism, bigotry, threats, or factually inaccurate material.
Post a comment