« May 2009 | Main | July 2009 »
June 30, 2009
Ha'aretz Columnist Props Up Al Dura Myth
In a failed attempt to compare Israeli-Palestinian violence in 2000 with the current Iranian demonstrators protesting the rigged election, Yitzhak Laor props up the discredited Mohammed Al Dura myth. He writes:
In October 2000, tens of thousands of demonstrators took to the streets of the West Bank and the Gaza Strip. For several weeks the Israel Defense Forces sprayed them with half a million bullets, leaving many dead, wounded and disabled. The child Mohammed Dura became a symbol. TV networks from all over the world broadcast the clashes.
While French courts and numerous independent investigations have proven that Al Dura is a symbol of media falsehood, Laor and his colleaugue Uzi Benziman still desperately cling to the long ago discredited notion that he is a symbol of Israeli brutality.
The fact that Laor resorts to citing the Al Dura myth to "prove" his comparison of Israel's conflict with the Palestinians and the Iranian regime's oppression of its protestors only underscores the comparison's falsity.
Posted by TS at 03:56 AM | Comments (0)
AP Corrects 'Palestine' in Seeds of Peace Story
After communication with CAMERA staff, AP editors yesterday corrected an incorrect reference to "Palestine" in an article about the Seeds of Peace camp in Maine. CAMERA's Israel office reviews wire service stories as they appear on the wire, and therefore is able to prompt corrections of errors before they are printed in newspapers around the world. The error and the updated corrected version follow:
Error (AP, Jerry Harkavy, 6/29/09): The 147 [Seeds of Peace] campers at the first of this summer's two sessions are from Afghanistan, Egypt, India, Israel, Jordan, Pakistan, Palestine and the United States.

Correction (Updated story 6/29/09): The 147 campers at the first of this summer's two sessions are from Afghanistan, Egypt, India, Israel, Jordan, Pakistan, the West Bank and the United States.
Posted by TS at 03:03 AM | Comments (5)
June 29, 2009
A Message Behind the Image?
Tehran Bureau, a new independent web site reporting on events in Iran, published a photo of what it claims is the Basidj militia giving a straight armed salute. The Basidj are the Iranian regime's street enforcers who are busy suppressing the post-election protests.
>
>
>
>
>
We've seen this salute before.
Lebanese Hezbollah, Palestinian Fatah and Palestinian Hamas all seem to have adopted it.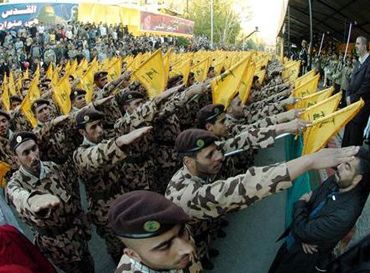 Where did they all learn this particular salute ?
Posted by SS at 02:50 PM | Comments (0)
HRW's Sarah Leah Whitson On Shaky Ground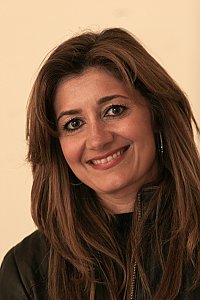 The Los Angeles Times carried two dueling Op-Eds yesterday about Israeli settlements. The Op-Ed attacking settlements and their legality is courtesy of Human Rights Watch's Sarah Leah Whitson, who recently raised funds in Saudi Arabia, that epicenter of human rights, where HRW's distorted focus on Israel is a big selling point. See details from NGO-Monitor.
The other Op-Ed, by Yisrael Medad of the Menahem Begin Heritage Center, did a good job rebutting the usual arguments that settlements are illegal according to international law. For more on this topic, see here.
Beyond the legality issue, Whitson is confused on other basic issues. She writes:
Too little attention is given to the pervasive system of government-sponsored discrimination against Palestinians in the West Bank and East Jerusalem, where Israel has constructed roads exclusively for settlers and established vastly unequal access to water, fuel, education, healthcare, transportation, infrastructure and virtually every other social service. Israeli authorities regularly grant settlers building permits that they deny to Palestinians, whose "illegal" homes they often demolish at short notice. The glaring discrepancy of Israel's treatment of two populations living on the same land has taken a significant moral toll on Israel, as well as a political one, with wide coverage and abuse at the hands of its security forces. ("Israel's settlements are on shaky ground")
Whitson seems unaware of the fact that over 95 percent of West Bank Palestinians live in Area A, in other words, under their own government. They are not ruled by Israelis in matters concerning fuel, education, healthcare, transportation, infrastructure, and social service.
As for the small minority of West Bank Palestinians living in Area C, (under Israeli control,) recent reports show that in comparison to Israelis living in these very same areas, they are treated favorably when it comes to the demoliton of illegal construction. According to this May 2, 2009 article in Ma'ariv:


Civil administration inspectors located 646 illegal structure in the Palestinian sector in the year 2008, of which 111 were destroyed that year. The same year, 293 illegal structure were located in the settler sector, and 105 of them were destroyed. In other words, while a third of the settlers' illegal structures were demolished by the administration, only a sixth of the Palestinians' illegal structures were demolished. This relates of course only to Palestinian building in Area C which is under Israeli control.

The report's author, the head of the inspection unit in the civil administration Marco Ben-Shevet, summed up: "The level of inspection in the Israeli sector is much stricter than in the Palestinian sector. And this is mainly because of the high sensitivity and the policies of enforcement." In the introduction Ben-Shevet notes a fact that will definitely surprise many groups on the left: "For the first time the number of demolitions in the Israeli sector is higher than in the Palestinian sector." (Translation by CAMERA)
Posted by TS at 06:43 AM | Comments (0)
Maariv Loses Libel Suit to Settlers
Yet another false media report about the land status of a particular settlement has been exposed. The Israeli site Walla reported June 25 (CAMERA's translation):
Ma'ariv To Compensate Settlers With 20,000 Shekels

The newspaper must compensate 13 residents of the Maale Rehavam outpost after it published that it was founded on Palestinian land, even though it was founded on state land.

The Jerusalem court today ruled that Ma'ariv will soon compensate 13 residents of the Maale Rehavam outpost for 20,000 shekels and ruled that that the paper must print a correction or retraction within two weeks regarding the article that appeared May 16, 2006. The article claimed that the Maale Rehavam outpost was founded on private Palestinian land, while according to its plans it's founded on state lands. Following the publication of the article, 13 of the outpost's founders filed a slander suit, claiming that the article portrays them as thieves and criminals.

The article by then Ma'ariv reporter Ori Yavlonka dealt with six illegal outposts in Judea and Samaria that were on the verge of demolition. The article claimed that the outpost report by lawyer Talia Sasson maintained that Maale Rehavam was founded on private Palestinian land. A month later, following the evacuation of the residents the Ma'ariv-nrg Web site published another article that dealt entirely with the Maale Rehavam outpost, which stated that it was founded on state land. The residents were not satisfied by this article. Judge Yitzhak Milnov agreed with their claim in his ruling: "Whoever reads the article which was published on the Internet does not at all know that this article was meant to correct or clarify an erroneous article."

In the suit filed for the residents by attorney Eyal Simal Tov, the residents requested a published retraction and apology and compensation amounting to 7,750 shekels per residents -- some 100,000 shekels total.

In its defense Ma'ariv argued that there is a distinction between the outpost and its residents and claimed that an article on the settlement is not tantamount to an article on its residents. Judge Milnov ruled: "The distinction requested by the defendants between the outpost and its residents, with all due respect, is not acceptable. An article which reports on the illegal founding of any geographic settlement, also intrinsically incorporates a statement about the ethics of the people who established that very same settlement. . . The claim according to which the Ma'ale Rehavam outpost is founded on private Palestinian land is likely to cause a reasonable reader to think that the residents of the outpost are people that believe that the laws of the state do not apply to them, that they are making their own laws for themselves, and that they are ruling over lands that are not theirs."

Nevertheless, Judge Milnov ruled that the compensation demanded by the plaintiffs was too high and ruled that Ma'ariv will compensate the settlers 1,000 shekels [each] and will cover court costs totalling 5,000 shekels.
It is reprehensible that legal action -- as opposed to public and private appeals to fair play -- are required to get corrections on false reports about settlements, as in the case of Peace Now, which paid up to the residents of Revava for its false report.

Posted by TS at 05:25 AM | Comments (0)
Mullahs Feel Threatened by BBC Persian
BBC's Persian Channel, just like Twitter, poses a challenge to Iran's ayatollah's, the New York Times reports.
Also, read how the Iranian regime's crackdown on the free flow of information has affected the standard protocols of journalism.
Posted by TS at 03:49 AM | Comments (0)
June 25, 2009
Washington Post Sanitizes Hamas Attacks
In "Palestinian Premier Sets 2-Year Statehood Target" (June 23), The Washington Post continues a loaded and misleading word choice. In reporting a speech by Palestinian Authority Prime Minister Salam Fayyad, the newspaper says that "the United States and others have called on Hamas to end its armed resistance [emphasis added] and to join the other Palestinian groups that recognized Israel under the 1993 Oslo accords." "Armed resistance" hardly describes Hamas' actions; it sanitizes them.

What is Hamas "resisting"? Israel withdrew completely from the Gaza Strip in September, 2005. In January, 2006 Hamas won the Palestinian legislative election and formed a new PA government. And Israel became the target of incessant rocket and mortar attacks mostly by Hamas and its allies. This is not resistance, but aggression. Hamas continues to refuse to abide by agreements the Palestinian Authority made with Israel, refuses to recognize Israel, and refuses to end anti-Israel terrorism-- The Post's "armed resistance" - as demanded by the United States, United Nations, European Union, and Russia. And Hamas' charter remains unchanged; it continues to call for the destruction of Israel as a Jewish state, and its replacement with an Islamic theocracy, as well as for death to the Jewish people. "Armed resistance," or murderous intransigence?
Hamas and its allies and surrogates, including the Palestinian Islamic Jihad and the Popular Resistance Committees have continued to stage or attempt terrorist attacks from Gaza and from the West Bank. Is that too "armed resistance"? This peculiar usage has become a pattern, having appeared also in earlier articles about Hamas terrorism, "Israel's Attacks on Gaza Deepen Palestinian Rift," January 1, and "Carter Decries Gaza Curbs, Asks Israel to Halt 'Abuse'," June 17.
In reference to terrorist groups elsewhere, The Post seems to acknowledge a different view. In "Blasts Kill 22 Across Baghdad," June 23, printed next to "Palestinian Premier Sets 2-Year Statehood Target," Wael Abdel Latif, an Iraqi lawmaker, is quoted commenting on "the so-called resistance" of extremist groups in Iraq. Those organizations use many of the same terrorist tactics, and carry a similar Islamic extremist ideology, as Hamas. The Post can quote an Iraqi official who denies the legitimacy of these groups' "resistance," but in its own words justifies Hamas violence. What Hamas "resists" is a Jewish state within any borders. It carries out its resistance by armed aggression, that is, by terrorism. The Post's euphemism is not only inaccurate, it echoes Hamas' propaganda.

RESISTING HAMAS' RESISTANCE: Ayelet with her one-month-old baby Chanan in a Sderot bomb shelter after a Jan. 17, 2008 rocket attack. The baby's room was hit in an earlier attack.
-A.L.

Posted by ER at 05:14 PM | Comments (0)
June 15, 2009
What a Difference Location Makes
When Israeli authorities demolish the homes of Palestinians, it garners attention. Amnesty International issues condemnations and recently even Secretary of State Hillary Clinton weighed in denouncing an Israeli plan to demolish unpermitted homes in East Jerusalem as "unhelpful." Do a Google search on stories and images of home demolitions and page after page of stories and photos appear of demolished Palestinian homes.
But, home demolitions in another Middle Eastern capital received scant attention and no denunciations. A report by the Syrian Reform Party described what happened when Syrian municipal authorities decided to demolish 71 homes in a town outside of Damascus and forcibly remove its occupants:
Washington - June 3, 2009 (RPS News) -- Clashes erupted Monday between the municipality town of government and the civilians populating the Rohaebah town outside Damascus when the municipality issued a decree to demolish 71 homes. The order was issued the same day preparations were made for demolition.

Amid the crying of children and the waling of women being forcefully evacuated from their dwellings, the heavy equipment could not demolish more than two homes. By the third one, civilians succeeded in stopping the operation by attacking the equipment; they also to the Mayor's car and stoned his home.

The concerted civilian effort then started stoning the security forces accompanying the operation who had no choice but to retreat. Reinforcements could not reach the municipality building because roads leading to the entrance of the town were blocked.

It is rare to see an "intifada" in Syria. Such expression is usually met with deadly force. The government has not been able to demolish the dwellings as of today.

The Rohaebah town is known to house mostly Arabs and Turkmen.
Do a google search for stories or photos of home demolitions in Syria. No photos and a handful of items come up.
Posted by SS at 04:02 PM | Comments (0)
Unmasking of Iranian Regime Leaves Roger Cohen Exposed
Roger Cohen
What a difference five days can make.
Just a few days before Iran's presidential election descended into chaos, New York Times columnist Roger Cohen, waxed poetically about a "green revolution" in that country. In his June 10, 2009 column, Cohen wrote:
Iran, its internal fissures exposed as never before, is teetering again on the brink of change. For months now, I've been urging another look at Iran, beyond dangerous demonization of it as a totalitarian state. Seldom has the country looked less like one than in these giddy June days.

I wandered in a sea of green ribbons, hats, banners and bandannas to a rally at which Ahmadinejad was mocked as a "midget" and [Mir Hussein] Moussavi's wife, Zahra Rahnavard, sporting a floral hijab that taunted grey-black officialdom, warned the president that: "If there is vote rigging, Iran will rise up."
Cohen can invoke the quote from Zahra Rahnavard as a bit of prescient reportage, but his writing over the past few months has not prepared his readers for the conflict currently coming out of Iran. Cohen has encouraged his readers to look at the robust debate amongst the Iranian people while at the same time overlooking the evils of the regime that governs them. "The problem with Iran caricatures, like Benjamin Netanyahu's absurd recent description of the regime as a "messianic, apocalyptic cult," is that reality -- not least his campaign's -- defies them."
Five days later, Roger Cohen is singing another tune, telling his readers that he made a mistake, writing "I erred in underestimating the brutality and cynicism of a regime that understands the uses of ruthlessness."
The facts coming out of Iran are a bit sketchy, but enough information has come out to indicate the regime that governs Iran is quite willing to use force to stay in power, regardless of the robust debate that preceded the recent voting.

The Iranian regime, which stands accused of stealing an election, has denied the people it governs access to the internet, the use of their cell phones and text messaging systems. It bullied and intimidated foreign reporters intent on covering the protests. It has attacked university students in their dormitories. The BBC reports that its satellite broadcast signal into Iran has been jammed.
All this has prompted Cohen to write, "A harsh clampdown is underway. It's unclear how far, and for how long, Iranians can resist."
Now he tells us.
Cohen's pre-vote writings in the New York Times, one of America's most prestigious newspapers, gave the people opposed to the implementation of democracy in Iran every reason to think that that American journalists would either miss or ignore their underhanded methods of maintaining power. Portraying Iran as a totalitarian state is not dangerous, nor is it demonization, if in fact, Iran is a totalitarian state.
Posted by dvz at 09:56 AM | Comments (2)
June 14, 2009
The Revolution Will be Tweeted
The ongoing protests against the apparent attempt to steal the election in Iran have prompted a violent reaction by the Iranian government. Some reports indicate the regime has trucked in Arab-speaking security forces to quell the protests.
One place readers can go for information about the efforts to is twitter.com. In particular, readers should go to http://twitter.com/tehranbureau for brief reports about what is happening in Iran.
Another useful page is http://twitter.com/#search?q=%23iranelection.
Posted by dvz at 06:39 PM | Comments (0)
Ha'aretz in La-La-Land on Gaza Crossings, Part III
If you are tuning in for the first time on our running log of Ha'aretz's falsehoods regarding the Gaza crossings, check out Parts I and II.
Part III is about this weekend's Ha'aretz Magazine article by Yotam Feldman and Uri Blau called "Gaza Bonanza" which alleges that Israeli businessmen are exploiting the Gaza blockade to turn a profit. But it's hard to know what to believe about this entire article concerning shadowy figures unknown to most, given that the most basic information which can be easily fact-checked is clearly false.
The print edition of the article states (though the online version mysteriously omits this paragraph as well as other random parts of the article, such as the first paragraph):
Data compiled by UNRWA, the United Nations Relief and Works Agency, shows that while the minimum number of trucks per month set by the IDF is 106, in May, 117 trucks passed through the Kerem Shalom terminal; in April the number was 113 and, before the start of Operation Cast Lead in December 2008, just 37.
These figures have actually no relation to the real world. As documented by the Palestine Trade Center, 2,023 trucks passed through Kerem Shalom crossing in May 2009 -- not 117 (see Table 1, page 2).
And, the number for April is not 113 as Ha'aretz states, but 1,902. (Again, this from the Palestine Trade Center, which has a better grip on reality than Ha'aretz.)
And, finally, in December 2008, 612 trucks crossed through Kerem Shalom, not 37.
Ha'aretz's absurd numbers grow from week to week. What next?

Posted by TS at 07:26 AM | Comments (4)
Karsenty to Fight France 2 in Supreme Court
In a brief trip to Israel, French blogger Phillipe Karsenty takes time to talk to Israel National News about the Mohammed Al Dura case:
Posted by TS at 05:26 AM | Comments (0)
JStreet Again Misrepresenting Poll Data
JStreet explains its name as follows:
What's the name mean? Well, if you walk north from the Mall, Washington DC's streets ascend in alphabetical order. That is, until you get to I street, which is followed somewhat mysteriously by K Street . . .

J street is a fitting metaphor for all the things that should be in the nation's capital but aren't: voices that are marginalized or ignored, ideas deemed too radical or politically unpopular to garner note, movements that are elided or dismissed.
The pioneering JStreet is similarly undaunted by the lack of polling data which supports its political positions. What to do when the numbers don't match the mission? Make 'em up.
IMRA exposes JStreet's latest manipulation of polling data to suit its political agenda. See CAMERA's "Lies, Damn Lies, and Polls" for JStreet's 2008 poll misrepresentation.
Posted by TS at 03:19 AM | Comments (0)
2,650 Palestinian Families Face Displacement
Palestinian Ma'an News Agency reports that 400 Palestinian families are in danger of being sued for illegally living on state land. What? You didn't read about it in the New York Times? You didn't see a scathing UN condemnation? Maybe that's because the state land in question is Palestinian, and it is the Palestinian Authority which is suing the squatters. Ma'an reports:
Some 400 Palestinian families are being sued by the Palestinian Authority's Land Department for building thatched clay homes and tents on Jericho-area land that the PA sold to the Palestinian Investment Fund Company for development.

The 400 are only a fraction of the 2,650 families that the government intends to sue, but fill the maximum capacity for suits at the district court.

The suits charge families from the villages of Nuwei'ma, Ad-Duyuk and Al-Auja of violating state property. Dozens of hearings have already been held, most of which were postponed on the request of families seeking time to get ownership documents in order.
Posted by TS at 02:08 AM | Comments (0)
June 10, 2009
Washington Post Out of Step on Parade
An estimated 100,000 people participated, as marchers or spectators, in the world's largest celebration of the birth of the State of Israel in New York City's May 31st "Salute to Israel" parade. The huge procession down Fifth Avenue not only commemorated Israeli Independence Day, it also marked the 100-year anniversary of the establishment of Tel Aviv. Participating were Tel Aviv Mayor Ron Huldai, New York Mayor Michael Bloomberg, and New York State Gov. David Patterson. The Washington Times Associated Press report on the parade, headlined, "Thousands celebrate birth of Israel" (June 1) was accompanied by a large black and white photograph. The Washington Post published the same AP article on its Web site on the day of the event, but ran nothing in the June 1 print edition. Space is always tight, and the parade was in New York, not Washington, DC, but the Post is a national as well as local newspaper and, having found the parade newsworthy enough for Web readers, at least should have published it as a brief in the printed edition. -A.L.
Posted by ER at 02:28 PM | Comments (0)
The Media's Unsettling Language
Here's from Dry Bones today:
Posted by TS at 02:33 AM | Comments (0)
June 09, 2009
Open, Shut Case
Once again, Ha'aretz is wrong on the Gaza crossings. Today's article about the thwarted terror attack at Israel's border with Gaza yesterday, errs:
Israel closed the crossings into Gaza following the attack.
While the Nahal Oz fuel terminal and Karni crossing were closed, the Erez and Keren Shalom crossing continued to operate, the latter receiving 141 trucks. As the Palestinian Maan News Agency reported yesterday afternoon (15:40):


Israel opened the Gaza Strip's Kerem Shalom crossing for the transfer of humanitarian aid but closed the Karni crossing and the Nahal Oz fuel terminal on Tuesday.

According to Palestinian border official Raed Fattouh, 141 truckloads of supplies were delivered to the Kerem Shalom crossing. A truck loaded with chlorine was also allowed to transfer its delivery to the Palestinian Water Authority.

Fattouh said that Israel informed the Palestinian side that the Karni grain terminal and the Nahal Oz fuel terminal would both be closed.
Furthermore, the Government Press Office yesterday sent a news release from the IDF's Spokesman's Office to journalists as early as 15:00 stating:


Despite the attack thwarted this morning on the Gaza Strip security fence, 30,000 vaccine units for the foot-and-mouth disease were transferred to the Gaza Strip via the Erez crossing. 125,000 vaccine units were transferred to the Gaza Strip in the passed three months in three different transfers, due to the importance of preventing the outburst of the disease.

In addition, humanitarian aid transferred daily to the Gaza Strip, is scheduled to be transferred via the Kerem Shalom crossing. 140 truckloads of various humanitarian aid is scheduled to pass today. The Erez terminal will also be open.
Posted by TS at 06:21 AM | Comments (1)
June 08, 2009
Wikicorruption
It seems "a guardian of the truth" on Wikipedia has not been so truthful. . .
Posted by TS at 03:16 AM | Comments (0)
June 07, 2009
EWTN's Skewed Commentary on the Pope's Holy Land Trip
On the Eternal Word Television Network May 15 broadcast of The World Over , hosted by Raymond Arroyo, Br. Aloysius Florio (of Franciscan Monastery of the Holy Land in Wash., D.C.) provided unbalanced, inaccurate commentary pertaining to Israel during a review of the Pope's May 8-15 Holy Land trip. EWTN is the pre-eminent Roman Catholic TV network but it doesn't speak for the hierarchy of the U.S. Roman Catholic Church since it is not under the authority of the U.S. Conference of Catholic Bishops.
The Pope had held an inter-religious dialogue meeting in Jerusalem on May 11 that was seriously marred by an anti-Israel outburst by Sheik Tamimi, Chief Islamic Judge of the Palestinian Authority, who falsely accused Israel of several crimes against the Palestinians. Br. Florio, commenting on Tamimi's diatribe, credulously accepted what Tamimi claimed "Israelis are doing to Palestinians":
He criticized, of course, very strongly, in strong language, not diplomatically, what the Israelis are doing to the Palestinians – depriving them of their rights, tortured, imprisoned, etcetera, etcetera.
Viewers would have been better served if counter commentary had been provided to balance Br. Florio's claim. Likewise, viewers should have been informed of the disapproving reaction to Tamimi's statements by Catholic and Jewish religious leaders. According to a May12 Jerusalem Post article, the director of the Holy See Press Office, Fr. Federico Lombardi, condemned Tamimi's diatribe as "a direct negation of what dialogue should be" and the Chief Rabbi of Haifa, Rabbi Shear Yashuv Cohen, the only Jewish representative on the stage with the pope, condemned Tamimi for "cynically exploiting the media opportunity to incite and disparage the State of Israel." Rabbi Cohen, who is also the cochairman of a joint Chief Rabbinate-Holy See interreligious committee, said he would refuse to meet with Tamimi again.
Later in the May 15 broadcast of World Over, Br. Florio commented on the May 13 West Bank visit in which the Pope expressed sorrow for the need for the security barrier. Br. Florio said:
This wall is a source of great suffering for the Palestinian people because it deprives them from crossing over into Israel where many of them found work. Consequently now, they are suffering the affects of that. There's a lot of problems with people – even our own Christian people - the every day need for food and so forth.
Unfortunately, Br. Florio and Mr. Arroyo failed to inform viewers that the security barrier has minimized the number of Palestinian terrorist incursions into Israel, thus saving many Israeli lives and, as well, reducing Palestinian casualties which would have resulted from Israeli incursions responding to the attacks.
Furthermore, while Br. Florio described hardships endured by Palestinian Christians, he neglected to inform viewers that while Christians are emigrating from Muslim-dominated countries (including Palestinian areas) surrounding Israel - largely as a result of systematic Muslim persecution - this is not the case in Israel itself, where the Christian population has thrived and steadily increased.
Posted by MK at 12:16 PM | Comments (0)
Gideon Levy's $30 Billion Error
On Planet Ha'aretz, Israel receives $30 billion in defense aid annually from the Americans. Now, while some might be ecstatic or scared at this very handsome sum (depending on your perspective), here on planet Earth the figure is much less.
The ever-reliable Gideon Levy wrote Thursday:
Yes, there is no Israel without America -- not only the $30 billion annual defense aid . . .
Also, for the benefit of Israel's Hebrew speakers, who still might be living on Planet Earth, Levy disabuses them in their own language.
But for those who might rely on official U.S. government statistics, such as those published in U.S. Agency for International Development U.S. Overseas Loans and Grants report (also called the "Greenbook"), the U.S. gave Israel $2.34 billion in military aid in 2007 (the most current year listed) and $2.2578 billion in 2006.
While the online version of the English article now refers to just "$3 billion annual defense aid," the English and Hebrew print editions have yet to run a correction. And the error still stands on the Hebrew Web site.

Posted by TS at 07:10 AM | Comments (2)
From Beirut to Tel Aviv
In a New York Times article yesterday about the key election in Lebanon today, where voters will be choosing between a Western aligned government versus one led by Hezbollah and backed by Iran, Robert F. Worth writes:
If Hezbollah and its allies win a majority for the first time — and the race is likely to be very close — there will be concern in Washington and Tel Aviv. [Emphasis added]
Tel Aviv, is it? Not Jerusalem? The last we checked, the seat of Israel's government is still in Jerusalem.
Posted by TS at 03:20 AM | Comments (0)
June 02, 2009
Lemon Tree Reviewers Can't See the Forest For the Trees
Imagine a film about the hardships endured by ordinary Germans subjected to heavy bombardment during World War II – and, for example, the heroism of those coming to the rescue of injured victims buried in the ruins of collapsed buildings. But imagine, as well, that this film provides no context dealing with the problem that led to the bombardment - which was the leadership that the German people followed, one whose brutal aggression caused enormous and widespread suffering and led to World War II. Lacking this context, an uninformed audience might not realize that the German people largely brought on their own suffering. Such a film would almost certainly be dismissed as propaganda.
Yet what wouldn't be acceptable in a film about the suffering of ordinary Germans is indeed acceptable to the mainstream media when the film deals with the suffering of ordinary Palestinians (this is not to say that Nazi Germany is equivalent to the Palestinian Authority). Generally praised by reviewers, the film at issue is Lemon Tree, by the Israeli writer/director Eran Riklis, which premiered in New York in April followed by showings in other venues across America. European audiences (the film was the "Audience Award Winner" at the Berlin Film Festival) and American audiences (the May 24 Boston Globe rated the film at three stars as compared to Hannah Montana with two stars) have been subjected to a skillfully made propaganda film containing nothing about the fact that current Palestinian suffering has been largely brought on by the Palestinians themselves in generating and supporting horrific terrorism against Israelis.
The Lemon Tree, released by IFC Films, portrays a fictional Palestinian heroine protecting her lemon trees from Israeli soldiers who are ordered to severely prune the trees because it is feared that they are likely to be used as cover by Palestinian terrorists. The 106-minute film is in Arabic and Hebrew, with English subtitles (with only a few scenes spoken in English).
One message the film sends is that the Palestinians are likable, noble, straight-forward and peaceful, while Israelis are generally abusive, arrogant, ruthless and sometimes physically brutal. The only sympathetic Israelis seem to be those who support the Palestinian heroine.
Another message of this film is that the Palestinians, unlike the Israelis, lovingly nurture the land, a one-sided portrayal at odds with reality. Jewish pioneers returned - in increasing numbers to their ancestral land in the 19th and 20th centuries – to nurture and bring back to life, land left largely barren by Arab nomads and others. Accordingly, today's Israel prospers from the agricultural yield provided by descendants of those pioneers who, together with other Israelis, are prolific growers of citrus fruits and other crops. Furthermore, Israel is the only country in the world that entered the 21st century with more trees than it had at the beginning of the 20th century! One would never know from this Riklis film (or its reviewers) that love of fruit trees in ingrained in Jewish culture: Once a year, Jews, especially Israelis, celebrate Tu b'Shevat (New Year of the Trees). Not surprisingly, the political agenda of such films makes it unlikely that they would ever deal with actual events like that of the valuable Israeli Gaza green-houses left to Palestinians who promptly destroyed the structures out of pure hatred for Jews (nor would reviewers bring out this point).
However, an important point missed by other reviewers of the film did not elude Daniel M. Kimmel writing in Boston's Jewish Advocate (May 1, 2009):
Israeli filmmakers can see the humanity of the average Palestinians. This may upset the hardliners on both sides, but it begs the real question: Where are the Arab films in which decent Israelis are shown to struggle under the present circumstances? Where is the reciprocity? Wafa Younis may know something about that. She's the former conductor of a Palestinian youth orchestra that was disbanded by Palestinian authorities after it played a concert for Holocaust survivors. When a Palestinian can make a movie like Lemon Tree and even be celebrated for it, then perhaps we will be ready for peace.
Posted by MK at 12:50 PM | Comments (1)
June 01, 2009
Rorschach Test on Arab League Plan
Whom do you believe: The Saudis? The Iranians? Akiva Eldar? Ha'aretz's earlier report or Ha'aretz's later report? Consider this a Rorschach test on the Arab League's plan.
Ha'aretz's Akiva Eldar claims today:
The new-old Arab-Israeli-American coalition is Obama's answer to the Iran-Hamas-Hezbollah one. It is based on the peace initiative of the Arab League, which was adopted by the Organization of the Islamic States, including Iran.
But as Ha'aretz reported back in 2007:
A spokesman for the Iranian presidency on Sunday denied that President Mahmoud Ahmadinejad had expressed support for the 2002 Arab peace initiative during talks with Saudi officials, as reported by Saudi Arabia's official news agency.

"During the summit, no discussions were held in this regard," Spokesman Ehsan Jahandideh told IRNA, the Iranian news agency.

Under the Saudi peace plan, adopted at an Arab League summit in Beirut in March 2002, Arab states would normalize relations with Israel in exchange for its withdrawal from territory captured in the 1967 Six-Day War.

Iran's official Islamic Republic News Agency, in a report carrying statements by Iranian President Mahmoud Ahmadinejad on his return to Iran late Saturday following talks with King Abdullah in Saudi Arabia, did not mention the initiative.

The Saudi Press Agency reported early Sunday that Ahmadinejad had said during talks that he was in favor of the plan. The report did not say how the agency had learned of this.
Posted by TS at 06:48 AM | Comments (0)