« April 2009 | Main | June 2009 »
May 29, 2009
Signs of Hope?
Warren L. Miller (pictured above) reports that Morocco's King Mohammed VI is bucking a trend in the Muslim world by condemning the refusal to accept the Holocaust as a historical fact.
In a piece published in the Philadelphia Inquirer, Miller, chairman of the U.S. Commission for the Preservation of America's Heritage Abroad, reports that King Mohammed VI recently gave a speech at the Royal Palace in Fez in which he called the Holocaust "one of the blots, one of the most tragic chapters in modern history. According to Miller, King Mohammed VI also stated that "Amnesia has no bearing on my perception of the Holocaust, or on that of my people."
Miller, who does not provide an exact date for the king's speech, reports that it "offers a stark contrast to the willful amnesia now common place in parts of the Muslim world, where denial and distortion of the Holocaust have become widespread."
Miller writes:
Among the most notorious examples is Iranian President Mahmoud Ahmadinejad, who has called the systematic murder of six million Jews a "myth," and whose government sponsored a conference of Holocaust deniers in 2006. Meanwhile, through Arabic translations of revisionist literature and the indulgence of much of the state-sponsored Arab press, some Muslim Arab leaders have sought to make Holocaust denial a tool against Israel and the West.

But in a few places in the Islamic world, there is now a willingness to look truthfully at the past and comprehend what befell European Jewry more than six decades ago. Last year, the predominantly Muslim European nation of Albania commemorated its first Holocaust Remembrance Day. And now King Mohammed has shown real leadership by publicly acknowledging the Holocaust. He should be emulated as well as applauded.
A cursory search of the official website where King Mohammed's speeches are published indicates this speech has not yet been posted. Hopefully, Morrocco's Ministry of Foreign Affairs will publish the full text of this speech.
Posted by dvz at 12:24 PM | Comments (0)
Mahmoud Abbas Acknowledges Rejecting Israeli Peace Offer
Washington Post Deputy Editorial Editor Jackson Diehl recounts his recent conversation with Palestinian President Mahmoud Abbas in today's issue of the newspaper.
It seems that yet again Israel offered Palestinians a state on virtually the entire West Bank, and yet again a Palestinian leader — this time the one widely described as moderate — rejected the offer.
Diehl writes:
In our meeting Wednesday, Abbas acknowledged that Olmert had shown him a map proposing a Palestinian state on 97 percent of the West Bank -- though he complained that the Israeli leader refused to give him a copy of the plan. He confirmed that Olmert "accepted the principle" of the "right of return" of Palestinian refugees -- something no previous Israeli prime minister had done -- and offered to resettle thousands in Israel. In all, Olmert's peace offer was more generous to the Palestinians than either that of Bush or Bill Clinton; it's almost impossible to imagine Obama, or any Israeli government, going further.

Abbas turned it down. "The gaps were wide," he said.
Diehl also quotes Abbas as rejecting, again, the notion that he should recognize Israel as the Jewish state, and as saying that the Palestinians can wait without making concessions in part because "the West Bank we have a good reality . . . the people are living a normal life."
Posted by GI at 11:52 AM | Comments (0)
May 27, 2009
Debunking Civilian Casualty Claims in Gaza
Elder of Ziyon blog's investigation of a list of Palestinian dead during the Israeli military operation in December and January reveals that hundreds who were reported to be civilians were in fact militants. The list of 1417 Palestinian victims was published in March by the Palestinian Center for Human Rights (PCHR), a Gaza-based organization. By cross-checking the names on the list with other Palestinian sources, including Hamas-affiliated web sites, Elder of Ziyon was able to compile the names of 286 militants who PCHR misidentified as civilians.
Media coverage of the Israeli operation in Gaza prominently featured the accusation that Israeli forces engaged in indiscriminate and excessive violence, in some cases intentionally targeting civilians. PCHR's reports of civilian fatalities were frequently cited to substantiate this accusation. As CAMERA pointed out as early as January 21, scrutiny of PCHR's own data cast serious doubts about its accuracy. The CAMERA analysis pointed out over 20 cases of mislabeling militants as civilians and noted that 75 percent of the fatalities were young males of combat age.
The recent analysis by Elder of Ziyon delves further into PCHR's data and debunks PCHR's assertion that most members of Hamas internal security forces (policemen) were civilians. It also reveals that a number of children (aged 17 or under) were Hamas combatants - a point initially suggested in the CAMERA analysis.
While these revelations come too late to impact coverage of the fighting, it can only be hoped that responsible journalists will be less inclined to accept without scrutiny the casualty statistics and claims made by PCHR and other groups that most of the casualties caused by Israeli military action are civilians.
Posted by SS at 10:36 AM | Comments (2)
May 25, 2009
Islamists 'Defining Identity' In Christian Cemeteries
In an act of what constitutes "defining identity" in New York Times-speak, 70 graves in two Christian cemeteries were desecrated yesterday in the West Bank Palestinian village of Jiffna, near Ramallah.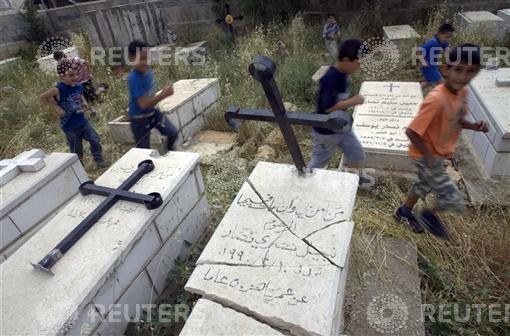 Palestinian boys run past desecrated gravestones in a Christian cemetery in the West Bank village of Jiffna, near Ramallah May 24, 2009. Vandals desecrated some 70 graves in two Palestinian Christian cemeteries on Sunday in what a Palestinian Authority official said was a rare attack on the Christian minority in the occupied West Bank (Reuters/Fadi Arouri)
A desecrated statue is seen atop a gravestone in a Christian cemetery in the West Bank village of Jiffna, near Ramallah May 24, 2009. Vandals desecrated some 70 graves in two Palestinian Christian cemeteries on Sunday in what a Palestinian Authority official said was a rare attack on the Christian minority in the occupied West Bank. (Reuters/Fadi Arouri )
Posted by TS at 03:23 AM | Comments (2)
May 24, 2009
Spotlight on IDF Spox Unit
The Jerusalem Post runs a feature on the IDF Spokesperson's Office, which in recent months has launched new initiatives, including videos on YouTube.
Posted by TS at 05:20 AM | Comments (0)
May 20, 2009
Ha'aretz: US Media Bored With Israelis, Palestinians?
Ha'aretz wonders: Is U.S. media tired of Israeli-Palestinian conflict?
Posted by TS at 05:33 AM | Comments (0)
May 19, 2009
Stephen King Considers Media's Israel Fixation
Stephen King considers real horror stories playing out around the world:
Millions of black Africans have died in Congo in the past decade, well below most people's radar.

Sri Lanka has had a bit of a focus in recent weeks – though hardly the minute-by-minute wraparound coverage Gaza had in January. How many of us were really aware of the fact that more than 80,000 people have died in a quarter of a century of civil war? . . .

The same could be said about Chechnya. The Russians have just announced the end of their "counter-terrorism" operation. There are no solid figures for the number of civilians killed since the second war began there in late 1999, but estimates range anywhere between 25,000 and 200,000.

Put that in context. Israel might be geographically small – smaller than Munster – but in population terms Chechnya is absolutely tiny. A region with a little more than one million inhabitants has seen anything up to one-fifth of its civilian population killed in two decades of war. And one school siege aside, we have largely looked the other way.

By comparison, 6,000 Palestinians – armed and civilian together – out of a Palestinian population in the territories three to four times that of Chechnya have died since the second intifada of 2001.
King then considers a number of possible explanations for the media's disproportionate focus on Israel, and concludes:
Gaza for breakfast, back to the pool at the American Colony Hotel in time for tea, and pick up an attractive girl or strapping lad at a bar after dinner. Same again tomorrow, please. Just try doing that in Darfur.
Posted by TS at 04:36 AM | Comments (4)
May 17, 2009
The Key Is Positioning
The caption on this AP photo is:
A Palestinian passed out from tear gas fired by Israelis troops, holds a key symbolizing the keys to houses left by Palestinians in 1948, during a demonstration marking the 61st anniversary of 'Nakba,' Arabic for catastrophe, in the West Bank village of Bilin, near Ramallah, Friday, May 15, 2008. [sic -- it's 2009] The rally marked the displacement of hundreds of thousands of Palestinians who either fled or were driven out of their homes during the 1948 war over Israel's creation. (AP Photo/Bernat Armangue)
How many people pass out with their hands up in the air? Lucky for this peaceful protestor, it's the hand holding the ubiquitous key to boot.
(Hat tip: Last Mohican)
Posted by TS at 01:23 PM | Comments (5)
Ha'aretz's AngloFile Errs on Israel's Christians
Ha'aretz's AngloFile erred on Israel's Christians Friday:
The official status of the [Christian] institution -- according to Raed Mualem, the institution's vice president -- will help Israel retain more Christians, whose presence here has drastically fallen over the past decades. (Emphasis added.)
In fact, the opposite is true -- the Christian population in Israel has drastically grown -- not fallen -- over the past decades. According to the Statistical Abstract of Israel 2008 published by Israel's Central Bureau of Statistics (Chart 2.2), there were 34,000 Christians in Israel in 1949; 48,300 in 1959; 73,500 in 1969; 87,600 in 1979; 107,000 in 1989; 131,800 in 1999; and 151,600 in 2007 (most recent available figure.) Thus, Israel's Christian population has grown by 345 percent since 1949.
Stay tuned for an update -- will Ha'aretz wisely set the record straight or once again stubbornly adhere to its quasi-policy not to correct straight-forward factual errors?
Posted by TS at 05:29 AM | Comments (1)
Al Jazeera, Weapon of Muslim Brotherhood?
Zvi Mazel of the Jerusalem Center for Public Affairs examines the Al Jazeera-Muslim Brotherhood connection.
Posted by TS at 04:15 AM | Comments (0)
May 13, 2009
Hass Arrested
Ha'aretz's Amira Hass was detained and released on bail after returning from her illegal stay in Gaza.
This is her second arrest in the last several months.
Posted by TS at 06:20 AM | Comments (1)
May 12, 2009
British Clergy Puzzled As BBC Appoints Muslim As Head Of Religious Programming
British Church leaders become disillusioned with the BBC.
Posted by at 10:10 AM | Comments (0)
May 11, 2009
Wikipedia Proves Giant Gallstone
A Dilbert comic strip pokes fun at the ease with which Wikipedia can convey false information:
Click here for CAMERA articles about Wikipedia's shortcomings.
Posted by GI at 12:12 PM | Comments (2)
Fanciful Map Indeed
Robert Mackey, writing in the New York Times blog, uses a fanciful map of a future Palestinian point to argue:
since Israel has no intention of withdrawing completely from the West Bank, what kind of map might incorporate part of the territory into Israel and still make the remaining part a truly "viable" state?
Mackey's talk of "Palestinian Archipelago" aside, all it takes is a glance at maps drawn up by President Clinton's team during Camp David negotations to realize that Mackey is making much ado about nothing.
At left, you see the pretend map drawn by somebody called Julien Bousac and used by the New York Times writer to argue that Israeli territorial intransigence is blocking a Palestinian state. At right is the real map devised by President Clinton but ignored by the Times writer. Clinton's map demonstrates that Palestinian territorial contiguity is possible and not beyond the means of "any sensible mapmaker," to borrow from Mackey's words. Israel agreed to it, so while there are serious obstacles blocking the way of a successful Palestinian state, Mackey is barking up the wrong tree with his fanciful musings about maps. (Map at right is from Dennis Ross' The Missing Peace.)
Posted by TS at 05:21 AM | Comments (1)
Lousy Subheadline of the Day
A subheadline in today's print edition of the International Herald Tribune reminds us that often headline writers have not a clue about the subject matter at hand:
Israeli development plan for fringe of Jerusalem includes historical spots
The plan in question concerns the area just south of the Old City, also referred to as the Holy Basin, the City of David, or Silwan.
It is in the center of Jerusalem, not the "fringe." A look at the New York Times' own map illustrates the point:
Posted by TS at 05:08 AM | Comments (0)
May 10, 2009
National Geographic Surprises
National Geographic surprises us with a video by Lisa Ling, "Mother of a Martyr," examining the genocidal incitement prevalent in Palestinian society.
Posted by TS at 07:41 AM | Comments (0)
Meshal Follows Up
Anyone who believes Khaled Meshal's statements last week to the New York Times that a Palestinian state within '67 boundaries is acceptable to Hamas should check out this week's declaration.
It's the same old game. A seemingly conciliatory message for the English-speaking public, versus the Arabic rejectionist position.
Posted by TS at 06:45 AM | Comments (0)
Wikipedia Woes
There are many lessons to be drawn from this article, among them:
1) Wikipedia is not reliable.
2) Primary sources must be checked.
3) Mainstream journalists are becoming increasingly lazy.
Feel free to chime in with more. . .
Posted by TS at 06:03 AM | Comments (0)
May 06, 2009
Hamas' Word
Two days after Hamas leader Khelad Meshal told the New York Times that Hamas "had stopped firing rockets for now," mortars again hit southern Israel.
Does anyone still believe Hamas' promises, I mean, aside from Jimmy Carter?
Posted by TS at 05:33 AM | Comments (0)
May 03, 2009
CAMERA's Letter-Writer of the Year Takes the Podium
Josh Hasten, CAMERA's 2009 letter-writer of the year, addresses the crowd at CAMERA's Annual Banquet in New York April 26.
Posted by TS at 05:16 AM | Comments (0)
May 01, 2009
Israel's Founding A Unique Moral Achievement
CAMERA's Christian Media Analyst, Dexter Van Zile, spoke at a rally in celebration of Israel's Independence Day. The rally was held at Copley Square in Boston, on April 30. Below is the prepared text of his speech.
Dexter Van Zile
My name is Dexter Van Zile and I'm a Zionist.
I believe that the creation of the state of Israel in 1948 was a unique moral achievement.
A beleaguered people who had been subject to violence and oppression for close to 2,000 years returned to its ancestral homeland.
They created a sovereign state where they could exercise their right to self-determination and wield the power necessary to protect themselves.
No longer did the Jewish people have to rely on the good will of others to protect them from those who would murder them.
To be sure, this justice was not perfect.
The Arabs living in Palestine objected to Israel's creation and under the circumstances, it was unreasonable for people to expect otherwise.
Sixty-one years later, however, it's time for leaders in the Middle East to abandon the fantasy of Israel's destruction.
Those who encourage extremists in the Middle East to hold onto this fantasy by chanting "From the river to the sea, Palestine will be free," at rallies here in the United States have blood on their hands.
They are giving aid and comfort to a movement intent on mass murder.
Israel's creation was proximate justice, which in the world we live in is pretty good.
As Barack Obama's favorite theologian, Reinhold Niebuhr said two years before Israel's founding: "There is no way of finding a perfectly just solution of any political problem. The fact however that the Arabs have a vast hinterland in the Middle East and that the Jews have no where to go … establish the relative justice of their claims and their cause."
Israel is a great moral achievement because in addition to laying claim and affirming a national identity, its people have also accepted national responsibility for the actions of its leaders.
Israel has demonstrated the principle of accountability that is so patently obvious in the Torah: With liberty and power comes responsibility and accountability.
Sadly, Israel's enemies have not yet learned to follow the example of self-criticism and self-correction set for them by the Jewish state and by the Jewish people.
Instead they have used this self criticism as a tool to de-legitimize the Jewish State.
The vast majority of the American people are not fooled by this tactic.
The American people may not speak Hebrew or Arabic, but we can see the difference between Aliyah and Jihad.
We can see the difference between Aliyah and Intifada.
The American people can see the difference between Am Yisrael Chai and "Back to the Ovens."
The American people know who has withdrawn from territory and who has launched rockets.
The American people know the difference between the people who build greenhouses and those who demolish them.
The American people know who has made the peace offers and who has rejected them.
The American people know who has mourned the death of civilians and who has danced in the street when civilians were murdered.
We know who our friends are, and who they aren't.
So on this 61st anniversary of Israel's Founding, my message to the Jewish State, to its supporters and to the Jewish people and their defenders is a simple one.
Be strong.
Let your heart take courage.
And let not your foot be moved.
Posted by GI at 12:41 PM | Comments (2)