« February 2009 | Main | April 2009 »
March 31, 2009
Judge Upholds George Galloway Canada Ban
See here.
Posted by at 02:25 PM | Comments (0)
The (Non-)Relationship Between Terrorism and Occupation
There are many points that disprove the canard, and default argument of some anti-Israel activists, that casts Israel's presence in the territories as the root of the Arab-Israel conflict and the cause of Palestinian violence. Not least is the fact that the conflict existed long before the occupation began in 1967. Jews were massacred in Hebron in 1929. Arab riots in 1936 targeted Jewish lives and property. The 1948 war occured 19 years before Israel gained control the West Bank and Gaza Strip. The 1967 war was the cause of, rather than the effect of, the occupation.
Now, a new bit of information helps demonstrate the fallacy of the occupation-causes-violence thesis.
A March 2009 poll by the Palestinian Center for Policy and Survey Research found that 47 percent of West Bank Palestinians supported armed attacks against civilians in Israel vs. 49 percent that opposed such attacks.
In the unoccupied Gaza Strip, where there is nary an Israeli settler nor a soldier, support for terrorism is much higher: 67 percent of Gaza Palestinians support attacking Israeli civilians, as opposed to 32 percent who are against such attacks.
(When one takes into account both the Gaza Strip and the West Bank, 54 percent of Palestinians support, and 43 percent oppose, terror attacks against Israelis.)
Another interesting result from the poll:
There is a proposal that after the establishment of an independent Palestinian state and the settlement of all issues in dispute, including the refugees and Jerusalem issues, there will be a mutual recognition of Israel as the state of the Jewish people and Palestine as the state of the Palestinians people. Do you agree or disagree to this proposal?

| | |
| --- | --- |
| Definitely agree | 5.6 |
| agree | 44.3 |
| disagree | 36.9 |
| definitely disagree | 10.6 |
In other words, even if there were a Palestinian state and every single issue in dispute between Palestinians and Israelis were settled, only half of Palestinians would recognize the Jewish state.
Interestingly, a higher number of Palestinians (58 percent) expressed support for the "Saudi peace plan" (also know as the "Arab peace initiative"), which calls for peace and normal relations between Arab countries and Israel if Arab demands are met. The discrepancy between the two results could be seen as suggesting that some Palestinians don't think the Saudi plan envisions recognizing Israel in its current form. They may believe fulfillment of the plan's demand for a "just solution to the Palestinian refugee problem" would lead to an influx of Palestinians into Israel, which would make the Jews a minority in a new Arab-majority state.
Suffice to say that Israelis and Jews don't view this as a "just solution."
Posted by GI at 11:39 AM | Comments (0)
March 30, 2009
Ithaca's Alumni Magazine Steps into Big Muddy Courtesy of CPT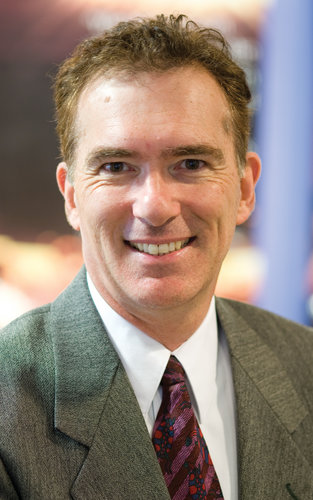 Thomas R. Rochon, President of Ithaca College
The alumni magazine of Ithaca College – ICView – has found itself at the center of a controversy because of a self-serving and one-sided article about the Arab-Israeli conflict written by a recent Ithaca graduate, Emily McNeill, who recently visited the West Bank under the aegis of Christian Peacemaker Teams. The article was so distorted and one-sided that the publication's editor, Maura Stephens, later apologized, apparently under pressure from Ithaca college president Tom Rochon, who also apologized and promised to impose stricter editorial oversight on the magazine. (Apparently, Stephens published the article without showing it to anyone else before the issue went to print.)
Rochon's response generated debate about the role ICView should play at Ithaca College. Some believe that ICView is a marketing publication intent on promoting the connection between the school and its alumni. This group (which, judging from the comments in response to President Rochon's apology, is in the minority), believes that he made the right decision by apologizing.
Others believe that ICView should contribute to the intellectual life of the university and its graduates and that Stephens made the right decision to publish the article. This group has expressed support for Stephens' decision to publish McNeill's piece.
The problem for those who defend the Stephens' decision to publish the article on the grounds that alumni magazines should provoke discussion is that the piece in question offers a fundamentally one-sided and unfair portrait of the Arab-Israeli conflict. In other words, it was exactly the type of article readers should expect from activists who have done their time in the West Bank with Christian Peacemaker Teams.
Like most CPT propaganda, McNeill's article provides great detail about the suffering endured by Palestinians in the West Bank, but denies readers of details needed to understand the wider context of the Arab-Israeli conflict. McNeill writes about attacks on Palestinians perpetrated by the inhabitants of "extremist Israeli settlements" which are labeled "pockets of unchecked violence." McNeill describes the settler communities as motivated by a belief that "their existence in the West Bank" is part of the "battle for 'Eretz Yisrael,' a Jewish state from the Jordan River to the Mediterranean." To provide the patina of fairness, McNeill writes that these settlers feel threatened by Palestinian attacks" and by "official Israeli support for a Palestinian state." McNeill writes "Their vision for Israel is under attack, and they are waging war for it."
With its use of Israeli religious settlers in the West Bank as a lens through which readers are expected to view the entire Arab-Israeli conflict, McNeill's piece is a tour de force of CPT propaganda. McNeill draws attention to the religious beliefs of settlers in the West Bank, but fails to report that many of the inhabitants of these settlements moved there for economic and not religious reasons.
Moreover, McNeill predictably omits a few important facts. First, she makes no mention of the Palestinian failure to negotiate in good faith at Camp David in 2000 where Israeli leader Ehud Barak offered to withdraw from all of the Gaza Strip and most of the West Bank to allow for the creation of a Palestinian State. Arafat refused and failed to make a counter offer. Nor does she mention Arafat's refusal of the Clinton Parameters which were put forth after the collapse of negotiations at Camp David. The Clinton Parameters would have allowed for the creation of a Palestinian state on even better terms than what was offered at Camp David, and yet, Arafat again said no. If Arafat had negotiated in good faith there is a good chance many of the settlements that McNeill laments would not exist.
The Israeli withdrawal from the Gaza Strip in 2005 and the subsequent increase in violence is also left unmentioned in McNeill's piece. Israel has been attacked from nearly every bit of territory from which it has withdrawn from since the 1990s and yet, McNeill portrays Israeli settlements as the cause of the Arab-Israeli conflict by writing "unchecked settler extremism is fostering a culture of violence that shapes the perspectives and experiences of everyone there. Its legacy will touch West Bank communities – no matter what ethnic composition – for generations to come."
And while McNeill addresses the religious beliefs of settlers in the West Bank, she fails to even mention the religious beliefs of groups such as Hamas and Palestinian Islamic Jihad, groups that routinely call for Israel's destruction and which have murdered hundreds of Israeli civilians over the past two decades – in bomb attacks the author does not mention. These groups are motivated by religious teachings that deny Jews the right to a sovereign state of their own on land previously governed by Muslim rulers and by polemics that portray Jews as the descendents of "monkeys and pigs."
To borrow a phrase from McNeill's lexicon, the vision of Muslim extremists for the Middle East is under attack "and they are waging war for it." This vision includes the Middle East as Judenrein and for those few Jews remaining in region to live as a beleaguered minority.
McNeill's one-sided commentary should not come as a surprise. Stories of Israeli Jews behaving badly in the West Bank are the stock-and-trade of Christian Peacemaker Teams.
CPT activists routinely confront Israeli settlers and soldiers in the West Bank, but rarely confront, at least in any meaningful way, violence perpetrated by Palestinians. For example, Kathleen Kern author of In Harm's Way: A History of Christian Peacemaker Teams (Cascade Books, 2009) describes numerous confrontations between CPTers and Israeli settlers and soldiers, but provides little evidence of these activists confronting Palestinian terrorism. Yes, CPTers did ride in an Israeli bus in 1996 to show solidarity with Israeli victims of a Hamas bomb attack, but even Kern acknowledges this was not all that impressive. She writes that during the summer of 1995, "CPTers [in Hebron] did make a few futile attempts to stand between stone throwers and [Israeli] soldiers, but found these attempts ineffective for a small group of people."
After portraying these stone-throwing incidents as a response to "the signing of agreements detrimental to the residents of Hebron or the circulation of a poster depicting Mohammed as a pig writing the Quran," Kern writes:
Still more painful [than stone throwing] was the lethal violence Palestinian militants committed—especially against Israeli civilians. After the team rode the No. 18 bus in 1996, no more incidents of "predictable" terrorism occurred. The best the team could do was to publicly condemn the violence, but such condemnations seemed paltry. Sometimes the best answer team members could give for how they prevented violence against Israelis was that by diminishing the systemic brutal violence against Palestinians, they were diminishing the rage that led suicidal young men to turn themselves into human explosives.
CPTer condemnations about Palestinian terror attacks "seem paltry" because they are. During its time in the West Bank, the CPT has issued scores of press releases that drawing attention to the misdeeds of Israeli soldiers and settlers but very few that address the violence perpetrated by Hamas or Palestinian Islamic Jihad.
CPTers justify this one-sided and partisan activism by asserting that there is an imbalance of power between the Israelis and Palestinians, with Israelis equipped with tanks and airplanes and with the Palestinians limited to stones, rocket launchers and suicide bombers. But if CPT activists were serious about confronting power imbalances, they would take note that Israeli Jews comprise a very small percentage of the overall population in the Middle East, and that the overall military spending by Arab and Muslim countries in the region dwarfs that of Israel. Yes, to be sure, Egypt and Jordan have signed peace treaties with Israel, but non-state actors have maintained the fight against Israel in spite of these treaties.
And as powerful as Israel appears to be when compared to the Palestinians, it still lacks the power necessary to change Palestinian behavior, which resides in the hands of Palestinian leaders. CPTers purport to have the moral authority to confront violence of the Arab-Israeli conflict, but sadly, the only people they confront, or "get in the way" of in any meaningful way is Israelis.
Given this bias, which is manifested in numerous books and articles – most of them written by CPT activists themselves – it is unreasonable to expect McNeill to write anything other than what she did – a one-sided, biased and self-serving commentary that demonizes Israel and downplays the motive and impact of Arab and Muslim hostility toward Jews in the Middle East.
If such an essay qualifies as a contribution to the intellectual life of Ithaca college, the school has a problem that goes much deeper than its alumni magazine.
Posted by dvz at 02:46 PM | Comments (5)
Dry Bones Draws On War Crimes 'Testimonies'
Dry Bones today provides us with an illustrative cartoon of the Ha'aretz-New York Times - et al Gaza "atrocities" fiasco: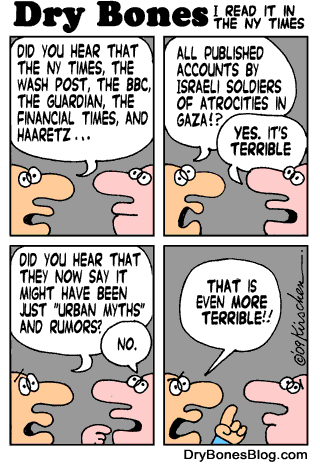 Posted by TS at 03:40 AM | Comments (0)
March 29, 2009
NY Times Backpedals on Gaza Atrocities Story
The New York Times has now run a follow-up article on the Gaza atrocities reports that, while far from perfect, corrects and rebuts many of the false charges that spread from Ha'aretz to news outlets around the world.

The article, which was on the Times website on Friday, was published in the Saturday paper (which has the lowest circulation of the week) on page four, not on page one above the fold like the Times' first article on the subject. Still the article admits that the alleged killing by an Israeli sniper of the mother and her two daughters was an "urban myth" that almost certainly did not occur, and quotes Israeli soldiers including Yishai Goldflam on how they tried to avoid harming innocent Palestinians and their property.

The article also quotes an Israeli academic who has studied the impact of the growing proportion of religious soldiers in the IDF and the influence of rabbis on the conduct of these soldiers. According to the professor the rabbis have had a moderating impact on the soldiers, contradicting claims in the Times ("A Religious War in Israel's Army") and elsewhere that rabbis had called for a religious or "holy war" against the Arabs and specificaly in Gaza.
For accounts from more IDF soldiers which contradict the rumors published earlier in Ha'aretz and the New York Times, see the new Web site, "Soldiers Speak Out."

Posted by TS at 03:31 AM | Comments (1)
Accolades for the Arab Lobby

For those who believe that 'the Jews control the media,' John Mearsheimer and Stephen Walt among them, Melanie Phillips has some interesting news:
Arab Media Watch lifts a curtain to show us the real lobby at work. It boasts:

Some 200 guests gathered at Kensington's Royal Garden Hotel on 21 March 2009 to attend Arab Media Watch's fifth annual fundraising dinner, and to mark its ninth anniversary. Among the guests were almost three-dozen senior journalists from the BBC, Al Jazeera English, Financial Times, Reuters, Daily Mail, Independent, Asharq Al Awsat, Al Quds Al Arabi, Al Hayat and others.
The warm, positive responses from the media representatives were overwhelming, Phillips reports. Among them:
'Thank you…We did enjoy it.' - Financial Times / Reuters

'Many thanks for inviting me. I enjoyed it.' - The Independent

'I enjoyed the programme and the company of your nice guests.' - BBC

'Thank you very much for the invitation. I wish you all the success you deserve.' - BBC

'Thank you very much for the invitation. I really enjoyed the annual dinner. It was refreshing. It was, as before, perfectly organised…' – BBC

'Thank you so much for your generous invitation…The event was wonderful and the presentation was flawless…Best wishes for continued success…' – BBC.
Posted by TS at 02:40 AM | Comments (1)
March 24, 2009
Arab Journalist Shocked by Anti-Israel Extremism on American Campuses

Jerusalem Post correspondent Khaled Abu Toameh has come up against the most extreme deniers of Israel's right to exist. Not in Gaza, but here in American universities. According to Abu Toameh, " I never imagined that I would need police protection while speaking at a university in the U.S. I have been on many Palestinian campuses in the West Bank and Gaza Strip and I cannot recall one case where I felt intimidated or where someone shouted abuse at me."
An Arab Muslim himself, Abu Toameh noted the irony that " many of the Arabs and Muslims I met on the campuses were much more understanding and even welcomed my "even-handed analysis" of the Israeli-Arab conflict." He believes that "What is happening on the U.S. campuses is not about supporting the Palestinians as much as it is about promoting hatred for the Jewish state. It is not really about ending the "occupation" as much as it is about ending the existence of Israel."
Read Abu Toameh's entire piece. He concludes with an ominous warning, suggesting that "we should not be surprised if the next generation of jihadists comes not from the Gaza Strip or the mountains and mosques of Pakistan and Afghanistan, but from university campuses across the U.S. "
Posted by SS at 02:23 PM | Comments (2)
March 23, 2009
US State Department: Richard Falk is Biased
From AFP:
The United States Monday said UN expert Richard Falk was "biased" in calling for an investigation on Israel's January offensive in the Gaza Strip on grounds it could be construed as a war crime.

"Look, we've expressed our concern many times about the special rapporteur's views on dealing with that question," State Department spokesman Robert Wood told a press briefing.

"We've found the rapporteur's views to be anything but fair. We find them to be biased. We've made that very clear," he added.
See more on Falk from CAMERA here.
Posted by GI at 08:02 PM | Comments (1)
Washington Post terms West Bank 'disputed territory'
In "Car Bomb Found Near Crowded Israeli Mall," Washington Post Jerusalem Bureau Chief Howard Schneider reported that "a 200-pound car bomb malfunctioned near a crowded mall in the Israeli port city of Haifa ... on Saturday night, averting what could have been one of the largest such attacks in Israel in the past several years ...." ("Car Bomb Found Near Crowded Israeli Mall," March 23).
He noted that "violence in cities like Haifa, well outside the disputed territory [emphasis added] of the West Bank and beyond the range of the rockets fired from the Gaza Strip, has declined in recent years."
The Post often has referred to the West Bank as occupied or Palestinian territory, but rarely as disputed. CAMERA has noted that Israel is the legitimate military occupational authority as a result of a successful war of self-defense (1967), pending a negotiated resolution. But since sovereignty is unresolved and Jews as well as Arabs have legitimate claims, the legal status of the West Bank (Judea and Samaria) is disputed. CAMERA has urged The Post to accurately describe the West Bank as "disputed," and commends Schneider and the foreign desk for this example.
At its closest point, the West Bank is 21 miles from Haifa. While that distance does put it "well outside the disputed territory" by Israeli distances, it does not do so by those of the United States, in which many counties are 21 miles wide or wider. The Post would do well to clarify that much of Israel inside the 1949 armistice line is adjacent to the West Bank.
Readers should be reminded that while Palestinian terrorism in cities like Haifa "has declined in recent years," due in part to the construction of the West Bank security barrier and continued Israeli operations in the territory, Iranian-backed Lebanese terrorists struck the city repeatedly with missiles in the 2006 Israel-Hezbollah war.
Nevertheless, accurately describing the West Bank as disputed territory is part of the basic information readers need to understand the Arab-Israeli conflict.
Posted by ER at 05:18 PM | Comments (0)
Kids' Scholastic News Magazine Obfuscates Gaza
Certain editions of the Feb. 16, 2009 issue of Scholastic News (an 80 year-old magazine) contained an article, "Working for Peace," purporting to explain how "U.S. leaders work to end conflict in a war-torn region" which is to say, the Gaza conflict. The article was aimed at fourth, fifth, and sixth-grade children. The article is not on-line.
The article's key section, "Violence Breaks Out," is likely to lead young readers to erroneously conclude that Israel is a culprit in this conflict:
In late December, Israel began bombing a neighboring territory called the Gaza Strip, which is home to Palestinians. Israel also sent soldiers there. The attack was against Hamas, the group that has run the Gaza Strip since 2007. Hamas does not accept the existence of Israel. Israel said it had attacked because Hamas was firing rockets into cities and towns in southern Israel. Hamas said it was doing that to end Israel's blockade of the Gaza Strip. That blockade has prevented people and most goods from entering or leaving it.
Scholastic declined to consider revising the article's key section, issuing this statement (from Kyle Good, V.P. Corporate Communications) on March 19: "As with all of our news articles, 'Working for Peace' was written using multiple sources, including our own original reporting, and then fact-checked using primary source materials." The following wording had been suggested to Scholastic as a more accurate, complete explanation:
After approximately 10,000 rocket firings from Gaza into Israel since August 2005 terrorizing Israeli citizens, and after many warnings by Israel to the terrorists of dire consequences if the rocket attacks didn't stop - in late December 2008, Israel began to attack rocket-launching terrorists and their weapons smuggling facilities. The group that has run the Gaza Strip since June 2007, Hamas, calls in its charter for the destruction of Israel. Hamas said it was firing rockets into southern Israel to end Israel's blockade of the Gaza Strip but the rocket attacks began long before the imposition of Israel's blockade. Israel says it has to maintain rigorous control over cross-border shipments in order to prevent the smuggling of deadly weaponry and other materials useful to the terrorists. Israel does allow in essential shipments, such as food and medicine.
In addition to use of its "own original reporting" and sourcing, Scholastic should report with accuracy and fairness. Accordingly, Scholastic could provide its readers with a better understanding of Hamas by exposing them to Hamas' anti-Semitic, genocidal charter and key public statements. Would this not be consistent with "helping children around the world to read and learn" as is stated in Scholastic's mission?
(Hat tip: Temple Emanuel of Andover, Mass.)
Posted by MK at 05:18 PM | Comments (0)
Ha'aretz "Accounts" of Killings Actually Rumors
The recent Ha'aretz stories about allegations by Israeli soldiers concerning misconduct during Cast Lead has prompted a flurry of coverage in the New York Times and other leading international media outlets. Read CAMERA's report to find out what the Times et al failed to cover.
See also Melanie Phillips' take on the "Ha'aretz Blood Libel."
Posted by TS at 04:47 AM | Comments (0)
March 20, 2009
British MP George Galloway Banned from Canada
Canada has deemed British MP George Galloway a threat to its national security and has consequently banned him from entering the country.
Canadian Immigration Ministry spokesperson Alykhan Velshi explained that the ban imposed on Galloway
was designed to protect Canadians from people who fund, support or engage in terrorism.
Velshi stated further
We're going to uphold the law, not give special treatment to this infandous street-corner Cromwell who actually brags about giving 'financial support' to Hamas, a terrorist organisation banned in Canada.
I'm sure Galloway has a large Rolodex of friends in regimes elsewhere in the world willing to roll out the red carpet for him. Canada, however, won't be one of them.
Read the full article here.
Posted by at 11:11 AM | Comments (8)
March 17, 2009
The Power of "Primitive" Rockets
On the Ha'aretz Web site today, Bradley Burston tries to explain to non-Israelis the significance of the relentless rocket attacks that have menaced Israeli lives and modified their political views. Most pundits don't seem to understand, he argues, that "it was fundamentally rockets and not racism that put Avigdor Lieberman where he is today."
He continues:
It is not the world's fault if it believes that Israelis do not have a right to their anger. The world is really not at all to blame if it prefers to view Israelis as ferocious without provocation, hateful without just cause.

The world only knows what we in the media choose to reveal. For a decade, we have dismissed the rockets as little more than toylike, backroom-cobbled nuisances, convenient pretexts for military onslaughts by Israeli politicians keen to evade graft raps.
Generally speaking, he's right in criticizing what the media "choose to reveal." For all the media's efforts to understand the Palestinian side by relaying human interest stories about their lives, there are scant equivalent articles discussing life, hopes and fears on the other side of the border.
A rare exception to this is reporter Ilene Prusher's piece in Saturday's Christian Science Monitor, which makes some effort to portray how daily Palestinian attacks from Gaza affect Israelis:
For Melul, like other residents in this border town, the challenges pepper the day. The trip to and from school is the most unsettling, as most of the Israelis who have been killed by rockets – 28 in the past eight years – were in an unprotected area. Four years ago, Melul had just left Sderot's shopping center when a rocket slammed into the parking lot, killing 4-year-old Afik Ohayon, a schoolmate of her son, Timor.

"It's scary. Well, when we go in the car it is, because when there's a 'Code Red,' there's nowhere to hide," says Timor, using the term for incoming rockets. ...

Today Timor, aged 8, won't let his mother leave them home alone for even a few minutes: He's afraid the "Code Red" will sound and he won't be able to corral his younger twin brothers into the shelter in time. Timor has been having nightmares, Melul explains. The two younger boys, Dvir and Naveh, who are 6, started exhibiting other unusual behaviors and ticks, and are now in therapy for childhood posttraumatic stress disorder (PTSD).

A recent study by NATAL, the Israel Trauma Center for Victims of War and Terror, found that 28.4 percent of people in Sderot suffered from symptoms associated with PTSD, compared with 5.2 percent in Ofakim, a town in southern Israel which has a similar socioeconomic profile but is not under rocket fire. Overall levels of anxiety and depression were nearly two to three times as high in Sderot, and children here are five times as likely to have sleep difficulties. Nearly 1 in 5 has behavioral problems.

"It affects every moment of your daily life in some way," Melul says. She points to the bicycles in the hallway, noting that her kids, like their schoolmates, don't take much interest in going out to ride. "The more you're out and about, the more you're at risk."

About a week ago, a Grad missile hit the Ashkelon school where Melul works. The courtyard where her students play took a direct hit. Fortunately, it happened to be a Saturday.

There have been other close calls. About two years ago, a rocket hit her sister's living room. "Everything was broken. You couldn't recognize a thing," she says. They repaired the damage quickly with the help of government support.
You can read the rest of the piece here.
Posted by GI at 02:35 PM | Comments (0)
March 13, 2009
More From Cohen's "Sophisticated" Middle East
Not to obsess over Richard Cohen's Israel obsession, but a couple of entertaining (or disturbing, depending on how you're feeling) videos from recent days are worth highlighting, in light of the Washington Post columnist's Feb. 22 column.
In that piece, Cohen insisted that the Middle East doesn't fall for the West's double standards because the region has "become too sophisticated." (As noted in an earlier blog entry, Cohen's column necessarily had to ignore the many examples of double standards emanating from the Middle East.)
Here are a couple of examples of this "sophistication" that Cohen can use to buttress his argument.
Last December, Iranian television aired a documentary explaining that Harry Potter is part of a Jewish/Zionist propaganda and brainwashing operation — a way to tell children to "join us" in worshiping Satan and to further the Jewish goal's of "world domination." (The latter point is elegantly explicated by a sophisticated Iranian university lecturer, Dr. Mehdi Goljan.)
The following month, on the other edge of the Middle East, Egyptian television showed cleric Safwat Higazi explaining that people should boycott Starbucks because the two-tailed mermaid
on the Starbucks logo is actually the Jewish Queen Esther (from the Purim story). You can watch that broadcast here.
There are surely many Middle Easterners who are indeed sophisticated, and see the absurdity of these conspiracy theories. But thanks to Middle Eastern university lecturers, clerics and television, there are all too many whose view of Jews recalls medieval Europe.
Posted by GI at 10:47 AM | Comments (2)
March 12, 2009
Washington Post columnist Richard Cohen's Israel problem
Washington Post syndicated columnist Richard Cohen's Israel problem is on display in an Op-Ed offering President Barack Obama foreign policy advice ("Moralism on the Shelf," March 10). Cohen notes the "sterile but necessary realism" he finds in "Obama's apparent willingness to divide the Taliban into awful and less awful," the administration's willingness "to hold its tongue regarding China's voluminous human rights abuses," and the U.S. attempt to "hit the 'reset button' on relations with Moscow, Vladimir Putin's neo-Stalinist fits notwithstanding." Also on that list, "a rebuke" to Israel for insisting "on expanding West Bank settlements."
That's an interesting cast of bad guys to be dealt with through sterile realism: the medieval Taliban in Afghanistan; the repressive Chinese government; a Russia that commits aggression against Georgia and somehow can't stop the murders of political and press critics at home; and Israel. Israeli insistence that Jewish communities in the disputed West Bank be allowed to provide for natural population growth puts Israel, according to Cohen, in the company of Russia, China, a major Islamic extremist movement, and, he adds in the next paragraph, Syria, Iran and North Korea.

Cohen writes that of "Israel's insistence of expanding West Bank settlements, Secretary of State Hillary Clinton denounced it as 'unhelpful' — a whisper of a rebuke that, in the transcript, should have been rendered in italics." On the insistence of Arab communities in the West Bank to expand, not to mention that of Arab villages and towns in Israel, the columnist is "mute."
Cohen's toss-off sentence about settlements would collide with — if it acknowledged — the fact that Israel withdrew completely, two dozen settlements included, from the Gaza Strip in 2005 and got increased terror attacks in return. Not the mention the fact that if limiting or ending the Jewish presence in the West Bank (and Gaza Strip then) was as important as Cohen implies, then the Palestinian Arabs would have rushed to accept Israeli-U.S. proposals in 2000 and 2001 for a West Bank and Gaza Strip state in exchange for peace.
During the battles over court-ordered school desegregation in the United States, civil rights activists used to say, "it ain't the bus, it's us." That is, the underlying issue wasn't "forced busing" but racial integration. Cohen might do well to consider that, when it comes to Arab-Israeli peace-making, for many on the Arab side, "it ain't the Jewish settlements, it's the Jewish state." The underlying issue isn't some Jewish settlements, but continued rejection of the legitimacy of one Jewish state. Until then, the columnist's "realism" is likely to remain sterile.
Posted by ER at 04:42 PM | Comments (1)
British MP George Galloway Given Palestinian Passport
British MP George Galloway is given a Palestinian Passport after personally delivering aid and money to Hamas in Gaza.
Posted by at 09:52 AM | Comments (0)
March 10, 2009
British MP George Galloway Personally Delivers Money and Aid to Hamas

British MP George Galloway has proudly given money and aid to Hamas.
At a press conference in Gaza, Galloway addressed Hamas and announced
We are giving you now 100 vehicles and all of their contents, and we make no apology for what I am about to say. We are giving them to the elected government of Palestine.
He further stated
I say now to the British and European governments, if you want to take me to court I promise you there is no jury in all of Britain who will convict me. They will convict you.
Posted by at 01:56 PM | Comments (4)
March 09, 2009
Roger Cohen Whitewashes Terrorists Again
Roger Cohen makes no secret of his bias against Israel. He writes about his acute shame over Israel's military operation to end Hamas rocketing into Israel, while, at the same time, whitewashing Muslim terrorists and jihadists. Don't pay attention to what Iran, Hizballah or Hamas say and do, he repeatedly writes. It's all Israel's fault.
Lately, Cohen has been speeding up the pace of his rhetoric sanitizing Muslim terrorists while condemning Israel.
On Feb. 19, 2009 ("Reading Khamenei in Tehran"), Cohen urged:
[Obama] must recognize that the "terrorist" label is an inadequate description of the broad movements that are Hamas and Hezbollah, and change the Israel-can-do-no-wrong policy that precludes a two-state solution.
On March 2, 2009 ("Iran, the Jews and Germany") Cohen declared again:
The equating of Iran with terror today is simplistic. Hamas and Hezbollah have evolved into broad political movements widely seen as resisting an Israel over-ready to use crushing force. It is essential to think again about them, just as it is essential to toss out Iran caricatures.
And in his latest column "Middle East Reality Check" he writes:
Like Hamas in Gaza, Hezbollah has long been treated by the United States as a proscribed terrorist group. This narrow view has ignored the fact that both organizations are now entrenched political and social movements without whose involvement regional peace is impossible.
"Hallelujah!" he exults about an interview in Al Jazeera with a British Foreign Ministry spokesman who "admits" that Hizballah is a "political phenomenon." Cohen then attempts to whitewash Hamas:
Precisely the same thing could be said of Hamas in Gaza. It is a political phenomenon, part of the national fabric there.
What about Hamas' anti-Semitic charter that is predicated upon the killing of Jews and destruction of the Jewish state?
The 1988 Hamas Charter is vile, but I think it's wrong to get hung up on the prior recognition of Israel issue. Perhaps Hamas is sincere in its calls for Israel's disappearance — although it has offered a decades-long truce — but then it's also possible that Israel in reality has no desire to see a Palestinian state.
If anyone needs a Middle East Reality check, it is Cohen himself. Here are some basic facts about Hamas which Cohen should learn. Perhaps that would help him overcome his personal embarassment about the Jewish state.
Posted by RH at 02:35 PM | Comments (0)
In article on 'Hijabi Monologue,' LA Times Covers Up
The hijab, the cloth used by some religious Muslim woman to cover their hair, has inspired three young University of Chicago graduates to write a play called "Hijabi Monologue." In writing about the play, the Los Angeles Times' Raja Abdulrahim has engaged in a cover up of her own. She wrote:
In one of the monologues Alhassen performed, she told the story of Leena Al-Arian, who threw on her hijab early one morning in 2003 when law enforcement agents came to arrest her father, Sami Al-Arian, a former University of South Florida professor and a longtime Palestinian rights activist, and search their Tampa home.

"They took humanitarian awards, plaques my parents hung up on the wall," she said as Al-Arian. "They took cheesy Egyptian film operas my mother followed with a passion; they took virtually every shred of paper that contained Arabic writing; they took my father."

Standing before her audience, Alhassen's oversized earrings swung back and forth as her anger rose. She spoke of Leena's father but, in a separate interview, said she was thinking about what it would be like if this happened to her own parent.
Nowhere does Abdulrahim expose the play's deception that Sami Al-Arian was arrested because he was simply a "Palestinian rights activist," a humanitarian who enjoyed opera. Nowhere does she say that in 2006 Al-Arian pleaded guilty to a charge of conspiring to provide services to the Palestinian Islamic Jihad, an officially designated terrorist organization. In May 2006, he was sentenced to 57 months in prison for his crime.
It's hardly surprising that Abdelrahim, who as a student of the University of Florida wrote in 2002 that no "Islamic militant group" is responsible for suicide bombers, would cover up for Sami Al-Arian. It's disturbing, though, that editors at the LA Times allow the cover up.
A few weeks ago, the LA Times came clean on a report that withheld information about the Holy Land Foundation. It's time again to fill in the facts.
Posted by TS at 07:53 AM | Comments (0)
Time Magazine's Dismal Clarifications
In several January articles, Time magazine claimed that Israel had shelled a UN school in Gaza and had killed over 40 of the civilians there seeking shelter. Israel did not shell the school and no one was killed in the school.
Israel did target and strike rocket-launching Hamas terrorists across the street from the school, and unfortunately a few bystander civilians were also killed.
CAMERA wrote to Time magazine urging that corrections be published. Below are Time magazine's dismal "clarifications," which do more to obfuscate than clarify.
Notice the clarifications never mention that Israel targeted and hit rocket-launching terrorists across the street from the school. They also fail to mention that Israeli officials say that the number of those killed was much less than 40 and that many, if not most, of them were Hamas combatants. Time also placed the clarifications on only two of the three articles with the "Israel Bombed Gaza School" error.
The headline for the January 7th article still screams that Israel "Bombed Gaza School," and you have to wade through three pages to get to the clarification at the very end of the article. And then, it only vaguely implies that Israel did not shell the school. It notes unclearly that the shelling "took place outside the school."
The clarification for the January 8th article doesn't even go that far. Readers are likely to wrongly conclude from that item that Israel shelled the school compound, just not inside the school building itself.
Time's dismal clarification for the January 7th article,
"UN: No Hamas Fighters in Bombed Gaza School" by Tim McGirk
[ The following note was placed at the end of the article]
"The original version of this story said the the United Nations Relief and Works Agency school in Jabalya was hit by Israeli bombs. That was based on a preliminary UN report on the Jan. 6 incident that referred to 'the shelling of the UNRWA school.' That report was later clarified to indicate that the shelling and the fatalities took place outside the school. The report reiterated that many among the more than 40 fatalities were among the 1,368 people who had taken refuge in the school. "
Time's dismal clarification for the January 8th article,
"Can Israel Survive Its Assault on Gaza?" by Tim McGirk.
[ The following note was placed at the end of the article]
"The original version of this story referred to the killing of at least 40 civilians taking shelter at a United Nations-run school north of Gaza City. While more than 40 people were killed in the incident, the United Nations issued a clarification indicating that many - but not all - of those dead were among the 1,368 people who had taken refuge at the school. It also said that they were outside the school when they were killed."
Urge Time magazine to amend their corrections to clearly state that Israel targeted and struck rocket-launching Hamas combatants across the street from a Gaza school and that no one in the school was killed. Write to:
richard_stengel@timemagazine.com , michael_elliott@timemagazine.com , adi_ignatius@timemagazine.com , romesh_ratnesar@timemagazine.com , letters@time.com
Also urge them to clearly correct the other erroneous article (Jan 14th) mentioned in our earlier report.

Posted by LG at 02:56 AM | Comments (0)
March 08, 2009
Government Radio Network Emulates Mainstream Media's Terrorist Word Thinking
Going beyond the mainstream media's thinking about politically acceptable usage of certain terminology, a March 2 edict of the Voice of America (VOA) directed its Urdu service to avoid or drastically modify its usage of the terms "terrorism," "terrorist," "Islamic terrorists," "Islamic fundamentalism," "Muslim fundamentalists," "Islamist," and "Muslim extremists." Will the mainstream media, obsessively using the term "militant" in place of "terrorist" especially "Palestinian terrorist," catch up soon with the VOA?
The media has failed (at least yet) to report about this VOA directive but we know about it thanks to the distinguished academician Dr. Daniel Pipes, director of the Middle East Forum.
The directive discourages identifying the religion of a terrorist:
A terrorist is a terrorist---he/she may belong to any particular religion, but if one adds Islamic/Christian/Hindu/ Jewish----it creates the perception of a bias.
The directive might soon be in effect throughout the entire VOA which serves an estimated worldwide audience of 134 million people.
Posted by MK at 12:21 PM | Comments (0)
March 06, 2009
An Illustrated Fact Check to 'Apartheid Week' Flier
| | | |
| --- | --- | --- |
| Original anti-Israel flier posted on campuses. | | Spoof flier showing the Palestinian boy from the original flier used by Hamas as a human shield. |
Spoof flier by David Guy and Guy Gurfinkel, via Ha'aretz
Posted by GI at 04:11 PM | Comments (0)
A Bedouin Arab Slams Apartheid Week

Ishmael Khaldi is the Israeli vice consul based in San Francisco. Khaldi is also, as he explains in a recent SF Chronicle Op-Ed, "a Bedouin and the highest-ranking Muslim representing the Israel in the United States. I was born into a Bedouin tribe in Northern Israel, one of 11 children, and began life as shepherd living in our family tent."
The Op-Ed is not about his life, though. It's a message to student organizers of Apartheid Week, a gathering of anti-Israel extremists who seek to delegitimize the Jewish state.
This, among other things, is what he has to say to them:
• "You are part of the problem, not part of the solution."
• "You deny Israel the fundamental right of every society to defend itself."
• "Your criticism is willfully hypocritical."
• "You are betraying the moderate Muslims and Jews who are working to achieve peace."
He elaborates thoughtfully on each point, so it's worth reading the entire piece.

Posted by GI at 09:28 AM | Comments (2)
March 04, 2009
Roger Cohen: Middle East "Too Sophisticated" for Double Standards

New York Times columnist Roger Cohen was apparently so impressed by the "warmth" with which he, a Jew, was treated in Iran, he decided to write a column defending the country, its treatment of Jews, and its virulent rhetoric.
Cohen suggests that readers not take at face value Iran's "death to Israel" chants (he ignores the country's more explicit incitement to anti-Israel violence), its Holocaust denial and its old-fashioned antisemitism. These statements shouldn't be seen as Iran's fault or the responsibility of the individuals who uttered them, Cohen argues, but rather should be blamed on Israel for, among other things, its "Hamas denial" (?!), and perhaps on the West for its "double standards":
I asked Morris Motamed, once the Jewish member of the Majlis, if he felt he was used, an Iranian quisling. "I don't," he replied. "In fact I feel deep tolerance here toward Jews." He said "Death to Israel" chants bother him, but went on to criticize the "double standards" that allow Israel, Pakistan and India to have a nuclear bomb, but not Iran.

Double standards don't work anymore; the Middle East has become too sophisticated. One way to look at Iran's scurrilous anti-Israel tirades is as a provocation to focus people on Israel's bomb, its 41-year occupation of the West Bank, its Hamas denial, its repetitive use of overwhelming force. Iranian language can be vile, but any Middle East peace — and engagement with Tehran — will have to take account of these points.
Much can be said about this passage, and the piece as a whole. But one of the things that jumps out most — and not only because I bolded it — is Cohen's bizarre statement that the Middle East is too sophisticated for double standards.
What would he call the violent protests in the Arab world following the publication in a Danish and other newspapers of cartoons caricaturing Muhammad, even while that same Arab world's press continues to repeatedly publish anti-Semitic cartoons?
And what about those in the Middle East who self-righteously complain about Israeli occupation while looking the other way when it comes to occupation by Iran?
And what of those (in the Arab world if not technically the Middle East) who call for Palestinian independence while simultaneously brutally suppressing an local independence movement in territory they occupied?
Or the support for suicide bombing that target civilians by those who think Israel has no right to defend itself with passive measures like checkpoints and barriers, let alone active measures like striking at rocket launchers or terrorist leaders?
There are surely many more examples of Middle Eastern double standards that Cohen doesn't notice.
(Nor, apparently, does Cohen notice that it isn't a double standard to seek to prevent Iran from acquiring a nuclear bomb even while Israel, India and Pakistan have one. For one thing, the latter three countries are not signatories to the Nuclear Non-Proliferation Treaty. Iran is. Secondly, it isn't as if the international community was supportive of those countries' quest for nuclear technology. India was slapped with a 34-year nuclear embargo; Pakistan was also sanctioned and pressured in an attempt to prevent it from becoming a nuclear power; and Israel's nuclear program had to be, and in fact still is, secretive. Most importantly, though, Iran openly belligerently calls for Israel's destruction and is described by the State Department as "the most active state sponsor of terrorism." An Iranian nuclear weapon is also likely to set off an arms race across the Middle East. Seems like a good reason to try extra hard to prevent them from getting the bomb.)
For a different view on Iranian rhetoric, see Tim Rutten's column from a few months ago in the LA Times.

Posted by GI at 11:31 AM | Comments (0)
March 03, 2009
Naim Ateek's Spring Tour
Rev. Dr. Naim Ateek, founder of Sabeel Ecumenical Liberation Theology Center at Old South Church in Boston, October, 2007 (CAMERA)
Naim Ateek's Ash Wednesday (Feb. 25) service at Christ Church in Cambridge, Mass., was tame given his history of using polemic from the New Testament as a weapon to demonize Israel. For some reason, Ateek kept the overheated rhetoric out of the pulpit.
Speaking about the Christian tradition of fasting during Lent (the 40 days between Ash Wednesday and Easter), Ateek invoked Isaiah 58 to remind his audience that God requires justice from his people. ("Is not this the fast I choose: to loose the bonds of injustice, to undo the thongs of the yoke, to let the oppressed go free, and to break every yoke?")
"This is the cry of my people (the Palestinians) back home," Ateek said. "This is the deeper fast that God requires of everyone … The fast to work against injustice."
Clearly Ateek's implied message is that the modern state of Israel is not fulfilling the requirements of the Jewish religion. It's an ironic message coming from someone who decries Israel's Jewish identity, but given that he made no mention of Israelis crucifying the poor innocent Palestinians, it's pretty moderate stuff. Apparently somebody asked – or told – Ateek to keep the polemics to a minimum, and he did.
Ateek, who was in the Boston area as part of a book tour in support of A Palestinian Cry for Reconcilation (which falsely accuses Israel of perpetrating a genocide), was under no such constraint when he appeared at the Harvard Divinity School on the previous day for a brown-bag lunch organized by Shura, a Muslim group.
While speaking at HDS, Ateek gave an exaggerated confession of Israel's sins while giving short shrift to the misdeeds of groups like Hamas and Hezbollah that seek to murder Jews in the name of God. (If anyone has any doubt over Hamas' religious motivations, please see Article Seven of the group's charter, which clearly states Muslims need to fight Israel and kill Jews in order to be faithful to their religion.)
In Ateek's narrative about the Arab-Israeli conflict, this problem is worth a brief mention but not worth the in-depth analysis he gives to the beliefs of Christian Zionists and religious settlers in the West Bank. Ateek and the group he founded, Sabeel Ecumenical Liberation Theology Center, never fail to condemn Christian and Jewish Zionists who imbue modern Israel with religious value. But for some reason, neither Ateek nor Sabeel can bring themselves to analyze or condemn Muslims who regard Israel's destruction as the fulfillment of prophecy.
Ateek's aversion to this issue became readily apparent when an audience member asked him if he was familiar with the role Haj Amin Al Husseini played in recruiting Muslims to serve in the Nazi war-machine.
Ateek's response was brief.
"No. We would condemn it, but I would need to look at [the evidence]."
The notion that Ateek, who has written numerous books about the history of the Arab-Israeli conflict, would not know about this issue is simply unbelievable.
For years, Ateek has argued that since the Palestinians were not responsible for the Holocaust, it is unfair to expect them to bear the cost of Israel's creation. In fact Palestinian leaders did play a role in the Holocaust. In addition to recruiting soldiers who hunted Jews in the Croatia and Hungary, Al Husseini, also known as the Grand Mufti of Jerusalem, consigned thousands of Jewish children to their deaths during the Holocaust by torpedoing deals that would allow these children to be exchanged for captured German soldiers in allied camps.
Ateek's alleged ignorance about the Grand Mufti of Jerusalem's role in the Holocaust is emblematic of his failure to address the role longstanding Muslim hostility toward Jews has played in prolonging the Arab-Israeli conflict.
Would-be peacemakers who cannot bring themselves to address Muslim land theology and the Islamic teachings about Jewish people and their impact on the Arab-Israeli conflict and interfaith relations are not worthy of the name.
Posted by dvz at 01:01 PM | Comments (2)
View From Gaza -- Not What You Might Think
British poet Yvonne Green returned from the Gaza Strip and shared her observations with the Jerusalem Post:
THERE WERE empty beds at Shifa Hospital and a threatening atmosphere. Hamas is reduced to wielding its unchallengeable authority from extensive air raid shelters which, together with the hospital, were built by Israel 30 years ago. Terrorized Gazans used doublespeak when they told me most of the alleged 5,500 wounded were being treated in Egypt and Jordan. They want it known that the figure is a lie, and showed me that the wounded weren't in Gaza. No evidence exists of their presence in foreign hospitals, or of how they might have gotten there.

From the mansions of the Abu Ayida family at Jebala Rayes to Tallel Howa (Gaza City's densest residential area), Gazans contradicted allegations that Israel had murderously attacked civilians. They told me again and again that both civilians and Hamas fighters had evacuated safely from areas of Hamas activity in response to Israeli telephone calls, leaflets and megaphone warnings. . . .

I WAS TOLD stories at Samouni Street which contradicted each other, what I saw and later media accounts. Examples of these inconsistencies are that 24, 31, 34 or more members of the Fatah Samouni family had died. That all the deaths occurred when Israel bombed the safe building it had told 160 family members to shelter in; the safe building was pointed out to me but looked externally intact and washing was still hanging on a line on one of its balconies. That some left the safe building and were shot in another house. That one was shot when outside collecting firewood. That there was no resistance - but the top right hand window of the safe building (which appears in a BBC Panorama film Out of the Ruins" aired February 8) has a black mark above it - a sign I was shown all day of weaponry having been fired from inside. That victims were left bleeding for two or three days.

I saw large scoured craters and a buckled container which appeared to have been damaged by an internal impact (its external surfaces were undamaged). Media accounts of Samouni Street don't mention these possible indications of explosive caches (although the container is visible on media footage). The Samouni family's elder told me during a taped interview that he had a CD film of the killings. As far as I'm aware, no such film has been made public. He also told me that there are members of his family who have still not been found.

The media have manufactured and examined allegations that Israel committed a war crime against the Samounis without mentioning that the family are Fatah and that some of its members are still missing. They have not considered what might flow from those facts: that Hamas might have been active not only in the Samouni killings but in the exertion of force on the Samounis to accuse Israel.

THE GAZA I saw was societally intact. There were no homeless, walking wounded, hungry or underdressed people.
Now, if you are the type (like many of those commenting on Digg) to discount this report as propaganda on the basis of the fact that Green is a Jew and the Jerusalem Post is Israeli, then perhaps you should consider a similar report from Tim Butcher, a gentile who is usually quite hostile to Israel who writes for the UK Telegraph:
One thing was clear. Gaza City 2009 is not Stalingrad 1944. There had been no carpet bombing of large areas, no firebombing of complete suburbs. Targets had been selected and then hit, often several times, but almost always with precision munitions. Buildings nearby had been damaged and there had been some clear mistakes, like the firebombing of the UN aid headquarters. But, in most the cases, I saw the primary target had borne the brunt. . .
Posted by TS at 03:01 AM | Comments (0)
March 01, 2009
Ha'aretz Apologizes for Slander of Jaffa Yeshiva
IMRA reports today:
While Haaretz Magazine featured an article trashing the Jaffa yeshiva back
on 21 November 2008 that was also on the Hebrew and English websites, the
following apology in Hebrew appears on page 4 of the printed edition of the
27 February 2009 edition of the magazine section and a search for it in
Hebrew and English fails to find it on the Haaretz websites:
Apology

In the article about Rabbi Eliyahu Mali.and the Jaffa yeshiva (Haaretz
Magazine 21.11.2008) there were a number of mistakes.

In contrast to what was written, Rabbi Mali did not discuss taking over the
Temple Mount with his students, his students were never involved at their
initiative in clashes with Arabs, and here is no evidence that he should be
suspected. This and more.

... the remarks of one of the people interviewed in the article that "Arab
haters came to settle in Jaffa: and that there is a connection between the
opening of the yeshiva and the evacuation of Arab residents by Amidar were
expressing his views only and do not represent the views of the editors.
The editors of the Haaretz Magazine apologize for the publication of these
things."
For more on uncorrected Ha'aretz errors and falsehoods, see here. The uncorrected Ha'aretz report in English is available here.
Posted by TS at 01:57 AM | Comments (0)