« USA Today's 'most pressing' Mid-East problem | Main | LA Times Corrects, Errs »
January 14, 2009
Hamas Hiding Its Casualties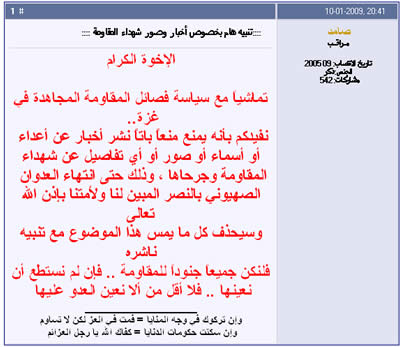 Hamas' online announcement prohibiting the publication of information on fighter casualties
The Intelligence and Terrorism Information Center reports:
1. On January 10, at 21:41 , all web surfers on Hamas's PALDF forum (the movement's main message board) received a message from a user nicknamed "Samed� ("He who stands firm�). He is one of the forum's moderators (the user was said to be a muraqib, Arabic for "inspector�). The message said that according to the policy of the terrorist organizations in the Gaza Strip ("the jihadist resistance�), it was forbidden to publish photographs, names, or details of those members of the resistance (i.e., terrorist organizations) killed or injured in the fighting until the end of the "Israeli aggression� in the Gaza Strip. The moderator said that any message violating those principles would be removed from the forum. He added that they were all "soldiers of the resistance� who should avoid providing assistance to the enemy (see Appendix for the complete message and its translation).

2. The message reflects the policy of Hamas, which has refrained from publishing the names of its operatives who were killed or injured since the beginning of the ground phase of Operation Cast Lead. As part of that policy, almost no names or photographs of killed operatives have been published on PALDF in the course of the past week (unlike in the first week of the operation, in which the names and photographs of scores of killed Hamas operatives were published). It should be noted that a similar policy was followed by Hezbollah in the second Lebanon war, when it purposefully did not publish the names of killed operatives, preferring instead to bury them in secret, without media coverage, to reinforce the "divine victory� myth it sought to create.
This is confirmation of what was earlier reported about casualty information coming from the Palestinian Ministry of Health in Gaza, run by Hamas.
Posted by TS at January 14, 2009 03:10 AM
Comments
Guidelines for posting
This is a moderated blog. We will not post comments that include racism, bigotry, threats, or factually inaccurate material.
Post a comment