« November 2008 | Main | January 2009 »
December 31, 2008
Levy Inflates Civilian Casualties By Almost 300 Percent
Israeli Gideon Levy, an extremist writer at Ha'aretz, who has in recent days gained mainstream status at the Los Angeles Times, today inflates Gaza's civilian casualties by almost three-fold. In his Op-Ed today he writes:
In four days they killed 375 people. They did not, and could not, distinguish between a Hamas official and his children, between a traffic cop and a Qassam launch operator, between a weapons cache and a health clinic, between the first and second floors of a densely populated apartment building with dozens of children inside. According to reports, about half of the people killed were innocent civilians.
Meanwhile, as reported by the Associated Press and Levy's own newspaper, the United Nations, hardly friendly to Israel, stated that at least 64 of the 374 Gaza fatalities -- or 17 percent -- are civilians. That's a margin of error of nearly 300 percent for Levy, far worse than the IDF's record.
Posted by TS at 04:05 AM | Comments (0)
YouTube Removes IDF Footage
Noah Pollack of Contentions notes:
Yesterday, the IDF did something innovative: it opened a channel on YouTube and posted videos to it that help explain why Israel is fighting Hamas. The site hosted about a dozen videos showing things like Israeli humanitarian aid deliveries to Gaza and airstrikes that prevented terrorists from firing rockets at Israeli civilians.

This was apparently too much for YouTube, which moments ago removed several videos from the IDF's channel, including the most-watched video, which showed a group of Hamas goons being blown up in an air strike as they loaded Katyusha missiles onto a truck. The point of such footage, as if it needed to be said, is not to revel in violence — it is to show the legitimacy of Israeli self-defense.

The rank double-standard that YouTube has applied to Israel is disturbing. YouTube hosts all manner of similar footage — much of it far more gory than the grainy infrared images posted by the IDF — of U.S. air strikes. Why is YouTube capitulating to those who do not wish for Israel to be able to tell its side of the story?
Update: View the censored clip here.
Posted by TS at 02:32 AM | Comments (0)
December 30, 2008
Siegel Allows Hamas Advisor to Hang Himself
You almost have to feel sorry for Robert Siegel, host for NPR's All Things Considered. On Dec. 29, 2008 he was confronted with an assertion from Hamas spokesman Ahmed Yusuf that was so preposterous, bizarre and insane that he had every reason to wonder if he was hearing Yusuf correctly.
It started innocently enough when Siegel asked Yusuf, who serves as an advisor to Hamas Prime Minister Ismail Haniyeh, if the rocket attacks from the Gaza Strip weren't "guaranteed to bring on this retaliation by the Israelis."
Yusuf took a quick turn into Alice in Wonderland with his response.
No. No. This has nothing to do with firing rockets because there is no rockets fired. There are collaborators, sometimes they fire based on the Israeli asking them maybe to fire some of these home-made projectiles. They know that Hamas did their best to protect the border and not to let anybody firing rockets.
You read that right.

Yusuf initially tried to assert that no rockets were fired before acknowledging that sometimes collabators launch rockets into Israel -- at Israel's behest. Listeners can hear the disbelief in Siegel's voice when interrupts Yusuf to ask "But you're saying that when rockets have been fired out of Gaza, you're saying that those are being fired by Israeli collaborators whom the Israelis are arranging for them to do that, so that…"
Yusuf tracks into Baghdad Bob territory when he interupts Siegel's question with a long rambling statement in which he asserts that Hamas
check[s] with those political and militant group[s] who are really showing their commitment. And when we check, well, they - all them denied any of them been firing rockets. So, who been firing these rockets? We don't have an explanation except from those Israeli collaborators.
Could Siegel have been more forceful in challenging Yusuf's assertion that collaborators are responsible for the thousands of rockets that have flown into Israel over the past few years?
Maybe, but what would have been the point?
Siegel expressed appropriate disbelief on behalf of his listeners in the face of a preposterous lie, and Ahmed proceeded to fabricate a fantasy of Hamas "investigating" the actual source of these rockets that are "sometimes" fired into Israel and concluding that they are fired by "collaborators."
Okaaaay.
By letting Yusuf ramble as he did, Siegel allowed his listeners to hear for themselves exactly what type of lies Hamas tells to the world to justify its attacks on Israel.
Posted by dvz at 09:56 PM | Comments (0)
Meet David Rolde, A Man of Peace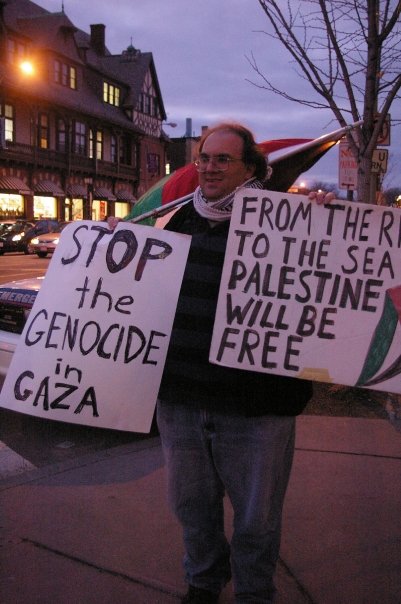 Anyone who spends any time whatsoever at rallies and demonstrations related to the Arab-Israeli conflict in the Boston area have seen the man pictured above, David Rolde.
Ostensibly, Rolde, who was photographed in Brookline on Dec. 29, 2008, is a "peace" activist who shows up to protest Israeli policies and American support for the Jewish state. Rolde is often one of the first people to show up at these protests, and among the last to leave. Other peace activists know they are at the right place when they see Rolde standing sentinel at the scene of a rally. In one respect, Rolde embodies the American ethic of hard work and reliability. By virtue of his showing up, early and often, Rolde has become a respected stalwart of the "peace" community in the Boston area.
There's just one problem. His message is not one of peace, but of open support for fascist movements that have murdered Americans, Israelis and Arabs in the Middle East. This message can be seen in the signage he carries and the chants he has uttered at public gatherings.
As readers can see from the photo displayed above, one of his messages is "From the River to the Sea Palestine Will Be Free." Anyone with the vaguest sense of the history of the Middle East understands that this phrase (which Rolde can utter in Arabic -- it's the only phrase he knows) is a call for the destruction of Israel as a Jewish state.
Rolde is also carrying a sign calling for an end to the "genocide" in Gaza. To be sure, the deaths of Palestinians in the past few days is a tragedy, but to portray these deaths as a genocide is a lie, and a contemptible one at that. It is a lie clearly motivated to justify violence against Israel, which has been under siege for the past 60 years of its existence and has been attacked from every bit of territory from which it has withdrawn in the past decade.
Rolde's chants are just as offensive. At rallies, Rolde and his friends have called for an Iraqi victory over the American occupation in Iraq and for Hamas and Hezbollah to achieve victory in their conflicts with Israel. With these chants, Rolde has expressed support for fascist movements that have killed American soldiers and murdered Israeli and Arab civilians throughout the Middle East.
Speaking with David Rolde reveals the depths of his animus. He recently exhorted a supporter of Israel that he needed "to stop being Jewish and be a human being." He also has funny ideas about the Hebrew language, asserting something along the lines that modern Hebrew is a made up language used to justify the expulsion of Arabs from Israel. (By the way, by his own admission, Rolde does not speak Hebrew.)
Despite Rolde's explicit support for fascist movements and his contempt for Israel Rolde's friends in the "peace" movement look to him for inspiration and regard him with affection, raising questions about the movement's true motives.
David Rolde, a man of peace.
Posted by dvz at 01:35 PM | Comments (3)
Gaza Mourners Exploited
Palestinian Media Watch translates a Dec. 29, 2008 article from Al-Ayyam in which a Palestinian journalist complains that the media and others are manipulating the images going out to the world:
"A mother of one of the martyrs stood by the door of the intensive care unit while crying... relatives and those around her were telling her what she should say to the television cameras: 'Say your son [before he died] prayed and went out.' Another tells her: 'Curse the Arab leaders'... The journalists [in the hospitals] are going overboard in their insensitivity and taking advantage of the [difficult] moments, with the explanation that they are showing this to the world. One cameraman told a mourning mother: 'Hit your face, cry, do some action.'"
Posted by TS at 01:00 PM | Comments (0)
Local TV for Gazans
The New York Times and International Herald Tribune both falsely report today that Hamas' Al Aqsa TV is not broadcasting. The NYT's late print edition today states:
Electricity arrives in Gaza only a few hours a day, offering the diversion of television, but nothing local. The Hamas station was taken out by an Israeli missile and most local radio stations have closed their doors out of fear of suffering the same fate.
The IHT, owned by the Tribune, used similar wording.
In actuality, as reported by the Intelligence and Terrorism Information Center, Hamas' Al-Aqsa tv is still broadcasting. The Information Center reported Dec. 28:


Hamas's Al-Aqsa TV : Before dawn on December 28, Al-Aqsa TV station was attacked, Hamas's main propaganda tool . According to reports in the Palestinian media, no one was injured and only the building suffered damage. Broadcasting stopped for a short time and was later resumed. The station's CEO appeared in a broadcast to say that the station had moved to another location (Al-Aqsa TV, December 28).
Not to worry. Gazans still have the "diversion" of fine Hamas programming such as this clip yesterday.
Posted by TS at 08:10 AM | Comments (0)
What's newsworthy?
Dry Bones weighs in on the news coverage. . .
Posted by TS at 05:10 AM | Comments (0)
The Publishing World's Fact-Checking Problem
The non-fiction book publishing world has again been rocked by a fabrication scandal, this time by Holocaust survivor Herman Rosenblat.
As the International Herald Tribune observed:
This latest literary hoax is likely to raise yet more questions as to why the publishing industry has such a poor track record of fact-checking.
A particularly troubling example of poor fact-checking is Jimmy Carter's Palestine: Peace Not Apartheid. Although the book's many falsehoods were documented by CAMERA and others, Simon and Schuster never accepted accountability. Let's nevertheless hope that the publishing giant internalized the lesson in time for this month's publication of Carter's new book.
Posted by TS at 04:06 AM | Comments (1)
Akiva Eldar Repeats Qana Falsehoods
29 coffins at the funeral for Qana victims, including four covered by Hezbollah flags
"The Way Out of Gaza" is the headline of Akiva Eldar's Op-Ed yesterday in which he repeated a falsehood about Qana that was long ago debunked:
Still, the Qana disaster of 2006, which killed 56 civilians, brought international pressure on Israel and disrupted the prosecution of the war. (Emphasis added.)
Twenty-nine Lebanese were killed in Qana in 2006, of which at least three were Hezbollah fighters. Shortly after initially publishing the false number of 56 fatalities, Human Rights Watch and the Red Cross revised their findings -- a fact reported by Eldar's colleague Yoav Stern in Ha'aretz on Aug. 4, 2006.
While "The Way Out of Gaza" may still be unclear, the use of falsehoods on the part of Eldar and his colleague Gideon Levy is certainly not the answer.
Posted by TS at 02:37 AM | Comments (0)
December 29, 2008
Queen Elizabeth II vs President Ahmadinejad
The UK's Channel 4 television saw fit to broadcast Iranian President Mahmoud Amadinejad's Christmas message which was meant to be a break from Queen Elizabeth II's traditional message.
Dorothy Byrne, head of news and current affairs at the UK's Channel 4 television, has defended the channel's decision to broadcast the "alternative Christmas message" by stating:
As the leader of one of the most powerful states in the Middle East, President Ahmadinejad's views are enormously influential. As we approach a critical time in international relations, we are offering our viewers an insight into an alternative world view. Channel 4 has devoted more airtime to examining Iran than any other broadcaster and this message continues a long tradition of offering a different perspective on the world around us.
In his Christmas message, Ahmadinejad invokes Jesus to affirm his anti-Israel and anti-Western agenda.
If Christ were on earth today, undoubtedly He would stand with the people in opposition to bullying, ill-tempered and expansionist powers.

If Christ were on earth today, undoubtedly He would hoist the banner of justice and love for humanity to oppose warmongers, occupiers, terrorists and bullies the world over.

If Christ were on earth today, undoubtedly He would fight against the tyrannical policies of prevailing global economic and political systems, as He did in His lifetime.
By invoking Jesus, Ahmadinejad is attempting to use the Christian messiah to buttress the legitimacy of a theocratic regime that calls for the destruction of Israel, a member state of the United Nations, declares the Holocaust a "myth," sanctions the hanging of gays and lesbians, and foments hostilities toward Jews throughout the world.
Clearly, Ahmadinejad's words of peace will be of great comfort to adherents of Western notions of pluralism, multiculturalism and human rights.
Posted by at 09:38 AM | Comments (0)
December 28, 2008
Gaza Fauxtography
Lenny Ben-David flags an apparently staged photo of injured in the Gaza Strip:
A Washington Post photo essay posted the two pictures above of the Palestinian combatants along with a picture of Palestinian wounded in a Gaza hospital. The picture was accompanied by this caption:

Palestinian children and a man wounded in Israeli missile strikes are seen in the emergency area at Shifa hospital in Gaza City, Saturday, Dec. 27, 2008. Israeli warplanes demolished dozens of Hamas security compounds across Gaza on Saturday in unprecedented waves of simultaneous air strikes. Gaza medics said at least 145 people were killed and more than 310 wounded in the single deadliest day in Gaza fighting in recent memory. (AP Photo/Khalil Hamra) (Khalil Hamra - AP)

The children appear healthy. Would the photographer and caption writer, Khalil Hamra, fake a picture?
Posted by TS at 09:21 AM | Comments (1)
December 24, 2008
"Militant" According to MSNBC

What is a "militant"?
It is not news that MSNBC and other media outlets routinely refer to terrorist groups like Hamas and Hezbollah which target unarmed civilians as "militants". In the mainstream media, "militant" has become the new word for "terrorist".
But now MSNBC is referring to the Israeli Defense Forces (IDF) as "Zionist militants". An MSNBC.com brief about President Bush's pardon of Charles Winters -- a Miami produce exporter who, in contravention of the 1939 Neutrality Act, transferred two airplanes to Israel's defense forces during its 1948 war to survive -- mischaracterizes Israel's efforts to avoid destruction by invading Arab armies as the resistance of Zionist "militants."

According to MSNBC parlance, then, Hamas "militants" who have vowed to destroy Israel by targeting civilians are no different than IDF's 1948 "militants" who vowed to survive and avoid destruction.
It is a moral equivalence which tells a lot about the underlying mindset of the editors.
Posted by RH at 10:31 AM | Comments (4)
December 23, 2008
Shoe Attack on President Applauded by Anti-Israel Favorite of BBC/NPR
Abdel-Bari Atwan, a BBC/NPR favorite, habitually fingers the U.S. and Israel in his blame game
Abdel-Bari Atwan, editor of the London-based newspaper Al-Quds Al-Arabi lauded the recent throwing of shoes at President Bush in Iraq as "a proper goodbye for a war criminal."
This is the same person who applauds Sadam Hussein -- responsible for the murderer of countless Arabs and Iraqi Kurds -- for "preserv[ing] the unity of Iraq, its Arab and Islamic identity and the coexistence of its different communities" (Dec. 31, 2006, Africa News) and who proudly declared in 2007 that "if Iranian missiles hit Israel, I will dance in Trafalgar Square."
Yet to BBC World Service Radio and NPR, who often feature him on their broadcasts, this extremist is considered an objective, expert commentator on Middle East events!
And Atwan is only one of many such biased BBC/NPR choices to discuss Middle East events who advocate violence against Israel. How can this choice of biased speakers possibly conform to journalistic standards?
Posted by MK at 05:59 PM | Comments (0)
December 22, 2008
An Update Needed at WorldVision's Website
WorldVision is one of several Christian NGO's that peaceactivists in the West rely on for de-contextualized images and stories of Israelis behaving badly. As documented on CAMERA's website, the organization's website uses a distorted anti-Israel narrative to raise funds for its programming in the West Bank, Jerusalem and the Gaza Strip.
Given WorldVision's anti-Israel slant, it should not be a surprise that the organization has failed to update an antiquated report about the suffering of Palestinians area of the Gaza Strip. As of Dec. 22, 2008, the organization still displayed a page on its website reporting that "8,100 Palestinians residing in the Mawasi area are surrounded by 14 Israeli settlements."
Israel pulled its citizens out of the Gaza Strip in 2005, but this page remains on WorldVision's website more than three years after the withdrawal.

Posted by dvz at 04:02 PM | Comments (0)
December 21, 2008
Who Violated the Ceasefire First?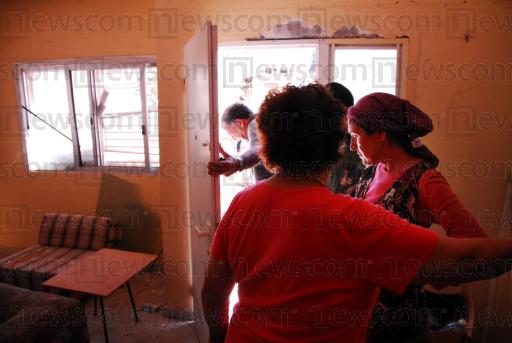 Sderot residents inspect damage to a house after a Palestinian rocket slammed into it on June 24, 2008, five days after the ceasefire was declared (Photo by Rafel Ben-Ari/Chameleons Eye)
Ha'aretz's Gideon Levy, like any columnist, is entitled to argue for whatever policy he prefers, but journalistic ethics require that even Op-Eds stick to factual accuracy. Yet, in his column today advocating direct negotiations which Hamas, he writes:
The ceasefire was violated first by Israel with its unnecessary operation of blowing up a tunnel.
Of course, Israel blew up the tunnel in question the beginning of November, while Palestinians again started firing rockets into Israel just days after the June 19 ceasefire was declared.
By Aug. 28, Palestinians had fired 40 rockets and mortars at Israel.
Posted by TS at 05:12 AM | Comments (0)
December 19, 2008
Axis Lauren
Mildred "Axis Sally" Gillars was an American born aspiring actress who sold her services to the Nazis during World War II. Posing as a humanitarian worker (Red Cross volunteer), she interviewed captured American GIs and broadcast their manipulated words on a radio show heard by American troops all over Europe in an attempt to demoralize them.
Now we have Lauren Booth, impudent pro-Palestinian activist, in the employ of Iranian radio. Booth gained attention earlier this year after she likened Gaza to a concentration camp during a visit where she was photographed shopping at a well-stocked computerized Gazan food mart.
She is active in the "Free Gaza" movement that penetrated the Israeli naval cordon to allegedly bring humanitarian supplies to Gaza despite the fact that, according to Khaled Abdel Shaafi, director the United Nations Development Program, there is no humanitarian crisis in Gaza.
On Dec. 19, 2008, the on-line version of the Independent carried a brief piece "Booth lands Iranian gig" reporting that Booth, the sister-in-law of former British Prime Minister and current special envoy to the Middle East, Tony Blair,

is now on the payroll of the Iranian government. Lauren Booth recently took over a presenting slot on the state-funded news channel, Press TV.
Booth, who was refused entry into Israel during a humanitarian trip to Gaza in the summer, has begun fronting the channel's newspaper review show Between The Headlines.
A regular viewer tells me she courteously opts to wear a headscarf throughout the programme.
Posted by SS at 10:18 AM | Comments (3)
December 18, 2008
Unbalanced Reporting by BBC's World Service
It seems that the BBC's commitment to impartial reporting has fallen by the wayside.
The BBC's World Service radio broadcast on December 15, 2008 included an interview with Palestinian Prime Minister Salam Fayyad - who was in London for an investment conference - about the probablilty of reaching a peace agreement with Israel by the end of George Bush's term as President.
While Mr. Fayad accused Israel of "non-compliance" with their Road Map obligations by continuing settlement activity, no Israeli perspective was heard.
Doesn't accurate and balanced journalism entail allowing both sides of a dispute to be heard?
Not only was the Israeli perspective stifled, but the report also failed to address the Palestinian government's non-compliance to fulfill its own obligations under the Road Map and Oslo Accords - specifically the dismantlement of Hamas.
This is typical of BBC reporting - focus on alleged transgressions by Israel while ignoring Palestinian violations.
Thus the BBC misleads its audience and departs from its own editorial guidelines.

Posted by at 03:36 PM | Comments (0)
December 16, 2008
Have They No Shame? Have They No Decency?
Rev. Dr. Naim Ateek, founder of Sabeel Ecumenical Liberation Theology Center, has added another text to his ouevre of hostility against Israel. His most recent book, titled A Palestinian Cry for Reconciliation (Orbis, 2008), includes a lot of troubling passages in which he downplays hostility toward Israel and exagerates Israeli misdeeds, but one section takes the cake. On page 47 he accuses Israel of perpetrating a a "slow and creeping genocide."
The section reads as follows:
The crime against Palestinians was birthed in the minds and hearts of those Zionists who saw the Palestinians as dispensable human beings. According to the journal of the French Lubavitch, an ultra-Orthodox Jewish group, "In the eyes of the Creator there is as much difference between Jews and non-Jews as between non-Jews and animals." This belief that Palestinians are worth less than Jews, hidden in the hearts of some Zionists, began to be put into practice over time. It has been a slow and creeping genocide. For many years, Israel refused to use trained dogs against the Palestinians because it brought to mind the Nazis. Now Israel uses dogs to attack Palestinians."
Rev. Dr. Ateek's assertion that Israel has perpetrated a "slow and creeping genocide" is libelous, contemptible and chimerical. The population of Palestinians in the West Bank and the Gaza Strip has quadrupled over the past 60 years. The modifers "slow and creeping" do not make Ateek's accusation any less dishonest.
To hide the obscene nature of his charge, Rev. Dr. Ateek tucks it in between a terrible and hostile quote and a description of Israelis using dogs to attack Israelis. The quote, however terrible, does not represent the opinion of all Israelis toward Palestinians, a fact that Rev. Dr. Ateek himself acknowledges with the phrase "some Zionists." He then asserts that this belief was put into practice "over time."
Exactly how? By allowing Palestinians -- even those responsible for violence against Israel -- into its hospitals during times of conflict? By allowing food and medical supplies into the Gaza Strip while rockets land in Sderot? By according Palestinians standing before its Supreme Court?
This is "genocide"?
Moreover, the quote that Rev. Dr. Ateek uses to portray Zionism in such stark terms has an unknown provenance.
Rev. Dr. Ateek reports in his main text that the quote came from an un-named French Lubavich journal.
The accompanying footnote reveals that it came from page 199 of a 1994 translation of a book by Gilles Kepel, The Revenge of God: The Resurgence of Islam, Christianity and Judaism in the Modern World (Polity Press). An examination of this page of Kepel's text (available online) reveals that it does not provide a citation for this quote. Kepel, by the way, does not place the passage in quotation marks (as Ateek does), indicating it is a paraphrase.
The manner in which Rev. Dr. Ateek quotes the passage in his text, however, indicates to the reader that it is a direct quote from the un-named French Lubavitch journal. Even after checking Rev. Dr. Ateek's source for the quote, readers are left ignorant of the date of this quote and its historical context, leaving his audience with a few questions. Who actually wrote this sentence? When was it written? What was its historical context? If there is a better source for this quote, why didn't Rev. Dr. Ateek use it?
Given his sourcing of this quote, it's unlikely Rev. Dr. Ateek knows the answers to these questions, and yet he uses it to assert that the belief that Zionism is motivated by a belief that Palestinians are worth less than Jews. In any event, the quote is not representative of Zionism as a movement, which Rev. Dr. Ateek falsely accuses of being responsible for a "genocide" against Palestinians.
This is not scholarship.
This is smoke and mirrors.
The only physical evidence Rev. Dr. Ateek, himself an Israeli citizen, can muster to prove the existence of this "slow and creeping genocide" is the Israeli use of dogs to attack Palestinians. To prove this fact, he cites a photo of a dog attacking a Palestinian woman that appeared in the front page of Al-Quds newspaper in March 2007. If Rev. Dr. Ateek's accusation of genocide is true, then the people handling the dog in question are themselves responsible of assisting in the crime of genocide. The reality is that he has accused Israelis of a crime that has not taken place.
What were the editors at Orbis Books thinking when they published such a false and defamatory accusation? Orbis Books bills itself as a endeavoring "to publish works that enlighten the mind, nourish the spirit, and challenge the conscience." It also describes itself as seeking "to explore the cause of reconciliation and peace." Maybe a more honest description of Orbis Press is that it is meeting a growing demand for stories of Jews behaving badly (exhibited by people who do not seem to care whether they are true or not). Sadly, other religious publishing houses in the U.S. qualify for this description as well.
Rev. Dr. Ateek's accusation of genocide -- the modern-day equivalent of charges of ritual murder directed at Jews in Medieval Europe -- is clearly intended to foment anti-Israel hostility in the hearts and minds of his readers. Israel was accused of "genocide" during the UN's "anti-racism" conference in Durban South Africa in 2001 which served to legitimize the violence of the Second Intifada. It has also been leveled by peace "activists" ferried from Cyprus to the Gaza Strip who couldn't be bothered to bring food or medical supplies when they first showed up.
The accusation itself reveals more about the people leveling it than it does about the modern-state of Israel. It also reveals a lot about the people who have defended and endorsed Rev. Dr. Ateek's writings over the years.
Despite this and other troublesome passages, Rev. Dr. Ateek's book has been endorsed by Rosemary Radford Ruether, sometime contributor to National Catholic Reporter and professor at the Pacific School of Religion; Rev. John Thomas, president and general minister of the United Church of Christ (UCC); Clifton Kirkpatrick, President World Alliance of Reformed Churches (WARC), and former stated clerk of the General Assembly of the Presbyterian Church (USA); and Dave Robinson from Pax Christi USA. On the back of the book, Rev. Thomas reports the text "is essential reading for anyone committed to the non-violent struggle for justice and peace in the Middle East."
Since when does a false accusation of genocide promote the cause of peace and reconciliation?
Do the people who published and endorsed this book have no shame? Have they no decency?
Posted by dvz at 11:12 AM | Comments (1)
Bad Day at the LA Times
The Los Angeles Times is not having a good day. Aside from the small ongoing matter of bankruptcy, there's the problem of an incorrect photo caption in the online edition.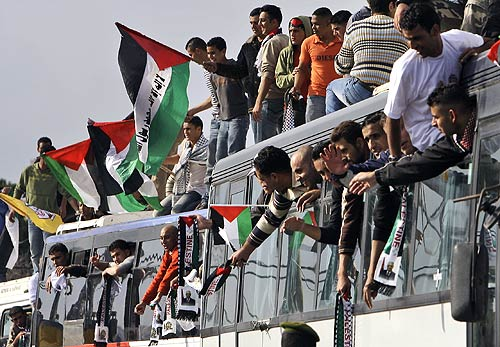 The erroneous caption reads:
Israel sent home 224 Palestinian prisoners Monday, including these men seen crossing into the Gaza Strip. (Hatem Moussa/AP)
Both the photographer and the location are incorrect. The AP sent out this photo by Kevin Frayer (not Moussa), with the original caption:
Released Palestinians prisoners [sic] and supporters celebrate after crossing the Beituniya checkpoint on the way to the West Bank city of Ramallah, Monday, Dec. 15, 2008 . . . .
Oops.
Moreover, the authors claim:
As she waited at the crossing, Saber's mother, Jamieh [Suleiman], 50, recalled the night four years ago when Israeli soldiers "took my son from our house and left the place a wreck." The young man was sentenced to six years in prison for throwing rocks and firebombs at soldiers during the Palestinian uprising that raged during the early part of this decade.
In actuality, Saber Suleiman was arrested one and a half years ago, not four years ago. A Hebrew document from the Israel Prison Service of all the prisoners released yesterday lists Saber Suleiman as number 46 (id number 944402890). He was arrested on April 12, 2007. Furthermore, he was sentenced to no more than two and half years in prison -- not six years as his mother claims. The prisons document states that his release date would have been Dec. 11, 2009.
Posted by TS at 05:39 AM | Comments (1)
December 15, 2008
Israeli doctors save life of Iraqi girl
Israeli doctors have saved the life of an 8-year-old Iraqi girl.
According to Nexis , only Ynetnews.com covered this heartwarming story. Why does the mainstream media have no interest in such a human interest story?

The girl, named Alla, was born with several heart defects and was on the verge of death when she arrived in Israel. Iraqi hospitals had been unable to treat her, and Syria, Germany and Italy refused to help, citing citizenship or financial reasons. Doctors say she wouldn't have survived another two weeks without the surgery. The Israeli hospital is footing the entire bill for her treatment and rehabilitation.

The girl's mother commented: "When I arrived here I was only concerned about Alla, because they said the surgery is complex and she could die. I knew nothing about the people here or about Israel. The big surprise for me was to see the doctors playing with and warmly treating all the children, regardless of who they are. I am very touched and delighted by this."
Shevet Achim, the Israeli nonprofit that brought her to Israel, has assisted about 80 other Iraqi children, and Alla is the third Iraqi child brought to Sheba Medical Center in Israel. Doctors in Israel have also treated many Palestinian children and an Iranian child in recent years.

The original article is posted online at ynetnews.com.

- Stephen A. Silver
Posted by sas at 12:38 PM | Comments (0)
December 14, 2008
Richard Falk's UN-Sanctioned Double Standard

Richard Falk, the United Nations' "Special Rapporteur" on the occupied territories, says Israel's sanctions on Gaza are a "crime against humanity."

One wonders if the hypocrisy made him blush. A UN representative saying Israel's sanctions on Gaza are a crime against humanity. UN as in "UN Security Council Resolution 661," which put a "siege" or "blockade" — oh wait, an "embargo" (why aren't Israel's sanctions described in the press as an embargo?) — on Iraq.

Compare the purported extent and effects of UN-backed sanctions on Iraq to the relatively limited effects of Israel's sanctions on Gaza.

It's a clear double standard employed by the UN here, a disturbing singling out of 'the Jew among the nations' for doing much less than 'the nations' themselves do.
Posted by GI at 01:00 PM | Comments (5)
Peace Now Pays Up
Remember the 2006 Peace Now report which had claimed that the majority of Jewish settlements, including Maaleh Adumim, are built on privately-owned Palestinian land? Remember the credulous, uncritical front-page article in the New York Times?
Recall how it subsequently became clear that Peace Now had erred by 15,900 percent regarding Ma'aleh Adumim, of which 0.54 percent -- not 84.6 percent, as Peace Now had claimed -- was built on private Palestinian land?
Now, one small settlement has taken Peace Now to court for its false claims -- and won. As Israel National News reported:
The Peace Now organization and activists Hagit Ofran and Dror Atkis must pay residents of Judea and Samaria and issue a public apology, Jerusalem Magistrates Court judge Yechezkel Barclay ruled Thursday. The group was punished for a false report involving the Samaria town of Revava.

Peace Now, Ofran and Etkes were sued for damages caused by a report published two years ago. In the report, titled "A sin leads to another sin," (Aveira goreret aveira in Hebrew), Peace Now argued that most Jewish towns in Judea and Samaria were built on land stolen from local Arabs. Among other things, the report said 71.15 percent of the land on which Revava was built was stolen from Arabs.

"The Fund for Redeeming the Land," which legally owns 100 percent of the territory on which Revava is built, demanded that Peace Now correct its false report regarding Revava and issue an apology. The group refused to apologize, as did the authors of the report. The authors agreed to only partially correct the mistaken claim regarding Revava, changing the report to say 22 percent of the land was stolen, not 71 percent.

When Peace Now refused to apologize, the Fund sued the organization with the help of Attorney Doron Nir Tzvi. The group charged Peace Now and authors Ofran and Etkes with slander.

The court found the three defendants guilty. Besides ordering them to apologize, Justice Barclay ruled that they must pay the Fund for Redeeming the Land 20,000 shekels plus tax. The group's apology must be public, and must be published in both Maariv and Haaretz.
Perhaps a paid apology in the New York Times could also put a minor dent in the Gray Lady's cash flow problem. But since the Times' own reporter, Steven Erlanger, irresponsibly ennabled the spread of Peace Now's misinformation, shouldn't a retraction be a free public service owed to readers?
Posted by TS at 07:13 AM | Comments (1)
NY Times Editor on Terror, Terrorists
Hoyt reviews NY Times practice on the "T-word"
New York Times public editor Clark Hoyt gets it right. On the use of the terms "terrorist" and "terrorism," he concludes:
My own broad guideline: If it looks as if it was intended to sow terror and it shocks the conscience, whether it is planes flying into the World Trade Center, gunmen shooting up Mumbai, or a political killer in a little girl's bedroom, I'd call it terrorism — by terrorists.
It's too bad so many of his colleagues don't share such clear thinking.
Posted by TS at 02:14 AM | Comments (1)
December 07, 2008
Carter's New Book
Jimmy Carter will be publishing a new book this January, entitled Can We Bring Peace to the Holy Land. Simon & Schuster, which published Carter's last book, Palestine: Peace Not Apartheid, will also publish Carter's new book.
Can we fact-check this time?
Posted by TS at 06:50 AM | Comments (2)
December 01, 2008
The Times of London Suggests Chabad House Jews of Mumbai Had It Coming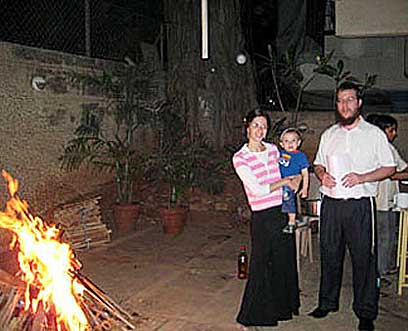 The online Times of London published an appalling statement regarding the Chabad House murders in Mumbai.

Irrelevant to the rest of the article is the inclusion of a statement attributed to one T. K. Bhat who allegedly lives near the Chabad House, outrageously suggesting that the Jews brought the attacks upon themselves.
It could be that the attitudes of the Chabad, which gives the sense of an elite club for Jews alone, is part of what provoked the terrorists to target them for the attack.
Posted by at 03:45 PM | Comments (5)
A Canadian Look at an Israeli Fence
While many journalists have focused on Palestinian views of Israel's security barrier, Israeli views have been relatively overlooked.
In the past weekend's Calgary Herald, columnist Licia Corbella succeeds in conveying what is too often ignored: that there are two sides to the fence discussion. While acknowledging Palestinian feelings about the barrier, she points out that Israelis feel, and are, safer since it was erected. "Sometimes," she says, "something as thin and simple as a wall can make a difference as vast as the Canadian prairies."
She concludes: "If every western critic could stand here on this spot and see the distance between those who sought to kill and those who were to be killed, it's likely most would be silenced."
Read the whole piece here.

Posted by GI at 10:38 AM | Comments (0)