« August 2008 | Main | October 2008 »
September 28, 2008
Study: US Textbooks Biased
A new study by the Institute for Community and Jewish Research finds that American textbooks for all grades contain "gross misrepresentations" of Judiasm, Israel and Christianity. The Jerusalem Post reports:
Among the claims made about Israel in some of the textbooks are that Arab countries never initiated wars against Israel, Arab nations desire peace while Israel does not and that it was Israel that placed Palestinians in refugee camps in Arab lands, not Arab governments. No mention whatsoever was found relating to the hundreds of thousands of Jewish refugees from Arab countries who were forced out after the establishment of Israel. . .

The study compared language used in describing Jewish and Christian belief with that describing Muslim belief. "The textbooks tend to be critical of Jews and Israel, disrespectful about Christianity, and rather than represent Islam in an objective way, tend to glorify it," says [researcher Dennis] Ybarra.
Posted by TS at 05:18 AM | Comments (1)
September 24, 2008
1920 - 2008: How Far We've Come?
"The dignity, integrity, and rights of the American and European people are being played with by a small but deceitful number of people called Zionists. Although they are a minuscule minority, they have been dominating an important portion of the financial and monetary centers, as well as the political decision-making centers of some European countries and the U.S. in a deceitful, complex, and furtive manner."




"... a group of internationalists, most of whom were members of the Jewish race, seized the machinery of government and have held it ever since. ...

"In order to overcome the resistance of those states which are unwilling to make submission to the new Jewish power, there must be no hesitation in resorting to violence, cunning, hypocrisy, bribery, fraud, and treason, or to the seizure of the property of others."



"It is deeply disastrous to witness that some presidential or premier nominees in some big countries have to visit these people, take part in their gatherings, swear their allegiance and a commitment to their interests, in order to attain financial or media support.

"This means that the great people of America and various nations of Europe need to obey the demands and wishes of a small number of acquisitive and invasive people."




"... a Jewish dictatorship is to be gradually built up, principally through the "terrible" Jewish power of the purse and through the other great Jewish powers of control over the press. ...

"To this conception of statesmanship the masses are contemptible cattle, and the political leaders of the Gentiles ... are puppets, pulled by the hidden hand of the "elders," puppets mostly corrupt, always inefficient, easily coaxed, or bullied, or blackmailed into submission, unconsciously furthering the advent of Jewish dominion."
"You see, we have no problems with Jewish people. There are many Jews who live in Iran today. In Iran, for every 150,000 people, we have one representative at the parliament, or the Majles.

"For the Jewish community, even though there are only 20,000 in Iran, they still have one independent member in parliament who has the same prerogatives as the other members of parliament.

"But please pay attention to the fact that the Zionists are not Jewish people."




"In conclusion it must be states that the motives which have actuated the publication of the book are not anti-Semitic. ...

"The publishers believe that the vast majority of the Jews in this country have never heard of the Protocols, and would denounce the plan which they set forth. The Jews here, constituting about three per cent of the population, enjoy the same rights and privileges as other citizens. All are equal before the law and all are free from persecution on religious grounds."
Sources: UN remarks; Larry King interview; 1920 English translation of Protocols of the Elders of Zion.

Key:

Iranian President Mahmoud Ahmadinejad's remarks to the United Nations General Assembly, Sept. 23, 2008.

Mahmoud Ahmadinejad during interview with Larry King on CNN, broadcast on Sept. 23, 2008.

The Protocols and World Revolution, including a translation and analysis of the Protocols of the Meetings of the Zionist Men of Wisdom, published by Small, Maynard & Company, Boston, 1920.
Posted by GI at 12:43 PM | Comments (1)
September 23, 2008
Argentina Demands Rafsanjani Extradition
From the Jerusalem Post:
Argentine President Cristina Fernandez demanded Tuesday that Iran extradite its former president Akbar Hashemi Rafsanjani for his responsibility for 1994's AMIA Jewish community center bombing in Buenos Aires that killed 85 people and wounded more than 100.

Speaking at the UN General Assembly, Fernandez also demanded the extradition of seven Iranians who planned the attack.

INTERPOL has issued extradition warrants against six of the suspects.
Posted by GI at 07:31 PM | Comments (1)
Official PA Newspaper Viciously Caricatures Tzipi Livni
While one arm of Abbas's Palestinian Authority negotiates with Israeli Foreign Minister and Kadima party leader Tzipi Livni, another one viciously defames her. The illustration above is yet another example of the often two-faced output of the Palestinian Authority — one benign one for outsiders, the other a vicious one for its own people.
A Sept. 22 Palestinian Media Watch report by Itamar Marcus and Barbara Crook provided the caricature found in the official Palestinian Authority newspaper, Al-Hayat Al-Jadida.
PMW said:
The Palestinian Authority published a caricature today in its official newspaper, in which Israeli Foreign Minister Tzipi Livni is portrayed with a dagger and blood-stained hands next to a white peace dove with its head in a noose. As a result of Prime Minister Olmert's resignation and her election as leader of the Kadima party, Livni has been designated to to try to form the next Israeli government, and could be the next prime minister. Bottom text from right: "Gio-Kadima" This is a play on words: Livni's political party is called "Kadima." The original Italian name of Mona Lisa is "La Gioconda."
Posted by MK at 03:44 PM | Comments (0)
September 22, 2008
In Praise of The Washington Post, Twice
CAMERA frequently criticizes The Washington Post's foreign desk for filtering Arab-Israeli news through a Palestinian perspective and taking Palestinian grievances — real, self-induced and imagined — at face value while discounting legitimate Israeli concerns. But The Post's "Olmert Steps Down As Premier Of Israel (September 22), one of the newspaper's lead world news articles that day, was balanced and pertinent.
Jerusalem Bureau Chief Griff Witte and stringer Samuel Sockol fairly summarized the factors behind Prime Minister Ehud Olmert's resignation, explained ruling Kadima Party Chairman and Foreign Minister Tzipi Livni's early effort to build a parliamentary majority, and briefly noted Likud Party efforts to block her. The dispatch accurately referred to "the opposition Likud" and its leader, former Prime Minister Binyamin Netanyahu, "a staunch critic of the talks [with the Palestinian Authority]." It thereby avoided the not-uncommon editorializing-by-adjective usages "the hawkish Likud" and "hardline Netanyahu." Likewise, Witte and Sockol more accurately described Israel's Labor Party as "center-left" rather than "left-wing" or "dovish." (In Israeli politics, there are "hardline" parties to the right of Likud, and "dovish" [no one writes "soft-line"] ones to the left of Labor.)
The Post updated itself, telling readers that Livni "narrowly won that [Kadima primary] vote last week," after its initial report had given her a relatively wide margin over top challenger Shaul Mofaz, a cabinet member and former military chief of staff.
Overall, readers were well-served by the paper's "Olmert Steps Down As Premier Of Israel."
So too by Post editorial page Deputy Editor Jackson Diehl's column "A Peace From the Bottom Up" (also September 22). Diehl asserted that "amid the din of the financial crisis and the presidential campaign, the Bush administration's attempt to broker an Israeli-Palestinian peace deal has quietly expired." The writer deftly used that news peg to examine an alternative for future diplomacy:
Instead of top-level efforts to negotiate and impose a settlement on Israeli and Palestinian societies, come to grips with "building Palestinian civil society" from the grassroots up. Rather than solely backing the often corrupt, repressive, inefficient Palestinian Authority under President Mahmoud Abbas, strengthen countervailing reformers.
Diehl highlights this recommendation by former Soviet dissident, Israeli Knesset (parliament) member and current think tank scholar Natan Sharansky, and long-time Palestinian human rights monitor Bassem Eid. In doing so, he spotlights a fresh (or refreshed) idea worth readers' attention but unlikely to make headlines as a news story.
Credit when and where it's due.
Posted by ER at 02:32 PM | Comments (0)
September 19, 2008
Lauren Booth Photographed Shopping at Grocery Store in Gaza "Concentration Camp"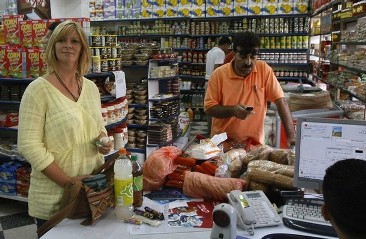 Lauren Booth, the sister in law to former British Prime Minister, Tony Blair, recently offered her opinion that Gaza resembled a "concentration camp" and decried the humanitarian situation there, claiming it rivaled that of Darfur.
This photo taken during her recent excursion to Gaza with the Free Gaza Committee shows Ms. Booth shopping in a well-stocked, computerized, grocery store in the alleged concentration camp.




Posted by SS at 12:46 PM | Comments (11)
September 16, 2008
Christian Groups Promote Israeli Disarmament
By now, most observers have figured out that Christian "peacemakers" draw a disproportionate amount of attention to Israeli misdeeds while downplaying or disregarding violence perpetrated by Palestinians against Israel. Check out the websites of the Christian Peace Maker Teams (CPT) and the Ecumenical Accompaniment Programme in Palestine and Israel (EAPPI) supported by the World Council of Churches and you will see that the activists associated with these groups routinely publicize and condemn the behavior of Israelis in the West Bank.
You will not find, however, much evidence of these activists working to impede or draw attention to the acts of terror groups such as Hamas, Hezbollah or Palestinian Islamic Jihad against Israeli civilians. When it comes to "Getting in the Way" (CPT's motto), these groups seem to get in the way of Israeli soldiers more often than they do Palestinian terrorists. To be sure, it is not reasonable to expect CPTers or EAPPI activists to stand in the streets of Sderot during rocket attacks, but if they are going to show their solidarity with Palestinians in Hebron, isn't there something they can do to acknowledge the suffering Israelis endure -- something more than giving free publicity to the Israeli "peace activists" who lost so much of their credibility in Israeli society during the Second Intifada?
Part of the problem is the sheer logistics of the conflict. EAPPI and CPT activists are able to draw attention to confrontations that can be used to portray the Israelis as the aggressor because these confrontations take place at predictable times and locations -- in Hebron and at checkpoints in the West Bank. Bring a video camera, wait for the confrontation, film it and you've got yourself an incident.
On the other hand, Palestinian and Arab attacks against Israelis do not take place at predictable times and locations making them much harder to film as they are happening. The after effects of these attacks can however, be documented. But for some reason documenting Israeli suffering and Arab violence does not seem to be part of the mandate of Christian peacemakers in the Holy Land.
There is another reason for this focus on Israeli sins. Criticizing Hamas and Hezbollah is a lot more dangerous than it is to criticize Israel. Israel is a functioning democracy. Hamas and Hezbollah violent terror groups that kill people who oppose them.
Apparently, several Christian peacemaking groups have taken their ersatz peacemaking one step further -- by supporting New Profile, an organization that encourages young Israelis not to serve in the military.
New Profile was featured in a Jerusalem Post article by Carl Hoffman on Sept. 4, 2008. Hoffman writes:
Unlike most other Israeli non-profit organizations, New Profile receives little of its income from private donations. New Profile's funding comes principally from international Christian organizations like the Quakers (United Kingdom) and Bread for the World (United States). New Profile has worked in tandem with groups like Women in Black, and in conjunction with the Israeli Committee Against House Demolitions to rebuild houses of West Bank Palestinians demolished by the IDF.
Apparently, Hoffman erred in stating that New Profile received funding from Bread for the World in the U.S. CAMERA contacted the organization via email and was told that we confused Bread for the World (US) with a German organization of the same name. CAMERA has sent an email to Brot Fuer Die Welt asking the organization about its support for New Profile but has received no response.
According to New Profile's 2007 Annual Report other the organization has recieved financial support from Quakers UK and enjoys connections with the American Friends Service Committee, EAPPI (mentioned above) and the World Council of Churches, and of course, Sabeel.
According to Haaretz, New Profile is under investigation for aiding and abetting draft dodging -- a charge the organization denies.
None of this should really come as much of a surprise. In one way or another, these groups have all encouraged Israel's unilateral disarmament in the face of Arab hostility in the Middle East, while remaining relatively silent about the violence perpetrated against Israel. Of course, there are pro-forma condemnations of terrorism and suicide bombing, at the same time, they also defend the right of Palestinian terrorists to kill Israelis to achieve what was offered offered to them at the negotiating table in 2000/2001 -- a state of their own.
Just to make the issues clear, let's ask ourselves two questions:
Do any of the Christian organizations that support New Profile provide any funding to other organizations that encourage people to refrain from serving in the military in other countries, aside from Israel?
Do these organizations provide funding or assistance to organizations that obstruct recruiting efforts of groups like Hamas and Hezbollah?
Anyone... Anyone ... Bueller ... Anyone?
Posted by dvz at 11:53 AM | Comments (5)
September 15, 2008
Will Times Public Editor Be Consistent on Inconsistency?
In his column yesterday, New York Times Public Editor Clark Hoyt analyzes his newspaper's use of prominent figures' "middle names for historical effect," and determines that it follows this practice inconsistently.
"Whatever the style," he concludes, "The Times needs to be consistent in applying it."
Indeed. And shouldn't this conclusion about consistency also be applied consistently? We recently corresponded with Times editors about the same issue, when we pointed out the paper's inconsistent use of the phrase "human rights advocates" (and also the inappropriateness of using that phrase to describe extremist anti-Israel activists).
The public editor was copied on the exchange, but apparently has not commented on the issue.
Posted by GI at 01:57 PM | Comments (2)
September 12, 2008
MCC and WCC to Break Bread With Holocaust Denier
The Mennonite Central Committee, a relief, development and peace agency for adherents of the Anabaptist tradition in the United States and Canada is having dinner with Mahmoud Ahmadinejad, the Holocaust-denying President of Iran. According to the Jerusalem Post, the dinner, which will be attended by representatives from the World Council of Churches, the American Friends Service Committee and Religions for Peace, is scheduled to take place on September 25, 2008.
Maureen Shea, director of the Episcopal Church's Office of Governmental Relations in Washington, D.C. (and chair of Churches for Middle East Peace) told the Jerusalem Post that "Meeting with people does not mean you agree with them. The more there is inflammatory language going back and forth, the more we feel there needs to be a way for our two countries to communicate."
In 2007, the MCC organized a trip to Iran in 2007 during which Christians from the U.S. asked Ahmadinejad to cut back on the anti-Semitic rhetoric. Four days later he told a group of clerics in Sudan that "the Zionists are the true manifestation of Satan" and that "[t]oday the Zionist regime is a symbol of hedonism and the manifestation of the ugly soul of some usurper powers that support it."
Abraham Foxman, national director for the Anti-Defamation League, condemned the MCC and the other organizations involved in the dinner.
Posted by dvz at 03:49 PM | Comments (5)
September 10, 2008
Story on Culture Clash Ignores a Culture Clash
In his Sept. 6 New York Times story "Watching 'Friends' in Gaza: A Culture Clash," Michael Kimmelman claims that "Gaza has not had any movie house since the last one burned two decades ago during the first intifada." (The piece was also published the following day in the International Herald Tribune.)
How strange to make such an error — and to assert only that the theater mysteriously "burned" — in a piece that's ostensibly a thorough exploration of the tensions between Islamist and Western cultures in Gaza.
The last movie house burned down not during the first intifada and its Palestinian-Israeli clashes, but on November 19, 1994 — after the end of the first intifada — during intense fighting between Palestinian factions in Gaza. What is especially strange about Kimmelman's assertion, though, is that he fails to note the theater "burned" because it was set alight by Islamists during clashes between Arafat's secular self-rule government and Islamic groups such as Hamas. In a piece about the culture war, why would this detail be left out?
Read on for an excerpt from the Nov. 20, 1994 Washington Post about the movie theater.
In Gaza City, however, there is no movie theater left. The young militants burned the Nasser, the only one in the city, Friday night, and came back today to finish the job. Reel by reel and yard by yard, they added the surviving celluloid to bonfires on the pavement outside.

"They are playing movies like this one with unclothed women!" exclaimed Mohammed Sorour, 16, holding a frame to the light of the afternoon sun. It appeared to be a beach scene, with a matron of 40 or so in a one-piece bathing suit. "We want to let the [Palestinian] Authority know that it is forbidden in Islam to open a new cinema."

Jihad Abu Zayed, 27, watched from a safe distance. "These are bad people, uneducated people," he fumed. "This is a cultural center, and they are destroying it. ... Somebody should stop them, but the Authority doesn't want to be in more clashes today.
Posted by GI at 04:28 PM | Comments (0)
September 03, 2008
Arab Journalists Blast Al-Jazeera
MEMRI reports on Arab journalists who blast Al Jazeera for its celebratory coverage of released murderer Samir Kuntar.
Posted by TS at 04:11 AM | Comments (1)