« April 2008 | Main | June 2008 »
May 31, 2008
One Moore Example of Bias!
On May 27, 2008, the Washington Post published an article by longtime reporter Molly Moore about the crisis over Iran's failure to cooperate with United Nations nuclear inspectors ("Iran Withholds Key Nuclear Documents; Program Still Peaceful, U.N. Agency Says"). In her lead paragraph, Moore states that International Atomic Energy Agency
"inspectors have found no evidence that Tehran is currently attempting to divert its nuclear program to military uses."
Moore's analysis of the dispute over Iran's pursuit of nuclear weapons is limited to a single paragraph that states:
U.S. intelligence agencies concluded last year that Iran stopped weapons research in 2003; Iran has denied it ever conducted such research.
From this, a reader would have the clear impression that IAEA inspectors found no evidence of an ongoing Iranian nuclear weapons program, and that its latest report was essentially a valentine to the Islamist regime. But Moore's version of events reflects a completely different reality from that reported elsewhere.
For example, consider the New York Times article "Atomic Monitor Signals Concern Over Iran's Work" (also published on May 27, 2008), by Elaine Sciolino. Sciolino's piece took a strikingly different tone, reporting that:
The nine-page report accused the Iranians of a willful lack of cooperation, particularly in answering allegations that its nuclear program may be intended more for military use than for energy generation. Part of the agency's case hinges on 18 documents listed in the report and presented to Iran that, according to Western intelligence agencies, indicate the Iranians have ventured into explosives, uranium processing and a missile warhead design - activities that could be associated with constructing nuclear weapons.
Say what? How is it possible that Moore can insist there was
"no evidence that Tehran is currently attempting to divert its nuclear program to military uses"
when, according to the
New York Times
, the agency report listed "18 documents" indicating that "the Iranians have ventured into explosives, uranium processing and a missile warhead design"?
Unfortunately, Moore is an all-too-familiar figure to longtime critics of Washington Post bias against Israel. She and her husband, fellow Post reporter John Ward Anderson, were for many years the Post's Jerusalem bureau correspondents. During their tenure, Moore's reporting was frequently criticized for its anti-Israel bias by media watchdogs including CAMERA. Even the Post's former ombudsman, Michael Getler, occasionally took note of Moore's habitual downplaying of the Israeli side in her reports. (See, e.g., "A Town Meeting, a Tape and Terror," Feb. 16, 2003; 'Stories That Had Readers Writing,' Dec. 12, 2004; "For a Few Stories, a Grade of Incomplete," March 20, 2005) Anderson's reporting, too, has been the subject of repeated criticism by media watchdogs, including CAMERA.
Moore and Anderson are now reporting for the Post from Paris, France, where they have dutifully ignored the recent vindication by a Paris Court of Appeal of Philippe Karsenty. Karsenty is a French media critic who helped expose an infamous video clip, purportedly showing the killing of a Palestinian youth by Israeli soldiers, as a hoax (See reports by CAMERA and The Canadian Jewish News).
One would expect more from the Post.
- Stephen A. Silver
Posted by LG at 06:56 PM | Comments (0)
May 30, 2008
UPDATED: Yahoo! Hosts Deletes Anti-Semitic Diatribe
JUNE 1 UPDATE: The anti-Semitic question and answer have finally been deleted by Yahoo!.
According to commenters on the popular Yahoo! Answers website, Judaism "glorifies genocide" and Orthodox Jews "consider mass-murder to be very honorable." Although this hate speech clearly violates Yahoo's guidelines, the posting was not removed — even after the violation was reported to Yahoo!.
The posting has been up for over three months, and has remained up for at least two months after Yahoo! was notified of its anti-Semitic content.
Click here for more details.
Posted by GI at 04:36 PM | Comments (2)
May 29, 2008
The Guardian Branches Out
Considering the Guardian's track record of reporting on Israel, it is of no surprise to read the publication's latest attempt at journalism.
A May 29, 2008 quiz (and yes, you are reading the word "quiz" correctly) prepared by Anil Dawar, highlights the corruption scandal surrounding Israel's Prime Minister. The Guardian is apparently keen to ensure that its readers are not deprived of any of the minutiae, so it has generously provided--in the 'Latest Multimedia' section of its website---a quiz for its readers to answer about Israeli Prime Minister Ehud Olmert's corruption investigation.
The first question of five begins, believe it or not, as follows:
According to US entrepreneur and rabbi, Morris Talansky, what luxury items was Ehud Olmert obsessed with?




Fashionable trainers (British term for sneakers or running shoes)


Expensive cigars


Branded sunglasses


Handmade suits


Another question grills readers on the exact dollar amount spent by Olmert on a hotel stay:
How much did Olmert's three-day stay at the Ritz Carlton in Washington cost Talansky?




$4,700


$5,700


$3,700


$6,700
The other questions are similar. But, oh dear, Mr. Dawar forgot to include any questions about Mr.Olmert's favorite toothpaste.
Regarding Mr.Talansky's status as a rabbi, Mr. Dawar neglects to clarify that Mr. Talansky is not a practicing rabbi. He is a businessman who briefly led a congregation in Portland, Oregon and has not practiced as a rabbi since the 1950's.
Umm, I wonder what Mr. Dawar had in mind when he came up with this quiz. Maybe he was very, very bored?
Posted by CameraBlog at 03:45 PM | Comments (0)
Tiny Georgia, Big Israel?
Once again, The Washington Post has referred to a country as tiny (World News Brief "Huge Protests Launched Against Saakashvili," [May 27]). Once again, that country is not Israel.
Georgia, described as "the tiny Caucasus nation" happens to be 3.5 times the land area of Israel. Georgia's population is 5.4 million, Israel's is about 7.2 million, of whom 5.6 million are Jews. Georgia comprises an area of 69,700 square kilometers (26,911 square miles), Israel comprises 20,770 square kilometers (8,016 square miles). The CIA World Fact Book describes the Black Sea nation of Georgia as slightly smaller than South Carolina, while it depicts Israel as slightly smaller than New Jersey.
Other tiny countries, according to Post foreign news coverage in the past three years, include the Himalayan kingdom of Bhutan (47,000 square kilometers, "about half the size of Indiana," in the CIA's description (more than twice as large as Israel); Israel's neighbor to the north, Lebanon (10,000 square kilometers, "about 0.7 times the size of Connecticut"); and Albania, Gambia, Luxembourg, and Malta.
Consistency and accuracy, would require The Post's foreign news desk to describe Israel also as "tiny" from time to time. Failure to do so suggests a double standard, perhaps unconscious, in which Israel appears to loom larger in the Middle East than it actually does, and erroneously is assigned more responsibility for regional problems than it ideserves. --- APG
Posted by ER at 10:37 AM | Comments (3)
May 27, 2008
Wall Street Journal Weighs in on Al Dura Hoax Case
The Wall Street Journal (Europe) is among the few mainstream news organizations that prominently commented on the Karsenty vs France 2 court case. Its editorial, as well as an op-ed by Nidra Poller, explained the larger context of the case, as well as several of the fascinating details that point to the "shooting" being a staged hoax.
See below for "Al-Durra Case Revisited" and "A Hoax?"
Al-Durra Case Revisited
FROM WALL STREET JOURNAL EUROPE
May 27, 2008
It's hard to exaggerate the significance of Mohammed al-Durra, the 12-year-old Palestinian boy allegedly killed by Israeli bullets on Sept. 30, 2000. The iconic image of the terrified child crouching behind his father helped sway world opinion against the Jewish state and fueled the last Intifada.
It's equally hard, then, to exaggerate the significance of last week's French court ruling that called the story into doubt. Not just whether the Israeli military shot the boy, but whether the whole incident may have been staged for propaganda purposes. If so, it would be one of the most harmful put-up jobs in media history.
You probably didn't hear this news. International media lapped up the televised report of al-Durra's shooting on France's main state-owned network, France 2. Barely a peep was heard, however, when the Paris Court of Appeal ruled in a suit brought by the network against the founder of a media watchdog group. The judge's verdict, released Thursday, said that Philippe Karsenty was within his rights to call the France 2 report a "hoax," overturning a 2006 decision that found him guilty of defaming the network and its Mideast correspondent, Charles Enderlin. France 2 has appealed to the country's highest court.
Judge Laurence Trébucq did more than assert Mr. Karsenty's right to free speech. In overturning a lower court's ruling, she said the issues he raised about the original France 2 report were legitimate. While Mr. Karsenty couldn't provide absolute proof of his claims, the court ruled that he marshalled a "coherent mass of evidence" and "exercised in good faith his right to free criticism." The court also found that Talal Abu Rahma, the Palestinian cameraman for France 2 who was the only journalist to capture the scene and the network's crown witness in this case, can't be considered "perfectly credible."
The ruling at the very least opens the way for honest discussion of the al-Durra case, and coverage of the Israeli-Palestinian conflict in general. French media could stand some self-examination. The same holds for journalists elsewhere.
On that Saturday in 2000, Palestinians faced off against Israeli troops at Gaza's Netzarim junction. Two months before, Yasser Arafat had walked out of the Camp David peace talks. Two days before, Ariel Sharon had visited Jerusalem's Temple Mount. The second Intifada was brewing. The French network's cameraman, Mr. Abu Rahma, filmed the skirmishes and got the footage to the France 2 bureau in Israel. Mr. Enderlin edited the film and, relying only on his cameraman's account, provided the voice-over for the report. He suggested Israeli soldiers killed the boy. He didn't say he wasn't there.
Along with the Temple Mount incident, the al-Durra shooting was the seminal event behind the second Intifada. Israel apologized. But nagging doubts soon emerged, as Nidra Poller recounts here1. An Israeli military probe found that its soldiers couldn't have shot the father and son, given where the two were crouching.
Others including Mr. Karsenty asked, among various questions, Why the lack of any blood on the boy or his father? Or why did France 2 claim to have 27 minutes of footage but refuse to show any but the 57 seconds on its original broadcast? Mr. Enderlin said, "I cut the images of the child's agony, they were unbearable."
Under pressure from media watchdogs, and after years of stonewalling, France 2 eventually shared the additional film. It turns out that no footage of the child's alleged death throes seems to exist. The extra material shows what appears to be staged scenes of gun battles before the al-Durra killing. For a sample, check out www.seconddraft.org2, a site run by Richard Landes, a Boston University professor and one of Mr. Karsenty's witnesses.
Judge Trébucq said that Mr. Karsenty "observed inexplicable inconsistencies and contradictions in the explanations by Charles Enderlin."
We don't know exactly what happened to Mohammed al-Durra. Perhaps we never will. But the Paris court ruling shows that France 2 wasn't completely open about what it knew about that day. It suggests the Israelis may not have been to blame. It makes it plausible to consider -- without being dismissed as an unhinged conspiracy theorist -- the possibility that the al-Durra story was a hoax.
To this day, Islamic militants use the al-Durra case to incite violence and hatred against Israel. They are well aware of the power of images. Mr. Karsenty is, too, which is why he and others have tried to hold France 2 accountable for its reporting.
See all of today's editorials and op-eds, plus video commentary, on Opinion Journal3.
And add your comments to the Opinion Journal forum4.
URL for this article:
http://online.wsj.com/article/SB121183757337520921.html

Hyperlinks in this Article:
(1) http://online.wsj.com/article/SB121183795208620963.html
(2) http://www.seconddraft.org
(3) http://online.wsj.com/opinion
(4) http://forums.wsj.com/viewtopic.php? t=2687

**************

May 27, 2008

OPINION
A Hoax?
By NIDRA POLLER
FROM WALL STREET JOURNAL EUROPE
May 27, 2008
September 30, 2000, Netzarim Junction in the Gaza Strip: France 2 correspondent Charles Enderlin offers the world a front seat on the video shooting of Mohammed al-Durra and his father Jamal. Targeted, according to Mr. Enderlin's voice-over commentary, by "gunfire from the direction of the Israeli positions." A few seconds later: "Mohammed is dead, his father is critically wounded." The France 2 cameraman, later identified as Palestinian stringer Talal Abu Rahma, caught the child killers in the act. A prize-winning scoop!
Independent analysts and Israeli officials seeking clarification of inconsistencies in the al-Durra news report encountered stubborn resistance from the state-owned French channel and its Mideast correspondent. An Israeli army investigation concluded the gunfire could not have come from their position; independent investigators went further and declared that the incident had been staged. Exasperated by the controversy, France 2 and Mr. Enderlin sued four Web sites for defamation, won three cases and lost the fourth on a technicality. Philippe Karsenty, director of the Media-Ratings watchdog site (www.m-r.fr), convicted of defamation for calling the al-Durra report "a hoax," took the case to the Court of Appeals.
May 21, 2008, Palais de Justice, 11th Chamber of the Court of Appeals: Presiding judge Laurence Trébucq announced the verdict with a delicate smile: Philippe Karsenty is acquitted; the plaintiff's claims are dismissed. France 2 counsel Maître Bénédicte Amblard blanched, shrugged her shoulders, and disappeared into thin air. Mr. Karsenty celebrated the decision as an admonition to reckless media who provoke violence with falsified inflammatory news.
An honest reading of the ruling calls into question the al-Durra myth. French media didn't bother to come to the funeral. Were they confident that Charles Enderlin would be vindicated? Did they think Philippe Karsenty, whose honor they had sullied by likening him to Holocaust deniers and 9/11 conspiracy nuts, was already dead and buried?
Mr. Karsenty's defamation conviction in the court of first resort had been celebrated as proof that the al-Durra death scene was authentic. Reactions to his acquittal, which can be counted on the fingers of one bony hand, reassert that impression. In a three-second segment at the tail end of Wednesday's primetime news, France 2 implied -- with the famous al-Durra image in the background -- that the report had, once again, been authenticated despite the acquittal of an -- unnamed -- defendant.
Playing on the complexity of the law dating back to July 29, 1881, Charles Enderlin and his allies insist that Mr. Karsenty is still guilty of defamation. The incriminated statements Mr. Karsenty made in 2004 on his Web site did damage their reputations. But the court found that despite the lack of absolute proof, the statements were nevertheless justified by the defendant's good faith, due diligence and appropriate language. The judge therefore acquitted Philippe Karsenty of all charges.
In a move unprecedented in media litigation, France 2 and Mr. Enderlin have referred the case to France's highest court (the Cour de Cassation), which rules solely on technicalities, not on substance.
The 13-page ruling is drafted with the same ethical and intellectual clarity exercised by Judge Trébucq throughout the proceedings. The court first establishes the principle that Charles Enderlin "...as a professional journalist reporting from Israel and the Palestinian territories for primetime France 2 newscasts...cannot shield himself from criticism; he is...[necessarily] exposed to...scrutiny...from citizens and colleagues." And then the court validates, exhibit by exhibit, the evidence that led Philippe Karsenty to question and ultimately denounce the al-Durra report.
While Mr. Karsenty submitted voluminous evidence, France 2 and Mr. Enderlin relied on an above-suspicion strategy based on the elevated reputation of the journalist, his total confidence in the Palestinian cameraman who filmed those images without the French correspondent there, and the unquestionable dignity of the state-owned television network. Their position weakened when Judge Trébucq ordered them to submit the unedited raw footage filmed on Sept. 30, 2000. They only partially complied. In lieu of "unedited raw footage," Mr. Enderlin presented an 18-minute excerpt and, for the first time since litigation began, appeared in court on Nov. 18 to oversee the screening.
Reinforcements were brought in for the final hearing on Feb. 27 -- news director Arlette Chabot to bolster Mr. Enderlin, and Maître François Szpiner to assassinate Mr. Karsenty's character, comparing him to 9/11 conspiracy theorist Thierry Meyssan, Holocaust denier Robert Faurisson, and "the Jew who pays a second Jew to pay a third Jew to fight to the last drop of Israeli blood." This aggressive strategy backfired.
The court kept its eyes on the evidence. It is impossible in the limited space available here to do justice to a document that deserves line-by-line appreciation. The following examples drawn from the decision are a fair indication of its logical thrust: Material evidence raises legitimate doubts about the authenticity of the al-Durra scene. The video images do not correspond to the voice-over commentary. Mr. Enderlin fed legitimate speculation of deceit by claiming to have footage of Mohammed al Durra's death throes while systematically refusing to reveal it. He aggravated his case by suing analysts who publicly questioned the authenticity of the report. Examination of an 18-minute excerpt of raw footage composed primarily of staged battle scenes, false injuries and comical ambulance evacuations reinforces the possibility that the al-Durra scene, too, was staged. (There is, strictly speaking, no raw footage of the al-Durra scene; all that exists are the six thin slices of images that were spliced together to produce the disputed news report.)
The possibility of a staged scene is further substantiated by expert testimony presented by Mr. Karsenty -- including a 90-page ballistics report and a sworn statement by Dr. Yehuda ben David attributing Jamal al-Durra's scars -- displayed as proof of wounds sustained in the alleged shooting -- to knife and hatchet wounds incurred when he was attacked by Palestinians in 1992. In fact, there is no blood on the father's T-shirt, the boy moves after Mr. Enderlin's voice-over commentary says he is dead, no bullets are seen hitting the alleged victims. And Mr. Enderlin himself had backtracked when the controversy intensified after seasoned journalists Denis Jeambar and Daniel Leconte viewed some of the raw footage in 2004. The news report, he said, corresponds to "the situation." The court, concurring with Messrs. Jeambar and Leconte, considers that journalism must stick to events that actually occur.
The frail evidence submitted by France 2 -- "statements provided by the cameraman" -- is not "perfectly credible either in form or content," the court ruled.
The landmark ruling closes with an eloquent affirmation of the right of citizens to criticize the press freely, the right of the public to be informed honestly and seriously, the right of expression guaranteed by Article 10 of the European Convention on Human Rights, a right that applies not only to inoffensive ideas but also to those that are shocking, disturbing, troubling.
The media that dramatically reported the killing of Mohammed al-Durra are deathly silent today. They didn't inform the public about the ongoing controversy, didn't attend the trials and have apparently decided to place this story into an artificial coma. As if this judgment against a colleague who placed blind trust in his Palestinian cameraman and, when called to clarify his report, attacked the questioner instead of questioning his own competence were not newsworthy?
The press corps has consistently closed ranks with Charles Enderlin. One week before the verdict was announced, pay-to-view TV station Canal+ aired a documentary seemingly concocted for the purpose of branding Philippe Karsenty -- and anyone who challenged the al-Durra story -- as conspiracy-theory crackpots.
Mr. Enderlin is the dean of French Middle East reporting. On France 2, he has full latitude to present his editorializing as factual news. Pointedly ignoring the al-Durra controversy, France 2 continued to give Mr. Enderlin -- in tandem with cameraman Talal Abu Rahma -- high-profile status on primetime news. Every few years Mr. Enderlin collects his material into another "authoritative" book on the Arab-Israeli conflict. Mr. Enderlin has been the driving force in convincing French public opinion that Israel was to blame for the breakdown of the July 2000 Camp David talks. Further, Mr. Enderlin argues that the "Al Aqsa" or second intifada turned violent because of the disproportionate repression of civilian protest by uncontrolled Israeli military personnel.
Mr. Enderlin claims ultra-Zionist Likudniks want to prevent him from reporting objectively on the Arab-Israeli conflict. He is now replaying the Karsenty case on his French state-TV blog where, in the absence of the wise Judge Trébucq, he wins hands down. He claims the al-Durra controversy was fomented in response to the publication of "Le Rêve Brisée" (Shattered Dreams), where he pinpointed Israel's responsibility for the collapse of the peace process. ( blog link )
France Télévisions director Patrick de Carolis and the CSA -- roughly equivalent to the U.S. Federal Communications Commission -- have been repeatedly called by media watchdogs to intervene in the al-Durra controversy. Can they all remain deaf to the wisdom of a courageous judge who has reasserted the journalist's responsibility to serve the people and account for the way he does his job?
Ms. Poller is an American writer living in Paris since 1972.
Posted by LG at 08:25 PM | Comments (2)
A Rare Look at "When Rockets Go Slam"
Bravo to the Washington Times for publishing a rare column about what Israelis suffer through "When Rockets Go Slam." Author Joel Mowbray includes this gem:
A little overwhelmed that none of the women or the little girl in the immediate area of the rocket strike died, hospital spokeswoman Lea Malul resorted to quoting the late, great Israeli playwright and satirist Ephraim Kishon. "Israel," she said, "is a country where nobody expects miracles, but everybody takes them for granted."
To read the entire item, see below.
When Rockets Go Slam
by Joel Mowbray
Washington Times
May 26, 2008
ASHKELON, ISRAEL — Setting foot into the southern Israeli coastal city mall hit four days earlier by a Palestinian rocket, the natural expectation was to see ravaged shops and smashed kiosks. There were none.
Stepping out of the elevator into the health clinic on the third floor, however, all around was a tangled mess of plaster, broken tiles, shattered glass and exposed wiring. And this was after four days of nonstop clean-up efforts by more than 20 people.
That no one died in this attack is no ordinary miracle. So many factors coalesced — from the exact location and timing of the impact to one doctor's smoking habit — that even slightly different circumstances could have produced far deadlier results.
Minutes before 6 p.m., as President Bush was meeting with Israeli Prime Minister Ehud Olmert in Jerusalem, a Grad rocket slammed into the mall's roof — roughly 20 feet away from where an obstetrician was examining her patient. The roof instantly came crashing down on them. Though trapped underneath the rubble, Dr. Mirale Sidrer, 52, was able to reach a phone and call her husband, Moshe, also a doctor. But because of the quick medical response, she and her patient had already been evacuated by the time he had arrived just minutes later.
Moments after he saw his wife at the hospital, Dr. Sidrer fell into a coma. When she regained consciousness two days later, the first words out her mouth were, "How is my patient?" This concern helps explain why she was trying to tend to her patient even as the paramedics were attempting to transport her from the scene.
Her patient, a 24-year-old Orthodox Jewish woman, has been married one year and she and her husband are trying to get pregnant. The young woman suffered severe internal injuries — in and around her stomach. Doctors cut out part of her abdomen and liver.
Just as miraculous was the survival of a young mother and her 2-year-old daughter, who were in the waiting room, just 10 feet from where the rocket hit. Both had shrapnel in their heads and were airlifted to Sheba hospital just outside of Tel Aviv, some 50 miles away.
The medium-range Grad rocket with approximately 40 pounds of high-powered explosives smashed into perhaps the ideal spot: the roof's support beam. Had it entered the building even a few feet lower, it almost certainly would have gone through the floor and into the crowded shopping areas below.
Given the early evening hour, stores were doing brisk business with people just off work — and the health clinic was not nearly as full as it had been just hours earlier. A doctor who worked near the one directly hit was actually outside smoking at that very moment. With typically dark Israeli humor, that doctor has been heard by many quipping, "Who says cigarettes kill?"
Most remarkable is Israeli resilience. The health clinic was set to reopen within just one and a half weeks. Dr. Sidrer plans to return to the clinic once she is healthy, though that won't be anytime soon. The husband of the young mother injured in the waiting room was quoted in Ynet News expressing his determination not to abandon Ashkelon.
Anger with Israeli Prime Minister Ehud Olmert is palpable on the street and in cafés, as ordinary Israelis feel that their leader, who is in enmeshed in a very serious corruption probe, is doing far more to save himself than to protect them.
But in the Barzilay hospital in Ashkelon, the victims and their family members are just trying to grapple with the physical and psychological trauma that won't soon fade away. Absent is any bloodthirst or desire for revenge. Not from the victims, nor from their loved ones. Not from the broader Israeli public, either. CNN referred to the rocket attack as part of "tit-for-tat violence," but Israel didn't respond by hitting a Palestinian medical clinic or any other civilian target, for that matter.
In the very same Ashkelon hospital, in fact, there are many Palestinian and Israeli Arab patients, treated side-by-side with Jews. Barzilay treats Gazans unable to receive adequate care locally, meaning everyone from cancer patients to victims of Hamas violence. One 30-something Palestinian man just down the hall from the victims noted, "There is no difference between how doctors here treat Arabs and Jews. There are no politics in the treatment."
A little overwhelmed that none of the women or the little girl in the immediate area of the rocket strike died, hospital spokeswoman Lea Malul resorted to quoting the late, great Israeli playwright and satirist Ephraim Kishon. "Israel," she said, "is a country where nobody expects miracles, but everybody takes them for granted."
Posted by LG at 04:48 PM | Comments (0)
Levy Sinks Deeper
The Hebrew newspaper Makor Rishon writes about Gideon Levy's swimming pool falsehood, and included this response from Levy (translated by CAMERA):
I don't have anything to say about this. I did not write that this is the only pool, rather that this is the only place where Palestinians can ride in a boat.
The drowning reporter is grasping at any life raft -- no matter how illusive or false.
Posted by TS at 03:40 AM | Comments (1)
May 26, 2008
Akiva Eldar: Proud Not to Be Objective
Elder of Ziyon has flagged a Nation article by Ha'aretz's Akiva Eldar, winner of a Search for Common Ground journalism prize, in which he proudly flaunts his lack of objectivity:
The prominent Israeli columnist Nahum Barnea wrote in November 2000 (in a publication of the Israel Democracy Institute) that "there are Israeli reporters who do not pass the 'lynch test.'" These, he wrote, are journalists who could not bring themselves to criticize the Arabs even when two Israelis were savagely murdered by a mob in Ramallah. Barnea, who last year was awarded the Israel Prize for journalism, went on to argue that our support for the Palestinian position is absolute. He concluded, "They have a mission." I was honored to be mentioned as one of those journalists, alongside my fine colleagues Gideon Levy and Amira Hass.

I admit to being guilty as charged. I am a journalist with a mission, and also no small amount of passion. Every Israeli with a conscience, in particular one who watches reality from up close on a daily basis, cannot write about the occupation from an objective observer's neutral point of view.
Too bad for Israeli journalism that Eldar's mission is inconsistent with the Israel Press Council's code of ethics regarding objectivity.
Posted by TS at 05:32 AM | Comments (2)
May 25, 2008
T-Shirts for Terror-Lovers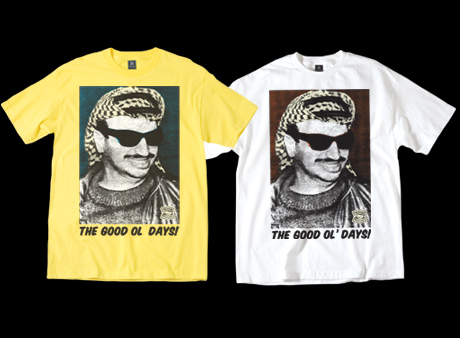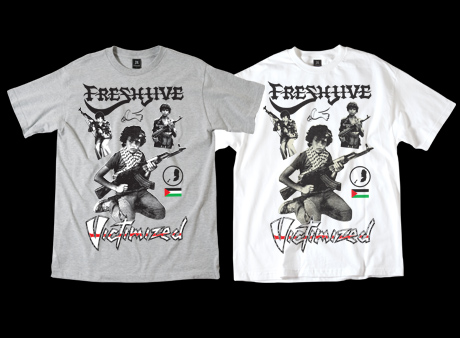 Me thinks "Fresh Jive" T-shirt manufacturer Rick Klotz protests too much. Hmmm, he says he's all about "respectful dialog," but he lionizes the godfather of terrorism, a young Yasser Arafat, in a repulsive T-shirt design , with the slogan "the good ol' days". Then he proudly promotes another T-shirt design (which was being sold at Urban Outfitters) featuring "victimized" young Palestinian terrorists in training, who are indeed victims of their own extremist culture, but who more than anything strive to victimize innocent Jews.

When the public protested the T-shirts' glorification of terrorists, potty-mouth Rick claims he is a poor misunderstood man who just wants to encourage "respectful dialog," even though he curses anyone who disagrees with him and repeatedly drops the f-bomb on them. For someone supposedly interested in respectful dialogue, he seems to be doing a lot of hero-worship of people who have chosen murder and extremism over peace and dialogue time after time.

I can't imagine why anyone would want to buy a Fresh Jive T-shirt or spend a dime in any store that sells them. Thankfully Urban Outfitters decided to no longer sell the terror-lovers T-shirt.


Posted by LG at 01:28 AM | Comments (0)
May 23, 2008
Frank Rich Gets It Wrong on Hagee
Bravo to investigative reporter Joel Mowbray for pointing out the absurd errors made by Frank Rich in the New York Times regarding the pro-Israel pastor, John Hagee. As Mowbray notes,
"Mr. Rich branded Mr. Hagee a bigot when, in fact, he [Hagee] was actually fighting bigotry."
Frank Rich's hit piece on Hagee is a classic example of taking words out of context. Were all the editors and fact checkers at the New York Times on vacation the day Rich's screed was published?
To read Mowbray's excellent essay in the Washington Times, SEE BELOW.
UPDATE: To read his comments on Hagee's Holocaust remarks, click here.

Washington Times
May 15, 2008
Throwing Stones at Hagee

In a particularly harsh New York Times column, Frank Rich recently painted a persuasive portrayal of high-profile evangelical Christian minister John Hagee as a nutty anti-Catholic bigot who doesn't much like Jews, either.

Simply put, it's a lie. Certain facts cited are, in fact, true. The most damning "facts," however, are not. Therein lies the problem.

Mr. Rich flipped the truth on its head—and it would stretch credulity to think he made an honest mistake. In the YouTube video the Times columnist paraded as evidence of bigotry, Mr. Hagee is actually doing what he has done for decades: combating anti-Semitism.

In other words, Mr. Rich branded Mr. Hagee a bigot when, in fact, he was actually fighting bigotry.

Describing a now-infamous YouTube video clip—which lasts all of one minute and 17 seconds—Mr. Rich wrote:

"Wielding a pointer, [Mr. Hagee] pokes at the image of a woman with Pamela Anderson-sized breasts, her hand raising a golden chalice. The woman is 'the Great Whore,' Mr. Hagee explains, and she is drinking 'the blood of the Jewish people.' That's because the Great Whore represents 'the Roman Church,' which, in his view, has thirsted for Jewish blood throughout history, from the Crusades to the Holocaust."

What the columnist neglected to note is that "the Great Whore" is not Mr. Hagee's term, but rather the Bible's. And suffice it to say that if Pamela Anderson had the same size breasts as the rather plain-looking "Great Whore," then the iconic blond never would have become, well, iconic.

But those are simply deceptive tactics. Here's the big lie: Mr. Hagee never said that "the Great Whore" was the "Roman Church." Certainly not in the video, and it appears, not ever. Mr. Hagee quite clearly said that she represented "the Apostate Church." Later in his monologue, Mr. Hagee cited Adolph Hitler's boast that he was merely following in the footsteps of the "Roman Church." (Many Protestants have used the "Great Whore" to further anti-Catholicism, but Mr. Hagee has not.)

So shoddy was Mr. Rich's research that not only did he not call for comment, he even declined an offer from Mr. Hagee's publicist to answer any questions—an e-mail that was only sent the day before publication, because the publicist had heard that the column was in the works. (Mr. Rich did not respond to a request for an interview for this column.)

Were Mr. Rich interested in being fair, he would have noted that Mr. Hagee for over a decade personally supported a San Antonio-area Catholic convent, providing free housing for retired nuns. (Mr. Rich knew this, as it was referenced in the publicist's e-mail.)

His failure to adhere to basic journalistic standards might explain why Mr. Rich (perhaps unintentionally) created the impression that Mr. Hagee is, at best, no friend of Jews, or at worst, an anti-Semite. It's an ugly implication—and dead wrong.

Theologically, Mr. Hagee believes that one of the greatest sins a Christian can commit is anti-Semitism—hence the reference in the video to the drinking of the blood of the Jews. He was reminding Christians, as he often does, of the long history of Christian anti-Semitism. Mr. Hagee wastes no opportunity to teach Christians that one of the surest ways for a Christian to become a member of the "apostate church" is to engage in anti-Semitism.

Mr. Hagee for decades has easily been one of the most prominent Christian leaders fighting anti-Semitism. To him, loving Jews as much as one's Christian neighbors is a core tenet of his faith. In his book "In Defense of Israel," Mr. Hagee wrote, "Show me an anti-Semitic Christian, and I'll show you a spiritually dead Christian whose hatred for other human beings has strangled his faith."

If anything, Mr. Hagee is obsessed with purging anti-Semitism from Christendom. Thus his book "In Defense of Israel" contains a lengthy discussion of the history of Christian anti-Semitism. (It is from this section that his critics have pulled quotes to argue that Mr. Hagee is anti-Catholic. The leading critic, though, the Catholic League's Bill Donohue this week announced a truce with Mr. Hagee.)

If only Mr. Rich had spent roughly 20 minutes to peruse the relevant chapter, he would have learned two important facts: 1) Mr. Hagee's criticism was directed solely at the Catholic Church's past deeds, and 2) Mr. Hagee also attacked Protestant anti-semitism, with an in-depth exploration Martin Luther's considerable influence on Nazi ideology.

Throwing stones from inside his glass house, Mr. Rich wrote, "Any 12-year-old with a laptop could have vetted this preacher in 30 seconds, tops."

Given how far off the mark he was, it's only fair to ask of Mr. Rich: Could he not find a 12-year-old with a laptop?

[ To write to the NY Times about Frank Rich's distortions, send a letter to: letters@nytimes.com ]
Posted by LG at 05:17 PM | Comments (2)
May 21, 2008
Karsenty Wins! Court Overturns Libel Charge Against French Blogger
Philippe Karsenty, the French blogger who was sued for libel by France 2 and its Jerusalem correspondent Charles Enderlin for suggesting their broadcast about the shooting death of 12-year-old Mohammed Al Dura by Israeli soldiers was fabricated, has finally won his appeal. The French appeal court overturned the libel charge by the lower court. Stay tuned for more details on the court's ruling.
For years, the French public TV station and correspondent tried to defend their lies through bullying. They filed lawsuits against anyone who dared challenge their version of events. The court ruling is an indication to them that their strategy may no longer be working and that they may finally have to confront the reality of what happened on September 30, 2000--and their own role in instigating Palestinian violence against Israelis. For a full timeline and backgrounder, see Mohammed Al Dura: Anatomy of a French Media Scandal.
Posted by RH at 03:26 PM | Comments (0)
AP, CNN.com Correct 'Jewish-Only' Roads Falsehood
An Arab shuttle bus travels on Highway 443, a road often incorrectly described as "Jewish-only" (Photo by Tamar Sternthal/CAMERA)
Unlike the Israeli daily Ha'aretz, AP and CNN.com have corrected erroneous reports that there are "Jewish-only" roads in the West Bank.
On May 7, the AP sent out a story which incorrectly stated:
Israel at 60 is a place where creativity flourishes but where Palestinians are not allowed on West Bank roads reserved for Jews.
The article was picked up by CNN.com.
After CAMERA contacted AP, the wire service sent out an updated version of the story, in which the "reserved for Jews" falsehood was replaced with:
Israel at 60 is a place where creativity flourishes but where Palestinians are not allowed on West Bank roads reserved for Israelis.
The distinction? All Israelis -- Muslim, Christian and Jewish alike -- use the West Bank roads closed to Palestinian traffic due to security reasons.
After being notified about the AP change, CNN.com also corrected its story.
Posted by TS at 03:38 AM | Comments (0)
Palestinian Journalist Remembers: Arab Forces Told Us to Leave
While Palestinian propagandists like Elias Khoury continue to insist to the Western world that Israel is to blame for the Palestinian refugee problem, some Palestinian journalists writing in Arabic have a different story. Palestinian Media Watch translates an excerpt by Jawad Al Bashiti, a Palestinian journalist writing in Jordan's Al-Ayyam May 18, 2008:
Remind me of one real cause from all the factors that have caused the "Palestinian Catastrophe" [the establishment of Israel and the creation of refugee problem], and I will remind you that it still exists... The reasons for the Palestinian Catastrophe are the same reasons that have produced and are still producing our Catastrophes today.

During the Little Catastrophe, meaning the Palestinian Catastrophe the following happened: the first war between Arabs and Israel had started and the "Arab Salvation Army" came and told the Palestinians: 'We have come to you in order to liquidate the Zionists and their state. Leave your houses and villages, you will return to them in a few days safely. Leave them so we can fulfill our mission (destroy Israel) in the best way and so you won't be hurt.' It became clear already then, when it was too late, that the support of the Arab states (against Israel) was a big illusion. Arabs fought as if intending to cause the "Palestinian Catastrophe".
Al Bashiti's recollection is consistent with recently declassified documents from the Mandate period.
Posted by TS at 03:19 AM | Comments (0)
May 20, 2008
Reliable Source on 1948 and Refugees
It's stunningly rare to read a reliable article about the creation of the modern State of Israel, and how Arab aggression and propaganda against the Jews backfired and caused thousands of Palestinian Arabs to become refugees. Click here to read Efraim Karsh's fascinating and in-depth article, "1948, Israel and the Palestinians," from the May Commentary issue.
Posted by LG at 04:47 PM | Comments (0)
May 19, 2008
ARAB VIOLENCE - Not Israel - Created Refugees
A May 15th CNN report by Ben Wedeman on Israel's 60th birthday parrots many similar segments in the media which focus not on Israel, but on the Palestinians' view of the event. An Arab man emotively and inaccurately claims that the "establishment of Israel" caused the Palestinian refugee problem. Wedeman fails to note that it was actually the Arab attack against the reborn Jewish state which created the war and refugee problem. If the Arabs had not attacked the Jews, there would not be a single Palestinian Arab refugee.
To read a reliable source on the creation of the refugee problem, see Efraim Karsh's excellent annotated Commentary article by clicking here.
Click here to submit a complaint to CNN.
Posted by LG at 05:01 PM | Comments (0)
Israel a Blessing, Not a "Nakba"
Salim Mansur's Edmonton Sun column ("Israel deserves admiration," May 10), was a gem amidst the dumpster of journalistic news and commentaries about "al-nakba" — the Arab-Islamic attempt, abetted by the far left and far right in the West, to blacken Israel's 60th anniversary celebrations.
Mansur wasn't buying any of the photo-op commiserations, exemplified by, among other examples, The Washington Post's "Palestinian Quilt Presents a Different Viewpoint: Creation of Israel Came At Great Cost, Some Say" (May 18). According to "Israel deserves admiration":
"There is no parallel in modern history to the story of Israel defying the rancor of old and new enemies of Jews .... Yet
Jewish contributions in the making of the modern world tower above that of any other people in relative terms and the immense odds of survival as a people given the level of hostility directed at them .... Their achievements have earned them admiration, envy and implacable enmity of non-Jews."
Mansur caught the tragic and miraculous, particular and universal significance of Israel's re-birth and of its 60th anniversary celebrations. His column should have been required reading for editors selecting articles and broadcast segments on the subject.
As for The Washington Post's "Palestinian Quilt," staff writer Sylvia Moreno reports that "to make way for Israel, 750,000 Palestinians were expelled from their homes and more than 400 of their villages were destroyed, organizers of the event said." Mark Braverman, of "Jewish Voice for Peace," an anti-Israel, pro-divestment group not identified as such, claims "there needs to be an acknowledgment by Israel that 'we took your land; not let's talk and move forward.'"
Most Palestinian Arabs were not expelled from their homes to make way for Israel. Somewhere between 472,000 (U.N. Mediator on Palestine) and 650,000 (the difference between the last British and first Israeli censes) Arabs fled what became Israel. They left mainly to escape fighting begun in 1947 by Palestinian Arab "irregulars" to abort the U.N. partition plan for two states, one Jewish, one Arab, and intensified by the invasion of five Arab countries in 1948. A minority were expelled from specific areas Jewish troops were defending from Arab invaders.

Meanwhile, though "Palestinian Quilt" doesn't mention it, more than 800,000 Jews were expelled or fled violence in Arab countries, nearly 600,000 settling as refugees in Israel. Israel did not take Arab land, it managed to keep a share (17.5 percent) of the original British Mandate for Palestine, established expressly for the purpose of facilitating re-creation of the Jewish national home. (Transjordan [now Jordan] comprised 77.5 percent of the mandatory lands, and the West Bank and Gaza Strip the remaining five percent.)
At some point doesn't Middle East revisionism, like Holocaust revisionism, discredit those who uncritically report it? Israel does deserve admiration, and the Arabs' self-imposed, self-prolonged "al-nakba" needs to be recognized as psych war propaganda.
Posted by ER at 04:07 PM | Comments (0)
Al Jazeera Makes US Push
Al Jazeera English is seeking to overcome any potential impact of the recent resignation of high profile Western reporters like David Marash, reports the International Herald Tribune today. The network announced new distribution agreements in countries around the world, the United States not among them. The Tribune reports:
Al Jazeera English is not actually banned, of course, but the reputation of its Arabic sibling as the preferred outlet for videos from Osama bin Laden has made the English-language version too hot to handle for some U.S. cable operators. A lack of space on crowded cable systems has also made it difficult for operators to offer Al Jazeera English.

In an effort to make Al Jazeera English more appealing to American operators and audiences, Burman said he planned to increase coverage of U.S. news, particularly as the presidential election approaches in the autumn. Burman said Al Jazeera also planned to invest in new bureaus; it already shares more than 60 bureaus with its Arabic sister organization. And the channel plans "more provocative" current affairs programming and investigative journalism, he said.
Posted by TS at 03:40 AM | Comments (1)
The Silver Lining on Gaza's Population Density
We often read about the Gaza Strip's high population density, including false reports (including in Haaretz) that it is the most densely populated place in the world.
But here's something we haven't seen before: Gaza's high population density is partly the result of better health care introduced by Israel. Ha'aretz's Amir Oren reports:
As uncomfortable as it is to admit, the data suggests that the Israeli occupation did well by Gaza. Life expectancy in the Strip has risen from 48 years in 1967 to over 72 years now, higher than the life expectancy in Egypt, which was not very kind to Gaza when the Strip was subject to its military rule. According to a study conducted by Daniel Nadav of the Defense Ministry, the introduction of Israel's health-care system into Gaza, the adoption of local hospitals by Israeli medical centers, and the transfer of Palestinian patients to hospitals in Israel resulted in a sharp and immediate drop in the mortality rate. This positive development had negative consequences - a growing population density caused by a high rate of natural increase, and diseases that are more common in societies that have changed their consumption habits and aged (in 1967 only one in 70 people in Gaza was elderly).
Posted by TS at 03:30 AM | Comments (4)
May 15, 2008
PA Gives Death Sentence to Counter-Terrorist Cop
The Palestinian Authority (you know, the "moderates" according to many press reports) has sentenced Imad Sa'ad to die by firing squad. Sa'ad is a Palestinian police officer who gave Israel information on the whereabouts of four Palestinian terrorists. Where are the editorials in papers around the world condemning this perversion of justice - that a counter-terrorist cop gets the death penalty instead of the terrorists?

Click here to read Mort Klein's cogent essay on this topic in the Jerusalem Post.

Jerusalem Post
May 13, 2008
FREE IMAD SA'AD
Imad Sa'ad is a 25-year old Palestinian Authority (PA) police officer who has been arrested by Mahmoud Abbas's forces for providing Israel with information about the whereabouts of four accused Palestinian terrorists. The PA had been unwilling to hand over to Israel the four men whom Sa'ad helped it locate. For this act, Sa'ad has been convicted as a "collaborator" in a PA court in Hebron by a judge belonging to Abbas's Fatah party and sentenced to death by firing squad.
Now wait a minute. The Oslo agreements require the PA to extradite to Israel wanted terrorists and to cooperate with Israel in combating terrorism. Under the 2003 road map peace plan, the PA is required to "disrupt and restrain individuals and groups conducting and planning violent attacks on Israelis anywhere," which is exactly what Imad Sa'ad did. In fact, what Sa'ad did should be routine conduct by PA police. Instead, it is an exceptional act punishable by death.
Imagine the situation if we were discussing Israel. There cannot be any doubt that, if an Israeli police officer had tipped off the PA about an impending terror attack by a Jew upon Palestinians, Israel would be honoring him as a hero. It would certainly not be arresting him and sentencing him to death - and there would be (correctly) outrage if it did. Yet, the PA is doing precisely this - and has done so many times in the past.
FAR FROM cooperating in the fight against terrorism, the PA has a long record of executing what it terms "collaborators." Amnesty International reported in 2003 that "Scores of Palestinians suspected of 'collaboration' with Israeli intelligence services were unlawfully killed. Most of these killings seemed to have been carried out by members of armed groups or by armed individuals. Some appeared to be extrajudicial executions carried out by members of Palestinian security services. The PA consistently failed to investigate these killings and none of the perpetrators was brought to justice."
Despite this episode and Abbas's continuing promotion of terrorism, refusal to arrest terrorists, and incitement to hatred and violence within the PA-controlled media, mosques, schools and youth camps, President George W. Bush persists in saying of Mahmoud Abbas that "The president is a man of peace... He's a man of vision. He rejects the idea of using violence to achieve objectives."
Also, Secretary of State Condoleezza Rice praised Mahmoud Abbas this week while visiting Ramallah, and particularly his leadership of the security services, saying, "It takes some time to deal with the effects of the intifada, but a lot of it has to do with responsible actions by the Palestinian government and the Palestinian Authority which are really now in place... And because of that, I think you are going to see improvements on the West Bank."
This is unmerited praise, to put it mildly. Instead, this event should serve as a clear, straightforward litmus test: Does Mahmoud Abbas support preventing terrorism and jailing terrorists? Is he opposed to terrorism? Does he regard terrorism as the enemy of the peace to which he tells Western audiences he is dedicated? If so, he should be applauding and honoring Imad Sa'ad for doing his duty in fighting terror and assisting the Israelis in doing so, as per the PA's signed obligations under Oslo and the road map. At the very least, he should be immediately releasing Imad Sa'ad from prison. In reality, he has done the opposite and may even have him executed.
IRONICALLY, AT the very time Abbas' court sentences to death a Palestinian who fulfilled a Palestinian signed obligation to cooperate in the fight against terrorism, Abbas continues to demand that Israel release terrorists it has succeeded in arresting. If Abbas was the man of peace and moderation that he is incessantly described as being by President Bush and Secretary Rice and Prime Minister Olmert, why would he be imprisoning someone who fights terror while demanding that jailed terrorists go free?
In the past Yasser Arafat executed swiftly several so-called "collaborators." During the intifada, he threatened the late Elias Freij, then the mayor of Bethlehem, with "ten bullets in the chest" for the sin of calling publicly for stopping the violence. We see now that Mahmoud Abbas is little different from Arafat.
If the PA does not release Sa'ad, Israel and the US should immediately cease all aid and break off talks with Abbas and the PA. There is no sense or morality in having peace negotiations with someone who arrests or executes those who help fight terrorists while protecting real terrorists, inciting hatred and murder that feed terrorism and demanding that jailed terrorists go free.
The writer is national president of the Zionist Organization of America.
Posted by LG at 06:01 PM | Comments (0)
Is the German Media Asleep at the Wheel?
In a deeply disturbing piece in the Wall Street Journal, German author Matthias Küntzel details how, little more than 60 years after the ovens of Auschwitz have cooled, elements of the current and former German governments are working hand-in-hand with the Holocaust-denying leadership of Iran.
Flipping last week through the online itinerary of the German Near and Middle East Association (honorary chairman: Gerhard Schröder), I found the following entry: "April 16, 2008, Meeting with the Iranian Vice Foreign Minister S.E. Mehdi Safari in Berlin." I couldn't find anything in the German press about this visit. I turned to Iranian media. It reported that Mr. Safari was in Berlin for three days at the invitation of the German government. He met with officials at the foreign, interior and economics ministries, as well as with lawmakers and businessmen.

It is strange, to say the least, that neither the German government nor the media said a word about the visit.
Küntzel goes on to explain that despite Chancellor Merkel's call for tougher sanctions against Iran and a historic speech in the Knesset last March, key advisors to her coalition partner, Foreign Minister Frank-Walter Steinmeier, seek to develop a "strategic partnership" with Iran.
According to Iranian press agency PressTV… "the two sides discussed ways to expand economic cooperation and agreed that a German economic delegation would visit soon to follow up agreements already signed between Tehran and Berlin."

When pressed on the issue, the German foreign office confirmed holding discussions with Mr. Safari but refused to comment on the Iranian reports. So did Tehran and Berlin sign an economic agreement, and if so, what is its nature? Are German economic experts really planning a visit to Iran, now of all times?
Will the German media follow up on this story? Or will they, in their silence, be part of a new impulse that seeks to reap economic benefits at the expense of the Jewish state?
Posted by at 05:44 PM | Comments (0)
May 14, 2008
Dead Gazan Returns to Life

We had earlier reported on false claims by the World Health Organization regarding permits for sick Gazans to enter Israel for treatment.
It seems that Physicians for Human Rights is also guilty of issuing false reports concerning sick Gazans. The latest from Ynet is:
Muhammad al-Harrani, a father of six from Gaza diagnosed with cancer who reportedly died while waiting for a permit to enter Israel, miraculously "came back to life." This was not the result of a miracle, but rather, just part of the tactics used by al-Harrani's family in a bid to secure a permit for him.

Al-Harrani is currently awaiting an entry permit into Israel, so that he can undergo head surgery at Tel Aviv Sourasky Medical Center and receive radiation and chemotherapy treatment. At the end of April he was summoned to a questioning session at the Erez Crossing as part of the permit process, but the session was postponed by a week.

On the eve of Holocaust Remembrance Day, al-Harrani's story was published. His family reported to the "Physicians for Human Rights" organization that he died. "The sick man could not withstand the wait for the permit," claimed Ran Yaron, Director of the Occupied Territories Department who blamed the Shin Bet for adopting cruel policies against cancer patients.

However, the next day, the organization discovered that al-Harrani was still alive. Members of group estimated that his brother, who reported the death, "killed" him so he does not report to the questioning session.

"This is a rare case where a family member knowingly provided false information to the organization," Physicians for Human Rights said. "Usually, the organization receives information from the families and from the hospitals, but in this case the information was received from the family and was not confirmed by the hospital."
Sadly, family members providing false information is not as rare as PHR would like us to believe. From patients dying and returning to life to Gazans forging documents to pose as students enrolled in American universities, there is no shortage of (mis)information indicating the need to read NGO reports on the Palestinian situation with skepticism.
Posted by TS at 02:24 AM | Comments (4)
May 12, 2008
Time Magazine's McGirk Invents False Balance in Palestinian-Israeli Conflict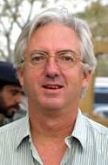 In his latest comment on Israel, "Israel at 60: The Long View", Time Magazine's Tim McGirk tries very hard to impose a moral equivalence on the Arab-Israeli conflict. Too hard...
Trying to show that both Israelis and Palestinians are equally to blame for the situation, McGirk is forced to invent the facts:

Palestinians speak of pushing the Israelis into the sea. Israelis speak of driving the Arabs into the desert sands.
For decades, Arab leaders have vowed to destroy Israel and "push the Jews into the sea." There is, however, no record of Israeli leaders promising to "drive the Arabs into the desert sands."
Whether this is a figment of McGirk's overactive imagination or whether he deliberately decided to invent a metaphorical equivalent to the famous Arab pledge of driving the Jews into the sea, McGirk and Time Magazine have shown a disturbing lack of journalistic ethics in their desperate attempt to impose a false moral equivalence on the Arab-Israeli conflict.
Posted by RH at 11:10 AM | Comments (12)
Hamas Manufactures a Crisis, Con't
Children at home sit by candlelight in Gaza City/AFP photo by Mahmud Hams
The Jerusalem Post reports today that although the Gaza power plant shut down on 5 p.m. Saturday, a Palestinian Authority official says the plant has enough fuel to run through this evening:
But Mujahid Salame, head of the Palestinian Authority's Petrol Authority in the West Bank, said the fuel should have been enough to keep the power plant going until Monday evening. Salame is hostile to Hamas but coordinates the entry of fuel into the Gaza Strip. . . .

Hamas is widely believed to be hoarding fuel for commercial vehicles, ensuring its loyalists get supplies first.

Ziad Zaza, a member of the Hamas government in Gaza, said fuel would be distributed to bus companies to transport private individuals and students. He did not say where the government obtained the fuel.

"This is another example of Hamas orchestrating an artificial crisis," said government spokesman David Baker in Jerusalem.
For more on Hamas manufacturing a crisis, see here and here.
The AP updates that Israel's shipment to fuel has resumed (it was shut down after Israeli civilian Jimmy Kedoshim was killed Friday night by a Palestinian rocket). The AP notes:
[Gaza energy official Kanaan] Obeid has said the plant was shut down Saturday because it ran out of fuel supplied by Israel. It was not clear whether the plant actually ran out of fuel or whether Gaza's Hamas leaders were trying to exaggerate the impression of crisis.
Posted by TS at 04:06 AM | Comments (0)
May 11, 2008
Pogrund to Ha'aretz: 'It's Not Apartheid'
Anti-apartheid activist and journalist Benjamin Pogrund explains why Ha'aretz's repeated description of Israeli policies as apartheid is wrong.
Twice within 10 days, Israel has been labeled as "apartheid" in Haaretz: in an editorial in support of former U.S. president Jimmy Carter's efforts for peace; and in a column by Yossi Sarid, the former Meretz leader. Two authoritative voices, both misinformed . . .

Some compare Israel's attempts to carve up the West Bank with South Africa's tribal mini-states, the Bantustans. This is wildly inappropriate. The Bantustans were devised to deny blacks South African citizenship, while continuing to exploit their labor. Blacks were penned in rural "reserves," and were allowed into white South Africa only when needed for specified jobs in factories, offices and homes and on farms. Israel's purpose on the West Bank is the opposite: to keep Palestinians there and to allow only an absolute minimum of them into Israel - and even them, reluctantly. Instead, the country's labor needs are met by importing large numbers of foreign workers. . . .

Calling it apartheid, however, is not only wrong but thoughtless - because it ignores what is happening in the world, and especially the imminence of the Durban Review Conference, due to be held next year. That meeting is to be the follow-up to the United Nations anti-racism conference in Durban, South Africa, in August-September 2001. The first part was an international conference of NGOs that went berserk in condemning Israel as "the new apartheid." The aim was simple: If Israel was branded like this, it would be as illegitimate as apartheid South Africa had been, and hence subject to the same severe international sanctions. Moreover, whereas the intention with apartheid South Africa was to force a change in regime, it is obvious that critics of Israel include those who seek the destruction of the state itself.
The recent pieces published in Ha'aretz are just the latest instances in which the Israeli daily or its editors have made such allegations. For instance, Danny Rubinstein of the Ha'aretz editorial board had earlier told a UN conference that Israel is an "apartheid state."
Posted by TS at 06:22 AM | Comments (0)
Instead of Correcting, Ha'aretz Attacks the Messenger
Gideon Levy calls a correction request "persecution," "slander," and McCarthyism
Instead of correcting last week's outrageously false report that West Bank Palestinians only have one place to swim in the entire West Bank, Ha'aretz's Gideon Levy chooses instead to attack the messenger. He writes in a column today:
Camera, a McCarthyist group that persecutes journalists in the United States, is directing its absurd persecution and slander campaigns against the Israeli media as well.
Thus, in Levy's warped view, requests for a correction and a challenge of a report's factual accuracy is "slander," "persecution" and McCarthyism. American mainstream media outlets would forthrightly correct such a gross falsehood when confronted with incontrovertible documentation. Ha'aretz, in contrast, continues to dig itself a deeper hole.
Posted by TS at 03:51 AM | Comments (5)
May 09, 2008
Fouad Ajami's Reality Check
Click here to read Fouad Ajami's cogent "Reality Check as Israel Turns 60" in the US News & World Report.

Posted by LG at 07:08 PM | Comments (0)
May 06, 2008
On Correction Request: Judaism (1), NY Times (O)
The American Thinker has an interesting account of a correspondence between Richard N. Weltz and the public editor's office regarding a request for a correction on a basic error about Judaism:
It began on a Sunday morning, April 20, when, as is our usual habit, my wife and I settled back in bed to read the Sunday New York Times which had been delivered to our door.

An article in the "Metro" section particularly caught my eye. Accompanied by a large photograph on the section's front page, it told the story of Bukharan Jews who were doing a thriving business as cobblers to the Orthodox and Chasidic communities in Brooklyn's Williamsburgh neighborhood.

As I read on, though, some rather startling statements appeared:

At 7:30 that Sunday evening, he tore himself away from the store to make up for missing the ritual. From beneath the register, he picked up his Torah, the pages black at the edges from repeated flipping by his shoe-polish-stained fingers, and he walked to a nearby appliance and electronics store, where his customers could not disrupt him. As a man in the store perused the boom boxes, Mr. Miyerov opened his Torah and, amid the Cuisinarts and electric toothbrushes, rocked back and forth at the hips, chanting a prayer in Hebrew.

Quickly to the keyboard, I dashed off an email to the address provided by the Times for correction requests:

Really gentlemen, your reporter or copyeditor (if any) should be more knowledgeable about basic matters of Judaism. The subject would hardly have kept a Torah beneath his register. The Torah is the scroll of the law, normally kept in a synagogue's ark. It has no pages, as it is a continuous scroll of parchment panels; and its surface and edges are not touched by human hands. Miyerov certainly would not have had an actual Torah; nor would he have one with "pages black at the edges"; nor could he have stained the nonexistent pages by "repeated flipping." What Miyerov undoubtedly had, misdescribed in your article as a Torah, would have been a Siddur -- a daily prayer book printed and bound as any ordinary book. A correction note is called for for those Jewish and knowledgeable gentile readers who would be shocked had an actual Torah been stored and handled in such as sacrilegious manner as you depict.
Foolish me, thinking that such self-evident (to me, at least), mistakes would merit a prompt correction notice, especially if the editors responsible asked any even slightly knowledgeable Jew around the office for confirmation of my objections. That was not to be. With no correction appearing after a full week, I took my complaint to the paper's "Public Editor," who bills himself as the "readers' representative" and the person to address on matters such as this. I wrote on April 27:

Mr. Hoyt: The following is a copy of an e-mail I sent to the New York Times editors on April 20, the day the errors mentioned appeared. It is now a full seven days later, and there has been not one single word in the paper correcting these mistakes. As you are supposedly the readers' representative, I would like to know from you what reason the editors have for failing to correct these misstatements which are not only factually wrong but offensively so to the Jewish community. I hope and trust that your responsibilities will encompass getting to the bottom of this, and I look forward to a more meaningful reply than the usual boilerplate. Thank you for your attention. [here followed a copy of my original letter of April 20 to the news department]

This time the response was both swift and challenging, received the very next day:

Dear Mr. Weltz,

Thank you for writing. There seem to be a couple of issues here. One, the lack of response. Where did you send this initially? To what address? I don't remember seeing this.

Second, to the point you've raised. I will pass this to the regional editors but it doesn't seem you have any evidence yet to warrant a correction.

Setting the offensiveness of the idea aside for a moment, your views that the man "wouldn't" have kept the Torah under the register doesn't really qualify as evidence. Do you know the person in question? Were you there that day? What evidence do you have that the information in the article was incorrect?

The distinction, and the importance in the distinction, between the Torah and the Siddur, is well received and I will ask the editors, but what further information or evidence do you have that specifically refutes the account in the article?

Either way, I will make sure the appropriate person sees your message.

Sincerely,
Michael McElroy
Office of the Public Editor
The New York Times
Note: The public editor's opinions are his own and do not represent those of The New York Times.

I'd be less than honest if I said that I didn't find the response insulting to me personally; and I'll admit that -- without regret -- I sent back a rather sharply worded response:

The original message was addressed to nytnews@nytimes.com, which is the address supplied by the Times for messages about needed corrections.

With all due respect, any reasonably knowledgeable Jew in your office will be able to tell you that "proof" is hardly required of the errors I pointed out, which are self-evident.

Could you find a few Jews over there, or have they all, like your publisher, abandoned the faith of their forefathers in favor of the much more fashionable Anglican confession?

Or, you could send someone around the corner to the Garment Center Congregation (40th Street just West of Seventh Avenue), where the rabbi could easily explain why my comment is not as sarcastic as it may sound.

For the Time's sake -- not mine -- I hope you will do the appropriate fact-checking and have corrected the embarrassment that has been caused to the newspaper and its staff.

Perhaps the sharp tone and sarcasm did the trick; I'll never know. Today's edition, however, carried in the "City" section the following short notice:

An article on April 20 about a shoe repair shop operated by a Bukharan Jew in South Williamsburg, Brooklyn, referred incorrectly to a book kept under the shop's cash register. It was a siddur, or daily prayer book -- not a Torah, which is a scroll inscribed with the first five books of the Bible and which is traditionally kept in the ark of a synagogue.

They say it's tough to argue with people who buy ink by the barrel, but I'm pleased that in this case, at least, the score wound up Judaism 1, NY Times 0.


Posted by TS at 07:13 AM | Comments (3)

May 05, 2008

PC(USA) Interfaith Office Acknowledges Anti-Jewish Motifs and Stereotypes in Commentary About Arab-Israeli Conflict

The Presbyterian Church (USA) has made a stunning admission: "Examples of ... anti-Jewish theology can unfortunately be found in connection with PC(USA) General Assembly Overtures [regarding the Arab-Israeli conflict]."

The statement, available on the denomination's website here, reads in part as follows:

We Presbyterians can celebrate the extent to which we have been able to rid our teaching, preaching and actions of [anti-Jewish] prejudice. We take these principles and commitments seriously and we believe that the official policies and statements of the General Assembly of the Presbyterian Church (U.S.A) live up to this standard.

However, we are aware and do confess that anti-Jewish attitudes can be found among us. Our conversations with Jews in the last several years have renewed our concern to guard against anti-Semitism and anti-Jewish motifs and stereotypes, particularly as these find expression in speech and writing about Israel, the Palestinian people, the Israeli-Palestinian conflict and steps toward peace. Once again, many Presbyterians have become aware that strains of an old anti-Jewish tradition are present in the way we ourselves sometimes speak and in the rhetoric and ideas of some writers that we may read regarding these matters.

Examples of such an anti-Jewish theology can unfortunately be found in connection with PC(USA) General Assembly overtures, such as the overture on Confronting Christian Zionism, adopted by the 216th General Assembly in 2004. Some of the authors cited in the rationale of that overture make use in their writings of arguments suggesting or declaring that the Jewish people are no longer in covenant with God, or make statements that echo the medieval Christian claim that the Jews are to blame for the crucifixion of Christ. The rationale and background sources cited in any overture are not General Assembly policy, but Presbyterians need to read such materials with awareness of these themes of classic anti-Jewish teaching.

When our analysis or critique of the Israeli-Palestinian situation employs language or draws on sources that have anti-Jewish overtones, or clearly makes use of classic Christian anti-Jewish ideas, we cloud complicated issues with the rhetoric of ignorance or subliminal attitudes, or the language of hate, and undermine our advocacy for peace and justice. Critical questions such as ending the occupation of Palestinian territory by Israel or the future of Jerusalem are complex and difficult. It does not help to import stereotypes, anti-Jewish motifs or classic ideas of Christian anti-Jewish theology into our discussions.

Similarly, in a few materials that have been circulated by Presbyterians, one finds characterizations of Zionism that distort that movement. They do not accurately present the history of the Zionist movement or acquaint readers with its internal debates and ethical concerns. Instead, Zionism is often presented as a monolithic force or merely as an extension of European colonialism and result of anti-Semitism, and nothing else. In such materials, the problems and suffering of the Palestinians are attributed solely — and inaccurately — to Zionism alone. The origins, development and practices of Zionism and its relationship to the realities of the Israeli-Palestinian situation are much more complex than such a picture presents.

Presbyterians who read writers speaking about Israel, Palestine, Israeli-Palestinian peace and related issues (such as Christian Zionism in its various manifestations) must always read with an especially critical eye, alert to any and all anti-Jewish ideas and bias. Despite problematic passages and ideas, much of what these writers say can be helpful in describing aspects of the Israeli-Palestinian situation. Nevertheless, it is our responsibility to read our sources thoroughly and not to accept anything in them that is anti-Jewish or anti-Semitic.

While the statement does not name specific texts that express anti-Jewish theologies, the 2004 overture ("Confronting Christian Zionism") does encourage Presbyterians to read books such as Rev. Dr. Gary Burge's Whose Land, Whose Promise. This book includes several troublesome passages. For example, he interprets John 15:16 as meaning:

God's vineyard, the land of Israel, now only has one vine, Jesus. The people of Israel cannot claim to be planted as vines in the land; they cannot be rooted in the vineyard unless first they are grafted into Jesus. Branches that attempt living in the land, the vineyard, which refused to be attached to Jesus will be cast out and burned. (Whose Land? Whose Promise? page 176)

The overture also encouraged Presbyterians to read a statement from Sabeel regarding Christian Zionism.

It also encourages people to read the work of Don Wagner, who equated the "one hundred year process of Zionist occupation in Palestine" to a "killer-vine" destroying a rose bush in his back yard in his 2003 book, Dying in the Land of Promise.

Posted by dvz at 03:45 PM | Comments (3)

May 04, 2008

The Tale of the Missing Album

Last week's Ha'aretz magazine carried a feature article about the fate of a photo album belonging to the late Ali Zaarour, a Palestinian Arab photographer who documented the region for decades. A letter by Evyatar Englard of Tel Aviv in this week's magazine provides a penetrating analysis of the Ha'aretz article:

Regarding "Black, white and bloody," Haaretz Magazine, April 18

An unfortunate thing happened to Dalia Karpel. Before the publication of her article, which deals with a photo album that was presumably "stolen" 40 years ago from the home of Ali Zaarour, the country's first Muslim photographer, and which was returned to the family by the Israel Defense Forces' archives - it turned out that the album had not been stolen, but rather taken by the photographer's brother-in-law and given as a gift to his Jewish employer.

This new information, which according to the article was discovered only a month ago, overturns the family's version to the effect that the album was stolen by IDF soldiers. The version of the Palestinian family, which for the sake of caution we will consider to be erroneous, is presented in a documentary directed by producer Liran Atzmor, which will be aired on Independence Day and will also be broadcast by the BBC and by Arte.

The reader of the article is also left with the clear impression that the family's version is the correct one, with the dramatic new information downplayed toward the end of the article. The result is a political piece that treats the album story as a precedent-setting case of Palestinian property being restored to its owner, as a kind of metaphor for other Palestinian property that should be returned.

An interesting question relates to the reaction to this information by the creators of the documentary film, which will be distributed internationally. Karpel did not think this subject important.

Posted by TS at 07:34 AM | Comments (0)

May 02, 2008

Hamas's Human Shields

According to various reports, Hamas has been sending some of its members for military training in Iran. One such report, in the New York Times last year, noted that

Israel is watching as Hamas, in control of Gaza, is building an army there on the model of Hezbollah in southern Lebanon, said the deputy chief of staff, Maj. Gen. Moshe Kaplinsky, in a wide-ranging interview conducted 10 days ago at his office in Tel Aviv. He said Hamas was constructing positions and fortifications, building tunnels for fighting and smuggling in explosives, antitank weapons and more sophisticated rockets through the Egyptian desert.

But Hamas's emulation of the Hezbollah model seems to extend beyond just fortifications and weaponry. Like the Lebanese terror organization, Hamas is cynically using its constituents' lives and property as a shield for the group's militant activity.

The Palestinian Fatah website describes (via Ma'ariv and IMRA) how one family's apartment turned into a base of operations by Hamas. Beit Hanun resident Abu Rajah is quoted saying

Scores of masked men rushed to the area. Most of them carried large bags full of weapons. They invaded our apartment buildings and demanded that the resident leave. In response the women asked the gunmen to distance themselves from the buildings and children. The atmosphere became tense and some of the residents were beaten by the gunmen, who were mostly from Hamas. In the end most of the residents left the buildings. We left the buildings in their hands. They brought sandbags into our bedrooms and living room. They set up heavy machine guns in the windows and planted large explosive devices in the sidewalks.

For examples of Hezbollah behaving the same way during its war with Israel, click here.

Posted by GI at 11:31 AM | Comments (3)

May 01, 2008

NY Times Claims Jesus Spoke in "Palestine"

Update: New York Times corrects — see below.
An additional update clarifies on why a correction was needed — see below.


In an April 22nd New York Times article, "In Syrian Villages, the Language of Jesus Lives", reporter Robert Worth asserted that Jesus spoke Aramaic "in Palestine two millennia ago." There was no such place as "Palestine" in the time of Jesus*, since the Romans didn't rename Judea as "Palestina" until a hundred years after the death of Jesus. During the time of Jesus, Bethlehem and Jerusalem were in what was commonly called Judea and Nazareth was in what was commonly called the Galilee. The New York Times should correct their factual error of calling Judea and Galilee by a name that didn't exist* until a hundred years later.

One only has to flip open the Christian bible to see references to Judea and Galilee. For example, in Luke 1:5, Herod (the Great) is "King of Judea." In Luke 2:4, "And Joseph also went up from Galilee, out of the city of Nazareth, into Judaea, unto the city of David, which is called Bethlehem." In Luke 3:1, Pontius Pilate, "governor of Judea."

In 132 (Common Era or AD), approximately 100 years after the crucifixion of Jesus, the Jews fought against Roman rule for a second time in what is known as the Bar Kochba Revolt. After the Romans defeated the rebellious Jews in 135, they renamed the land of the Jews Palestina to punish the Jews and to make an example of them to other peoples considering rebellion. The Romans took away the Jewish name, Judea, and replaced it with the name of an ancient enemy the Jews despised. The Philistines were an extinct Aegean people whom the Jews had historically loathed as uncultured and barbaric.

[The Arabs that are only since the 1960s known as "Palestinians" had nothing whatsoever to do with the non-Arab Philistines or the land at that time, and only in modern times did they take the name of the land their ancestors had immigrated to only relatively recently.]

It's bad enough that the Romans attempted to erase the evidence of Jews' connection to the land of Judea; no need for the Times to aid their effort. Please write to the New York Times to ask for a correction and to educate the editors and the public with a letter to the editor.

Asserting that Jesus lived in "Palestine" is unfortunately a common error due to Palestinian propaganda claiming that Jesus was not a Jew but a "Palestinian." Please ask for a correction whenever you see this inaccuracy.

UPDATE:

On June 20th, the New York Time published the following correction:

The Malula Journal article on April 22, about efforts in the village of Malula, Syria, and two neighboring villages to preserve Aramaic, the language spoken by Jesus, referred incorrectly to the name of the region where Jesus spent most of his time. It was Galilee - not Palestine, which derives from the word Palestina, the name that Roman conquerors gave to the region more than 100 years after Jesus's death. The error was pointed out by a reader in an e-mail message on Monday.

CAMERA Note: The Times claims they were not notified of the error until it "was pointed out by a reader in an e-mail message on Monday [June 16]." They were actually notified by dozens of letters from CAMERA members and staff the first week of May. It's also interesting how they managed to not include anything about Judea or Jews in a correction about how the Romans renamed the Jewish land of Judea with the name Palestina.

*Clarification: . The region in which Jesus spoke was known, including by its inhabitants, as Judea and not Palestine. Bernard Lewis has noted that the word "Palestine" was sometimes used by Greek and Latin authors prior to 135 CE, though that appears to have normally been used as an adjective in apposition to "Syria" (Palaistine Syria or Syria Palestina) and in reference to the coastal area formerly inhabited by the Philistines but not "Judaea," a region that "in Roman times was still officially and commonly known by that name," as Lewis explained, or the region around Nazareth ("Palestine: On the History and Geography of a Name," The International History Review, January 1, 1980).

Posted by LG at 12:22 AM | Comments (12)