« Hamas Continues to Manufacture a Crisis | Main | Dutch Reporter Bins 'Good Guy, Bad Guy Thing' »
April 13, 2008
Gush Shalom Falsely Accuses Israel of Killing 5-year-old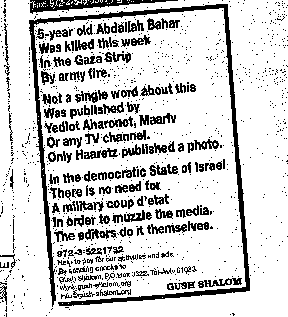 In a page A2 advertisement in Ha'aretz Friday (April 11), Gush Shalom falsely accuses Israel of having killed a five-year-old, Abdallah Bahar. The text reads:
5-year-old Abdallah Bahar Was killed this week In the Gaza Strip By army fire.

Not a single word about this
Was published by
Yediot Aharonot, Maariv
or any TV channel
Only Haaretz published a photo.

In the democratic State of Israel
There is no need for
A military coup d'etat
In order to muzzle the media.
The editors do it themselves.
But, as the Palestinian Center for Human Rights documents in an April 8 release entitled "Misuse of Weapons by Armed Groups and Security Personnel," Behar was killed by a Palestinian mortar shell which accidentally hit near his house.
Some questions:
1) Does Ha'aretz have any policy requiring the fact-checking of ads for factual accuracy? Will Ha'aretz print a correction about the ad which contains a false, defamatory charge against Israel? Ask Publisher Amos Schocken (aschocken@haaretz.co.il).
2) What evidence does Gush Shalom have that would negate PCHR's findings that Behar was killed by a Palestinian mortar? If none is available, will Gush Shalom retract its accusation? Contact info@gush-shalom.org .
Posted by TS at April 13, 2008 05:11 AM
Comments
Guidelines for posting
This is a moderated blog. We will not post comments that include racism, bigotry, threats, or factually inaccurate material.
Post a comment