« January 2008 | Main | March 2008 »
February 29, 2008
CPTers Give up Decency for Lent
For most Christians, the forty days before Easter, otherwise known as Lent, is a time of fasting, introspection, penance and prayer. Some Christians however, use the Lenten season as an opportunity to dust off New Testament polemic that projects humanity's worst faults onto Jesus's adversaries in first century Jerusalem and use these passages to portray modern Israel as "crucifying" the Palestinian people. This strategy is similar to the Bethlehem Formula in which Christians use the season of Advent as an opportunity to portray Israel as denying the Holy Family (Palestinians) a place to rest in the city of Jesus's birth.
The Christian Peacemaker Teams (CPT) is the most recent group to demonstrate how the church's liturgical calendar can be used to demonize Israel. Taking a page from Sabeel's book of spells, CPT is using the Stations of the Cross to portray Israel and its supporters as solely responsible for the suffering of the Palestinian people.
The results are predictable. The First Station compares the plight of Palestinian youths detained by the IDF after allegedly trying to break into a woman's home with "Jesus, accused by his enemies [as he] stands condemned before Pilate." The implication is clear -- the hearings faced by the young men are the same as the Jewish leaders who, according to the Gospels, condemned Jesus to death.
The Second Station ("Jesus Takes Up His Cross") begins with a passage from the Gospel of John:
When the chief priests and the guards saw [Jesus] they cried out, "Crucify him, crucify him!" Pilate said to them, "Take him yourselves and crucify him. I find no guilt in him." ... They cried out, "Take him away, take him away! Crucify him!" Pilate said to them, "Shall I crucify your king?" The chief priests answered, "We have no king but Caesar." Then he handed him over to them to be crucified. So they took Jesus, and carrying the cross himself he went out to what is called the Place of the Skull, in Hebrew, Golgotha. John 19: 6, 15-17
It continues with the following text:
For 40 years, Palestinians have born the cross of military occupation. Palestinians have lost their land, their homes, their olive trees, their cultural traditions, and their lives. Throughout these 40 years, people around the world, but especially Christian Zionists, have offered their support to the Israeli military occupation of Palestine. Because the unconditional support our governments offer the state of Israel, we are complicit in the suffering of the Palestinian people.
Predictably, there is no mention of the facts that Egypt and Jordan deprived the Palestinians of their sovereignty between 1948 and 1967 and that Palestinians were offered a state before the Second Intifada. And while the CPTers condemn Christian Zionists for supporting Israel, they make no mention of the support Hamas, Hezbollah and other terror groups have received from other countries in the Middle East.
Groups like CPT and Sabeel, aren't going to let inconvenient facts get in the way of a modern Passion Play with a cast of villainous Jewish leaders and innocent suffering Palestinians.
The sad fact is this: A growing number of Christians feel comfortable and justified speaking about Israel, the Jewish State, in the same manner that Christians in medieval Europe spoke about Jews. Just as Jews of medieval Europe were portrayed as a demonic obstacles to God's purposes for humanity, modern-day Israel is portrayed as the sole obstacle to Palestinian and Arab well-being and peace in the region, and ultimately a threat to international peace.
It was a lie then; it's a lie now.
Religious leaders of all stripes should shudder at how the church's liturgical seasons, designed to inspire introspection, joy and a deeper faith on the part of Christians, have become annual gauntlets of ugly anti-Zionist and anti-Jewish polemic.
Posted by dvz at 04:46 PM | Comments (4)
Avoiding Another Arafat AIDS report
Another assertion that Yasser Arafat died of AIDS has appeared. As with previous indications, mainstream American news media have not followed up.
According National Review magazine's "The Week" column (February 25), "Dr. Ashraf al-Kurdi, who looked after the master terrorist's health for 18 years -- has been telling a Jordanian news agency that Arafat had AIDS."
Arafat died in a Paris military hospital in 2004. French officials conducted a post mortem, but results were kept secret. Palestinian sources alleged that Israel, having confined the Palestinian Authority president to his damaged Ramallah compound during the second intifada, poisoned Arafat, then allowed him to seek treatment abroad.
Arafat's death occasioned voluminous coverage, much of it treating lightly his decades as a terrorist leader responsible for the deaths of thousands in Israel, the West Bank and Gaza Strip, Jordan, Lebanon and beyond. Some reporting, for example "Bias By Omission: Washington Post Coverage of Yasser Arafat's Death," CAMERA's Media Report, Spring, 2005, also repeated claims of Israeli responsibility while avoiding speculation that Arafat's symptoms mirrored those of AIDS.
In July, 2007, Ahmed Jibril, secretary-general of the Popular Front for the Liberation of Palestine – General Command, said he'd been told by staff members of Mahmoud Abbas that Arafat died of AIDS (SNAPSHOT, "PFLP-GC Leader: Arafat Died of AIDS," July 12, 2007). The PFLP-GC belongs to the Palestine Liberation Organization, the terrorist umbrella group chaired by Arafat. Abbas was Arafat's long-time assistant and is his successor as PA president and PLO chairman.
When al-Kurdi "repeated his diagnosis on al-Jazeera television, he was instantly cut off," National Review reported. "But what else is new? In Arafat's lifetime it was easy to guess his condition from his appearance. His permanent entourage of young boys, most of them orphans, also spoke for itself. The doctor's accusation that somehow Israel managed to poison him is the usual attempt to pass responsibility for everything on to the Jews."
And media disinterest in the story may reflect the usual reluctance to report news showing Palestinian leaders in a less-than-favorable light.

Posted by ER at 03:09 PM | Comments (0)
Israel, Gaza and "Collective Punishment"
A law professor at George Mason University explains why describing Israel's policies toward Gaza as illegal "collective punishment" makes a "mockery of international law."
Activists and some UN Security Council members argue that Israel's restrictions on fuel deliveries to Gaza constitutes collective punishment in violation of the Fourth Geneva Convention. The argument is nonsense.
Read his full explanation at American Thinker.
Posted by GI at 12:23 PM | Comments (0)
February 26, 2008
Baltimore Sun 'Martyrs' Terrorist Mughniyeh
A small headline over a short wire service article nevertheless was a major blunder in The Baltimore Sun's February 15 edition. For a McClatchy-Tribune news service dispatch covering both the funeral of Imad Mughniyeh, assassinated arch-terrorist of Hezbollah, and a three-year anniversary memorial for murdered former Prime Minister Rafik Hariri, The Sun wrote:
"Lebanese honor 2 martyrs; Hezbollah officer led anti-U.S. attacks; Hariri remembered."
Two martyrs? A more obscene equivalence is hard to imagine.
Hariri, a billionaire businessman with Saudi connections, rebuilt much of Beirut after the 1975 - 1990 Lebanese civil wars, and reportedly tried to distance himself from Lebanon's Syrian overlords. He was murdered, along with 16 others, in a massive Feb. 14, 2005 car-bombing. U.N. investigators suspect Syrian dictator Bashar al-Assad's associates.
Mughniyeh was a sociopathic leader of the Iranian-trained and funded, Syrian-armed Hezbollah. The Lebanese Shi'ite "Party of God," prior to al Qaeda's Sept. 11, 2001 attacks, had murdered more Americans than any other terrorist organization. It's also murdered hundreds more non-Americans.
But for The Sun's headline writer, and any other wire and copy editors who handled the story, both men were "martyrs." A martyr, it apparently needs to be repeated, is an individual who dies for his faith, not one who by it justifies murder.
The article said that "Mughniyeh is blamed for the 1983 bombings of the U.S. Embassy and the Marine headquarters at Beirut airport, the 1985 hijacking of a TWA flight and other attacks." Like the secondary description of him as an "officer," this omits too much, including:
The 1983 bombing of the French military barracks in Lebanon; the beating, torture and murder of U.S. Navy SEAL Robert D. Stethem during the 1985 hijacking; Mughniyeh's oversight or participation in the kidnapping and torture of CIA Beirut station chief William Buckley, who eventually died in Iran; kidnapping, torture and murder of U.S. Col. Richard Higgins; the 1992 bombing of the Israeli embassy in Buenos Aires; 1994 bombing of the AMIA Jewish community center in Buenos Aires; kidnappings of numerous Westerners in Beirut in the 1980s and early '90s; and reportedly serving as a link between al Qaeda's 9/11 "musclemen" and Iran, and between Hezbollah and al Qaeda in Iraq.
Some martyr.
The Sun once operated bureaus in Beirut, Cairo and other major foreign cities. It closed the sole remaining overseas office — Jerusalem — last year. Like other big daily newspapers, it continues to suffer declines in circulation and advertising revenue. And, apparently, editorial judgment.
Posted by ER at 03:14 PM | Comments (1)
February 17, 2008
Beeb Apologizes for Mughniyeh-Hariri Comparison
Humphrey Hawkesley called Imad Mughniyeh (above), responsible for numerous international bombings and the kidnapping and killings of several Westerners, a "great national leader"/Photo from FBI
The Jerusalem Post reports today:
In an uncommon act of journalistic contrition, the BBC has apologized for equating former Lebanese prime minister Rafik Hariri and Hizbullah terror chief Imad Mughniyeh as "great national leaders."

The BBC took the unusual step after Don Mell, The Associated Press's former photographer in Beirut, lambasted the parallel, drawn by BBC correspondent Humphrey Hawkesley in a BBC World report last Thursday, as "an outrage" and "beyond belief."

American journalist Mell was held up at gunpoint by Mughniyeh's men as his colleague Terry Anderson, AP's chief Middle East correspondent, was kidnapped in Beirut in March 1985.

Hawkesley's report on what he called "an amazing day for Lebanon," when a memorial rally for Hariri was followed by Mughniyeh's funeral, concluded: "The army is on full alert as Lebanon remembers two war victims with different visions but both regarded as great national leaders."
Posted by TS at 04:26 AM | Comments (2)
February 15, 2008
Philadelphia Columnist Condemns Biased Statement
Herb Denenberg, a columnist for The Bulletin, a family newspaper published in Philadelphia, takes on a dishonest statement issued by a group within the Presbyterian Church (USA).
In a piece titled, "Is The P.C.U.S.A. Peacemaking Or Promoting More Hatred?," Deneberg writes there's little difference betweeen the National Middle Eastern Presbyterian Caucus and the PC(USA) itself:
The PCUSA posts NMEPC statements on its Web site, provides it with logistical support and publicizes its work through its Presbyterian News Service. What's more, the general approach of the NMEPC is in line with the actions of the PCUSA's General Assembly. So although when asked, the PCUSA will not assume responsibility for the NMEPC, when all the dancing and dodging is over, the PCUSA lends its full resources, power and credibility to the NMEPC. So in this column I will usually refer to the statement, "A Call to End the Siege of Gaza," as the position of the PCUSA itself, without constant references to the NMEPC.
Now, one might disagree with Deneberg's reasoning, but the PC(USA)'s leadership has not disassociated itself from the statement issued by the caucus. And Denenberg is right when he states the denomination lent "its full resources, power and credibility to the NMEPC." A statement from Clifton Kirkpatrick, the denomination's stated clerk, distancing the denomination's leadership from the NMEPC's polemic, might have been helpful. Live and learn.
Deneberg then lists the words used to describe Israeli and Palestinian actions. Here's what he found:
* Description Of Israeli Occupation: Criminal; Inhumane; Immoral; Cruel; Collective punishment; Indiscriminate terrorization; Illegal; Confiscatory; Prejudicial; Reckless; Violation of international law; Violation of universal standards; of human rights; Targeted assassinations; Hurling region into chaos; Intimidation; Imprisonment (of Palestinians) Blatant savagery; Blockade; Siege; Punitive; Domination; Oppression

* Description Of Palestinian Violence: Militant methodology

Note the contrast. When describing the Israeli occupation, the PCUSA piles on every pejorative available in the strongest form of condemnation. I've listed 20 above, so this may go down with the record for bias set by USA Today (see box accompanying this story). However, when it comes time to describe Palestinian terrorism, suicide bombers, the deliberate slaughter of women and children and other civilians, the use of children and women as suicide bombers, the best the PCUSA can do is to speak of "militant methodology." "Militant" is the softest term possible for those preaching and practicing deliberate mass murder and even genocide. Joan of Arc has been described in one history book as a "Church militant." And then "methodology," which almost summons up some scholar putting together his theory of what is going on. If that doesn't show the clear bias, distortion and one-sidedness of the PCUSA's statement, I don't know what would. It's Israeli criminals versus Palestinian "militants." It's Israeli savagery and immorality versus Palestinian "methodology." No, the PCUSA isn't even satisfied with finding the Israelis to be guilty of "savagery." They make it "blatant savagery."
Read the rest.
Posted by dvz at 04:20 PM | Comments (2)
February 13, 2008
The Arab Capital of Culture and Imad Mugniyah
Imad Mugniyah, left
and his handiwork, right, the bombed out Jewish Community Center in Buenos Aires
Two recent events recall the old adage that all roads lead to Damascus.
UNESCO Director-General, Koichiro Matsuura, visited the Syrian capital on Jan. 8-11 to congratulate the Syrians for being nominated Arab Capital of Culture for 2008. While in Damascus, Matsuura, the head of the UN body responsible for promoting education, culture and science, commended Syrian "hospitality." Syrian President Bashir Assad marked the occasion by proclaiming Damascus as "the capital of resistance culture ." Assad asserted that the tradition of Damascus was to strive for peace "with dignity and pride," adding that his country will "lead a dialogue among civilisations."
Giving poignant meaning to Assad's and Matsuura's words, on February 12, one of Damascus most famous "resistance" figures, Imad Mugniyah, who in recent years had benefitted from Syrian hospitality, was killed in a car bombing. Mugniyah, a Lebanese Shiite personified the cooperation and links between terrorist groups (aka. resistance groups).
He joined the Palestinian Fatah organization in 1975 and served in Yasir Arafat's special guard, Force 17. In 1983, he linked up with the newly formed Lebanese Hezbollah organization and became affiliated with Iran's Revolutionary Guards. Emerging as a terrorist mastermind in his early twenties, Mugniyah was implicated in the Marine Barracks bombing in Beirut in 1983 that left 241 US Marines dead, the kidnapping and killing of US officials in Lebanon, the hijacking of TWA Flight 847, the bombing of the Israeli embassy in Argentina in 1992 and the bombing of the Jewish community center in Buenos Aires in 1994 that killed 86 people.
Mugniyah was also accused of planning the cross-border raid on July 12, 2006 that killed eight Israeli soldiers and kidnapped two others, leading to the summer war between Israel and Hezbollah. Iranian President Mahmoud Ahmadinejad blamed his demise on "Zionists," although he was wanted by others, like the US, which offered $5 million for information leading to his capture.
Mugniyah is gone, but Damascus still remains a safe zone for numerous terrorist groups, like Hamas, PFLP, PFLP-General Command, Islamic Jihad and Hezbollah.
Posted by SS at 02:17 PM | Comments (2)
February 12, 2008
Hamas Bugs Bunny Wants to "Eat the Jews"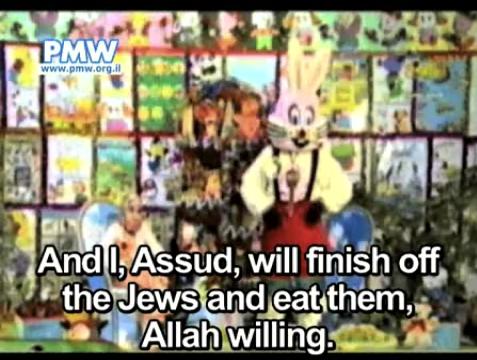 Apparently ripping off Disney characters to incite young children against Jews is passé. Now, Hamas is taking Warner Brothers characters and reinventing them as rabble rousing anti-Semites.
A Bugs Bunny clone on Hamas's television station is teaching children of his desire to "finish off the Jews and eat them."
This is a prime example of the incitement that Palestinian human rights activist Bassem Eid and Israeli democracy activist Natan Sharansky warned about in yesterday's Wall Street Journal when they referred to the use of Palestinian "media and schools to indoctrinate a generation into a culture of hatred."
You can watch the video of Bugs — I mean "Assud" — here.
Posted by GI at 10:57 AM | Comments (2)
February 11, 2008
Is Gaza "Occupied" by the UN?
ZioNation blog noticed a fascinating Q&A between a correspondent and a UN spokesperson about the use of the term "occupied" to describe Gaza:
Question: You read a statement about the situation in Gaza before and I know it's difficult to change terminology, but we have a new Secretary-General now, so let me try it again. A year and half after the last Israeli withdrew from Gaza, the UN system still refers to Gaza as an Occupied Palestinian Territory. The only people who are not Palestinian in Gaza currently are UN people. Do you mean that Gaza is occupied by the UN?
Spokesperson:Definitely not.
Question: So who is it occupied by?
Spokesperson: Well…
Correspondent: I think there are some Israeli soldiers on the border…
Question: Not borders, who is Gaza occupied by?
Spokesperson: Traditionally, this is the terminology we have used. Yes?
Question: But the situation on the ground changed since Israel withdrew from Gaza
Spokesperson: I will look into this.
Correspondent: Thank you.

Posted by LG at 12:12 PM | Comments (1)
February 10, 2008
Israel's First Electricity Cut, The LA Times' Dilemma
When I picked up the papers this past Friday and learned that Israel had for the first time cut electricity to the Gaza Strip -- by a whopping 1 percent -- I couldn't wait to get my hands on the Los Angeles Times. Why? Because on Jan. 28, the Times' Richard Boudreaux had falsely reported:
With Egypt's cooperation, Israel began reducing the flow of electricity, fuel, commerce and travelers across Gaza's borders after the militant Islamic movement Hamas, which had won parliamentary elections in 2006, seized full control of the territory in June.
Thus, according to the LA Times -- the facts be damned -- Israel had begun reducing the electricity flow to Gaza as early as June. So what's the paper to do when Israel actually began to cut electricity for the first time just this past Friday? Ignore the development? Or report it but ignore their earlier false report (and likewise ignore CAMERA's requests for a correction)?
Well, it seems that the illustrious paper -- which has recently taken a hit from a federal judge for "manufacturing facts" -- opted for the latter option. A brief on Friday reported:
Israeli forces killed seven Palestinians, including a schoolteacher, during a campaign to stop daily rocket barrages from the Gaza Strip, and added a new economic pressure -- cutting electricity by a symbolic one percent.
Likewise, the paper's Web site includes an AP timeline which correctly notes:
Feb. 7: Israel starts reducing the 120 megawatts it provides from its own power station. Initially just over 1 percent will be cut.
There is, of course, a third option -- an honorable one at that. The Times can report the new development -- as it did -- AND print a correction noting that it had earlier erred.
Posted by TS at 03:32 AM | Comments (0)
February 08, 2008
Prestigious Award for Tendentious Spread
Journalism associations exist, cynics have observed, to award prizes to their members. A generalization, but yet ….
The White House News Photographers Award for Photographer of the Year goes to The Washington Post's Jahi Chikwendiu. One of the projects that helped Chikwendiu win was "'Continuous War': Cluster bombs in South Lebanon." According to The Post ("Honors," February 1) the photographer "spent more than two weeks with Rasha Zayoun, a 17-year-old Lebanese girl who lost a leg to an Israeli-dropped cluster bomb. 'It was an important story for me because of her strength to carry on even though she had been wounded so bad by something that wasn't her conflict; it was Israel and Hezbollah's conflict,' Chikwendiu said."
Not exactly. The tragedy imposed on Zayoun resulted from Hezbollah's conflict with not only Israel but also Lebanon. Iranian-inspired, funded and trained, and Syrian-armed, Hezbollah is at war with the possibility of a religiously pluralistic, politically democratic, Western-oriented Lebanon. Its war with Israel is connected. In that Hezbollah-created context, Israeli munitions, including cluster bombs, killed or wounded Lebanese civilians, including Zayoun.
Chikwendiu's photo spread and accompanying blurb of copy, ignore that, just as The Post in general largely ignores Israeli casualties of Arab aggression. After the November 25 feature appeared, CAMERA said:
"Six black-and-white photographs, including one as a 'teaser' from the section's front page, and four paragraphs of text … document Zayoun's suffering. They also amount to a one-sided advocacy piece.
Washington Post photo spread served as an unacknowledged editorial
"The only quoted source besides Zayoun ... is Marc Garlasco" of Human Right's Watch. "Garlasco's self-contradictory and perhaps unobjective views were on display in the 2006 case in which seven members of a Gaza family were killed by an explosion of uncertain origin …. He backtracked on, then reasserted claims" that Israeli shelling had caused the civilian deaths; Israeli analysts said Palestinian terrorist munitions more likely were to blame …. Chikwendiu takes Garlasco at face value.
"The text cites U.N. estimates 'that the Israeli military dropped 1.2 million to 4 million cluster bomblets on southern Lebanon' …. It is silent on the fact that Hezbollah terrorists often based themselves [illegally] in southern Lebanese villages like Zayoun's, and that they fired many of the more than 1,000 rockets launched at Israel (primarily at civilians) from positions close if not adjacent to Lebanese non-combatant locations ….
"The piece seemed to have been timed to advance" HRW's anti-cluster bomb agenda .... If The Post wanted to use Zayoun's case to support an editorial against cluster bombs -- it posted the feature and more photos and audio on its Web site -- Chikwendiu's work should have appeared on the editorial page." In essence, it was "tendentious commentary."
Posted by ER at 02:28 PM | Comments (0)
February 07, 2008
The Islamization of Britain
On BBC 4's "World at One" radio show, the Archbishop of Canterbury prepared the public for Sharia law in the U.K.
Dr Rowan Williams [the Archbishop of Canterbury] told Radio 4's World at One that the UK has to "face up to the fact" that some of its citizens do not relate to the British legal system.

Dr Williams argues that adopting parts of Islamic Sharia law would help maintain social cohesion. ..

...He says Muslims should not have to choose between "the stark alternatives of cultural loyalty or state loyalty".
First, the British government insists civil servants avoid all mention of Islam or Islamists when dealing with Muslim fanatical extremists, lest their co-religionists be offended. Now Sharia law in Britain is seen as inevitable. What next? Brits getting arrested for naming stuffed animals Mohammed?
Posted by RH at 12:52 PM | Comments (1)
February 05, 2008
Dimona coverage: Times beats Post
Compare New York Times reporting of the February 4 suicide bombing in Dimona, Israel with that of The Washington Post, and a chronic flaw of Post Arab-Israeli coverage appears: For The Post, Israelis are objects to be treated statistically; Palestinian Arabs are subjects, human beings treated with empathy.
The Times article is reported from the scene. The murdered Israeli is identified. Several at the scene of the attack are quoted. A police officer who killed a second, would-be bomber is identified as well as quoted. Human interest is added: a nurse "thrown through the air" by the blast remembers thinking of her daughter; a woman who narrowly missed being at the site of the attack is described as shopping after her son's bar mitzvah. Authorities note that terrorists loaded the bombs with metal balls, the more to murder and maim.
The Post article is reported from Jerusalem. The murdered Israeli is not identified; an erroneous Israeli news description of her age is given. The policeman who killed the second terrorist is neither named nor quoted. Only one Israeli at the scene is quoted by name, and just briefly. Virtually no Israeli human interest elements from Dimona are included.
But The Post does provide three paragraphs of such material from one bomber's family in Gaza City, including implicit justification from the father: Zaki al-Lahwani "laid part of the blame for the attack [by his son Loay] on Israel, because of the restrictions it has imposed on Gaza. 'A young man, he can't work; there's a siege all over Gaza; the borders blocked and people dying everywhere' in Israeli airstrikes. 'We don't know what he is thinking in this moment,' the father said." The Post does not say who else the father blamed. Was it the ruling Hamas movement, for permitting and conducting the terrorism that impelled Israel to prohibit transit from the Strip? The Post doesn't say.
Associated Press and Washington Times coverage echoed that of The New York Times, not The Washington Post. Thanks to CAMERA member and former McClatchey Newspapers Washington bureau chief Leo Rennert for first noting the difference.

Posted by ER at 03:27 PM | Comments (1)
Six Months of 'Bad News'
Manfred Gerstenfeld pioneered the 'Bad News' concept
Ha'aretz reports that the Bad News blog project is six-months old and going strong:
What began six months ago as a brazen attempt to counter a perceived anti-Israel slant in the Dutch media has evolved into a network monitoring the media in eight countries across the world. The idea is simple: Beat press bias at its own game by advertising only bad news about one place.

Over the past months, seven activists from Israel and elsewhere have been exposing online readers to scandalous yet accurate reports from media in Britain (violent drunk teens), France (high homeless mortality), Norway (serial child molesters), Finland (sexual harassment in parliament), Sweden (soaring suicide rates), The Netherlands (menacing Muslim unrest), Mexico (rampaging flood victims) and Los Angeles (drive-by killings).
Visit Manfred Gerstenfeld's Bad News from the Netherlands, the blog that started it all.

Posted by TS at 02:44 AM | Comments (0)
February 03, 2008
New York's UpClose - Far From Balanced About Israel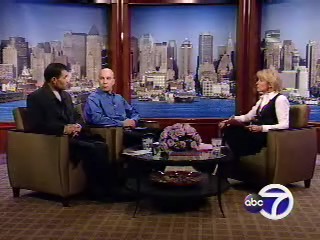 Bassam Aramin, Yonatan Shapira, Diana Williams
Viewers of the January 20 WABC (channel 7) UpClose Sunday weekly talk show (11AM - 11:30) - seen in New Jersey and Connecticut as well as New York – were subjected to a severely one-sided castigation of Israel's policies towards the Palestinians. Hosted by Diana Williams, the guests were Yonatan Shapira (former Israeli air force captain) and Bassam Aramin (former Fatah fighter) touring the U.S. on behalf of their group, "Combatants for Peace."
Dog and pony show lacked scrutiny of controversial, questionable views:
Williams intoned, "Snapshots of life in a land torn apart by violence," as lead-in video clips showed suffering on both sides. Williams said, "They (the Israeli military) credit the series of checkpoints in the West Bank (for reducing the number of suicide bombings)." However, this statement is countered by an "Arab professor" (Mustafah Barghouti), described as a "moderate Palestinian," who says, "The checkpoints serve only one purpose, which is collective punishment." The host fails to mention Barghouti's role as a well-known Palestinian spokesman and propagandist.
Failing to provide an Israeli mainstream perspective, the program equated the violence to both sides, describing the conflict as a "circle of revenge" and omitting discussion of Islamic fanaticism while blaming the conflict mostly on settlements and occupation. Ignoring the Hamas - and other terrorists - aim to destroy Israel, Shapira answered the question - "What was the turning point for you?" - by describing the bombing by a fellow pilot of a Hamas leader's home causing several collateral casualties.
Shapira's outrageous metaphor associates him with those Israelis having fringe views:
Shapira, urging "tough love" by the U.S., likens Israel to "your child [who is] drunk": "You're not going to give him the keys [to the car]."
A rush to judgement against Israel:
Introducing Bassam Aramin, Williams said he "lost his ten-year old daughter, Abir, who was shot by an Israeli soldier." But Williams failed to mention that there is no official verdict in this case in the 2007 death. Pathologists at the Israeli Forensic Institute said the child's autopsy was inconclusive but ruled out rubber bullets (as claimed by Bassam), saying the child was killed either by an (Israeli) stun grenade or by a (Palestinian) rock during an attack on Israeli soldiers.
UpClose is urged to balance this one-sided broadcast with a program that addresses such matters as: The non-existence of Palestinians speaking out against daily rocket attacks from Gaza upon Israeli civilians; The on-going incitement to violence against Jews in the Palestinian media, mosques and schools.
Posted by MK at 11:08 AM | Comments (0)