« Post's 'Breach in Gaza' on target | Main | It's official, Arun Gandhi's Resignation Accepted »
January 25, 2008
Gaza Breach Provides An Illuminating Moment in the Middle East Conflict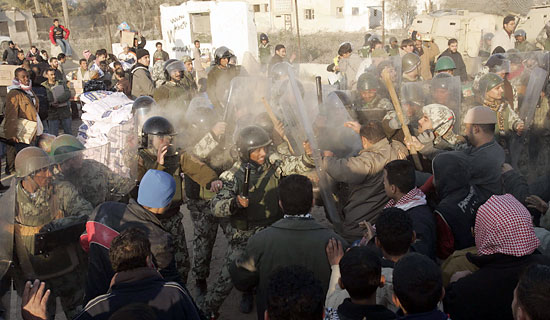 Egyptian riot police square off with Palestinians
The recent breach of the Egyptian border by thousands of Gazans highlights some facts about Gaza all too frequently misrepresented or ignored. Ever since Hamas won control of the Palestinian Authority, much of the news media has held Israel solely culpable for the economic hardship in Gaza. Although much of the news coverage continues to focus on the impact of tightening Israeli economic measures, the breaching of the wall at Rafah reveals a facet of the situation that rarely receives attention, namely that Egypt also maintains a border with Gaza and has chosen to keep it sealed.
As Dion Nissenbaum of McClatchy Newspapers noted,

Since Hamas seized control last summer, the Egyptian government has kept its side of the border with Gaza largely sealed, with authorities resorting to deadly force on occasion to stop people from crossing.
Even the Guardian, known for hewing to the Palestinian line, commented in its news blog that Egypt's "role in the economic isolation of Gaza has received little attention until today."
Several newspapers carried comments by Israeli deputy defense minister Matan Vilnai suggesting that it was time for Egypt to assume responsibility for Gaza. James Hider emphasized this tact in his piece appearing in the London Times on January 25.
Some, however, persist with their standard refrain that only Israel is to blame for the current situation. Oxfam, the British based humanitarian organization published a report on its web site on January 25th, castigating Israel for its blockade while mentioning the breach in the Egyptian border only in the context of condemning Israel's "inhumane and illegal siege."
Recent events have raised a number of questions that warrant more discussion.
- Why is Israel responsible for supplying Gaza, officially a hostile entity, with its basic needs, when Egypt could be doing the same?
- Why is the Egyptian government so concerned with maintaining a closed border with Gaza? Is it to satisfy Israeli and American demands as some contend, or does it fear in its own right the extremist, violent elements that rule in Gaza?
- Why are the NGOs responsible for providing humanitarian relief to the Palestinians, like Oxfam, who produce volumes of reports condemning Israel for its stringent policies towards Gaza, so reticent to condemn Egyptian policy towards their fellow Arab brethren?
Posted by SS at January 25, 2008 10:27 AM
Comments
The answers to the why, why and why is very simple: Israel is the occupying power of the whole of Palestine and has sealed its borders. As occupier it has an obligation under the Fourth Geneva Convention to provide everything to the population under its occupation. Others such as Egypt are too scared to act responsibly, lose US aid and face real, not imagined, consequences: a new war with US-backed Israel.
Posted by: Sammy at January 26, 2008 12:58 AM
Posted by: steve at February 4, 2008 11:46 AM
Guidelines for posting
This is a moderated blog. We will not post comments that include racism, bigotry, threats, or factually inaccurate material.
Post a comment