« Return of the Palestinian Aid "Shell Game" | Main | British Educators Oppose UCU Boycott Move »
August 22, 2007
Fuel for Conflict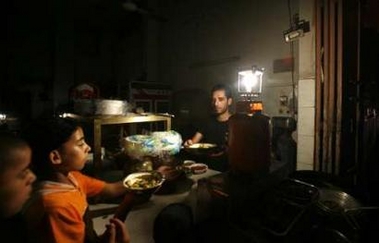 A Palestinian vendor works by a gas lamp during a power outage/Reuters photo
Khaled Abu Toameh reports in Commentary:
Hamas and Fatah recently accused Israel of preventing fuel supplies from reaching the Gaza Strip—a move that has deprived nearly 600,000 Palestinians of electricity for the past five days. Israel, the two parties claimed, is responsible for the power stoppage because of its "ongoing siege" of the Gaza Strip.

Sadly, many in the international media were quick to endorse the Hamas-Fatah version. Headlines in major newspapers and reports on television networks quoted Hamas and Fatah spokesmen as saying that the IDF had banned fuel supplies to the power plant in the Gaza Strip as part of its policy to "punish" the innocent Palestinian population.

But now the real story behind the electricity fiasco has surfaced. The same Hamas and Fatah spokesmen who had blamed Israel now were accusing each other. The EU, it emerged, had stopped funding the fuel supplies, after being told by Fatah leaders in Ramallah that Hamas had taken control of the electricity company in the Gaza Strip, and was planning to extort money from customers through electricity bills. . . .

The majority of the Palestinians have already paid a heavy price for the continued power struggle between Hamas and Fatah. That's why the Palestinians react to statements made by the two sides' leaders with skepticism and extreme caution. Perhaps it's time that foreign journalists sitting in Jerusalem and Tel Aviv, who these days rarely visit the West Bank and Gaza Strip, follow suit, and display a degree of caution when it comes to reporting on the Hamas-Fatah fight.
Posted by TS at August 22, 2007 12:30 PM
Comments
Guidelines for posting
This is a moderated blog. We will not post comments that include racism, bigotry, threats, or factually inaccurate material.
Post a comment