« July 2007 | Main | September 2007 »
August 28, 2007
CNN's Scheduling Bias
In CNN's 3-part series, "God's Warriors," Christiane Amanpour repeated the phrase "God's Jewish warriors" 20 times, but said "Muslim warriors" only four times. Was CNN trying to place extra emphasis on the Jewish warriors and less on the Muslim warriors?
Maybe.
When it comes to CNN's programming schedule, though, there is no doubt that the network was emphasizing the sins of the Jews. As of this week, CNN has broadcast its "Jewish Warriors" program a total of five times. The segment on the other two religions, on the other hand, have been aired only three times. Last Saturday night, CNN rebroadcast the segment about Jews twice, while rebroadcasting the other two segments only once. And again on Sunday night, the Jewish Warriors program got double duty.
On top of this, though CNN felt it was worthwhile to change the order of the Christian and Muslim segment from Saturday to Sunday — presumably so that the segment that played late-night on Saturday would run a bit earlier the following evening — the Jewish segment remained in the prime, earlier spot.
Here is the CNN schedule for the past weekend:
Saturday
| | | |
| --- | --- | --- |
| Eastern Time | Pacific Time | |
| 9pm | 6pm | God's Warriors - Jewish |
| 11pm | 8pm | God's Warriors - Muslim |
| 1am | 10pm | God's Warriors - Christian |
| 3am | 12am | God's Warriors - Jewish |
Sunday
| | | |
| --- | --- | --- |
| Eastern Time | Pacific Time | |
| 9pm | 6pm | God's Warriors - Jewish |
| 11pm | 8pm | God's Warriors - Christian |
| 1am | 10pm | God's Warriors - Muslim |
| 3am | 12am | God's Warriors - Jewish |
Why did CNN run the Jewish segment twice? Why did it leave that segment in a prime time slot despite switching the order of the other two segments? Ask CNN.
Posted by GI at 05:04 PM | Comments (4)
August 24, 2007
New Confirmation of the Soviet Role in theSix-Day War
A piece in the Jerusalem Post today reports on the confirmation by a Soviet airforce colonel that the Soviets did fly reconnaissance missions over Israel just prior to the Six-Day War. This admission bolsters the claim by Gideon Remez and Isabella Ginor in their controversial book, "Foxbats over Dimona: The Soviets' Nuclear Gamble in the Six-Day War" that the Soviet Union instigated the Six-Day War in order to destroy Israel's nuclear capacity. The authors also claim that Soviet forces were in place to launch a seaborne landing on Israeli beaches and submarines were positioned off the Israeli coast to launch missile strikes if Israel attempted to defend itself with nuclear weapons.
The Post quotes a translation of an announcement appearing on the web site of the Russian Defense Ministry stating:
In 1967, the military valor and high combat training of Col. Bezhevets, A.S. (now a Hero of the Soviet Union, an honorary test pilot of the USSR, [and] retired Air Force major-general), were demonstrated while carrying out combat operation in Egypt, [and] enabled [him] to perform unique reconnaissance flights over the territory of Israel in a MiG-25RB aircraft
Traditional histories of the Six-Day War describe the Soviet Union's troublesome meddling, but emphasize its desire to avoid an all-out war between its Arab client regimes and Israel. Remez and Ginor's book indicate that the Soviet intent to start a war in the Middle East was underestimated and should give pause to those who today downplay the bellicose intentions of Iran, which has replaced the Soviet Union as the main backer and armorer of forces dedicated to the destruction of Israel.
Posted by SS at 11:47 AM | Comments (1)
Dignified Treatment, Hamas-Style
Hamas men detained and roughed up journalists at a Fatah protest in Gaza today
The Associated Press reports Hamas harassed and detained local and foreign journalists today at a protest by Fatah supporters:
When several Hamas security men roughed up a Reuters TV cameraman filming the protest and tried to confiscate his camera, protesters surrounded the Hamas men, beat them to the ground and prevented the cameraman's arrest . . .

The Hamas men also detained a photographer working for Agence France Press and a cameraman for the Russian TV channel Russia Today, along with the two other reporters working for local news outlets. They also broke a TV camera belonging to the Arabic-language TV network al-Arabiya.
And that, my friends, is Hamas' own unique style of treating journalists "with dignity," as promised by Hamas spokesman Mousa Abu Marzook in the Los Angeles Times July 25, 2007.
Earlier examples of Hamas' idea of treating journalists "with dignity" are here, here, and here.
UPDATE; Ynetnews.com has more details about today's abuse of journalists.
Posted by TS at 09:50 AM | Comments (0)
August 23, 2007
British Educators Oppose UCU Boycott Move
The Jerusalem Post reports the educators at Imperial College — a prestigious institution that ranked higher than Princeton and Columbia in one list — have loudly weighed in against an academic boycott of Israel:
Educators at London's prestigious Imperial College, questioned in a new poll, have overwhelmingly rejected their union's motion to consider a boycott of Israeli academic institutions.

In a survey commissioned by its University and College Union branch, 82 percent of the union's members at the Imperial College of Science, Technology and Medicine, said they did not support Motion 30, approved at the UCU conference in May, which calls for the boycott of Israeli academic institutions. Sixteen percent of those surveyed favored the motion and 2% did not respond.
This comes after about 95 percent of UCU members at the world renowned Oxford University "supported the view that Oxford is opposed to academic boycotts per se."

Posted by GI at 08:16 PM | Comments (0)
August 22, 2007
Fuel for Conflict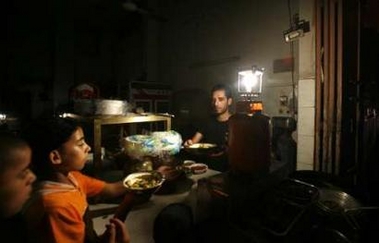 A Palestinian vendor works by a gas lamp during a power outage/Reuters photo
Khaled Abu Toameh reports in Commentary:
Hamas and Fatah recently accused Israel of preventing fuel supplies from reaching the Gaza Strip—a move that has deprived nearly 600,000 Palestinians of electricity for the past five days. Israel, the two parties claimed, is responsible for the power stoppage because of its "ongoing siege" of the Gaza Strip.

Sadly, many in the international media were quick to endorse the Hamas-Fatah version. Headlines in major newspapers and reports on television networks quoted Hamas and Fatah spokesmen as saying that the IDF had banned fuel supplies to the power plant in the Gaza Strip as part of its policy to "punish" the innocent Palestinian population.

But now the real story behind the electricity fiasco has surfaced. The same Hamas and Fatah spokesmen who had blamed Israel now were accusing each other. The EU, it emerged, had stopped funding the fuel supplies, after being told by Fatah leaders in Ramallah that Hamas had taken control of the electricity company in the Gaza Strip, and was planning to extort money from customers through electricity bills. . . .

The majority of the Palestinians have already paid a heavy price for the continued power struggle between Hamas and Fatah. That's why the Palestinians react to statements made by the two sides' leaders with skepticism and extreme caution. Perhaps it's time that foreign journalists sitting in Jerusalem and Tel Aviv, who these days rarely visit the West Bank and Gaza Strip, follow suit, and display a degree of caution when it comes to reporting on the Hamas-Fatah fight.
Posted by TS at 12:30 PM | Comments (0)
August 21, 2007
Return of the Palestinian Aid "Shell Game"
The WAFA news agency web site quotes Palestinian Information Minister Riyad Al-Maliki as saying that the Palestinian government "approved the draft budget for 2007 that amounts to $2,668 million, which comes from foreign aid." The LA Times's Ken Ellingwood also reports on August 20 that the EU has "funnelled nearly $2.5 billion in assistance this year." This figure, if accurate, is staggering, but has received little attention in the media. During all of 2006, the Palestinians received $868 million from the EU and the Palestinian Authority received $750 million from all official foreign sources. These new figures suggest aid has increased by multiples.
And with the increased flow of money, it is not surprising to read reports of money finding its way to terrorists again. The Associated Press ("EU Cuts Electricity Funding to Gaza, Says Hamas Diverting Revenues" August 20) reports on how Hamas is siphoning off funds by taking advantage of EU largesse towards the Palestinians. Ibrahim Barzak quotes deputy minister of economy Jawwad Hirzallah, "Hamas is collecting all the electricity fees and never pays the costs of the electricity...The Europeans were paying $10 million that Hamas collects from the people and doesn't pay the costs. So the European Union found itself paying the electricity company, while Hamas was pocketing the revenues."
Posted by SS at 02:28 PM | Comments (0)
Telegraph Criticizes BBC's Mideast Coverage
An editorial in yesterday's Telegraph discussing the latest controversy at the BBC notes that the Beeb is far from objective in its reporting of the Middle East conflict:
Its reporting of Israel and Palestine, in particular, tends to underplay the hate-filled Islamist ideology that inspires Hamas and other factions, while never giving Israel the benefit of the doubt. (Disgracefully, the BBC is still refusing to publish the Balen Report, which it commissioned to investigate allegations of anti-Israel bias.)
You can read the entire piece here. For background on the current controversy concerning BBC's fictional TV series, Casualty, see here.
For a discussion of BBC's double standard regarding Jewish and Palestinian refugees (and a step taken by the broadcaster to rectify that bias), see here.
Posted by GI at 10:35 AM | Comments (0)
August 17, 2007
Methodists Nix Staff-Written Divestment Resolution -- For Now
A few weeks after the New England Conference of the United Methodist Church issues an ill-timed blacklist of companies that do business with Israel's defense establishment, The UMC's General Board of Global Ministries issues a curious public statement that it has taken "no position on financial divestment in Israel. The international mission agency is not submitting a resolution to The United Methodist Church's highest legislative body supporting divestment in companies doing business in Israel as a protest to Israeli occupation of Palestinian territories."

The document continues:
A draft document positing such action in some circumstances was drafted by staff and inadvertently include (sic) in a packet of other draft resolutions distributed to Board directors; however, the staff-written, so-called "divestment resolution," had not been reviewed or cleared, as protocol requires, by several other United Methodist agencies that deal with Middle East issues.

Directors have taken no action and the draft resolution has been dropped from consideration. The General Board of Global Ministries is strongly committed to peace and justice in the Middle East. It will proceed on all policy matters related to Israel/Palestine in a collaborative relationship with its partner United Methodist agencies.
So the GBGM's staff wrote a divestment resolution? Who told them to do that? David Wildman? He will be speaking at a Sabeel conference in Boston in October. The event will be at Old South Church, no less. Sabeel has been a proponent of divestment in several mainline churches, as has David Wildman.
Posted by dvz at 05:31 PM | Comments (1)
August 16, 2007
Bisharat Bashes Israel Again
The San Francisco Chronicle has sunk to new depths with its August 15 Op-Ed by George Bisharat, "Boycott movement targets Israel."
Factual problems with the Op-Ed include the following:

* The boycott is not "a citizen-led boycott" -- it is being led by groups known for their longstanding opposition to Israel's existence.
* The comparison with South Africa has no basis in fact whatsoever. South Africa systematically discriminated against its own citizens based on race. By contrast, one-fifth of Israel's citizens are Arabs, and they enjoy full and equal rights. Indeed, Israeli Arabs enjoy more civil rights than the citizens of any majority-Arab country.
* Israel has taken security measures against Palestinians in Gaza and the West Bank, who are not Israeli citizens -- in response to a violent campaign of terrorism in which Palestinians have specifically targeted and massacred Israeli civilians -- including children -- in homes, schools, buses, discos, malls, ice cream parlors, and pizzerias. This is in no way comparable with South Africa's policies, which were motivated by racism, not security concerns, and discriminated among South Africa's own citizens.
* It is the Arab world which is guilty of ethnic cleansing. Beginning in 1948, Arab governments from Morocco to Iraq drove 900,000 Jews from their homes in the Middle East and North Africa, seizing from them everything but the clothes on their backs. Jordan was particularly brutal in ethnically cleansing the Jewish Quarter of the Old City of Jerusalem of all of its Jews -- systematically destroying virtually all of the ancient quarter's synagogues, using ancient Jewish grave markers for roads and latrines, and thereafter barring all Jews from entering the Old City, let alone praying at the Western Wall, until Israel recaptured the quarter in 1967.
* To this day, the Jewish victims of this massive ethnic cleansing have never been compensated.
* Israel does not practice torture. In fact, Israel's Supreme Court has banned the use of torture. By contrast, torture is systematically used by most of Israel's Arab neighbors, including the Hamas and Hezbollah terrorist organizations that are currently holding three Israeli soldiers hostage in violation of international law.
* The "occupation" is a consequence of Arab intransigence, not lack of Israeli interest in peace. In 1948, the Arab world attempted to strangulate Israel at birth, but lost. In 1967, the Arab world united once again in what Egyptian President Gamal Abdel Nasser publicly boasted was an attempt to destroy Israel, but once again, Israel prevailed. Yet on June 19, 1967 -- just 9 days after the completion of its stunning victory in the Six-Day War -- Israel offered to return virtually all of the territories it had captured in return for peace. The Arab states rejected the offer. In later decades, when Arab leaders Anwar Sadat and King Hussein made it clear they were seriously interested in stopping the violence, Israel traded captured land more than three times its own area in exchange for peace with Egypt and Jordan. Israel made painful concession to the Palestinians under the Oslo Accords, and unilaterally, in an attempt to reach a lasting peace agreement. Unfortunately, the Palestinians have been unwilling to make serious efforts toward that goal, refusing to put an end to terrorist attacks and incitement against Israel.

* The territories referred to are disputed, not occupied. United Nations Resolution 242, the basis for Arab-Israeli negotiations including all of the accords between Israel and the Palestinian Authority, recognizes this fact in calling on the parties to negotiate the final status of the West Bank.
* In 2000, Israel offered the Palestinians a state born in peace on virtually all of the land in dispute, with a capital in part of Jerusalem. The Palestinians rejected the offer and responded with a war of terror.
* The Islamic Republic of Iran has indeed attacked people through its Hezbollah proxy and alliance with Hamas. Iran has been responsible for numerous deadly terrorist attacks on Israelis and Jews across the world. Iran's president has publicly called for Israel to be "wiped off the map."

* The author denies that his focus on encouraging a boycott against Israel is hypocritical or motivated by anti-Semitism. But his desire to punish Israel, one of the most free and democratic countries in the world, and his conspicuous lack of interest in such human rights atrocities as Palestinian terror against Israelis, Iran's threat to annihilate Israel, or the Sudanese government's ongoing genocide campaign against black Africans in Darfur, suggest otherwise.
Stephen Silver

Posted by LG at 10:41 PM | Comments (0)
PETA Condemns Hamas' Animal Cruelty
Hamas tries to teach children to be kind to animals? No surprise that this terror organization that prides itself on blowing up children hasn't got a clue about how to teach kindness and decent behavior. Palestinian Media Watch reports that on a recent episode of "Tomorrow's Pioneers," a costumed adult playing Nahool the Bee swings a cat by its tail and torments a caged lion by throwing stones at it.
Martin Mersereau of PETA has commendably weighed in on Hamas' barbaric behavior with an eloquent letter that implicitly addressed Hamas' cruelty toward humans as well. It concluded with:
We hope, for the sake of humans and animals alike, that future episodes of Tomorrow's Pioneers will work to teach children to respect individuals of any species, no matter how "different" they may be, without demonstrating for them cruel behavior in the process.
To read the entire PETA letter and to post a comment about it, click here.
To see the video, go to PMW's bulletin.

PETA (People for the Ethical Treatment of Animals) is the world's largest animal rights organization with 1.6 million members worldwide.

We have been made aware of an episode of Tomorrow's Pioneers featuring a costumed character on the Hamas TV children's show tormenting animals as part of a segment that is apparently meant to teach children to treat animals humanely. Unfortunately, while the intention of these segments may be good, the lesson is almost certainly lost on most children, who are more likely to imitate people they see treating animals cruelly rather than understand that this behavior is wrong. We are asking you to please refrain from harming animals in future episodes of Tomorrow's Pioneers, even if the intention is to teach children a valuable lesson.

Instilling in children empathy for animals is indeed vital to helping them become compassionate, responsible citizens. Since young people are more receptive to new ideas, and since children have a natural empathy for animals, it is important that we teach them to make responsible choices that will affect how they live the rest of their lives.

Studies around the world have found that a history of cruelty to animals is one of the traits that regularly appear in the records of serial rapists, murderers, and child abusers (because domestic abuse is directed toward the powerless, animal abuse and child abuse go hand in hand). If unchecked, this abuse can later escalate to abuse of their fellow human beings, completing the cycle of violence.

Demonstrating for children a respect for even the smallest and most defenseless among us can help them to value and respect and protect one another. We hope, for the sake of humans and animals alike, that future episodes of Tomorrow's Pioneers will work to teach children to respect individuals of any species, no matter how "different" they may be, without demonstrating for them cruel behavior in the process.

For more information about teaching children about empathy and compassion, please visit: http://www.islamicconcerns.com/kids.asp.

Sincerely,

Martin Mersereau, Manager
Cruelty Casework Division, PETA (www.peta.org)
Posted by LG at 02:02 PM | Comments (3)
August 13, 2007
Jeff Halper Distorts International Law

The Israeli Committee Against House Demolitions (ICAHD), a virulently anti-Israel activist organization headed by Jeff Halper, is lying about the Fourth Geneva Convention. Read how here.
Posted by GI at 04:59 PM | Comments (0)
August 10, 2007
Hamas Stamps Out Smuggling -- Washington Post
"Egypt Finding Fewer Gaza Smuggling Tunnels; Hamas Steps Up Border Patrols, Seeking to Assert Order in Palestinian Territory" (July 30, 2007), by Washington Post foreign correspondent Ellen Knickmeyer, makes superficial seem profound. Knickmeyer writes, without journalistic skepticism, that the Hamas terrorists who purged their Fatah rivals from the Gaza Strip in a murderous five-day campaign in June have turned into conscientious border guards. She paraphrases an Egyptian official as saying that Egypt's finding fewer tunnels is "an indication of the radical Islamic group's broad success in reducing the smuggling of weapons and other contraband."
Barry Rubin, professor at the Interdisciplinary University in Herzliya and director of the Global Research for International Affairs (GLORIA) Center, supplies the missing logic: "There was an arms race between Fatah and Hamas, leading to large-scale smuggling" before the purge. Now, "Hamas has all the arms it smuggled plus all of Fatah's [captured] armaments, including materiel supplied by the United States. At this moment" — having beaten Fatah and not yet provoked large-scale fighting with Israel — it is "not expending much ammunition or losing any equipment. So Hamas doesn't need to smuggle arms for a long time, or at least needs to bring in far less." Knickmeyer and The Post mistake these circumstances as meaning, Rubin adds, that "since they aren't smuggling arms this proves that they are moderate, or at least trying to show they are acting responsibly."
"Egypt Finding Fewer Gaza Smuggling Tunnels" does not meet minimum standards of professional inquiry, let alone The Washington Post's professed investigative standards. Knickmeyer observes that "Palestinian border guards, identified by Egyptian and U.S. officials as Hamas fighters, have shed the ski masks that Hamas fighters usually wear. They have adopted military-style short haircuts and wear dark T-shirts." So readers are to believe that a change in fashion signals a change in the organizations' murderous methods, used against Fatah and still aimed at Israel? One wonders where the editors were, and where the articles on Hamas' armed build-up in the Strip and creeping imposition of Islamic fundamentalism on Gazans are. -- M.B. and E.R.
Posted by ER at 04:05 PM | Comments (0)
Ha'aretz Keeps a Secret
News organizations across the world — with a glaring exception — are reporting a key detail about today's shooting in Jerusalem:
"A Palestinian man grabbed a pistol from an Israeli security guard in Jerusalem's Old City and shot him on Friday, but was shot dead by another guard as he tried to flee, Israeli police said." – Associated Press
"Jerusalem police chief Aaron Franco said the Palestinian seized a pistol of one of the men not far from the Church of the Holy Sepulchre in the walled Old City..." – Agence France Press
"An Israeli guard shot dead Friday a Palestinian man who had taken a gun from another guard in a shootout in a rare incident of violence in Jerusalem's old city quarter." – Deutsche Presse-Agentur
"A security guard shot and killed an Arab attacker in the Old City of Jerusalem on Friday after the man shot and moderately wounded another security guard, police said." – Jerusalem Post
"A security guard at the Ateret Kohanim yeshiva in the Old City of Jerusalem shot and killed a Palestinian man who snatched the weapon of another guard and used it to wound him." – YNETnews.com
Even hours after the attack, however, the Israeli daily Ha'aretz still apparently hasn't figured out the nationality of the assailant — obviously a relevant fact in the context of the region's ethnic and nationalistic fighting.
The Ha'aretz report (as of noon eastern time) mentions discusses "the assailant," "the attacker," and "the man," but seems to have missed a fact the rest of the media noted: This was an incident of anti-Jewish violence by Palestinian Arabs.
Posted by GI at 12:11 PM | Comments (4)
August 09, 2007
Media "Failed in Fairly Distributing Relevant Information"
A Brazilian native writing in the Jerusalem Post criticizes the discrepancy between media coverage of the Arab-Israeli conflict and coverage of the situation in his home town of Rio de Janeiro:
[W]hile poverty, violence, disease and death are turning my city into a shambles, the tragedy of the hillside slums in Rio are largely accepted as the status quo by the media ...."
He notes that in the beginning of a documentary about the slums of Rio,
a screen shot in bold white letters printed over a black background offers perturbing statistics: While 467 minors were killed in Israel and the Palestinian Authority between 1987 to 2001 (a date which includes the first intifada), 3,937 minors were killed as a result of gang warfare in Rio de Janeiro alone - an 8 to 1 ratio.

NONE OF the reviews have focused on this alarming fact and the message that the Brazilian directors intended to convey by this statistic. Why does a documentary that stresses the suffering and longing of the youth in the favelas of Rio care about the deaths of minors in Israel and the Palestinian territories? Because disproportionate media attention has been given to hyped conflicts such as Israel-Palestine and Kosovo, framing the public perception to believe that those conflicts are in fact the ones in most dire need of international aid.

A questionnaire given at a "War and Peace" course at an Australian university asked 37 students to list what they thought were the three deadliest conflicts in the world as well as the conflict they thought, in terms of humanitarian conditions, was in most need of a solution.

The most prevalent answer to the first question was the Israeli-Palestinian conflict, with nine students saying it was the deadliest conflict. To the second question, 21 students responded that the Israeli-Palestinian conflict was most urgently in need of a solution. In both cases, the students, who presumably study topics in international relations, seem to have a misperception that the Israeli-Palestinian conflict is the most ghastly of all.

The students are wrong.
His conclusion: "I blame it on the media. The media is critical in setting the political agenda, and it has failed in fairly distributing relevant information."
Read the piece here.
Posted by GI at 05:16 PM | Comments (0)
August 08, 2007
Palestinian Journalists Pressured to Lie About Deaths
Relatives mourn the Arab children killed by Palestinian rockets that missed their mark/Reuters photo by Mohammed Salem
In the print edition of Ha'aretz today, Avi Issacharoff reports on the death of two Arab children in Beit Lahiya, ages 8 and 6, hit by a Palestinian rocket that fell short. He wrote:
No group claimed responsibility. Palestinian journalists, however, were pressured to report that the children were killed by an Israeli bombardment.
Posted by TS at 05:44 AM | Comments (0)
August 07, 2007
Fayyad Said, Or Didn't He?
Did or didn't Fayyad tell Israel his security forces are not capable of providing security for the West Bank?/Maan image
The Associated Press and Ha'aretz were at odds yesterday on whether or not the Palestinian Authority wants full control over the West Bank and whether it believes it has the capability to provide security there.
AP's Mohammed Daraghmeh had this to say:
The Palestinians are eager to restore the situation quickly to what it was before the outbreak of the uprising in September 2000, including assuming full control over West Bank cities again.

Israel has agreed in principle, but the military has been slow to remove its West Bank checkpoints and reserves the right to chase Palestinian militants anywhere.

"So far, we are not satisfied with the progress," said Palestinian Information Minister Riad Malki, adding that the West Bank government hopes to "take full security control of the territories."
In contrast, the leading story in Ha'aretz yesterday, entitled "Palestinians: We can't take responsiblity for security in West Bank" reported:
The Palestinian Authority's security organizations are unable to assume security control of cities in the West Bank, Prime Minister Salam Fayad told senior Israeli officials during recent meetings. Fayad told Israeli officials that the PA's security forces are unable "to impose law and order in the West Bank at this time." . . . .

During meetings with senior Israeli officials, the interim Palestinian prime minister and his interior minister, Abd al-Razek al-Yihiya, made it clear that the PA's security cannot at this time assume control of West Bank cities. Among those to whom this message was conveyed recently was Shin Bet chief Yuval Diskin.
CAMERA pointed out the contradiction to the AP, and subsequent AP stories by Karin Laub reported the discrepancy:
The Israeli daily Haaretz on Monday cited Palestinian Prime Minister Salam Fayyad as telling Israeli officials the Palestinian security forces aren't ready yet to assume control. The report contradicted the official Palestinian position that the West Bank towns should be handed over quickly.

Palestinian Information Minister Riad Malki insisted Monday that Fayyad, in recent meetings with Israeli officials, "affirmed that the Palestinian governemtn is ready to take control of all cities in the West Bank."

However, a senior Palestinian security official in the West Bank town of Bethlehem said his forces need more time and training.
Posted by TS at 05:41 AM | Comments (0)
"Hot House": Cinematic Soapbox for Murderers
Ahlam Tamimi, responsible for the murder of Malki Roth, ascends a cinematic soapbox in "Hot House"
In an Op-Ed in Ha'aretz today, Frimet Roth, the mother of 15-year-old Malki who was murdered in the 2001 Sbarro pizzeria bombing, recounts the trauma she suffers due to the documentary "Hot House," which has garnered glamorous photographs of Malki's killer in places like the New York Times.
Roth warns viewers:
[Y]ou may emerge convinced that this film conveys a balanced picture of the entire Israeli-Palestinian conflict. A film without a single appearance by a victim of the terrorists. Not one photograph. Not even one name.
Instead, the film's goal, in the words of producer Shimon Dotan, is to
"make Israelis understand the issue of Palestinian prisoners [and] think we are doing exactly the same thing [to the Palestinians] in their civilian life. We owe them empathy."
Empathy for people like Ahlam Tamimi, the young woman who helped plan the murder of Malki Roth. Tamimi sat two hours with Dotan for a "gripping" conversation. Roth reports:
He asked whether she knew how many children had perished in the bombing of Sbarro. Smiling, as she generally does, she guessed "three." "It was eight," Dotan corrected her. She seemed delighted and smiled again, asking, "really?"
Roth is outraged that "Hot House":
was primarily underwitten by Israeli government sources -- not Dotan's funds. . . The New Foundation for Film and Television was established in 1993 to essentially support the production of documentary films. With 60 percent of its budget, millions of shekels annually, coming from the Education, Culture and Sports Ministry, this foundation was a primary source of the film's budget.
Posted by TS at 03:48 AM | Comments (0)
Olmert's Office Denies Ha'aretz Story
Olmert denies the front-page Ha'aretz story that he is considering a plan to give all of the West Bank to a Palestinian state
Prime Minister Ehud Olmert's office has issued a highly unusualy press release through the Government Press Office this morning, stating:
In response to the main headline in this morning's Ha'aretz, we do not know of any plan as described in the article. We would like to clarify that such a plan has not been considered, nor is it being raised for discussion in any forum. We express our amazement at this erroneous article, which was published without any attempt being made to ascertain from us its accuracy.
The Ha'aretz story, headlined "Olmert and Peres: Palestinian state on 100% of West Bank area, with swaps," begins:
Prime Minister Ehud Olmert is examing a new framework for peace in which Israel will propose transferring to the Palestinian state area equivalent to 100 percent of the territories conquered in 1967.

Israel will suggest to the Palestinians to conduct negotiations for adequate territorial compensation from Israel's sovereign territory, in exchange for settlement blocs amounting to about 5 percent of the West Bank's area.

Israel is also examining various options of exchanging settlement blocs with Arab community blocs within Israel, in agreement with the residents. . .
Posted by TS at 02:53 AM | Comments (0)
August 06, 2007
Hier/Cooper Op-Ed No Longer on LA Times Site
The July 10, 2007 Op-Ed by Mousa Abu Marzook, a spokesman for the genocidal terrorist group Hamas who has been indicted in the United States, is still available at the Los Angeles Times Web site with its gross falsehoods completely intact.
In contrast, the July 22, 2007 Op-Ed by Rabbis Marvin Hier and Abraham Cooper of the Simon Wiesenthal Center, which excoriates the Times for giving space to a terrorist, is no longer available. (You can read it instead at Yid with Lid.) Searches on "Abu Marzook," "Hier," or "Abraham Cooper" no longer come up with the July 22 Op-Ed, and old links to the page are no longer working.
Feedback can be sent to the LA Times site here.
Posted by TS at 07:29 AM | Comments (0)
August 03, 2007
More Crimes from the Century
James M. Wall's antipathy toward Israel is a lodestar in the intellectual universe of mainline Protestantism. Hardly a month goes by when the Christian Century's resident expert on the Middle East doesn't lambaste Israel for its efforts to protect its citizens and give some sort of boost to its adversaries. This month is no different.
In his most recent piece, Rev. Wall asserts that Israel's security barrier (which he calls a wall) "does not block a pathway a suicide bomber might take into Israel; it is a barrier that divides families and communities." Wall's reasoning? Because according to an Israeli newspaper, it's not finished and won't be until 2010.
Rev. Wall, who writes that the barrier is "hardly a guarantee of protection" continues:
In other words, Israel's security wall is being constructed under false pretenses: it has little to do with security and everything to do with the expropriation of large tracts of land for Israel.
The Israelis are not looking for guarantees. They are looking for solutions. The question is not if the unfinished security barrier stops pathways suicide bombers might take to kill Israeli civilians, but whether the barrier as it currently exists, blocks pathways that suicide bombers have or will take to into Israel. And on this score, we have testimony from Palestinian terrorists. Their assessment? Yes, it works.

In November 2006, Ramadan Shalah, Palestinian Islamic Jihad leader stated that while his group had every intention of launching suicide attacks against Israel, actually carrying them out was difficult, because of a number of factors including … you guessed it ... the security barrier.
"For example," he said, "there is the separation fence, which is an obstacle to the resistance, and if it were not there the situation would be entirely different."
More recently, in June 2006, Moussa Abu Marzouq, Deputy Chairman of the Hamas Political Bureau stated that carrying out suicide attacks is "made difficult by the security fence and the gates surrounding West Bank residents".
Note that the The Intelligence and Terrorism Information Center reports that in the Arabic original Marzouq calls the barrier "the isolating fence" demonstrating that even Marzouq knows that for most of its length, the barrier is a fence and not a wall, as Rev. Wall writes. To be sure, the barrier does have tragic impacts on Palestinian families, but then again, suicide bombers have tragic impacts on Israeli families.
Readers will have to decide for themselves who has a better idea about the effectiveness and nature of Israel's security barrier – James M. Wall, a man whose contempt for Israel grows with each passing issue of Christian Century, or the terrorists who contend with the security barrier.
Now, if Rev. Wall wants to contradict Marzouq's assessment of the security barrier effectiveness, then he'll have a a tough time explaining his praise for the Palestinian leader's guest column in the July 10, 2007 issue of the Los Angeles Times. In the same piece in which he asserts the barrier is "no guarantee of protection," Wall lauds Marzouq's "sound logic and erudition" as he
refutes the mainstream media's explanation of how and why Hamas rescued British BBC journalist Alan Johnston from a militant Gaza family. Marzook explains that Hamas did not rescue Johnston "as some obsequious boon to Western powers" (the conventional wisdom in the West), but took the action to rescue Johnston "as part of our effort to secure Gaza from the lawlessness of militias and violence, no matter what the source."
If Rev. Wall trusts Marzouq's testimony about Johnston's release, then how does he square that with Marzouq's testimony about the security barrier, which contradicts Wall's assertion that it has "little do with security?"
Posted by dvz at 04:42 PM | Comments (0)
August 02, 2007
Hamas Silences More Media
In line with Hamas' perverse method of treating journalists "with dignity," the ruling party in the Gaza Strip is shutting down a popular tv program which recently was critical of the legal aspects of the Hamas takeover. The Jerusalem Post reports:
The Hamas Ministry of Information on Wednesday ordered the Ramattan News Agency and Media Services to stop broadcasting a popular TV show that dealt with the current situation in the Gaza Strip. . . .

On Wednesday morning, the Ramattan staff received a letter from the Hamas Ministry of Information instructing the agency to stop broadcasting the talk show, which is called Red Line. The program is presented by Palestinian author and journalist Hassan al-Kashef, a former director-general of the PA Ministry of Information. . . .

The last show, which was aired last Wednesday, dealt with the legal issues pertaining to Hamas's violent takeover of the Gaza Strip and the role of the Palestinian security forces in imposing law and order. Three Palestinian lawyers working for different human rights groups who appeared on the show were critical of Hamas's performance in the Gaza Strip.
Posted by TS at 04:40 AM | Comments (0)
August 01, 2007
Journalist: The French 'Understood Nothing'
Ha'aretz has a fascinating feature today about Annette Levy-Willard, a journalist with the Frency daily Liberation and author of a book about the second Lebanon war, Trente-trois Jour en Ete: Chroniques d'une Guerre Surprise (Summer Rain: A Reporter's Diary of the 2006 War Between Israel and Hezbollah). Levy-Willard recounts:
"It was important for me to narrate this in an eye-witness style," she says. "I understood that the French, who had been fascinated by the war in Lebanon, understood nothing about it.

"On the one hand, they saw the strong Israeli army and on the other, the poor Lebanese victims. But what was in between, what came between the two sides - Hezbollah - they did not see."

Levy-Willard, who to a large extent balances this picture in her book, stresses that French radio and TV, not press, tilted the balance in favor of the Lebanese and against Israel.

"There is some logic to this," she says. "The footage from Lebanon looked better than that of an empty Haifa. Especially since there were numerous pictures of bodies in Lebanon - something Israelis do not permit. And a body will always be more photogenic than a pool of blood on the ground."

Levy-Willard says the State of Israel will always lose in the French media, and not merely because of the refusal to photograph bodies.

She recalls an interview with a soldier who had just left the battle in Bint Jbail and was shaking all over, clearly in a state of trauma. Next to her stood a reporter for French radio, who completely ignored the soldier's plight and asked him: "Don't you feel arrogant?"

"He in no way wanted to hear what the soldier had to say," Levy-Willard says.

"To a large extent, to this day, De Gaulle's well-known saying about the Israelis, that they are 'a domineering nation that is full of itself,' is still emblazoned on the minds of Frenchmen."

Some members of the French press are also aware of this: A critique of her book in Le Monde stated that "Levy-Willard portrays what has never been seen in the European press - the mood of the Israelis. She allows them to speak. More than that, she listens to them."
Posted by TS at 04:56 AM | Comments (1)