« Al Hurra Free of Register | Main | Washington Times Exposes CAIR Myth »
June 13, 2007
HRW: Palestinians Endanger Journalists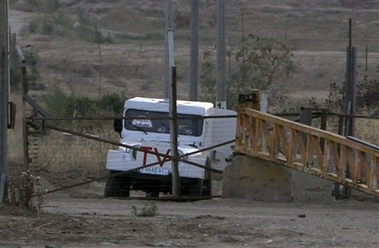 Islamic Jihad fighters used a jeep clearly marked with 'TV' and 'Press' to attack an Israeli army position/Photo by AP
Human Rights Watch's report on the internal Gaza Strip fighting among Palestinians, condemns "serious violations of international humanitarian law, in some cases amounting to war crimes," including the exploitation of journalists' protected status:
In the June 9 incident, four armed Palestinians drove a white jeep bearing "TV" insignias to a fence on the Gaza-Israel border and fired at Israeli soldiers. The Israelis returned fire, killing one Palestinian. Spokesmen for Islamic Jihad and the Al-Aqsa Martyrs Brigade, an offshoot of Fatah, claimed responsibility for the attack. An Islamic Jihad spokesperson denied that Palestinians had put press markings on the jeep used in the June 9 attack, and accused the Israeli military of doing so after the fact. However, photos taken by the Associated Press as the attack was under way show the letters "TV" written in red on the front of the jeep.

"Using a vehicle with press markings to carry out a military attack is a serious violation of the laws of war, and it also puts journalists at risk," said Whitson.

Customary international humanitarian law provides that journalists not taking direct part in hostilities in armed conflict zones "shall be considered as civilians." The deliberate abuse of this protected status in order to breach the confidence of an adversary in an attempt to kill, injure or capture them, would amount to an act of perfidy, a serious violation of international humanitarian law.
Posted by TS at June 13, 2007 03:00 AM
Comments
Guidelines for posting
This is a moderated blog. We will not post comments that include racism, bigotry, threats, or factually inaccurate material.
Post a comment