« May 2007 | Main | July 2007 »
June 28, 2007
Columnist criticizes U.N. treatment of Israel
Washington Post deputy editorial page editor and columnist Jackson Diehl answered his own question, "where does the global human rights movement stand?," this way:
"Western governments and advocates stand by as the U.N. Human Rights Council bashes Israel"
"If the first year of the United Nations Human Rights Council is any indication, it's grown sick and cynical" (A Shadow on the Human Rights Movement," June 25). Chief example? The council's all-consuming anti-Israel activities.
"While ending the scrutiny of those [Cuba and Belarus] dictatorships, the council chose to establish one permanent and special agenda item: the 'human rights situation in Palestine and other occupied Arab territories.' In other words, Israel (or 'Palestine,' in the council's terminology), alone among the nations of the world, will be subjected to continual and open-ended examination. That's in keeping with the record of the council's first year: Eleven resolutions were directed at the Jewish state. None criticized any other government."
Sudan, China, Zimbabwe, Burma, Syria, Russia, as well Cuba, Belarus and Arab terrorist movements, all real, recurrent and large-scale human rights oppressors, escaped the U.N. council's attention. But Israel, the one country in the Middle East in which human rights are routinely respected, received repeated censure. And Western self-proclaimed rights watchdogs, like Human Rights Watch, accept the travesty, Diehl points out.
George Orwell famously observed that "sometimes the first duty of intelligent men is the restatement of the obvious." In "A Shadow on the Human Rights Movement," Diehl fulfills that duty.
Posted by ER at 03:40 PM | Comments (1)
Fatah's Links to Iran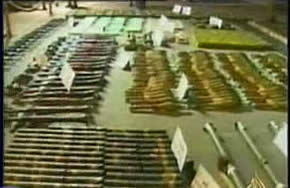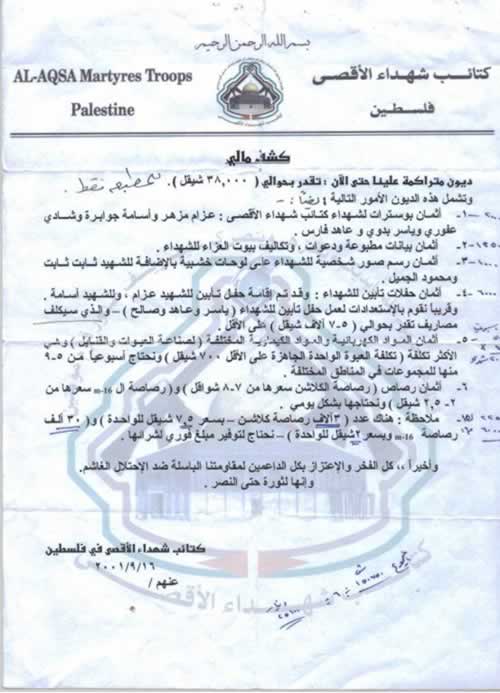 Israel recently announced its intention to release funds to the Fatah-dominated Palestinian government in the West Bank. Both the Israeli and American government want to bolster President Abbas and Fatah as a more moderate alternative to Hamas, which is viewed as being aligned with Iran. But there is concern that elements within Fatah are also linked to Iran.
A policy paper published on March 12, 2007 by former Brigadier General Shalom Harari, now a senior research scholar at the Institute for Counter-Terrorism in Israel, estimates 40 percent of Fatah's fighting groups are funded by Iran.
There is also more direct evidence of a Fatah-Iran connection. Recall the cautionary story of the Karine-A.
On January 3, 2002, a chartered ship, the Karine-A, was intercepted by Israel on its way to delivering a large cache of weapons to the Palestinian Authority (PA) from Iran. The PA was then led by Yasir Arafat and the Fatah party. The ship contained vast supplies of explosives and missiles for use against Israeli forces and civilians.
Two months later, an Israeli raid into the Jericho prison yielded a number of documents detailing this arms deal between the PA and Iran. Some of the documents captured included lists submitted by Al-Aqsa Brigades cells itemizing ammunition needs and machinery for fabricating explosive devices.
A key player in the deal was one of Yasir Arafat's most trusted lieutenants, Fuad al-Shobaki. The Intelligence and Terrorism Information Center at the Center for Special Studies published a detailed account of the siezed documents and interview with Shobaki.
During his interrogation, Shobaki described how he was tasked by Arafat to purchase weapons using funds culled in part from aid money sent by Western donors. Shobaki admitted that many of the weapons were turned over to the Al-Aqsa Martyrs Brigades.
The warning by Harari and the revelations about the Karine-A incident suggest the U.S. and Israel should exercise caution as they procede with their decision to make more funds available to Fatah.
Posted by SS at 11:04 AM | Comments (0)
June 27, 2007
University Heads and Nobel Prize Winners Against British Academic Boycott
A Scholars for Peace in the Middle East (SPME) petition against the British University and College Union anti-Israel boycott motion has garnered about 6000 signatures. The petition states that "we, the undersigned, hereby declare ourselves to be Israeli academics for purposes of any academic boycott."
As SPME notes here, the signatories include the following prize winners and university heads:
(Other distinguished signatories — and the petition — can be viewed here.)
Alexei Alexeyevich Abrikosov
Nobel Prize - Physics
Distinguished Scientist
Argonne National Laboratory, USA
Kenneth Arrow
Nobel Prize-Economics
Stanford University
Lawrence S. Bacow
President
Tufts University
Robert Brown
President
Boston University
Nancy Cantor
Chancellor and President
Syracuse University
Gerhard Casper
President-Emeritus
Stanford University
Claude Cohen- Tannoudji
Nobel Prize- Physics
Laboratoire de Physique de L'Ecole Normale Superieure
Paris, France
Jared Cohon
President
Carnegie-Mellon University
Scott Cowen
President
Tulane University

Stanley Deser
Dirac Medal
Ancell Professor of Physics
Brandeis University
Alfred Ebenbauer
Former Rector,
University of Vienna, Austria
David Gross
Nobel Prize Physics
Director,Kavli Institute for Theoretical Physics
Frederick W. Gluck Chair in Theoretical Physics
University of California at Santa Barbara
Richard Herman
Chancellor
University of Illinois- Urbana Champaign
Avram Hershko
Nobel Prize Chemistry
Distinguished Professor at the Unit of Biochemistry
Rappaport Faculty of Medicine
Technion
(Israel Institute of Technology)
Herbert A. Hauptman
Nobel Prize Chemistry
Medical Foundation of Buffalo
Roald Hoffmann
Frant H. T. Rhodes Professor of Humane Letters
Cornell University
Tim Hunt
Nobel Prize Physiology/Medicine
Cell Cycle Control Laboratory
London Research Institute
Clare Hall Laboratories
Elfriede Jelinek
Nobel Prize Literature
Austria
Richard M. Joel
President
Yeshiva University
Daniel Kahneman
Nobel Prize - Economics
Professor of Psychology
Princeton University
Eric R. Kandel
Nobel Prize - Medicine
University Professor
Columbia University
Helmut Konrad
Former Rector, University of Graz
Graz Austria
Roger Kornberg
Nobel Prize- Chemistry
Professor of Structural Biology
Stanford University
Arthur Kornberg
Nobel Prize- Medicine
Emeritus Pfeiffer Merner Professor of Biochemistry
Stanford University School of Medicine
Leon Lederman
Nobel Prize-Physics
Fermi National Accelerator Laboratory
University of Chicago
Marshall W. Nirenberg
Nobel Prize- Medicine
Biochemical Genetics
National Institutes of Health
Ross Paul
President
University of Windsor
G. David Pollick
President
Binghamton Southern College
David Politzer
Nobel Prize-Physics
California Institute of Technology
Rajendra Prasad
Rector
Jawaharlal Nehru University
New Delhi
Jehuda Rheinharz
President
Brandeis University
Richard J. Roberts
Nobel Prize-Physiology/Medicine
New England Biolabs
Richard L. Rubenstein
President Emeritus and
Distinguished Professor of Religion
University of Bridgeport
Donna Shalala
President
University of Miami
Ralph Snyderman
Chancellor Emeritus
Duke University
Graham Spanier
President
Penn State University
Shirley Strum Kenny
President
Stony Brook University
State University of New York
Steven Joel Trachtenberg
President
The George Washington University
Leslie Wagner
Chancellor
University of Derby, UK
Steven Weinberg
Nobel Prize-Physics
Josey Regental Professor of Science
University of Texas, Austin
Elie Wiesel
Nobel Peace Prize
Andrew W. Mellon Professor in the Humanities
Boston University
Frank Wilczek
Nobel Prize-Physics
Herman Feshbach Professor of Physics
Massachusetts Institute of Technology
Robert E. Witt
President
University of Alabama
Vladimir Zakharov
Dirac Medal in Theoretical Physics
Regent Professor of Mathematics
University of Arizona

Posted by GI at 08:21 PM | Comments (0)
BBC-Hamas Connection?
The Jerusalem Post reports that, according to Israeli intelligence, a Hamas member, "a close associate of senior Hamas officials," and possibly a terrorist operative is also a BBC employee.
The article further notes that although Israeli security recommended against allowing the Hamas member into Gaza, Israel acceded to the BBC's request that he be granted access to the territory, supposedly to help negotiate the release of BBC reporter Alan Johnston. A few days after his arrival in Gaza, the man "informed his BBC employers that Johnston was not being held by Hamas and therefore the group had little influence over his captors."
The broadcaster denied the charge, asserting in a statement that "BBC does not employ anyone who is a member of Hamas or any other Palestinian faction."
Read the whole story here.
Posted by GI at 10:45 AM | Comments (0)
June 26, 2007
Hamas May Be Suppressing the News -- So What's New?
A recent L.A. Times editorial urging Hamas to see to the release of BBC journalist Alan Johnston spoke of the "broader implications" of the Johnston issue:
It's no coincidence that murders of journalists worldwide are increasing. To suppress information is to hoard power; it kneecaps democratic development. ... What kind of civil society can bloom in their silence?

A modern society, whether in Gaza or Iraq, cannot aspire to political accountability if its press is terrorized.
It should be recalled, though, that suppression of the news has been a part of Palestinian Authority and PLO culture for some time, as noted in a 2004 Boston Globe column by Jeff Jacoby:
Suppressing news by threatening reporters with violence or death is one of the dirty little secrets of Middle East journalism. In his 1989 memoir "From Beirut to Jerusalem," Thomas Friedman wrote that "physical intimidation" was a major impediment to honest reporting from Beirut during the years when southern Lebanon was in the grip of Yasser Arafat's PLO.

"There were . . . stories which were deliberately ignored out of fear," Friedman admitted. "How many serious stories were written from Beirut about the well-known corruption in the PLO leadership. . . ? It would be hard to find any hint of them in Beirut reporting before the Israeli invasion." Instead of reporting what they knew, journalists censored themselves. "The Western press coddled the PLO," Friedman acknowledged. "For any Beirut-based correspondent, the name of the game was keeping on good terms with the PLO."

That was more than 20 years ago. Has anything changed?

In the wake of the 1993 Oslo Accord, Arafat and the PLO assumed control of the Palestinian population in Gaza and the West Bank. Reconstituted as the Palestinian Authority, or PA, they lost no time cracking down on the press.
Read how here.
Posted by GI at 12:36 PM | Comments (0)
Star Tribune Caption Slip-up
Powerline blogs about a photo caption error in the Star Tribune, and the response from the reader's representative:
Today in her weekly column, Parry describes a mysterious error that appeared in the caption for a photo that tends to undermine the usual MSM line on Israel:

John Kingery had doubts about the motives behind a photo caption last Sunday that read "Palestinians ran through the Erez border crossing Saturday, fleeing the Gaza Strip after Hamas' takeover. Crowds converged on the border checkpoint, but only a small number were allowed through to Egypt."

The problem, he wrote, was that the Erez border crossing goes to Israel, not Egypt. What's more, Kingery located the original Associated Press photo and caption, and saw that the caption the AP provided had correctly said "Palestinians run as they try to cross to the Israel side at the Erez Crossing . ..."I reached the conclusion it was either incompetence or bias" that prompted the Star Tribune to change the destination of the fleeing Palestinians, Kingery said. He suspected bias against Israel.

"So the writers/editors of the Star Tribune intentionally changed the caption on an AP photo to read to their bias, completely changing the significance of the photo," Kingery said.

Nan Williams, the copy editor who wrote the errant caption, said it was far less complex: "I was helping out on deadline. We were crunched. It was a stupid mistake." A correction about the caption is scheduled to run today.
JOHN adds: This really is an interesting one. This is evidently the photo in question; the caption is lengthy and was not quoted in full by Ms. Parry. Note that it mentions Israel three times, and never mentions Egypt:

Palestinians run as they try to cross to the Israel side at the Erez Crossing, in the northern Gaza Strip, Saturday, June 16, 2007. Dozens of Palestinians converged on the Erez crossing with Israel on Saturday, trying to leave the Gaza Strip following Hamas' takeover. At the same time, hundreds of people looted police positions on the Palestinian side of Erez, and at one point Israeli troops fired in the air to keep the crowd at bay. The looters walked off with furniture and scrap metal. (AP Photo/Hatem Moussa)

The Star Tribune copy editor shortened the caption considerably, which was probably necessary in view of the caption's length. The main impact of the abridgment was to eliminate all reference to looting or other misbehavior by the Palestinians. As modified by the Star Tribune, the Palestinians are victims: "Crowds converged" but only a "small number were allowed through." Assuming I've identified the right picture, and I couldn't find any other candidates, the modification of the caption arguably reflects a set of attitudes and assumptions about the Middle East that is broadly typical of the Star Tribune. The substitution of "Egypt" for "Israel," notwithstanding the three mentions of Israel in the text, is consistent with these attitudes and assumptions. If it occurred inadvertently as a result of haste, it perhaps represents what liberals like to call "unconscious bias."

Posted by TS at 04:43 AM | Comments (0)
Terrorists As Movie Stars
In August 2006, Mike Wallace allowed Mahmoud Ahmadinejad "to brush him off with inanities and lies," observed Jeff Jacoby
In a Jerusalem Post analysis, Shelly Paz comments on the high-profile appearances of terrorists in the mainstream media as a means of manipulation. She points to the videos released yesterday of Gilad Shalit and Alan Johnston:
"Terror is a political act of psychological warfare. The terrorists' purpose is to influence the viewers and to motivate them into political action. That is achieved by creating fear among the viewers who, as a result, are ready to put pressure on their politicians to change policy, for example, to give back occupied territories or to free many prisoners," [terrorism expert Eviathar] Ben-Zedeff explained. . . .

Ben-Zedeff believes that the reporters and especially the editors of the world's mainstream media have to filter the news items they decide to publish more thoroughly to change this reality.

"When Osama Bin-Laden sent his tape to the media, a few days after his organization attacked the Twin Towers in New York, the American communications media reported on the tape but didn't use the footage. By taking this decision, they didn't let Bin-Laden achieve what he hoped to achieve. This model has to be implemented here as well."
In other words, the Washington Post, New York Times, and International Herald Tribune were recently manipulated as a Hamas tool when they ran the Ahmad Yousef Op-Eds. Paz continues:
Prof. Tamar Liebes, head of the Communications faculty at the Hebrew University of Jerusalem, cited the competition between the media as well as increased globalization. These factors led to the reality that terrorists are now covered and treated in the mainstream media as legitimate "movie stars."

"Terrorists are interviewed on their own terms; they dictate the questions they are asked and the journalists cannot ask hard questions because if they do they will not get the next interview or worse, their lives will be in danger, especially in areas like Gaza or Iraq," she said. "Nowadays, terrorists pass the media's gate through the front door while in the past they were considered the bad guys whom no one wanted to give a stage from which to speak."

Liebes believes that this phenomenon significantly interferes with the journalist's work. Due to competition, journalists are forced to report immediately without even checking the information they have received, Liebes said. "They chase rockets and report on them live and create the atmosphere that everyplace is under attack, they don't invest time in research work, they are led instead of leading," she said.
Posted by TS at 02:07 AM | Comments (0)
June 25, 2007
Video Shows Johnston with Bomb Belt
A frame from the video of Alan Johnston, released today/AP
There were intimations that today would be a fateful day for BBC's Alan Johnston, with Hamas pledging to attempt to release him by force.
His captors, the Dughmush clan, are having none of it, and the Army of Islam reportedly released a video of Johnston wearing an explosives belt. AP reports:
Army of Islam later made the one minute and 42-second-long video available on a web site early Monday morning.

In the video, Johnston is wearing an apparent explosives belt of the type suicide bombers use and warning it will be detonated if an attempt is made to free him by force.

It opens with the title "Alan's Appeal" in both English and Arabic and features the logo of the Army of Islam, a shadowy group that has claimed responsibility for snatching Johnston.

"Captors tell me that very promising negotiations were ruined when the Hamas movement and the British government decided to press for a military solution to this kidnapping," Johnston says in the recording, looking nervous and stressed.

"And the situation is now very serious, as you can see."

Johnston is seen wearing a red sweater with a blue and white checked vest strapped around his body - the apparent bomb belt.

"I have been dressed in what is an explosive belt, which the kidnappers say will be detonated if there is an attempt to storm the area," he continues. "They say they are ready to turn the hide-out into what they describe as a death zone if there is an attempt to free me by force."
Posted by TS at 02:43 AM | Comments (0)
NY Times, Washington Post Peddle Hamas Propaganda
The Ahmed Yousef (above) Op-Eds did not not note that the United States considers Hamas a terrorist organization
The Hamas propaganda war is in full swing, and last week the New York Times, Washington Post and International Herald Tribune were on the frontlines. All ran Op-Eds from Hamas' Ahmed Yousef. The Jerusalem Post reports:
Several Jewish organizations expressed outrage following the publication of opinion pieces authored by a Hamas figure in two of the US's most prestigious newspapers on Wednesday. . .

Yousef's articles were "gross misrepresentations" of the truth, according to Dr. Alex Safian, associate director of the Committee for Accuracy in Middle East Reporting in America (CAMERA). For example, Safian said that although Yousef claimed in his Times editorial that Hamas adhered to an 18-month cease fire, Hamas, as the governing body of the PA, did nothing to stymie the rocket attacks that were being launched from Hamas-controlled territory.

"The newspapers are allowing the terrorist groups to lie about their positions, and that is simply unacceptable," said Safian. "It's nonsensical for the Washington Post and the New York Times to open up their pages to what is just pure propaganda."
Posted by TS at 02:06 AM | Comments (2)
June 24, 2007
Hamas-Clan Standoff Over BBC Man
In May, BBC and UN officials in Tehran marked Alan Johnston's birthday and called for his release
Tomorrow may be a fateful day for captive BBC journalist Alan Johnston, the Jerusalem Post reports:
Mumtaz Dughmush, the head of the Gaza clan that has been holding BBC correspondent Alan Johnston for the past 100 days, is refusing to release the journalist for fear that Hamas will kill him and most of his clan members.

Dughmush, who is known as Abu Muhammad, is negotiating Johnston's release with Hamas leaders in return for assurances that he and his relatives will not be killed, sources close to Hamas told The Jerusalem Post Thursday.

Member of clan holding Johnston killed
Since last Saturday, the sources said, dozens of Hamas militiamen have been surrounding the area where the Dughmush clan lives in Gaza City's Sabra neighborhood. Hamas has warned that it will use force unless Johnston is freed by Monday. . .

On Wednesday, a member of the clan, Munir Dughmush, was shot by unknown gunmen in Gaza City's Zeitoun neighborhood. His killing raised fears that the clan might try to kidnap another foreigner.

The Foreign Press Association has advised its members to take precautionary measures when visiting the Gaza Strip for fear of reprisal. . . .

The official expressed fear that the Dughmush clan might kill Johnston at the request of Dahlan and other top Fatah leaders to prevent Hamas from taking credit for his release.
Posted by TS at 05:41 AM | Comments (0)
Prof. Cole: Write The Editor, Ahmadinejad Didn't Mean It
Michael Rubin at NRO's The Corner reports that academics and policymakers, like Professor Juan Cole, are bending over backwards to deny that Ahmadinejad doesn't really call for Israel to be wiped off the map:
Today, the National Iranian American Council—a lobby group advocating the normalization of ties between the United States and the Islamic Republic—published this analysis, which ends:

The proper translation of Ahmadinejad's quotes has been the subject of some debate. Kucinich argued that the translations used in the bill were either misquoted or out of context, offering alternative translations from the New York Times to convey his point.

It's a line which originated with Juan Cole, a University of Michigan professor, has peddled. Indeed, Cole wrote:

I have a suggestion for my readers. Every time you see a newspaper article that alleges that Ahmadinejad said that Israel should be wiped off the face of the map, please write the editor. Say that this idiom does not exist in Persian, and that what Ahmadinejad actually said was, "This occupation regime over Jerusalem must vanish from the page of time." And you can cite me.

Perhaps one can quibble over how to render a translation. Here, the Islamic Republic provides its own clarification. In its official translations, it headlined Ahmadinejad's call to "wipe Israel off the map."
Posted by TS at 05:24 AM | Comments (4)
In Heated Speech, the Truth Spills Out
Abbas addressing Fatah leaders/Photo by Reuters
IMRA notes "Mahmoud Abbas, aka Abu Mazen, in a moment of anger, admits that the Arabs now known as 'Palestinians' came to the region with the Arab invasion." MEMRI's translation of Abbas' raging speech against Hamas includes this rare admission that Palestinian Arabs are not indigenous to the region:
[Indeed,] even the churches were not spared. One of the oldest churches in Palestine, which stood long before our arrival [in the region], was looted and set on fire.
Note: We tried to find a picture of the desecrated Gaza churches, but Hamas did an effective job keeping these images away from the media.
Posted by TS at 04:15 AM | Comments (3)
June 21, 2007
The Making of Mideast News at the New Yorker
Two months before the fighting broke out between the Lebanese army and Fatal al-Islam, Seymour Hersh claimed that Prime Minister Siniora was funneling money to the terrorist group
Emmanuel Sivan writes about the very dubious origins of a bizarre claim written by Seymour Hersh in the New Yorker
that the U.S. administration, embracing realpolitik, was siding with the Sunnis in their conflict with the Shi'ites. This led the administration to cooperate even with those who are hostile toward the United States, including groups linked to Al-Qaida. To back up his claim, Hersh wrote that the United States was transferring funds to the government of Lebanese Prime Minister Fouad Siniora, even though it knew some of the money was going to the Palestinian group Fatah al-Islam in the Nahr el-Bared refugee camp in northern Lebanon. (The article was published about two months before fighting broke out between Fatah al-Islam and the Lebanese army.)

Sharp-eyed reporters in Beirut read the article in astonishment. Siniora, of the Lebanese Sunni establishment, was assisting allies of Al-Qaida who had split off from a pro-Syrian organization? And the United States was aware of this and might even be planning it, in order to strike at Hezbollah? And all this was in the context of aid to the Sunni forces in the Middle East in their conflict with Shi'ites backed, according to Hersh, by Iran? A world turned on its head. How could it be?

But it was published in The New Yorker, a magazine known for its meticulous fact-checking. The Lebanese reporters began investigating the story on their own.
Hersh said he heard the story from Robert Fisk, the bureau chief of The Independent's Beirut office. But Hersh did not check out the story himself. For his part, Fisk said he heard the unconfirmed report from Alastair Crooke, a former British intelligence agent and the founding director and Middle East representative of the Conflicts Forum, a non-profit organization that aims to build a new relationship between the West and the Muslim world. Crooke, who gained his reputation through his involvement in the conflict in northern Ireland, does not know Arabic. When Lebanese journalists spoke to Crooke about the report, they said he told them only that he had heard it "from all kinds of people."
Posted by TS at 05:58 AM | Comments (1)
Palestinian Condemnation for Attacks on Journalists
The Palestinian Center for Human Rights details and condemns the numerous violent attacks on Palestinian media insitutions:
PCHR strongly condemns increasing attacks on media institutions in the Occupied Palestinian Territory in the context of the conflict between Hamas and Fatah movements. PCHR calls upon the Palestinian National Authority (PNA) and Hamas and Fatah movements to take serious steps to stop such attacks which undermine the freedom of expression and the right to receive and impart information, which are a cornerstone of any democratic regime.

According to PCHR's documentation, a number of media institutions known of connections to the two parties of the conflict and others were attacked by militants from the two parties or by unknown militants in areas that were under field control of the two parties. Such attacks included storming and robbing media offices, closing and damaging television and radio stations, preventing the distributions of newspapers, and other attacks that all undermine press freedoms.
Posted by TS at 04:39 AM | Comments (1)
June 20, 2007
Still, the Silence
When gunmen start throwing one another off of rooftops, most people would recoil in horror and offer some word of criticism for those responsible. Most people would have no problem stating explicitly that it is wrong to murder men in front of their wives and children. Most people would also say, without much prodding, that cutting the legs off of the corpses of your political opponents in the street is a bad thing. Not only does such behavior make people think poorly of you, it is wrong. It is disgraceful.
Nevertheless, there is one group of people in the United States who did not feel compelled to comment on this behavior as it took place in the Gaza Strip last week. The leaders and peace activists of mainline Protestant churches in the U.S. who have been ardent supporters of the cause of Palestinian nationalism and vocal critics of Israeli policy, have said little if anything about the violence that resulted in Hamas's brutal takeover of the Gaza Strip during the second week of June.
Churches that have been quick to blame Israel had a frog stuck in their collective throats when three children of a Palestinian Authority official were murdered outside their school in late November 2006. These same churches remained silent when the violence began again in earnest on June 11 and said nothing when Hamas claimed victory on June 14. Instead of speaking about the violence on their own, they have for the most part, relied on statements issued by Christian leaders in Jerusalem and by the the World Council of Churches to serve as their "prophetic witness."
This might be tolerable if the statements from the Christian leaders in Jerusalem and from the WCC were authentic and truthful responses to Hamas's brutal takeover of the Gaza Strip, but predictably, the message from both groups is, in effect, "It's Israel's fault."
In their statement, Christian leaders in Jerusalem called on Hamas and Fatah to stop the "domestic fighting" so that they can address the real problem facing the Palestinian people – the occupation. Last week, links to this statement on denominational websites and blogs served as a fig leaf (Gen. 3:7) to cover the silence of mainline churches over the violence in the Gaza Strip.
Rev. Dr. Samuel Kobia, general secretary of the World Council of Churches barely mentioned the violence in the Gaza Strip in his speech to an international peace conference in Amman, Jordan. "The chair beside you may be empty because our conferees from Gaza could not come," Kobia told those in attendence, failing to mention that Christians in the Gaza Strip are essentially under siege.
In a press release issued by the WCC, the organization stated the "the occupation hurts human dignity on both sides." The same could be said about Palestinian terrorism, but for some reason the WCC's prophetic imagination could not make it up that hill.
For some reason, the World Council of Churches, the Christian leaders in Jerusalem, and their enablers in the U.S. seem unable to acknowledge one salient fact. The intra-Palestinian violence and bloodshed exploded in the Gaza Strip after Israel withdrew in August 2005.
Rev. Cally Rogers-Witte, Executive Minister of UCC Wider Church Ministries and co-executive of Global Ministries, did offer one interesting exception to the general silence from mainline churches about the violence in the Gaza Strip. Rogers-Witte prefaced the statement from Christian leaders in Jerusalem with an acknowledgement of the "terrible suffering and the problems" in the Gaza Strip, but also asserted that they were "exacerbated by the lack of a negotiated peace with Israel." While it's nice to see that Witte is honest enough not to blame the "occupation" for Palestinian-on-Palestinian violence in the Gaza Strip, she still fails to explain how the lack of a treaty with Israel (which Arafat scuttled in 2000 and 2001) causes Palestinians to shoot each other and throw one another off of rooftops.
At what point will mainline churches, and the institutions they support, stop viewing Palestinian suffering exclusively through a lens of Israeli misdeeds and call on Palestinian leaders to guard against the sin crouching at the door? When will mainline churches, and the institutions they support acknowledge moral agency (and failure) on the part of Palestinian leaders?
Condemning Palestinian leaders for the violence in the Gaza Strip should have been a no-brainer for the leaders and peace activists in so-called progressive churches in the U.S. By condemning Palestinian leaders for the bloodshed in the Gaza Strip, Christians who have been so quick to blame Israel for the suffering in the West Bank and the Gaza Strip could have easily inoculated themselves against persistent charges of bias against Israel and its leaders. Instead, they said nothing about the violence in the Gaza Strip as it was happening and waited to sing along with the choir once it found the "blame Israel" hymn it was looking for.
This episode is not part of any "secret history." It's part of a larger pattern well-known to anyone with eyes to see. Mainstream Jewish groups in the U.S. have long been critical of the one-sided narrative offered by mainline churches in the U.S.
They condemned the Presbyterian Church (USA) in 2004 when its General Assembly voted to initiate a process of phased selective divestment from companies that did business with Israel's military. They condemned the general synods of the United Church of Christ and the Disciples of Christ (the Disciples) in 2005 when they passed resolutions telling Israel to take down the security barrier – without asking the Palestinians to stop the terror attacks that prompted its construction.
More recently, the Anti-Defamation League condemned the leaders of the UCC and the Disciples for failing to acknowledge that Israelis have been killed by Arab violence in the years since the Six Day War in a statement issued by the two denominations on June 5. (The way these two denominations talked about the 40th anniversary of the Six Day War, the worst things that happened in Israel since 1967 is ongoing debate about what to do in the Gaza Strip and the West Bank and mandatory military service. The suicide bombings, the sniper attacks, the Yom Kippur War? Not even mentioned.)
The sad reality is this: Mainline Protestant leaders have never found Arab animosity toward Israel all that remarkable. They sometimes offer vague calls affirming Israel's right to exist, but they never explain why such calls are necessary. Instead, they continually affirm Palestinian nationalism, all in the name of ending Palestinian suffering and humiliation, which is nearly always portrayed as the result of Israeli actions. The empirical truth is that progressive church institutions remain largely silent about Palestinian suffering that cannot be blamed on the Israelis. This has been the case for years, decades.
Take a look at the statements about the Arab-Israeli conflict issued by churches and para-church institutions in the U.S. and you will see that the prophetic voice of the progressive church community in the U.S. is not triggered by Arab enmity and violence, but by Israeli actions.
For example, Churches for Middle East Peace, a group that complained in February about Israeli excavating near the Mughrabi Gate in the Old City. The CMEP, however, has offered little if any condemnation of Palestinians murdering each other in the street, or of Fatah and Hamas "militants" throwing one another off roofs in the Gaza Strip. Instead, its website highlights its efforts to lobby the U.S. Senate to pass a resolution calling on the Bush Administration to engage in a "robust diplomatic effort" to bring peace between Israel and its adversaries.
Mainline churches and the institutions they support put more emphasis on the 40th Anniversary of the Six Day War than they did the ongoing violence in the Gaza Strip. A forty-year-old Israeli victory against Arab leaders and armies intent on destroying the Jewish state evokes greater objection from these churches than Palestinian children being murdered outside their school, husbands being murdered in front of their families, and corpses being mutilated.
Mainline silence about Arab hostiltity toward Israel -- and its impact on Arab societies -- is nothing new.
In July 1967, the Christian Century published a two-part essay by A. Roy Eckhardt and Alice Eckhardt, prominent commentators on Christian-Jewish relations. The essay titled "Again, The Silence," condemned the failure of church institutions in the U.S. to speak forcefully about the threat faced by Israel in the weeks before the yet-unnamed Six Day War. For the Eckhardt's the failure of Christian churches and institutions to name and condemn the annihilationist rhetoric put forth by Arab leaders was similar to the failure of Christian churches in the U.S. to fully acknowledge the horrible violence perpetrated against the Jews in Europe during the 1930s and 40s.
The guilt of the Christian community for its dominant silence amid the nazi slaughterers of the Jewish people has been increasingly confessed within both Catholic and Protestant circles. Yet within the past weeks the extermination of the entire nation of Israel almost occurred, once again there was silence in the churches.
Again the silence?
No.
Still, the silence.
Posted by CameraBlog at 01:55 PM | Comments (5)
A Photo Raises Questions About Arafat's Legacy Among Palestinians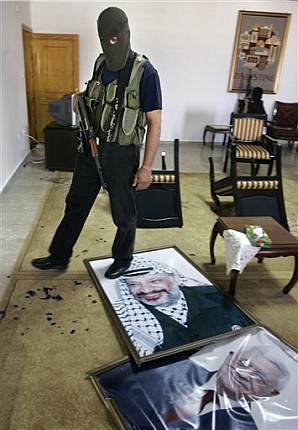 A photograph showing portraits of current Palestinian President Mahmoud Abbas and former PLO leader Yasser Arafat strewn on the floor with a Hamas militant standing on Arafat's portrait has been widely displayed in the media. While it is not surprising to see Abbas's portrait on the floor, there has been little comment about the significance of Arafat's portrait lying there as well. Accompanying the photograph is a report in the Jerusalem Post that looters raided Arafat's former home, which had been preserved as a memorial to the central icon of the Palestinian national movement.
"They stole almost everything inside the house, including Arafat's Nobel Peace Prize medal," said Ramallah-based Fatah spokesman Ahmed Abdel Rahman. "Hamas militiamen and gangsters blew up the main entrance to the house before storming it. They stole many of Arafat's documents and files, gifts he had received from world leaders and even his military outfits."
Posted by SS at 12:50 PM | Comments (0)
Noose on IBA News Loosened
The Jerusalem Post updates that Israel Broadcasting Authority English news -- apparently both radio and television -- will stay on the air, a development since last week:
The Israel Broadcasting Authority's Management Committee has extended the grace period for the administration and union workers to reach an agreement on cost-cutting efficiency measures, but made it clear that for as long as there is public broadcasting, foreign language programs will remain on the air.

Only a few short weeks ago, all foreign language broadcasts with the exception of Arabic, which is Israel's second official language, were under threat of closure.
Posted by TS at 03:55 AM | Comments (1)
Appeal from Ma'an Editor
The Palestinian Ma'an News Agency had considered closing its Gaza office after threats
The editor of the independent Palestinian Ma'an news agency, which was threatened by rival factions, issued an appeal, which highlights, among other things, that there are no longer any foreign reporters covering Gaza:
Meanwhile, we call on Hamas to allow foreign journalists to resume coverage of the Gaza Strip events in order to preserve the freedom of journalism and act as a civilized nation.

One leader threatened to wring a correspondent's neck and another threatened to spread damning reports about Ma'an and so on.

To avoid talking about Ma'an only, let us remember that the press situation in the Palestinian territories is very dangerous; reporters are unable to report the truth as they see it because there are parties which try to determine what main story to choose and what photo to attach to the news story. A leading militia personality threatened a female journalist that if a story is not sent as news, in the form of a short message sent to Palestinian mobile phones, she would suffer terrible repercussions.

At any rate, our families and children, Arabs and foreigners, watch everyday open transmissions on satellite TV stations and radios. From a professional point of view, as long as there are open transmissions on air for every angry rival to say whatever he likes, the situation will remain tense and the wound will remain open.
Recall the uproar when Israel denied press access in the first days of the March 2002 Operation Defensive Shield. Yet, to date, the Committee to Protect Journalists has not even mentioned that foreign journalists are prevented from covering events in the Gaza Strip.
(Hat tip: IMRA)
Posted by TS at 02:45 AM | Comments (0)
June 19, 2007
Ask Jeremy Bowen
Jeremy Bowen
Jeremy Bowen, biased Middle East editor of the BBC, is presently in the West Bank answering readers' and listeners' questions. From the BBC Web site:
In the light of recent events in Gaza and the West Bank, the BBC's Middle East editor will answer a selection of your questions over the next few days. Jeremy Bowen will be emailing his responses from the West Bank town of Ramallah.
Click here to ask him some hard-hitting questions.

Posted by RH at 02:43 PM | Comments (0)
NY Times: Fouad Ajami on the Hamas-Fatah Split
Fouad Ajami
In a New York Times Op-Ed, Fouad Ajami, journalist and professor at Johns Hopkins School of Advanced International Studies, had some hard-hitting things to say about what brought about the current Palestinian situation and points out the fallacy of those who suggest this new situation is an opportunity for bringing peace to the region:
Some see this as a tolerable situation, maybe even an improvement, envisioning a secularist Fatah-run state living peacefully alongside Israel and a small, radical Gaza hemmed in by Israeli troops. It's always tempting to look for salvation in disaster, but in this case it's sheer fantasy...

...It is idle to think that Gaza could be written off as a Hamas dominion while Fatah held its own in the towns of the West Bank. The abdication and the anarchy have damaged both Palestinian realms. Nablus in the West Bank is no more amenable to reason than is Gaza; the writ of the pitiless preachers and gunmen is the norm in both places.
Posted by RH at 02:11 PM | Comments (0)
June 17, 2007
At BBC, Capital Offense
Stop the presses! BBC just apologized profusely for an "accidental, factual mistake" in its Mideast coverage. Was it for inverting the historical truth by falsely claiming that Israel fought the 1967 war to take care of "unfinished business" from 1948? Was it for falsely representing the water situation concerning Israel and its neighbors? For its horribly skewed history of Jerusalem?
No, according to the Jerusalem Post:
The BBC apologized this week for referring to Jerusalem as Israel's capital, and promised not to repeat "the mistake," following a complaint by four British organizations.

Arab Media Watch, Muslim Public Affairs Committee, Friends of Al-Aksa and the Institute of Islamic Political Thought sent a joint complaint to the BBC after a presenter on its Football Focus program on March 24 mentioned that Jerusalem was Israel's capital and "historic soul."

The BBC's Editorial Complaints Unit posted a response on its Web site: "The reference was a passing one in a context where the focus was on sport, not politics. While recognizing the sensitivity of the issue of the status of Jerusalem, the ECU took the view that the program-makers had taken sufficient action by acknowledging the error and rectifying the Web site."

The Editorial Complaints Unit's ruling was: "Complaint resolved."

In a letter to the complaining NGOs, Fraser Steel, head of editorial complaints at the BBC, said: "We of course accept that the international community does not recognize Jerusalem as Israel's capital, and that the BBC should not describe it as such. I was therefore pleased to see that Katherine Tsang [BBC Information adviser], when she wrote to you in April, acknowledged the error and apologized for it. [Presenter] Steve Boulton and other senior managers in BBC Sport told us they very much regret the mistake and apologize for it."

"Senior managers will try to ensure, as you suggest, that the mistake is not repeated. Because it appears on the Web site, there will be a public acknowledgement of the error, and the action taken in consequence."

Steel added: "I'd like to add my apologies for this most regrettable, but I'm sure accidental, factual mistake. I appreciate that the status of Jerusalem is of particular concern to Palestinians, and it is important that it is not misrepresented. I am confident that lessons have already been learned, and they will be emphasized as a result of my decision."
Posted by TS at 04:27 AM | Comments (0)
Changing the Picture in Gaza
This pair of Reuters photos showing damage to Ismail Haniyeh's home reveals that the background portrait of Sheikh Ahmed Yassin was removed

Snapped Shot (no relation to CAMERA Snapshots) notes an interesting changed backdrop in Reuters photos of Gaza violence, resulting in an image of a "kinder, gentler jihad."

(Hat tip: Barry R.)

Posted by TS at 03:16 AM | Comments (0)
June 14, 2007
We're not Jews
We're not Jews.
Those are some of the last words uttered by a Palestinian man before he was dragged out of a home in the Gaza Strip and shot to death during the recent fighting between Hamas and Fatah. The man, the un-named brother of Jamal Abu Jediyan, a Fatah commander, spoke these words to a radio station while Hamas gunmen stood outside, awaiting his capture and ultimate murder.
An article in the Telegraph reported that minutes after the man made his plea over the airwaves of the radio station, both he and his brother "were dragged into the streets and riddled with bullets."
While our imagination is justifiably drawn to the horrifying scene of the murders, we would do well to pay close attention to the public speech that preceded the un-named brother's death.
We're not Jews.
In his appeal for mercy, the un-named brother was desperately trying to tap into vestiges of solidarity between him and his ultimate murderers by affirming a shared value – obsessive Jew-hatred. His plea for mercy was not based on his own humanity and that of his captors, but in his status as a non-Jew and their shared enmity toward Jews. Implicit in this statement is the notion that if he were a Jew, his murder would be understandable, obligatory.
Jew-hatred in Palestinian society has largely gone un-remarked by would be peacemakers in progressive mainline churches in the U.S. Mainline churches, which have largely remained silent about the violence in the Gaza Strip, have offered little if any criticism of the anti-Semitism that has crippled the Palestinian people in their quest for a future.
This enmity is no longer directed at Jews, but at Palestinians that Hamas deems insufficiently hostile to them, which right now means Fatah. The fault between Hamas and Fatah is not over whether or not Jews are to be hated, but by how much.
In an article recently translated by the Middle East Media Research Institute (MEMRI), Egyptian author Kamal Gabriel detailed the process by which enmity toward Jews – stoked by Arab leaders – has made Palestinian society a cauldron of violence.
At first [hate] was directed against the so-called the Israeli enemy, and it uprooted any possibility of or tendency towards rational mutual comprehension or of recourse to discussion, dialogue, and negotiation - what is known as peaceful resolution - and it raised the slogan of "clinging to the choice of resistance."
This hate proved to be uncontrollable, Gabriel reports.
Thus we observed, and gave our blessing to, the conflagrations of violence and hatred, and they extended from [being aimed at] the Zionist enemy to [being aimed at] anyone who befriended it or helped it - even if they helped us as well, and even if it was someone on whom we depended for medicine, food, and everything.
Then, Gabriel says what peacemakers in mainline churches have so far refused to acknowledge.
… the true crisis in the region is that the peoples of the region need psychological and cultural reeducation - which must necessarily be preceded by halting the discourse of violence, incitement, and hatred, in all its colors and classifications.
Mainline church leaders and peace activists routinely invoke Israeli critics of Israel and anti-Zionist Jews in the U.S. to buttress the anti-Israel narrative they have embraced. When will they listen to Arab truth tellers such as Gabriel in a true effort to offer a narrative that makes for peace?

Posted by CameraBlog at 04:10 PM | Comments (2)
June 13, 2007
Impeccable Timing - The EU Quietly Moves Towards Resuming Aid to the Hamas Government
With little fanfare the EU has decided to test the waters for resuming aid to the Hamas-dominated Palestinian government. The aid being offered, only 5.3 million dollars, according to a report in the Ottawa Citizen on June 12, is to be provided over the next few years to monitor the "growing flow of donor funds." The timing of the aid announcement was impeccable, coming just as Hamas launches it final push to finish off Fatah in Gaza.
Meanwhile, French foreign ministry officials and a growing chorus of EU MPs are urging the EU to end the sanctions regime against Hamas and resume large-scale budgetary aid the Palestinian government.
The Australian on June 14 notes that only three months ago, Hamas had agreed to a unity government with Fatah "in a bid to break an international aid and economic blockade of the Palestinian Authority put in place after it deposed Fatah in democratic elections in January last year." How ironic it is that the Europeans are moving toward direct funding and recognition of the Hamas-dominated government just as the unity agreement between Hamas and Fatah is unraveling.
Posted by SS at 02:16 PM | Comments (1)
The Problem With Relying on Terrorist Sources

PIJ distributed these images showing the preparation of the jeep used in the June 9 attack. The TV and Press signs which were attached before the attack are not shown. (Jerusalem Battalions' Website).
The Intelligence and Terrorism Information Center documents how Palestinian Islamic Jihad deliberately misled about its disguise of a jeep as a press vehicle in the Kissufim crossing attack, and observes:
In the absence of freedom of movement and access to where fighting takes place, to a great extent the Arab and Western media are forced to rely on verbal and visual reporting supplied by the Palestinian terrorist organizations operating in the Gaza Strip. That reliance necessarily exposes the media to manipulation and fabrications integrated into "factual" information and the photographs supplied to them by the terrorist organization, as is clearly illustrated by the Kissufim Crossing attack
Posted by TS at 05:21 AM | Comments (1)
Israel's English Radio To Stay; TV Future Uncertain
Ha'aretz reports:
The Israel Broadcasting Authority decided Monday not to cancel its English-language radio news broadcasts, despite earlier threats due to cost-saving measures. The future of IBA television news broadcasts, however, remains unclear. . .

IBA English News editor Steve Leibowitz expressed his concern over the possible closure. "We're the one [English-language] voice that presents an Israeli perspective on television, and now they want to eliminate that voice," Leibowitz said. "It doesn't make any sense, especially considering the other options like CNN, Al Jazeera and the BBC."
Posted by TS at 05:08 AM | Comments (0)
Washington Times Exposes CAIR Myth
CAIR's national membership is down by 90% since 9/11
On issues of concern to the American Muslim public, CAIR (the Council on American-Islamic Relations), is often the first to be quoted by the media. An investigative report by the Washington Times, however, reveals that CAIR, with its extremist ties, actually speaks for a small -- and decreasing --number of American Muslims:
Membership in the Council on American-Islamic Relations (CAIR) has declined more than 90 percent since the 2001 terrorist attacks, according to tax documents obtained by The Washington Times.

The number of reported members spiraled down from more than 29,000 in 2000 to fewer than 1,700 in 2006. As a result, the Muslim rights group's annual income from dues dropped from $732,765 in 2000, when yearly dues cost $25, to $58,750 last year, when the group charged $35.

The organization instead is relying on about two dozen donors a year to contribute the majority of the money for CAIR's budget, which reached nearly $3 million last year. . .

Critics of the organization say they are not surprised that membership is sagging, and that a recent decision by the Justice Department to name CAIR as "unindicted co-conspirators" in a federal case against another foundation charged with providing funds to a terrorist group could discourage new members.

M. Zuhdi Jasser, director of American Islamic Forum for Democracy, says the sharp decline in membership calls into question whether the organization speaks for American Muslims, as the group has claimed.

"This is the untold story in the myth that CAIR represents the American Muslim population. They only represent their membership and donors," Mr. Jasser said.

"Post-9/11, they have marginalized themselves by their tired exploitation of media attention for victimization issues at the expense of representing the priorities of the American Muslim population," Mr. Jasser said.
Posted by TS at 03:29 AM | Comments (2)
HRW: Palestinians Endanger Journalists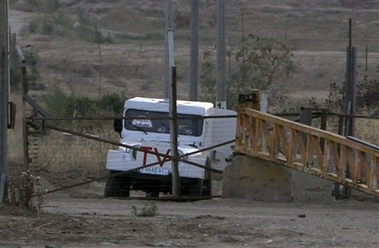 Islamic Jihad fighters used a jeep clearly marked with 'TV' and 'Press' to attack an Israeli army position/Photo by AP
Human Rights Watch's report on the internal Gaza Strip fighting among Palestinians, condemns "serious violations of international humanitarian law, in some cases amounting to war crimes," including the exploitation of journalists' protected status:
In the June 9 incident, four armed Palestinians drove a white jeep bearing "TV" insignias to a fence on the Gaza-Israel border and fired at Israeli soldiers. The Israelis returned fire, killing one Palestinian. Spokesmen for Islamic Jihad and the Al-Aqsa Martyrs Brigade, an offshoot of Fatah, claimed responsibility for the attack. An Islamic Jihad spokesperson denied that Palestinians had put press markings on the jeep used in the June 9 attack, and accused the Israeli military of doing so after the fact. However, photos taken by the Associated Press as the attack was under way show the letters "TV" written in red on the front of the jeep.

"Using a vehicle with press markings to carry out a military attack is a serious violation of the laws of war, and it also puts journalists at risk," said Whitson.

Customary international humanitarian law provides that journalists not taking direct part in hostilities in armed conflict zones "shall be considered as civilians." The deliberate abuse of this protected status in order to breach the confidence of an adversary in an attempt to kill, injure or capture them, would amount to an act of perfidy, a serious violation of international humanitarian law.
Posted by TS at 03:00 AM | Comments (0)
Al Hurra Free of Register

In the wake of last week's Congressional panel in which additional funding to the U.S. funded Arabic network was rejected because it became a platform for Islamist terrorists and Holocaust deniers, news director Larry Register resigned. Joel Mowbray updates in Powerline blog:
In the long, sordid saga of the Larry Register era at Al Hurra, which ended Friday with the news director's "resignation," what was most troubling was not all that he had done, but rather what finally did him in.

Register's masters at the State Department and the network's oversight panel, the Broadcasting Board of Governors (BBG), demonstrated remarkable tolerance for his misdeeds.

Ordering an interview with an alleged al Qaeda operative who expressed joy that 9/11 "rubbed America's nose in the dust"? No problem. Airing live speeches from the leaders of Hamas and Hezbollah? Not an issue. Providing fawning coverage of Ahmadinejad's Holocaust denial conference? Forgivable. Insisting that Al-Hurra refer to the creation of Israel in 1948 as "the castatrophe"? Mistakes happen.

So what was it that finally caused State and the BBG to rescind its previously unwavering support of Register? It was the great green motivator: money.

A key Congressional panel last Tuesday sent an unmistakable signal that lawmakers weren't as enamored of Register as State and the BBG, zeroing out an expected $14 million increase in Al Hurra's funding for fiscal year 2008.

That sealed Register's fate.
With Register out of the way, things are looking up for Al Hurra:
But here's the good news: The Al Hurra story could yet have a happy ending. New BBG chairman James K. Glassman was sworn in last week, and his tenure could see better behavior from the board. He has not made any public comments, but Glassman is a media veteran, and he's compiled a largely successful track record.

Most encouraging, though, is that the named replacement for Register's now-vacated post of Al Hurra news director is Danny Nassif. He won't require much of a learning curve, as Nassif already runs sister network Radio Sawa. And when the former news director, Mouafac Harb, was traveling -- which was often -- Nassif ran the show in his absence.

Though Nassif has never run a TV news operation on more than a temporary basis, a quick review of his professional writings from before starting at Radio Sawa indicates that he will take a firm stand against terrorists and Islamic extremists.

And as the BBG was quick to note in announcing his appointment, Nassif is a "native Arabic speaker," which compares favorably to Register, who didn't speak Arabic at all.

Under the new leadership of Glassman, let's hope that Nassif gets as much support from the BBG when he attempts re-build Al Hurra as Register did while almost destroying it.
Posted by TS at 02:21 AM | Comments (0)
June 12, 2007
At Least He Recycles
Jimmy Carter's Palestine: Peace Not Apartheid has a number of factual errors and distortions that in a normal world would disqualify it as a work of non-fiction. (Apparently, the firewall between fact and fiction is a bit porous at Simon and Schuster.)
Nevertheless, Carter's book does have one redeeming value -- it demonstrates the former president's commitment to recycling. Palestine: Peace Not Apartheid is filled with a number of passages should be somewhat familiar to readers of The Blood of Abraham, also authored by Carter and published by the University of Arkansas Press in 1985.
For example, on page 22 of Palestine: Peace Not Apartheid, Pres. Carter writes about how he and his wife Rosalyn prepared for their 1973 trip to Israel.
In preparing for this trip, we pored over maps and reviewed both the ancient and modern history of Israel. Our choice of how to spend the ten-day visit was a series of compromises because I was torn between the pleasure of visiting the Christian holy places I had always longed to see and the knowledge that I should concentrate on preparing for another political career. With only a handful of my closest friends knowing my dreams, I was seriously planning a future role as president.
This passage is quite similar to one that appears in The Blood of Abraham on page 21.
In preparing for this trip, Rosalyn and I had pored over maps and reviewed both the ancient and modern history of Israel. I was torn between the pleasure of visiting the Christian holy places I had longed to see as a child and the knowledge that I should be preparing for a future career. (At the time, my plans were known to only a small group of people and would not be revealed for another 18 months, when I announced my candidacy for President of the United States.) So our choice of how to spend the precious days in Israel was a series of compromises.
Carter also recycles his description of poor attendance at religious services at a kibbutz in Galilee. In Palestine: Peace Not Apartheid¸ Carter writes:
The next morning was the Sabbath, and at the appointed time we entered the synagogue, said a silent prayer, and then stood quietly just inside the door. Only two other worshipers appear. When I asked if this was typical, Giora [Carter's guide] gave a wry smile and shrugged his shoulders as if this was not important either way.
In The Blood of Abraham, Carter writes:
It was the Sabbath, and we asked if we could attend the worship service. At the appointed time we entered the synagogue and stood quietly just inside the door. There were only two other worshipers. When I asked if this was typical, our guide gave a wry smile and shrugged his shoulders as if it was not important either way.
Admittedly, if there were substantial differences between the two versions of the same events, it would undermine confidence in Pres. Carter's ability to recount important facts about the Arab-Israeli conflict. But it is interesting to note the minor changes Carter introduces in his "new" book.
In his 1985 description of standing in the synagogue, he says he "stood quietly inside the door." In his more recent description, he writes that he "said a silent prayer." Given the subjective experience of prayer, we'll have to take Carter's word for it, but it seems that as time passes, the former president seems intent on burnishing his reputation as a devout Christian.
Carter also recycles his description of a conversation with Prime Minister Golda Meir, during which he raises concerns about the lack of religious fervor in modern Israel. In The Blood of Abraham, the former president writes:
She was not pressed with state business that morning so we stayed for an extended talk. When she asked if we had any concerns, I replied that there was one of a religious nature that I hesitated to mention. I knew that she had been born in Russia and that neither she nor the key members of her cabinet were known to be devout Jews. With a smile she encouraged me to go on, and I told her about the sabbath (sic) service at Ayelet Hashahar and a general absence of religious interest among the Israelis. I commented that during biblical times, the Israelites triumphed when they were closed to God and were defeated when unfaithful. She laughed aloud and agreed with me, but added that this was not a matter of concern to her because there were certainly enough "orthodox" Jews around. She was referring to the religious Jews in the Israeli parliament, who were sometimes a real thorn in her side. She added, "If you attend a session of the Knesset, you will see them in action and will know that they have not lost their faith." With Israel's system of elections, which necessitates a coalition of parties to form a ruling majority, the minority religious parties had an influence far exceeding their numerical strength.

Neither Mrs. Meir nor I realized it then, but a member of one of the larger minority parties was destined to play a major role in her country's history, and much of his political strength would come from his deep fundamentalist convictions, based on a rigid interpretation of scriptures.
Carter describes the same episode in Palestine: Peace Not Apartheid as follows:
With some hesitation, I said that I had long taught lessons from the Hebrew Scriptures and that a common historical pattern was that Israel was punished whenever the leaders turned away from devout worship of God. I asked if she was concerned about the secular nature of her Labor government. She seemed surprised at my temerity and dismissed my comments with a shrug and a laugh. She lit one cigarette from another and then said that "orthodox" Jews still existed and could assume that portion of the nation's responsibility. She was referring to the religious Jews in the Israeli parliament, who were sometimes a real thorn in her side. She added, "If you attend a session of the Knesset, you will see them in action and will know that they have not lost their faith. With Israel's system of elections, which necessitates a collation of parties to form a ruling majority, the minority religious organizations had an influence far exceeding their numerical strength.

Neither Mrs. Meir nor I realized it then, but Menachem Begin, the leader of the Herut Party with only 22 percent of the Knesset seats, would be prime minister of Israel within four years…
While Carter does add some interesting details to his description of his conversation with Prime Minister Golda Meir, there are two constants – his willingness, as a Christian, to judge Israel, the Jewish homeland, and its leaders against a metric of religious fervor, and a contradictory disdain for the influence of religious Jews in the Knesset.
Carter also recounts for a second time his participation in a military graduation ceremony at Bethel. While he does not offer a word-for-word recitation of the ceremony in Palestine Peace Not Apartheid, it's pretty similar – with one added detail: In Palestine: Peace Not Apartheid, Carter reveals that his handing out Hebrew Bibles to the graduates was "one of the few indication of a religious commitment that I observed during our visit." Clearly, Carter has a problem with Israel's irreligious nature and that it has only gotten worse as time passes.
Careful readers will note that in his description of his 1973 trip to Israel, Carter adds another wrinkle to his narrative in Palestine: Peace Not Apartheid when he talks about meeting with Samaritans who "complained to us that there holy sites and culture were not being respected by Israeli authorities—the same complaint heard by Jesus and his disciples almost two thousand years earlier."
That Carter has recycled passages from his own book isn't that surprising. For example, Psalm 18 appears in its entirety toward the end of II Samuel. The interesting thing about Carter's recycled passages (and the added detail for which he wracked his memory) is that they all suggest that for Carter, there is a direct line between ancient Israelites, those parochial and stiff-necked people who rejected Christ and harassed the Samaritans, and modern-day Israelis, who won't listen to his advice about how to make peace with the Palestinians.
For Pres. Carter, some tropes are just too good to discard.
Posted by CameraBlog at 04:17 PM | Comments (0)
Financial Times Fears Israel Boycott Might Help Netanyahu
The Financial Times of London has come out in opposition to the British University and College Union (UCU) resolution promoting a boycott of Israel, but in large part out of a concern that the boycott might work to Israel's advantage.
The Financial Times offers "five solid reasons" in its editorial, "Boycotting Israel" published on May 31 for opposing the boycott resolution passed on May 30 . Three of the five reasons are tactical considerations that reflect a fear that the boycott might backfire.
To ensure that no one would accuse the Financial Times of being overly sympathetic to the Jewish state, the second sentence of the editorial clarifies where the paper stands:
"No reader of these columns would be in any doubt about the Financial Times' view of the occupation and the continuing and expanding colonisation of Palestinian land; illegal, immoral, self-defeating for Israel and incendiary for the Middle East."
Having firmly established its bonafides as a critic of Israel, the Financial Times offers its reasons for opposing the boycott:
1. Israel's academics are the source of much of the criticism of Israeli policy.
Boycotting them is counterproductive in their view.
2. The boycott is ill-timed. The initiative will interfere with burgeoning efforts to challenge what the editorial describes as the "bullying" Jewish lobby's control over American policy.
The editors attribute American support of Israel to a nefarious Jewish lobby rather than acknowledge the strong support of the American public for Israel that is reflected in poll after poll. For example, a recent poll found Israel is favored over the Palestinians by a lopsided ratio of 10 : 1 and that Americans oppose Israel ceding land to the Palestinians by a ratio of 5 :1 (McLaughlin and Associates, March 25, 2007).
3. The boycott may backfire by handing a "political gift" to Israel's "irredentist right" who will be able to pin the charge of anti-Semitism on the boycotters.
If boycott supporter Pamela Hardyment's reported comments on a Jewish community Web site in the UK are any indication of the sentiments of those promoting boycotts, the charge of anti-Semitism may be warranted.
The editorial expresses the concern that the ideological successor (in their view) of Ze'ev Jabotinsky, "modern paladin" Benjamin Netanyahu, stands to gain. The mention of Jabotinsky and the Revisionist Zionists in the final paragraph is most telling of the viewpoint prevailing at the Financial Times. Jabotinsky was the bitterest opponent of English policy in Mandatory Palestine - a policy which opposed the emergence of a Jewish state in the 1930s and 1940s by restricting Jewish immigration and using its military might to seal off the escape routs for desperate Jews facing extermination during World War II.
The editorial also opposes the boycott on the grounds of academic freedom and because of the obvious double standard involved in singling out Israel for approbation. Noticeably absent, however, from the list of reasons to oppose the boycott is any mention of Israel's status as an embattled democracy that fosters free speech and free thought in a region of the world where such freedom is rare.

Posted by SS at 04:04 PM | Comments (0)
June 11, 2007
Howard Jacobson on Boycotts and Six-Day War Revisionism
In today's Independent, author and columnist Howard Jacobson comments on the link between Six-Day War revisionism and the British movement to boycott Israel.
Some of his pithy observations:
• "... it is a false syllogism which goes Criticism of Israel is not anti-Semitic; I am a critic of Israel; therefore I am not an anti-Semite."
• "It is, anyway, a red herring. ... You don't have to be an anti-Semite to be a blackguard. And you certainly don't have to be an anti-Semite to be a fool. Boycotters assure us of their innocence of anti-Semitism as though that settles once and for all the question of their intellectual and moral rectitude."
• "A person cleared of anti-Semitism might still be guilty of something else. If anti-Semitism is repugnant to humanity, then it is no less repugnant to humanity to single out one country for your hatred, to hate it beyond reason and against evidence, to pluck it from the complex contextuality of history as though it authored its own misfortunes and misdeeds as the devil authored evil, to deny it any understanding (which is not the same as sympathy or succour), and — most odious of all — to seek to silence its voices."
• "... if the war changed us, we have, in our turn, changed the war. Compare what was said about it at the time with what is said about it now and it is hard to believe it is the same event."
• "... to understand the motives of a suicide bomber and not the motives of those who seek to keep him out is to understand nothing."
• "the assumption on which the entire boycott is based ... is breathtaking. An Israeli scholar dare not be in even the most partial agreement with his government. For an Israeli academic not to think exactly as they think on the campuses of Birmingham and Brighton is to be guilty of a crime for which the punishment is expulsion from the international community of thought."
Read the whole piece here.
Posted by GI at 11:37 AM | Comments (1)
June 10, 2007
Hamas Man: The Barrier Works
Like a Palestinian Islamic Jihad counterpart before him, Hamas' Moussa Abu Marzouq, deputy chairman of the political bureau, admits that the West Bank security barrier is effective in preventing Palestinian attacks on Israelis. Responding to a question at an Egyptian meeting June 1, Marzouq noted that the number of attacks are down because "[carrying out] such attacks is made difficult by the security fence and the gates surrounding West Bank residents."
Posted by TS at 06:31 AM | Comments (0)
English Israeli Radio Gets the Axe
Listeners of Israel Broadcasting Authority's English-language tv and radio news reacted with "protest, outrage and disbelief" that that the English program will be cut along with other foreign language broadcasts (excluding Arabic ones). The Jerusalem Post reports:
The planned closure "comes only a few months after Al-Jazeera's 24/7 English programming became available for free through its Internet site," noted another Post protester. "Without an English IBA broadcast, pro-Arab images and spin will monopolize the projection of local Mideast news into English-speaking countries. Israel cannot afford any more stupid PR moves like this."

"What is the government of Israel thinking?" asked one correspondent from the US. "I listen to IBA on the Internet every single day. It's the only way I get the real news from Israel. Not only that, the syndicated Middle East English broadcast Mosaic, on Link TV, features news from several Arab countries and broadcasts from Al-Jazeera and Al-Arabiya. If IBA were not on with those broadcasts, only the Arab view would be presented."

A reader in South Africa echoed the theme: "The move to cancel this station would only be seriously detrimental to those that are trying to fight Israel's case abroad," she wrote.

"It would be madness to abandon English broadcasts," wrote one correspondent from the UK, citing a perceived anti-Israel bias of the BBC "influencing a whole UK generation... But then madness seems to be a common malady in today's Israel."

"Instead of shutting down we should be expanding this incredible resource," concluded an Israeli writer. "If there are major problems, repair them. This is our face to the world." . . .
Posted by TS at 04:21 AM | Comments (0)
Not One Dime for Al-Hurra
Congresswoman Nita Lowey's subcommittee called for an "immediate" investigation of the U.S.-funded Arabic network
Investigative reporter Joel Mowbray has relentlessly exposed how Larry Register's mismanagement of Al-Hurra has turned the U.S. funded Arab language network into yet another platform for anti-American, anti-Jewish, anti-Israel invective. Writing in Powerline blog June 6, Mowbray reports on the June 5 congressional hearing:
Dealing a sharp blow to embattled Al Hurra news director Larry Register, a powerful Congressional panel yesterday expressed its dissatisfaction with the "new" Al Hurra in the strongest possible terms: It withheld millions in funding.

Al Hurra had asked for -- with the strong support of Undersecretary of State for Public Diplomacy Karen Hughes -- an additional $11.1 million in funding over fiscal year 2007 levels for new programming. The network didn't get one dime of it.
By the time the appropriations process winds its way through Congress, the requested funding could be restored -- but that most likely could happen only if Register is fired.

And if the stars align, Register could be gone within a week.

As recently as late last week, officials at Al Hurra and at the network's oversight panel, the Broadcasting Board of Governors (BBG), were expressing confidence internally that they were going to receive a double-digit percentage increase in funding over the current fiscal year. Word around the BBG and Al-Hurra was that Foreign Operations Appropriations Chairwoman Nita Lowey (D-NY) was in their camp.

Turns out she wasn't.

Though it didn't mention him by name, the Lowey-led subcommittee explained that Register's determination to turn Al Hurra into a platform for Islamic terrorists and Holocaust deniers was the reason the network's funding was being frozen:

"The Committee is deeply troubled by several programming decisions at Alhurra television during the period [of] Novemeber 2006 through March 2007. On more than one occasion, the network aired live, and without opposing comment, statements by Hezbollah and Hamas leaders that were hateful, anti-American, and anti-Israel. The Network's coverage of the Holocaust Denial Conference also evidenced a lack of journalistic judgment and sensitivity. While just a portion of the overall broadcast program, these incidents call into question the management and overall journalistic philosophy of the Network's leadership."

And there was even more good news. Rep. Lowey's subcommittee also "requested" substantive actions to fix Al Hurra and restore public confidence through dramatically increased transparency. . .
Posted by TS at 03:35 AM | Comments (0)
June 09, 2007
DePaul Statement on Finkelstein Tenure Decision
DePaul University Statement on the Tenure and Promotion Decision Concerning Professor Norman Finkelstein

06.08.2007

DePaul University confirms that it informed Professor Norman Finkelstein today that Rev. Dennis Holtschneider, C.M., DePaul president, upheld a recommendation by the University Board on Promotion and Tenure (UBPT) - the final stage in the faculty review process - to deny his application for tenure and promotion.

Granting tenure equates to a guarantee of lifetime employment, and the same standards are applied to all faculty members under consideration. In every case, the final decision is one of balancing the various arguments for and against tenure. The tenure process, which is detailed in DePaul's Faculty Handbook, involves a rigorous review of each applicant's scholarship, service and teaching, with the recommendations at each level forwarded up to the next level for consideration. It is an evaluation of faculty by faculty.

In Professor Finkelstein's case, a faculty committee of the Department of Political Science voted in favor of tenure, submitting statements for the majority and minority, with a response from the majority. The Personnel Committee for the College of Liberal Arts and Sciences then voted to support tenure and promotion, with reservations that it asked the college dean to note in his report. Subsequently, the college's dean issued a written opinion against tenure and the UBPT voted against tenure. The UBPT report and materials from the lower committees were forwarded to the president for review. As in all cases of tenure, the final decision was made by the president.

Fr. Holtschneider said, "According to DePaul's Faculty Handbook, the president can overturn the UBPT's recommendation in rare circumstances and for compelling reasons. I find no compelling reasons here to overturn the UBPT's decision."

Fr. Holtschneider continued, "Over the past several months, there has been considerable outside interest and public debate concerning this decision. This attention was unwelcome and inappropriate and had no impact on either the process or the outcome of this case."

He added, "Some will consider this decision in the context of academic freedom. In fact, academic freedom is alive and well at DePaul. It is guaranteed both as an integral part of the University's scholarly and religious heritage, and as an essential condition of effective inquiry and instruction. On a daily basis, DePaul faculty and students explore the most important ideas of our time, including difficult and contentious issues, and they do so in ways that adhere to professional standards of academia and respect the dignity and worth of each individual."
Posted by GI at 07:30 PM | Comments (9)
Finkelstein Denied Tenure
The Chicago Sun-Times and the Chronicle of Higher Education are reporting that DePaul has denied tenure to Norman Finkelstein, the controversial assistant professor of political science known for his demagogic attacks on the Jewish establishment and Israel and conspiracy theories about what he calls the "Holocaust Industry."
The Yid with Lid blog has posted a news report on the subject from the Chronicle of Higher Education and some comments from Peter N. Kirstein, a tenacious Finkelstein supporter. Read them here.
See more on Finkelstein here.
Posted by GI at 05:09 PM | Comments (11)
June 06, 2007
From War to Sexual Impotence, Israel Is to Blame
Egyptian troops with banners calling for the defeat of Israel and death to the Jews in 1967
In AP's "Arabs blame problems on 1967 war defeat," Nadia Abou El-Magd does not even make a shorthand attempt to acknowledge Arab responsibility for the Six Day War. It's as if Egypt hadn't illegally closed the Straits of Tiran, had not called for Israel's destruction, hadn't ejected UN monitoring forces, and hadn't amassed troops at the Israeli border. Playing along with the "blame Israel" mentality, Israel's attack comes, apparently, out of the blue. El-Magd reports:
Forty years after Israel's stunning victory over three Arab armies, the defeat still lingers in the Arab world — so much so, some blame it for everything from a lack of democracy in the region to the rise of religious extremism. On June 5, 1967, Israeli warplanes destroyed 400 aircraft belonging to Egypt, Syria, Jordan and Iraq — most of them sitting on airport tarmacs. Egypt lost the Sinai Peninsula and Gaza Strip, Syria gave up the Golan Heights, and Jordan relinquished the West Bank and east Jerusalem. . . .

Egyptian columnist Wael Abdel Fattah wrote in the independent weekly Al-Fagr newspaper that Arabs blame the defeat for "everything" — from "price hikes, dictatorship, religious extremism, sectarian strife, even sexual impotence."
If you buy that Israel for no reason whatsoever destroyed the Egyptian air fleet, it's not such a stretch to blame Israel for sexual impotence, too.
Posted by TS at 07:35 AM | Comments (1)
The Ban on the PA in Jerusalem
When a Palestinian conference was banned from Jerusalem yesterday, who's to blame? The AP's Sarah El Deeb originally had it that oppressive Israeli policies are at fault:
The [Palestinian conference] was banned since it was backed by the Palestinian Authority, which Israeli law prohibits from operating in east Jerusalem, police spokesman Shmuel Ben-Ruby said.
CAMERA pointed out to the AP that bilateral peace accords prohibit Palestinian Authority activity in Jerusalem. The Declaration of Principles and the Interim Agreement stipulate that the Palestinian Council shall have no authority in Jerusalem during the interim period. Moreover, the Note for the Record attached to the Hebron Protocol restated that all Palestinian Council offices and activity remain in areas under Palestinian jurisdiction -- in other words, outside of Jerusalem.
The result? A (slightly) improved updated story:
The gathering was banned since it was backed by the Palestinian Authority, police spokesman Shmuel Ben-Ruby. The authority is barred from operating in east Jerusalem, which Israel annexed in 1967 soon after capturing it.
It seems that because the ban can't be blamed on Israeli law, there's no point mentioning the real reason. After all, why draw attention to the fact that Palestinians are violating the accords they signed?

Posted by TS at 04:13 AM | Comments (0)
How Syria Deceives the Press on Fatah al-Islam
Syria's imprisonment of Fatah al-Islam leader Shaker Al-Absi was a "joke"
Fatah al-Islam, the terror group which has brought death and destruction to a Palestinian refugee camp in Lebanon, has been making major headlines, not all of them based on sound information. "Most journalists identify this group with al-Qaida or are just plain confused as to its identity," notes Barry Rubin, who documents that the shadowy group is a surrogate of Syria:
In fact, what is happening is a major deception operation by Syria, a rather typical case of how radical forces in the region fool the West, score against their adversaries, and avoid any retaliation for their deeds. . .

Syrian officials have been briefing some Western journalists, who know no Arabic and have no serious background in studying the Middle East. They tell these people that Fatah al-Islam is a front for Lebanon's government and even the United States. There is no evidence that this is true. What is telling is that the articles published use precisely the same phrases employed by Syrian officials about 48 hours earlier.
Posted by TS at 03:48 AM | Comments (0)
June 05, 2007
Six Day War Myth
Tom Segev's book on the Six Day War is premised on the myth that Israel wasn't facing an existential threat. Segev does not use Arabic sources
In an interview with the Jerusalem Post, Six Day War historian Michael Oren tackles a central myth surrounding the the war:
In an interview on the eve of the 40th anniversary of the outbreak of war on June 5, 1967, Oren said his research of documents in Arab countries had revealed clearly that the Arabs had planned to destroy Israel.

Although this seems obvious to Israel sympathizers who hold to the traditional story of the Arabs' responsibility for the outbreak of war, the intervening decades have seen the promulgation of a myth that Israel was not really in danger.

"The biggest myth going is that somehow there was not a real and immediate Arab threat, that somehow Israel could have negotiated itself outside the crisis of 1967, and that it wasn't facing an existential threat, or facing any threat at all," said Oren, who is a senior fellow at the Adelson Institute for Strategic Studies at Jerusalem's Shalem Center and author of Six Days of War: June 1967. He noted that this was the premise of Tom Segev's book, 1967: Israel, the War and the Year That Transformed the Middle East. "What's remarkable is that all the people alleging this - not one of them is working from Arabic sources. It's quite extraordinary when you think about it. It's almost as if Israel were living in a universe by itself. It's a deeply solipsistic approach to Middle East history."
For more Six Day War myths, see here.
Posted by TS at 03:22 AM | Comments (2)
June 04, 2007
Organization of UK Universities: "We Reject Outright" Boycott of Israel
Statement from The Russell Group on UCU motion on Israeli boycott:
30 May 2007

The Russell Group of the UK's research-intensive universities today strongly condemned the motion passed by the University and College Union for branches to debate the Israeli boycott.

Professor Malcolm Grant, Chairman of the Russell Group and President and Provost of UCL, said:
"We reject outright the call for an academic boycott. It is a contradiction in terms and in direct conflict with the mission of a university. It betrays a misunderstanding of the academic mission which is founded squarely on freedom of inquiry and freedom of speech. Any institution worthy of the title of university has the responsibility to protect these values, and it is particularly disturbing to find an academic union attacking academic freedom in this way.

"The Russell Group universities will uphold academic freedom by standing firm against any boycott that threatens it."
Posted by GI at 11:53 AM | Comments (0)
New York Times Criticizes UK Boycotts
The New York Times has added its voice to the list of critics slamming recent boycott decisions by British unions:
The University and College Union, a newly formed British union of college teachers, shamefully called last week for a boycott on contacts and exchanges with Israeli academic institutions. That follows on the shameful call in April by the National Union of Journalists in Britain to boycott Israeli goods.
The editorial seems to hint that the boycott organizers might even be motivated by anti-Semitism, stating that the "the lack of similar 'solidarity' by these unions with any other oppressed or suffering people in the world, and there are plenty, reduces these gestures to an exercise in hypocrisy, or worse."
Read the piece here.
Posted by GI at 11:07 AM | Comments (0)
Baroness Blasts Boycott, BBC
In criticizing the UK's University and College Union for its boycott against Israel, Baroness Caroline Cox suggested that the "bias and partiality" of boycott proponents is in part fueled by the BBC and other British media's skewed reporting of the Middle East:
Cox conceded that years of asymmetric reporting on Israel have impacted the way the British public view the Israeli-Palestinian conflict, even as she noted a "growing malaise" about the BBC's anti-Israel reporting.
Read the Jerusalem Post article here.
Posted by GI at 11:06 AM | Comments (0)
Moore Can You Imagine?
BBC's Alan Johnston seen on video for the first time since his kidnapping by Palestinians


As a follow up to our earlier entry on Melanie Phillips' reflection ("Can You Imagine If Israel Were Doing This?"), we bring you Charles Moore's Telegraph column ("What If Israelis Had Abducted BBC Man?"):
Loud would have been the denunciations of the extremist doctrines of Zionism which had given rise to this vile act. The world isolation of Israel, if it failed to get Mr Johnston freed, would have been complete.

If Mr Johnston had been forced to broadcast saying, for example, that Israel was entitled to all the territories held since the Six-Day War, and calling on the release of all Israeli soldiers held by Arab powers in return for his own release, his words would have been scorned. The cause of Israel in the world would have been irreparably damaged by thus torturing him on television. No one would have been shy of saying so.

But of course in real life it is Arabs holding Mr Johnston, and so everyone treads on tip-toe. Bridget Kendall of the BBC opined that Mr Johnston had been "asked" to say what he said in his video. Asked! If it were merely an "ask", why did he not say no?

Throughout Mr Johnston's captivity, the BBC has continually emphasised that he gave "a voice" to the Palestinian people, the implication being that he supported their cause, and should therefore be let out. One cannot imagine the equivalent being said if he had been held by Israelis.

Well, he is certainly giving a voice to the Palestinian people now. And the truth is that, although it is under horrible duress, what he says is not all that different from what the BBC says every day through the mouths of reporters who are not kidnapped and threatened, but are merely collecting their wages.

The language is more lurid in the Johnston video, but the narrative is essentially the same as we have heard over the years from Orla Guerin and Jeremy Bowen and virtually the whole pack of them. . .
Posted by TS at 07:52 AM | Comments (0)
Balancing the Divide: LA Times' Jerusalem Feature
On the occasion of the 40th anniversary of the Six Day War and the reunification of Jerusalem, the Los Angeles Times' features an online multimedia three-part series on the holy city and its many divisions. By and large, it is balanced.
The first article "A Holy City Still Divided," contains several important facts about Jerusalem often neglected by the mainstream media. For instance:
Heavy immigration had made Jews a majority in the city decades [before 1948], and by 1948 they accounted for 60% of its population.
Frequently the media diminishes the importance of the Temple Mount in Judaism by wrongly stating the Western Wall is the holiest site in Judaism. LA Times reporters Ken Ellingwood and Richard Boudreaux get it right:
Once again [after the war Israelis] had access to the holiest Jewish site: the plateau that Jews revere as the Temple Mount, which abuts the Western Wall and lies atop the ruins of the ancient Jewish temples.
And, unlike the New York Times, the LA Times makes clear that Palestinians building in eastern Jerusalem is on a massive scale, both legal and illegal.
It also allows the Jerusalem mayor to comment on the issue of disparity in infrastructure between eastern and western parts of the city:
[Mayor Uri Lupolianski] said East Jerusalem lagged because it was not developed under Jordanian rule, then grew so fast that Israeli officials couldn't keep up.

"The problem between East and West is a give," Lupolianski said. "We have to remember that we did not invent this situation. In 1967, a large part of East Jerusalem didn't have infrastructure such as running water and electricity."
Again, unlike the New York Times, the LA Times states clearly that east Jerusalem Arabs are entitled to receive Israeli citizenship:
Israel offered citizenship to Palestinians in East Jerusalem after the war, but few accepted.
The video for part 2 is also balanced, spelling out the inconveniences and difficulties for Arabs in eastern Jerusalem and the surrounding area due to the construction of Israel's security barrier, as well as discussing the context of Palestinian terror attacks against Jerusalem citizens and pointing to the dramatic reduction in these attacks thanks to the barrier.

The barrier proves to be an incovenience for many Arabs and a literal lifesaver for Israelis
In an interesting bonus, the LA Times provides pdf's of the front pages of the June 5-11, 1967 editions.
But there the multi-part feature has problems, too.
Most glaringly, no mention is made about the city under Jordanian occupation from 1948 to 1967, when the longstanding Jewish population was entirely expelled and synagogues and tombs were systematically destroyed and desecrated.
Also, at least twice in the videos, the reporters allow false Arab claims to go unchallenged. First, in "One City, Two Worlds," Wadi Joz neighborhood activist Moaz Zatari parrots the false canard:
It's impossible to get permission and if you build without permission, they'll fine you 300,000, 400,000 shekels and they'll destroy it anyway.
Similarly, in the video "Building Divisions," an Arab resident justifies his community's hostile rejection of their isolated Jewish neighbors by asking rhetorically:
If I go and buy a house on the Israeli side you think they will let me live there?
The answer is yes, although Ellingwood and Boudreaux don't say so there. They do report, however, in the article for part 2 that:
Rents [in eastern Jerusalem] have shot up, prompting some families to move into predominantly Jewish neighborhoods.
The last section of the series will be published tomorrow. Stay tuned.
Posted by TS at 05:42 AM | Comments (0)
June 03, 2007
Meet the New "Bad Guy"
Stop the Presses! Here's breaking news from the front-page of the print edition of the International Herald Tribune Thursday:
The radicalization of the Palestinians; Qaeda-inspired groups fill a 'vacuum'
Of course, the Palestinians were radicalized long before global jihadi groups came on the scene, as seen by international hijackings of civilian aircraft in the 1970s, not to mention suicide bombings against civilian targets in the 1990s.
The article's author, Steven Erlanger, puts a new spin on the "'Good Guy' Fatah vs. 'Bad Guy' Hamas" approach when he writes:
Hamas and the smaller group Islamic Jihad have long made attacks on Israel and its occupation of Palestinian lands their main focus. While this has led many, including the United States and the European Union, to call them terrorist groups, Hamas officials say their fight is with Israel's occupation, not with foreigners.

By contrast, attacks on Western targets, and on America in particular, for its presence in the Middle East, have been the main stamp of Al Qaeda and similar groups.
Thus, Hamas the Bad Guy is supplanted by Al Qaeda the Bad Guy. It is fair to note the distinction between Hamas and Al Qaeda-type groups -- that Hamas' jihad is primarily Israel-centered, while the latter has a more global approach. Both both use extremist understandings of Islam to justify the targeting of civilians.
To suggest that the Palestinians were not "radicalized" until the introduction of Al Qaeda-type groups is absurd. Erlanger does so by obscuring the fact that
1) what Hamas calls the "occupation of Palestinian lands" refers to Israel within any boundaries;
2) Hamas attacks target civilians.
Posted by TS at 02:21 AM | Comments (2)