« What's In/Out at the U.N. | Main | Gaza Photographers Involved in Kidnappings? »
April 06, 2007
Lebanese Christians Fleeing Islamist Threat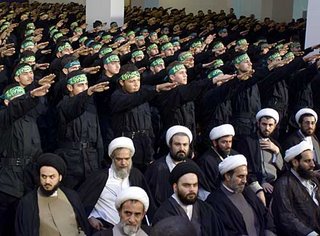 Hezbollah recruits in Lebanon give the Nazi-style salute
The Daily Telegraph of the UK has been ahead of the pack in reporting on events in Lebanon. Last August, its correspondents were among the first to report on Hezbollah's efforts to conceal its casualties in the summer conflict with Israel. Recently, on March 31, the paper carried a piece revealing the large scale emigration of Christians from Lebanon since the war last summer.
According to the article, "Rise in radical Islam last straw for Lebanon's Christians" by Michael Hirst, 60,000 Christians have already left Lebanon in the last several months. Even more alarming, Hirst reports that half of the Maronite community, Lebanon's main Christian denomination, are considering leaving.
Those who have left just since last summer represent about 7% of the Lebanese Christian population. If the current rate of emigration continues, Lebanon will be almost emptied of Christians in about a decade. The situation of the Christians in Lebanon mirrors the tenuous circumstances of the Christians in the West Bank whose population has continued to dwindle since the Islamist Hamas government was voted into power. While much of the news media focuses on the conflict between Israel and the Palestinians or the war in Iraq, it is clear that significant changes are occurring throughout the region in response to the rising tide of Islamism.
Posted by SS at April 6, 2007 10:17 AM
Comments
Amazing that I'd not heard anything about this before finding it here. Great work. You guys at CAMERA are a ray of light in a dark age.

Dry Bones
Israel's Comic Strip Since 1973
Posted by: yaakov kirschen at April 19, 2007 09:31 AM
This article is wrong, maybe you should read the statemnts of the religous heads of the Christian community in Lebanon, the Maronite League, and Lebanese poling companies (they have companies that do survies throughout Lebanon).
Here is one article from a pro-Western Lebanese newspaper;
Academics reject British paper's claim that Maronites are fleeing Islamization
Lebanese of all faiths say they want to emigrate for economic reasons
http://www.dailystar.com.lb/article.asp?edition_id=1&categ_id=2&article_id=81155
Finally as a Christian from the West bank I can tell you that it was not becuase of Hamas we left but because of the Israeli military that delibertly targeted Christians sinc hte fist day of their military occupation.
If you want to report properly please report this.
Posted by: Nas at April 21, 2007 01:09 PM
This article is wrong comming from a Lebanese christian. Most christians are leaving the middle east because as all people they want a better life for them and thier families. And unfortunately the middle east is no place for that.
Posted by: Anonymous at May 15, 2007 11:28 PM
Guidelines for posting
This is a moderated blog. We will not post comments that include racism, bigotry, threats, or factually inaccurate material.
Post a comment