« Lebanese Christians Fleeing Islamist Threat | Main | Washington Post Ombudsman Gives Up on Facts »
April 06, 2007
Gaza Photographers Involved in Kidnappings?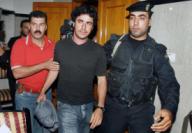 Spanish photographer Emilio Morenatti was released by his Gazan kidnappers in October 2006/Reuters photo
A Ma'ariv article makes the interesting albeit unsubstantiated claim that local Gaza photographers have played a role in the kidnapping of journalists there. the BBC's Alan Johnston is the 15th kidnapped foreign journalist in the Gaza Strip; half of them were photographers.
On the kidnapping field of Gaza, two main players are involved. The first player is the Durmoush family, implicated in the kidnapping of Israeli soldier Gilad Shalit and presently holding Alan Johnston. The second player is a spontaneous amalgamation of local Gaza photographers. The presence of the foreign photographers takes a bite out of their tremendous monthly incomes, not just in Gaza economic terms. All analysis of the Gaza kidnapping phenomenon leads to one conclusion: This is an incredible economic pipeline that pays its perpetrators very large profits. Among the journalists it is said that $2 million changed hands in the release of two employees from the Fox network, in August 2006. . . .

In the last two years, media personnel claim that local journalists, mainly photographers who reside in Gaza, have become active partners in the kidnappings in order to maintain their livelihoods. Almost half of the abductees are photographers, both stills and video. According to one Israeli photographer who has spent more than a little time in Gaza, the reason for this is clear. "A local photographer who freelances for an agency can make much more than a hired photographer who arrives from overseas," he explains, "For example, you know the photos of armed men
burning the picture of the new Chief-of-Staff? The photographers from Gaza staged this photo and sold it afterwards to the same agencies. A good photo from Gaza is worth several hundred dollars. Such a photographer could make $6-8,000 a month. As soon as a foreign photographer arrives and begins to move around, he takes away a local photographer's livelihood. The agencies understood that it pays more for them to send a hired photographer than to buy photos from a local photographer. After most of the agencies began to send hired photographers, there was a rise in the number of abducted photographers. I have no other explanation.
Posted by TS at April 6, 2007 01:10 PM
Comments
hi;
there is little doubt in my mind that these "kidnapped" photogs are themselves involved in the deal since none of them have been beheaded as a "normal" sacrifice to their deity: allah alsatan. a blood requirement of the practioners of the "religion of peace" (down payment for their 72 virgins and hooch) as evidenced by their past performances on internet-video (berg, etc.) i am not so inclined to believe the spontaneity of these cases as i would a monkey turning into a man before my eyes.
keep up the tremendous job of pulling the mask off the professional liars in the western press--if it can still be called a press...
Posted by: American at April 10, 2007 03:55 PM
Guidelines for posting
This is a moderated blog. We will not post comments that include racism, bigotry, threats, or factually inaccurate material.
Post a comment