« March 2007 | Main | May 2007 »
April 25, 2007
AFP Rounds Up Israeli Ceasefire Violations
Nearly 170 Palestinian rockets have hit Israel since the November ceasefire. Israel has acted against the rockets just three times
By most counts, 168 to three isn't an even score. Yet, here's how the AFP's Adel Zaanoun yesterday described the ceasefire violations on the part of the Israelis and Palestinians:
Under the November truce, the army withdrew from Gaza and militants agreed to halt rocket fire. The ceasefire has largely held despite violations by both sides.
This passage inaccurately suggests that ceasefire violations by the two sides were pretty much on the same scale. In fact, they are not even close. Palestinian rocket fire has been a near daily occurrence since November. The Intelligence and Terrorism Information Center documents that from December 2006 through March, Israel was hit by Palestinian rocket fire 162 times. (Obviously, then, the number of fired rockets was actually much higher, since many do not reach Israel but land in Palestinian areas.) An additional six hits were identified in the first half of April.
In contrast, the Israeli army has reacted with near total restraint. Israeli troops fired into Gaza approximately three times since November. On April 21, Israeli aircraft fired a missile on the car of militants who had just fired rockets at Israel. On April 7, Israeli aircraft fired at DFLP members near the Jabaliya refugee camp. And AFP's Sakher Abu El Oun wrote less than a month ago, on March 28:
Four Palestinians were wounded by Israeli fire in Gaza on Wednesday, the first military action against militants in the coastal strip since a November truce.
Posted by TS at 07:19 AM | Comments (0)
Haniya, The Moderate
Haniya, a "moderate," poses in front of an image of slain Hamas leader Sheikh Yassin, who himself personally authorized suicide bombings
Many of the media have cast Palestinian President Mahmoud Abbas as "moderate" despite evidence to the contrary, but the International Herald Tribune sinks to a new low today in its characterization of Palestinian Prime Minister Ismail Haniya. Jerusalem correspondent Isabel Kershner writes:
Prime Minister Ismail Haniya and other moderate political figures from Hamas who participate in the Palestinian unity government said they were making efforts to preserve the cease-fire. . . .
Remember, this is the head of Hamas in the Gaza Strip, an organization listed as terrorist by the United States, Israel and the European Union. This is the same Haniya who declared Dec. 8, 2006 in Tehran: "We will never recognize the usurper Zionist government and will continue our jihad-like movement until the liberation of Jerusalem."
The New York Times' version of this article wasn't much better. It reads:
But more moderate members of Hamas in the Palestinian unity government, including Prime Minister Ismail Haniya, said they were making efforts to preserve the cease-fire.
If Haniya is a Hamas moderate, I'd hate to meet the Hamas extremists.
Posted by TS at 05:10 AM | Comments (1)
April 19, 2007
Comments on NUJ Boycott Decision
The Foreign Press Association in Israel, which describes itself as "representing some 400 journalists who are employed by international news organizations and report from Israel, the West Bank and Gaza Strip," has weighed in on the British National Union of Journalists' decision to boycott Israel, saying:
The FPA condemns the recent Resolution of the British National Union of Journalists which called for the boycotting of Israeli goods. The FPA believes such a resolution runs counter to the core journalistic values which we are here to uphold and defend, namely objectivity and balance. The FPA is made up of professional journalists who cover this story on a daily basis, and we reject any resolution that so clearly takes sides. At an ethical level we do not feel it is appropriate for a body representing journalists to take such positions.
Individual journalists have similarly criticized the decision.
On Ynet.com, journalist Chas Newkey-Burden writes:
The British public's perception of journalists has sunk so low that when I am asked in social situations what my job is, I am sometimes tempted to pretend I am part of a more respected profession – like drug trafficking. ...

... the British media has long been absorbed by a blind hatred of Israel. ...

There was certainly nothing balanced about the NUJ boycott motion.
An April 19 Wall Street Journal editorial notes:
For years, British journalists have as a group been notoriously unsympathetic to Israel, so much so that BBC correspondent Barbara Plett actually admitted publicly to weeping at Yasser Arafat's funeral.

But now that the NUJ has put an institutional stamp on her kind of journalism, it will be more difficult for some of the leading organs of British journalism to deny, as they frequently do, charges of bias.
In the April 18 Times (London), MP and writer Michael Gove writes:
I have been a member of a trade union for nearly 20 years now. ...

But now, reluctantly, I fear that I will have to part company with the union, even as I continue to respect the men and women who went out on strike, in its name, in Aberdeen nearly two decades ago. Because the NUJ recently passed a motion at its conference calling for a boycott.

This boycott is not of a repressive state that outlaws free expression (of which, sadly, there are still too many) but of one of the few states in the Middle East with a proper free press: Israel.
As we noted yesterday, Toby Harnden, a member of the union and an editor for the UK's Telegraph, says about the boycott motion:
It is tendentious and politically-loaded propaganda that would be rightly edited out of any news story written in a newspaper that had any pretensions of fairness.
Guardian columnist Jonathan Freedland writes:
... I cannot let last week's vote by the annual conference of the National Union of Journalists to boycott Israeli goods and services go unremarked. I have been an NUJ member my whole working life, like my father before me: we have 73 years of NUJ membership between us. It is my union and I feel it has made a bad mistake. ...

Fine, boycott Israel for its wars and military occupation, but why just Israel? Why not other international offenders, engaged in much more lethal conflicts? Sudan and Darfur come to mind, along with Russia and Chechnya. More to the point, surely the NUJ should boycott all goods from the US (and Britain for that matter), in protest at their - our - occupations of Iraq and Afghanistan. If occupation is wrong, it's always wrong, no? ...

The casual reader, unaware of the humdrum realities of trade union politics, assumes that this is a democratic, collective declaration by British journalism that Israel is beyond the pale, in a category of untouchability all its own. (That was the way the academic boycott was understood, too). The result is a damaging blow to the credibility of British journalism. Foreign audiences will ask: 'How can we trust what you write or say about the Middle East? You're members of a union that boycotts the very country you're writing about.' We can try explaining that the NUJ passes lots of motions about lots of places, but it won't do any good. A boycott is in a different category.
Guardian editor Alan Rusbridger says: "It was a misguided motion."
And in the Jerusalem Post, Donald Macintyre, NUJ member and correspondent for the UK's Independent, is quoted saying: "The job of the NUJ is to protect journalists and not adopt political postures, right or left."
Posted by GI at 03:24 PM | Comments (6)
April 18, 2007
British Journalist Group Admits Pro-Palestinian Sympathies
Tim Gospill
Those familiar with the often grossly partisan reporting in the British media won't be too surprised that someone has alleged British journalists are sympathetic to one side in the Palestinian-Israeli conflict.
Speaking about Britain's National Union of Journalists (NUJ), which this week narrowly passed a motion to boycott Israel, the commentator said: "Members' sympathies lie with the people in Palestinian areas."
No big shock there. But what might come as a surprise is who it was that described, or rather admitted, this bias: None other than Tim Gopsill, the public relations director for union.

The pro-Palestinian bias in much of the UK media is apparently so entrenched and so widely accepted that the NUJ spokesman didn't think twice about admitting partisan sympathies on behalf of the union's 35,000 members.
So much for the NUJ's code of ethics, which states that "A journalist has a duty to maintain the highest professional and ethical standards."
Fortunately, the British media isn't entirely monolithic in its antagonism toward Israel. Writing about the language of the NUJ motion, Toby Harnden, a member of the union and an editor for the UK's Telegraph, asserted:
It is tendentious and politically-loaded propaganda that would be rightly edited out of any news story written in a newspaper that had any pretensions of fairness.
See more on the issue here and here.
Posted by GI at 11:22 AM | Comments (0)
U.S. Takes Over the Security Council
AP's Jamal Halaby writing from Amman slips up with a typo Sunday:
ElBaradei, an Egyptian, sought to temper fears over the nature of the nuclear program in Iran, which has been hit with U.S. [sic] Security Council sanctions seeking to force Tehran to suspend uranium enrichment and provide proof its program isn't aimed at building atomic bombs.
(The story, including the typo, was sent out also on Monday.)
Posted by TS at 08:16 AM | Comments (0)
April 12, 2007
DePaul Dean Slams Finkelstein
Adding his voice to the chorus of criticism of Norman Finkelstein's work is none other than Charles Suchar, dean of the College of Liberal Arts and Sciences at DePaul University, where Finkelstein teaches.
In a letter to Depaul's Board on Tenure and Promotion, Suchar noted his opposition to Finkelstein's application for tenure, in part because the assistant professor's scholarship "threatens some basic tenets of discourse within an academic community ...."
The full text of Suchar's letter follows:
March 22, 2007

To: The University Board on Tenure and Promotion

From: Chuck Suchar, Dean
College of Liberal Arts and Sciences

Re: Norm Finkelstein

Dr. Norm Finkelstein, Assistant Professor of Political Science, has applied for promotion to Associate Professor with tenure. The Department of Political Science, as noted in its majority report, voted 9 in favor and 3 against supporting Prof. Finkelstein's application for promotion with tenure. A minority report was submitted along with the departmental report. The department also submitted an addendum to the majority report as a response to the minority report.

The College Personnel Committee (CPC), by a unanimous vote of 5-0, also recommends promotion to Associate Professor with tenure. On balance, the CPC views Prof. Finkelstein's contributions as a teacher and scholar as meeting the College's criteria and standards for promotion and tenure. I, however, do not concur in this recommendation and withhold my support of this application.

Prof. Finkelstein received his Ph.D. from Princeton University in 1988. He joined the faculty in the Department of Political Science at DePaul as an Assistant Professor in the Fall of 2001 having spent previous years as an adjunct and visiting professor at Hunter College as well as other institutions.

Dr. Finkelstein teaches a variety of courses in the political science department in the areas of political theory as well as courses that focus on the Israel-Palestine Conflict, international politics, and he has also taught courses in various areas of the Liberal Studies program. These include courses in the Focus Point Seminar program, the Honors Program and a section of the Sophomore Multicultural Seminar. Student course evaluations reveal that he is a skilled teacher. The CPC is particularly impressed with Dr. Finkelstein's consistently high course evaluations and the apparent positive impact he has made on scores of students throughout the years he has been at DePaul—this in a department with very high average scores on student course evaluations and a reputation for excellence in teaching.

The CPC notes the many comments by students that reflect a "transformative" experience in his classes. The Committee was impressed with how the strong student course evaluations reflected student views of Prof. Finkelstein's skills in promoting student discussions over very difficult, controversial and complex topics, as well as the depth and breadth of his knowledge. It is noteworthy that no one in the College Personnel Committee, the members of the Political Science Department, including the members of the Political Science department that issued the minority report, disputes Prof. Finkelstein's skills and abilities as an instructor. I am in agreement with the majority view of the value of Dr. Finkelstein's contributions as a classroom instructor.

The College Personnel Committee was less than unanimous in its overall assessment of Prof. Finkelstein's scholarly contributions. While, on balance, the voting members of the Committee were persuaded that his scholarship, while extremely controversial was, to use the words of one member of the committee, "…consistent with the academy and [gave] evidence of a passionate scholarship of high standard", there were some reservations. The members of the College Personnel Committee unanimously supported the view [and they wished me to express in this report] that Prof. Finkelstein's scholarship troubled them by its tone and by its frequent personal attacks that seemed to many to be needlessly inflammatory—thus agreeing with that claim in the minority report. To many members of the committee, however, the scholarship was, on balance, sufficiently noteworthy and praiseworthy to merit their support for the application for promotion and tenure. Their vote in favor of granting promotion and tenure reflects their overall perspective that Prof. Finkelstein's scholarly work has been deemed by his colleagues and external reviewers as being of sufficient value and importance to merit his promotion and tenure.

I find it difficult to share their net assessment of Professor Finkelstein's scholarly contributions. My own estimation of the tone and substance of his scholarship is that a considerable amount of it is inconsistent with DePaul's Vincentian values, most particularly our institutional commitment to respect the dignity of the individual and to respect the rights of others to hold and express different intellectual positions—what I take to be one significant meaning of what we term Vincentian "personalism" as well as our commitment to diversity.

In agreement with the minority report, I find the personal attacks in many of Dr. Finkelstein's published books to border on character assassination and, in my opinion, they embody a strategy clearly aimed at destroying the reputation of many who oppose his views. I find this to be an unfortunate characteristic of his scholarship—one that threatens some basic tenets of discourse within an academic community—to conduct inquiry with civility and without undue or unnecessary personal injury or attack.

The departmental minority report cites Dr. Finkelstein's personal and reputation demeaning attacks on Alan Dershowitz, Benny Morris, and the holocaust authors Eli Wiesel and Jerzy Kosinski. My own examination of Prof. Finkelstein's works corrobarates the minority report's claims and conclusions in this regard. My reading of Dr. Finkelstein's work, especially The Holocaust Industry, where in one chapter alone Goldhagen, Morris, Wiesel, Kosinski and many others are collectively attacked as "hoaxters and huxters", typifies his apparent penchant of reducing an argument and oppositional views to the inevitable personal and reputation damaging attack, demeaning those with whom he disagrees. It is my view that DePaul's commitment to personalism basically prohibits addressing individuals with the kind of invective or insult that I find all too common in Dr. Finkelstein's scholarship where the dignity of the individuals with whom he disagrees are routinely disrespected.

While the CPC found this aspect of Dr. Finkelstein's scholarship to be troubling but not sufficient to merit rejection of his application for promotion and tenure, I must say that I find this very characteristic aspect of his scholarship to compromise its value and find it to be reflective of an ideologue and polemicist who has a rather hurtful and mean-spirited sub-text to his critical scholarship—not only to prove his point and others wrong but, also in my opinion, in the process, to impugn their veracity, honor, motives, reputations and/or their dignity. I see this as a very damaging threat to civil discourse in a University and in society in general. Such inflammatory polemics in no way further the civil discourse and serious intellectual inquiry that the Academy stands for to say nothing for the deeply shared DePaul University and Vincentian value of "personalism"…respect for the dignity of the individual. I also wish to note that Dr. Finkelstein's tendency to personally attack those who disagree with him is also borne out in his behavior with his colleagues.

In a memo I received on January 22, 2007, the General Consul's office informed me that it had learned from DePaul's Political Science Department that Professor Finkelstein had indicated he was considering filing a law suit against DePaul and his fellow political science professors who had authored the minority report. Disagreements over the value of his work seem to prompt immediate threats and personal attacks. This does not augur well for a College and University that has a long-standing culture where respect for the dignity of all members of the community and where values of collegiality are paramount.

The College Personnel Committee viewed Dr. Finkelstein's service record as being mixed. Those who accepted the departmental perspective that his contributions as a public intellectual largely established his record of service in his probationary period were satisfied with his service record. A few were vocal in supporting this service record as a significant contribution to DePaul. Several members of the Personnel Committee wished to clearly indicate, however, that they found a service record largely configured through such contributions not to be very convincing. I agree with this latter perspective. Beyond service on departmental committees, I find Dr. Finkelstein's service contributions to the College and University to be unimpressive. There has been no service on College or University-level committees to my knowledge.

In sum, the College Personnel Committee, by its vote and evaluation, supports Dr. Finkelstein's request for promotion and tenure. They find his teaching to be exceptional and believe that his scholarship, on balance, meets and, for some, exceeds the minimum standards of the College. The views on his service record are mixed with some supporting the departmental evaluation of his record as a public intellectual as important while others view his service record outside the department as less remarkable. The reservations expressed in this report that reflect the more difficult and contentious aspects of his scholarship that I view as inconsistent with institutional values prevent me from sharing in their support of his application for promotion and tenure.
Posted by GI at 03:46 PM | Comments (15)
April 11, 2007
Washington Post Ombudsman Gives Up on Facts
Everything should be made as simple as possible — but no more so." — Albert Einstein.
When it comes to distinguishing between simple and simplistic, Washington Post Ombudsman Deborah Howell hasn't a clue, and doesn't want one.
Reader Denise Taylor requested a correction to a fuzzy feature article on Palestinian Arab "refugees." The April 2 front-page piece was headlined "Driven by War to a No Man's Land in Jordan." Post Middle East correspondent Anthony Shadid led with the claim that the plight of "Samir Abdel-Rahim, stranded for the past four years in a no man's land with other Palestinians fleeing carnage in Iraq .... began in 1948, before he was born, when Israel was created [emphasis added]."
Taylor pointed out that "the 'creation of Israel' was not the genesis of the Palestinian refugee problem; it was the war that the Palestinians and five Arab countries started after its [Israel's] establishment. To prove this, just ask yourself how many Palestinians would have been displaced had the Arab war of aggression against the nascent Jewish state not occurred? Answer: ZERO."
Taylor e-mailed the ombudsman and copied Shadid, Foreign Editor Keith Richburg, and Assistant Managing Editor for Foreign News David Hoffman. Here is Howell's complete reply:
"There was a war at the creation of the state — the Israelis call it the War of Independence — and the Palestinian refugee problem was created. Different people look on it different ways. I don't think it needs a correction."
Taylor wasn't satisfied with the ombudsman's "he said, she said, we don't care" dismissal. She responded thus:
"No doubt Japanese and Americans looked at World War II in different ways, but it nevertheless began for these two countries when Japan attack Pearl Harbor, not when the U.S. bombed Tokyo.
"Opinions are what they are, but the facts remain as follows:
"1. The Arabs ... rejected the 1947 U.N. partition plan for British Mandatory Palestine. The Jews accepted partition.
"2. The Arabs — five armies from Arab League countries and forces of Palestinian Arabs — attacked the new Jewish state.
"3. During the fighting, which the Arabs eventually lost, many Arabs fled from what became Israel — estimates at the time ranged from 472,000 (U.N.) to 650,000 (difference between last British and first Israeli census), of whom 50,000 returned under 'family reunification' provisions."
And so on, seven relevant historical facts in all, including that "most Arab states refused to naturalize Palestinian Arab refugees, largely Sunni Muslims of similar ethnic backgrounds."
"So," Taylor summarized for Howell, "'the creation of Israel' did not CAUSE the Arab refugee problem. Arab REJECTION of the '47 partition plan's 'two-state solution' and insistence on going to war, CAUSED the problem. Arab rejection of either compensation or resettlement perpetuated the problem."
That being the case, a correction remains in order. But, given the ombudsman's simplistic evasion — and The Post's decades' old, rigid insistence on reading the conflict through "the Palestinian narrative" — most unlikely.
Posted by ER at 05:27 PM | Comments (0)
April 06, 2007
Gaza Photographers Involved in Kidnappings?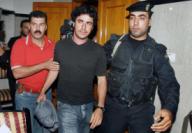 Spanish photographer Emilio Morenatti was released by his Gazan kidnappers in October 2006/Reuters photo
A Ma'ariv article makes the interesting albeit unsubstantiated claim that local Gaza photographers have played a role in the kidnapping of journalists there. the BBC's Alan Johnston is the 15th kidnapped foreign journalist in the Gaza Strip; half of them were photographers.
On the kidnapping field of Gaza, two main players are involved. The first player is the Durmoush family, implicated in the kidnapping of Israeli soldier Gilad Shalit and presently holding Alan Johnston. The second player is a spontaneous amalgamation of local Gaza photographers. The presence of the foreign photographers takes a bite out of their tremendous monthly incomes, not just in Gaza economic terms. All analysis of the Gaza kidnapping phenomenon leads to one conclusion: This is an incredible economic pipeline that pays its perpetrators very large profits. Among the journalists it is said that $2 million changed hands in the release of two employees from the Fox network, in August 2006. . . .

In the last two years, media personnel claim that local journalists, mainly photographers who reside in Gaza, have become active partners in the kidnappings in order to maintain their livelihoods. Almost half of the abductees are photographers, both stills and video. According to one Israeli photographer who has spent more than a little time in Gaza, the reason for this is clear. "A local photographer who freelances for an agency can make much more than a hired photographer who arrives from overseas," he explains, "For example, you know the photos of armed men
burning the picture of the new Chief-of-Staff? The photographers from Gaza staged this photo and sold it afterwards to the same agencies. A good photo from Gaza is worth several hundred dollars. Such a photographer could make $6-8,000 a month. As soon as a foreign photographer arrives and begins to move around, he takes away a local photographer's livelihood. The agencies understood that it pays more for them to send a hired photographer than to buy photos from a local photographer. After most of the agencies began to send hired photographers, there was a rise in the number of abducted photographers. I have no other explanation.
Posted by TS at 01:10 PM | Comments (1)
Lebanese Christians Fleeing Islamist Threat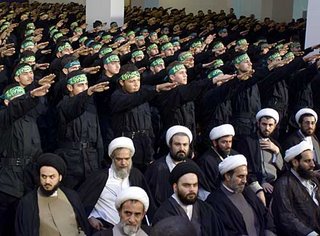 Hezbollah recruits in Lebanon give the Nazi-style salute
The Daily Telegraph of the UK has been ahead of the pack in reporting on events in Lebanon. Last August, its correspondents were among the first to report on Hezbollah's efforts to conceal its casualties in the summer conflict with Israel. Recently, on March 31, the paper carried a piece revealing the large scale emigration of Christians from Lebanon since the war last summer.
According to the article, "Rise in radical Islam last straw for Lebanon's Christians" by Michael Hirst, 60,000 Christians have already left Lebanon in the last several months. Even more alarming, Hirst reports that half of the Maronite community, Lebanon's main Christian denomination, are considering leaving.
Those who have left just since last summer represent about 7% of the Lebanese Christian population. If the current rate of emigration continues, Lebanon will be almost emptied of Christians in about a decade. The situation of the Christians in Lebanon mirrors the tenuous circumstances of the Christians in the West Bank whose population has continued to dwindle since the Islamist Hamas government was voted into power. While much of the news media focuses on the conflict between Israel and the Palestinians or the war in Iraq, it is clear that significant changes are occurring throughout the region in response to the rising tide of Islamism.
Posted by SS at 10:17 AM | Comments (3)
April 05, 2007
What's In/Out at the U.N.
Earlier we posted the YouTube video of UN Watch's Hillel Neuer addressing the UN's Human Rights Council about its shortcomings. (The YouTube clip has now reached 130,000 viewings.) Mexico's Luis Alfonso de Alba, President of the Human Rights Council, refused to thank Neuer for his comments, an unprecedented slap in the face. UN Watch has compiled a collection of statements including insults against ambassadors and mocking of human rights experts, justification of violence against women and gays, glorification of terrorism, Holocaust denial, and demonization of Israel, which de Alba received with thanks. View the entire video here.
Posted by TS at 10:39 AM | Comments (0)