« Supremacist Views Proudly Spouted in UNC Newspaper | Main | CMEP's "Peacemaking" Used to Buttress Incitement »
February 15, 2007
Israeli Excavation Not Near Mosque
The charge that Israel's excavations near the Western Wall will destroy or damage the Al-Aqsa Mosque has been leveled not only by Hamas, but by "moderate" Arab leaders as well.
This BBC graphic helps show the absurdity of that charge (note the mosque's location roughly a football field away from the excavation site):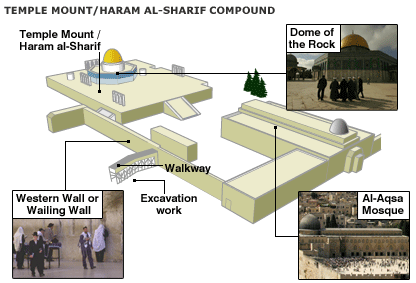 Posted by GI at February 15, 2007 11:33 AM
Comments
Guidelines for posting
This is a moderated blog. We will not post comments that include racism, bigotry, threats, or factually inaccurate material.
Post a comment