« At LA Times, Op-Ed Inaccuracies, Explained | Main | Eldar's Mysterious Hamas Compromise »
October 26, 2006
Released AP Photographer Recounts His Ordeal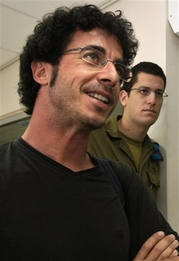 Emilio Morenatti arrives in Israel after his release/AP photo
Emilio Morenatti, the AP photographer, kidnapped Tuesday by Palestinian gunmen in the Gaza Strip, recounts his ordeal.

Posted by TS at October 26, 2006 07:31 AM
Comments
Viewing the arrival of this AP snapper in IBA/English it is a replay of the 2 Fox released reporters,who quickly hi-fived gaza, not making the slightest effort to the Press and Security authorities of Israel that had to lose time figuring out how to extricate him. This rude AP man, was so busy on his cell phone, he could not even take the time to say thank you when he was wellcomed back to Israel. I am not sure if it has to do with bad manners, the historical baggage he carries as a Spanish or as just another AP reporter taking sides in this mess? A well known French snapper was asked to leave the country last year and is unlikely to return. Being ungrateful pricks has beocme a trademark of most overseas photographers and it is good to understand that they are playing from one distinct side of this field.
Posted by: T.J Barker at October 26, 2006 08:40 PM
Guidelines for posting
This is a moderated blog. We will not post comments that include racism, bigotry, threats, or factually inaccurate material.
Post a comment