« September 2006 | Main | November 2006 »
October 31, 2006
Read More, Know Less: Washington Post Israel Coverage
On October 24, Israeli Deputy Prime Minister (and former military chief of staff) Shaul Mofaz told The Washington Times that Syria and Iran are rapidly rearming Hezbollah terrorists in southern Lebanon. Mofaz charged that the international "peace-keeping" force assembled after last summer's Hezbollah-Israeli war has failed to fulfill U.N. Security Council Resolution 1701 and disarm the Iranian trained and funded, Syrian-supported Shi'ite Muslim organization.
On October 26, The Jerusalem Post reported that Hamas (the Palestinian Islamic Resistance Movement) had smuggled millions of dollars raised in Iran, Syria and Egypt into the Gaza Strip to pay the salaries of thousands of policeman. Employees on the bloated Palestinian Authority payroll largely have gone unpaid since Hamas' victory in January's legislative elections; the new government's refusal to recognize Israel, abandon terrorism, and respect previous Palestinian-Israeli agreements led international donors to suspend aid.
Ha'aretz reported on the 26th that Hamas was "making massive weapons purchases" to arms its supporters in anticipation of intensified clashes with Fatah, the movement led by PA President Mahmoud Abbas and that controlled the Authority before Hamas' election victory.
On October 27 Ma'ariv disclosed that Israel might use "smart" bombs along the Gaza Strip-Egyptian border to destroy the Palestinian Arabs' numerous weapons smuggling tunnels.
On October 30, The Boston Globe headlined an article "Hezbollah Demands More Government Power in Lebanon," and The Times of London disclosed that, with Iran continuing its nuclear enrichment efforts, Israel is constructing a shelter in the Jerusalem Hills to protect the cabinet in the event of nuclear war. Deputy Defense Minister Ephraim Sneh was quoted as saying that "this will be a command and control center that will be able to run the state of Israel during a war, even after a nuclear strike."
Nevertheless, on October 30, The Washington Post — which covered the above breaking news barely if at all — ran a lengthy page one article headlined "A Campaign For Settlers in Golan Heights; Lebanon War Revives Dispute Over Territory" by its Jerusalem bureau chief, Scott Wilson. CAMERA member and former McClatchy Newspapers Washington bureau chief Leo Rennert critiqued The Post's article this way:
* It says Israel seized the Golan Heights from Syria in the 1967 Middle East war but does not mention what the war was about or Syria's long-standing use of the Heights to shell Israeli civilians below;
* Refers to "Israel's summer war with Hezbollah" without noting that Hezbollah was the aggressor, not Israel;
* Describes the Golan as a place "where the Israeli army twice fought Syrian forces" without reporting that it did so in wars of national survival; and
* Quotes Israeli Prime Minister Ehud Olmert as saying that the Heights are "an inseparable part of Israel" but does not tell readers that Israel nevertheless has offered to engage in negotiations with Syria — provide the latter ends its support of Hezbollah and Hamas.
In addition, The Post article claims that "for years, the Syrian government has helped arm and fund Hezbollah to strengthen its own hand in talks on the region [emphasis added]." Syria has backed the Shi'ite "Party of God" to bleed Israel "by remote control," as it did for years before Israel withdrew from southern Lebanon in 2000; to help Damascus dominate Lebanon politically and economically; and to help cement the Syrian-Iranian alliance. Potential use of its support for Hezbollah as a bargaining chip in talks with Israel or the United States is neither the sole nor primary reason for Syria's arming and funding the movement.
The Post also notes that "some Israeli generals" now argue that "air power has reduced the strategic importance of the [H]eights" but makes no reference to assertions that the summer's fighting against Hezbollah in Lebanon — with its need for large ground attacks after intensive air strikes — casts doubt on that argument.
Instead, The Post article focuses on a campaign to attract "Israeli yuppies" to the Golan and Golan Druze complaints about Israel's "occupation." It does, at least, note the Jews' ancient historical presence on the Golan Heights.
It was said of USA Today in its early years that "the more you read, the less you know." USA Today is no longer the "McPaper" its initial critics derided. And The Washington Post is less and less the indispensable paper of '70s Watergate coverage. -- E.R.
Posted by ER at 04:49 PM | Comments (0)
October 26, 2006
No Jews Need Apply at South African TV Broadcaster?
SABC director Snuki Zikalala accepting an award for his "campaigns to ensure that information is correctly communicated to the intended target audience ...."
The Jerusalem Post reports that
The head of news at the state-owned South African Broadcasting Corporation (SABC) has been accused of acting arbitrarily in unofficially blacklisting eight journalists and commentators. Among the banned journalists is Israel-based freelancer Paula Slier, a Jerusalem Post contributor, who has been barred from reporting because she is a Jew.
The managing director of the station, Snuki Zikalala, apparently ordered the ban because he is a PLO supporter. Zikalala is quoted saying: "You can't undermine the Palestinian struggle, you can't. For me it's a principle issue."
The Washington Post reported that Zikalala is "a former government spokesman who received his journalistic training in Communist Eastern Europe."
Ironically, it was just over a year ago that, in a pair of self-congratulatory speeches, Zikalala spoke of adhering to an editorial code that states: "We do not allow ... political or personal considerations to influence our editorial decisions."
Also ironic is this passage from his speeches, in which he bemoans "constraints that face media workers":
As can be seen media freedom is central to our understanding of our role as a public broadcaster. We also take the view that there are number of constraints that face media workers and organizations when they try to exercise these freedoms. Fortunately there are constitutional and legal remedies for us to use when these freedoms come under threat.
Read the commission of inquiry report, which issued the findings against Zikalala, here.
Also check out an interview with Paula Slier, the banned journalist, at the South African It's Almost Supernatural blog.
Posted by GI at 08:35 PM | Comments (0)
Eldar's Mysterious Hamas Compromise
In Ha'aretz today, Akiva Eldar criticizes the international media for not covering a supposed Hamas compromise:
The latest draft on a unity government that Hamas delivered to Qatar failed to receive even one line of international press, not to mention Israeli media notice.

Hamas failed, once again, to pronounce the word "Israel," or declare (of course), "We recognize the State of Israel." On the other hand, the document includes recognition of international law and a commitment to honor all agreements signed by the PA and Fatah, while demanding the rights and interests of the Palestinian people be guaranteed. Hamas also promises to employ legitimate means in the battle for ensuring Palestinian rights and ending the occupation. They differentiate these means from terror (some interpret this as a reference to Israeli terror). The document declares that the goal is bringing about the creation of a Palestinian state within territories occupied in 1967.
We are suspicious of any claim that Hamas has agreed to renounce terror and limit its territorial claims to the West Bank and Gaza Strip. However, it's impossible to check the veracity of Eldar's characterization of the alleged document, because not only does the international not report on it, but neither does Hamas. In fact, two days ago, Khaled Mishaal, the political bureau chief of Hamas, returned from Doha, Qatar, where he was conducting talks on Hamas tensions with Fatah.
The Hamas press release about Mishaal's trip makes no mention of a compromise document delivered to Qatar. Perhaps it is Eldar--not the international press--which has some explaining to do?
Posted by TS at 09:09 AM | Comments (0)
Released AP Photographer Recounts His Ordeal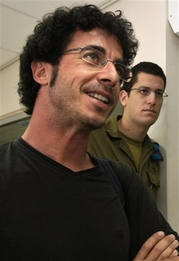 Emilio Morenatti arrives in Israel after his release/AP photo
Emilio Morenatti, the AP photographer, kidnapped Tuesday by Palestinian gunmen in the Gaza Strip, recounts his ordeal.

Posted by TS at 07:31 AM | Comments (1)
October 25, 2006
At LA Times, Op-Ed Inaccuracies, Explained
This week, as the Los Angeles Times changed the placement of its opinion sections, editors went to the trouble to explain the mission and criteria for publication for the Op-Eds, letters, and editorials. Significantly, the word "accuracy," or any derivative thereof, did not appear even once in the multiple pieces.
For instance, Nicholas Goldberg, editor of the Op-Ed page and the Current section, explains:
Our mandate, as we see it, is straightforward: to provide provocative, thoughtful commentary that is reasoned yet opinionated on a wide variety of subjects. The page itself has no ideological bent or political agenda; we want to provide the broadest possible range of opinions -- from the left, from the right and, we hope, from authors whose politics are much harder to pigeonhole. . . .

The only unifying characteristic (we hope) is that all our pieces have an idea behind them and a point of view [CAMERA adds: but not necessarily facts], and that they all stimulate some kind of intellectual engagement with the subject. . . .

Our job -- providing provocative, readable and substantive essays seven days a week-- is challenging . . .
Thus, the LA Times' opinions section values diversity, provocativeness, and readability--all good things--but does not value accuracy. In this context, the publication of Saree Makdisi's grossly inaccurate Op-Ed Saturday comes as no surprise.
Goldberg's explanatory column stands in stark contrast to that of his New York Times counterpart, David Shipley, who wrote in 2005 about how Op-Eds are edited at the Gray Lady. He explains that the opinion editor will:
Fact-check the article. While it is the author's responsibility to ensure that everything written for us is accurate, we still check facts - names, dates, places, quotations.

We also check assertions. If news articles - from The Times and other publications - are at odds with a point or an example in an essay, we need to resolve whatever discrepancy exists.
In 2004, the New York Times then-public editor, Daniel Okrent, also underscored the importance of accuracy on the opinions page.
LA Times readers take note: While the Op-Ed pages at the LA paper might be a good read, they aren't an accurate one.
Posted by TS at 06:38 AM | Comments (0)
AP Photographer Kidnapped, Released in Gaza
AP photographer Emilio Morenatti after his release/AP photo
Palestinian gunmen have kidnapped--and released--yet another foreign journalist. This time, it was Emilio Morenatti, a Spanish photographer for AP.
Posted by TS at 04:27 AM | Comments (0)
October 24, 2006
Melanie Phillips on British Hostility
In today's USA Today, there's more acknowledgment of the relationship—especially in Europe—between problematic media coverage and hostility toward the United States, Israel, and the Jews.
Columnist Melanie Phillips notes:
Much of Britain's anti-Americanism is driven by the usual suspects, such as far-left lawmaker George Galloway or newspapers such as the ultra-left Guardian. Galloway, for instance, said during an interview with GQ magazine earlier this year that the assassination of Blair by a suicide bomber would be "morally justified."
Phillips also notes that rhetoric proclaiming the United States as "the fount of Third World oppression and the greatest threat to world peace" is common on the BBC.
Read it all here.
Posted by GI at 11:52 AM | Comments (1)
October 22, 2006
BBC Throws a Crumb
Earlier we reported that the BBC is refusing to make public the contents of a report believed to be highly critical of the outlet's Mideast coverage. It's worth noting that the BBC has released an abbreviated version of its guide to facts and terminology.
Our reaction to these definitions is mixed. An obvious problem is the guideline for the term "terrorist":
Note the BBC producer guidelines which state: "We must report acts of terror quickly, accurately, fully and responsibly. We should not adopt other people's language as our own. Our credibility is undermined by the careless use of words which carry emotional or value judgements. The word "terrorist" itself can be a barrier rather than an aid to understanding. We should try to avoid the term, without attribution. It is also usually inappropriate to use words like "liberate", "court martial" or "execute" in the absence of a clear judicial process. We should let other people characterise while we report the facts as we know them. We should convey to our audience the full consequences of the act by describing what happened. We should use words which specifically describe the perpetrator such as "bomber", "attacker", "gunmen", "kidnapper", "insurgent" or "militant.""
Why is "terrorist" a barrier to understanding while "militant" is not? Indeed, in many cases, especially those concerning perpetrators who deliberately attack innocent civilians, "terrorist" is more factually accurate than "militant."
Share your comments on the rest of the BBC guidelines.

Posted by TS at 04:21 AM | Comments (3)
October 20, 2006
Op-Eds Now More Central in War than Bullets
In "The West Must Learn the Public Relations of War," (NY Sun op-ed, Oct 17, 2006) Daniel Pipes describes how reaching the public through the media is now a central front in any war, underscoring the importance of fair and factual reporting.
Soldiers, sailors, and airmen once determined the outcome of warfare, but no longer. Today, television producers, columnists, preachers, and politicians have the pivotal role in deciding how well the West fights. This shift has deep implications.
Posted by LG at 01:32 PM | Comments (0)
October 19, 2006
Hamas: PR Before Prescriptions
The logo of the new satellite television program
AFP reports today:
A widening strike by public employees, first launched on September 2, has brought the Palestinian Authority to a virtual standstill, including such vital services as health and education.

Striking doctors and nurses, who like all government workers have not received full salaries in seven months, have forced Palestinians to turn to expensive private clinics or non-governmental organizations for medical care. . . .

"Emergencies only," says duty doctor Abdullah Qowassim, a pediatrician. "We'll treat braim hemorrhages, severe fractures, acute abdomen problems, head traumas, emergency labor cases. Other than that, good bye." . . .

[A World Health Organization official] says at least two people have died because they have not been able to receive proper care as a result of the strike, and warns that many more incidents are likely going unreported.
Nevertheless, the Hamas-led government has just sunk money into Hamas satellite tv, to reach all over the Arab world, plus parts of Europe. The Intelligence and Terrorism Information Center observes:
While the Hamas government is bankrupt, the Hamas movement invests funds and efforts to boost its capabilities in the battle for hearts and minds.
Posted by TS at 08:55 AM | Comments (0)
When 'Voices of Victims' Stand in for Fact-Checking
A LA Times photo of medic Qasim Chaalan, protagonist in the Red Cross ambulance incident
Editor & Publisher has an admiring feature of Los Angeles Times Cairo bureau chief Megan Stack, who reported from Lebanon over the summer during Israel's war with Hezbollah. Sarah Weber, of Editor & Publisher, has clearly not done her homework. About Stack's coverage, she reports:
L.A. Times readers learned of the chaotic and deadly toll the Israeli strikes took on Lebanon through the stories of battle-shaken ambulance drivers, the weak and elderly who were left behind to withstand the bombardments, and an asylum that was abandoned by the doctors, leaving 250 patients in the care of a few nurses with limited medication. In each report, Stack utilized the voices of the victims to paint a picture of the events she was witnessing.
But Stack did not witness the alleged Israeli missile attack on the Red Cross ambulance on July 24. She covered the purported attack in her July 25 article "Israeli Missiles Rip Into Medics' Esprit de Corps," relying heavily on the testimony of medic Qasim Chaalan.
As has been expertly exposed by the blog ZombieTime, the entire ambulance attack is likely a fraud. The critical tip-offs were sequences of photographs revealing Chaalan's miraculous recovery as well as photographs showing the damage to the vehicle as wholly inconsistent with a recent missile attack.
Reflecting on her role as reporter in the Lebanon conflict, Stack tells Editor & Publisher:
"there is a sense that the details are important, that Americans had an urgent need to know about the war and how it was being fought. What does it look like, feel like? What is the human cost of another day, another week of fighting?"
Yes, details (not to mention the big picture) are important, which is why Stack would be better off relying on investigative reporting as opposed to "the voices of the victims."
Send feedback to letters@editorandpublisher.com .
Posted by TS at 06:42 AM | Comments (1)
IHT's (Partial) Correction
On Sunday, we blogged about Margarita Mathiopoulos' Op-Ed in the International Herald Tribune which misidentified Avishay Braverman's name, expertise and title. A correction today reads:
Because of an editing error, an opinion article on Oct. 13, "A dose of reality," incorrectly listed the name Avishai Brotherman among former Israeli military and security officials.
Posted by TS at 05:16 AM | Comments (0)
Haniya: "We Will Never Recognize Israel"
In case there is any lingering belief among members of the media that Hamas recognizes Israel--or intends or recognize Israel--Palestinian Prime Minister Ismail Haniya has issued a clarifying statement: "We will never recognize Israel." (Video and translation from MEMRI. See the transcript here.)
Posted by TS at 03:35 AM | Comments (0)
October 17, 2006
BBC's Secrets
From the Oct. 15 Telegraph:
The BBC has spent thousands of pounds of licence payers' money trying to block the release of a report which is believed to be highly critical of its Middle East coverage.

The corporation is mounting a landmark High Court action to prevent the release of The Balen Report under the Freedom of Information Act, despite the fact that BBC reporters often use the Act to pursue their journalism.

The action will increase suspicions that the report, which is believed to run to 20,000 words, includes evidence of anti-Israeli bias in news programming.
Read the whole thing here. And for more on BBC, see here.
Posted by GI at 04:18 PM | Comments (0)
October 16, 2006
Questions for Sabeel Conference
This weekend (Oct. 21 and 22), the Village Presbyterian Church in Prairie Village, Kansas will host a "peacemaking" conference organized by Sabeel Ecumenical Liberation Theology Center and its sister organization in the U.S. – Friends of Sabeel North America (FOSNA).
Sabeel's founder, Rev. Naim Ateek, an Israeli-Arab who lives in Jerusalem, is well known for his use of imagery reminiscent of the deicide charge in reference to Israel, the Jewish state. For example, Rev. Ateek has written that the "occupation" is the equivalent of the stone blocking Christ's tomb and that "The Israeli government crucifixion system is operating daily." He has also compared Israeli officials to modern-day Herods. (According to the Gospel of Matthew, Herod killed all the infants in Bethlehem in an attempt to kill the infant Jesus.)
Sabeel's brittle narrative about the Arab-Israeli conflict is easily challenged.
Sabeel places all the blame for the conflict onto the shoulders of the Israelis and denies the Arab world of moral agency or responsibility.
Sabeel ignores or downplays the religious component of the war against Israel.
Sabeel denies Arab refusal to accept Israel's right to exist.
Sabeel does well with audiences unwilling or unable to challenge its narrative, but a few well placed questions can help expose the group's silence about problems in Palestinian society that hinder the prospects for peace and darken the future of the Middle East.
Here are a few questions for those who realize that truth-telling forms the basis of peacemaking.
1. Is it appropriate for the leader of a so-called peacemaking group to use language reminiscent of the deicide charge in reference to Israel, the Jewish state?
Background: Sabeel's founder, Rev. Naim Ateek has used hostile imagery that is clearly reminiscent of the deicide charge – the notion that the Jews are collectively responsible for the death of Jesus – to demonize Israel. Rev. Ateek's defenders have attempted to downplay this problem. Nevertheless, the European Union Monitoring Center on Racism and Xenophobia has written a working definition of antisemitism that mentions the use of "symbols and images associated with classic antisemitism (e.g., claims of Jews killing Jesus or blood libel) to characterize Israel or Israelis."
2. Should Rev. Ateek apologize for his use of this imagery?
Background: When Rev. Ateek's use of crucifixion imagery in reference to the state of Israel was brought to the attention of the ecumenical community, Rev. Ateek's defenders attempted to downplay its inappropriateness. But in June 2006, Rev. Richard Toll, chairman of Friends of Sabeel North America, implicitly acknowledged that its use is unacceptable in an interview with the Columbus Dispatch. On June 9, 2006 the paper reported that "Toll said Ateek has toned down his rhetorical since his crucifixion statement." Why would Rev. Ateek find it necessary to "tone down" his rhetoric unless it was inappropriate?
3. Sabeel's prescription for peace between Israelis and Palestinians seems to be based entirely on Israeli concessions and withdrawals. What evidence is there that Israeli concessions and withdrawals will lead to peace? At what point can Israel expect a reduction in violence against its citizens?
Background: In Dec. 2005 Rev. Richard Toll, chairman of FOSNA, wrote "End the occupation and the violence will end." This prescription has not been borne out by recent events. Israel withdrew from the Gaza Strip last year and the rocket attacks increased. Israel was attacked by Hezbollah this past summer from the very territory from which it withdrew in 2000.
4. Did Yasir Arafat have an obligation to make a counter offer at Camp David in 2000? Yes, or no?
Background: If previous behavior is any predictor, Sabeel's speakers will likely portray the offer at Camp David negotiations as a "five-state solution" – Gaza, Israel and three "bantustans" on the West Bank. Challenging their mis-characterization of negotiations at Camp David and Taba is not the point of this question. This question merely asks if Arafat had an obligation to make a counter offer, which he did not make.
5. Who should we believe about Camp David/Taba negotiations, Sabeel Activists, who say the Palestinian Authority was offered "bantustans" or Dennis Ross who says the offer included contiguous land on the West Bank?
Background: At Sabeel conferences held in the U.S. last fall, Sabeel activists who spoke about Camp David negotiations described Israel's offer as a "five-state solution" that included Israel, Gaza, Israel and three "bantustans" on the West Bank. Dennis Ross, the chief Middle East peace negotiator for the Clinton Administration contradicts these claims. In his book, "The Missing Peace –– The Inside Story of the Fight for Middle East Peace," Ross offers maps of the Camp David Proposal put forth by the Clinton Administration in July 2000 and another proposal put forth in Dec. 2000. Both maps clearly show a contiguous West Bank –– not three separate "bantustans."
6. Just how reasonable is it to expect Israel to negotiate with Hamas, a group that speaks about Jews in undeniably hateful terms and which denies Israel's right to exist?
Background: Earlier this year, Hamas broadcast a video on its website in which a suicide bomber expressed a desire to drink Jewish blood. On Oct. 6, Al-Jazeera broadcast a speech in which Palestinian Prime Minister Isma'il Haniya stated: "The language of blood is my language, and there is nothing but blood. I have shut my mouth to the art of speech, and let the machine-gun do the talking. I let Al-Qassam do the talking, to turn the dens of the Jews into hell." Later in that same speech, he stated: "We will never recognize... We will never recognize... We will never recognize Israel."
7. Isn't Sabeel's support for a one-state solution just a code-word for the elimination of Israel as Jewish state?
Background: In "The Jerusalem Sabeel Document, Principles for Just Peace," published in 2004, the organization states its "vision for the future" is "One state for two nations and three religions."
8. If this single state were created, would the Jews be safe?
Background: Edward Said, who spoke at an international conference hosted by Sabeel in 1998, admitted in 2000 that he worried what would happen to a Jewish minority in a single state. "It worries me a great deal," he said. "The question of what is going to be the fate of the Jews is very difficult for me. I really don't know. It worries me."
9. If Sabeel and its supporters are truly interested in peace, doesn't the organization have an obligation to acknowledge Yasser Arafat's troubling legacy and the role in played in promoting the suffering of both Palestinians and Israelis?
Background: In November 2004, Sabeel issued a press release that described Yasser Arafat as "the father figure of the Palestinians." The document did not mention Arafat's role in the death of 11 Israeli athletes in the 1972 Munich Olympics, the anti-Jewish incitement broadcast on Palestinian Television with his approval, the thousands of people on both sides of the conflict who lost their lives after Arafat failed to make a counter offer at Camp David, or the millions wasted and stolen by the Palestinian Authority under his leadership.
10. Will the people arrested for setting Christians homes in Taybeh on fire in Sept. 2005, be tried and punished for their crimes?
Background: In September 2005, a group of Muslims who were detained after allegedly setting fires to Christian homes in a Taybeh, a town outside Ramallah. Within hours of their arrest by the Palestinian Authority, they were released.
11. Has Sabeel's founder Rev. Naim Ateek, spoken to Hamas about his fears of the future Palestinian state being governed by Islamic teachings on the status of women and religious minorities?
Background: At the Episcopal Church's General Convention held in Columbus, Ohio in June 2006, Rev. Ateek stated that Israel should not be allowed to maintain itself as a Jewish state. If Israel is a Jewish state, Rev. Ateek will not be able to tell Hamas that the future Palestinian state should not be an Islamic state, he said.
At this point, one of Ateek's listeners – a bishop in the Episcopal Church – asked him if had spoken to Hamas about this issue.
Rev. Ateek's response: "Not yet."
Rev. Ateek voiced these concerns more than three months ago – giving him ample opportunity to speak to Hamas about benefits of a secularism and pluralism.
Attendees should not expect direct answers to these questions. But asking them will challenge the distorted one-sided narrative the organization has broadcast to well-meaning Christians in the United States.
Posted by CameraBlog at 02:41 PM | Comments (0)
October 15, 2006
A Dose of Fact-Checking
Avishay Braverman, an economics buff passed off as military expert by the IHT
In an Op-Ed Friday in the International Herald Tribune, Margarita Mathiopolous, CEO of EAG European Advisory Group and a professor of U.S. foreign policy at University of Potsdam, makes much ado about "the former senior security officials [she] spoke to" ("A dose of reality"). Just in case you missed the credentials of her interlocutors, she repeats: "many active and former senior security officials," "many of the senior officers," "the security establishment," "the military leaders I spoke with," "a number of senior military officers," etc.
Fortunately, Mathiopolous names these security and military officials, who, she says, all agree that Israel should sit down and negotiate with Hamas, Hezbollah, Syria and even Iran:
Among the former military and security officials who took this position were the Labor politician Ami Ayalon, a former admiral and former head of the Shin Bet secret service; Avishai Brotherman [sic], president of Ben-Gurion University; Matan Vilnai, a retired general and Labor Party legislator, and even Avi Dichter, a hawkish Kadima member of the Knesset who has served as a minister in Prime Minister Ehud Olmert's Cabinet.
Avishay Braverman – not Brotherman – is neither a former military nor security official. Nor has he been the president of Ben-Gurion University since Dec. 1, 2005. (The current president is Prof. Rivka Carmi.) Braverman's background is in economics, not security or military.
If Mathiopoulus cannot be relied on to accurately identify Avishay Braverman by name, title and expertise, how can she be trusted to accurately convey sensitive information concerning international diplomacy allegedly told to her privately?
(CAMERA has communicated with editors concerning these errors. We will keep you posted regarding corrections.)
Posted by TS at 08:36 AM | Comments (1)
CAIR For the Facts?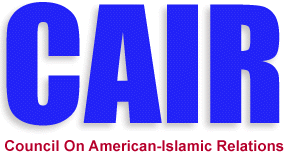 "CAIR: Islamists Fooling the Establishment," was the name of the Spring 2006 Middle East Quarterly article on the Council on American-Islamic Relations. For a fine example of CAIR fooling the establishment, see Dave McKibben's article Friday in the Los Angeles Times.
McKibben writes:
[Former state Republican Party Chairman Shawn] Steel said he considered CAIR an extremist group. The largest Muslim civil rights group in the country, CAIR is widely viewed as mainstream and helps the FBI in combating terrorism. In enjoys the political support of figures such as Orange County Sheriff Michael S. Carona.
Maybe that's because CAIR has been busy fooling the establishment. How else to explain the "mainstream" label, despite the fact that "at least five of its employees and board members have been arrested, convicted, deported, or otherwise linked to terrorism-related charges and activities," as MEQ reported.
We are at a loss to explain McKibben's assertion that CAIR "helps the FBI in combating terrorism." Read MEQ to see how the organization impedes counterterrorism.
Posted by TS at 07:45 AM | Comments (0)
October 12, 2006
Twenty Tons of Explosives Smuggled to Gaza
Respected analyst Ehud Ya'ari describes in the Oct. 16 Jerusalem Report the "unprecedented" arming of Gaza:
One of the obscured truths is that an unprecedented arms-acquisition effort is under way in the Gaza Strip. Close to 20 tons of standard explosives have been smuggled in since Israel withdrew last summer. Thousands of RPG grenade launchers and large quantities of rifles, pistols and grenades are coming in through the tunnels under the Philadelphi Route, separating the Strip from Egypt. Several Katyusha rocket launchers, like those used by Hizballah against northern Israel, are already in the hands of Hamas and other terror groups. It is only a matter of time before they also get hold of shoulder-launched anti-aircraft rockets and, even more troubling, third generation anti-tank missiles, like the Russian Koronet. Such weaponry will enable the terrorists to effectively target vehicles and structures 3-4 kms. inside Israel, and not to have to depend on their primitive high-trajectory Qassam rockets. Also under way is a feverish campaign to dig tunnels into Israel under the security barrier around the Strip, with the aim of facilitating terror attacks in Israel.
Have you heard anything about this from your local (or the national) media? If not, ask editors and producers: "why not?"
Posted by GI at 10:52 AM | Comments (0)
October 10, 2006
Ha'aretz's Landau in Damage Control Mode
David Landau: Defending the Indefensible
Ha'aretz editor David Landau was a guest on this week's ZOA Middle East Report. Hosts Steve Feldman and Lori Lowenthal Marcus press Landau on the paper's questionable standards of accuracy and Landau's recent admission that the paper ignored corruption by Ariel Sharon so as not to disrail the disengagement process. Landau proudly embraced his decision to downplay the incovenient scandals, and failed to see the contradiction between that decision and his claim regarding high standards of accuracy.
Posted by TS at 04:36 AM | Comments (0)
October 09, 2006
A Tale of Two Cities
Katharine Jefferts Schori
On Nov. 4, Katharine Jefferts Schori will be invested as Presiding Bishop of the the Episcopal Church.
When she takes over her duties, one pressing issue she'll have to contend with is the one-sided anti-Israel narrative broadcast by so-called peace and justice activists of the Episcopal Church, whose idea of "justice" involves demanding Israel take down its security fence without asking the Palestinians to stop the suicide attacks that prompted its construction. Moreover, the resolutions these activists submitted to the Episcopal Church's General Convention did not ask the Hamas leaders of the Palestinian Authority even to acknowledge Israel's right to exist.
One place Rt. Rev. Jefferts Shori might want to look is her church's Web site, which is a veritable cornucopia of distortions, and in some instances outright lies, about the Arab-Israeli conflict.
Plug "Jenin" into the site's search engine (it's in the upper right-hand corner) and you will find a total of nine links, the first of which gains the reader access to an article that falsely accuses Israel of digging mass graves in Jenin to cover up "war crimes" in 2002.
Four years later, the Episcopal Church has failed to update or correct this article, even though it has been thoroughly discredited.
Jenin was the scene of a battle in 2002 in which 52 Palestinians, most of them combatants, and 23 Israeli soldiers were killed. The Israelis went into Jenin as part of "Operation Defensive Shield," which began in response to an unprecedented wave of suicide bombings that killed hundreds of Israeli civilians. One of the worst of these attacks took place at Netanya on March 27, 2002. That attack killed 30 Israelis and injured another 140. That attack, by the way, is all but ignored on the Episcopal Church's Web site. See for yourself.
To be fair, the Episcopal Church does obliquely acknowledge (without specifically mentioning) the Park Hotel Bombing of 2002 in a statement issued on April 10, 2002:
We are shocked by the escalating violence in the Middle East following the attacks during Passover and Easter. In this recent wave of violence, thousands of innocent victims have died or are suffering as a result of suicide bombings and the incursion of the Israelis army into the West Bank.
But make no mistake—this purpose of this statement was not to condemn Palestinian behavior, and it mentioned nothing about Palestinian "war crimes." Rather, the violence was mentioned as a hook for the Church's fund-raising effort on behalf of Palestinian medical centers.
Posted by CameraBlog at 03:59 PM | Comments (0)
More on Hezbollah's Use of Civilian Areas
Adding to the accumulated evidence documenting Hezbollah's use of civilian areas during the recent war is a story in Sunday's Washington Post. It notes that
[Hezbollah] began preparing for a ground war almost from the day Israeli forces left in May 2000. Most of the militiamen were drawn from their villages and kept their weapons at home. Abdel-Kader said the town or village became the unit of defense, where other arms were stashed. The towns, in turn, were organized into three or four sectors, with a regional command.

"All the weapons were in the right place," he said. "They didn't need to mobilize."
For more on Hezbollah and it's use of human shields, see CAMERA's letter to Human Rights Watch.
Also, check out CAMERA's flash presentation addressing dubious media assertions on the casualty breakdown in Lebanon.
Posted by GI at 10:53 AM | Comments (0)
October 06, 2006
Questionable Captions
The New York Times last week published a photo of a Palestinian rally, with a caption claiming that the Palestinians were protesting Hamas's refusal to recognize Israel. In fact, they were protesting Hamas policies unrelated to Israel. To the newspaper's credit, it ran a correction after CAMERA pointed out the error.
A few days later, the Snapped Shot blog discovered another caption—this one written by the Associated Press—that seemed to misrepresent what's actually happening in the photo.
The AP caption reads: "Palestinians hold banners against United States Secretary of State Condoleezza Rice visit ...."
But the banners appear to refer to inner-Palestinian issues rather than to Rice's visit. "DECISION MAKERS! ENOUGH POLITICAL CORRUPTION," one sign says. Another sign, which isn't shown in the AP photo but is visible in a Reuters photo of the same rally, seems to say: "No to Palestinian fratricide!"
Check out the pics and commentary at Snapped Shot.
Posted by GI at 10:35 AM | Comments (0)
October 05, 2006
Hezbollah Takes on the Blogosphere
Brian of "Snapped Shot" notes his blog is receiving an unusal number of comments from Hezbollah supporters and wonders "if they're trying to kickoff a coordinated campaign to spread their message online in the same manner that they pulled the media's strings. " He observes:
In light of CAMERA's discovery, the sudden appearance of Nasrallah's digital goons makes much more sense. It's curious to see that they've been emboldened enough about their victory over the press to assume that they can accomplish the same thing online.

Fat chance, guys!
Posted by RH at 02:22 PM | Comments (0)
Nobel Laureate: Academic Boycotts of Israel "Atrocious"
Roger Kornberg, a scientist as Stanford University, was awarded the Nobel prize for chemistry yesterday. The Jerusalem Post relayed some interesting background information about Kornberg overlooked in other news reports:
Kornberg has been a visiting professor at Hebrew University four months a year every summer since 1986. His Israeli-born wife, Yahli, is the daughter of the late historian and Knesset clerk, Netanel Lorch, and their three children are fluent Hebrew speakers. ...

He said some of the Israeli scientists he has met are the "finest scientists" he knows, adding that the level of academic and scientific research in Israel is "world class." ...

Asked whether he deems the boycotting of Israeli academics and academic institutions justified, the laureate told The Post: "It is awful. It's atrocious. It angers me beyond description."
Read the whole article here.
Posted by GI at 11:34 AM | Comments (0)
October 04, 2006
Hezbollah Gloats Over Success of its Media Weapon
On a Hezbollah affililated website, the terror group is gloating about its "brilliant" performance influencing Western public opinion through the media.
Hezbollah seems to have discovered CAMERA's article "Hezbollah's Media Weapon" analyzing the terrorist group's manipulation of the Western media. While Hezbollah claims CAMERA provided no proof that the terrorist organization manipulated the media, it refuses to elaborate further on this point. Instead, the terrorist organization proclaimed pride in having gotten its message out to the world "despite the Western media's lack of neutrality."
Read Google's automatic translation of "Hezbollah Through Western Eyes" here. The original CAMERA analysis can be found here.
Posted by RH at 04:25 PM | Comments (0)
October 03, 2006
Lonely Planet Founder Bashes Israel
A few years ago, a CAMERA review of the Lonely Planet guidebook on Israel found in that book "a generally disagreeable attitude toward Israel and its Jewish inhabitants."
"The legacy of Israel given in the 'Facts about the Country' section reflects the traditional Arab version of events almost from start to finish," the review noted.
It wasn't such a surprise, then, to come across statement by Lonely Planet founder Tony Wheeler's statement on the Israel-Hezbollah war that didn't so much reflect the traditional Arab version of events, but the version of events held by the most extreme Arab leaders.
In a feature in last Sunday's San Francisco Chronicle, Wheeler discussed how previously safe places can quickly become dangerous. Lebanon, he said, has recently become "dangerous" not because the Lebanese government lacked the will or strenght to assert its sovereignty over the whole of Lebanon, and not because Hezbollah provoked a war with Israel with its deadly cross-border kidnapping raid, but because Israel, seemingly for no reason in Wheeler's mind, behaves like an unruly gorilla:
Lebanon wasn't a dangerous place a few weeks ago, then Israel starts smashing the place up and it's very dangerous.
Posted by GI at 04:23 PM | Comments (0)
University of Michigan Student Senate Votes for Divestment
The University of Michigan's (Dearborn campus) student government unanimously passed a resolution calling for the university to divest from companies selling to the Israeli military.
"We want the university to withdraw their investments so these companies think twice about selling their products or their services to the military," said Bilal Dabaja, 21, a senior political science major.

The vote passed unanimously, and Dabaja said it had nothing to do with the campus's location in Dearborn, the heart of the region's Arab-American community. Dabaja said student leaders at UM-Dearborn hope students at the university's Ann Arbor and Flint campuses will pass similar resolutions.
Others do not believe the reolution will gain the same support on the university's other campuses.
It's unclear how much -- if any -- support the measure has outside UM-Dearborn. Terry Teicher, chairman of the Jewish student group Hillel at UM's main campus, said it's unlikely student leaders in Ann Arbor would support such a resolution ...

"At Michigan (in Ann Arbor), the representatives of student government as a whole recognize that divestment is counterproductive to encouraging peace, and encouraging dialogue."
Posted by RH at 05:29 AM | Comments (4)
Between Fences and Walls
What, you haven't heard? A new "wall" is going up in the Middle East. You didn't read angry letters to the editors? Irate condemnations from human rights groups? You didn't hear about the international wrath?
Maybe that's because this time it is Saudi Arabia--not Israel--which is trying to keep out terrorists. The physical features of Israel's fence and the planned Saudi fence, as described Thursday in the International Herald Tribune, sound quite similar:
In a sign of regional concern over terrorism, Saudi Arabia is pushing ahead with plans to build a fence along its entire border with Iraq to prevent terrorists from entering the kingdom from the chaotic north.

The 900-kilometer, or 560-mile, barrier is part of a $12 billion package of measures including electronic sensors, bases and physical barriers to protect the kingdom from external threats, said Nawaf Obaid, head of the Saudi National Security Assessment Project, an independent research institute that provides security advice to the Saudi government. It is expected that five to six years will be needed to complete the barricade. . . .

Although the government in Riyadh has not released complete details of its plans, experts familiar with the project said it would include sensors and ultraviolet cameras capable of detecting any attempt to breach the fence. The fence will not be electrified, but it will have sensors capable of alerting security forces if anyone tries to cut through the links, the experts said on condition of anonymity because they are not authorized to speak about the project to media.

The Middle East Economic Digest, a regional newsmagazine, reported this month that it would contain a double- lined fence with 135 electronically controlled gates, fence-mounted ultraviolet intruder detection sensors, buried radio detection sensors, and concertina razor wire along the entire desert frontier.
So, where's the uproar about the Saudi "wall"?
Posted by TS at 05:26 AM | Comments (0)
Muslim Deaths in Perspective
Israeli blogger Gadi Taub writes about an article by Ma'ariv's senior journalist Ben-Dror Yemini, who has calculated all Muslim deaths during the years of the Arab-Israeli conflict. His findings regarding the number of Muslim fatalities around the world (versus the intense focus on Israel) are astounding. As Taub summarizes:
Some 10,000,000 (ten million!) Muslims were murdered, by the more conservative estimations. But only about 0.6% of these deaths were caused by the Arab-Israeli conflict itself. Read again: about half a percent. Here's one finding from the margins of Yemini's research: France is responsible for about ten times more Muslim deaths than Israel during the same years. Not something your average newspaper reader in Europe is likely to guess.
(Hat tip: Karen M.)
Posted by TS at 04:16 AM | Comments (0)
Ha'aretz's Sins
For the Yom Kippur season, Ha'aretz's Bradley Burston writes asking forgiveness for journalistic sins. Ha'aretz in particular has good cause to ask for forgiveness. Issuing corrections would be a good way to start the repentance process.
As if those aren't enough sins, Idan Yosef of NFC (News First Class) reports that Ha'aretz editor David Landau, speaking at a conference on Sept. 28, admitted:
"I, as editor of Haaretz, say yes. The Haaretz newspaper supported the disengagement, and we maintained that in order to stop the large corruption of the continued occupation of Gaza, it was possible to ignore small corruption."
True, confession is the first step in Jewish teshuva (repentance). But will Landau stop the practice of ignoring news stories that don't match the paper's political agenda?
(Hat tip: Karen M. and IMRA)

Posted by TS at 03:07 AM | Comments (0)