« Updated: Media Ignore Debate on Killing Jews | Main | Cotler Discusses Principles vs. Even-handedness »
August 31, 2006
WBUR-NPR Tilts Discussion on Lebanon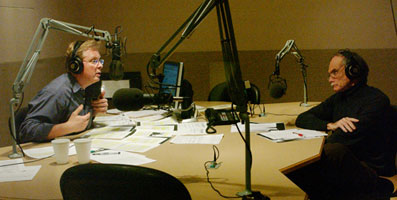 Tom Ashbrook (at left)
A pair of discussions heard eight days apart in August on Tom Ashbrook's Boston-based NPR program, On Point, was ostensibly intended to provide an evenhanded analysis of the conflict — but if this was the aim, it didn't work.
Ashbrook opened the August 17 broadcast, saying: "Last week, in the heat of war, we talked with Israelis about their hopes and fears; this hour, On Point will talk with Lebanese citizens about the war that's just ended and the future of their country, Lebanon."
The earlier broadcast (August 9) involved five prominent Israeli citizens; the later broadcast involved five prominent Lebanese citizens.
The earlier discussion predominantly involved a debate among former government officials - Moshe Arens and Dore Gold versus Naomi Chazan and Yossi Beilin - about the wisdom and military strategy of the policies in the recent conflict. Chazan and Beilin strongly opposed military reaction to aggression, believing that diplomacy could resolve the problems. Arens and Gold disagreed. The fifth participant, Aharon Valency, head of the Upper Galilee Regional Council in Northern Israel, described hardships experienced by Israelis living in the north.
However, the later discussion was essentially an anti-Israel propaganda platform, with only one speaker, pro-democracy filmmaker Lokman Slim, expressing opposition to Hizbullah.

Wael Abou Faour, Druze MP in the Lebanese Government, praised Hizbullah. Professor Sofia Sade praised Hizbullah and heaped blame on Israel. Ibrahim Mousawi, director of foreign programming for Hizbullah's Al-Manar Television, delivered a barrage of anti-Israel polemics, accusing Israel of continued occupation (meaning Shebaa farms) and aggression. Near the end of the program, Ashbrook asked Mousawi, "Do you want Israel to go away (meaning, the elimination of Israel)?" Typically, Ashbrook allowed Mousawi to ignore the question without pressing him for an answer.
While Ashbrook provided only minimal context about Hizbullah and its television station ("Al-Manar has been tagged as a terrorist operation by the U.S. and Israeli governments"), he failed to provide any context whatsoever about Shebaa Farms, the pretext for Hizbullah's attacks, and failed to explain Hizbullah's commitment to Israel's destruction.
Nor did Ashbrook challenge Journalist Raghida Dergham's propaganda about the Shebaa Farms:
The United States needs to understand that at the heart of all this is occupation and it has to pressure Israel to deliver on the issue of the Palestinians and something as small as that Shebaa Farms episode. ... It is in fact that continued occupation of the Shebaa Farms that will give the pretext for Hizbullah to go on claiming that it has authority to resist and it will keep for the Syrians a foothold to playing havoc in Lebanese politics. That's the sort of thing I'm talking about – the brave decisions that need to be taken.
Ashbrook should have followed up those comments on Shebaa Farms with facts that were ignored by Dergham. As a recent CAMERA report noted:
... there is no international dispute over the status of the 10-square-mile area at the intersection of the Lebanese, Israeli and Syrian borders. In the successful self-defense of the 1967 Six-Day War, Israel took Shebaa Farms and the Golan Heights from Syria. Lebanon was not a party to the '67 war. In 2000, the United Nations confirmed Israel's complete withdrawal from Lebanon and reaffirmed in 2005 that Israel occupied no Lebanese territory.
Read the rest of the piece here for more of what was left out of Ashbrook's Shebaa Farms discussion.
Posted by MK at August 31, 2006 02:36 PM
Comments
Guidelines for posting
This is a moderated blog. We will not post comments that include racism, bigotry, threats, or factually inaccurate material.
Post a comment