« Footage from South of the Border | Main | Who is Hezbollah? »
August 06, 2006
Reuters' Manipulated Photo
Below is a summary from the Jerusalem Post about brazen doctoring of a Reuters photo:
In the most recent in a series of online controversies to take on the mainstream media, a series of Web sites discredited a Reuters photograph of the fighting in Lebanon, forcing the news agency to issue an apology and remove the image from their archives.

The photograph by Adnan Hajj, which shows plumes of smoke rising from downtown Beirut after an IAF bombing, appeared to have been doctored to show more intense smoke and destruction over the city.
For more on the scandal, see here.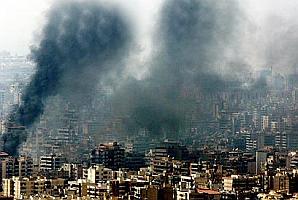 Posted by GI at August 6, 2006 06:44 PM
Comments
I can believe it.
Reuters is anti-Jewish, anti-Israel, anti-America.
I guess they think that by placating the Muslim terrorists they will be safe.
Just read the Qur'an and realize that anyone NOT A MUSLIM (and it looks like the Shias, too) are not safe.
Posted by: frank byzinski at August 7, 2006 05:15 AM
Guidelines for posting
This is a moderated blog. We will not post comments that include racism, bigotry, threats, or factually inaccurate material.
Post a comment