« Whitewashing a Kidnapping | Main | WBUR-NPR Tilts Discussion on Lebanon »
August 25, 2006
Updated: Media Ignore Debate on Killing Jews
Egyptian Grand Mufti Ali Gomaa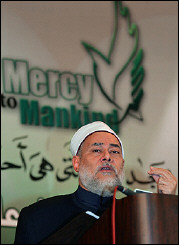 In the wake of yet another unprovoked attack against Israel, which led to yet another Middle East war, this one between Israel and Hezbollah, the media's already strong focus on the region has grown even more intense. The questions so often asked—what motivates such hostility between Israel and its neighbors? Why does much of the Arab world hate the West? Where is the line between legitimate criticism of Israeli actions and anti-Semitism?—have become even more relevant.
As these questions were being directly or indirectly raised in news stories and opinion pieces, a public debate was unfolding in Egypt that provided valuable insight into the questions.
Various Egyptian religious leaders, some government-appointed, were arguing over the validity of a religious edict, broadcast on satellite television, that calls for believers to kill "any Zionist anywhere in wartime."
The cleric who issued the edict later modified it to apply only to Israeli Jews, and was quoted in an Egyptian newspaper saying: "I myself am ready to slash the throat of any Israeli I meet."
Egypt's government-appointed grand mufti took issue with this ruling—not because calling for the murder of Jews and Israelis is wrong, but for a more technical reason. Israelis traveling in Egypt have visas, and, according to the mufti, a visa is a "safe-conduct pass." Thus, Jews holding Egyptian visas should not be killed.
On the other hand, the same grand mufti had some days earlier pointed to an anti-Semitic book about Jews using human blood to make matzah, offering this as evidence that Hezbollah was fighting against "blood-thirsty murderers" and "blood-suckers."
The incitement to kill Jews, the debate over whether the killing is allowed everywhere or only outside of Egypt, and the citing of the blood libel canard by a government-appointed cleric certainly helps explain why some Muslims hate Israel and Jews so much that they are willing to resort to terrorism. It also shows that anti-Israel hatred is in many instances inseparable from classic anti-Semitism.
The Agence France Presse wire service understood that this story is newsworthy, and covered the debate in an Aug. 22 story. (The above summary is based on the AFP report.)
But what about the rest of the media? It seems that not one news outlet other than AFP bothered to report on this incitement. (Update: The Associated Press did cover the scandal, but the AP dispatch was widely ignored.)
This might not come as a surprise to many. Much of the media have long ignored Palestinian hate education. But it yet is another reason to contact media outlets and ask why this story is not being covered.
Posted by GI at August 25, 2006 04:44 PM
Comments
The shenanigans of then Grand Mufti of Jerusalem, Haji Ahmed al-Husseini, busom friend of Nazis , are well documented. Hence the present Mufti edition , his and his ilk's industrial throughput of hate incitement & myth spinning,as seen on MEMRI, is steeped in tradidition. And so is appeasement - the coin of brownnosers to buy time or 'hope against hope'.
"The questions so often asked—what motivates such hostility between Israel and its neighbors?"
It started in 1920 and gained momentum ever since. One only has to read up on Haji al-Husseini , who was related to Arafat.
Heinzy.
Posted by: heinzy
at August 29, 2006 02:50 PM
Guidelines for posting
This is a moderated blog. We will not post comments that include racism, bigotry, threats, or factually inaccurate material.
Post a comment