« July 2006 | Main | September 2006 »
August 31, 2006
WBUR-NPR Tilts Discussion on Lebanon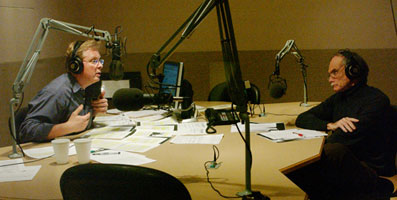 Tom Ashbrook (at left)
A pair of discussions heard eight days apart in August on Tom Ashbrook's Boston-based NPR program, On Point, was ostensibly intended to provide an evenhanded analysis of the conflict — but if this was the aim, it didn't work.
Ashbrook opened the August 17 broadcast, saying: "Last week, in the heat of war, we talked with Israelis about their hopes and fears; this hour, On Point will talk with Lebanese citizens about the war that's just ended and the future of their country, Lebanon."
The earlier broadcast (August 9) involved five prominent Israeli citizens; the later broadcast involved five prominent Lebanese citizens.
The earlier discussion predominantly involved a debate among former government officials - Moshe Arens and Dore Gold versus Naomi Chazan and Yossi Beilin - about the wisdom and military strategy of the policies in the recent conflict. Chazan and Beilin strongly opposed military reaction to aggression, believing that diplomacy could resolve the problems. Arens and Gold disagreed. The fifth participant, Aharon Valency, head of the Upper Galilee Regional Council in Northern Israel, described hardships experienced by Israelis living in the north.
However, the later discussion was essentially an anti-Israel propaganda platform, with only one speaker, pro-democracy filmmaker Lokman Slim, expressing opposition to Hizbullah.

Wael Abou Faour, Druze MP in the Lebanese Government, praised Hizbullah. Professor Sofia Sade praised Hizbullah and heaped blame on Israel. Ibrahim Mousawi, director of foreign programming for Hizbullah's Al-Manar Television, delivered a barrage of anti-Israel polemics, accusing Israel of continued occupation (meaning Shebaa farms) and aggression. Near the end of the program, Ashbrook asked Mousawi, "Do you want Israel to go away (meaning, the elimination of Israel)?" Typically, Ashbrook allowed Mousawi to ignore the question without pressing him for an answer.
While Ashbrook provided only minimal context about Hizbullah and its television station ("Al-Manar has been tagged as a terrorist operation by the U.S. and Israeli governments"), he failed to provide any context whatsoever about Shebaa Farms, the pretext for Hizbullah's attacks, and failed to explain Hizbullah's commitment to Israel's destruction.
Nor did Ashbrook challenge Journalist Raghida Dergham's propaganda about the Shebaa Farms:
The United States needs to understand that at the heart of all this is occupation and it has to pressure Israel to deliver on the issue of the Palestinians and something as small as that Shebaa Farms episode. ... It is in fact that continued occupation of the Shebaa Farms that will give the pretext for Hizbullah to go on claiming that it has authority to resist and it will keep for the Syrians a foothold to playing havoc in Lebanese politics. That's the sort of thing I'm talking about – the brave decisions that need to be taken.
Ashbrook should have followed up those comments on Shebaa Farms with facts that were ignored by Dergham. As a recent CAMERA report noted:
... there is no international dispute over the status of the 10-square-mile area at the intersection of the Lebanese, Israeli and Syrian borders. In the successful self-defense of the 1967 Six-Day War, Israel took Shebaa Farms and the Golan Heights from Syria. Lebanon was not a party to the '67 war. In 2000, the United Nations confirmed Israel's complete withdrawal from Lebanon and reaffirmed in 2005 that Israel occupied no Lebanese territory.
Read the rest of the piece here for more of what was left out of Ashbrook's Shebaa Farms discussion.
Posted by MK at 02:36 PM | Comments (0)
August 25, 2006
Updated: Media Ignore Debate on Killing Jews
Egyptian Grand Mufti Ali Gomaa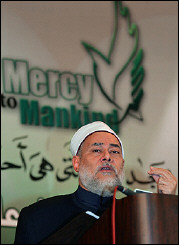 In the wake of yet another unprovoked attack against Israel, which led to yet another Middle East war, this one between Israel and Hezbollah, the media's already strong focus on the region has grown even more intense. The questions so often asked—what motivates such hostility between Israel and its neighbors? Why does much of the Arab world hate the West? Where is the line between legitimate criticism of Israeli actions and anti-Semitism?—have become even more relevant.
As these questions were being directly or indirectly raised in news stories and opinion pieces, a public debate was unfolding in Egypt that provided valuable insight into the questions.
Various Egyptian religious leaders, some government-appointed, were arguing over the validity of a religious edict, broadcast on satellite television, that calls for believers to kill "any Zionist anywhere in wartime."
The cleric who issued the edict later modified it to apply only to Israeli Jews, and was quoted in an Egyptian newspaper saying: "I myself am ready to slash the throat of any Israeli I meet."
Egypt's government-appointed grand mufti took issue with this ruling—not because calling for the murder of Jews and Israelis is wrong, but for a more technical reason. Israelis traveling in Egypt have visas, and, according to the mufti, a visa is a "safe-conduct pass." Thus, Jews holding Egyptian visas should not be killed.
On the other hand, the same grand mufti had some days earlier pointed to an anti-Semitic book about Jews using human blood to make matzah, offering this as evidence that Hezbollah was fighting against "blood-thirsty murderers" and "blood-suckers."
The incitement to kill Jews, the debate over whether the killing is allowed everywhere or only outside of Egypt, and the citing of the blood libel canard by a government-appointed cleric certainly helps explain why some Muslims hate Israel and Jews so much that they are willing to resort to terrorism. It also shows that anti-Israel hatred is in many instances inseparable from classic anti-Semitism.
The Agence France Presse wire service understood that this story is newsworthy, and covered the debate in an Aug. 22 story. (The above summary is based on the AFP report.)
But what about the rest of the media? It seems that not one news outlet other than AFP bothered to report on this incitement. (Update: The Associated Press did cover the scandal, but the AP dispatch was widely ignored.)
This might not come as a surprise to many. Much of the media have long ignored Palestinian hate education. But it yet is another reason to contact media outlets and ask why this story is not being covered.
Posted by GI at 04:44 PM | Comments (1)
August 24, 2006
Whitewashing a Kidnapping
The recent abduction of Fox journalists Steve Centanni and Olaf Wiig by Palestinians in Gaza on August 14 presents a disturbing dilemma for their colleagues in the region. Obviously, journalists need to be careful and guard their words in public interviews so as not to jeopardize their own safety or that of their colleagues. But how far to go?
Interviewed on "Special Report with Brit Hume"on August 23, Fox's Middle East correspondent Jennifer Griffin responded to questions about the two kidnapped journalists who were seen for the first time in nine days on a videotape released by their captors. Griffin appeared to bend over backwards to portray her colleagues' Palestinian kidnappers in the best possible light, even going as far as to suggest that this abduction was more just a form of Palestinian hospitality than a real kidnapping.
At first, Griffin repeated the captives' statement that they were being treated well, "as guests":
Well, I think what was most interesting is that they do appear to be in good health. That's good news. They went out of their way to show how their captors had treated them with respect. They had given them clean clothes, and water and food and went out of their way to talk about how they had access to bathrooms and all sorts of things and that they're being treated as guests.
It is certainly fair to report the captives' statement—including their assertion that they are being treated well. But even if she was hesitant to point out that the hostages' words should be received with skepticism—their lives are, after all, in the hands of those they were praising—did she really need to actively whitewash the taking of hostages? Apparently she thought yes, as she continued to elaborate on Palestinian hospitality, explaining the captives were regarded as honored guests:
This is very important in Palestinian society and in an Arab society. Being a guest is almost an honored value, something that you and I perhaps wouldn't necessarily pick up on being from the west. But this is a very important point.

And it's very important to note that the Hamas spokesman, Rafi Hamed who spoke about this today said that these two guests of the Palestinians should be released immediately and unharmed. This is significant, because that means that the Palestinians themselves are sending a message to the captors that these are their guests and they are responsible for their safety and well-being.
In response to Brit Hume's obvious question—whether the captives' statements sounded coerced—Griffin answered that their comments "were not scripted," which apparently was enough to convince her that the hostages were in no way influenced by their precarious predicament. In fact, she considers the presumed "unscripted" nature of the comments evidence that they are indeed being treated as guests rather than as captives:
I think what was interesting is they were not scripted. Many of these hostage videos, the people are scripted. You can tell that they are looking up nervously and their eyes are averting from side to side probably towards people who are forcing them or coercing them to say certain things. What I noticed in this video today is that these are our colleagues that we know very well. Their winning personalities came through. Olaf was exceedingly polite, which he always is. They are both very respectful of the society in which they find themselves right now. Olaf said something that was almost amusing saying to his family, don't worry, I'll worry for you. Steve issued a message to his family, we'll see you soon. These are all very positive signs and it shows they are being treated as guests, and this is very significant.
While Arab society is indeed known for its hospitality, to repeatedly describe Centanni and Wiig as "guests" whitewashes an act of terrorism—not to mention that it makes a mockery of genuine Arab hospitality..
Posted by CameraBlog at 04:26 PM | Comments (3)
August 21, 2006
Reuters begs the question: Who said?
A Reuters dispatch headlined "Israeli Airstrikes Hit Gaza; Two Fox News Journalists Kidnapped," in The Washington Post's Aug. 15, 2006 edition, conspicuously omits a basic fact. Reporting on two Israeli Defense Forces air attacks in the Gaza Strip the day before, the news service states:
"Residents of the building were told to leave before the strike, but medics said eight people living nearby were injured."
Reporting the second attack, Reuters states:
"Again, those living in the building were told to leave before the attack."
Who told them? The journalistic essentials, whether for coverage of a car crash or a Middle East conflict, always are who, what, when, where, why, and how. But Reuters does not tell readers who called for evacuations. It might have been Hamas (the Islamic Resistance Movement), neighbors, or even the IDF itself.
The Associated Press provided the answer. Covering the same initial August 14 attack, AP explained that "Palestinian officials said the house had been evacuated two days before when Israeli officials called the residents and told them a strike was imminent."
Reuters, founded in 1851, bills itself as the world's largest multimedia news service, with 15,000 employees in 91 countries. Anyone can make a mistake, even an industry giant. But for Reuters not to report who, when that fact already was old news for AP, leaves us wondering. Why? -- J.F.
Posted by ER at 05:40 PM | Comments (0)
August 17, 2006
And You Thought They Were Reporters
Are some Western journalists actually Palestinian partisans, subconsciously if not consciously? Do some, perhaps, expect sympathetic coverage to earn them the equivalent of "safe conduct passes" from terrorists in the West Bank and Gaza Strip?
Consider "Newsman's Wife Makes Plea to Gaza Kidnappers," an Associated Press dispatch by Diaa Hadid, published in the August 17, edition of The Washington Post and datelined Gaza City. Beginning with the lede, here are the relevant paragraphs:
"The wife of a kidnapped Fox News cameraman made a public plea Wednesday [August 16] to his kidnappers to release him and a fellow journalist. Palestinian officials said they had no firm leads on where the two men are being held.
"The cameraman, Olaf Wiig, 36, of New Zealand, and American reporter Steve Centanni, 60, were taken Monday from their TV van near the Palestinian security services headquarters ....
"Wiig's wife, Anita McNaught, appealed to the kidnappers to free her husband and Centanni.
"'The bottom line is, there is no good reason for these two men to be held,' said McNaught, a freelance television journalist. 'They are friends of the Palestinians. They are here telling the Palestinian story for weeks now, when the rest of the world's media has not been here [but, presumably, covering the Hezbollah-Israeli war in Lebanon]'" — apparently leaving the Palestinian Arabs out of their accustomed place in the spotlght.
Taking into account that Anita McNaught is distraught over the seizure of her husband, it's still worth noting that A) she herself is a "television journalist"; B) she describes her husband and Centanni not as fair, uncompromised reporters but as "friends of the Palestinians"; C) says not that "they are honest, objective correspondents" but "they are here telling the Palestinian story ...." and D) therefore, "there is not good reason" to kidnap them.
If so, who is "telling the whole story," including not just Palestinian spin but also "the Israeli story" and the facts themselves, in context, without favor, and friendship notwithstanding?
Certainly, Ms. McNaught wants her husband freed. Meanwhile, though, her summary of what he and his partner have been doing --- and her own role as a reporter — suggests half-a-dozen violations of the Code of Ethics of the Society of Professional Journalists. Fairness, objectivity, thoroughness, independence, avoidance of even the appearance of conflict of interest — they're all in the code, if not in Ms. McNaught's perspective. If the reporters were "telling the Israeli story," would that be "a good reason" to kidnap them?
Fox may or may not have a credibility problem regarding Wiig and Centanni, but employers of Anita McNaught now definitely do.
Posted by ER at 12:22 PM | Comments (3)
August 16, 2006
Presenting False Images
Joel Mowbray has written a compelling column in the August 16 Washington Times about how easily the media is manipulated by terror groups such as Hezbollah, Hamas and Fatah.
The Washington Times
www.washingtontimes.com
Presenting false images
By Joel Mowbray
Published August 16, 2006
When Reuters was forced to sever ties with free-lance photographer Adnan Hajj and remove more than 900 of his photos from its database earlier this month, long-whispered questions about the reliability of Arab stringers and freelancers came to the forefront.

But while the widespread use of Arab locals in covering the Middle East raises many legitimate concerns, the Palestinian propaganda machine has enjoyed tremendous success over the years hoodwinking supposedly sophisticated Western journalists. And Hezbollah appears to have done the same over the past month.

In short, almost nothing that is purported to happen in the Arab world can automatically be taken at face value. Not even if it's captured in a photo.

Nowhere is the use of Arab "fixers" (as they are known) more common than in the Palestinian territories. And yet despite the extensive reliance on locals who presumably enjoy greater familiarity with the terrain and key players, negative press coverage of the Palestinian Authority or various Islamic terrorist organizations operating in the territories has long been scant.

This void in coverage is not because such evidence does not exist. Palestinian Media Watch, a nonprofit that operates on a tight budget, has easily reported more on incitement and indoctrination by the Palestinian Authority, for example, than all Western media outlets combined.

When it was discovered that Mr. Hajj had digitally manipulated his photos, at least one prominent Arab journalist was not surprised. "Sadly, things like this happen a lot, especially when your local fixers are openly affiliated and have a clear agenda," explains Jerusalem Post reporter Khaled Abu Toameh. He adds that some of the Arab stringers and freelancers contracted by Western media outlets are "people who see themselves as foot soldiers for the cause."

Mr. Toameh is careful not to paint with too broad a brush, and he stresses that there are Arab journalists who do their best to get the story out. But the record is well-established that reporting certain truths in the Palestinian territories can result in intimidation or sometimes severe violence.

After being arrested and detained for six days because he didn't give Yasser Arafat the desired coverage in the run-up to the 1996 election, Maher al-Alami, editor of Al Quds, the largest Palestinian newspaper in Jerusalem, said that "the Palestinian media follow [Yasser Arafat's] instructions out of fear."

When an Associated Press cameraman filmed Palestinians in Nablus jubilantly rejoicing over the September 11 attacks, he "was summoned to a Palestinian Authority security office and told that the material must not be aired," according to the AP's own account. Threats from Islamic terrorists on Arafat's payroll quickly followed. One Palestinian cabinet officer even stated that the the Palestinian Authority could not "guarantee the life" of the cameraman if the footage was released. The Associated Press never officially released the footage.

Even under the theory that Arab thugs and tyrants would be less likely to kill Western journalists because, well, the world would sadly care more about their deaths, relying solely on Western reporters instead is no panacea, either. Examples abound of Western reporters being duped or threatened. In April 2002, the Israeli military raided the Jenin refugee camp, a known terrorist breeding ground and safe haven. Palestinians immediately accused the Jewish state of systematically committing war crimes, and the buzzword soon tossed about by the Western press was "massacre."

That no massacre actually occurred - not even the United Nations, the Palestinians' best friend, found any evidence to suggest one had - received only a fraction of the earlier, largely uncritical reporting. Ditto for the incident this June, when many family members died on a beach in northern Gaza. Originally covered as an Israeli shelling of innocent Palestinians, it turned out that Israel almost certainly played no role in the tragedy. The media mea culpa, though, was essentially mute.

In a widely circulated photo taken last month and distributed by Agence France Press, two older, hijab-clad Lebanese women are wailing in front of caskets. Dozens of caskets, actually. The caskets were lined up against a wall, and numbers were spray-painted on the wall. Somehow, the women had wedged themselves into the narrow space between the coffins and the wall, and the numbers conveniently appeared directly behind them -guaranteed to be in any photo.

The problems with the photo are obvious. Why would the women force their way into a crevice, when they could more easily face both the caskets and the wall? Quite simply, that shot wouldn't capture both the mourning faces and the numbers signifying the enormity of the tragedy. And on the topic of the numbers, the ones spray-painted on the wall were the kind used in the West, not in South Lebanon, thus erasing any doubt about the photo-op's intended audience.

This photo, though, was not taken by an Arab freelancer or some hack Westerner. It was shot by award-winning photographer Marco Di Lauro, who won praise for his work with Marines in Iraq. The benign - and probably correct - interpretation is that he just wasn't suspicious enough.

Yet given that thugs from Hezbollah, Hamas and Fatah control almost everything in the most "newsworthy" areas of the Arab world, any scene or event encountered by Western media outlets must be viewed with supreme skepticism.

But it's not as if this is news to the Western media. They know it. Yet pretend as if they don't. That's the real travesty.
To send a letter to the editor about this column to the Washington Times, write to: letters@washingtontimes.com
Please send CAMERA a blind copy of your letter: alert@camera.org
Posted by LG at 01:42 PM | Comments (0)
Dear Europe, Wake Up!
Haim Harari, in an August 2006 introduction to the Italian edition of his book
"A View from the Eye of the Storm - Terror and Reason in the Middle East,"
sounds a wake-up call for Europe. Included in his insightful
essay are some comments about the manipulation of the media.
[The original book was published in English in April 2005
By ReganBooks/HarperCollins (N.Y.).]
Dear Europe,
There is a tiny holy land in the Middle East, which has largely
been the cradle of your moral values, ethics and religion, and
which has always been in the eye of the storm. The darkest stain
in your history, but also some of your greatest intellectual
giants, relate to the people originating from this land.
As a true friend, familiar with your continent and with your
culture, please allow me to address you with a mélange of
experience, passion and hope: Experience acquired by my family,
which has lived in the "eye of the storm" since the days
when Giuseppe Garibaldi was a child; passion of someone who
believes that Western Civilization has much to offer to the
world and that Israel has a lot to offer to its neighbors;
hope of an eternal optimist, who knows that you and we will
prevail, but prefers that it happens sooner, rather than later.
Dear Europe, when you are sick, a denial syndrome can be dangerous,
even deadly. To ignore the symptoms of a serious illness,
in spite of its rapid spread and progress, can kill anyone.
Early detection and resolute treatment can save your life,
as well as the lives of others who might be infected.
In the name of Western Civilization: Do not wait any more.
Open your eyes. Wake up!
Are you waiting until traveling by air can be done only in
underwear and being tied to your seat, because of new sickening
terrorist plots? Are the new habits of searching your luggage,
removing your shoes, denying you hand luggage, forbidding fluids
and waiting hours in security lines not enough? Are you waiting
until fanatics will explode themselves simultaneously in the
crowded check-in areas of ten different European airports,
in the peak summer travel season, killing thousands of people?
Are you waiting for the Iranian embassy to bring rockets in
their diplomatic mail, hide them literally under the beds of
some of your Muslim citizens and start shelling your cities
from the backyards of predominantly Muslim neighborhoods, or
from mosques, as they do in Gaza and in Lebanon? Are you waiting
until you will have to enclose terrorist infested neighborhoods
in your cities and countries by high separating walls? What more
should happen before you wake up?
And if you think that I am hysterical, please take note:
when my book predicted suicide murders in Europe, before the
July 2005 atrocities in London, some of my European friends thought
I was hysterical. They were wrong. The London suicide murders did
happen. When I described, in the book, a hypothetical story about
a man wearing a coat in a hot summer day, being killed by security
guards because he might be wearing a suicide belt, some of my readers
believed I was crazy. But a few months later, an innocent Brazilian
was killed in London in exactly such an incident. When I complained
about fabricated media pictures, I was labeled as being biased,
but now we have clear evidence of the Reuters phony photos and
of theatrical staged parades of dead bodies of children in front
of media photographers in both Gaza and Lebanon. When I wrote that
free democratic elections in an incited and uneducated society,
with no free press and no judicial system, can only lead to a
victory of the worst fanatic and murderous elements, I was told
that "we should believe in democracy", only to see, later, the
Palestinian Hamas victory and the gains of the Muslim brothers
in the Egyptian election. When I talked about sending rockets
from a Paris Muslim neighborhood into the Louvre, I was
considered out of touch with reality. Indeed, this has not
yet happened. But hundreds of cars were burned in the streets
of Paris since then and the rockets will arrive, probably via
the Iranian or Syrian embassy. Perhaps it will first happen in
Brussels, Amsterdam, Copenhagen, Rome or London and not necessarily
in Paris. But any way you look at it, I am not hysterical.
We watch a terrorist army acquiring more than ten thousand deadly
rockets in the sovereign country of Lebanon (did I say "sovereign"?),
which pretends that this army does not exist, while two ministers
representing this non-existing army, are members of the Lebanese
cabinet. Terrorist groups of this army travel freely through the
Lebanese-Syrian border checkpoints, back and forth, to and from
their training camps in Iran. Naturally, the Lebanese government
neither destroys the private army nor asks the international
community for help in dismantling it. This army is fully funded
and armed by two other sovereign countries, members of the United
Nations, still maintaining elaborate commercial and diplomatic
relations with all European countries. But the private army is not
declared by Europe to be a terrorist organization and Europe claims
not to have clear evidence that Iran and Syria are financing and
supplying the terrorists. Perhaps aliens from another planet
finance them. Perhaps the flourishing drug business of the
Hizbullah manufactures the rockets as a spin-off.
"Europe has no proof", say its foreign policy spokespersons.
Dear Europe, you see no evil, hear no evil, but you definitely
speak evil. What more should happen before you wake up?
The ten thousand rockets are known to be so inaccurate that they
usually miss entire cities. Not only they cannot be aimed at a
specific building or facility, they cannot be aimed even at
a specific town. They are aimed at the Jewish town of Carmiel
in the Galilee and often hit the Arab Israeli town of Majdal-Curum,
kilometers away. They are aimed at an Israeli military airfield
and kill Israeli Arabs in Nazareth. They are aimed at the large city
of Haifa and most of the time hit the sea or empty fields outside
the city. Israel is so small that some of the rockets fly over Israel
and fall in the northern tip of the West Bank. However, five percent
of these thousands of rockets do hit inhabited areas and some of
them kill children and elderly people, Jewish and Arab. There cannot
be the slightest doubt that this vast array of rockets can only
be intended to deliberately and indiscriminately kill civilians.
No one is pretending otherwise. But Europe thinks that there is
no evidence that this is a terrorist organization. Will 100,000
rockets convince you, dear Europe? Perhaps a million? What more
should happen before you wake up?
In the first week of the Lebanon war in the summer of 2006,
Hizbullah murdered a Jewish grandmother and her five-year old
grandson, by one of its rockets. Nothing unusual about that.
After all, this is the declared purpose of the existence of
the Hizbullah. It is called "resistance". Indeed, a fierce resistance
to the existence of Jews in the world. But two days later the
Hizbullah rockets accidentally murdered two little Israeli Arab boys,
a few kilometers away from the same spot. The leader of Hizbullah
went on Television and apologized for killing the Arab little boys,
declaring them to be martyrs. The other children were Jewish,
hence a legitimate target. And Europe still claims to have no
evidence that the Iranian controlled Hizbullah is a terrorist
organization. After all, the president of Iran denies the Holocaust,
recommends the destruction of Israel and his Hizbullah Bullies
destroyed the Jewish community center in Buenos Aires.
Are they anti-Semitic? Not at all, "only anti Israeli".
Dear Europe, you do know whether the Holocaust happened or not,
don't you? How can you accept that a UN member nation calls
explicitly for a second holocaust? Where is your voice and,
especially, where is your action? What more should happen before
you wake up?
Hizbullah and Hamas operatives dig dead bodies from their graves
and parade them in well staged theatrical productions in front
of video and still photographers of the western media. The pictures
appear everywhere, some staged and some digitally forged,
electronically modified. Children toys, mysteriously always
in bright colors and very clean, are "accidentally" found in
the midst of the messy and dirty rubble of destroyed Hizbullah
buildings and are photographed repeatedly by international
media teams. Who would have guessed that Hizbullah facilities
contain such sweet teddy bears? But they do! CNN, BBC and other
TV crews run through the rubble of the Hizbullah headquarters
in Beirut, led openly by a Hizbullah PR director, and
always "accidentally" find the same neat photo album of the
same happy family with children in the midst of the dirty rubble.
Zoom in. Close up. Applause. Thank you very much. Senior CNN
correspondents admit explicitly that they are showing to the
public only what the Hizbullah wants them to show, but their
confessions are aired only on CNN in the US and not on CNN in
Europe. What more should happen before you wake up?
Israel withdraws fully from the Gaza strip, only to absorb a
constant barrage of primitive rockets aimed at (you know it by now)
civilian towns in Israel (referred to as "occupied Palestine"
by the President of Iran and the leaders of Hizbullah and Hamas).
Israel fully withdraws, with UN blessing, from Lebanon, and for
six years is, on and off, being attacked by the Hizbullah
"resistance" organization (indeed, resistance to anything the
civilized world believes in). Damascus is hosting the leader
of the Hamas and providing airport and shipping services to
Hizbullah. European ambassadors happily sit there and watch.
And when the Americans, in their own clumsy powerful way, try
to do something about it, not always in a clever way, not
always effectively, the old European Far Left and the European
Neo-Fascists join, as always, in a combined anti American
and anti Semitic chorus. What more should happen before
you wake up?

Thousands of Iraqis are murdered by other Muslims and hundreds
of thousands of Sudanese are slaughtered by Arabs in Darfur,
but Europe is up in arms about one thousand dead Lebanese,
half of whom are Hizbullah terrorists. It is not the dead
people who matter to Europe. It is who killed them. If it
is other Muslims, send it to page 10. If it is Israel, in
self-defense, it is a front page "war crime". Call the UN
for an emergency session! One day, thirty Iraqis are murdered
in Shiite Najaf by a Sunni suicide murderer. The next day,
dozens of Iraqis are shot in the streets of a Sunni neighborhood
in Baghdad by Shiites. And some Europeans still believe that
this is done against the Americans, or by the Americans,
or that it has anything to do with Israel! Wouldn't they try
to kill Americans, if this would be the purpose? For every
American killed in Iraq, there are hundreds of Iraqis
senselessly murdered by other Iraqis. For every attempt to
hurt the Americans, there are dozens of attacks on innocent
Iraqis. Who is funding them? Who provides weapons, explosives,
reconnaissance and intelligence? Not the poor hungry Iraqis.
Who finances the Shiite murderers in Iraq, so close to the
Iranian border? Who is funding the Sunni murderers in Iraq?
I do not know. But I have no doubt that European intelligence
services do know. I do know that the Sunni Palestinian
Islamic Jihad is fully paid by the Shiite Hizbullah and I
know who pays the Hizbullah. But the French foreign minister
visits Beirut and states that Iran is playing a constructive
role and Mr. Prodi asks for help from Iran. What more should
happen before you wake up?
A misguided, but idealistic, young Italian decides to spend
his vacation by arranging a summer camp for Palestinian children
in East Jerusalem. He is stabbed to death by a Palestinian
terrorist (or "resistance fighter", you can choose your words)
in the middle of the street. Medical and social volunteers,
who try to help Iraqis, are kidnapped and beheaded. Money
contributed in Europe for earthquake relief in Pakistan is
used to finance the latest suicide plot against flights from
the UK to the US. Israel withdraws from Gaza and leaves
intact greenhouses that could provide employment to numerous
unemployed Palestinians. The greenhouses are destroyed, under
the supervision of the Hamas and their metal parts are sold
as scrap metal or used as raw material for more primitive
rockets. The greenhouse area becomes a launching pad for
rockets into Israeli villages. After all, they get a better
salary for trying to kill Israelis than for growing
strawberries and flowers. And the EU tries to find ways
of sending money to these people. What more should happen
before you wake up?
Perhaps the so called international human rights organizations
should react? Oh, yes, they do, by one proclamation after another,
denouncing Israel. The secretary general of the UN is critical
of Israel, both in Gaza and in Lebanon. Not one word about
thousands of rockets deliberately sent from both areas towards
Israeli civilians, when Israel is not occupying one centimeter
of their land. The brand new "Human Rights Council", the new
improved version of the old UN "Human Rights Commission"
(yes, the revised version of the grotesque body previously
chaired by Libya) is calling an emergency meeting in order
to condemn Israel in the Lebanese context. "This Council
represents a great new chance for the United Nations,
and for humanity, to renew the struggle for human rights"
says the UN leadership. But in the long six-week
(repeat: six weeks) history of this new council, this is
already the second extraordinary emergency session. The
first session was called in order to denounce Israel in
connection with the Palestinian terror. Did I hear anyone
in Europe protesting? Did Europe announce that it will have
nothing to do with this farce at the "Human Rights Council"?
Why do we hear about EU financial humanitarian aid for the
Lebanese and not for the Israeli civilians whose houses
and schools were destroyed by the terrorists? Perhaps we are
still waiting for the proof that these are terrorists.
Evenhanded Europe, can you please explain why Lebanese
civilians are dearer to you than Israelis? Perhaps, the
argument goes, because more Lebanese died than Israelis.
Ah, but many more Germans died in World War II than
British and French combined. Hitler must have been
right! Did you realize that when the Lebanese government
announces daily the number of dead civilians, they include
among them the hundreds of dead Hizbullah terrorists,
because they are not soldiers? Did you realize that
when Kofi Annan talks about Palestinian casualties
in the conflict with Israel, he always includes
the suicide murderers in the count? Has anyone mentioned
this in Europe? What more should happen before you wake up?
The prime minister of Lebanon, a clear accomplice of the
Hizbullah, by omission and by submission, but not by
commission, sheds tears publicly, in front of world media
and Arab league foreign ministers, about the forty civilians
who were just murdered indiscriminately by Israel, only to
sheepishly admit, a few hours later, that actually one person
was killed in that attack, not forty. But the entire world
has repeatedly watched the well acted phony drama of tears,
with numerous replays by all networks, long after the truth
came out. Few people have bothered to read the small print
of the admission that this was a total fabrication. But we
have already seen this movie, a few years ago, in the Jenin
"refugee camp", where people have been deliberately kept
by the UN and by the Palestinians, for four generations(!),
as refugees, only half an hour drive from where their
grandparents used to live sixty years ago. Arab satellite
TV networks repeatedly broadcast pictures of mutilated bodies,
some real, some being deliberately paraded in front of the
cameras and some being dug from old graves. A gut wrenching
dead body of a little girl, killed in Gaza when she fell from
a swing, is paraded in front of news cameras, shown repeatedly
around the world as an Israeli bomb victim. Shares of Hizbullah,
Hamas and Iran go up in Muslim street markets. Shares of moderate
Arab regimes go down. Do we hear about it from the European media?
What more should happen before you wake up?
How would you defend yourself against a deadly rocket, launched
into your civilian population centers, from the terrace of an
apartment building, without destroying the building and hurting
its dwellers? Perhaps you are supposed to simply announce:
"I am not allowed to defend myself". How can you destroy the next
rocket, before it is launched, if it is hidden inside an apartment
of a family with children, or if it is transported in an
unmarked family car? And if you defend yourself in any way,
does that make you a war criminal, because civilians died together
with the terrorists? When I discussed in my book the need
to rewrite international law, both purists and jurists smiled
cynically at the naïve scientist, who is expressing views on
matters of law. I am the first to plead ignorance and
incompetence in matters of international law, but please
answer my questions: Can you destroy the building in which
the missiles are hidden in bedrooms and from the terrace of
which they are launched, or are you forbidden to defend yourself
at all? Can you recommend an alternative? Do I have to read
every day in European newspapers accusations about Israel
violating international law, while no one is answering this
simple question? How will you, dear Europe, react when the
rockets will be launched against you? In Kosovo, without
rockets, you invited the American bombers to solve the
problem. Numerous innocent civilians were killed,
at your service. You did not complain much. Will you invite
the Americans to defend your cities, when the rockets
arrive? Will you then enjoy their protection and accuse them
of war crimes, when they blast a building full of rockets and,
in the process, kill innocent civilians? What more should
happen before you wake up?
Dear Europe, you live inside a nice and clean bottle,
surrounded outside by deadly poison. The bottle is transparent.
You can see clearly what is happening outside, but in order to
do so, you must uncover your eyes. At the moment, Israel has
the unfortunate fate of being the cork of that bottle. The eye
of the storm has become the cork of the bottle. The metaphor
has changed, but not the role. The poison is leaking into the
bottle and no one inside is acknowledging it. And the cork
is attacked on both sides:
With deadly weapons from the outside, and with deadly words
and pictures from the inside. America had its wake-up call
on September 11, 2001. It made terrible mistakes since then,
but it is fully awake. Some segments of its society are also
in denial, but even they are awake. In my book I made the simple
geographic observation that "when America wakes up, Europe is
out to lunch". Dear Europe, your lunch break is too long and
you are now extending it into a siesta. There is a war outside
and you are going to be part of it. The sooner you act,
the fewer victims will die, both in Europe and in the Muslim
world. Appeasement is not an option and neither is hesitation.
You are guaranteed to be on the winning side, for the sake
of civilization and also for the sake of millions of honest
innocent Muslims, who will eventually pay the highest price
for the madness of their leaders. But you cannot win while
in denial and certainly not before you open your eyes.
What more should happen before you wake up?

Haim Harari
Europe, summer 2006

Posted by LG at 01:13 PM | Comments (1)
Bad Headline Day
"Rockets Hit Lebanon Despite Cease-Fire" reads an AP headline yesterday which accompanies an article by Steven R. Hurst.
So, it would seem, at least according to the headline, that the ever-belligerent Israel is still attacking Lebanon, ceasefire or not. But, those who get past the headline know that it is Hezbollah rockets hitting Lebanon, not Israeli fire. The second paragraph of the article reads:
Highlighting the fragility of the peace, Hezbollah guerrillas fired at least 10 Katyusha rockets that landed in southern Lebanon early Tuesday, the Israeli army said, adding that nobody was injured. The army said that none of the rockets, which were fired over a two-hour period, had crossed the border and so it had not responded.
(Hat tip: Jointheboycott)
Posted by TS at 11:46 AM | Comments (0)
August 15, 2006
BBC Radio's Lessons of the Day
The cause of British disdain for Israel might be a mystery to some Americans. It would be less so, though, if Americans understood the severely anti-Israel media coverage to which many Britons are routinely exposed.
Based on yesterday's BBC Radio podcast—a daily compilation of "program highlights from across BBC Radio News"—this is what people listening to BBC radio on Tuesday would have likely concluded:

1. "More than a thousand Lebanese civilians" have died. About 40 Israeli civilians and 100 Israeli soldiers have been killed. Apparently no Lebanese combatants have been killed during the four weeks of fighting, as BBC made no mention of Hezbollah in its summary of casualty figures.
Here is what listeners didn't learn: The Lebanese Higher Relief Council, a Lebanese governmental organization and the apparent source of BBC's casualty estimate, did not specify that the "over a thousand" Lebanese dead are civilians. Other more neutral sources gave lesser figures. The Associated Press cited the casualty figures as "at least 791 including 689 civilians confirmed dead by Lebanese police, security officials, civil defense and hospital authorities ...." Furthermore, the Israeli army estimates that "over 530" of the dead are Hezbollah fighters, and has listed the names of 180 of those fighters.
2. "Tens of thousands [have] fled their homes in southern Lebanon." Apparently no Israelis have fled their homes, as the BBC radio highlights made no mention of Israeli displaced.
Here is what listeners didn't learn: In Israel, "1 million people fled their homes for shelter in the south," according to a CNN report. The Associated Press estimated the number of Israeli displaced as 500,000.
3. Israel supposedly still occupies Lebanese territory. Hezbollah will not disarm because "the Shebaa farms remain occupied," a Lebanese author said on BBC radio.
Here is what listeners didn't learn: The United Nations has repeatedly made clear that Israel had withdrawn from all Lebanese territory. For example, the U.N. Security Council affirmed on June 18, 2000 that "Israel had withdrawn its forces from Lebanon in accordance with Security Council resolution 425."
Another U.N. document, a May 22, 2000 report by United Nations Secretary General Kofi Annan, shows the overwhelming evidence that had helped the United Nations reach its conclusion that the area is not Lebanese:
On 15 May 2000, the United Nations received a map, dated 1966, from the Government of Lebanon which reflected the Government's position that these farmlands were located in Lebanon. However, the United Nations is in possession of 10 other maps issued after 1966 by various Lebanese government institutions, including the Ministry of Defence and the army, all of which place the farmlands inside the Syrian Arab Republic. The United Nations has also examined six maps issued by the Government of the Syrian Arab Republic, including three maps since 1966, which place the farmlands inside the Syrian Arab Republic.
Considering the illusory world described by BBC—a world where all Lebanese casualties are civilians, all the internally displaced are Lebanese, and Hezbollah is fighting to liberate occupied Lebanese land—it is little wonder that much of public opinion in the United Kingdom is skewed against Israel.
(For more on BBC's one-sided coverage, click here and here.)
Posted by GI at 10:14 AM | Comments (0)
August 08, 2006
Who is Hezbollah?
As the conflict with Hezbollah unfolded, CAMERA published a timeline of the group's violence and a collection of quotes by Hezbollah leader Hassan Narallah, in order to ensure information was available about who exactly Israel was fighting.
It seems that some, though, still don't know the nature of Hezbollah. But on the bright side, Harold Evans, former editor of the Times (UK), does know, and here's what he wrote about those people who go so far as to support the terror organization:
"We are all Hizbullah now," proclaimed one of the banners at the Stop the War coalition's London march. Really? Is it possible that more than one person has taken leave of their senses?

It was a sign either of profound ignorance or a depraved indifference to human life. Either way, the moral idiocy of the sentiment betrayed the higher purpose of the march.

If we are all Hizbullah now, who are we?
To read his powerful answer in the Guardian, click here.
Posted by GI at 10:35 PM | Comments (0)
August 06, 2006
Reuters' Manipulated Photo
Below is a summary from the Jerusalem Post about brazen doctoring of a Reuters photo:
In the most recent in a series of online controversies to take on the mainstream media, a series of Web sites discredited a Reuters photograph of the fighting in Lebanon, forcing the news agency to issue an apology and remove the image from their archives.

The photograph by Adnan Hajj, which shows plumes of smoke rising from downtown Beirut after an IAF bombing, appeared to have been doctored to show more intense smoke and destruction over the city.
For more on the scandal, see here.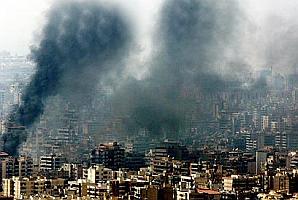 Posted by GI at 06:44 PM | Comments (1)
Footage from South of the Border
As a follow up to the previous post, here is some footage showing the destruction and upheaval in Israel resulting from Hezbollah's attacks.
From Israel's Foreign Ministry: Click here to view, or here to save video file.
Have you seen this type of footage on your local news channels? If not, ask the producers why not.
Posted by GI at 09:53 AM | Comments (1)
August 02, 2006
News Photos from South of the Lebanese-Israeli Border
A CAMERA member protested to the editor of his local newspaper that the paper published only photos of Lebanese suffering and destruction, and no similar photos of Israelis.
In response, the editor claimed that there were no such photos widely available. This is patently untrue.
Below are just a few of the many photos the newspaper—and all newspapers covering the conflict—could have and should have run along with pictures of Lebanese suffering. (The photos were taken by AP photographers.)
Posted by GI at 02:43 PM | Comments (4)
August 01, 2006
Nudnik journalism on Washington Post "Style" pages
Readers go to The Washington Post "Style" section for entertainment. Nothing wrong with that — entertainment long has been a purpose of journalism, not far behind reporting news and providing information. But does "Style" uphold even minimum journalistic standards of accuracy, objectivity, context, comprehensiveness and balance?
It's hard to tell, judging by the July 31 "Style," which includes a front-of-section report from Tehran, "Acting With A Clear Conscience; For This Assassin, a Film Cameo and a Notable Hit," by Post Foreign Service correspondent Karl Vick, and a book review, Mossad's Man of the Hour,"by Patrick Anderson.

Vick — The Post's regular, and overly credulous Iran correspondent — offers a long and sympathetic feature on Daoud Salahuddin, originally David Theodore Belfield before he converted to Islam, assassinated an Iranian dissident in Silver Spring Md., in 1980, and fled to Ayatollah Khomeini's Iran. Salahuddin "stopped working for the [Iranian] government in the early 1990s," Vick reports. But he does not tell us how the fugitive supports himself, his Iranian wife, pays for their one-bedroom apartment with its "pristine" living room, or ends up teaching English to the North Korean ambassador. Hmmm.
Vick does refer, obscenely, to Salahuddin's "wet work" for the Islamic Republic. He quotes without qualification his subject's reference to Mecca, Medina and "Jerusalem, the other city mentioned in the Koran" — Jerusalem is not mentioned in the Koran, although it is referred to by name in the Torah, hundreds of times. And Vick tells readers Salahuddin "admired Ayatollah Ruhollah Khomeini for standing up to a U.S. government that had waged a covert war against black activists and was clearly hostile to political Islam."
The U.S. government waged a "covert war" against "black activists?" When, and who were these "activists" — civil rights leaders or Black Panthers? Vick doesn't say. America "hostile to political Islam?" Whatever for? Iran through its Hezbollah proxy bombed the U.S. Marine barracks and U.S. embassy in Lebanon, kidnapped, tortured and murdered Westerners, including a CIA station chief and U.S. officer serving with U.N. peace keepers in Lebanon. Salahuddin's Iran tried then and tries now to expel the United States from the Middle East. Washington shouldn't be hostile? Vick doesn't say.
Then there's Anderson's review of The Messenger, by Daniel Silva, the latest thriller featuring Silva's protagonist "Allon, an art restorer, patriot and Israeli assassin." The review, generally favorable, is just a review — until the last paragraph.
After a few quibbles about Silva's writing style, Anderson allows that "these are small matters, of course. But there are larger, more basic questions that might be asked about the Allon novels. Silva seems to believe unquestioningly in Israel and its policies. By pitting Allon against fiendish terrorists and arrogant billionaires, he keeps his fictional Israeli superhero firmly on the side of the angels. But in the real world, Israel has of late been presenting a more complex, if less angelic face. Readers who continue to believe in Israel's unalloyed virtue will perhaps take heart from The Messenger. Those with doubts might look elsewhere for a beach read."
If The Messenger is too simplistic even for beach reading, say so. But if the book deserves a review at all, and that review mentions current events (it should), then be clear: Israel doesn't presents a "less angelic face," it's the face of a small Jewish democracy fighting Islamic terrorists sworn to destroy it and acting on behalf of a more powerful, similarly inclined enemy. Israel's face in this battle is similar to America's in its struggle against Islamic fundamentalists in Afghanistan, against jihadists, Ba'athists, Shi'ite militiamen and assorted thugs in Iraq. In the real world, "complex" is not a synonym for incomprehensible, let alone wrong. One can question Israeli policies without questioning the justice of Israel's fight against terrorists who are indeed "fiendish," as are those who send them. Anderson's digression leaves his judgment, as well as the worth of The Messenger, in doubt.

Posted by ER at 06:38 PM | Comments (2)
Predictably, Qana Questions Arise
This is one of many AP photos which apparently shows the same man carrying the same body, but at different times throughout the day
Ynetnews.com carries two stories today which raises questions about the possible staging of yet another prominently covered killing of Arab civilians.
First, Roee Nahmias reports on an anti-Syrian Christian Lebanese Web site which states that Hezbollah brought handicapped children to the doomed Qana building knowing that their deaths would bring propaganda points:
"We have it from a credible source that Hizbullah, alarmed by Siniora's plan, has concocted an incident that would help thwart the negotiations. Knowing full well that Israel will not hesitate to bombard civilian targets, Hizbullah gunmen placed a rocket launcher on the roof in Qana and brought disabled children inside, in a bid to provoke a response by the Israeli Air Force. In this way, they were planning to take advantage of the death of innocents and curtail the negotiation initiative," the site stated.

The site's editors also claimed that not only did Hizbullah stage the event, but that it also chose Qana for a specific reason: "They used Qana because the village had already turned into a symbol for massacring innocent civilians, and so they set up 'Qana 2'." Notably, the incident has indeed been dubbed "The second Qana massacre" by the Arab media.
Second, the news article entitled "Blogs: Hizbullah 'milked' Qana attack" raises the possibility that a Hizbollah member posed as a rescue worker, shuttling the same child corpse throughout the day:
The website posts a series of photographs of the same man holding the child, each picture being separated by a significant time gap, before finally showing an AP photograph of the child's body in an ambulance taken at 7:21 in the morning – around nine hours before an AP photo was taken of the same child being held by the man in the green helmet.

A photograph is shown of "the same girl, this time apparently being placed in the ambulance. Also taken by AP… Intriguingly, though, the dateline given is 10.25 am, three hours after she has already been photographed in the ambulance."
Posted by TS at 07:51 AM | Comments (1)