« June 2006 | Main | August 2006 »
July 31, 2006
Hacker Inserts Fictitious Anti-Israel News Item on ABC News Web Site
A web site featuring ABC News's Good Morning America was hacked to include a highly inflammatory fraudulent anti-Israel news item. The problem was identified on July 31.
The item is titled, "The Ugly Crimes of the Jewish Nation," and makes the fraudulent claim that "Israeli missiles this year have killed 3246 Palestinians, half kids. Stop slaughtering kids, mothers and fathers."
A woman named Stephanie (she would not give her last name), who identified herself as the office manager for Good Morning America, indicated that the site, http://www.abcgma.com, was a doctored copy of the real site at http://abcnews.go.com/GMA/ . Several hours later, the original problematic site no longer contained the offending news item. However, it does appear that the hacked web site is an alternate web address for Good Morning America.
This is the third incident in recent weeks where CAMERA has identified an anti-Israel, anti-semitic or inaccurate posting appearing as an officially sanctioned item on a web site associated with a major news organization.
On June 7, About.com, a web site published by the New York Times that promotes itself as an on-line encyclopedia to the public, featured an article on Jewish immigration provided by Bradley Smith, a publisher and promoter of Holocaust denial literature. The article was written by Kevin MacDonald, a university professor notorious for his controversial theories about Jews and Jewish influence. In this instance it took several phone calls, e-mails and follow-up to get the item removed from the web site.
On July 28, CAMERA alerted CNN's web site that it had neglected to update its posting of Israeli casualties in the on-going conflict with Hezbollah. The site listed only 300 Israeli civilian wounded. Shortly afterwards, the site updated the total to 1500.
The fact that these items were identified by chance suggests that misinformation about Israel and Jews may be rampant on the web sites of respected news organizations. This should also serve as a warning that there is insufficient oversite of these web sites. Since more and more people are getting their news from the internet, this could become a burgeoning problem.
Posted by SS at 05:49 PM | Comments (0)
July 30, 2006
Backwards Reporting in NYT's "2 Steps Back"
Helene Cooper's analytical skills took an interesting turn on Friday with her New York Times news analysis "2 Steps Back: Rice's Careful Diplomacy Falters Under Renewed Assertiveness by the U.S." At first, she correctly reported on the status of Shebaa Farms, stating:
Still to be determined is the makeup of the international force and what will be done about Lebanese demands that Israel withdraw from Shebaa Farms, which the United Nations has ruled is officially part of Syria but which Hezbollah claims as part of Lebanon.
So far, so good. But then, this:
Middle East analysts and diplomats say that if the United States can broker a deal that gives Shebaa Farms back to the government of Lebanon. . .
If Shebaa Farms was never Lebanese, but rather was Syrian, how can Israel give it back to the government of Lebanon?
Cooper's colleagues at the International Herald Tribune also had some backwards reporting on Shebaa Farms recently. On Wednesday, Dan Bilefsky and Jad Mauawad provide a confused, internally contradictory description of the territory. Initially, they report a false Hezbollah claim as fact
In exchange, Hezbollah also wants the release of Lebanese prisoners in Israel and the withdrawal of Israel from a small Lebanese hamlet it still occupies.
Then, contradicting themselves, they go on to report correctly on the status of Shebaa Farms:
Sinoira said, "There should be a comprehensive solution, that liberates all Lebanese land," referring to a border hamlet known as the Shebaa Farms, which Lebanon claims but the United Nations considers part of the Israeli-occupied Syrian land.

Hezbollah has used the ongoing Israeli occupation of the Shebaa Farms to justify its status as a resistance movement and its insistence on keeping its weapons as a deterrent against Israel.
Posted by TS at 06:50 AM | Comments (1)
July 28, 2006
Why Civilians in Lebanon are Getting Hurt
Wonder why civilians are still being injured and killed, when Israel long ago warned them through leaflets to leave Hezbollah areas?
As related by Lebanese Christians, Hezbollah brings the war right to their homes. So if they weren't in a Hezbollah area before, Hezbollah brings rocket launchers in the midst of Christian homes, knowing the Israelis will fire back at the launcher. Hezbollah is apparently hoping for Christian civilian deaths, to help them win the PR battle in the west. As noted in a July 28 NY Times article, "Christians Fleeing Lebanon Denounce Hezbollah," by Sabrina Tavernise,
...for some of the Christians who had made it out in this convoy, it was not just privations they wanted to talk about, but their ordeal at the hands of Hezbollah -- a contrast to the Shiites, who make up a vast majority of the population in southern Lebanon and broadly support the militia.

" Hezbollah came to Ain Ebel to shoot its rockets," said Fayad Hanna Amar, a young Christian man, referring to his village. "They are shooting from between our houses."

"Please," he added, "write that in your newspaper."

Many Christians from Ramesh and Ain Ebel considered Hezbollah's fighting methods as much of an outrage as the Israeli strikes. Mr. Amar said Hezbollah fighters in groups of two and three had come into Ain Ebel, less than a mile from Bint Jbail, where most of the fighting has occurred. They were using it as a base to shoot rockets, he said, and the Israelis fired back.
Since Lebanese civilians have been warned by Israel to leave any area where there are rocket launchers, the Christians try to leave, but are sometimes prevented by Hezbollah.
One woman, who would not give her name because she had a government job and feared retribution, said Hezbollah fighters had killed a man who was trying to leave Bint Jbail.

"This is what's happening, but no one wants to say it" for fear of Hezbollah,

she said.
Posted by LG at 07:48 PM | Comments (0)
Jewish "Naqba"
All too often, the media completely ignores—or, perhaps worse, whitewashes—the struggles of Jewish refugees from the Arab and Muslim countries.
But in a story by Boston Globe correspondent Matthew Kalman about Ada Aharoni, the founder of an Israeli grassroots movement that had opposed Israel's 18-year presence in its southern Lebanon "security zone," who says that Israel's current military campaign is justified, Aharoni reminds readers of these forgotten refugees:
Aharoni was born in Egypt and was forced to leave with her family when Israel was founded in 1948.

"It was our 'naqba,'" she said, using the Arabic word for `disaster' with which Palestinians describe the creation of the state of Israel. "We lost everything, but I have never had any hatred for anybody. This is what I tell my Palestinian and Egyptian sisters. I never took a gun and tried to kill anyone. We just started over again."
Posted by GI at 02:20 PM | Comments (0)
July 27, 2006
On European Public Opinion
A column in Germany's Der Spiegel by political scientist Matthias Küntzel discusses European public opinion and the current crisis between Israel and Lebanon:
The natural reaction to the current violence in the Middle East is one of horror. It's time for a cease-fire, right? Not necessarily. Pacifism would only help the radicals.

When it comes to Israel, public opinion in Europe walks a fine line. Israel's overreaction and use of overwhelming force, say most, is to be condemned and criticized. But in the same breath, Hezbollah's provocation is likewise reviled and rejected as the militant group's unceasing attacks on Israeli civilians are cited. Both sides are judged using the same criteria and both sides come out stained with some blame for the current conflagration.

But this seemingly nuanced point of view is misleading. In reality, German and European public opinion does take sides -- and it tends to side with the apparent underdog and against Israel.

It has almost become a reflex on the Continent. In 2003, 59 percent of all Europeans pointed to Israel as the country presenting the greatest risk to world peace. On the third day of the current crisis, fully three quarters of all Germans polled were convinced that Israel was overreacting and using too much force in its response to Hezbollah. And since then, the images coming from the war zone have set the tenor: A cease-fire, most believe, should begin as soon as possible.

I disagree -- and have four reasons for doing so.
Read it all here.
Posted by GI at 05:21 PM | Comments (0)
Child's Play in Gaza
The Los Angeles Times' Ashraf Khalil today reports on violence in Gaza, reporting at length how children position themselves alongside fighters:
Throughout the day, in neighborhoods along the shifting urban front line, masked Palestinian fighters rushed toward the confrontation, many carrying grenade launchers and spools of wire for laying booby traps in the path of oncoming tanks. A large crowd of boys gathered to watch them, seemingly oblivious to the danger. In one case, a group of children helped hide the wiring of an explosive device. . . .

Amid the preparations, a large crowd of young boys mingled and chatted, lingering in the shade. Asked why they weren't hiding, a teenager in a Yankees cap shrugged as if he didn't quite understand the question.

"We're not scared," he said. "We're used to the idea of death" . . .
Indeed. Palestinian children have been well prepared to accept and even seek death.

On a separate matter, Khalil also reports:
Another Islamic Jihad political leader, Khader Habib, pledged to take the fight deep into Israel. He called on militants to "carry out martyrdom operations in the heart of Israeli cities." He said they would spare civilians as much as possible and focus on military targets.
"Martyrdom operations in the heart of Israeli cities" that aim to hit military targets, not civilians? That sounds about as sincere as earlier Hamas claims that they don't target children.
Posted by TS at 01:34 PM | Comments (0)
July 26, 2006
Israel Phones Residents Before Bombing
The Los Angeles Times reports on Israeli missile attacks on homes used for storing rockets in the Gaza Strip today:
As many as 50 tanks occupied a hilltop east of the town of Jabliya, while Israeli helicopters fired missiles into nearby. . . .

The Israeli army has sought to limit the rocket attacks by shelling the areas commonly used by militants as launch sites and by bombing homes believed to be used for storing rockets.
The Times leaves out the fact that the Shin Bet has "begun telephoning members of Palestinian terrorist organizations and warning them to leave their houses, so that they and their families will not be hurt when Israel bombs them, Palestinian sources said yesterday," according to Ha'aretz ("Sources: Shin Bet issues warning to families of terrorists ahead of strikes"). The article notes:
According to sources, Shin Bet agents have contacted members of various armed organizations over the last few days and warned them that Israel plans to attack their houses. The houses in question are being targeted because Israel believes that they are being used to store or manufacture weapons, including Qassam rockets and rocket-propelled grenades. . . .

In addition, the IDF has interrupted local radio broadcasts in several parts of Gaza in recent days, overriding the scheduled programing with warnings about planned attacks on houses that serve as arms caches.
Posted by TS at 08:31 AM | Comments (0)
July 25, 2006
Even the U.N. Faults Hezbollah for Deaths
U.N.'s Jan Egeland
Now that it's known that the Lebanese hold Hezbollah responsible for the deaths of civilians, it seems that even the U.N. has come up with the gumption to admit the fact. AP reports on a press conference with Jan Egeland, the U.N. humanitarian chief:
"Consistently, from the Hezbollah heartland, my message was that Hezbollah must stop this cowardly blending ... among women and children," he said. "I heard they were proud because they lost very few fighters and that it was the civilians bearing the brunt of this. I don't think anyone should be proud of having many more children and women dead than armed men."

"We need a cessation of hostilities because this is a war where civilians are paying the price," said Egeland, who was heading to Israel next.
(Hat tip: IMRA)

Posted by TS at 08:33 AM | Comments (0)
Beirut Journalist: The Lebanese Fault Hezbollah
Writing in the Spectator, Michael Young, an opinion editor of the Daily Star in Beirut and a contributing editor to Reason magazine in the U.S., says that the Lebanese really blame Hezbollah for their plight:
[W]hat has not been so widely reported is that while officials will blame Israel for the misery and chaos, a substantial number of Lebanese - in some cases, ironically, the officials themselves - have a more nuanced view. Of course the people here are angry and anxious about the possibility of a widening of the Israeli attacks, but their rage, as they see the country being taken apart, is often directed against Hezbollah.

The Lebanese people have watched as Hezbollah has built up a heavily armed state-within-a-state that has now carried the country into a devastating conflict it cannot win and many are fed up. Sunni Muslims, Christians and the Druze have no desire to pay for the martial vanity of the Hezbollah leader, Hassan Nasrallah. Nor will they take kindly to his transforming the devastation into a political victory.

Some even welcome Israel's intervention. As one Lebanese politician said to me in private (but would never dare say in public) Israel must not stop now.
It sounds cynical, he said, but 'for things to get better in Lebanon, Nasrallah must be weakened further'.

Even some Shiites are beginning to have doubts about Nasrallah. If interviewed on television they will praise Hezbollah, but when the cameras are off, there are those who will suddenly become more critical.
(Hat tip: IMRA)
Posted by TS at 08:02 AM | Comments (0)
July 24, 2006
Misinformation Down the Pipeline
Los Angeles Times editors insert misinformation into a column by Daniel Pipes
Once again, the Op-Ed pages of the Los Angeles Times seem intent on implying that Tel Aviv is the capital of Israel. CAMERA first flagged this phenonomen back in 2003.
More recently, we were surprised to see "Tel Aviv" as the apparent shorthand for Israel's capital in a July 20 Los Angeles Times column by noted Mideast scholar Daniel Pipes. The column stated:
Building on this assessment, I suggest that the [U.S.] administration make the following requests of Tel Aviv, to protect American interests.
Curiousity as to whether editors inserted the misinformation prompted a visit to Pipes' Web site, where, sure enough, we found an asterik appeared next to the text in question. The endnote reads:
As originally submitted, this line read, "Building on this assessment of Israel, I suggest the administration make three requests." In the course of editing, the sentence was changed to the above. Only after publication did some readers point out to me, correctly, that Jerusalem, not Tel Aviv, is the capital of Israel, and that my text implies otherwise.
Posted by TS at 05:46 AM | Comments (0)
July 21, 2006
Now It Can Be Said — Syria Occupied Lebanon
After the February 14, 2005 car-bomb assassination of former Lebanese Prime Minister Rafik Hariri — a crime U.N. investigators suggested the Syrian government had perpetrated — mainstream news media suddenly began informing readers and viewers of Syria's 29-year-long "presence" in Lebanon. References to the estimated 14,000 Syrian troops in Lebanon, the uncounted Syrian secret police also operating in the country, and Damascus' brutal domination of its smaller neighbor became important context to news reports about the assassination and subsequent Lebanese "Cedar Revolution" demonstrations to end Syrian hegemony.
However, in news dispatches these references were rarely to Syria's "occupation" of Lebanon, even though as many as 35,000 to 40,000 Syrian troops had controlled the country of no more than four million people from 1976 on. In addition to "presence," the press employed terms like "interest," "influence," and "dominance." This in contrast to regular mention of Israel's 1982 -2000 "occupation" of a south Lebanon "security zone," let alone Israel's post-1967 occupation of the disputed West Bank and Gaza Strip, and the Golan Heights.
Direct references to Syrian occupation of Lebanon were more likely to be found on the commentary pages.
So it's worth noting that on July 19, in news articles in both The Washington Post and Baltimore Sun, the words Syria, Lebanon and occupation appear in the same sentence. In "Bush Supports Israel's Move Against Hezbollah," Post staff writers Robin Wright and Thomas E. Ricks, report:
"Syria, which ended a 29-year occupation of Lebanon when it withdrew 14,000 troops last year, is trying to get back into Lebanon in violation of U.N. Resolution 1559, Bush said."
The Sun's Middle East correspondent John Murphy, in a report headlined "Diplomacy Stalls; Israel, Hezbollah press attacks amid cease-fire talks," writes:
"President Bush said he suspects Syria is trying to reassert influence in Lebanon more than a year after Damascus ended what had effectively been a long-term military occupation of its smaller, weaker neighbor."
What has changed? Perhaps the media are taking cues from U.S. and other governments critical of Syrian and Iranian for backing Hezbollah and Hamas attacks against Israel. The press might feel it's now safe, ex post facto, to call an occupation by its name — in this case (unlike the Israeli presence in the West Bank and Golan) an illegitimate occupation of one Arab country by another.
Posted by ER at 02:13 PM | Comments (0)
July 20, 2006
Restraining Laor
Ha'aretz corrects: Dr. Eran Lerman didn't call for war on Syria
In an Op-Ed in Ha'aretz Tuesday, Yitzhak Laor argues that Israel's defense forces and supporters are simply warmongers. To support his thesis, Laor writes:
The director of the Middle East Department of the American Israel Public Affairs Committee (AIPAC), Eran Lerman, is already recommending going to war against Syria.
But Laor has erred on two counts.
First, Lerman is not director of any kind at AIPAC. Given Ha'aretz's record, it is shocking that the error was corrected yesterday in the print edition:
Eran Lerman ("It's not too late to say enough," July 18) is director of the American Jewish Committee's Israel/Middle East Office and not as published.
And, even more significant is the correction which ran today in the print edition:
Dr. Eran Lerman, director of the American Jewish Committee's Israel/Middle East Office in Jerusalem, does not recommend going to war with Syria ("It's not too late to say enough," July 18). Haaretz apologizes for the error.
How did that minor error come to pass? Perhaps by a desire to denigrate the IDF and Israeli society, nevermind the facts?
Posted by TS at 06:54 AM | Comments (0)
July 19, 2006
Hezbollah Terrorists Kill Muslim Children
While Hezbollah is known for its visceral hatred of Jews, today we saw once again that its determination to kill civilians knows no bounds. Hezbollah terrorists today killed three Arab Muslims in the city of Nazareth. Two of the victims were children, Muhammad (age 3) and Rabiya Taluzi (age 9). They were in a playground in that city's Arab neighborhood when they were struck by a Katyusha rocket. [note: the original entry mistakenly referred to a Qassam rocket]
Nazareth is considered the home of Jesus, and many Christians have since made their home there. [note: the entry originally said "the birthplace of Jesus." Most Christians believe Bethlehem is his birthplace. See comments below.] Currently the majority of Nazareth's population are Israeli Arab Muslims, in addition to many Christian Arabs. But Hezbollah fires its rockets indiscriminately into Israeli territory, aiming randomly at population centers. With these latest murders, Hezbollah has demonstrated that no civilian--whatever his religion-- is immune from the indiscriminate terror that they have unleashed.
Above: Smoke rises from a building in Nazareth struck in a Katyusha barrage.
Posted by at 01:22 PM | Comments (3)
July 18, 2006
Hezbollah's Manifesto
Here is what Hezbollah thinks about Israel:
We see in Israel the vanguard of the United States in our Islamic world. It is the hated enemy that must be fought until the hated ones get what they deserve. This enemy is the greatest danger to our future generations and to the destiny of our lands, particularly as it glorifies the ideas of settlement and expansion, initiated in Palestine, and yearning outward to the extension of the Great Israel, from the Euphrates to the Nile.

Our primary assumption in our fight against Israel states that the Zionist entity is aggressive from its inception, and built on lands wrested from their owners, at the expense of the rights of the Muslim people. Therefore our struggle will end only when this entity is obliterated. We recognize no treaty with it, no cease fire, and no peace agreements, whether separate or consolidated.

We vigorously condemn all plans for negotiation with Israel, and regard all negotiators as enemies, for the reason that such negotiation is nothing but the recognition of the legitimacy of the Zionist occupation of Palestine. Therefore we oppose and reject the Camp David Agreements, the proposals of King Fahd, the Fez and Reagan plan, Brezhnev's and the French-Egyptian proposals, and all other programs that include the recognition (even the implied recognition) of the Zionist entity.
You can read the rest of the group's charter here.
Posted by GI at 02:45 PM | Comments (2)
July 17, 2006
Summary of Lebanese-Israeli History
After publishing a dismal timeline last Wednesday, AP dispatched today much more complete and balanced history of Israeli-Lebanese relations. See it here.
Posted by GI at 05:24 PM | Comments (0)
July 14, 2006
Pamphlets to Protect Civilians
Much of US media have referred to warning leaflets Israel dropped over Beirut without getting into great detail; but the Lebanese Daily Star has relayed what it says is the full text of those leaflets:
Due to the terrorist activities carried out by Hizbullah, the Israeli Army will continue its work within Lebanese territories for as long as it deems fit to protect Israeli citizens. For your own safety and because we do not wish to cause any more civilian deaths, you are advised to avoid all places frequented by Hizbullah.

You should know that the continuation of terrorist activities against Israel will be considered a double-edged sword for you and Lebanon.

The State of Israel.
One of many leaflets Israel dropped on Gaza in December 2005. The leaflets warned Palestinian civilians to stay clear of areas from which terrorists fire Qassam rockets at Israel.
Posted by GI at 11:50 AM | Comments (0)
More Info on Hezbollah
For more information about Hezbollah:
Comprehensive New Yorker magazine article by Jeffrey Goldberg
"IN THE PARTY OF GOD: Are terrorists in Lebanon preparing for a larger war?"
Interview with Jeffrey Goldberg
http://www.ujc.org/content_display.html?ArticleID=63594
Michael Totten visits with Hezbollah
http://www.laweekly.com/news/news/guess-whos-coming-to-iftar/42/
The Hezbollah in America: An Alarming Network
by Daniel Pipes
National Review
"Party of Hell"
Barbara Newman in National Review on "the most dangerous terrorist group in the world."
An interview with Barbara Newman, author of the book Lightning Out of Lebanon: Hezbollah Terrorists on American Soil.
Posted by CameraBlog at 11:17 AM | Comments (0)
July 12, 2006
Fox News hands the Golan over to Syria
The Fox News Web site is using a map of the Middle East that incorporates the Golan Heights into Syria.
| | |
| --- | --- |
| | |
| Map from FoxNews.com | Map from NYTimes.com |
Posted by at 04:10 PM | Comments (2)
July 11, 2006
UPDATE: Double Standard Continues at New York Times
Just yesterday, CAMERA reported here on the double standard that Russia and the New York Times maintain towards the assassination of terrorist leaders (see below). Today, the New York Times reaffirmed this double standard with an editorial, "Death of a Terrorist." This editorial lauded the killing of Shamil Basayev, a man who "lived for terror," and described him as "behind the bloody seizure of a school…and several other acts of mass murder."
Contrast this with the Times's editorial after Israel assassinated Ahmed Yassin, the leader of Hamas. Yassin was indisputably directly responsible for numerous terror attacks against Israelis — a fact attested to in the Arab as well as Israeli media. Among other instances, Yassin met with and personally authorized Reem Salah al-Rayashi, a female suicide bomber who killed four Israelis on January 14th, 2004. But the Times describes Yassin only a "spiritual leader," and calls Hamas a "militant organization," despite the fact that it is considered a terror organization by the U.S. State Department and the European Union.
Why did the Times choose to highlight the murderous acts of Basayev, while describing Yassin, whose hands are soaked in blood, as a "spiritual leader?" And why the refusal to refer to Hamas as a terrorist organization? The New York Times unfortunately seems to view terrorism against Israel as somehow less heinous or deplorable than that against Russians or Americans.
Posted by at 11:17 AM | Comments (1)
July 10, 2006
Double Standards in Russia and the New York Times
The Russian government announced today that they had succeeded in killing Shamil Basayev, a Chechen rebel leader. Russian President Vladimir Putin praised Basayev's killing as "just retaliation." It was just last month that another Chechen leader, Abdul Khalim Saidullayev was eliminated by the Russian military. And a week and a half ago, President Vladimir Putin instructed his military to "destroy" the Iraqi terrorists responsible for the execution of four Russian hostages.
How hypocritical is the Russian government? Russia has consistently condemned Israel for its targeted killings of terrorist leaders. After Israel assassinated Abdel Aziz Rantisi, the leader of Hamas, in 2004, Russian Foreign Ministry spokesman Alexander Yakovenko proclaimed that:
Russia has repeatedly stressed the unacceptability of extrajudicial settling of scores and "targeted killings."
Russia also voted for a failed UN Security Council resolution in 2004 to condemn Israel's assassination of terrorist leader Ahmed Yassin. The vote was to:
Condemn the most recent extrajudicial execution committed by Israel...and call for a complete cessation of extrajudicial executions.
Why do the Russians believe that it is OK for them to assassinate terrorist leaders, but unacceptable for Israel to do so?
This pernicious double standard pervades the discourse about Israel and is seen in the media as well. After the U.S. assassinated terrorist leader Abu Musab al-Zarqawi in Iraq, the New York Times lauded that airstrike in an editorial ("Death of a Terrorist," 6/9/06) as "good news for Washington, and even better news for Iraq." But after Israel's assassination of terrorist leader Ahmed Yassin in Gaza, the same Times harshly criticized the Israeli government and urged the U.S. to take a strong stand against it ("Death in Gaza," 3/23/04).
Russia and the New York Times seem to be in perfect agreement when it comes to telling Israel how to defend itself.
Posted by at 02:10 PM | Comments (1) | TrackBack
July 07, 2006
A Revealing Look at Palestinian Casualties
This morning's news reports from Gaza help shed some light on why Palestinian children or civilians are occasionally hurt in clashes between Israeli troops and Palestinian gunmen affiliated with terrorist groups.
As a report by the Washington Post's Scott Wilson reveals, Palestinian youth are sometimes coerced into combat roles by Hamas gunmen:
In a shared room on the hospital's fourth floor, Wissam al-Sheik Khalil recovered from a bullet wound to his hip. Khalil, a 16-year-old with an adolescent's wispy mustache, said Hamas gunmen forced him to carry an explosive charge across a street watched by Israeli soldiers.

"As soon as I picked up the box I was hit," he said.
Moreover, the report makes clear, Palestinian children freely mingle among combatants carrying grenade launchers and attacking tanks. Some children even participate in aggressive activities right in the middle of this war zone:
More and more gunmen appeared along the dirt roads crisscrossing the neighborhood, some drawing rifles and rocket-propelled grenade launchers from bags. One of them dashed along the white walls with a grenade launcher, popping off a shot at an Israeli tank and sprinting into the garage of a nearby home to reload. A cheer of "God is greatest" arose from a pack of children who had assembled to throw stones at the tanks.
And Palestinian combatants base themselves from population centers even despite the protests of the residents:
An elderly woman appeared in the street, shouting at the [Palestinian] gunmen to stop their preparations. She was pushed aside.
Another report, by Reuters' Luke Baker, also highlighted the problem:
Asked if they would learn from the death of 19-year-old Mohammed Maher Shahine, killed while watching Thursday's fighting as Israel stepped up an offensive in the strip, the boys answered almost with one voice.

"No. We want to be martyrs too," they said, seemingly oblivious to the danger of following around bands of gunmen as they battle more powerful Israeli troops, who are backed by tanks and helicopters.

"What is there to learn?" asked Jamal Shahine, 42, a cousin of the deceased as dozens of relatives gathered under a mourning tent. "All these boys just want to fight." ...

During Thursday's clashes, which came as Israeli troops battled to build a buffer zone to prevent the rocket fire, small children followed Palestinian fighters at every turn, greatly increasing the risk of civilian casualties.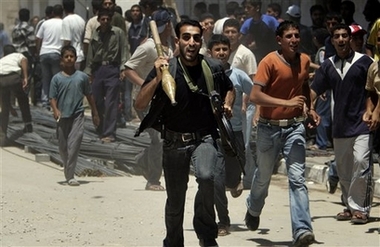 Posted by GI at 10:36 AM | Comments (0)
July 04, 2006
Guardian Editor Reverses Cause and Effect
The Guardian's diplomatic editor, even while criticizing Palestinian rocket-fire in a column a few days ago, suggested that the main problem is Israel's "over-reaction," and implied that the Qassam rockets rained on sovereign Israeli territory by Gazans are a response to Israelis targeted killings:
The problem is Israel's over-reaction. The Israeli army, in an attempt to deter the rocket launching, has been laying down artillery barrages into Gaza that are reminiscent of the first world war. And would there be rocket attacks at all if the Israeli army, having pulled out of Gaza last year, had not continued with its policy of assassinations, taking out militants - and civilians - in Gaza with missiles fired from helicopters. Which came first? The rocket attacks or the targeted assassinations?
The editor, Ewen MacAskill, did not go on to answer this last question, and instead left it as a rhetorical question which implied Israel's "assassinations" caused Palestinian rockets to be launched from Gaza.
So we'll answer it here. "Which came first?" Let's look what happened in Gaza leading up to any Israeli airstrikes or Palestinian rocket attacks.
• On Sept. 12, 2005, Israel completed its withdrawal from Gaza.
• The following day, "A grenade was thrown after nightfall Tuesday from Gaza toward the village of Netiv Haasara just north of the territory ..." (AP, 9/13/05)
• On Sept. 15, "Israeli Prime Minister Ariel Sharon told a U.N. summit of world leaders ... that the Palestinians are entitled to their own state, and his country has no desire to rule over them." Meanwhile, "the Qatari foreign minister, Sheik Hamad bin Jassim bin Jabor Al Thani, said in New York that Arabs should make a gesture toward Israel after it ended its 38-year occupation of the Gaza Strip this week." (AP, 9/15/05)
• Then, on Sept. 23, "A pickup truck filled with masked militants and homemade rockets blew up in the middle of a Hamas rally, causing mass panic and killing 15 Palestinians and wounding 80 others.
"The blast, apparently caused by the mishandling of explosives, triggered a rapidly escalating series of attacks in the worst Gaza violence since Israel pulled out of the region last week.
"Hamas blamed the explosion on Israel and launched a volley of homemade rockets at the Israeli town of Sderot, injuring five Israelis, one moderately.
"Israel, which denied any involvement in the blast, responded with airstrikes early Saturday on what the army called Hamas weapons facilities. Three people were lightly injured in the strikes, the first such attacks since Israel's pullout ...
"The Palestinian Interior Ministry issued a statement calling on Hamas 'to shoulder its responsibility for these ... explosions instead of making accusations against others.'" (AP)
• "... Hamas militants fired nearly 40 rockets from Gaza at southern Israeli towns. The rocket barrage, which slightly wounded six Israelis, was the Islamic group's first major attack since Israel concluded its Gaza pullout last week." (9/24/05, AP)
• "Israel rattled the Gaza Strip on Saturday with a deadly missile strike, massed troops and artillery cannons along its border and threatened harsh retaliation, after Hamas militants fired 35 rockets on Israeli towns in their first major attack since Israel pulled out of the coastal territory. ...
"The strikes meant Israel is resuming targeted killings of Palestinian militants, a practice it suspended during the truce." (AP, 9/24/05)
• "Shrapnel found in the bodies of people killed in a blast at a Hamas rally last week came from the militant group's own homemade rockets, according to a forensic report published Tuesday by the Palestinian Authority." (AP, 9/27/05)
From then on, Palestinian rocket and mortar attacks from Gaza continued (along with suicide bombings from the West Bank), and Israel continued to try curbing these attacks.
So "which came first"? Hamas Qassam rocket attacks against Israel came first. Unfortunately, Guardian readers likely think otherwise after Ewen MacAskill's column implied the opposite.

Posted by GI at 11:30 AM | Comments (0)