« Op-Ed Writers Attack Study | Main | Coddling Syria's Dictator on PBS »
March 30, 2006
SF Chronicle Editorial Tries to Match a Square Peg with a Round Hole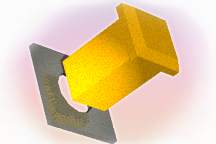 Thursday's editorial in the San Francisco Chronicle takes false moral equivalence to a new—even absurd—level.
The editorial reads:
Israel's next prime minister, Ehud Olmert, may bulldoze new boundaries, oust angry Israeli settlers and ignore negotiations with Palestinian leaders. Enough talking, he's suggesting, here's the new Mideast map, like it or not.

Palestinians have a matching strategy. On the same day that Olmert's Kadima party finished first in elections, the new Hamas leadership formed its first cabinet. Nothing about taking charge has tempered the Hamas stance that Israel should be destroyed.
Got that? "A matching strategy." "Matching," as in "One that is exactly like another" or "One that closely resembles or harmonizes with another." The editorial writer is equating the Hamas strategy, which calls for the violent destruction of Israel, with the Israeli one that offers a Palestinian state, even at the cost of uprooting Jewish towns in the heart of biblical Israel.
Looks like the moral equivalence of the past—where some pundits would equate Palestinian terrorism that aims to kill civilians with Israel's counter terror measures meant to protect them—wasn't quite absurd enough for the Chronicle.
Bonus Blunder: The editorial also misleads readers when suggesting Olmert will "ignore negotiations with Palestinian leaders." Olmert and other Kadima leaders have on many occasions made clear that Israel first will seek to negotiate, but will act unilaterally in the absence of a partner. Maybe the editorial writer didn't pay attention to Olmert's victory speech, during which he said: "In the coming period, we will move to set the final borders of the state of Israel, a Jewish state with a Jewish majority. We will try to achieve this in an agreement with the Palestinians." Apparently the writer also ignored the press conference a few days earlier, in which Kadima number 2 Shimon Peres announced that "We are ready, immediately after the elections, to open a negotiation with the Palestinians that are willing to negotiate and willing to accept the Road Map in order to arrive at an agreement, to mark the future borders ...."
Posted by GI at March 30, 2006 06:25 PM
Comments
Received your Spring Report-not surprised at the misrepresentqations, lies and distortions that were noted in the Report-I believe most of current "Journalists" have no concept of truthful forthtelling of events. As to the S.F.Chronicle, I am somewhat surprised that you are surprised at the statements noted. The Chronicle has its own version of right and wrong as most of us know.
Posted by: s463 at April 1, 2006 11:31 PM
Guidelines for posting
This is a moderated blog. We will not post comments that include racism, bigotry, threats, or factually inaccurate material.
Post a comment